Today I'm very excited to be sharing a delightful Lemon Cream recipe that will enhance your spring and summer desserts and cakes. Think cake filling. Dollop it on ice cream, pie or fruit.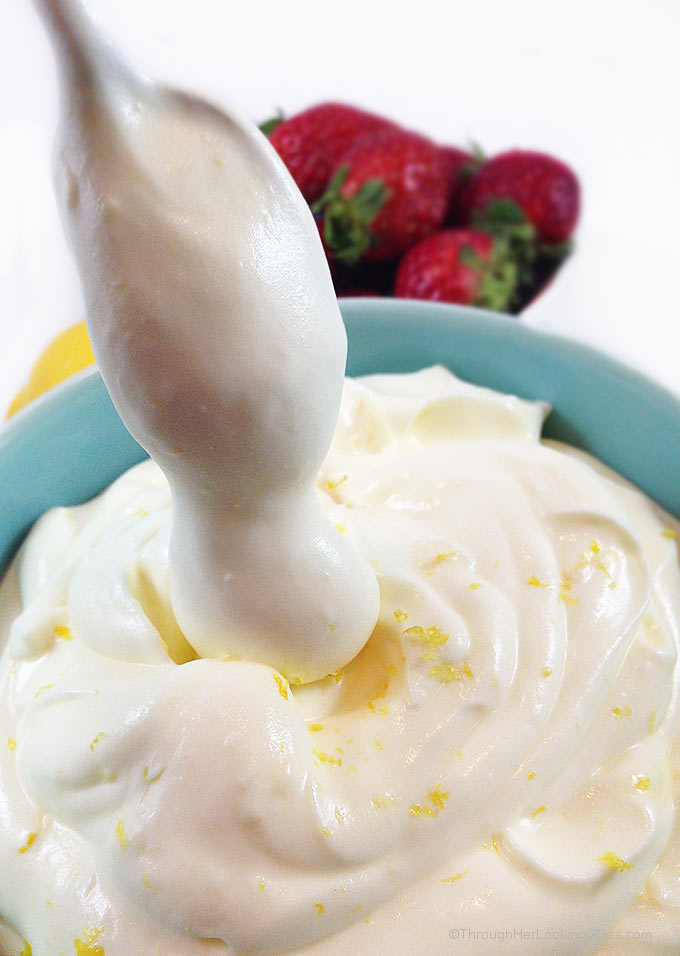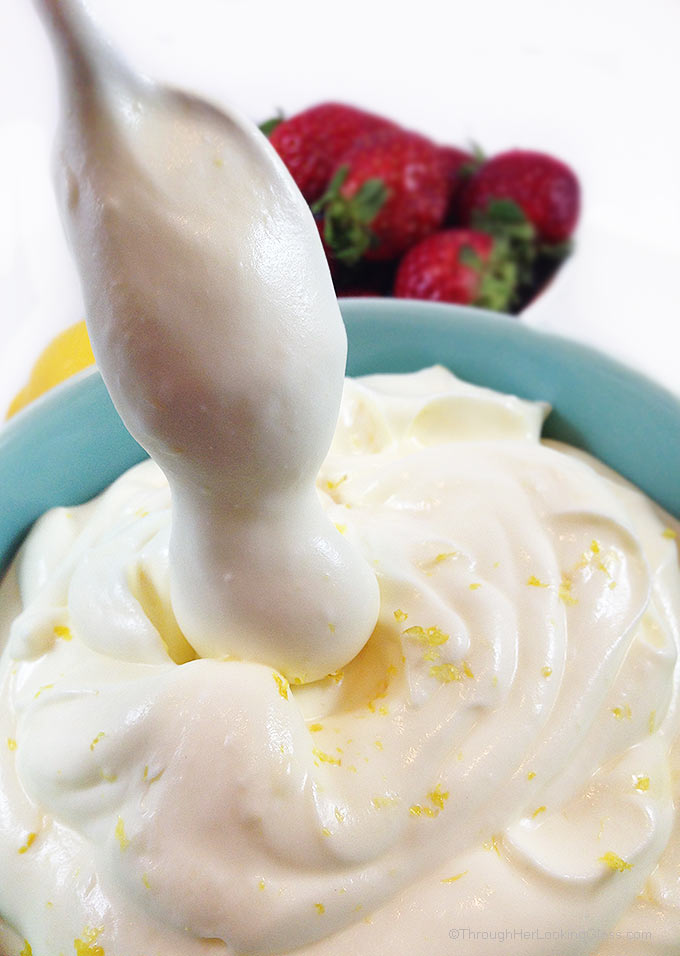 Hope you're having a great week! The weather and temps have fluctuated around here like crazy. First it was freezing, then yesterday it was 70°. I'm not complaining. It was so beautiful out and I even got in a great power walk.
The sky was a brilliant blue, and there are no leaves on the trees yet. I dodged mud, puddles and even some ice patches. It's all part of the adventure we call "spring" in New England. The gorgeous weather got me thinking about spring and summer. And summer desserts.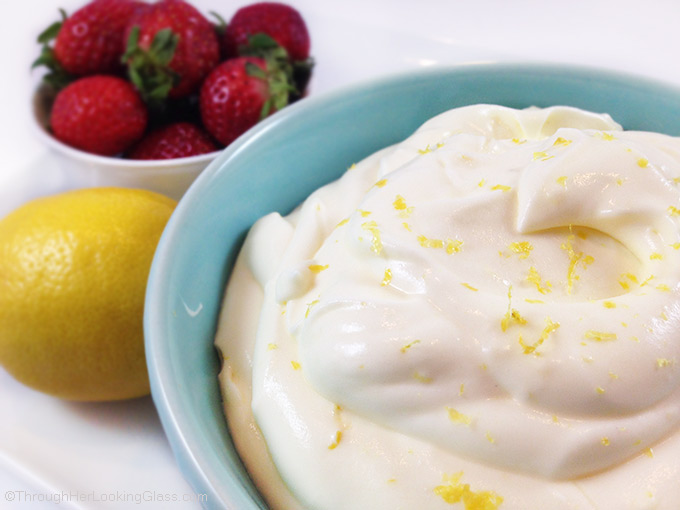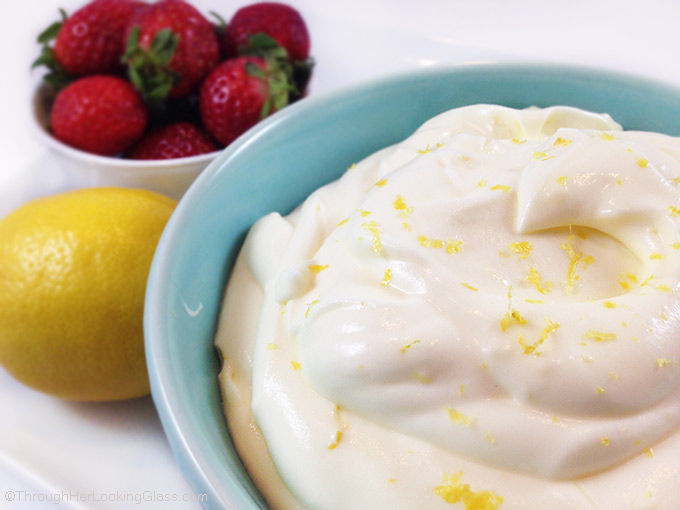 If you happen to love lemon curd and whipping cream like I do, then you'll love this creamy dreamy, lemony filling that's perfect for spring and summer. Lemon Cream has the light and creamy consistency of whipped cream. But also the distinctly sweet tart pucker of lemon curd. Delicious and addictive. This combination definitely takes lemon curd to the next level. It's made from all "real" ingredients. And a bonus: it just happens to be gluten free!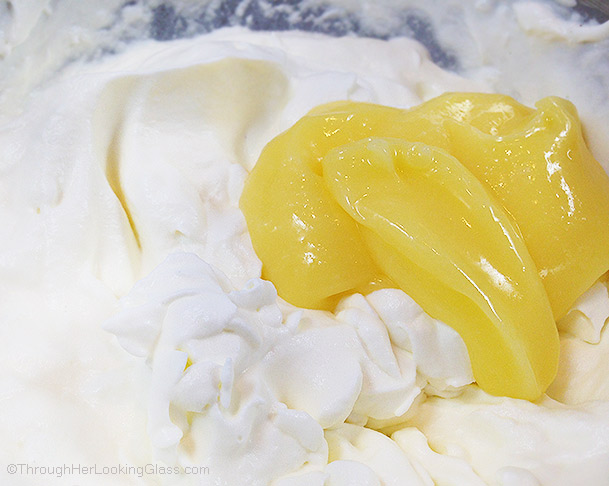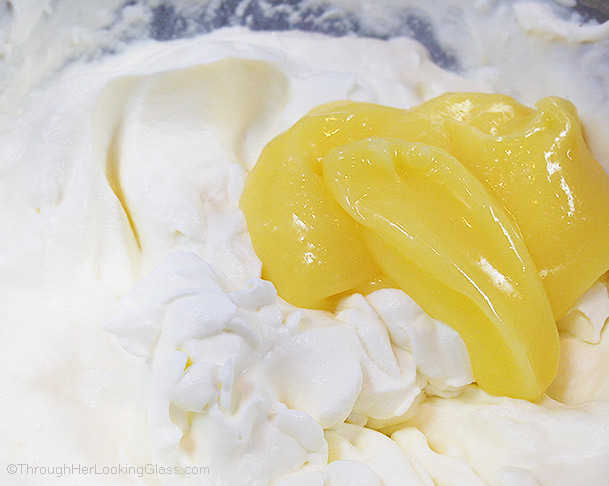 Lemon Cream with lemon curd has just two ingredients: lemon curd and whipping cream. Whip the heavy whipping cream until soft peaks form, then gently fold in the lemon curd. Add lemon zest if you like.
You can use store bought lemon curd, or my easy peasy lemon curd recipe here: Easy Classic Lemon Curd. (Both a microwave and stovetop version are posted, and making homemade lemon curd is seriously faster than a grocery store run.)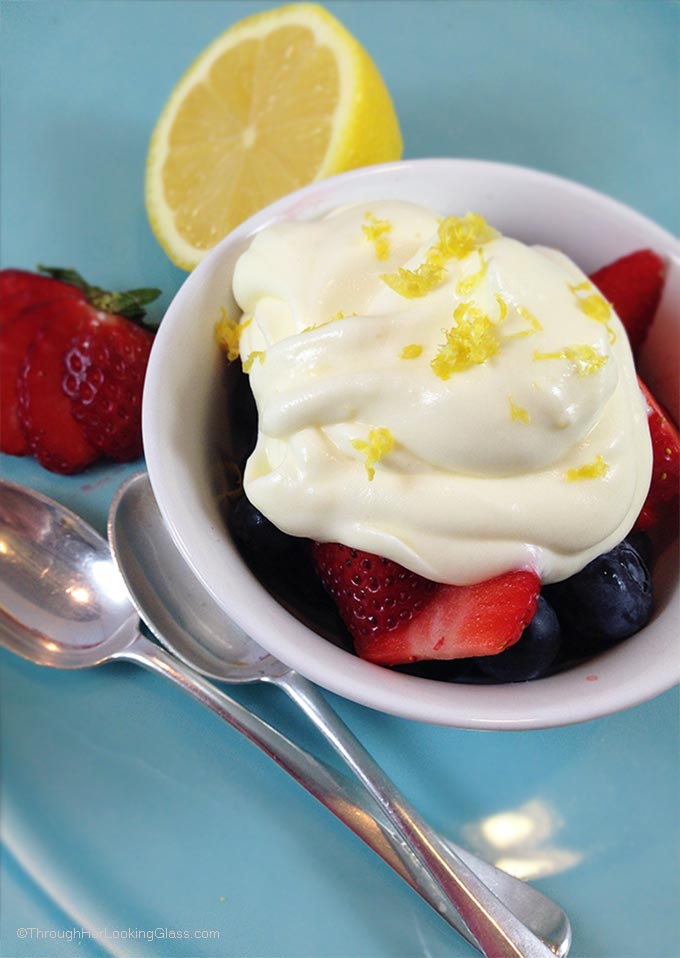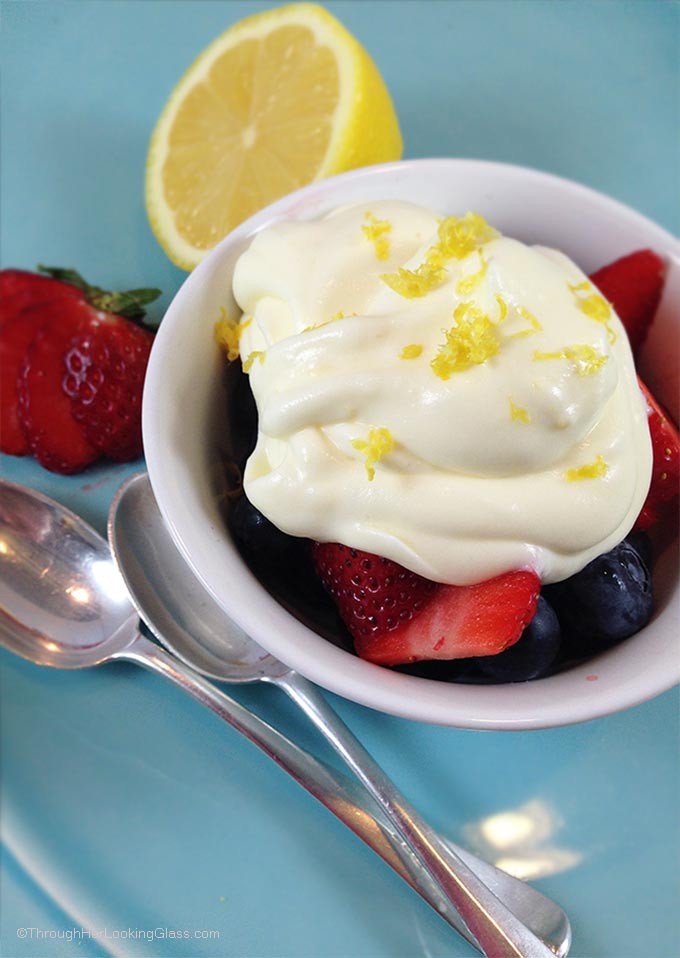 So many ways to use this delicious Lemon Cream. As a filling between cake layers. Dolloped on fresh berries.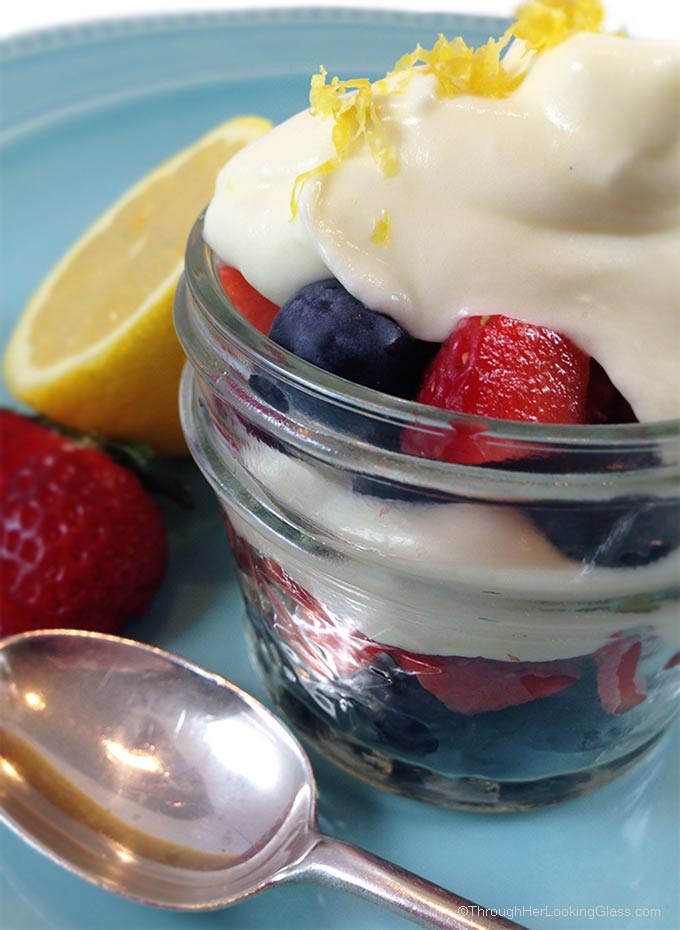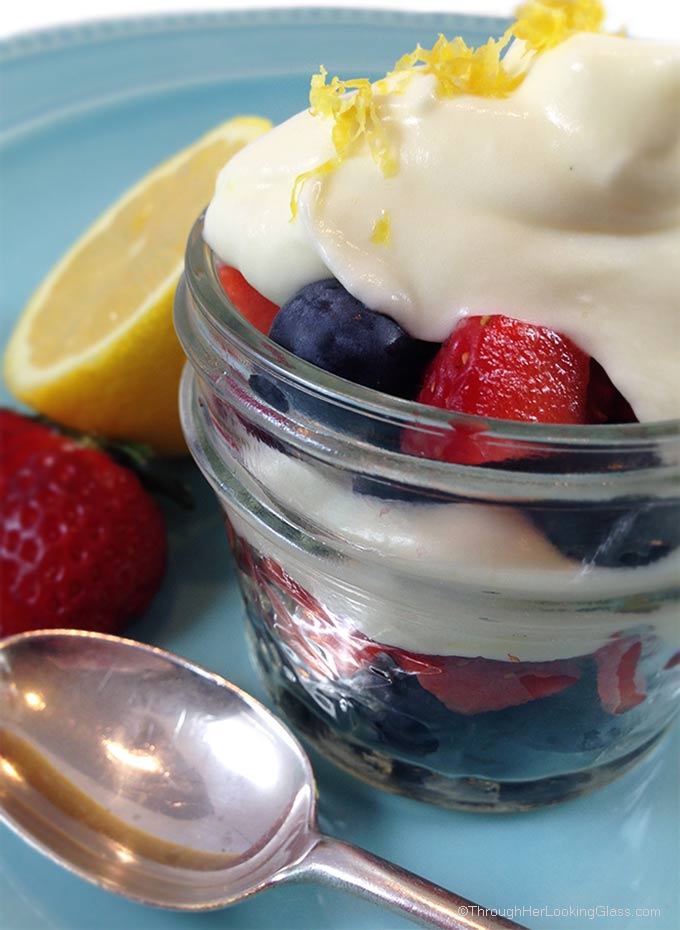 In a parfait. As a pie filling. In cream puffs. On top of angel food cake. As a crepe filling. A tart filling. Seriously, the possibilities are endless and I'm sure you'll think of lots of ways I haven't. Keep your eyes peeled, I'll definitely be sharing more recipes using Lemon Cream with lemon curd in the coming days.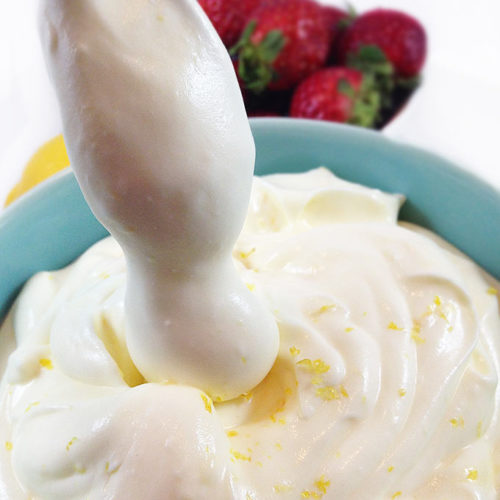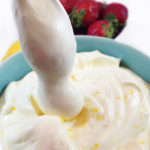 Print Recipe
Lemon Cream with Lemon Curd
Lemon Cream with Lemon Curd is a delightful lemon filling with whipped cream. Sweet and tart. Creamy and delicious. This takes lemon curd to the next level!
Ingredients
1

cup

heavy whipping cream

1

cup

lemon curd

store bought or homemade (My easy lemon curd recipe link is above.)

Optional: 2 tablespoons lemon zest
Instructions
Chill medium sized mixing bowl for a few minutes.

(Better not to use a plastic bowl for whipping cream.)

Pour heavy whipping cream into a cold mixing bowl.

On high speed, whip heavy whipping cream until soft peaks form.

(Don't over whip or it will turn to butter. Seriously.)

Gently fold in lemon curd (and lemon zest if using) until it is incorporated throughout.

Use immediately in your favorite dessert.

Refrigerate.
You may also like: Candied Lemon Cheesecake w/Lemon Curd