If you love lemons and you love pound cake, this Famous Ritz Carlton Lemon Pound Cake recipe is calling your name! This old-fashioned pound cake is as popular today as it was in the 1920s. Make it yourself to see why!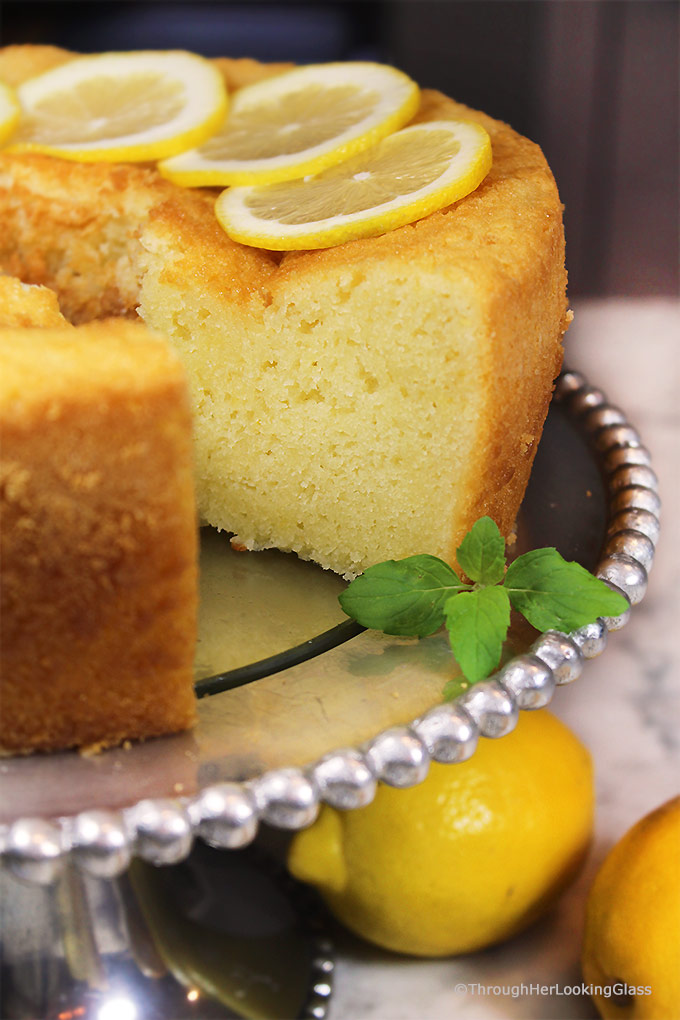 Homemade Lemon Pound Cake
I love an excellent pound cake. Moist and dense, it cuts cleanly. It must be all the butter! (Can one go wrong with butter?) It goes perfectly well served alongside a scoop of vanilla or dulce de leche ice cream, whipped cream, and lemon curd.
I am a big fan of pound cakes and made several other pound cake recipes. I like to make them as the seasons change so I can use different seasonal fruits: Blueberry Pound Cake, Glazed Lemon, and Sugared Cranberry. Each is unique and I don't like playing favorites. But if you ask me today, this Ritz Carlton Lemon Pound Cake is one of the greats.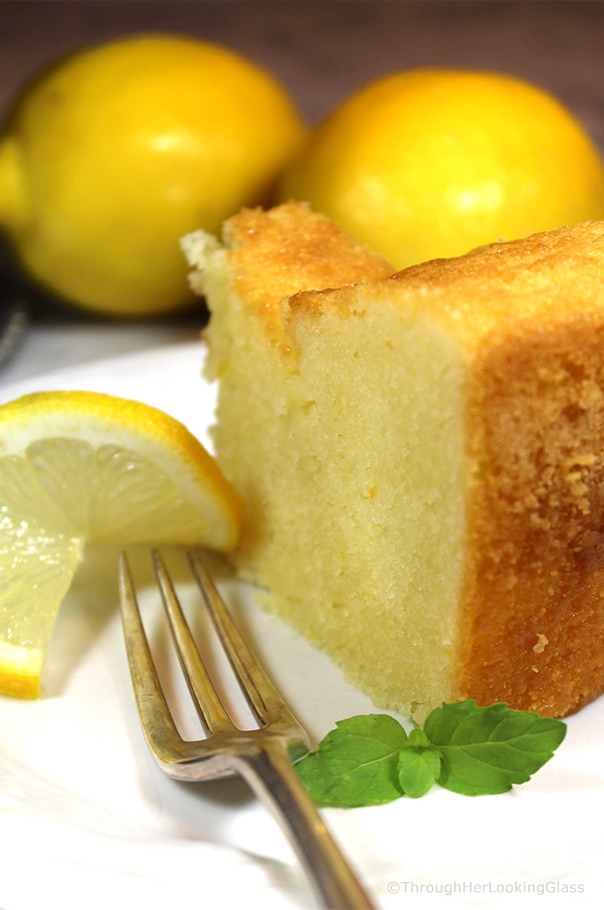 What Is Pound Cake, Exactly?
Homemade Lemon Pound Cake is one of those classic baking recipes every home chef needs in their arsenal of recipes. Originating in the 1700s, this recipe called for a pound each of flour, sugar, butter, and eggs. As you can imagine, that was a dense cake.
It would seem like the amount of heavy, wet ingredients in this cake — like the 5 eggs, milk, and cup and a half of butter and vegetable shortening — would weigh it down or cause it not to rise. However, something magical happens in the baking process that results in a fluffy cake with a fine crumb that melts in your mouth with each bite!
What Makes This Ritz Carlton Lemon Pound Cake Recipe Famous?
The recipe for this 1920 Famous Ritz Carlton Lemon Pound Cake recipe has been floating around the internet for years. I love that the recipe is simple. But the first time I made this 1920 Famous Ritz Carlton Lemon Pound Cake Recipe, I somehow doubled the shortening. I didn't even realize about the extra half cup of shortening until my kitchen started filling with smoke about halfway through the baking time. The excess oil seeped out of the tube pan, burning on the bottom of the oven. So, do as I say (and not as I did!).
I like to drizzle this Lemon Pound Cake with fresh lemon slices and mint, but a powdered sugar glaze, fresh berries, lemon curd, freshly whipped cream or even vanilla ice cream would also be delicious! This Lemon Pound Cake recipe is a classic dessert that's super easy to make for any occasion. It's perfect for get-togethers with family and friends, holidays (especially Easter and Christmas), and birthdays!
Key Ingredients
Butter + Shortening: You'll need one cup of butter and half a cup of vegetable shortening for this recipe. The butter adds a ton of rich flavor and beautiful yellow color to the pound cake. And the shortening hels the top get crisp and gives this pound cake it signature dense crumb.
Sugar: Use white, granulated sugar for this recipe. It creams well with the butter for a light, fluffy texture. And it won't change the color of the cake like brown sugar would.
Eggs: True to its name, you'll need 5 eggs for this pound cake recipe. Add them one at a time to make sure they're incorporated into the batter.
Dry Ingredients: Whisk or sift together your all-purpose flour, baking powder, and salt in a separate before adding to the batter.
Cake Flour: Cake flour inherently contains less protein than all-purpose flour or whole wheat flour, which means less gluten formation and a bouncier sponge cake texture. It also contains the leavening agents like baking soda and baking powder, as well as salt.
Heavy Whipped Cream: Just half of a cup keeps this pound cake moist with a fine crumb, and keeps it from drying out.
Lemon Zest + Lemon Juice: You'll need both fresh lemon zest and juice for this Lemon Pound Cake recipe. Make sure to wash your lemons well and roll them on the counter before zesting and juicing. This ensures that you'll get the most juice from your lemons.
Whole Milk: Alternate one cup of whole milk, or a half cup of milk plus a half cup of heavy whipping cream (or just a cup of half-and-half) with the dry ingredients, starting and ending with the flour mixture.
Garnish: Decorate your Ritz Carlton Pound Cake with thin lemon slices, fresh mint leaves, and/or a powdered sugar glaze made from whisking together milk or heavy cream, powdered sugar, lemon juice, and vanilla extract.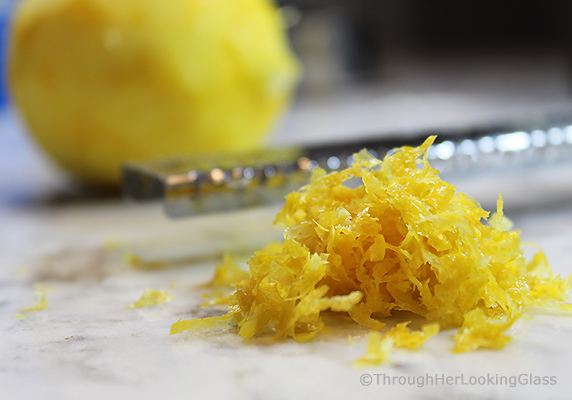 How To Make the Best Lemon Pound Cake
Preheat your oven to 350ºF, and prepare your tube pan or bundt pan by greasing with butter or shortening and dusting with flour to prevent the pound cake from sticking.
Next, in your stand mixer with the paddle attachment attached, cream your room temperature unsalted butter with the shortening and sugar until creamy and smooth. Make sure to scrape down the sides of the bowl so everything can get nicely incorporated.
Next, it's time to add the sifted dry ingredients to the butter mixture, alternating with the milk, beginning and ending with flour. (Pro tip: you always want to start with the dry ingredients and end with the dry ingredients when alternating with the wet ingredients.) Mix just until combined after each addition. It's OK to see some streaks of flour.
Remove the mixing bowl from the stand mixer, and gently (but thoroughly) fold in the lemon juice and lemon zest by hand with a spatula.
Add the eggs one at a time, mixing well until incorporated after each addition.
Pour the batter into a previously greased pan, and bake anywhere from 55-70 minutes or until the cake gets golden brown on the top. Leave the cake to cool in the pan for few minutes. Then, gently separate the cake from the pan and transfer the cake on a rack.
Allow the cake to cool in the pan for 15 minutes before inverting the pan on a wire rack to cool completely. Garnish with mint and lemon, serve by the slice, and enjoy!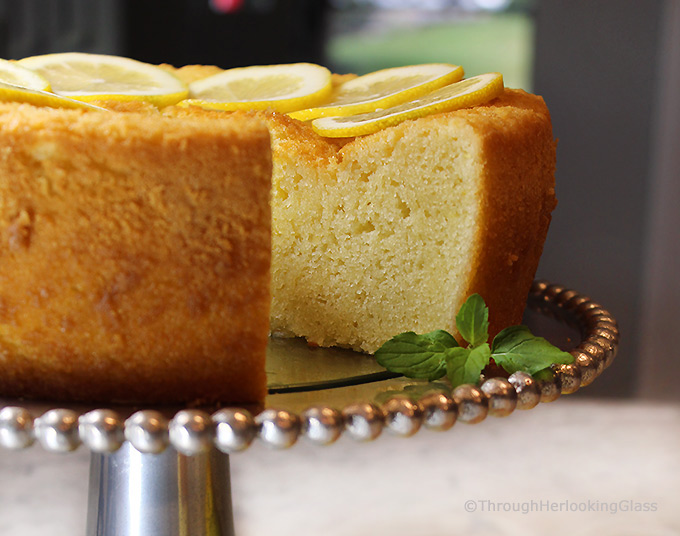 Tips for Making the Best Lemon Pound Cake
Measure all the ingredients carefully beforehand, and have them at room temperature — especially the butter and eggs in this case — to prevent lumps.
For a tender cake, don't over-mix the batter. Mix on low speed and until ingredients are just incorporated.
Bake on your middle oven rack, and start checking at the 55-minute mark, but if the top isn't even golden brown, don't open your oven yet. (Opening and closing the oven to check a cake before it's done causes it to fall.)
Grease and flour a bundt pan or tube cake pan so that the cake doesn't stick to the sides. A tube cake pan has two pieces which makes it simple to remove the cake.
Cool the cake before removing it from the pan. Gently loosen the sides with a knife, then lift out the middle piece. Run your knife around the center tube and between the bottom of the cake to loosen.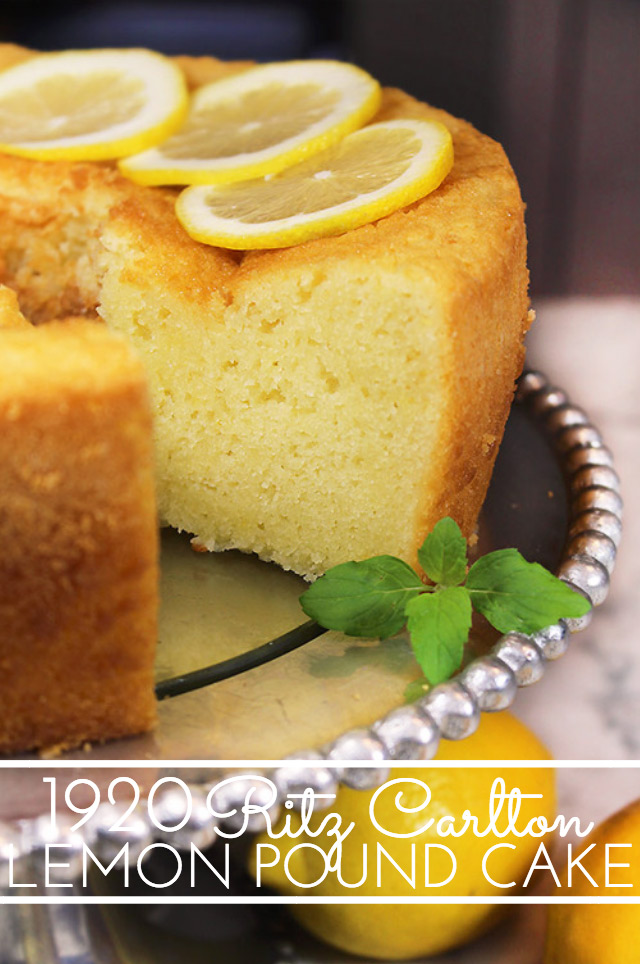 More Cake Recipes To Try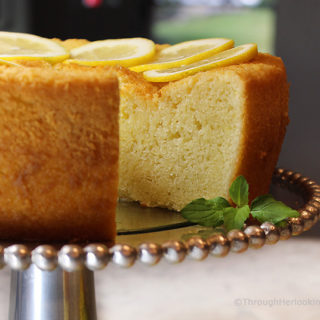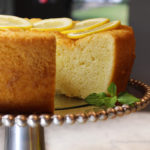 Print Recipe
1920 Famous Ritz Carlton Lemon Pound Cake Recipe
If you love lemons and you love pound cake, this 1920 Famous Ritz Carlton Lemon Pound Cake recipe is calling your name! This dense, old-fashioned buttery lemon pound cake was a hit at the Ritz Carlton Hotel in the 1920s, and it's still popular today.
Ingredients
3

cups

all-purpose flour

1

tablespoon

baking powder

3/4

teaspoon

salt

3

cups

sugar

1

cup

unsalted butter at room temperature

1/2

cup

shortening at room temperature

5

large eggs at room temperature

1

cup

whole milk

or 1/2 cup milk plus 1/2 cup heavy whipping cream

6

tablespoons

fresh squeezed lemon juice

Zest of 1 lemon
Instructions
Preheat oven to 350°F.

Grease and flour a tube pan (angel food cake pan) or Bundt pan. Set aside.

Sift flour, baking powder and salt into a medium bowl. Set aside.

Using an electric or stand mixer, cream together butter, shortening and sugar.

Add eggs one at a time, beating well after each one.

Scrape down the sides and bottom of the bowl.

Add dry ingredients in three additions to butter mixture alternately with half of the milk, beginning and ending with flour mixture.

Beat at low speed just until blended after each addition.

Gently stir in lemon juice and zest.

Pour batter into prepared pan.

Bake cake in 350° oven until cake is golden on top and tester inserted into center comes out clean, 55 - 70 minutes. (Start checking at the 55 minute mark.)

Be careful not to open the oven if you don't think it's finished baking. (Opening the oven prematurely could cause the cake to fall.)

Cool cake in pan.

Using a sharp knife, gently separate cake from cake pan edges wherever you can, including around the center tube.

Turn cake out onto rack.

Serve with a dollop of fresh whipped cream or a spoonful of lemon curd.