If you love lemons and you love pound cake, this 1920 Famous Ritz Carlton Lemon Pound Cake Recipe is calling your name! This dense, old-fashioned buttery lemon pound cake was a favorite at the Ritz Carlton Hotel in the 1920's and it's still popular today.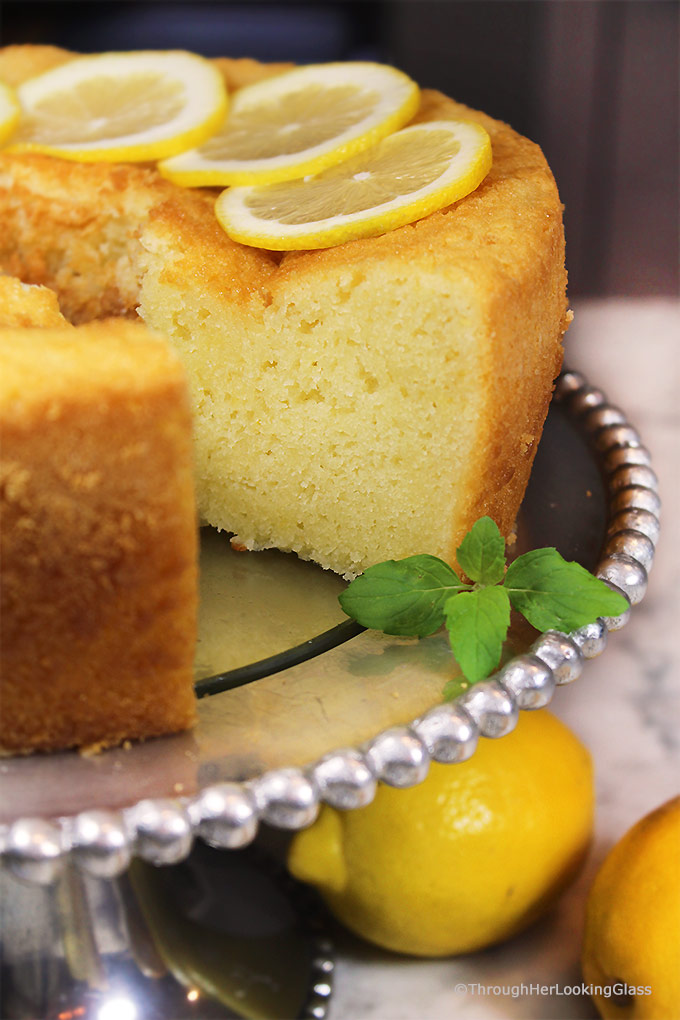 I love an excellent pound cake. Moist and dense, it cuts cleanly. It must be all the butter! (Can one go wrong with butter?)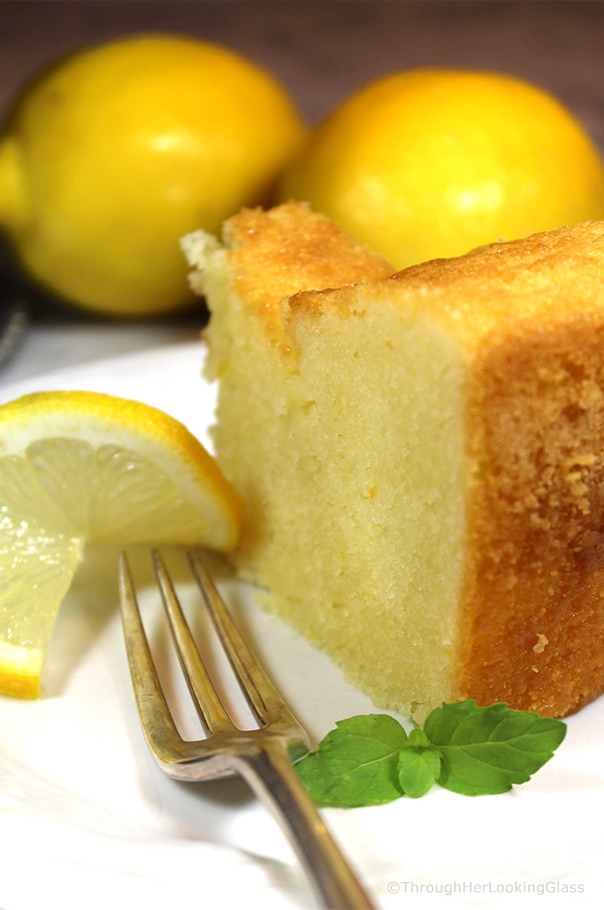 There are several other pound cake recipes here on the blog you may enjoy: Blueberry, Glazed Lemon Blueberry, Fresh Peach and Sugared Cranberry.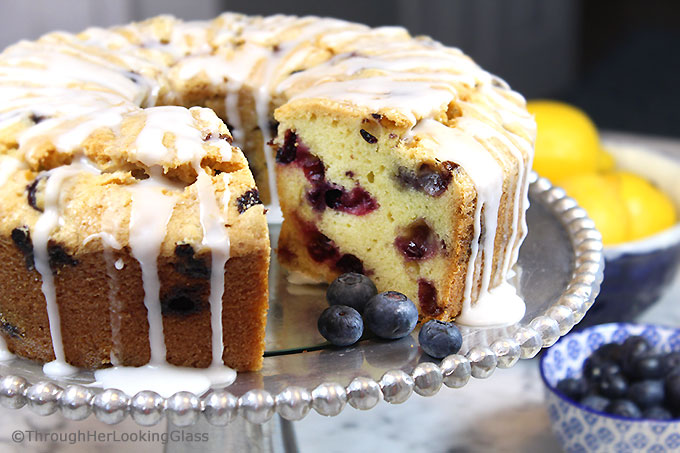 Each is unique and I don't like playing favorites. But if you ask me today, the Lemon Glazed Lemon Blueberry Pound Cake would be right up there. The Sugared Cranberry Pound Cake is so pretty at Christmas time too.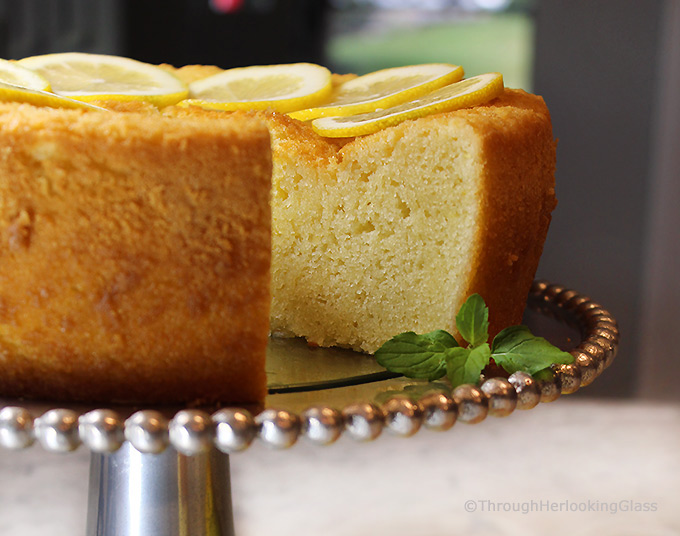 Classic pound cakes are pretty simple to make.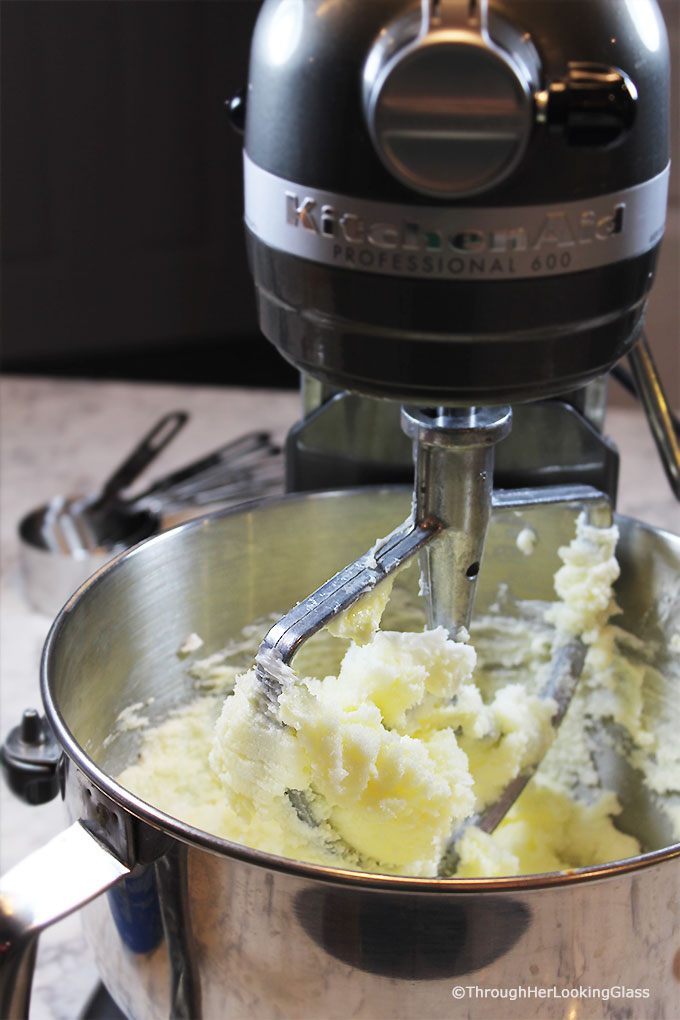 Traditionally you cream the butter or shortening with the sugar first.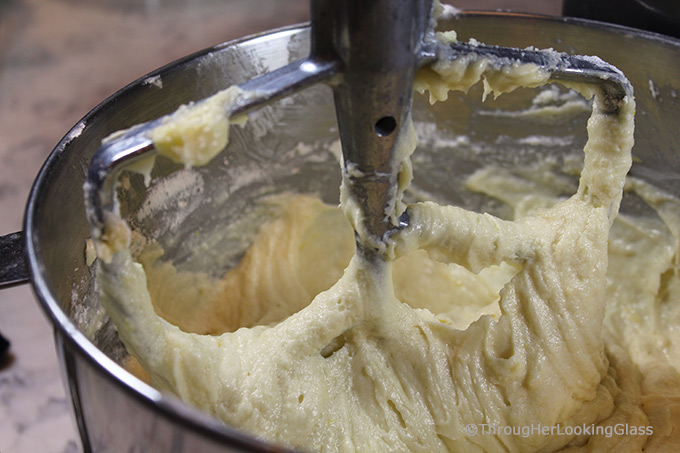 Then add in the eggs, one at a time.
Finally you stir in the dry ingredients, alternating with the wet ones until just combined. Stir in add-ins at the end. It doesn't sound too complicated. (It's not.) 🙂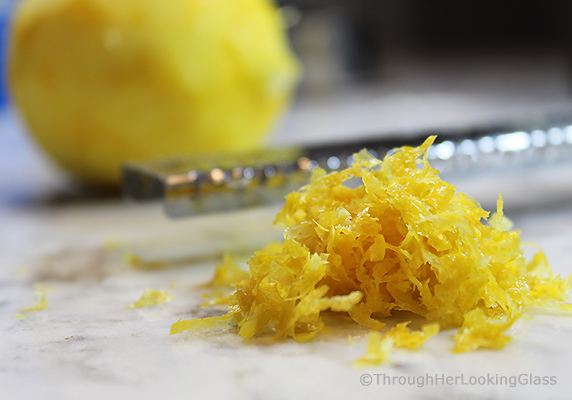 But the first time I made this 1920 Famous Ritz Carlton Lemon Pound Cake Recipe, somehow I doubled the shortening. Why? Dunno.
Maybe I was distracted with kitchen storage ideas on Pinterest? Or maybe my sweet puppy Chloe was negotiating extra pats and treats…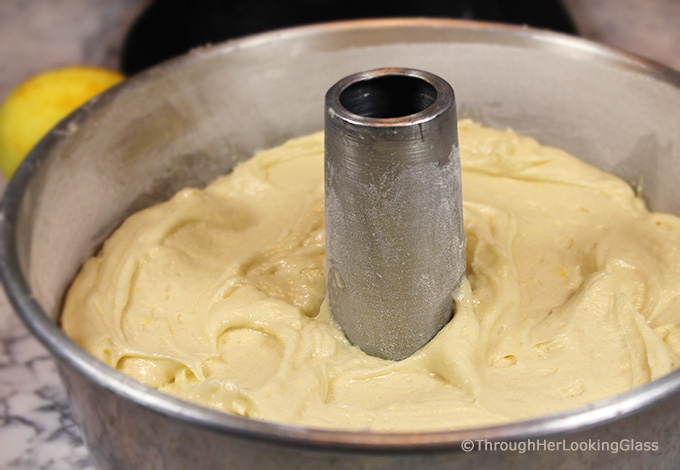 I didn't even realize about the extra half cup of shortening until my kitchen started filling with smoke about half way through the baking time. Eek! The extra oil was seeping out the bottom of my two part tube cake pan and smoking from the bottom of the oven.
So do as I say. (And not as I did.) And pay close attention to your ingredient amounts!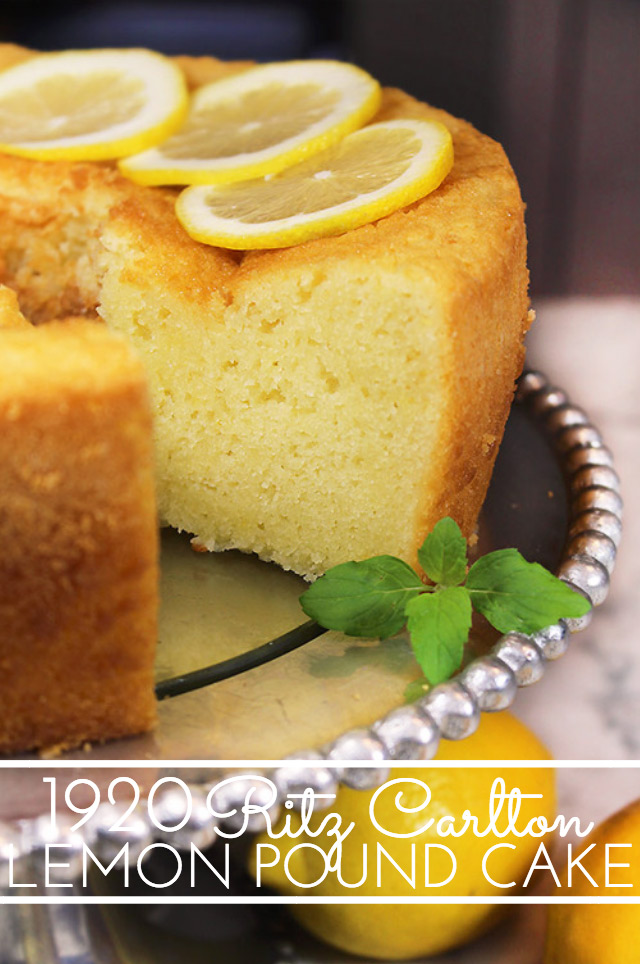 The recipe for this 1920 Famous Ritz Carlton Lemon Pound Cake Recipe has been floating around the web for years. I love that the recipe is simple. It's scrumptious served with a generous dollop of whipped cream or a spoonful of lemon curd.

The second time I made this pound cake was the charm. I laid out all the ingredients before I starting mixing, and carefully read through the amounts. Not exactly rocket science, but I didn't want to smoke out my new kitchen again.
Tips for Making the 1920 Famous Ritz Carlton Lemon Pound Cake Recipe:
Ingredients should be at room temperature.
Measure ingredients carefully. (Ahem.)
For a tender cake, don't over mix. Mix until ingredients are just incorporated.
Bake on your middle oven rack.
Start checking at the 55 minute mark, but if the top isn't even golden brown, don't open your oven yet. (Opening and closing the oven to check a cake before it's done causes it to fall.)
Grease and flour a bundt pan or tube cake pan. 
This is the kind of tube cake pan I used. It has two pieces which makes it simple to remove the cake.
Cool the cake before removing it from the pan.
Gently loosen the sides with a knife, then lift out the middle piece. Then run your knife around the center tube to loosen, and between the bottom of the cake and cake pan to separate.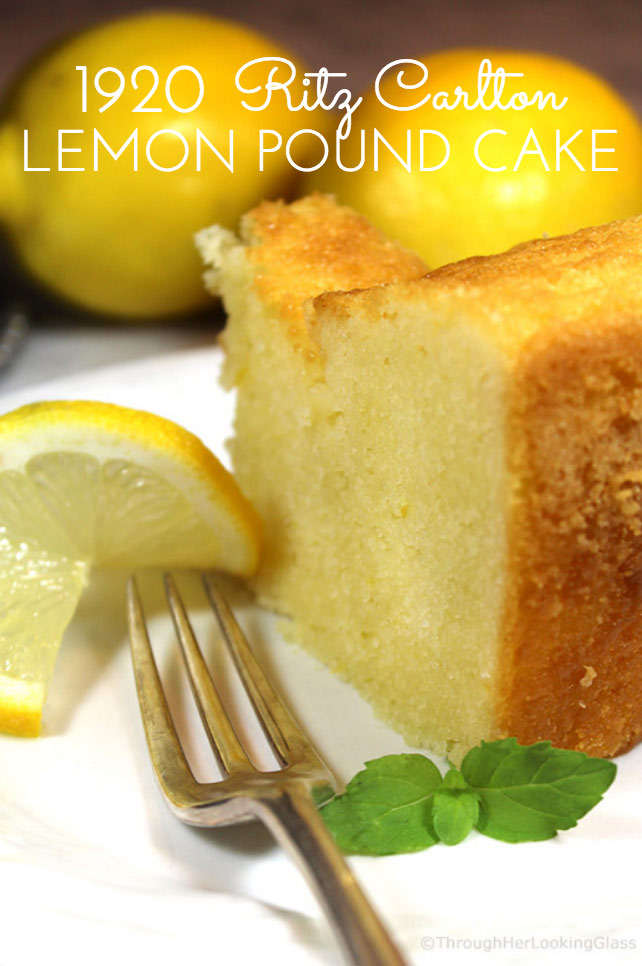 If you're a lemon lover like me, you'll also enjoy these other mouthwatering recipes incorporating fresh lemons: Lemon Cake, Lemon Crumble Breakfast Cake and Lemon Yogurt Breakfast Cake (Ciambella).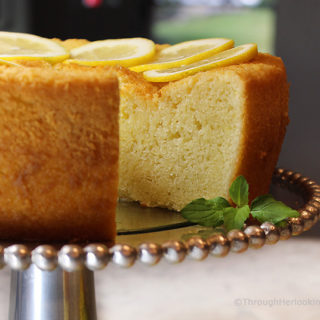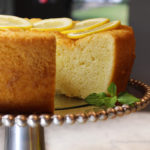 Print Recipe
1920 Famous Ritz Carlton Lemon Pound Cake Recipe
Ingredients
3

cups

all-purpose flour

1

tablespoon

baking powder

3/4

teaspoon

salt

3

cups

sugar

1

cup

unsalted butter at room temperature

1/2

cup

shortening at room temperature

5

large eggs at room temperature

1

cup

whole milk

or 1/2 cup milk plus 1/2 cup heavy whipping cream

6

tablespoons

fresh squeezed lemon juice

Zest of 1 lemon
Instructions
Preheat oven to 350°F.

Grease and flour a tube pan (angel food cake pan) or Bundt pan. Set aside.

Sift flour, baking powder and salt into a medium bowl. Set aside.

Using an electric or stand mixer, cream together butter, shortening and sugar.

Add eggs one at a time, beating well after each one.

Scrape down the sides and bottom of the bowl.

Add dry ingredients in three additions to butter mixture alternately with half of the milk, beginning and ending with flour mixture.

Beat at low speed just until blended after each addition.

Gently stir in lemon juice and zest.

Pour batter into prepared pan.

Bake cake until cake is golden on top and tester inserted into center comes out clean, 55 - 70 minutes. (Start checking at the 55 minute mark.)

Be careful not to open the oven if you don't think it's finished baking. (Opening the oven prematurely could cause the cake to fall.)

Cool cake in pan.

Using a sharp knife, gently separate cake from cake pan edges wherever you can, including around the center tube.

Turn cake out onto rack.

Serve with a dollop of fresh whipped cream or a spoonful of lemon curd.
You may also like: Candied Lemon Cheesecake