A generous slice of Sugared Cranberry Pound Cake is the perfect wintry treat with a steaming cup o' tea. Scratch-made, buttery almond pound cake is studded with sugared cranberries for a sweet cake that's beautifully festive and irresistible on the dessert table.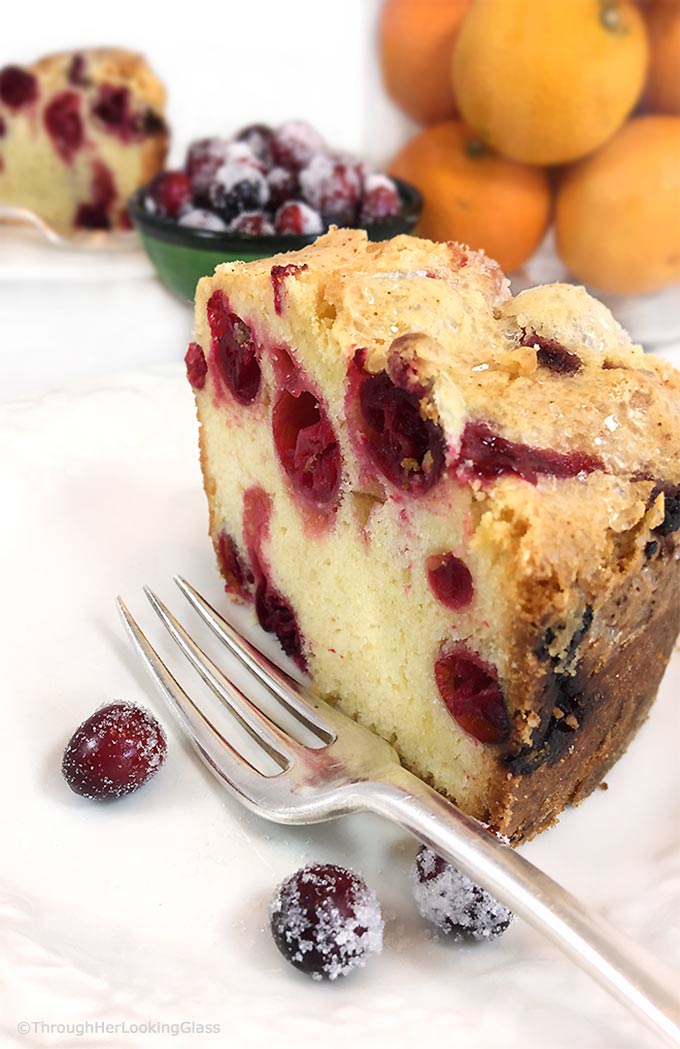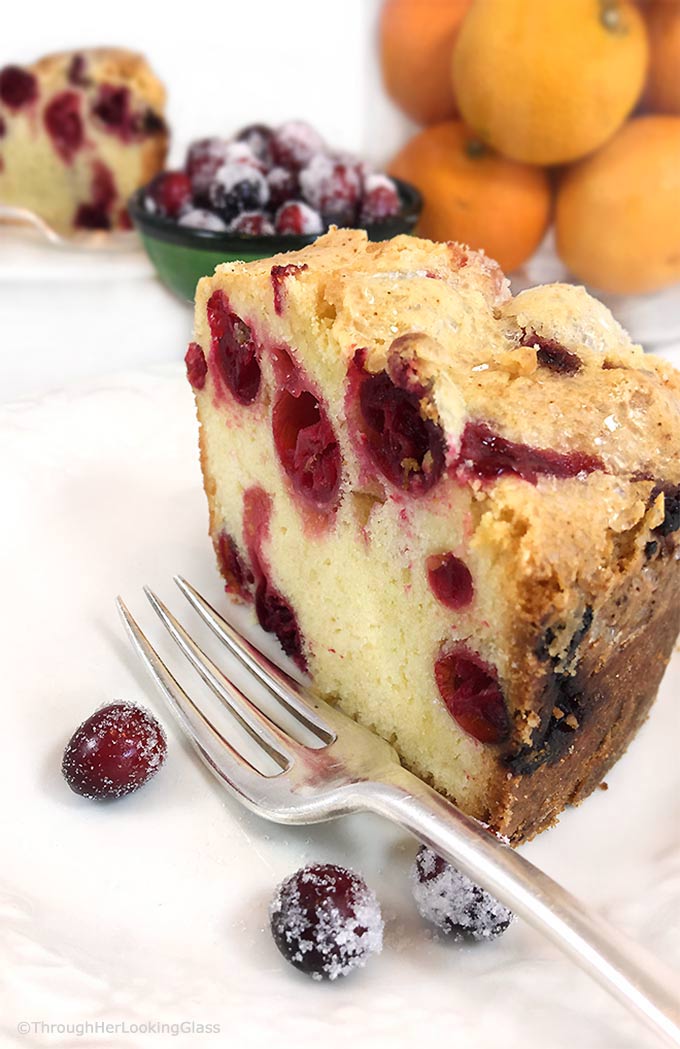 While my last name isn't Murphy, I'm well acquainted with Murphy's Law. More than I'd like to be unfortunately. Several years ago on a Saturday morning I hosted a Christmas Coffee here at the house for girlfriends and neighbors. (If you're needing a simple way to connect with friends over the holidays and don't have time to make a five course meal, a coffee works! Host a drop-in for a few hours.)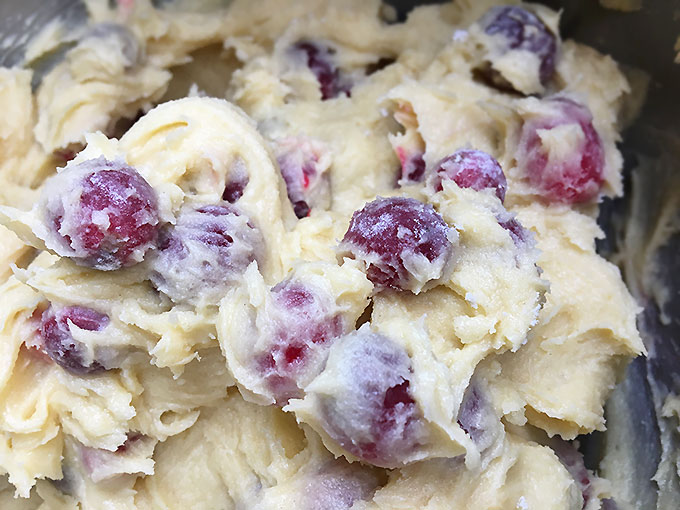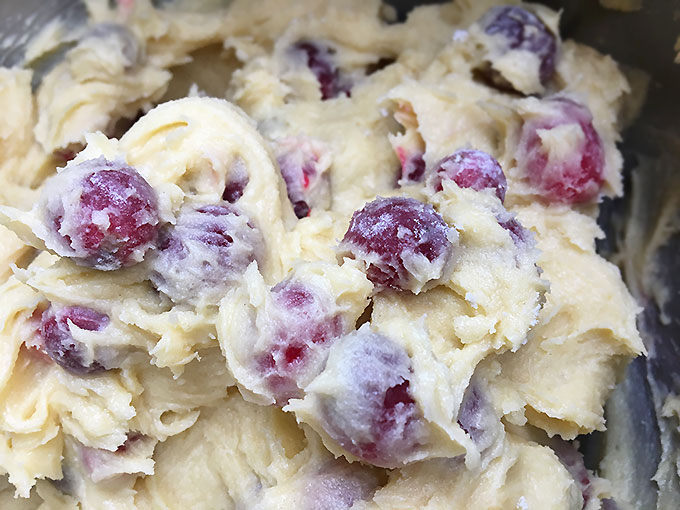 I served fresh fruit, biscotti and coffee. Then added a few extras to the menu: sugared pecans and sugared cranberries. It was a great spread!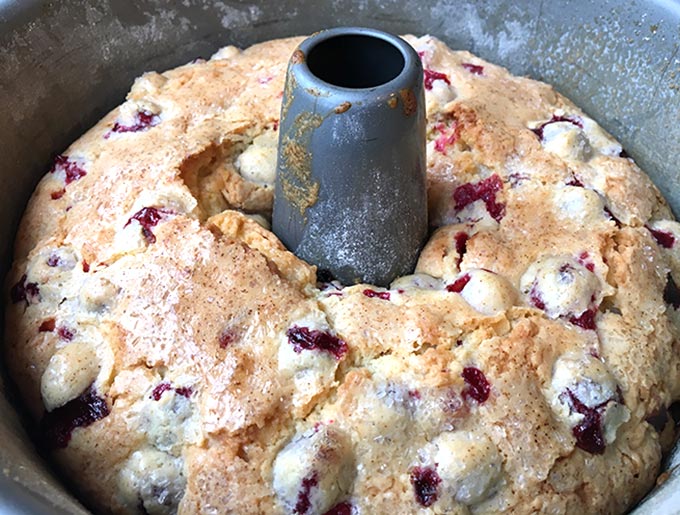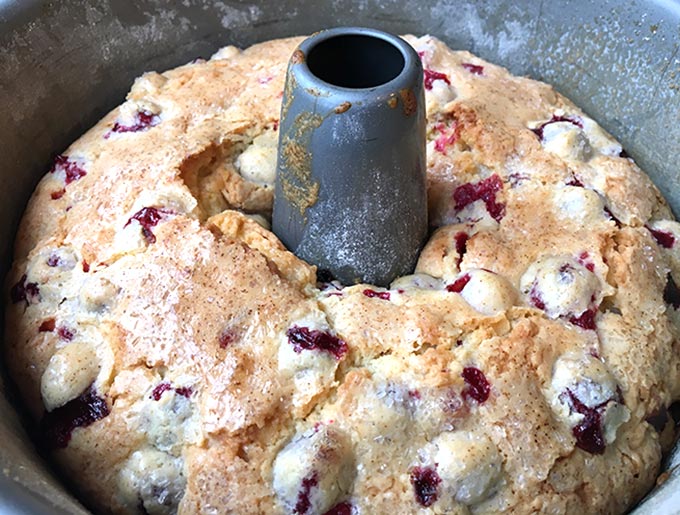 Murphy's Law didn't come into play with the menu that morning, thankfully. It was something else.
Half-way through the coffee, a concerned guest pulled me aside. She wondered if the dripping wax from the lantern on the coffee table was part of the winter snow scene… GULP.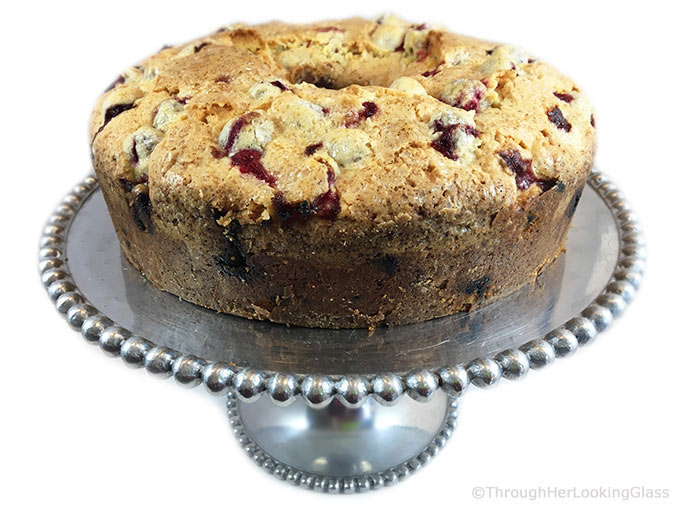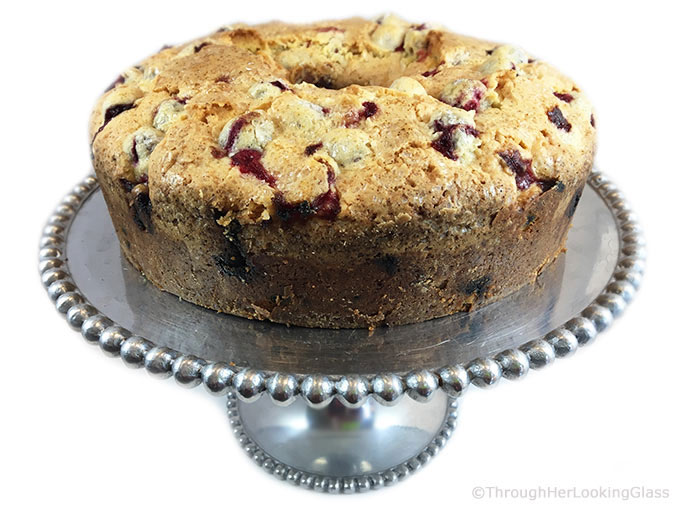 Just before jumping in the shower that morning, all in a rush, I'd lit the brand new pillar candles inside my wooden Pottery Barn lantern. In my hurry, I'd forgotten to trim the wicks. Mistake #1.
(If a stitch in time saves nine, a trimmed wick could save a hundred I'm thinkin'.)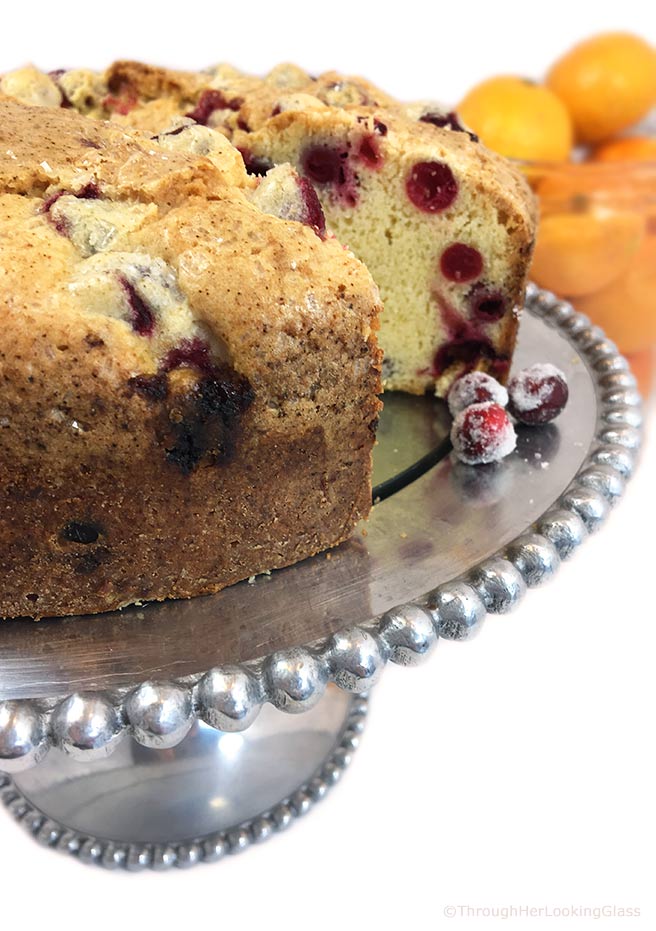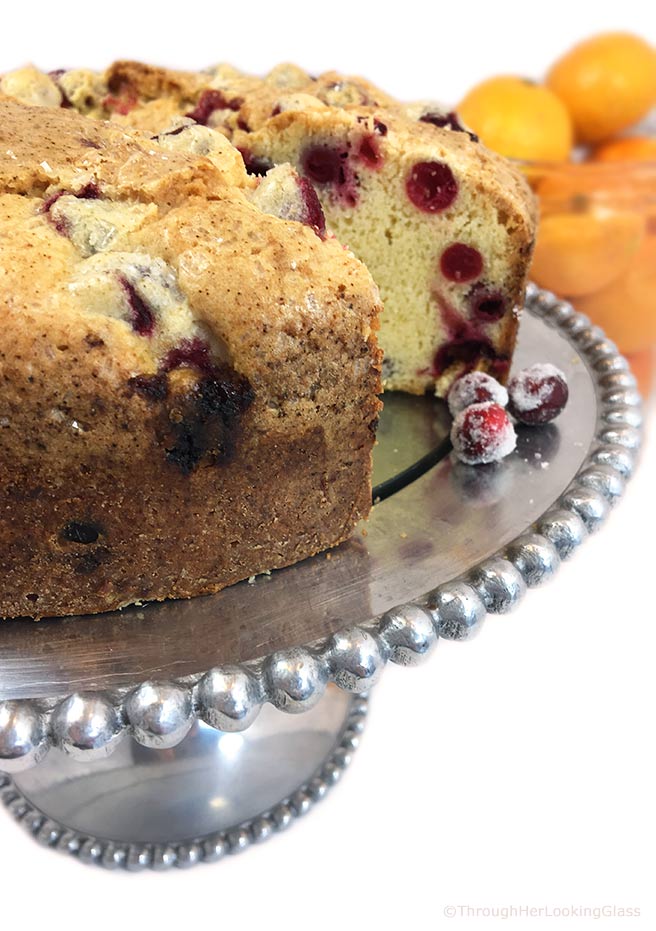 The candles with the big flames and long wicks had melted down quickly, and there was two inches of melted wax inside and up the sides of the lantern. The bottom layers had started to harden, sealing the lantern door shut (as in wax seal!) and we couldn't get to the candles to blow them out.
There we were, tea party MacGyvers all of us, armed with butter knives, wax paper and toothpicks. Desperately trying to pry open a molten wax-filled lantern.
Then a clever soul quietly whispered, "How many smart women does it take to blow out three candles"??? Ha ha. SO FUNNY. Maybe you had to be there.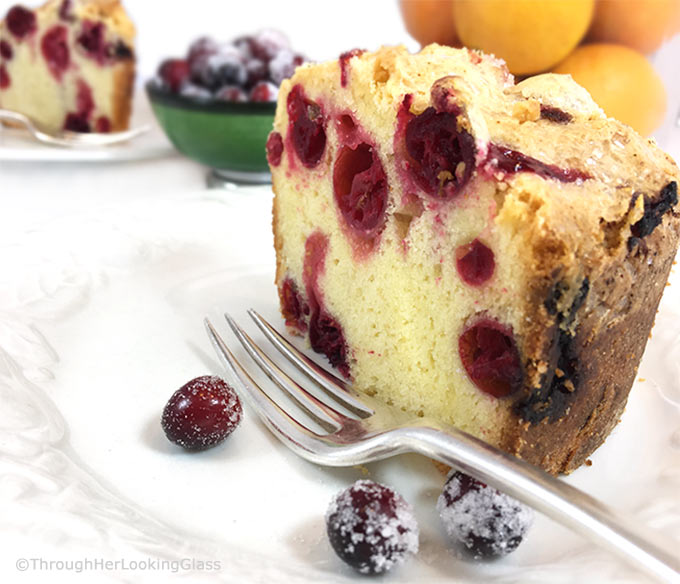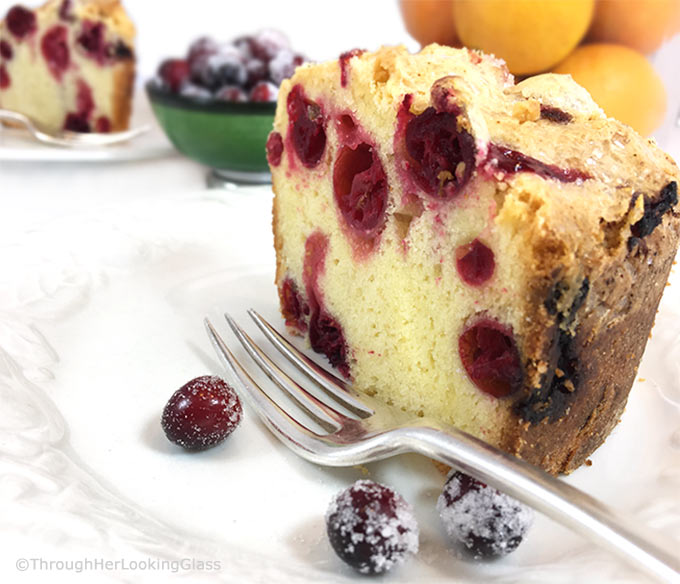 Finally we pried the door open with minimal spillage and no burnt fingers. Success! And just one sturdy puff later, the candles were extinguished. Phew. A word to the wise…trim your candle wicks this holiday season. (The voice of experience….)
So that was my big mishap of the week. And this delicious Sugared Cranberry Pound Cake was my big success. I took my favorite pound cake recipe, swapped in almond extract for vanilla and added the sugared cranberries.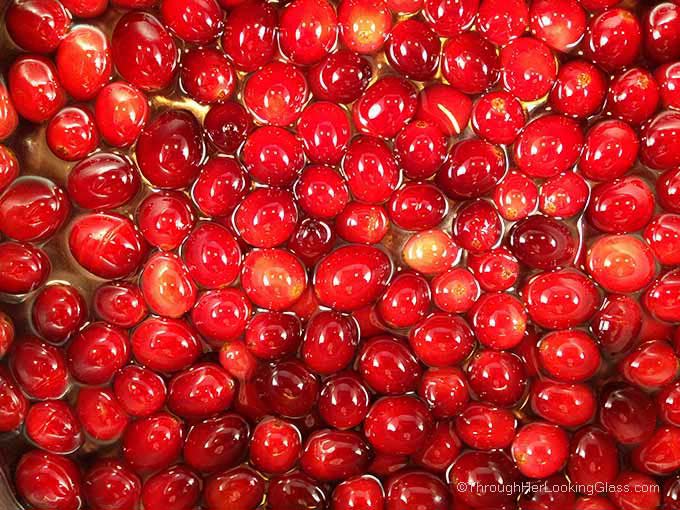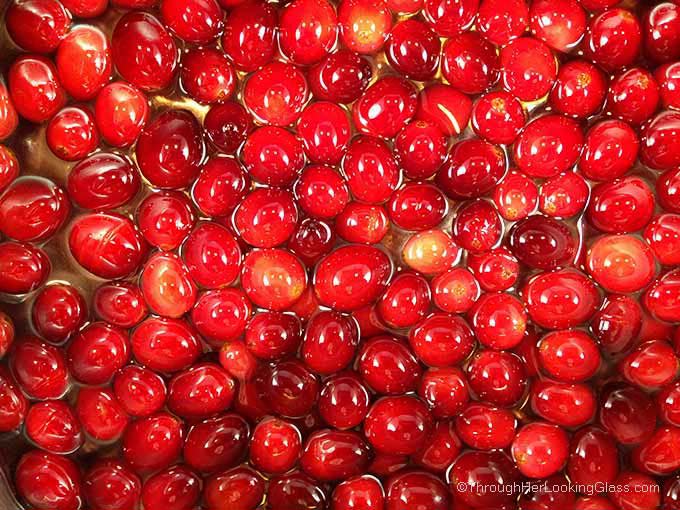 Steep fresh cranberries in a hot simple syrup for several hours, then roll in sugar.
One of the boys asked me why pound cake is called pound cake, and it's because traditionally pound cake was made with a pound each of butter, flour, eggs and sugar.
How to Make Sugared Cranberry Pound Cake:
This cake is easy to make. Cream the butter and sugar together, then incorporate the eggs in one at a time.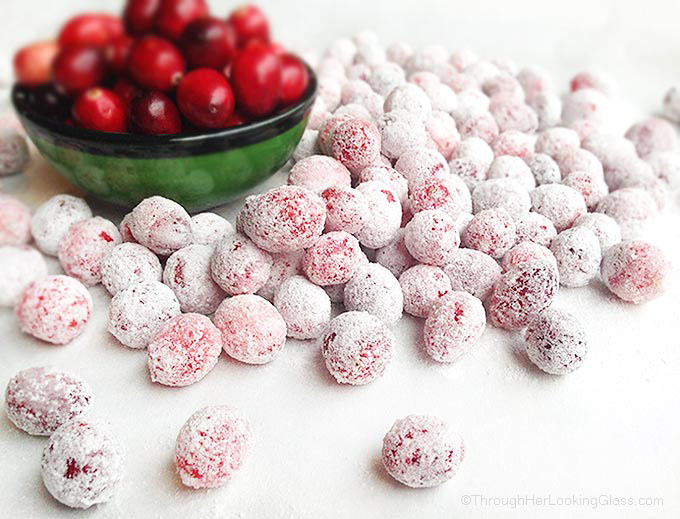 Stir in the dry ingredients and gently fold in the sugared cranberries. Sprinkle with coarse, sparkling white sugar just before baking if desired. (I did.)
Scratch-made pound cakes are surprisingly easy to make and I don't know a soul who wouldn't love a thick slice of this one. The sweet tart cranberries are a nice contrast with the velvety smooth cake. This Sugared Cranberry Pound Cake is a pretty, festive cake and sure to be a favorite on your holiday dessert table.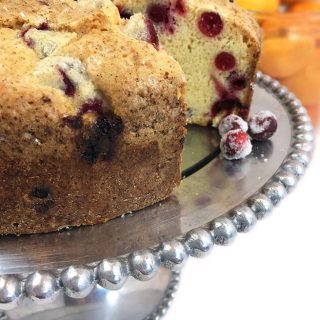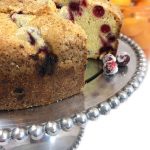 Print Recipe
Sugared Cranberry Pound Cake
Ingredients
Sugared Cranberries
2

cups

cranberries

1 1/2

cups

water

1 1/2

cups

white sugar
Pound Cake
2

cups

sugared cranberries

recipe above

3

cups

all purpose flour

1

teaspoon

baking powder

1/2

teaspoon

salt

1

cup

butter

at room temperature

2

cups

white sugar

4

large eggs

at room temperature

3/4

teaspoon

almond extract

Optional: 2 tablespoons of coarse

sparkling white sugar
Instructions
Sugared Cranberries
In small saucepan, stir together 1 1/2 cups sugar and 1 1/2 cups water.

Heat over medium heat until mixture is just simmering.

Remove from heat.

Drop in a test cranberry. If it pops, mixture is too hot.

If not, add in the rest of the cranberries and marinate in the simple syrup for several hours.

Drain and set aside simple syrup for another use.
Pound Cake
Grease and flour a 10" tube pan. Set aside.

Preheat oven to 325°.

Toss drained, marinated cranberries in 1/4 cup of the flour. Set aside.

In a small mixing bowl, stir remaining 2 3/4 cups flour with salt and baking powder. Set aside.

In a mixing bowl, cream together butter and sugar.

Add in eggs one at at time, beating well after each addition.

Add in almond extract and beat until fluffy.

Fold dry ingredients into batter until well- blended.

Gently stir in floured cranberries.

Spoon batter into prepared pan.

Optional: sprinkle with coarse, sparkling white sugar

Bake for 60-75 minutes at 325° until cake is golden and cake tester comes out clean.

Cool for 30 minutes, then loosen all edges of cake from tube pan with a sharp knife before turning out onto a cake platter.
Notes
I didn't roll my steeped cranberries in extra sugar for this recipe because there is plenty of sugar in the pound cake itself. If you roll your cranberries in sugar, I would omit the step of tossing the cranberries in 1/4 cup flour before folding them into the cake batter. (I also recommend using the full 3 cups of flour in this recipe.)
You may also like: Famous Brick Street Chocolate Cake