Salty and sweet Chocolate Covered Pretzel Owl Candy is fun for kids of all ages. Dunk mini-pretzels in melted chocolate, then add googly eyes, a nose and "horns". Irresistibly adorable crunchy party snacks. Give a hoot!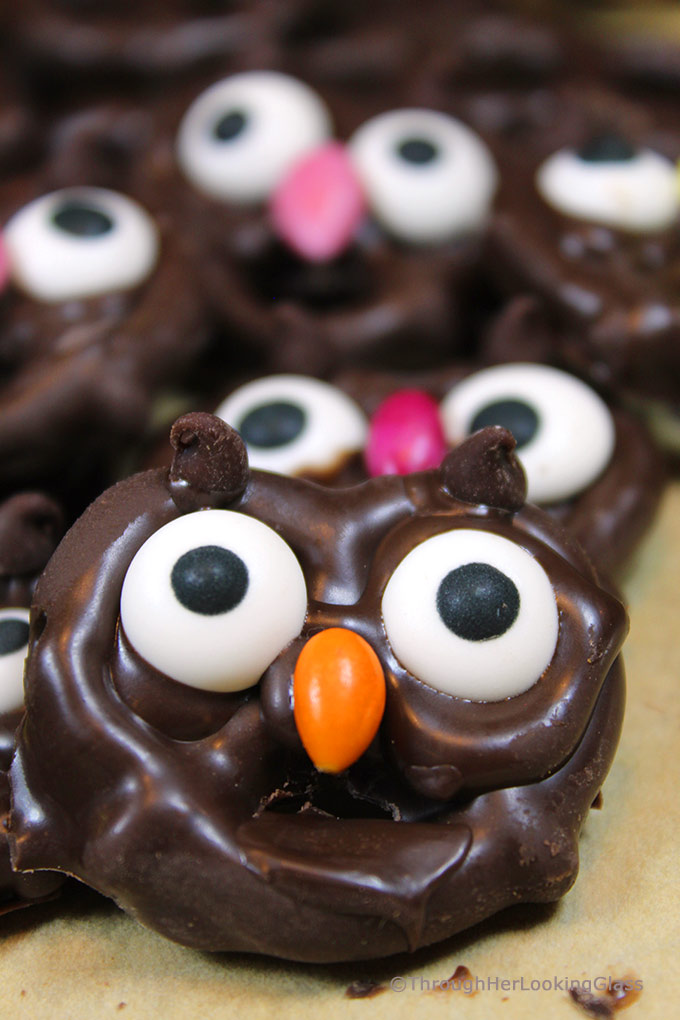 These whimsical little owl pretzels are great party-size snacks! Adorable and cheery, they're a fun little craft project to pop in your mouth! Hoo hoo… Kids and grandkids love 'em and they disappear fast.
And here's a fun owl factoid for you. Can you tell me what a group of owls is called?
Drumroll….. a parliament. (Hope someone told the Queen.) Seriously, I didn't make it up. (Referring to a group of owls as a parliament originated with C.S. Lewis' description of an owl meeting in The Chronicles of Narnia.)
We're in limbo with Thanksgiving in the rearview mirror, but not yet December or Christmas. It's drab and dreary outside. A light layer of snow covers the ground and the leaves are mostly down.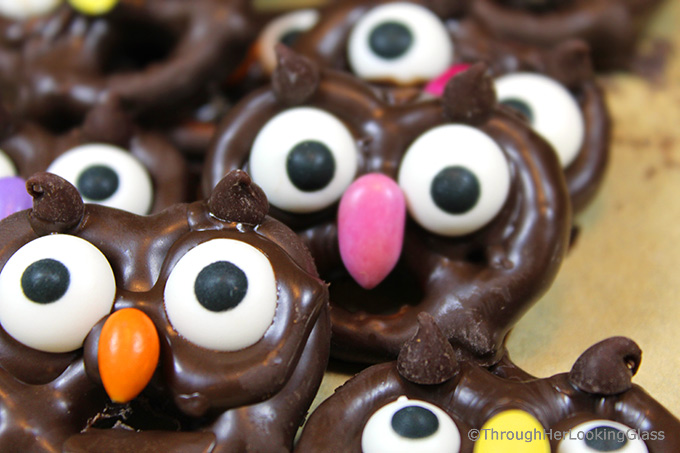 The strains of carols are everywhere and Christmas lights are twinkling. Meanwhile, my mini pumpkins sit mutely on the mantel, all in a row.
We hope to get our tree this weekend. Maybe that will usher me out of limbo?
I've been thinking about making this Chocolate Covered Pretzel Owl Candy for a few months now. I first saw them at a birthday party and was smitten. They aren't rocket science to make either.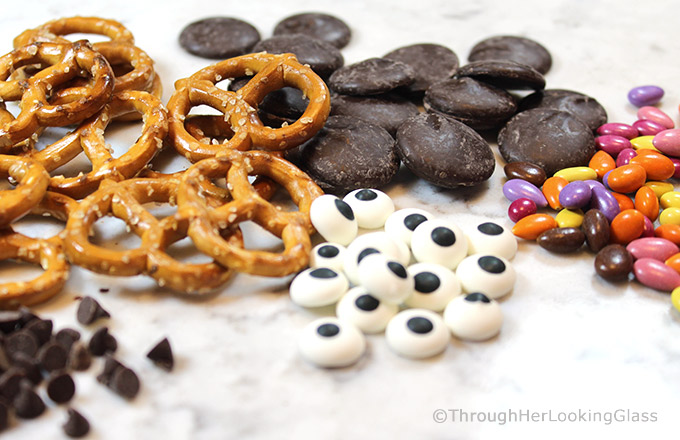 You'll need just five ingredients:
good quality chocolate candy wafers (I used Merckens Dark Chocolate)
mini-pretzels
googly candy eyes (medium size)
mini chocolate chips
candy coated sunflower seeds (I got mine from Trader Joe's, you can also find them on amazon.com)
If you can't get good quality chocolate candy wafers like Merckens, use good quality chopped chocolate or even semi-sweet chocolate chips with a bit of coconut oil, vegetable shortening or butter melted in.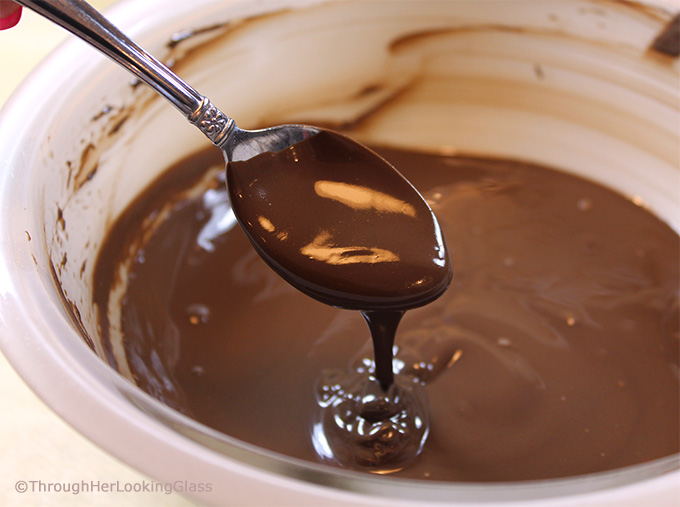 How to properly melt chocolate candy disks
Melt the chocolate or chocolate candy disks in a large, microwave safe bowl. As mentioned, I used the high quality candy disks by Merckens. Here are their instructions about how best to melt their candy disks:
Place at least 1/2 pound of Merckens candy coating disks into a microwave safe container. (We like to use a two-cup glass measuring cup.)
Microwave on high for 30 seconds.
Remove candy melts from microwave and stir. This is an important step. It removes hot spots and prevents the coating wafers from burning.
Return Merckens coatings to microwave and repeat process and continue until melted. (Again, remember to remove the coatings from the microwave after each 30-second interval and stir.)
If chocolate becomes thick while working with it, simply return it to the microwave, and microwave for 10-15 seconds to remelt.
You'll find more tips on melting high quality Mercken candy disks here.
Do you have a handy dandy candy dipping fork? I've had one for years but never used it. So this was the perfect opportunity. A wooden skewer, a two-tined carving fork or even a double pronged marshmallow stick would also do the trick. (I prefer the candy dipping fork because it prevents the pretzel from sliding down too far.)
How to make Chocolate Covered Pretzel Owl Candy:
Drop your pretzel in the melted chocolate, then shake and twirl it around on the candy dipping fork 'til the excess melted chocolate drips off. (It's a good idea to use a larger microwave safe bowl when melting so melted chocolate doesn't get everywhere when you shake off the excess. Because it can get messy. LOL, the voice of experience.)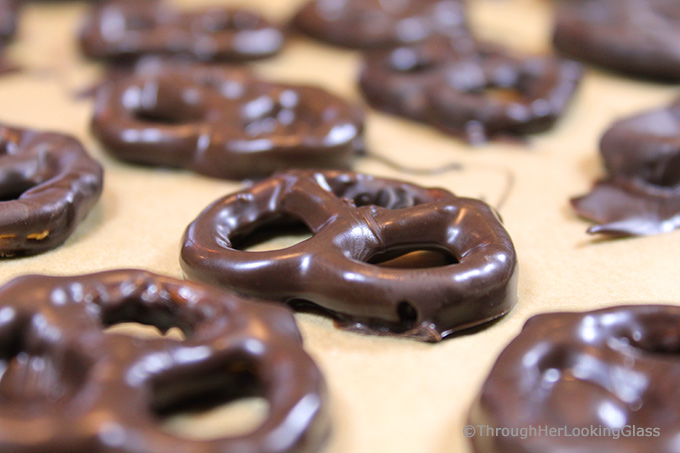 Place your chocolate covered pretzels onto a parchment or waxed paper lined cookie sheet to dry.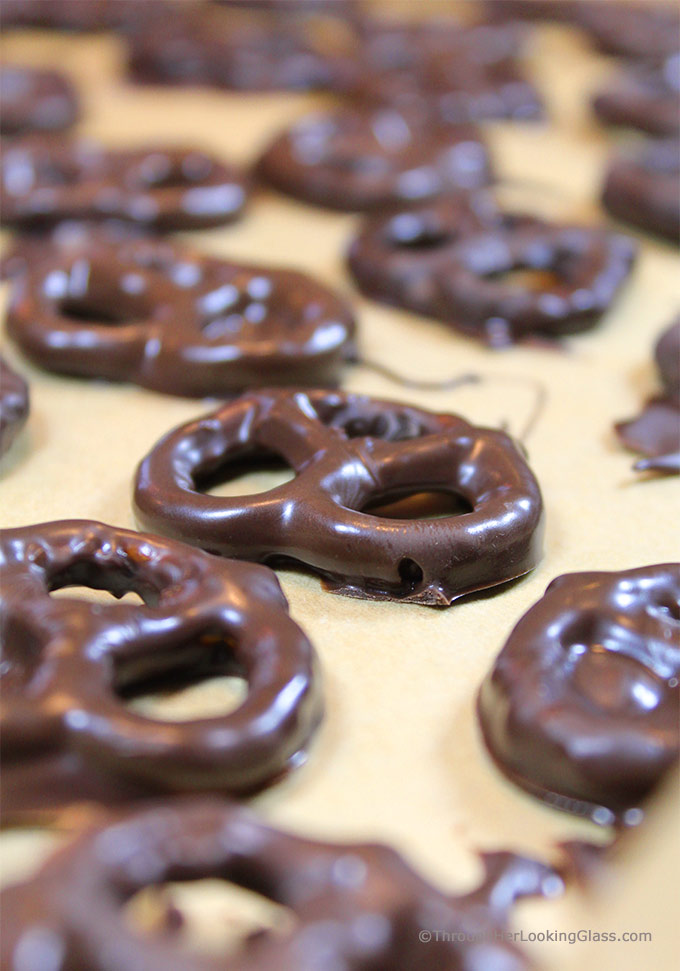 Then place a small amount of melted chocolate into a snack size ziploc bag and seal it. Snip off a tiny corner and use it like a pastry bag.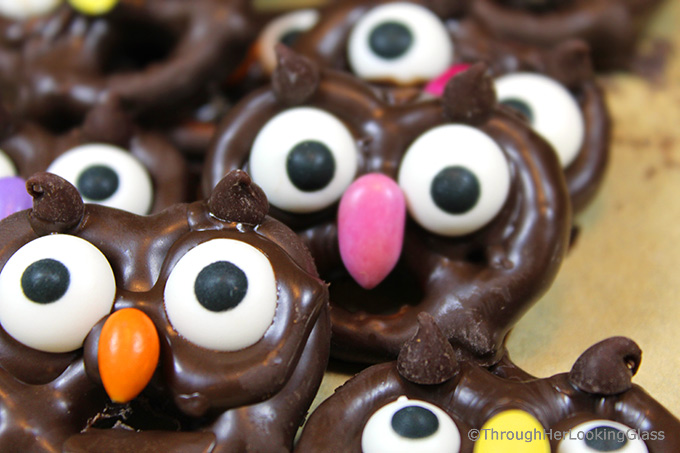 Squeeze small amounts of melted chocolate into the top two holes of the pretzel, leaving the bottom one empty. Before the chocolate hardens, add your googly candy eyes on top.
If you have some eyes with the pupils a little off center, you can make some pretty funny expressions. Unfortunately most of mine were pretty close to the middle. (!!!!)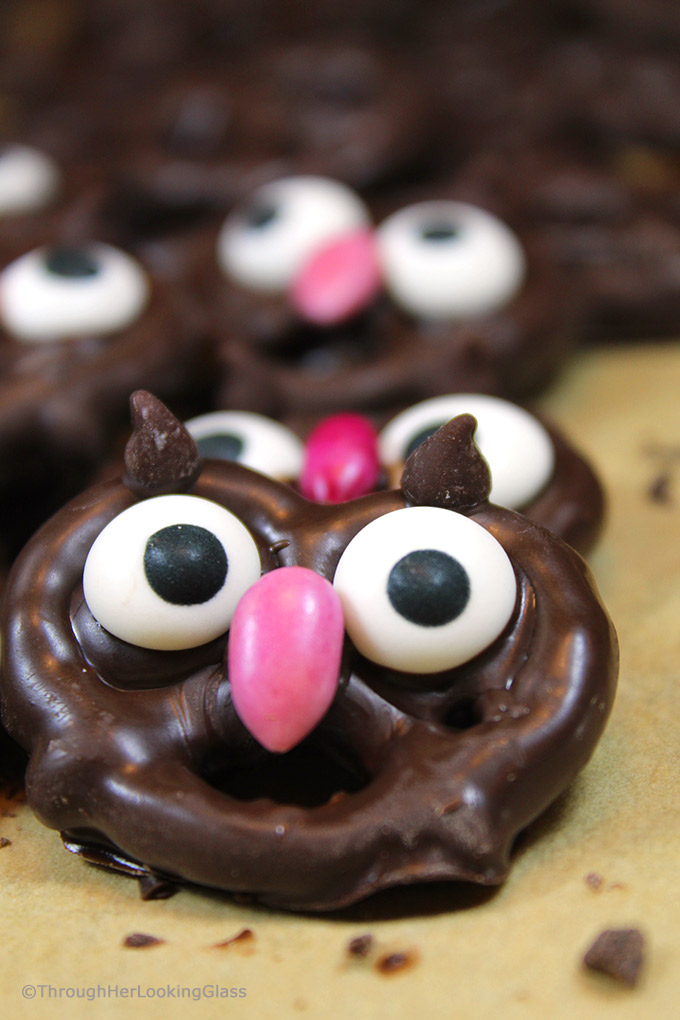 Then squeeze a little melted chocolate in between the eyes. Add a candy coated sunflower seed, pointed down. Voila – that's your owl's beak! Now ain't that GRAND?
Once the beak is on, you've got real personality. So maybe it's time to think of names? (Like Fred or Gertrude.)

Then add a little melted chocolate above each eye and tack on the little HORNS. (Mini chocolate chips.) So cute.
These little owl pretzels are a hoot and sure to be a hit wherever they go. Enjoy and have fun!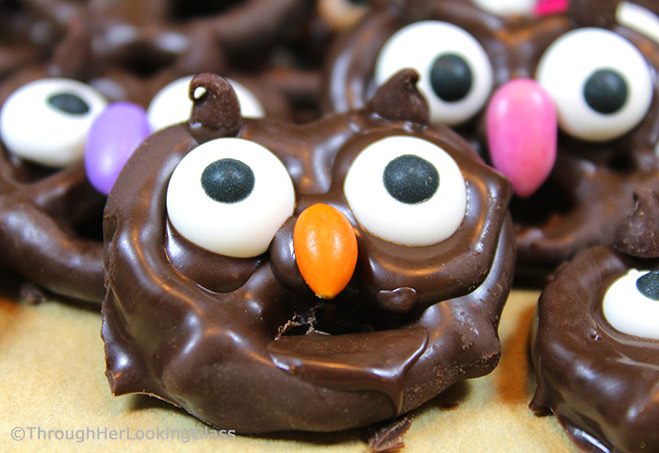 Tips for making Chocolate Covered Pretzel Owl Candy:
Use good quality chocolate candy disks like Merckens. (Can also use good quality chocolate or semi-sweet chocolate with a little coconut oil, butter or vegetable shortening mixed in.)
Use a candy dipping fork.
I found candy coated sunflower seeds online on amazon.com, they may also be available at your local Trader Joe's.
Use medium-sized googly candy eyes, found at your local candy shop or online. (There were three sizes at my candy store: small, medium and large.)
Fun owl facts:
Owls are zygodactyl. (Translation: their feet have two forward-facing toes and two backward-facing toes.)
Not all owls hoot! Some hiss and others even whinny.
The tiniest owl in the world is the Elf Owl and it weighs 1 ½ ounces.
More fun owl facts here!
Other pretzel candy recipes you may enjoy: Pretzel Candies, Candy Bar Pretzel Bites, Candy Dipped Pretzel Rods and Easy Pretzel Candy Melts.
Yields 48 owl candies
Chocolate Covered Pretzel Owl Candy
Ingredients
48 mini pretzels
2 cups of dark chocolate candy disks (or good quality chopped chocolate or semi-sweet chocolate chips - see tips below)
96 medium-sized googly eyes
48 candy coated sunflower seeds
mini chocolate chips
(If you don't have good quality chocolate candy disks, use 2 cups of good quality chocolate or semisweet chocolate morsels. Add 1-2 teaspoons of coconut oil, butter or vegetable shortening to the chocolate. Melt carefully in the microwave or in a double boiler over low heat.)
Instructions
Melt chocolate candy disks according to manufacturer's instructions. (Or use good quality chopped chocolate or semi-sweet chocolate. (See above.)
Dip pretzels in melted chocolate and shake off excess.
Place on parchment or waxed paper lined cookie sheet.
Allow chocolate to harden. Set aside.
Fill a snack size bag with warm melted chocolate and seal the bag. (may need to reheat chocolate first.)
Snip a very tiny corner of the bag, and use as a pastry bag.
Squeeze chocolate out of the snipped corner of bag, and fill top two holes of the pretzel. Leave the bottom hole empty.
Press candy eyes onto warm melted chocolate.
Squeeze a small amount of melted chocolate between candy eyes.
Press candy coated sunflower seed, point down, in between eyes.
Squeeze two dots of melted chocolate above eyes.
Press one mini chocolate chip above each eye.
ENJOY!!!
7.8.1.2
224
https://www.throughherlookingglass.com/pretzel-owl-candy/
You may also like: Chocolate Peanut Butter Acorns