These Peanut Butter Chocolate Acorns are the sweetest little bites for kid parties, lunchboxes, snacks, and late-night desserts — especially in the Fall. They're fun to make, fun to eat, and the perfect Thanksgiving holiday favor!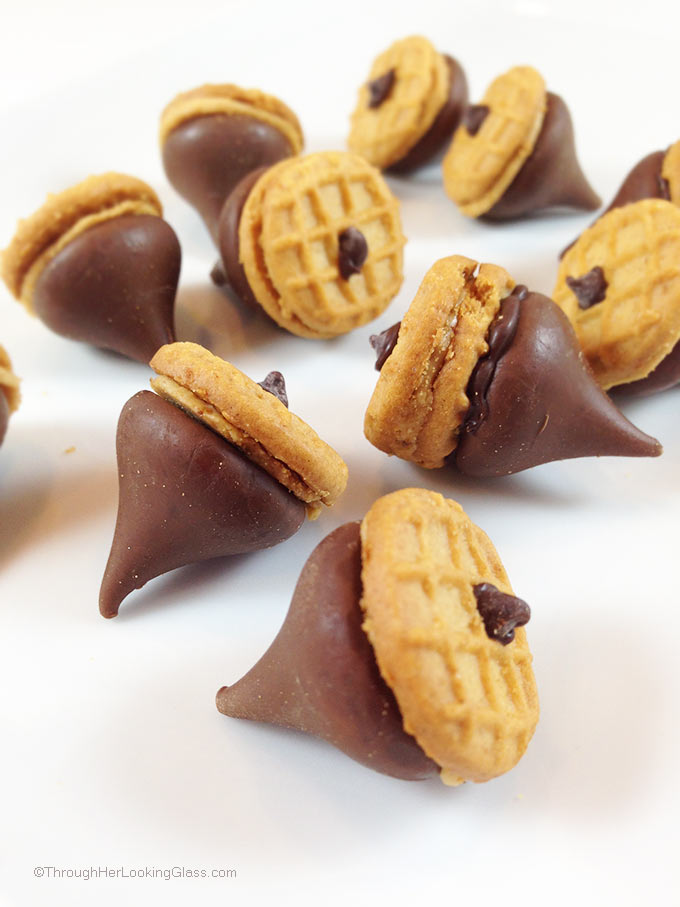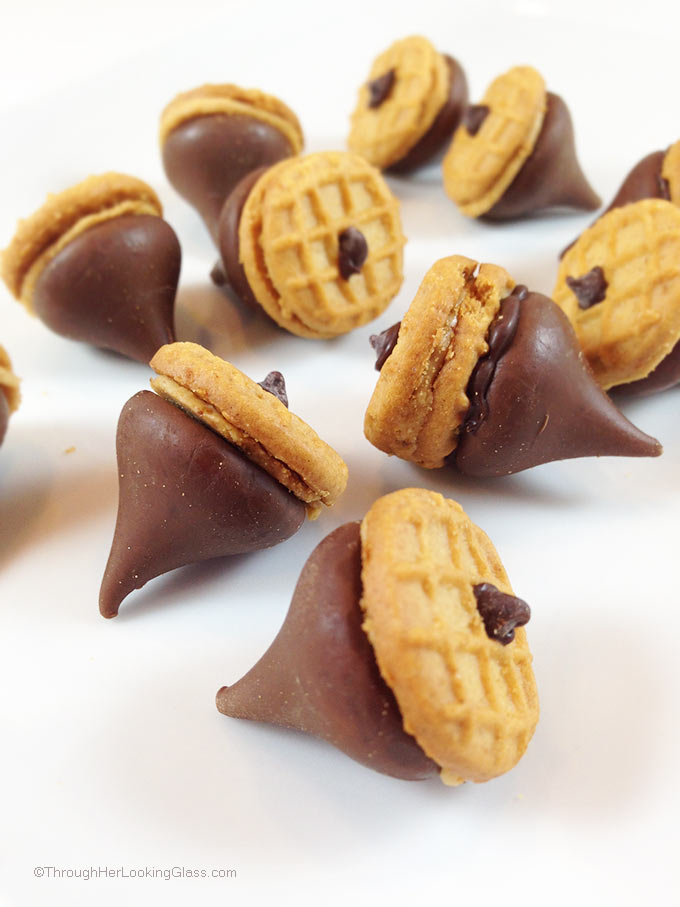 Fall Calls for These Peanut Butter and Chocolate Acorns!
Fall is so lovely here in New England. When autumn rolls around, the nights get cooler and the days become crisper. This is when I start pulling out my scarves and cowboy boots — as the leaves will start morphing into vibrant reds, yellows, and oranges in just a few weeks.
We all know chocolate and peanut butter is the best combo. But these Peanut Butter and Chocolate Acorns are also the perfect little DIY dessert craft for kids of all ages. So, here's a fun little harvest snack that's cute and quick to make. It's the perfect way to usher in the fall season! It's not labor intensive or rocket science. (I hesitate to even call it a recipe!) These Peanut Butter Chocolate Acorns are a fun little bites for harvest and fall classroom parties.
In this fun dessert recipe, you use melted chocolate as the glue to assemble the little acorn stems and caps onto the acorns. You may use tweezers to add the mini chocolate chip stem, if you like, but don't get held up on making these things look perfect. Like nature, food rarely is!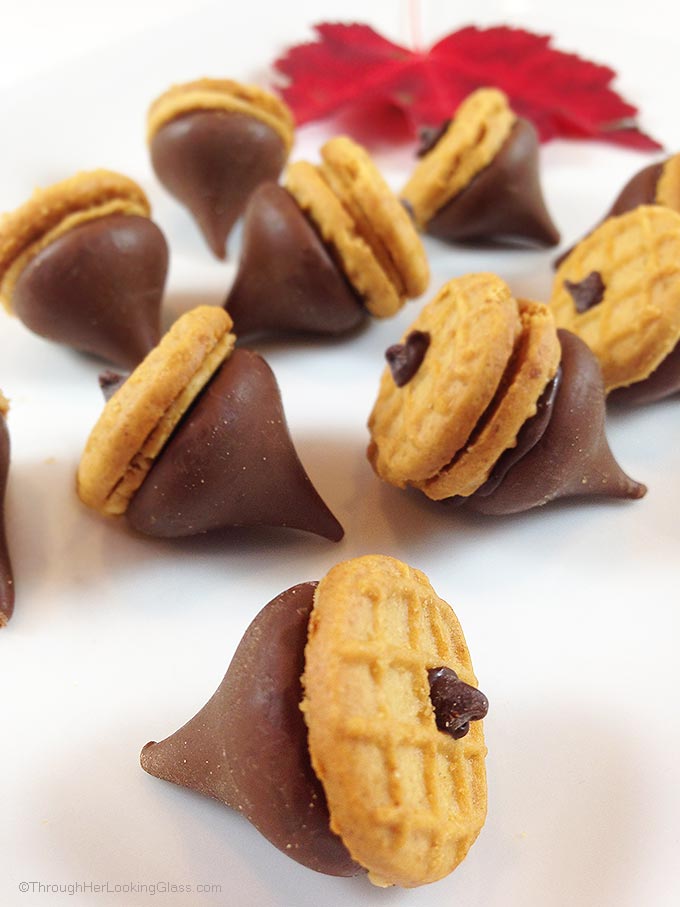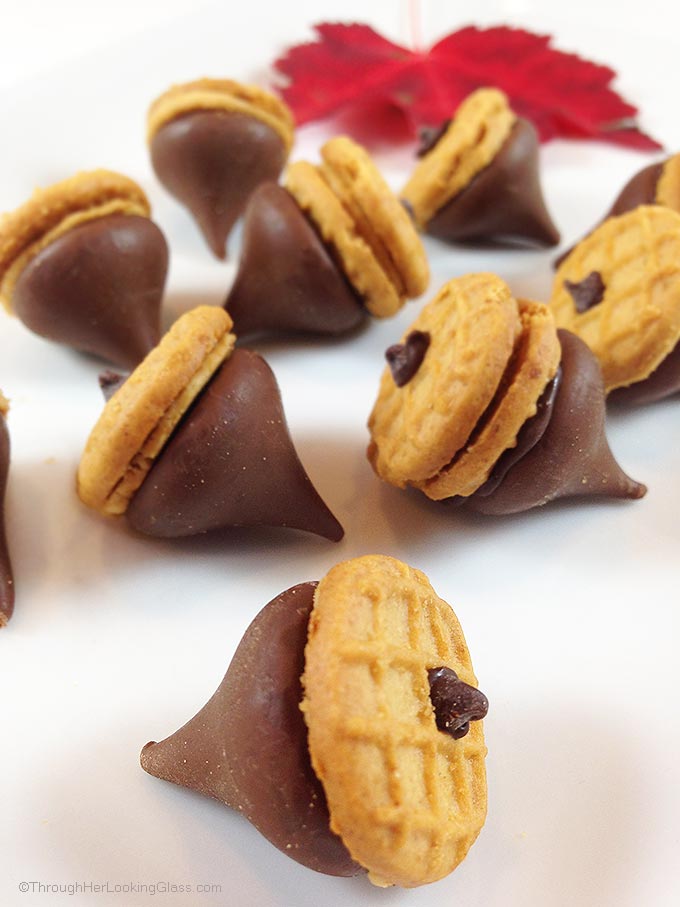 Key Ingredients
You only need three ingredients to make this super simple — and fun — dessert recipe this fall: Nutter Butter peanut butter sandwich cookie bites, Hershey's chocolate kisses, and mini semisweet chocolate chips. That's it!
Feel free to add some ingredients or switch these up to best fit your palette. White chocolate could be used to hold the kisses and sandwich cookies together, or a combination of peanut butter or Nutella with chocolate. It's up to you!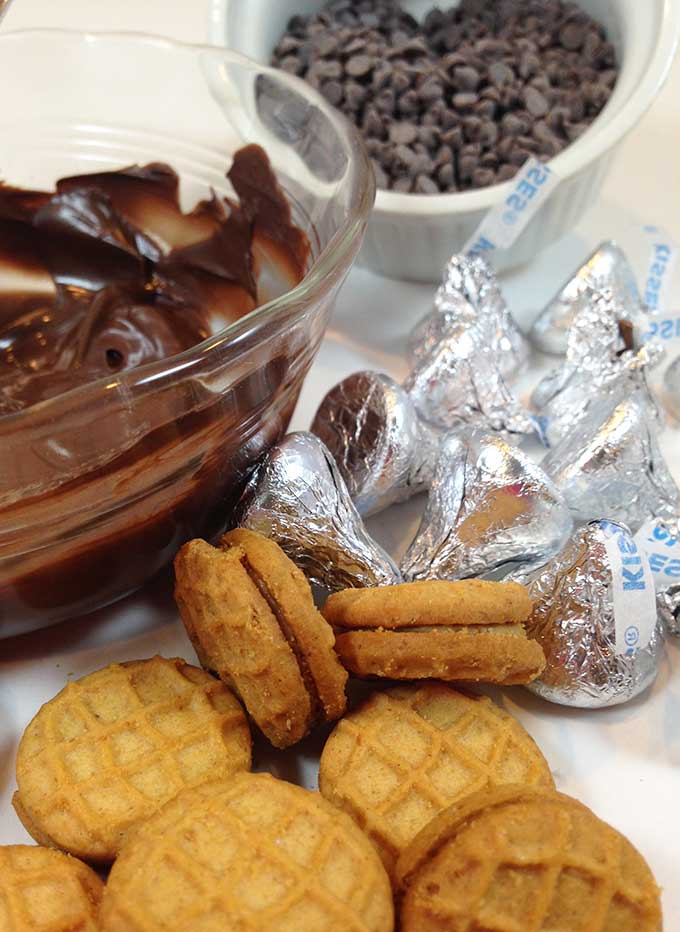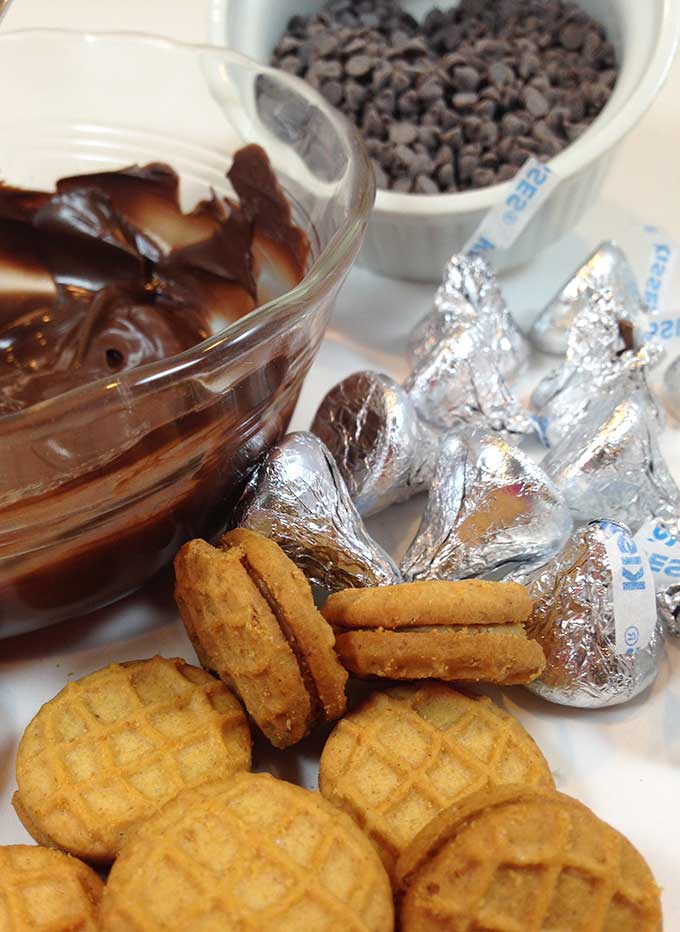 How To Make Peanut Butter Chocolate Acorns
The assembly of these chocolatey, peanut butter-y bites is a piece of cake!
First, melt the chocolate"glue" in the microwave for 20-30 seconds at a time until totally melted. Don't add any butter, milk, coconut oil, or other ingredient to the chocolate chips to assist in the melting process, as that could affect their adhesiveness. Just be patient and make sure to stir the chocolate in between zaps so it doesn't burn.
Dip the mini chocolate chips in the melted chocolate, and attach acorn stems to the top-center of the Nutter Butter bites. (It may be easier to use sterilized tweezers than your fingers for this step.)
Attach the Hershey's kisses to the Nutter Butter bites in one of two ways — either remove one of the cookies and use peanut butter cookie filling to "glue" Nutter Butter bite to the Hershey Kisses, or attach the whole cookie to the chocolate kiss with the melted chocolate.
Allow the melted chocolate to harden for few minutes, then serve.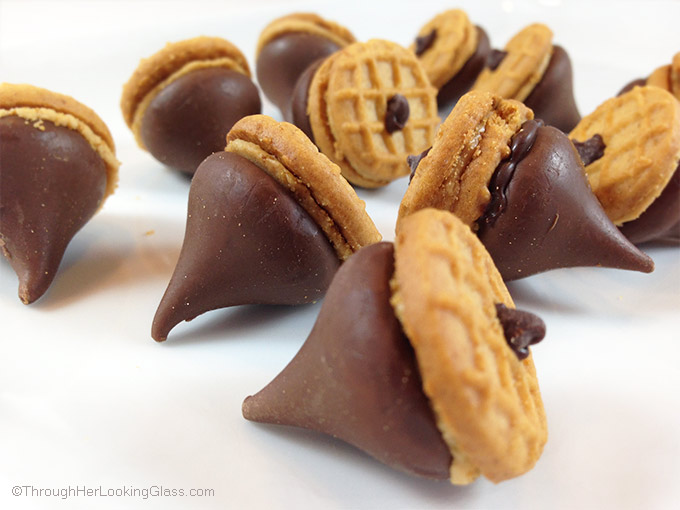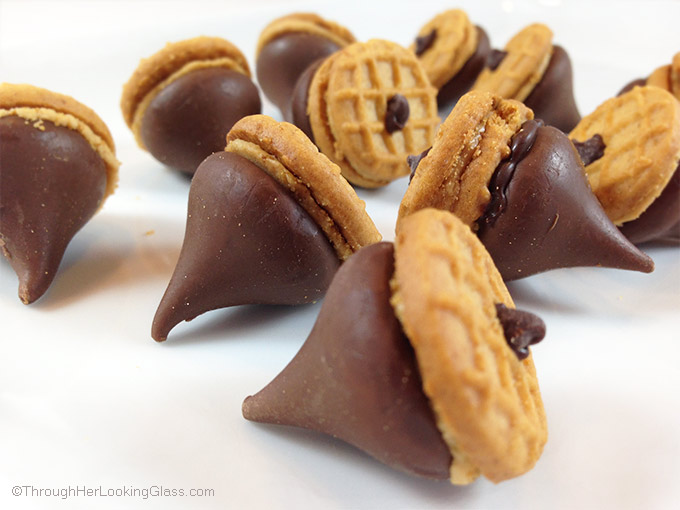 Storage and Freezing Instructions
Store these Peanut Butter Chocolate Acorns in an airtight container or plastic bag at room temperature for up to a week. (You don't want air to reach the sandwich cookies, otherwise they're turn stale.)
Freeze assembled Peanut Butter and Chocolate Acorn bites in a freezer-safe container or plastic bag for up to 6 months. Just be careful to not break any.
When To Serve Peanut Butter and Chocolate Acorns
At your Thanksgiving table as a sweet snack
In the kids' lunchboxes for something delicious and fun
Meal-prepped ahead of a busy week so you'll have something sweet to snack on
As your contribution to a family or friends' potluck
As a fun, edible craft to do with kids of all ages
At your child's birthday party alongside my favorite birthday cupcakes
For parties, family dinners, playdates, classroom or office events, and after-school snacks!
More Fall Dessert Recipes To Try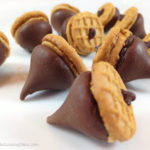 Print Recipe
Peanut Butter & Chocolate Acorns
These Peanut Butter and Chocolate Acorns are an easy, fun, and festive chocolate and peanut butter DIY snack that's perfect for Fall.
Ingredients
Nutter Butter Bites

Hershey Kisses

Mini chocolate chips
Instructions
In a microwave-safe dish, melt about 1/8 cup mini chips to use as "glue"

Dip mini-chips in melted chocolate and attach "acorn stems" to Nutter Butter bites.

(It may be easier to use (sterilized!) tweezers than your fingers to attach the mini-chocolate chips - they're so tiny!)

Use peanut butter cookie filling to "glue" Nutter Butter Bite or half Nutter Butter Bite onto Hershey Kisses.

Let chocolate harden a few minutes and serve.