Caramelized Maple Walnuts are my latest addiction around here. Just pure maple syrup, walnuts and a few minutes of time in the skillet, and you've got delicious candied walnuts for a myriad of uses.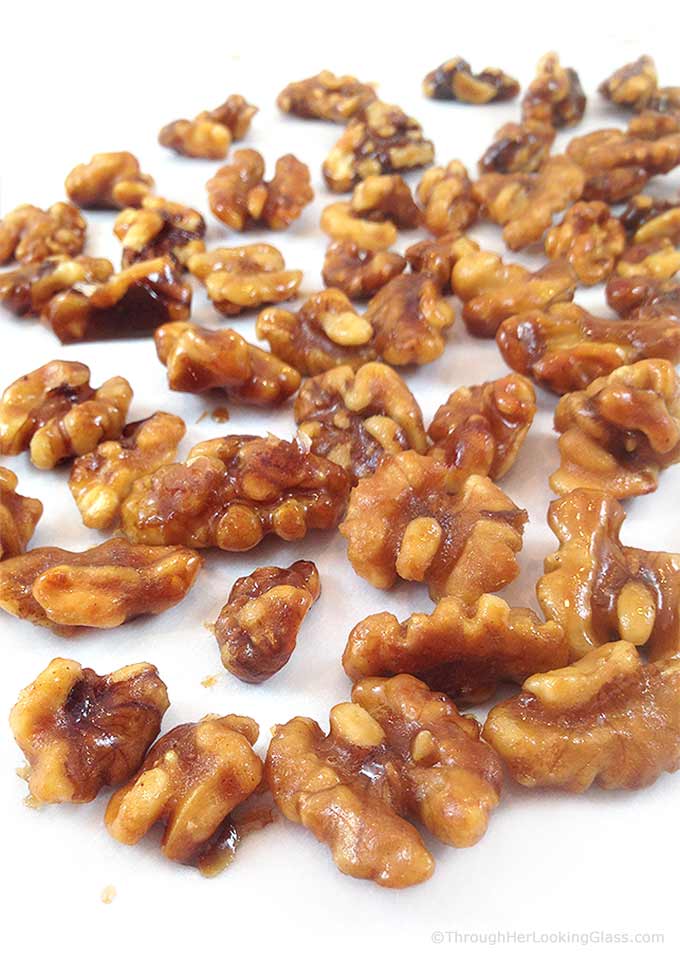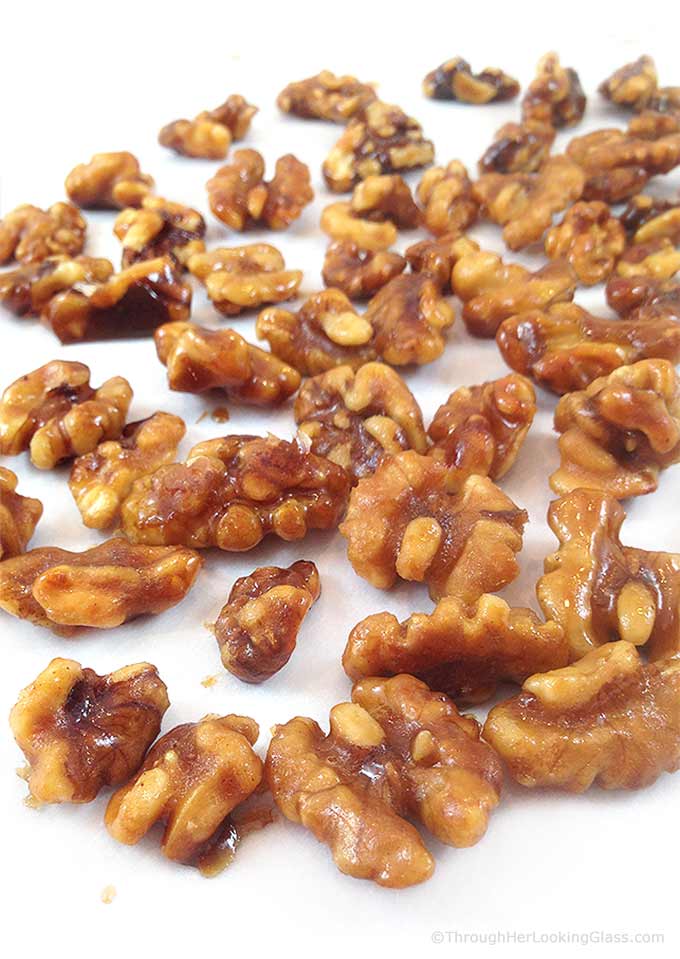 Hey everybody, how are you today? Hope you're having a great day, whatever you're up to in your corner. So I did something new today. Something I've never ever done before.
Do you like trying new things? I do. But even more than new things, I enjoy unusual people. You know what I mean when I say unusual, right? I don't mean weird. Or strange.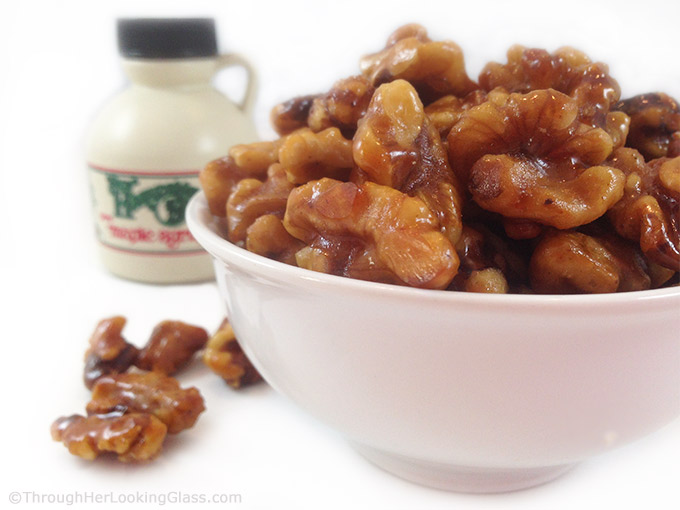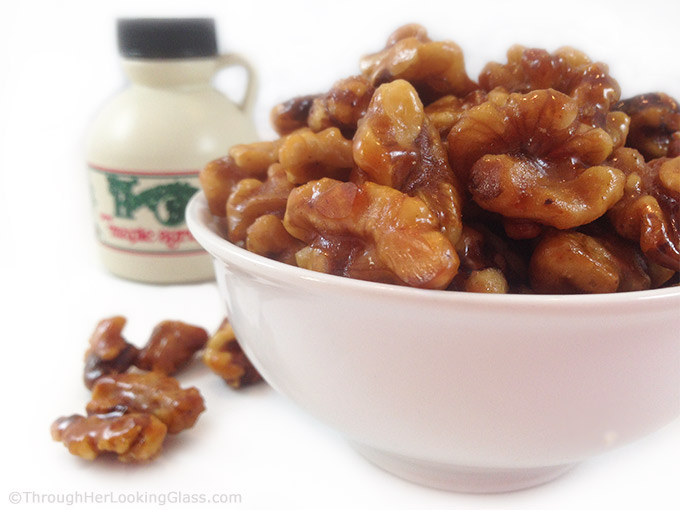 I mean eclectic, in the best sense of the word. Characters. I really enjoy spending time with characters.
I'm lucky to have a lot of eclectic friends up and down the east coast. I was born and raised in the north, but my husband and I lived in South Carolina for many years. Then we moved back to New England in 2004 with two little boys in tow.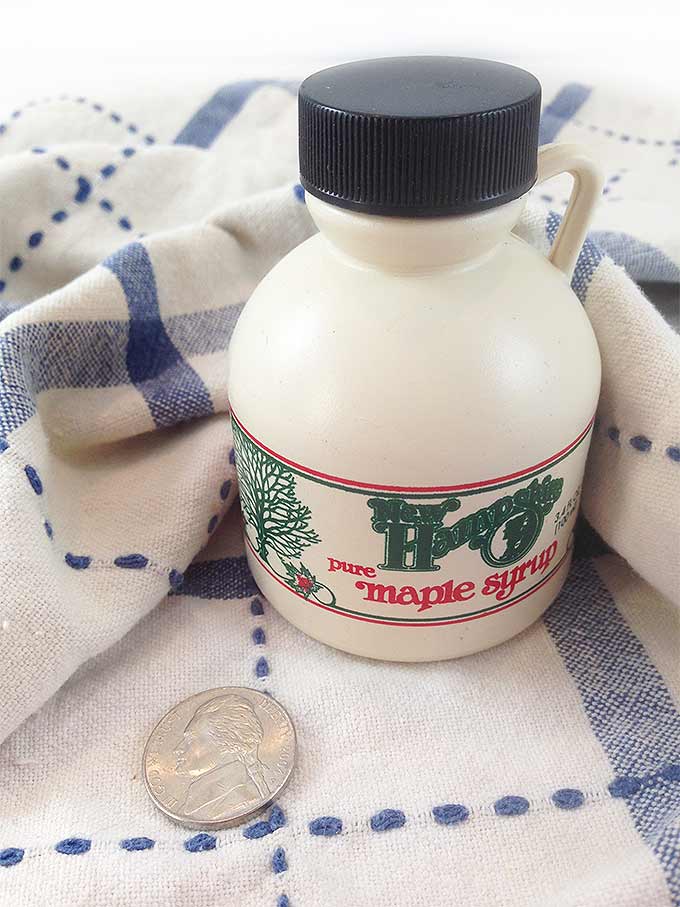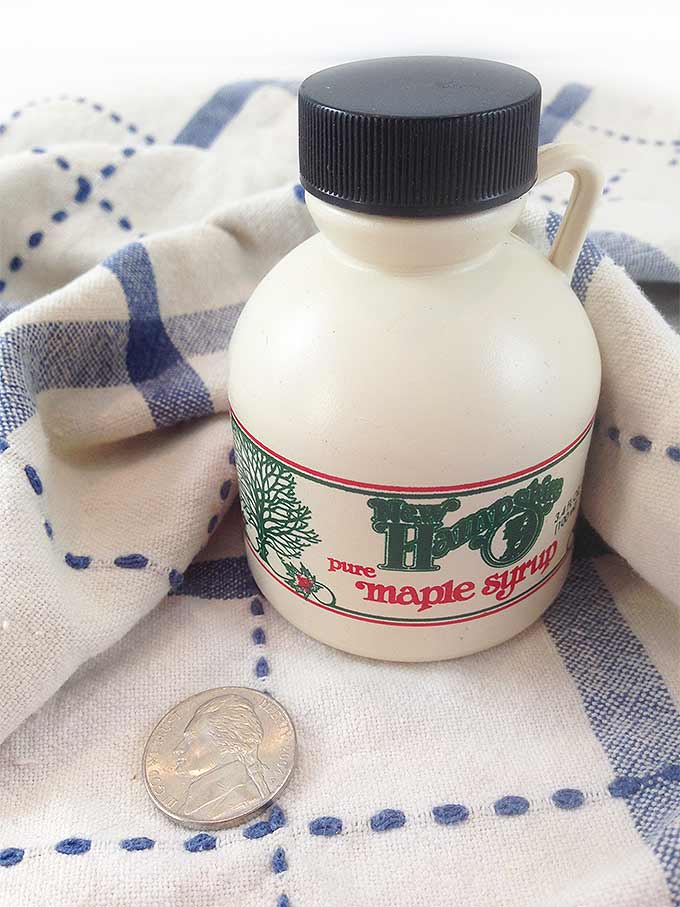 Cutest. Maple syrup jug. Ever. (3.4 ounce capacity)
And by now you think I'm ancient with one foot in the grave. And trust me, there are days I feel that way! But the truth is Jon and I are celebrating our 23rd anniversary this month! Woo hoo! (Confirming we're one step closer to ancient every day…giggle.)
So back to my eclectic friends. There's just something so refreshing to me about spending time with people who are very different than I am. I've always loved it, and get such a kick out of characters. And I happen to be acquainted with more than a few!
My next-door neighbor growing up, Mr. Peck, was a character. And his wife (Mrs. Peck) was also in that category. Their names were, drumroll…. Lester and Esther. And they were both very kind friends who spent a lot of time with me as a little girl.
I've told you about them before. He, a white-haired retired engineer who built a little empire on his hundred acres, including a very modern three story home on a hilltop overlooking the large pond he designed. The pond had an island with trees.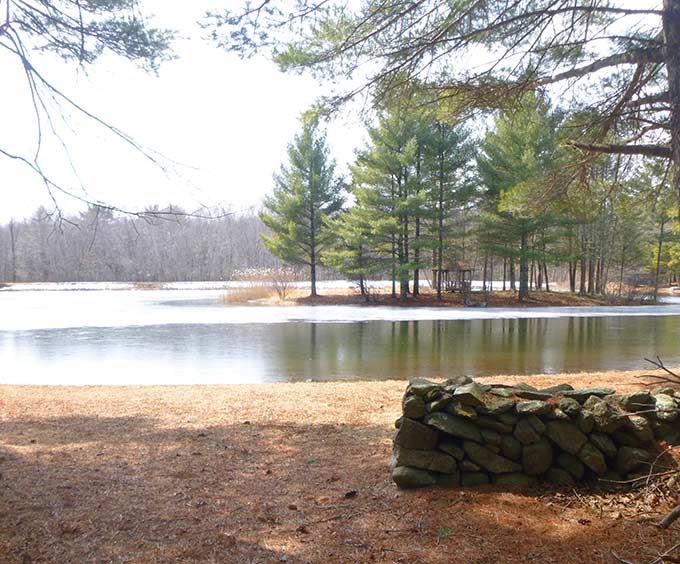 A genuine root cellar was built into the hill where they stored the root vegetables they grew in their gargantuan garden. There was also an authentic wooden covered bridge on one end of the pond.
The island had a little gazebo in the middle, and it was a nice destination to row to for picnic lunches. There was also a fancy shmancy zip-line (with a metal tractor seat) that crossed one edge of the pond. Mr. Peck liked his big boy toys. Understatement.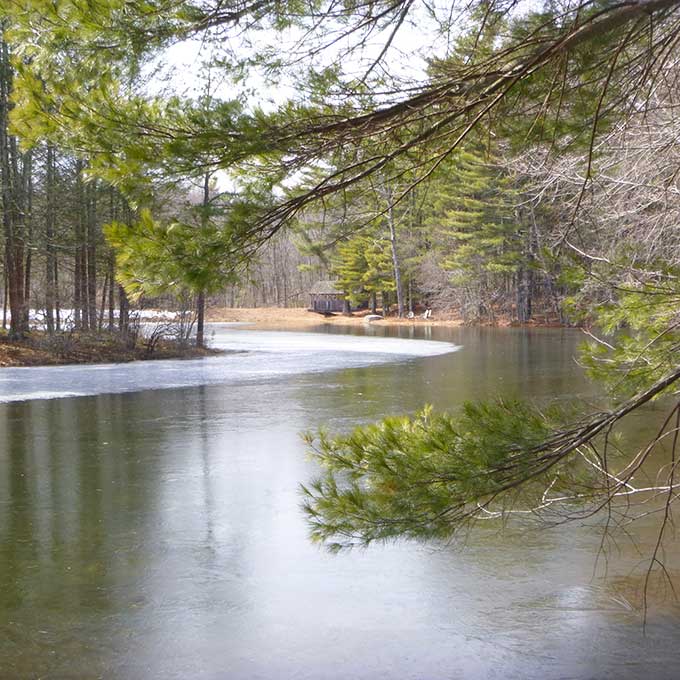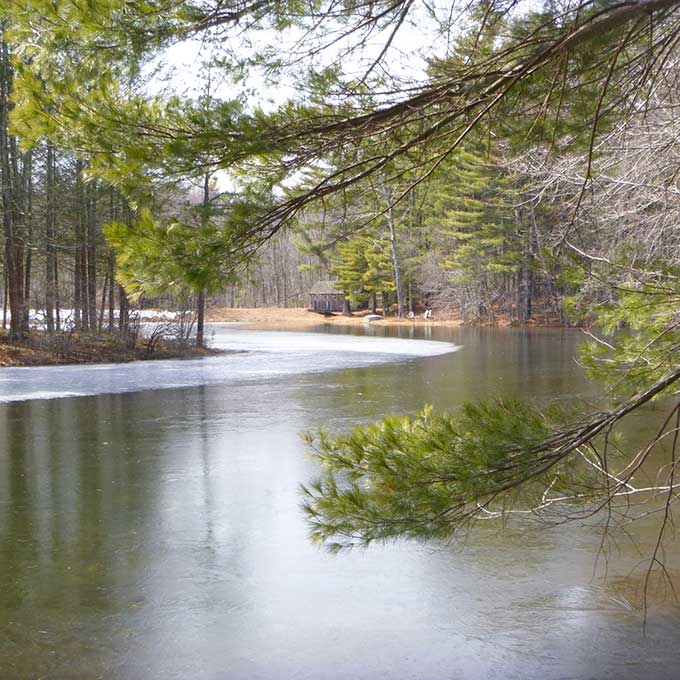 Look closely and you'll see the covered bridge nestled back in the trees. 
The property also included a sugar shack with a snapping turtle shell hanging from the ceiling that must've been at least three feet across. And a large wooden tree house very high up that I played "house" in often. These are just a few of the many wonders that impressed me as a child about my eclectic neighbors the Pecks.
And how could I forget Mrs. Peck? Honoring her Cherokee roots, her beautiful long white hair was plaited in two braids. A silver Cherokee warrior pendant hung around her neck. She taught me to knit when I was only six.
She intrigued me by hanging upside down on her anti-gravity machine. (An anomaly in the 70's.) And each morning at 5:30 a.m., when the mist was still rising off the pond, she'd skinny-dip out to the island and back several times for her exercise.
On occasion she invited me along. I never did accept. As previously mentioned, I love people who are different than me. Nope, you won't catch me skinny dipping out to any island at 5:30 a.m. in the morning.
Not even with Mrs. Peck. That ain't my style.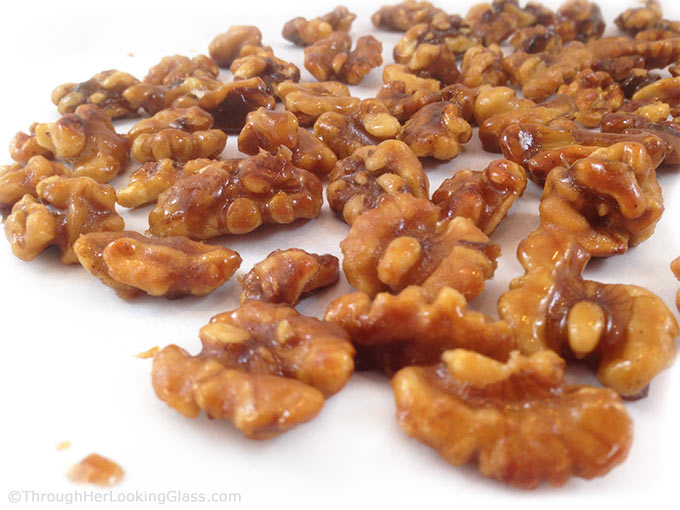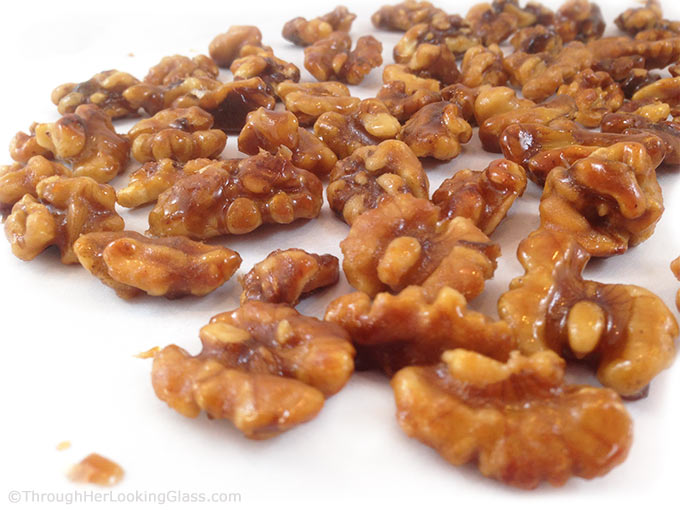 So where were we??? YES! I did something new today! Nope, I didn't skinny dip. I made these fabulous Caramelized Maple Walnuts. I was thinking of the Pecks when I made them because I used to help make the maple syrup in their sugar shack. (I was telling you about that last week.)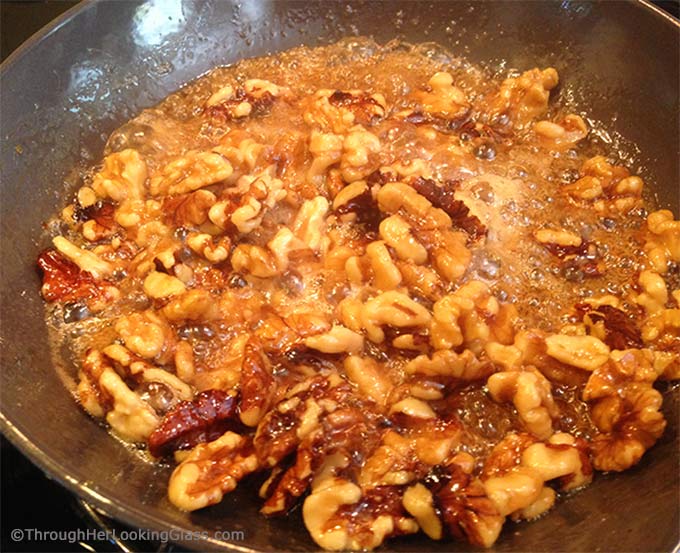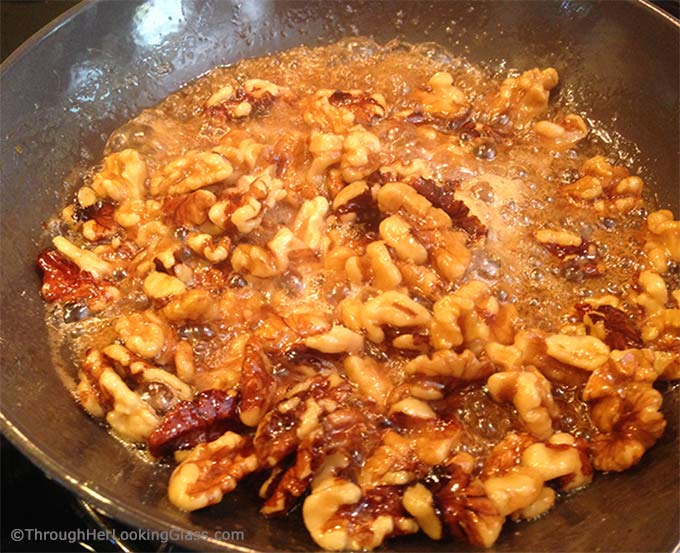 So it takes about five minutes to make these gorgeous nuts. Just put the walnuts in a skillet with pure maple syrup. Cook over medium heat for five minutes or so. The water in the syrup begins to evaporate and the syrup will caramelize.
Oh. My. Goodness.
The smell alone is divine. But the maply nutty crunch is even better.
When that ooey gooey caramel-y syrup starts sticking to the walnuts,  remove from the heat and place on parchment paper to dry. They take just a few minutes to harden.
And then you've got the most delicious maple candied nuts ever and not an ounce of refined sugar to boot. Mother Nature at her finest. No guilt.
So what to do with these lovely candied nuts? That's the wrong question my friend. The question is, what NOT to do?
So many uses. Think trail mix. Oatmeal. Salads. Cakes. Ice cream topping. Parfaits. Pie. Granola. Stocking stuffers. Just to name a few. The sky's the limit, and I will be sharing more ideas using these delicious Caramelized Maple Walnuts in the days to come. Stay tuned!

Allie Taylor
Yields 1
Caramelized Maple Walnuts Recipe
Pure maple syrup makes a lovely candied walnut. Perfection in trail mix, salads, ice cream, oatmeal & more! Perfect snack for your sweet tooth!
5 minPrep Time
5 minTotal Time
Ingredients
1 cup walnuts
1/4 cup maple syrup
Instructions
Place walnuts in medium skillet.
Pour maple syrup on top and gently stir to coat.
Cook over medium heat until bubbling, stirring every few minutes.
Syrup will begin to caramelize after about five minutes or so. Watch closely.
When syrup is sticking to walnuts and there's not so much liquid left in the skillet, remove from heat.
Quickly (and carefully!) place separately on parchment paper to harden.
Once dry and hardened, store in airtight container until needed.
7.6.5
147
https://www.throughherlookingglass.com/caramelized-maple-walnuts/


You may also like: Sugared Pecans