Maple Pumpkin Bisque is a creamy, flavorful pumpkin soup lightly sweetened with pure maple syrup. Use as an appetizer or main dish in fall and winter. You'll love this easy seasonal bisque made with canned pumpkin.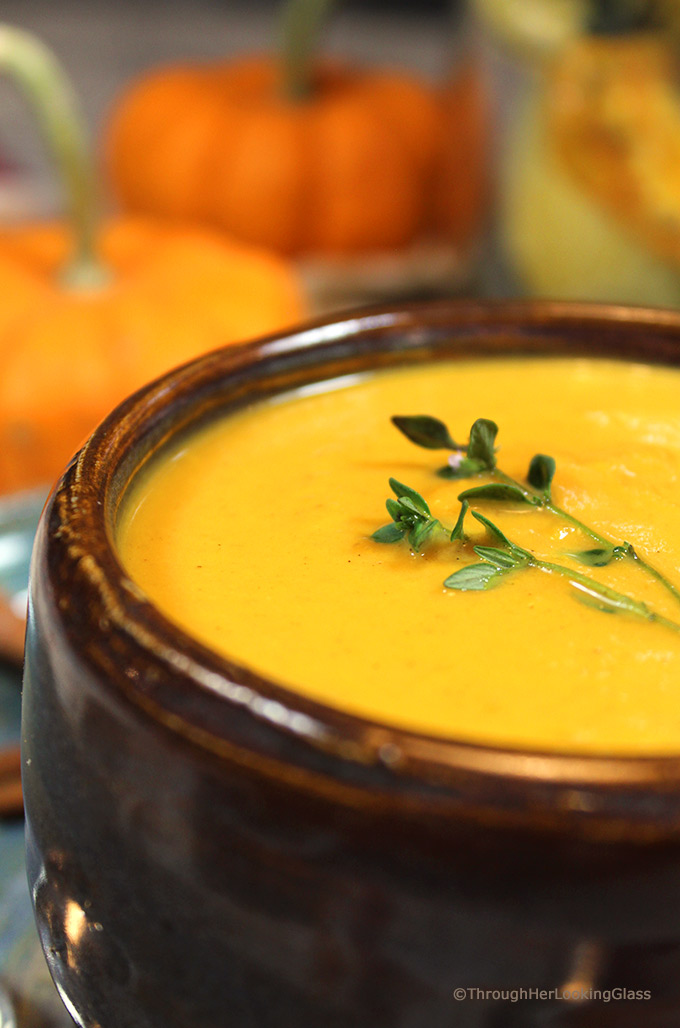 I love fall. Just got back from leaf peeping in Vermont with my family this past weekend. What a feast for the eyes! Vibrant reds and striking golds and oranges everywhere you look. The vivid reflections in the streams and ponds were fantastic.
While we were up in VT, we dropped by King Arthur Flour in Norwich. It's one of my favorite haunts and they have a lovely cafe for eats as well. After shopping in the store and spending too many pesos, I went next door to the cafe to spend a few more. A cup of their delicious homemade butternut squash soup and a chai tea latte hit the spot.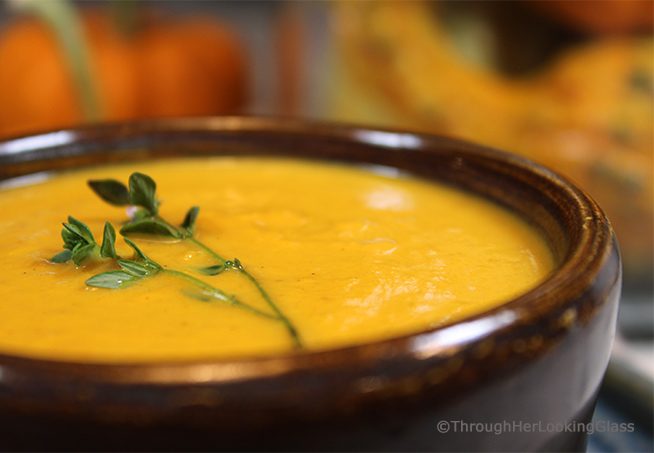 Maple Pumpkin Bisque
Their butternut squash soup got me thinking about making a pumpkin bisque. Pumpkin Bisque is the quintessential creamy fall soup. I've always wanted to try my hand at making some, but it's the fresh pumpkin that always intimidated me.
Call me lazy, but I don't want to spend the time peeling, chopping and gutting a fresh pumpkin if I'm not going to get a jack-o-lantern out of it. (Yep, lazy.) That's why I'm so glad this recipe uses canned pumpkin.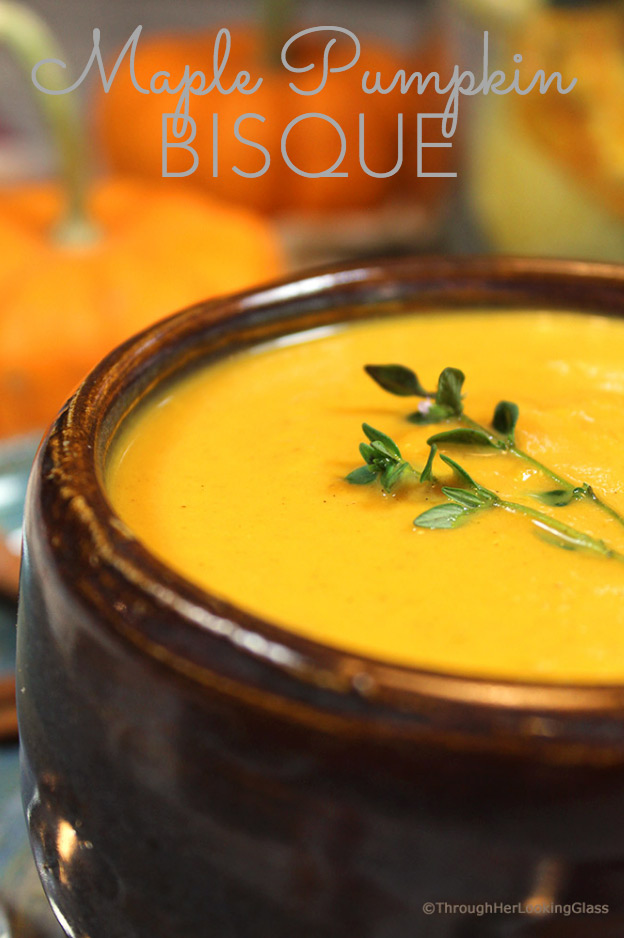 I do love surprises. A few months ago a high school friend sent me a surprise package by snail mail: a cookbook with recipes from famous inns in Vermont. She found it at a local thrift shop in Indiana. Go figure.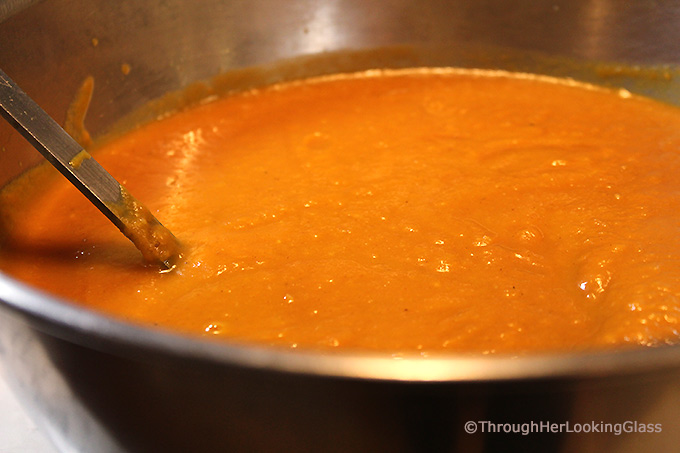 This is just before adding the heavy cream, which lightens the color considerably.
I'm so glad she sent that cookbook! (Thank you Christy.) Leafing through it, I was inspired to use more maple syrup in my cooking. As you can imagine, many of the recipes incorporate pure maple syrup. There were a few pumpkin soup recipes that caught my eye too.
One recipe included maple syrup, another curry and a third incorporated fresh tomatoes. I used elements from these recipes (and a few of my own) to create this unique Maple Pumpkin Bisque.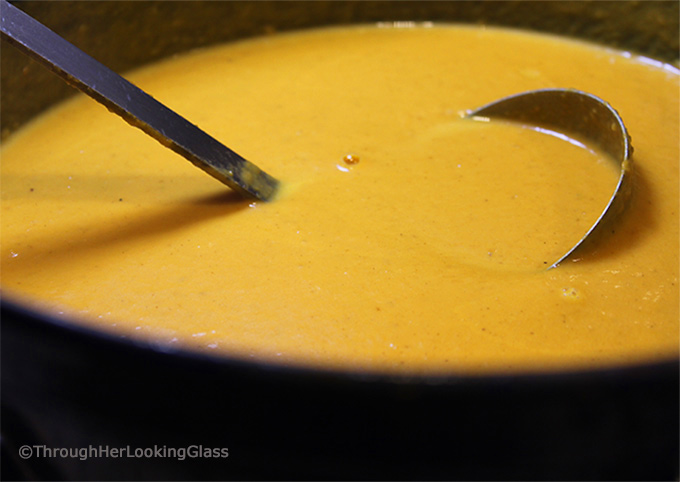 Why I love this Maple Pumpkin Bisque recipe:
It uses canned pumpkin, chicken broth and marsala wine, to name a few of the ingredients.
Its delicate flavor is enhanced by the marsala wine.
It is lightly sweetened with pure maple syrup, and a touch of heavy cream makes it the creamiest ever!
It uses canned pumpkin puree so I don't have to peel, chop and dice a fresh pumpkin.
I used a blender to process it 'til smooth. (An immersion blender would have been easier and faster, but seeing as I don't have one… Hint hint to the jolly man in the red suit: I've been a very good girl.)
Then I added the heavy cream and seasoned with salt and pepper.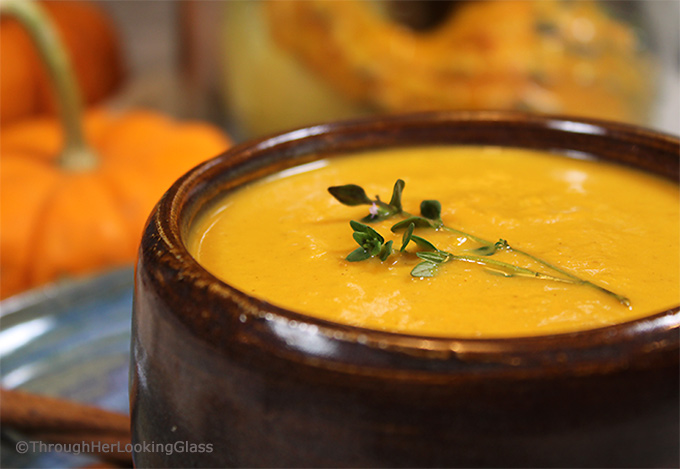 We had this bisque for dinner tonight and Jon says, "What's with the bisque? And why do the French get all the fancy words like quiche and bisque and frites?" Dunno and no fair. But he did love this pumpkin soup.
Hope you enjoy this delicious pumpkin soup bisque as much as we do! Why not treat yourself.
Tips for making Maple Pumpkin Bisque:
Don't boil the bisque after you add the cream.
Reheat the soup slowly on low heat to avoid separating.
Use pure maple syrup.
For best flavor and to allow ingredients to meld, refrigerate overnight before serving. Then slowly reheat.
Be safe: cool soup before processing in the blender.

Other pumpkin recipes you may enjoy: Pumpkin Spice Latte Cake, Pumpkin Pie Smoothie, and Maple Pumpkin Spice Tea Latte.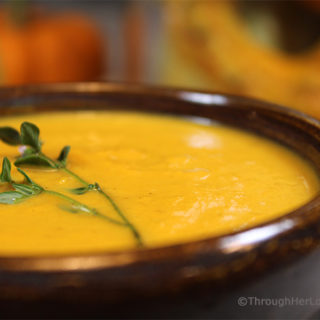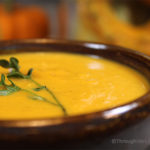 Print Recipe
Maple Pumpkin Bisque
Servings:
2
.5 quarts (10 cups)
Ingredients
Bisque
2

tablespoons

butter

3/4

cup

red onion

finely diced (about 1 small red onion)

2

cloves

garlic

minced

1/2

cup

marsala wine

4

cups

organic chicken stock

1/2

teaspoon

ground cinnamon

1/4

teaspoon

ground nutmeg

1 29

ounce

can pureed pumpkin

1 1/2

teaspoons

salt

1/2

teaspoon

ground white pepper

1

cup

heavy cream

1

cup

pure maple syrup
Instructions
In a heavy stock pot, melt 2 tablespoons butter over low heat.

Add 3/4 cup finely diced onion and minced garlic cloves.

Stir in ground cinnamon and ground nutmeg,

Stir and cook over low heat until onions are translucent, but do not brown.

Add 1/2 cup marsala wine and 4 cups chicken stock.

Turn up the heat and bring to a boil.

Turn the heat down and simmer on low for 15 minutes.

Stir in canned pumpkin and maple syrup.

Cook for a few more minutes until thoroughly heated.

Cool mixture.

Process in a food processor or use an immersion blender until velvety smooth.

For best flavor, refrigerate in a glass container for a few hours or overnight to allow flavors to meld.

Return pumpkin soup to stock pot and add heavy cream, salt and pepper.

Continue stirring and slowly heat until steaming. DO NOT BOIL or soup may separate.

Serve steaming hot.

Optional: garnish with a dollop of sour cream or fresh herb sprigs.
You may also like: Pumpkin Spice Sugared Pecans