In this Brown Sugar Hawaiian Roll Ham Sliders recipe, the sweet rolls are cut in half and stuffed with a thick layer of sliced ham and cheddar cheese before being brushed with a sweet and spicy brown sugar glaze and baked. In other words, it's heaven on a plate!
Easy Baked Ham and Cheese Sliders
These deliciously sweet and spicy Hawaiian roll ham sliders are an irresistible crowd-pleaser, making them ideal for picnics, parties, and tailgating. Plus, they're super easy to put together and will be ready in no time!
The glaze is what makes this dish! It's a balanced mix of dry mustard, butter, brown sugar, and Worcestershire sauce. Then, the ham and cheese sliders are baked until the cheese is soft and melty. They make a full dish on its own, but they also go great on the side with cheese boards, stuffed jalapeños, roasted asparagus, fried pickles, or onion.
My Aunt's Famous Hawaiian Ham Sliders
We recently joined my aunt, cousin, and family up at their lovely summer cottage on Joe's Pond in Danville, Vermont, for a long weekend. The summer home has been in my extended family for as long as I can remember — maybe even before I was born — and it holds many sweet memories through the years. We held family reunions there, and our various families rented cottages around the lake.
During the day, we'd hike, fish, sail, water ski, chat and play tennis. In the evenings, we'd gather for meals at a different cottage each night, often taking canoes, motorboats, or kayaks across the pond to get there. A highlight of spending time with my extended family is always the excellent food. My mom, aunts, and cousins seem to instinctively know how to make wonderfully delicious meals with fresh ingredients that feed multitudes. It must be in the genes.
This past summer was no exception. Up at the cottage, we were treated to a number of scrumptious new recipes, including this recipe for Brown Sugar Hawaiian Roll Ham Sliders with Vermont Cheddar that I'm sharing with you today!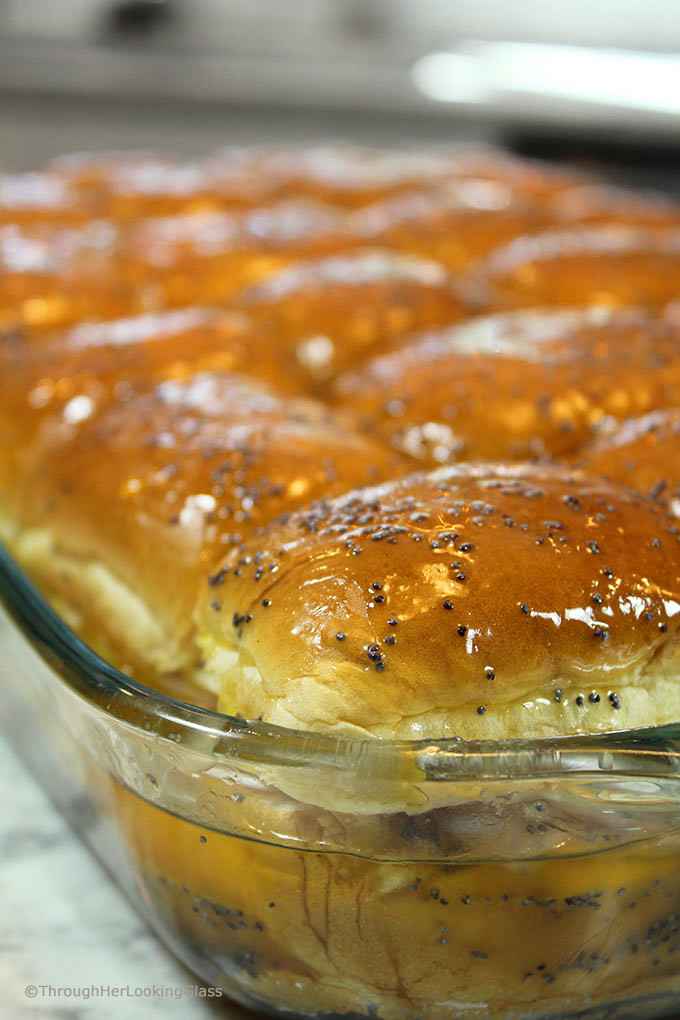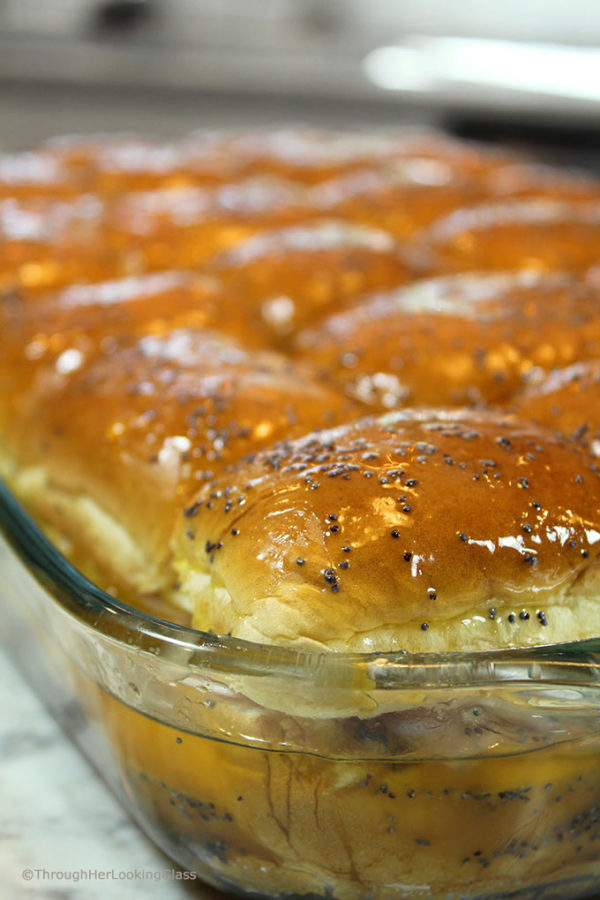 Key Ingredients
This Baked Hawaiian Roll Ham and Cheese Sliders recipe is twofold — the sandwiches and the glaze.
For the sandwiches, you'll need: King's Hawaiian Rolls (24 total), sliced Vermont Cheddar cheese (or your preferred cheddar variety), and thinly sliced deli ham.
For the glaze, you'll need: 1 cup of melted butter, brown sugar (light or dark), poppy seeds, dry mustard powder, and Worcestershire sauce.
How To Make Baked Ham and Cheese Sliders
Preheat your oven to 365 degrees F.
Then, while the oven is preheating, split the Hawaiian rolls horizontally on two equal parts.
Next, build your sandwiches. Start by placing the bottom half of the rolls into a prepared 10×15 inch pan. Then, layer the sliced ham on the bottom, and the cheese over the ham. Then, top the other part of the sliders with the remaining half of bread. Repeat for all 24 sandwiches.
Then, prepare the sweet and savory glaze by mixing the brown sugar, dry mustard, Worcestershire sauce, butter, and poppy seeds together in a small bowl until combined.
Brush the tops of the rolls with the glaze, and cover the sliders with aluminum foil. Bake for 25 minutes. Then, remove the foil and bake for another 5-10 minutes uncovered.
Serve hot, and enjoy!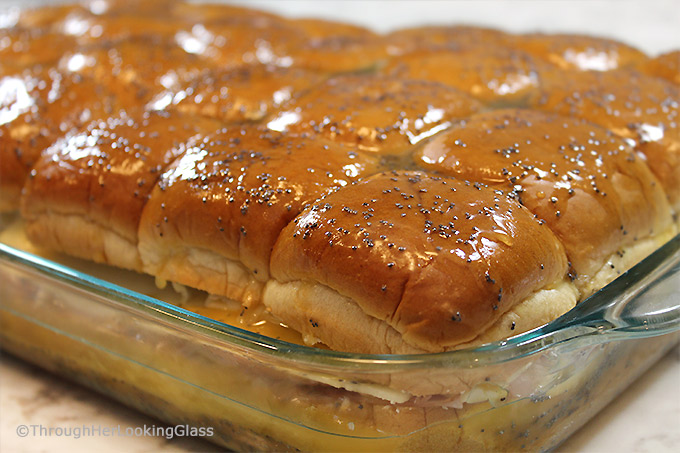 Tips
It's best to use a 10×15 pan, as directed. Two packages of King's Hawaiian rolls fit perfectly in that size pan. I tried to get away with using two differently sized pans on my first attempt. It didn't work well because there was extra space in each pan, and the sauce ran into the extra pan space, rather than absorbing into the sandwiches. (On my second attempt, I bought the 10 X 15″ Pyrex pan at Bed, Bath and Beyond

(using a 20% off coupon, of course) — and it was fairly inexpensive.)

I had good luck using both a serrated bread knife and a serrated electric knife to cut the rolls in half horizontally. You don't want to smush them or deflate them.
Slice through the baked sandwiches with kitchen shears or a sharp high-quality knife for clean portions.
Variations
Not a fan of ham? You can use any deli meat you like! Turkey or chicken would be delicious.
Add some bacon for more pork flavor!
Swap out the cheese! Provolone, Swiss, or Gouda would be great.
Top with sesame seeds or even thinly sliced almonds as well as poppy seeds for more subtle nutty flavor in each bite.
Garnish with chopped fresh parsley or thinly sliced green onions for more flavor and color.

More Recipes To Try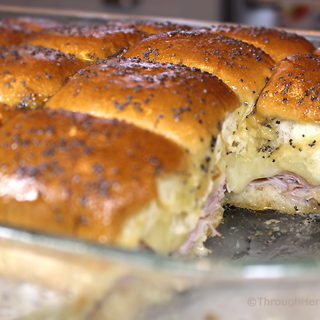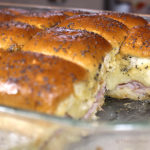 Print Recipe
Brown Sugar Hawaiian Roll Ham Sliders (w/VT Cheddar)
Ingredients
Sandwiches:
2

packages King's Hawaiian Rolls

24 rolls

1

pound

VT cheddar cheese

sliced

2

pounds

ham

thinly sliced
Brown Sugar Sauce
1

cup

butter

melted

1/4

cup

brown sugar

1

tablespoon

poppy seeds

1

tablespoon

dry mustard

1

tablespoon

Worcestershire sauce
Instructions
Preheat oven to 325°.

Split rolls in half.

Fit bottom halves into a lightly greased 4 quart, 10" X 15" Pyrex dish.

Layer ham, then cheese onto bottoms.

Finish off with roll tops and set aside.

Whisk together melted butter, brown sugar, poppy seeds, dry mustard and Worcestershire sauce.

Pour/brush mixture evenly over tops of sandwiches.

Cover very tightly with foil.

(At this point can refrigerate overnight if needed.)

Bake covered at 325° for 25 minutes.

Remove foil and bake for an additional 5-10 minutes until golden brown.

Serve immediately.