Crispy, cheesy and oh so addictive! Bacon Wrapped Stuffed Jalapeños are the most coveted game day appetizer on the planet. Fresh jalapeños are stuffed with a cream cheese cheddar mixture, then wrapped with bacon. Baked to smoky perfection, these are unforgettably delicious and spicy poppers. You can't stop at one!
You'll love these bacon wrapped jalapeño poppers! I recently tried making them at home for the first time.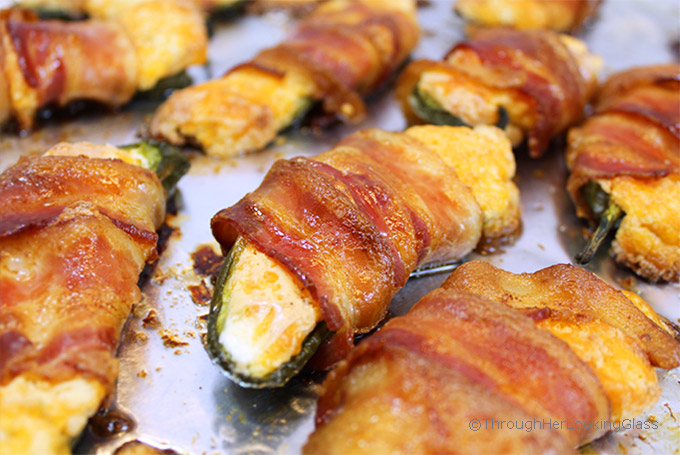 It won't be my last, they were such a hit! (They also happen to be Keto friendly, low carb and gluten free! So hip hip hurray!)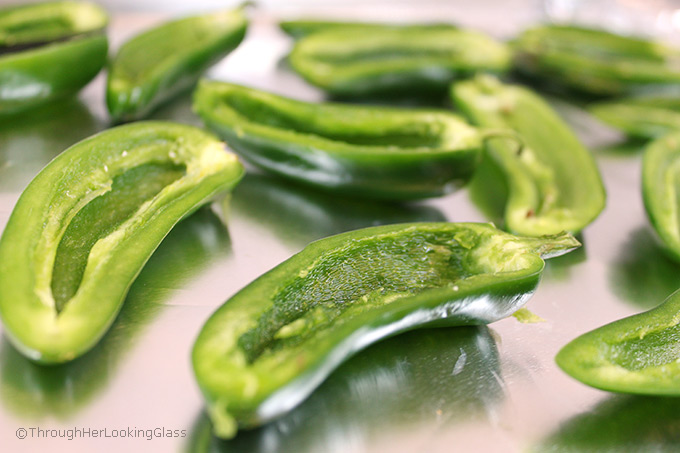 Slice fresh jalapeños in half lengthwise and be sure to remove all seeds and membranes. (A grapefruit spoon or grapefruit knife works great for this.) The capsaicin (what makes peppers hot!) is located in the seeds and membranes.
If you don't care for spicy heat, try stuffing red and orange sweet mini-peppers. Or stuff a mixture of jalapeño and sweet red and yellow mini-peppers for a smorgasbord sure to please every palate!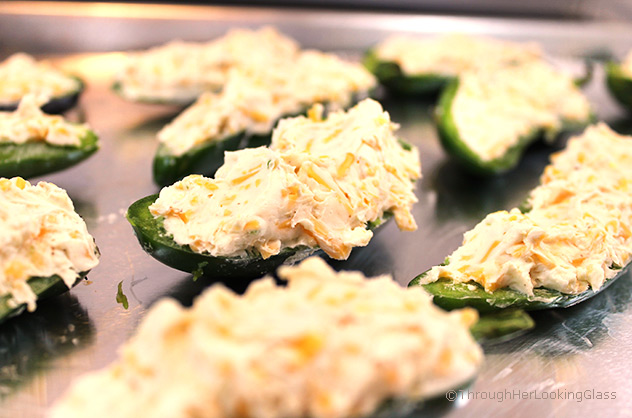 The cheesy filling mixture is so easy to whip up. Mix softened cream cheese with shredded cheddar or monterey jack, seasonings, chopped green onion and fresh minced garlic.
Pre-cook bacon until just soft, so it wraps easily around the stuffed jalapeños. Nine minutes at 375° worked nicely for me.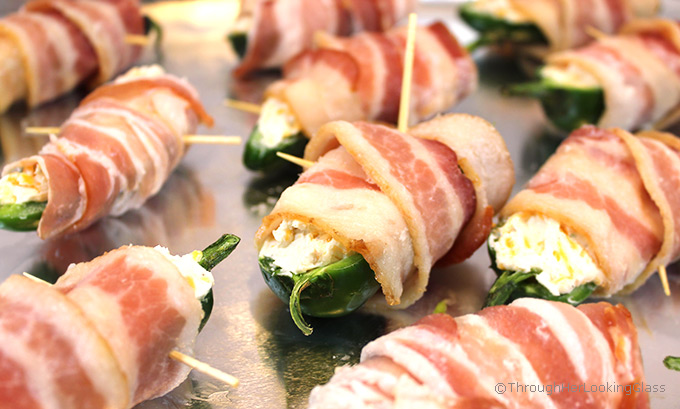 Wrap stuffed jalapeño with the lightly pre-cooked bacon, tucking ends underneath and securing tightly with a toothpick. Bake for 20 minutes at 425° or until golden brown. For milder flavor, bake for 45-50 minutes at 350°. Broil a minute or two at the end if the bacon needs crisping, but watch closely!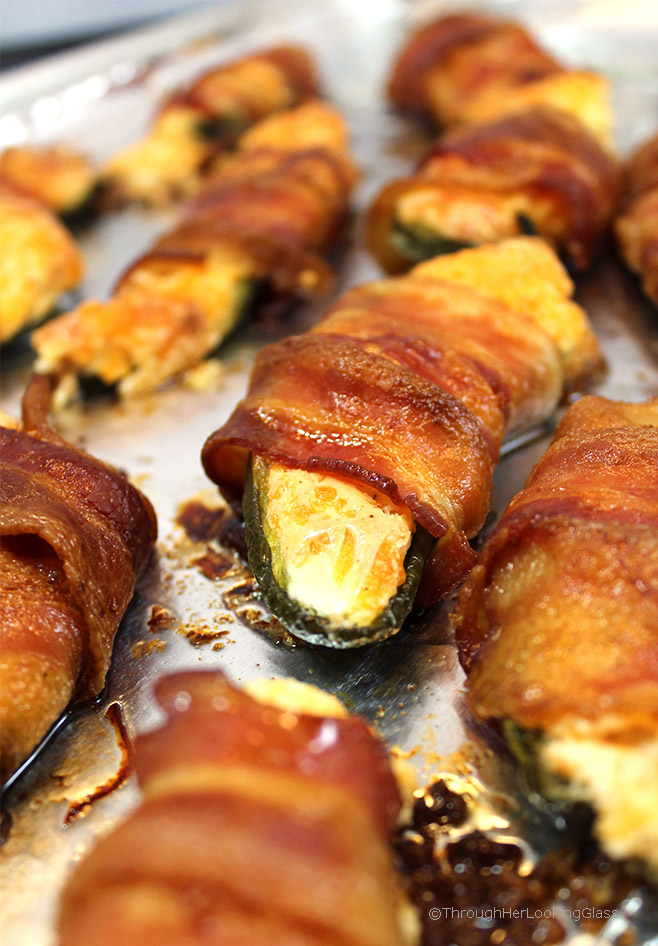 Or grill these outside (use a grill mat) for 18 – 20 minutes, flipping partway through baking. Enjoy!

Tips for making Bacon Wrapped Stuffed Jalapeños:
Look for uniform 3-4″ jalapeño peppers so the poppers cook evenly.
Use gloves when working with jalapeños to slice and remove seeds and membranes. (Jalapeños can easily burn your fingers depending on the heat factor.  And whatever you do, don't touch your eyes, nose or mouth!)
Use a grapefruit spoon or grapefruit knife to easily remove seeds and membranes.
Line baking sheet with parchment paper or foil for easy clean up. Or spray pan with cooking spray.
You can freeze bacon-wrapped stuffed jalapeños ahead of time. Wrap stuffed peppers with partially cooked bacon. Don't bake, but freeze individually on a sheet 'til frozen, then transfer to a ziploc bag (air removed) for later use. Poppers will keep this way for several months tightly sealed in the freezer.
If you can't handle the heat, but like the idea of jalapeño poppers, try a mix of mini sweet peppers instead. Or make a mixed tray of jalapeño and mini sweet peppers for all to enjoy.
Pre-cook bacon in the oven, until just softened, 9 mins. at 375°.
Bake poppers at 350° for 45 – 50 minutes for a milder, smoky flavor or at 425° for 20 minutes for bolder flavor. Broil if needed for a minute at the end to crisp them up, but watch closely.
If grilling outside, grill for 18-20 minutes, using a grill mat to reduce flare ups. Cook upside down first, then flip after 5-7 minutes.
Try stuffing with filling, wrapping in pre-cooked bacon and freezing for about ten minutes before baking. This helps cheesy  mixture to stay inside the jalapeños while baking.
If you don't have bacon on hand, try sprinkling real bacon bits on top!
Other jalapeño recipes you may enjoy: Jalapeño Popper Chicken Dip, Cheesy Jalapeño Bacon Steak Fries and Strawberry Jalapeno Salsa.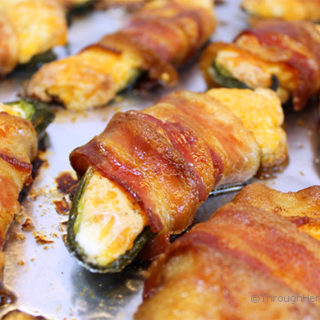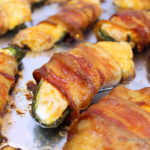 Print Recipe
Scrumptious Bacon Wrapped Stuffed Jalapeños (Keto, Low Carb & Gluten-Free!)
Ingredients
1, 8

oz.

brick

softened cream cheese (not whipped or spreadable cream cheese, and not Neufchâtel cream cheese)

3/4

cup

shredded sharp cheddar OR shredded Monterey Jack cheese

1

clove

minced garlic

or more

1

green onion

green and white parts diced small

8

washed

fresh Jalapeño peppers (or 8 - 10 mini red and yellow peppers, or a mixture of both)

16

slices

bacon

not thick cut or real bacon bits
Instructions
Line baking sheet with foil or parchment paper.

Pre-bake sliced bacon on the baking sheet in the oven at 375° for 9 minutes. (Should still be soft and pliable.) Set aside to cool.

Mix cream cheese in mixing bowl until smooth and creamy with no lumps. (An electric hand mixer works great for this.)

Stir salt and pepper, shredded cheese, fresh minced garlic and diced green onion into cream cheese until thoroughly combined.

Set aside cheese mixture.

Slice clean jalapeño peppers (or sweet mini-peppers) in half length-wise. (A good sharp knife is helpful!)

Remove jalapeño seeds and membranes and discard. (A small melon baller, grapefruit spoon or grapefruit knife works well for this.)

Stuff each pepper half with cream cheese mixture.

Wrap each stuffed pepper half with one slice of pre-cooked bacon and secure with a wooden toothpick.

Place cheese stuffed, bacon wrapped jalapeños on a parchment or foil lined baking sheet.

Optional: At this point you may freeze stuffed peppers for ten minutes or so, to help contain the cheese while baking!

TO BAKE: Bake for 45-50 minutes at 350° for milder flavor, or 20 - 25 minutes at 425° for bolder flavor.

If needed, broil for a minute or two at the end to crisp up the bacon. (WATCH CLOSELY!)

TO GRILL: Grill for 20 minutes, using a grill mat to reduce flareups. Start with the poppers upside down first, then flip right side up 5-6 minutes into grilling. Then grill 10 minutes or more until bacon is crisp.)
You may also like: Original Chipotle Guacamole