Lemony Garlic Roasted Asparagus: You'll love this zippy new twist on asparagus. Fresh asparagus is oven-roasted 'til tender, basted with olive oil, garlic, fresh lemons slices and lemon zest. This gourmet side dish comes together quickly with minimal effort. Perfection for Easter or anytime!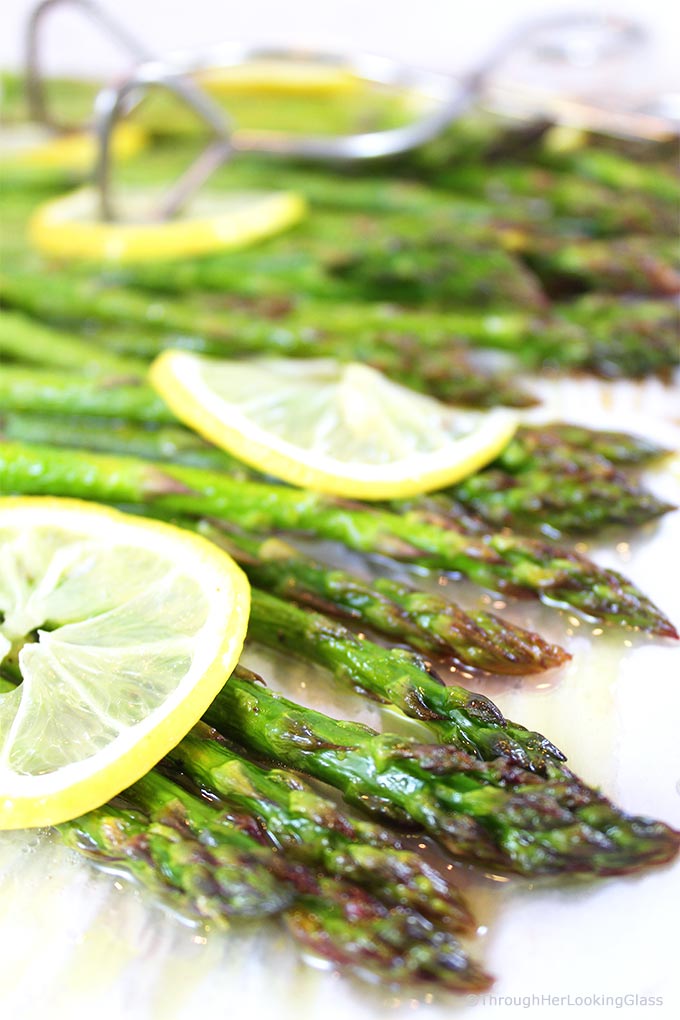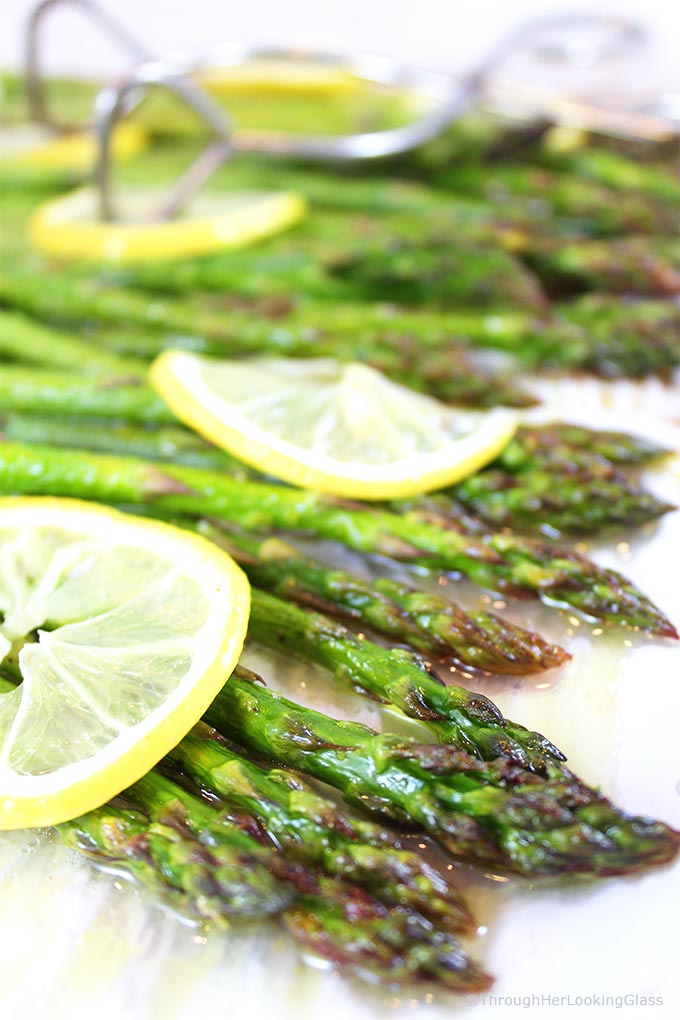 Mother Nature has been such a tease this winter. Yesterday winter was back in full force and the thermometer registered 21° first thing, but this coming weekend looks like it will be in the sixties. Last week we had a few blissfully warm days with sunshine and so we all got our hopes up of course. As if spring had finally arrived. Ha ha, the joke's on us.
If you live in New England, you know the saga. And spring doesn't have a thing to do with a date on the calendar around here. There is no coercing. She comes when she's good and ready and not a milli-second earlier.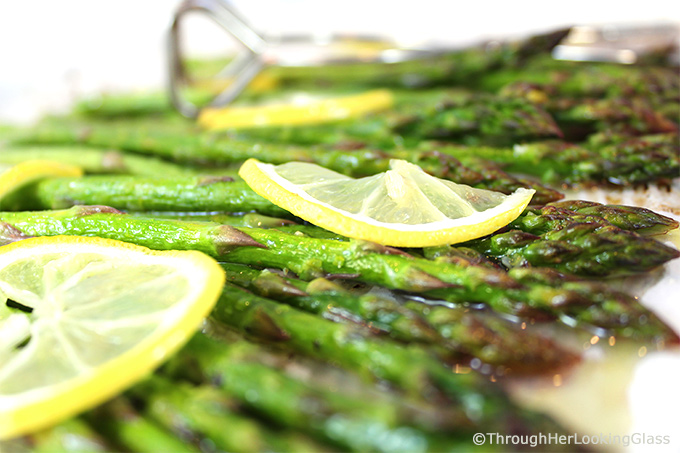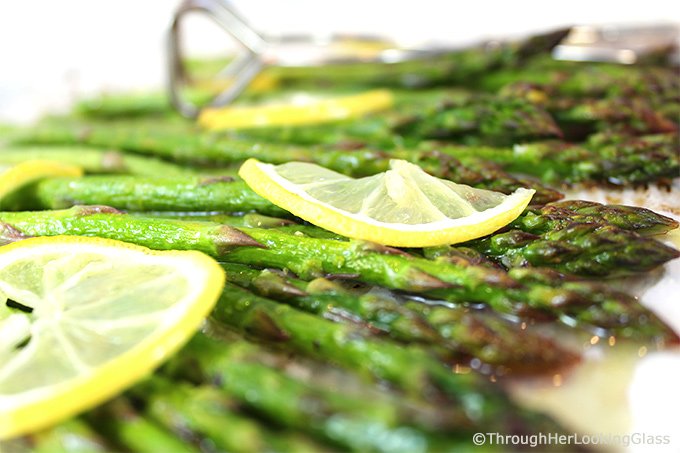 So when I think spring, I think Easter. And when I think Easter, I naturally think Easter ham and that leads to the asparagus that is always serve alongside it.
Then at the grocery store the other day, the asparagus was practically whispering to me across the aisle in the produce section. I had to get some because it looked so good. The spears were bright green and firm. The ends of the stalks weren't white, but green. The tips were firm, not mushy, and had a slightly purplish hue. The stalks weren't super thin or thick, kind of medium, so I guessed they'd be tender. (I was right!)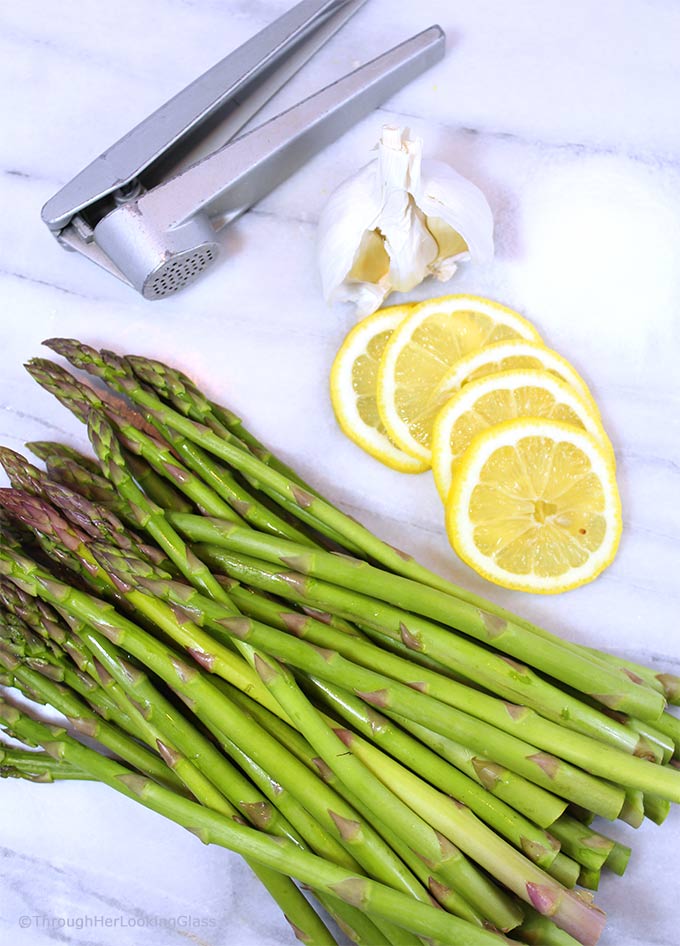 True confession: I ate more than half this pan of roasted asparagus all by myself. I wasn't necessarily opposed to sharing, it's just that it was lunch time and no one else was home.
While photographing it, the aroma wafted up. SO TEMPTING. That fresh garlic and lemon zest together with the roasted asparagus and sea salt is truly an amazing combination. It also made for a wonderful lunch! 🙂 (Lucky me.)
Asparagus Tips:
Buy asparagus that's bright green with medium circumference spears. ( The bigger spears tend to be tougher.)
The best months to buy asparagus are March through May.
Choose firm tips with a slightly purplish tint.
Trim the tough ends off, up to an inch or two if needed.
Some people peel the end of each asparagus spear with a vegetable peeler to make it more tender, but that takes some extra prep time.
Storage tip: trim the ends, then secure the bunch together with a rubber band. Store upright in a mason jar or tupperware container in the refrigerator with an inch or so of water at the bottom. This can keep it fresh for several days or even up to a week if you're lucky.


This Lemony Garlic Roasted Asparagus was so easy to make. Wash and trim the asparagus, then lay it out on a parchment lined baking sheet.  Separately, in a small bowl, whisk together the fresh lemon juice and zest, extra virgin olive oil and fresh minced garlic. Baste the asparagus, using all the marinade.
Generously sprinkle the asparagus with sea salt and freshly ground pepper. Garnish with fresh lemon slices tucked through out. Roast at 425° in the upper half of your oven for about ten minutes. Transfer to a warmed serving dish and serve hot alongside a main dish.
Other asparagus dishes you may also like: Asparagus Stuffed Chicken Breasts, Easy Cheesy Asparagus, and Asparagus Orange Spinach Salad with Basil Lemon Vinaigrette.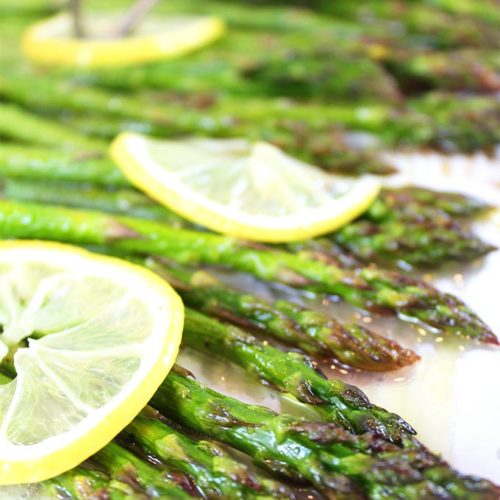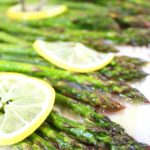 Print Recipe
Lemon Garlic Roasted Asparagus
Ingredients
2

pounds

fresh asparagus

washed and trimmed

1/4

cup

extra virgin olive oil

2

medium sized lemons

one zested and juiced, the other cut in thin rounds

2

garlic cloves

minced

sea salt

freshly ground black pepper
Instructions
Preheat oven to 425°.

Place trimmed and washed asparagus on a parchment lined baking sheet.

Separately, in a small bowl, whisk together olive oil, juice from one lemon, lemon zest and minced garlic.

Brush the olive oil and lemon mixture on the asparagus to coat, turning the spears so they are entirely covered.

Sprinkle liberally with sea salt and freshly ground pepper.

Arrange the lemon rounds among the asparagus.

Bake on a baking rack in the upper half of a 425° oven for 8-10 minutes, or until asparagus is easily pierced by a sharp knife and just beginning to turn golden.

Transfer to a warmed serving platter. Pour extra pan juices and marinade on top, and serve immediately while hot.
Notes
If you don't have fresh lemons on hand, use 2 tablespoons bottled lemon juice instead.
You may also like: Brown Butter Almond Green Beans