Cheesy Jalapeno Bacon Steak Fries: Scrumptious, oven-baked crispy steak fries smothered in stretchy cheese and bacon. So easy. So delicious. Why not? Enjoy these steak fries as an appetizer or dinner entree alongside a green, leafy salad.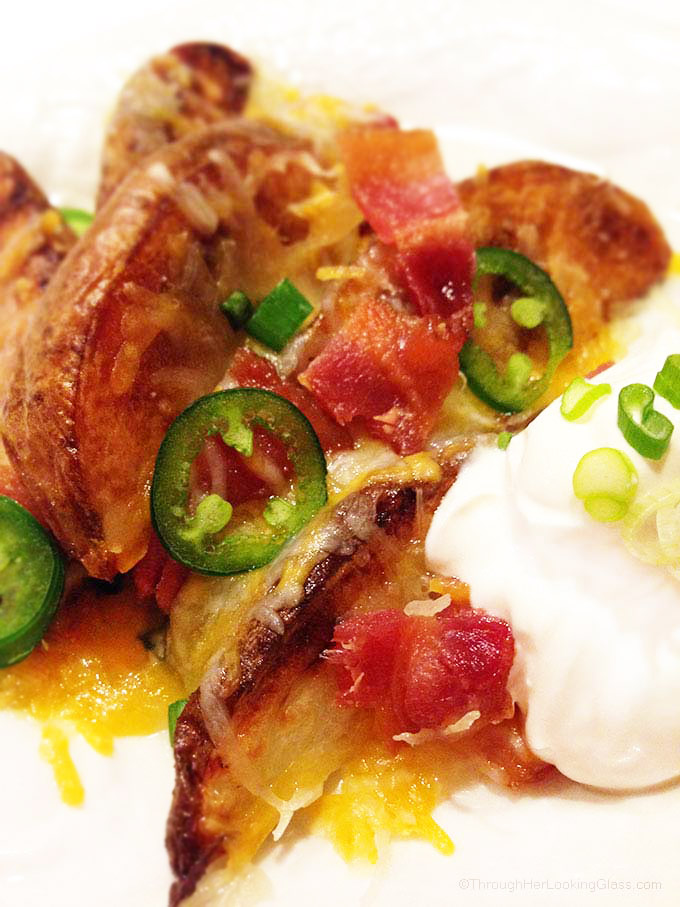 Hi friends, it's the week between Christmas and New Year's around here. That means we're enjoying the holidays. We're staying in our jammies all day, watching movies and playing Twister. I kid you not. We got Twister for Christmas.
So we don't want to spend time making fancy or time-consuming meals. But we still need to eat. At least that's what they say at my house. And we can't order take-out every night. That's what I say.
So how about Cheesy Jalapeno Bacon Steak Fries for dinner? You might have everything you need in your refrigerator and pantry.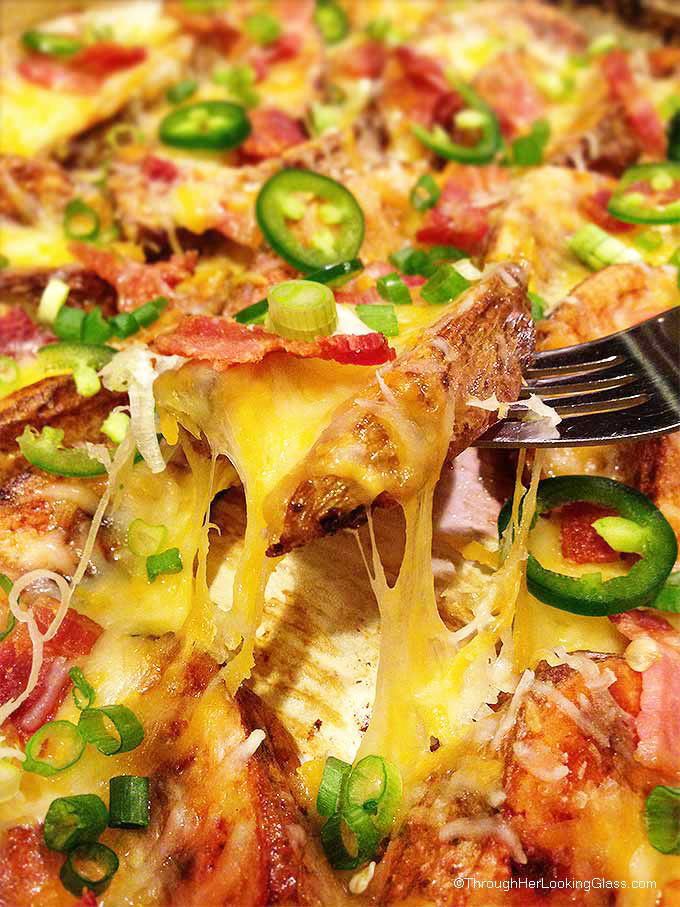 Just last week the cupboards were bare. I hadn't done the Christmas grocery run yet and and I was racking my brain about 4:40 p.m. thinking so WHAT am I going to feed these kids tonight? I had a to-do list a mile long and no time to run to the store. The kids were at basketball practice and I knew they'd come barreling through that door HUNGRY!!!
I've always heard as long as you have potatoes in the pantry you can eat. So I checked the pantry and yay and woo-hoo, potatoes! A quick fridge inspection revealed we also had cheese and bacon. And that's how Cheesy Jalapeno Bacon Steak Fries were born…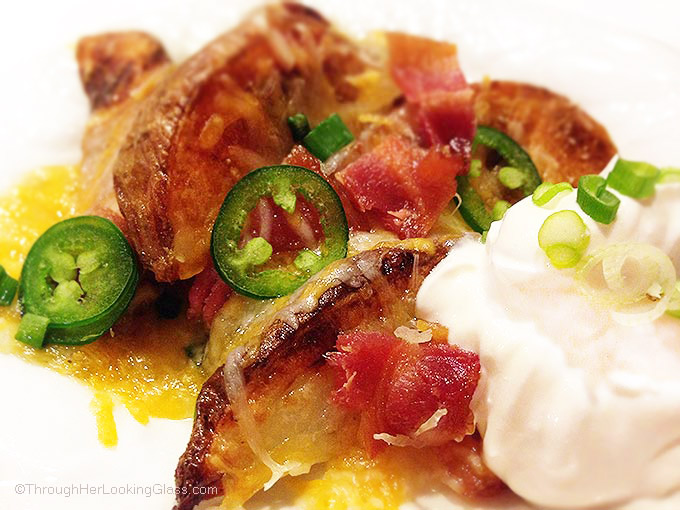 My boys were funny about these steak fries. They loved them so much. And after the first bite, Charlie (9) says, "Mom, you have GOT to put these on the blog." Ha ha. And the rest is history.

The basic idea with these fries is to make oven baked steak fries, and once they crisp up, sprinkle with cheese, bacon crumbles, jalapeno slices and green onions. Serve with a side of sour cream or salsa if you like. My boys get the ketchup.
What I loved about these fries is they were easy, tasty and filling. Cheesy Jalapeno Bacon Steak Fries can be an appetizer, but we like them as a main dish. Great served with a light soup or salad.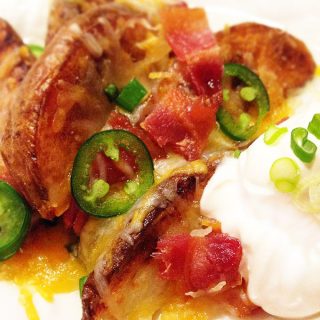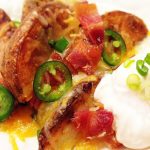 Print Recipe
Cheesy Jalapeno Bacon Steak Fries Recipe
Crispy steak fries smothered with cheese and bacon. Great appetizer or main dish.
Ingredients
6

large russet potatoes

washed, dried and cut in uniform wedges (not peeled)

olive oil

2

cups

shredded Mexican blend cheese

or other shredded cheese of your choice

6

slices

bacon

cooked and crumbled

1

jalapeno

thinly sliced

2

green onions

chopped

Optional: serve with sour cream
Instructions
Place on lowest oven rack in 450° oven.

Bake approximately 20- 25 minutes until underside of steak fries are golden brown.

Remove from oven, and gently loosen steak fries with spatula, turning each one over.

Bake approximately 10 more minutes until underside is golden brown.

Sprinkle with cheese and cook several minutes more, until cheese is melted.

Remove from oven and sprinkle with crumbled bacon, jalapeno slices and sliced green onions.

Serve immediately with sour cream if desired.
You may also like: Maple Glazed Ribs