Today we're making a terrific Classic BLT Sandwich! Lightly toasted sandwich bread is layered with thick sliced garden-ripe tomatoes, fresh lettuce leaves and crisp bacon. Step by step instructions for how to make the best BLT sandwich on the planet! (You're welcome.)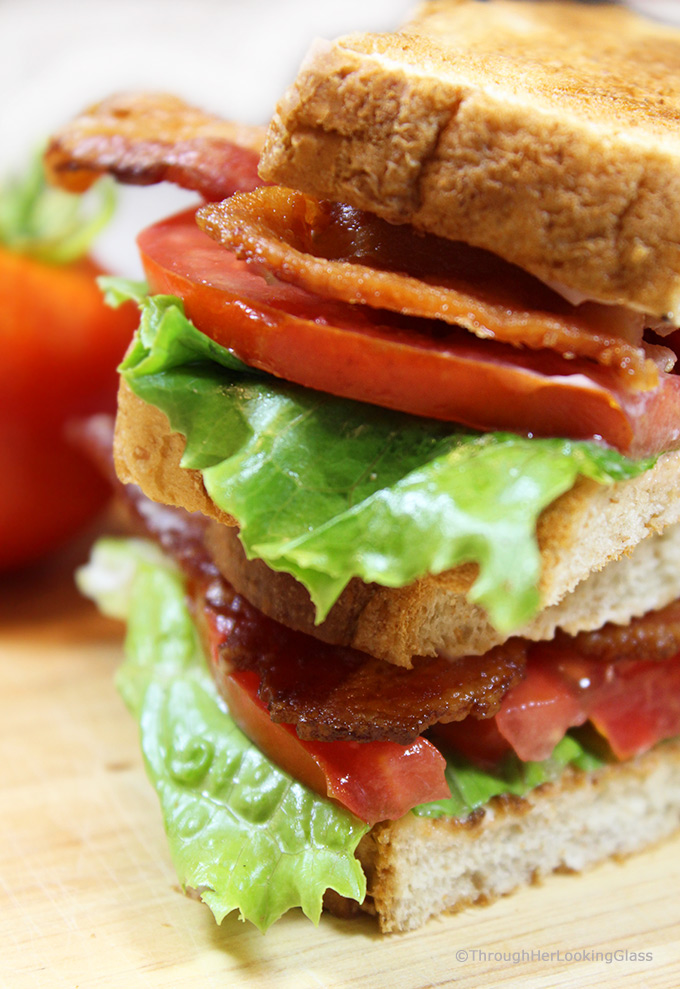 There are few things in life I'm more passionate about than an excellent BLT. YES!!! Bring on summer. Bring on the fresh garden tomatoes. And bring on the fabulous BLT.
I recently realized just how important the humble BLT is to me. We dropped by a great pancake joint and I ordered a BLT. (So why didn't I order pancakes? Sigh.) When I veered from the signature menu item, all my troubles began.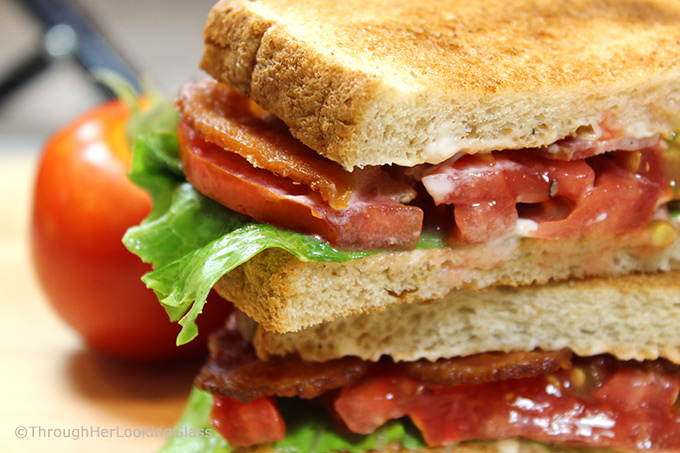 The bread was thin and dry. The mayo was nearly non-existent, and on one slice of the bread only. The single sliver of grocery store tomato was barely pink and so thin it was nearly translucent. The lettuce (if you call it that) was limp and wilted.
And here's the real kicker. There was just one slice of bacon in the whole sandwich. Ouch!!! This is not a Classic BLT Sandwich folks. In my book anyway.
And I was pretty disgusted disappointed, especially since I paid nearly $10 for it. That's when I realized there are folks out there (even wonderful restaurant folks!) who don't get it about the BLT.
Everyone should know how to make a great BLT. So here goes…. the makings of an excellent BLT. Hope you adore this sandwich as much as I do!!!
Tips to make a terrific Classic BLT Sandwich!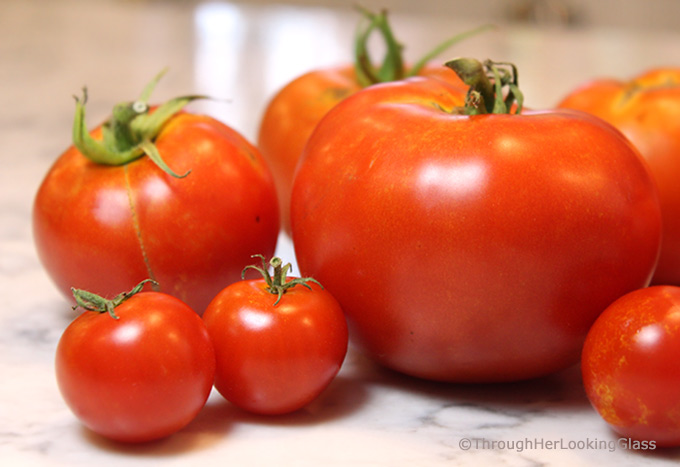 Garden fresh tomatoes are the bomb! Ours started ripening up in our NH garden last week. YAY!!! Around here, that signals many scrumptious BLT sandwiches to come… all the way through October. You must have excellent tomatoes for an excellent BLT.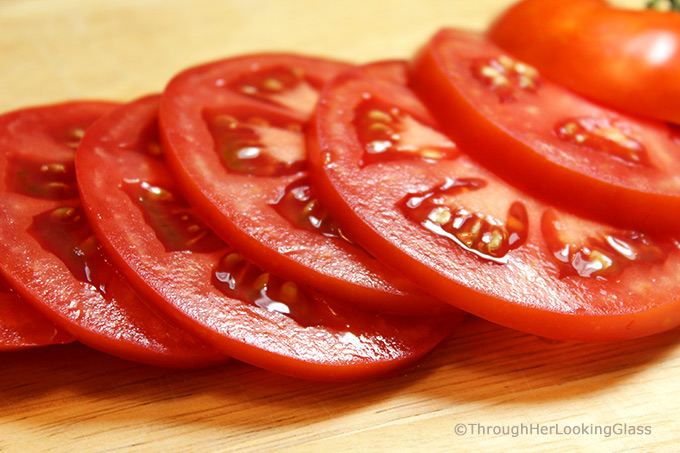 If you don't have your own garden tomatoes, find a farm stand or farmer's market nearby. Thickly sliced, fresh garden tomatoes are crucial to a great BLT sandwich.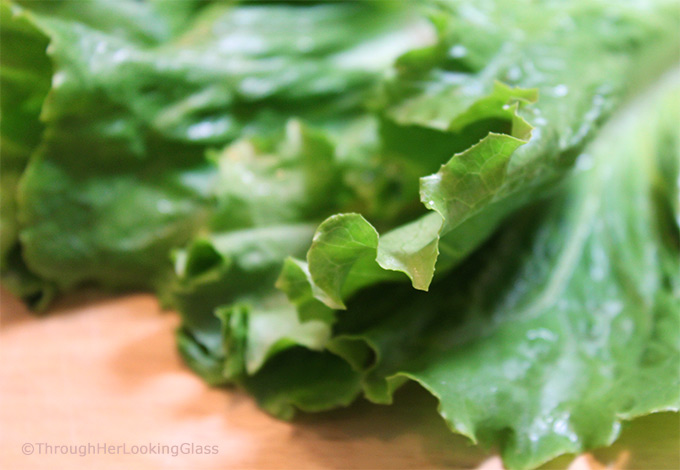 Use your favorite kind of lettuce: Romaine, butter lettuce, curly green leaf and red leaf lettuce are all excellent choices. Leaves should be clean, dry, and fresh. Not limp or wilted. (Ahem.)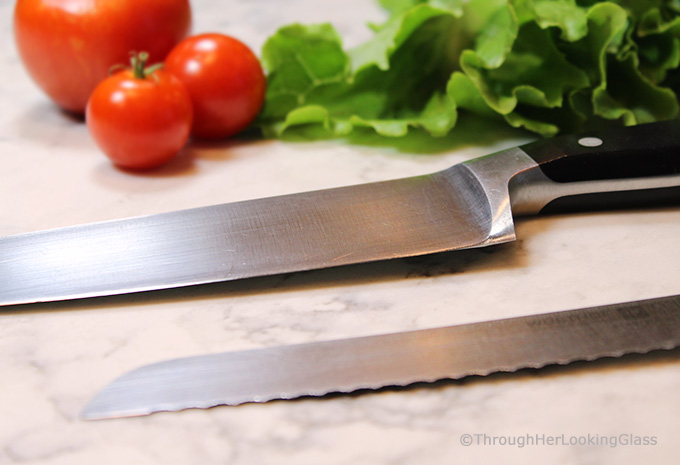 You'll need two kinds of sharp knives. A sharp slicing knife to slice the tomato. I always sharpen my butcher knife before slicing tomatoes. That way I get nice, clean slices and can easily control the thickness.
And you'll need a serrated bread knife to cut your sandwich when it's finished. A sharp, serrated bread knife cuts through a BLT sandwich cleanly, without smushing it.
You'll need two slices of your favorite sandwich bread, lightly toasted. Many people like white bread for their BLTs because it toasts so nicely. Sour dough bread is also a great choice. I used honey wheat (store bought) sandwich bread for this BLT. Make sure your bread is lightly toasted, but is cooled completely before spreading on the mayo.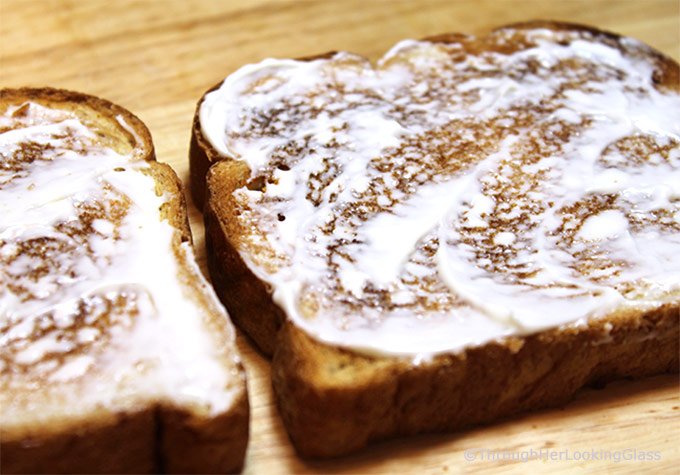 Now is not the time or place to be skimpy with the mayo! Use your favorite mayonnaise (I used Hellman's Light) and spread generously on one side of both slices of lightly toasted (but completely cooled) sandwich bread.
Cooling the toasted bread before spreading the mayo keeps the mayo from melting, and helps your sandwich bread stay crisp. A BLT should not have limp, floppy sandwich bread. (For a fun twist, try a flavored mayo like this fresh Basil Pesto Mayonnaise.)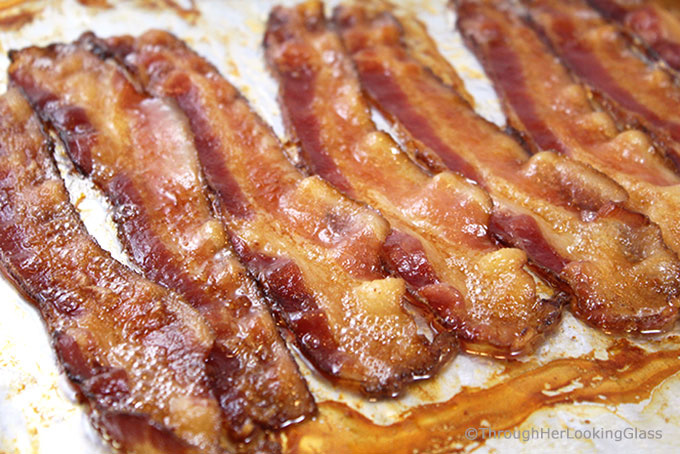 Crisp bacon is a star in this Classic BLT Sandwich! You can cook the bacon in the oven while preparing the rest of the ingredients to assemble your sandwich. If you're in a real hurry, buy pre-packaged bacon that's already cooked, but I don't recommend it. It's faster but not as good.
You can also fry your bacon in a skillet. Microwaving the bacon according to package instructions is also an option, but not quite as good. When I cook bacon in the microwave it tends to be dry and more unevenly cooked. You'll want nice, crisp bacon and a generous 2-3 slices per sandwich. However you cook it, be sure to drain your bacon well on paper towels before adding it to your BLT sandwich.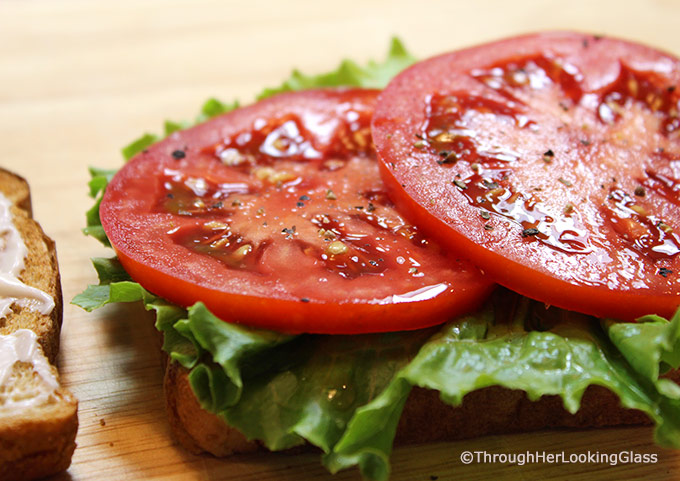 How you layer your BLT is very important. Lettuce that is clean and dry goes on top of the bread. THEN the garden tomato slices. (Putting the tomato slices in the between the lettuce and bacon keeps the toasted sandwich bread from getting soggy.) Generously salt and pepper the tomato slices.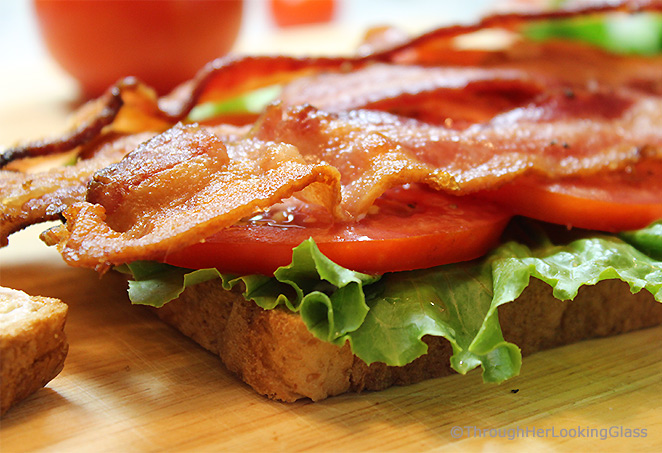 Next, add your crisp bacon slices on top. Oh yes, this BLT sandwich is almost ready!!! My mouth is watering.
Add the second slice of bread on top and carefully cut in half with a serrated bread knife or electric knife.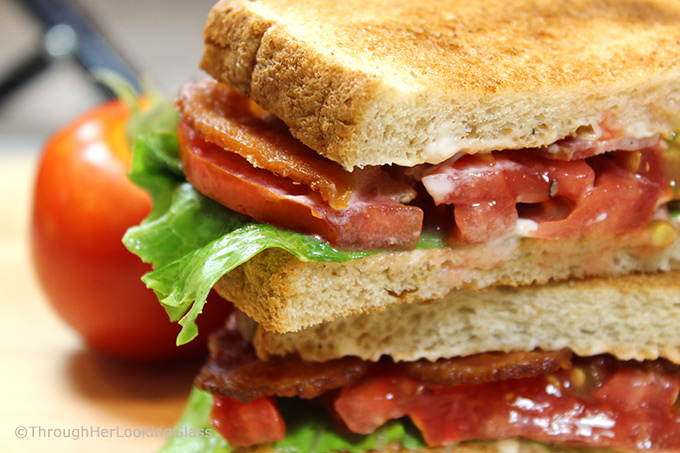 There's not anything in summer (except maybe homemade ice cream!!!) that excites me as much as an excellent BLT sandwich. If you're a BLT fan too, you know exactly how I feel. And you'll FIND A WAY to make sure you enjoy a scrumptious BLT sandwich this summer. Enjoy every delicious bite!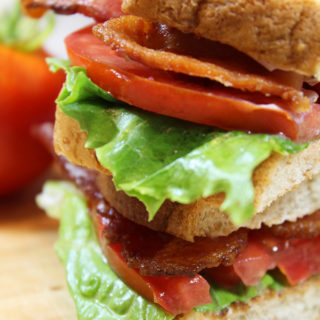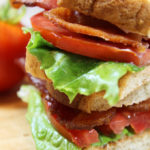 Print Recipe
How to Make a Terrific Classic BLT Sandwich
Ingredients
2

slices

of your favorite sandwich bread

lightly toasted and cooled (I used honey wheat bread)

Mayonnaise

I used Hellman's light

Ripe garden tomatoes

thickly sliced

Fresh lettuce leaves

washed and dried

2-3

slices

crisp bacon

salt and pepper
Instructions
Spread both slices of lightly toasted sandwich bread with mayonnaise on one side only.

Add several leaves of lettuce on one piece of bread.

Add several slices of thickly sliced garden tomato on top.

Generously salt and pepper.

Layer on 2-3 slices of crisp bacon over the tomatoes.

Top with second slice of lightly toasted sandwich bread.

Gently slice in half with serrated bread knife, being careful not to smush your sandwich.

Serve immediately with a dill pickle! 🙂
You may also like: Grilled Corn, Tomato, Basil & Feta Salad