Cucumber Lemonade with Mint is a refreshingly all natural drink on a hot day. Fresh squeezed sweet tart lemonade combines with cucumber juice and muddled mint. It's especially delicious iced, so try this refreshing cold sip on a sweltering summer day.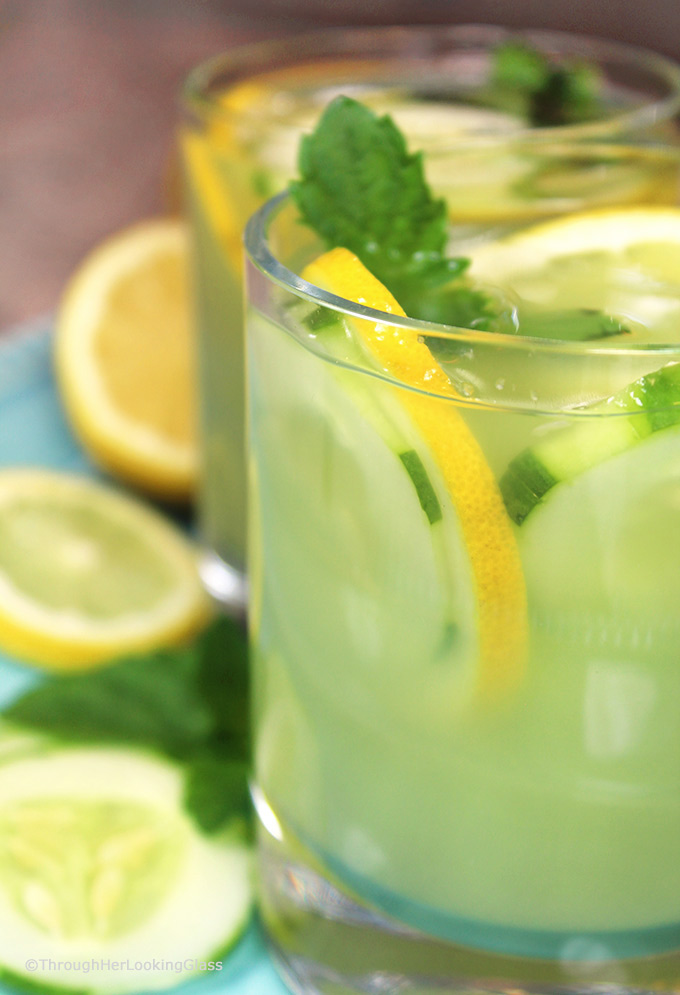 Let me start out by saying we're not big cucumber people around here. I know. My apologies if you are. But we aren't, and so that means we also aren't big pickle people either. (Gulp.)
Sacrilege. And furthermore, we don't have have an abundance of ripe cucumbers waiting to be harvested off the vine in our garden. So there's that.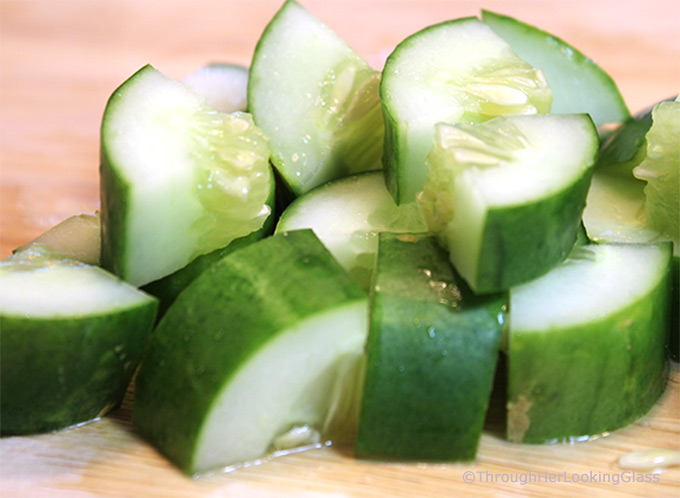 BUT. That does NOT mean that we aren't big Cucumber Lemonade people. Because we are. I discovered that a few weeks ago.
I love it when birthday celebrations stretch on for days, weeks and even months. Don't you? That's what happened to me this past summer. A friend took me out for a fun birthday lunch for my mid-July birthday at the end of August.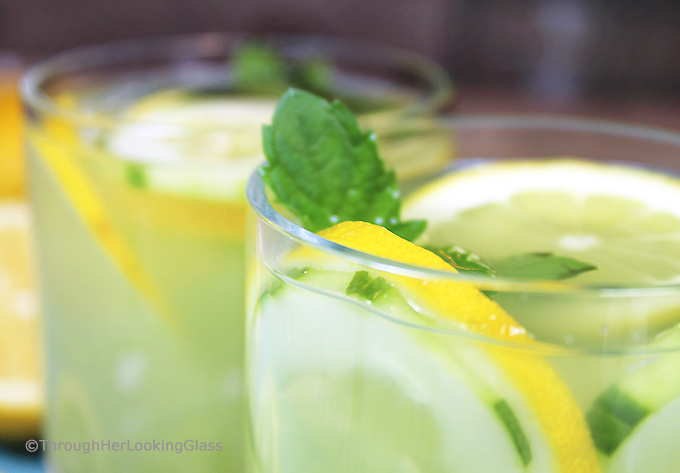 It was a sweltering day and there, chalked on the specials board, was Minted Cucumber Lemonade. No question, I had to have it.
It was a beautiful drink, pretty in every way. So refreshing and hit the spot. When our server asked if I'd like another – the truth was, I did. But I said, no thank you. (I do have manners.) I said no on account of the fact I'd rather spend my remaining calories eating than drinking…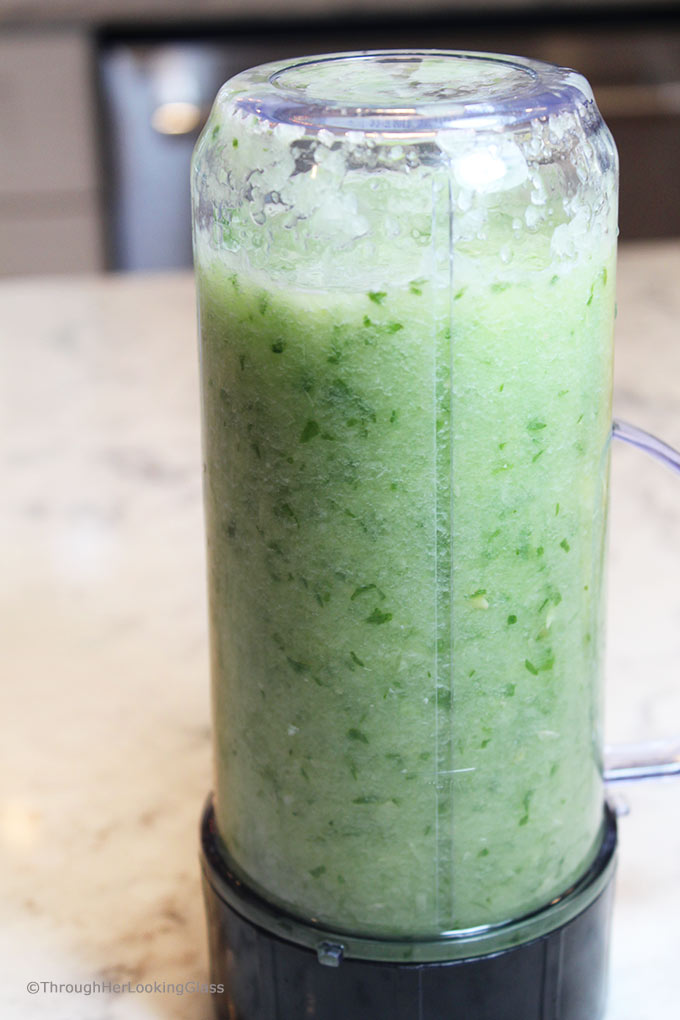 So that was my first very pleasant encounter with Cucumber Lemonade with Mint and it won't be my last.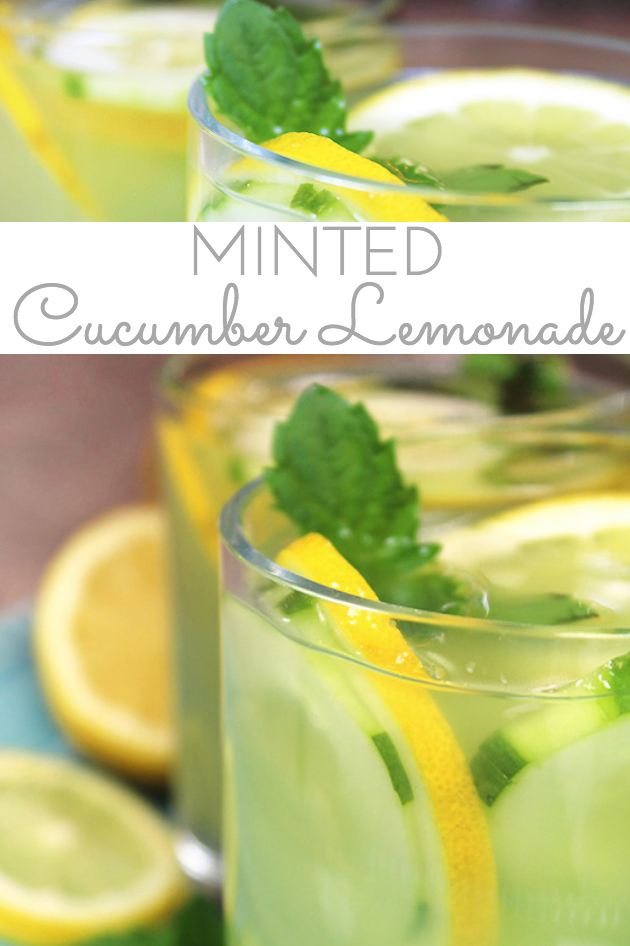 I didn't think my guys at home would go for it, but I made a batch this week. But first let me tell you how I came to have several lovely cukes in the house.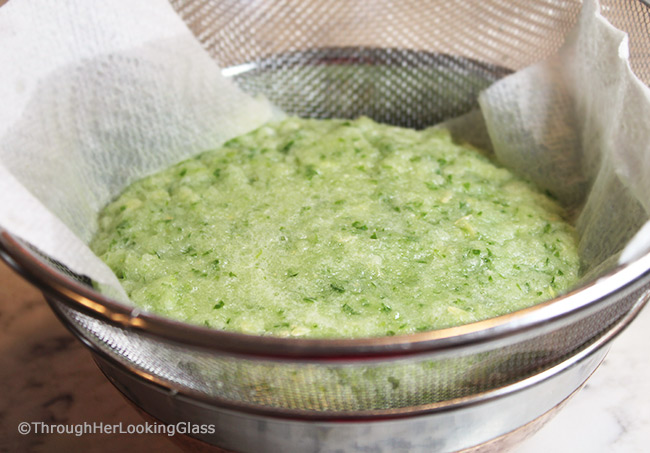 I was at church and there they were sitting in our give-one, take-one blessing basket. Since I was one of the last out the door and there were still a few left, I couldn't let good produce go to waste, now could I?
So there you go. That's how these garden cucumbers arrived in my kitchen fruit bowl.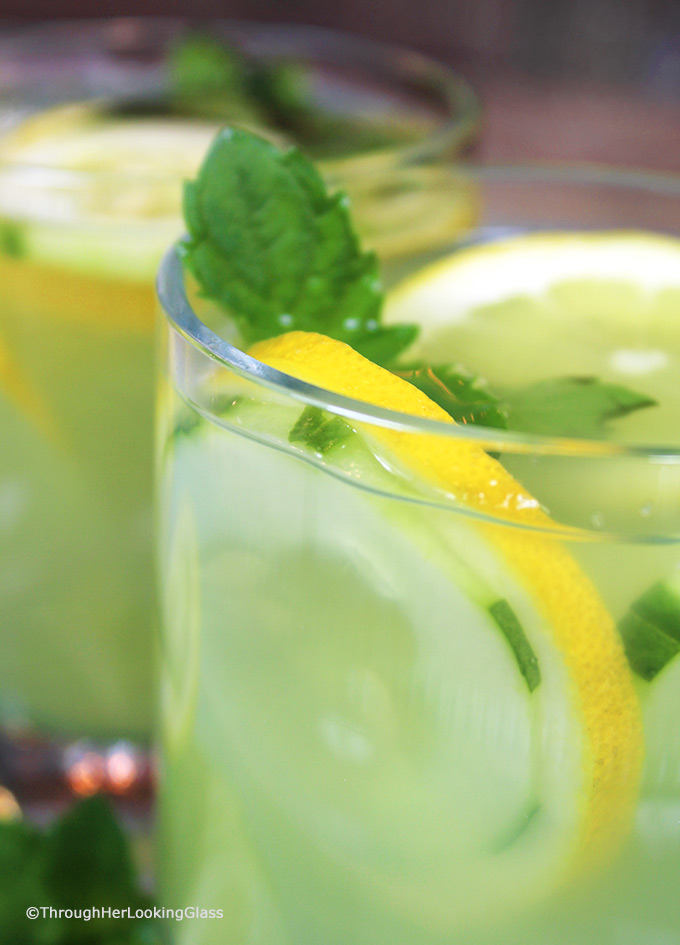 And the next hot, sweltering day (which happened to be Labor Day), all I could think of was that delicious refreshing birthday cucumber lemonade and what I'd do for another glass. The rest is history.
I shared some with my guys too. And aware of their resistance to all things cucumber, I conveniently failed to mention the cucumber factor when I said "lemonade". Oops.
But smart, yes? Because they loved it, every sip. And so will you!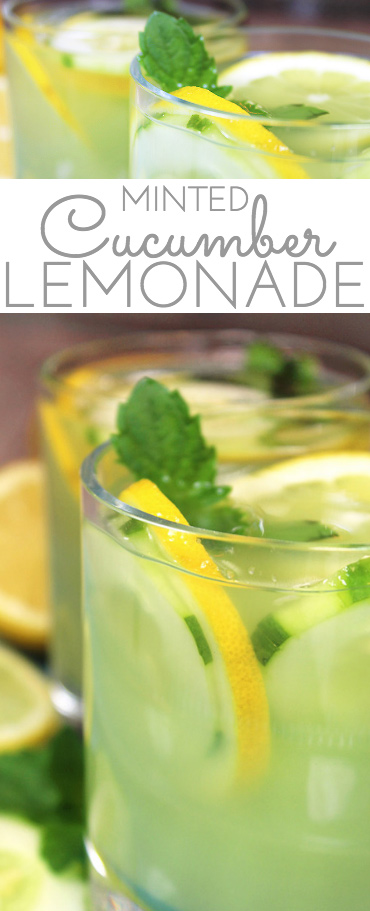 Tips for Making Cucumber Lemonade w/Mint:
Use fresh cucumbers.
A blender or Magic Bullet works great to puree the cucumber.
Use fresh squeezed lemon juice if you can, but bottled works too.
If you're cutting down on sugar, make this without sweetener and sweeten by the glass. I tried it with stevia and it worked great. You could try honey, maple syrup or other sweeteners.
If you add cucumber and lemon slices to the pitcher and it sits for a while, you'll need to add more water. (The flavor intensifies over time as the juices release.)
Make striped cucumbers for pretty garnishes by running a vegetable peeler down the length of the cucumber before slicing into rounds.
Add more water if it's too strong.
How to muddle mint? Place a sprig of mint in your serving glass and use a wooden spoon to lightly crush it.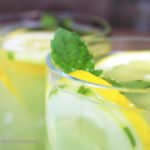 Print Recipe
Cucumber Lemonade with Mint
Ingredients
10

" fresh cucumber

chunked

1

cup

sugar

1

cup

fresh squeezed lemon juice

or bottled

water

mint sprigs

extra lemon slices & cucumber slices for garnish
Instructions
Puree fresh cucumber chunks with a small amount of water in a blender or Magic Bullet until well blended.

Pour cucumber pulp into a metal sieve (or coffee filter lined colander) with a bowl underneath to catch the cucumber juice.

Let drain for 10-15 minutes.

(You'll want to use 1 to 1 1/4 cups of cucumber juice in this recipe.)

Meanwhile, combine 1 cup sugar and 1 cup lemon juice in a 2 quart pitcher.

Add 5 1/2 cups water and stir well.

(Discard cucumber pulp or set aside for another use.)

Stir in 1 cup cucumber juice.

Taste test and add more water if needed.

You may add extra cucumber juice if desired.

Muddle a sprig of mint in each serving glass.

Add ice and pour cucumber lemonade over all.

Garnish with a sprig of fresh mint and cucumber and lemon slices.
Other delicious ideas to use up fresh garden cucumbers: Feisty Cucumber Mint Martini, Sugar Glazed Cucumber Bread, and Cucumber Tomato Salad .
You may also like: Strawberry Basil Lemonade