Scrumptious pumpkin spiced nuts. These babies are addictive, crunchy, sweet spiced nuts, perfect for the season: Pumpkin Spice Sugared Pecans. Easy to make, they mix together in five minutes and bake for an hour and a half.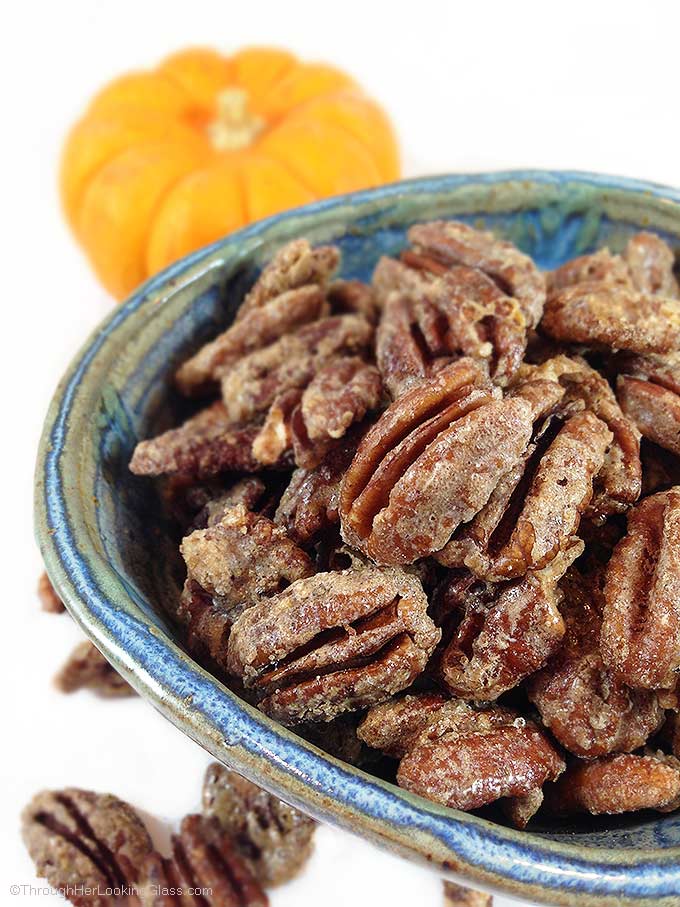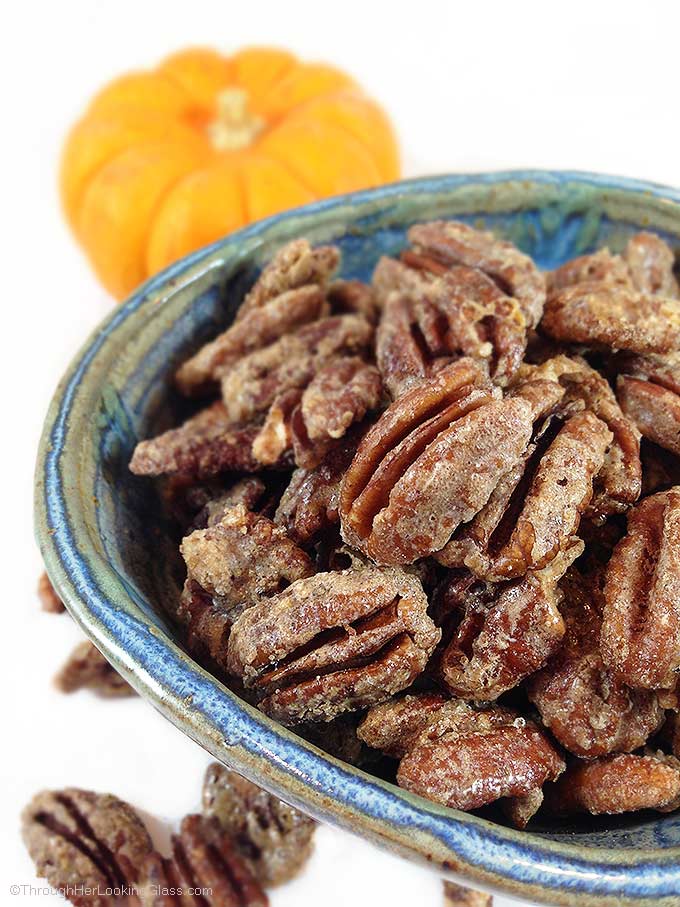 As fall settles in, I so look forward to the yummy kitchen aromas that accompany fall baking. Apples, pumpkin and spices are what I'm craving these days.
Haven't made the first apple or pumpkin pie around here yet, but it won't be long. I'm hosting Thanksgiving for my extended family this year, so today I'm thinking about Thanksgiving Day nibbles and edible Christmas gifts.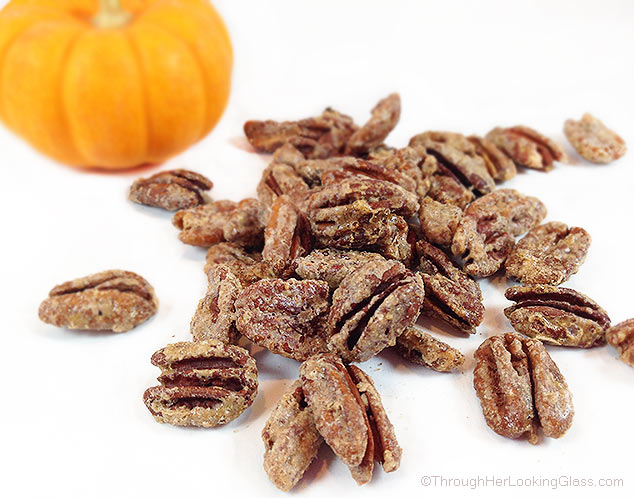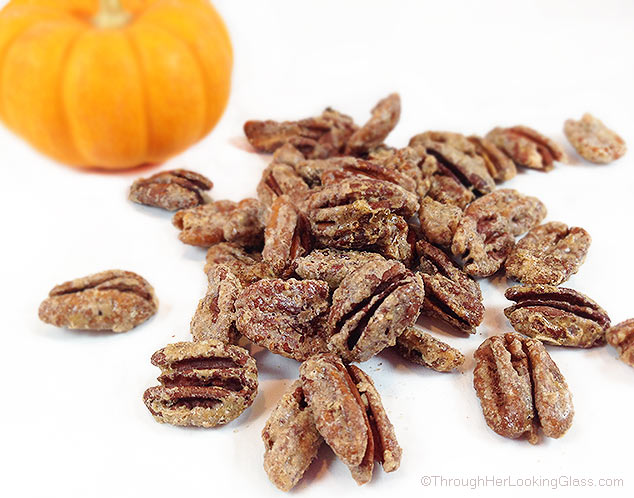 I love filling baskets with homemade goodies at Christmas time. Do you make gift baskets for friends and family? I often fill them with fruit, jams, jellies, maple syrup, cookies or spiced nuts. Making edible gifts can really cut down on gift giving costs, and they make a beautiful presentation and bring lots of joy to the receiver. Here are some other ideas for homemade edible gifts.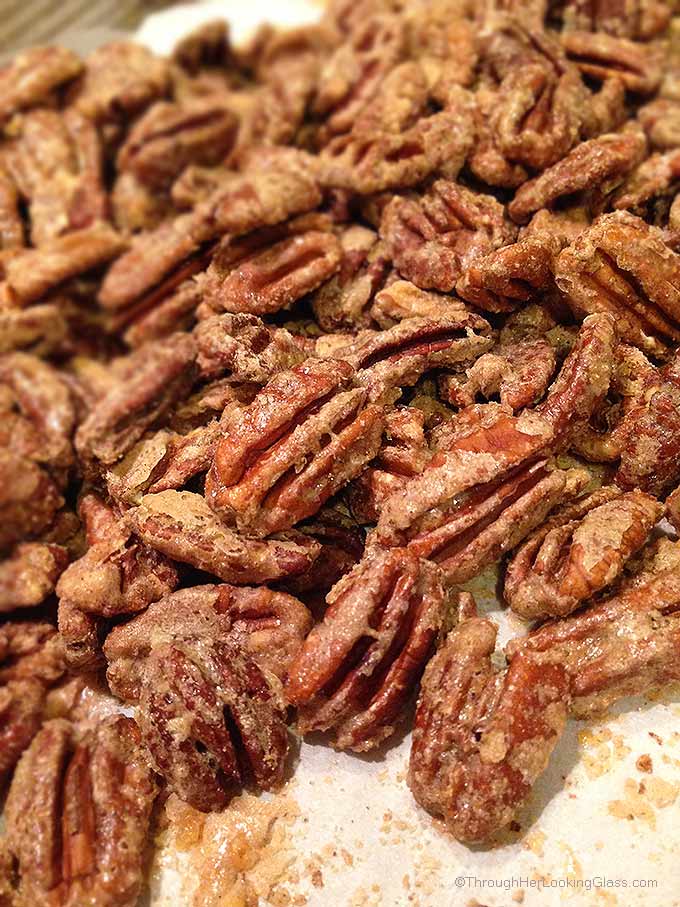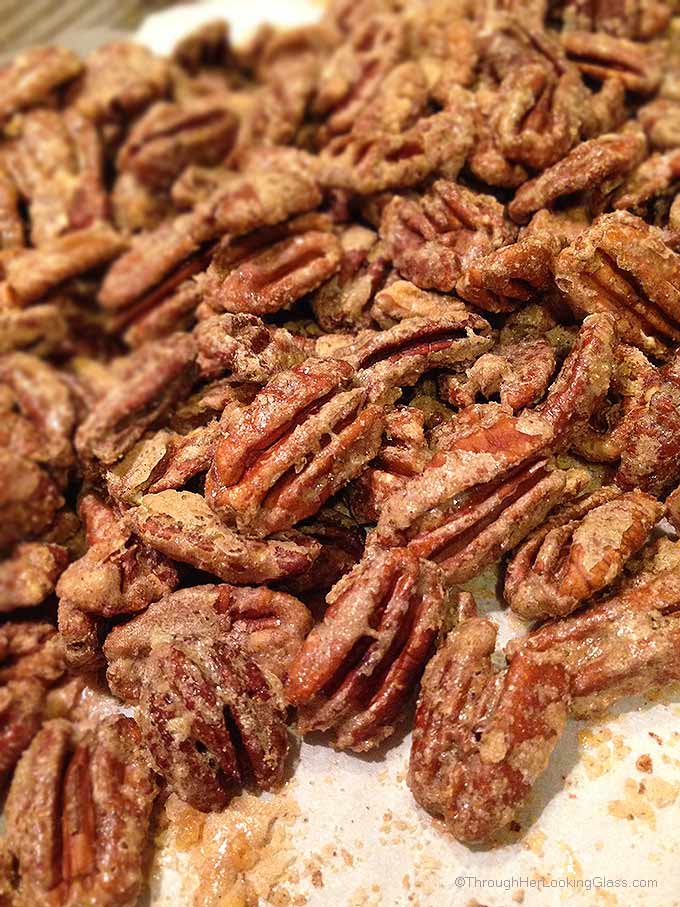 This year I'm adding Pumpkin Spice Sugared Pecans to our holiday snacking and homemade Christmas baskets. An excellent thing about gifting candied nuts is they have a great shelf life and can be made ahead of time. (One way to cut down on the holiday rat race.)
If you love sugared pecans and pumpkin pie, you'll love these candied nuts. A little bowlful of Pumpkin Spice Sugared Pecans are tempting on the hors d'oeuvre or cheese tray and make a beautiful presentation with fresh fruit.
These spiced nuts are a crunchy topper for ice-cream or cheesecake. Gourmet sprinkled on salads. Seriously, I have to hide 'em around here. They disappear that fast!

These are so easy to make. Just dump the nuts in a big mixing bowl. Stir with egg whites until the nuts are fully coated, then stir in the sugar and spices. Bake for an hour and a half. Cool completely and enjoy!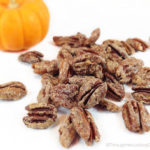 Print Recipe
Pumpkin Spice Sugared Pecans
A wonderful, easy fall treat. Great for snacking, sprinkled on salads and desserts. Perfect for gifting.
Ingredients
2

pounds

shelled pecan halves

2

egg whites

2

teaspoons

cold water

1

cup

sugar

2

teaspoons

pumpkin pie spice

1/2

teaspoon

salt

1/2

teaspoon

freshly grated nutmeg
Instructions
Place pecans in a large mixing bowl.

Separately, froth egg whites and cold water together.

Pour over pecans and mix thoroughly.

Stir in remaining ingredients: sugar, salt and spices

Transfer to a large baking or roasting pan.

Bake at 225 degrees, uncovered for one and a half hours.

Stir every thirty minutes.

Cool, then store in an airtight container.
Another great edible gift: DIY Clementine Wreath