This scrumptious Bar Harbor French Silk Pie Recipe has a rich, melt-in-your mouth, silky homemade chocolate mousse filling consisting of eggs, cream, chocolate, sugar, vanilla and butter. As if that's not enough, the dreamy chocolate filling is topped with heavy cream whipped with creme de cacao. (Shriek!) This famous pie recipe from a Bar Harbor restaurant in Maine is just a little slice of heaven.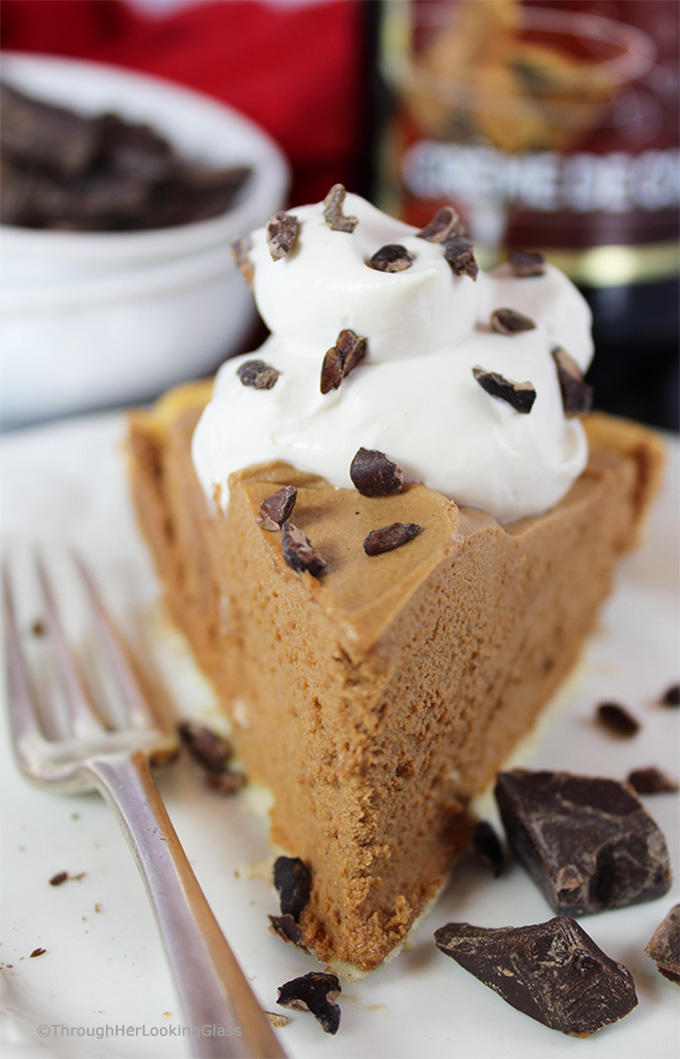 It just happens to be the third birthday of Through Her Looking Glass this month. So Happy, Happy Birthday THLG! You're now a saucy toe-headed toddler! How can it be the time has flown so quickly? I've learned so much and met so many wonderful new friends in the last three years who share my love of baking and community.
Thanks to each of you for being great readers, encouragers, commenters and friends. I love what I do and am incredibly thankful to have the flex to work from home.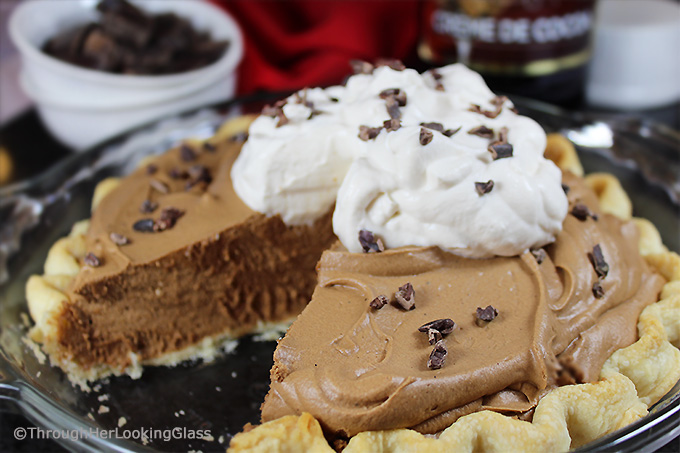 I've been saving this French Silk Pie Recipe for a wonderful occasion that calls for chocolate! On the first birthday of Through Her Looking Glass, I shared the Famous Brick Street Chocolate Cake Recipe shown below  and it continues to be a favorite here.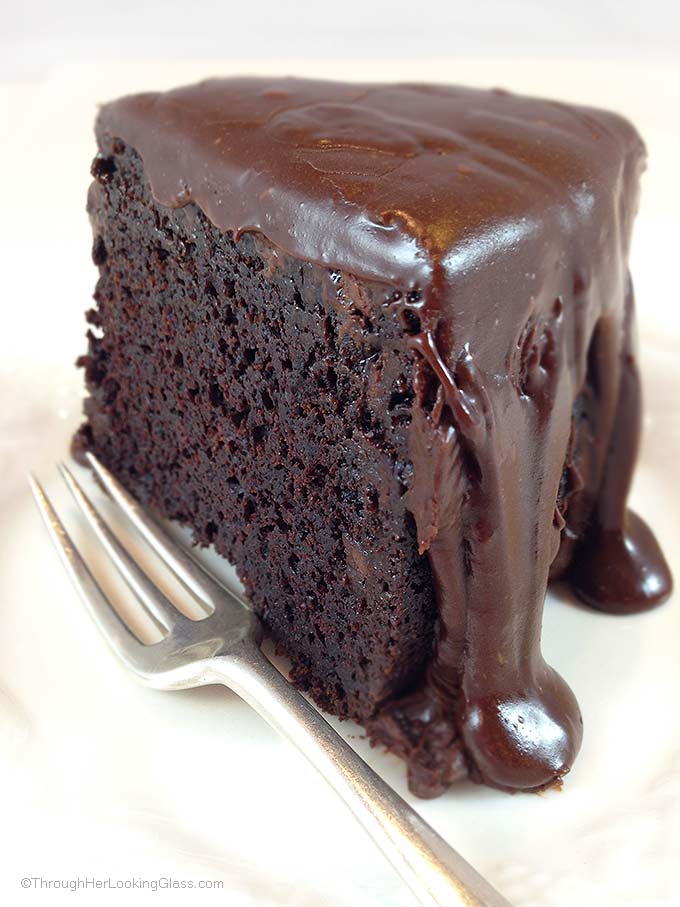 So now that I know you all love chocolate as much as I do, I thought I'd hit you up again on THLG's third birthday, this time with a fabulous recipe for French Silk Chocolate Pie. This is one creamy, silky and delicious chocolate silk pie. It's the melt-in-your mouth texture that is so outstanding. Wish I could offer samples through the screen so you know just how truly scrumptious it is. (Unfortunately technology hasn't quite caught up yet. Someday…)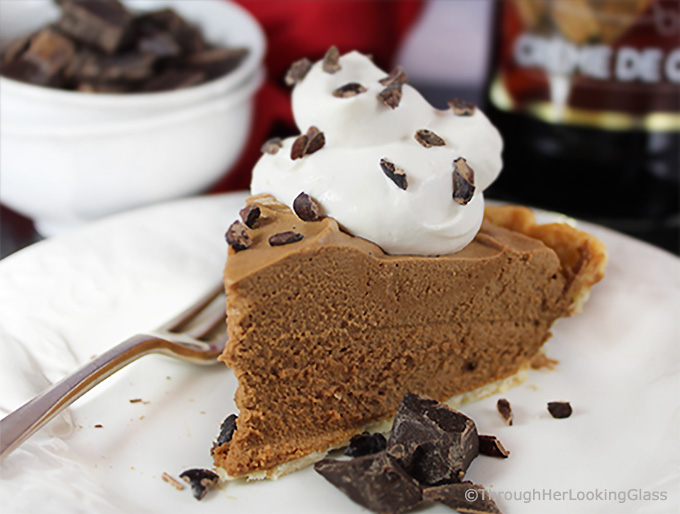 The inspiration for this great recipe comes from a friend of a friend. The story goes like this. One evening after savoring a five course meal at a famous inn in Bar Harbor, a middle-aged couple each ordered a slice of French Silk Pie for dessert.  They polished off the pie in record time and the server returned.
The husband gushed on and on about the pie and immediately ordered a second slice. The pastry chef was so delighted at the second order, that he plated and delivered it himself, and also presented the gentleman with a copy of his famous recipe. And that very gentleman recently gave that recipe to a friend of mine. So lucky me, lucky you.
Sadly the inn is no longer in existence, but the recipe lives on here. Hope you'll try this recipe and love it as much as we do.
The original recipe from the inn used a meringue crust made with chopped walnuts. I made the original recipe with the meringue crust and it was spectacular! But I had a terrible time removing pieces of pie from the pie plate. They stuck terribly to the bottom because of the sticky meringue crust. Even though I greased and floured the pie plate, the meringue crust still stuck fiercely to the bottom. Which meant not a piece of that pie was photo worthy. (But oh so delicious….)
So I compromised a bit and made it again in a pre-baked pie shell. It is still an exceptional pie! I included the original recipe for the meringue crust for the adventurous bakers out there who must have the meringue crust.
**UPDATE: Since posting this, I've learned that a pie plate prepared with non-stick cooking spray and a dusting of corn starch will help a meringue crust to release better when serving. I've not yet tried this, but it may be the answer. Please let me know if you try it!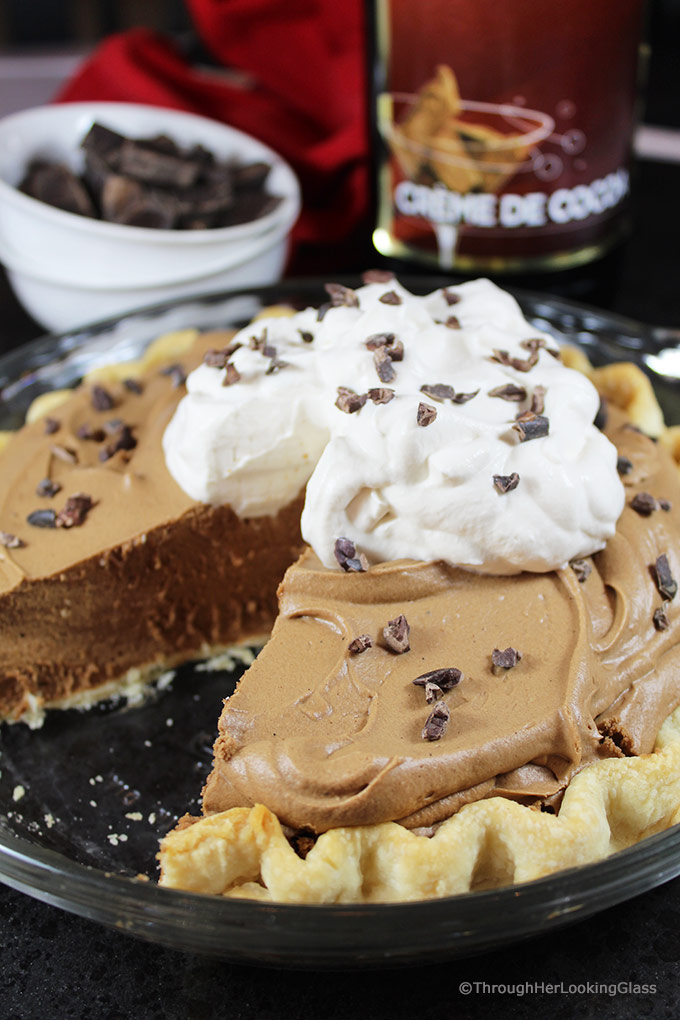 Please allow plenty of time to make this pie, especially if you choose to make the meringue crust. The meringue crust cooks for nearly an hour, then cools in the oven with the door closed. (You can make the meringue crust ahead of time and store tightly covered at room temperature until you're ready to fill with the chocolate filling.) Once filled, refrigerate the pie several hours or until firm.
Add the whipped cream topping made with creme de cacao just before serving. I found the creme de cacao at the liquor store. (Creme de cacoa is a chocolate liqueur made with chocolate extract, vanilla extract, simple syrup and vodka and is amazing in this recipe.) Sprinkle the whipped cream with shaved chocolate or cocoa nibs for a final gourmet touch!

One thing to be aware of is that this recipe calls for uncooked eggs in the chocolate filling. You may use regular eggs in this recipe, but it is much safer to use pasteurized eggs, especially for the young, the elderly or anyone with a compromised immune system.
Pasteurized eggs use a process of time and temperature, heating the eggs in their shells to the exact temperature needed to help destroy bacteria. This effectively and safely manages the risk from Salmonella—without cooking the egg. It is safest to use pasteurized eggs in this recipe. Here is more information on pasteurized eggs and where you can buy them.
If you decide to make the meringue crust, see my tips below.
Tips for making the meringue crust for Bar Harbor French Silk Pie Recipe:
Preheat oven to 250°.
Spray pie plate with non-stick cooking spray. Wipe out the excess, then dust with cornstarch.
Use egg whites that are at room temperature.
It will take you 5-10 minutes to beat the meringue completely until it's glossy and smooth. (You'll know it's ready when it's glossy and you rub a little bit of it between your fingers and it feels completely smooth, not grainy!)
Spread the meringue on the bottom and up the sides of the pie plate with the back of a spoon.
Bake for 50 minutes at 250°. DO NOT OPEN THE OVEN DOOR OR REMOVE FROM OVEN.
Once baked, leave the meringue in the oven to cool to room temperature with the oven door closed.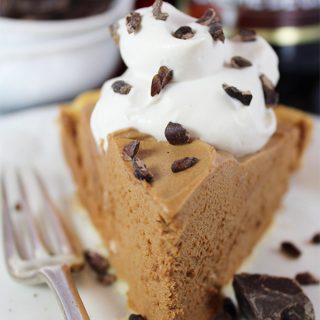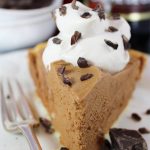 Print Recipe
Famous Bar Harbor French Silk Pie Recipe
Ingredients
Chocolate Filling:
1

cup

softened butter

1 1/2

cups

white

granulated sugar

2

ounces

good quality

unsweetened baking chocolate, melted and cooled

2

teaspoons

vanilla

4

large eggs

pasteurized, at room temperature
1-9" pre-baked pie shell OR
Meringue Crust:
3

large egg whites

at room temperature

pinch

salt

1/4

teaspoon

cream of tartar

1/2

teaspoon

vanilla

3/4

cup

sugar

1/3

cup

chopped walnuts
Garnish:
1

cup

heavy whipping cream

1

tablespoons

creme de cacoa

Optional: a tablespoon of chocolate shavings or coca nibs for extra garnish.
Instructions
Chocolate Filling:
Beat butter until fluffy.

Add sugar GRADUALLY, 2 tablespoons at a time and beat 'til smooth.

Combine melted chocolate with creamed mixture.

Stir in vanilla.

Beat in eggs, two at a time, beating for 4 minutes after each addition.

Mound chocolate filling mixture into 9" pre-baked pie shell or into cooled meringue crust.

Chill in refrigerator for several hours or until firm.
Meringue Crust
Prepare pie plate.

Spray non-stick cooking spray in pie plate and wipe out excess.

Dust with cornstarch.

Combine egg whites, salt and cream of tartar.

Beat until very stiff.

Add vanilla.

Beat in sugar gradually, until peaks are formed.

Gently fold in walnuts.

Spread in prepared pie plate on the bottom and up the sides, making room to add the chocolate filling later.

Bake in preheated 250° oven for 50 minutes, until golden brown and dry.

DO NOT REMOVE FROM OVEN.

Turn oven off. Leave oven door closed and let cool to room temperature.

Remove from the oven and store tightly covered at room temperature until ready to fill.
Garnish - Whipped Cream Layer:
Whip heavy cream until soft peaks form.

Fold in creme de cacao and spread on top of chocolate filling.

Optional: garnish with chocolate shavings or cocoa nibs.