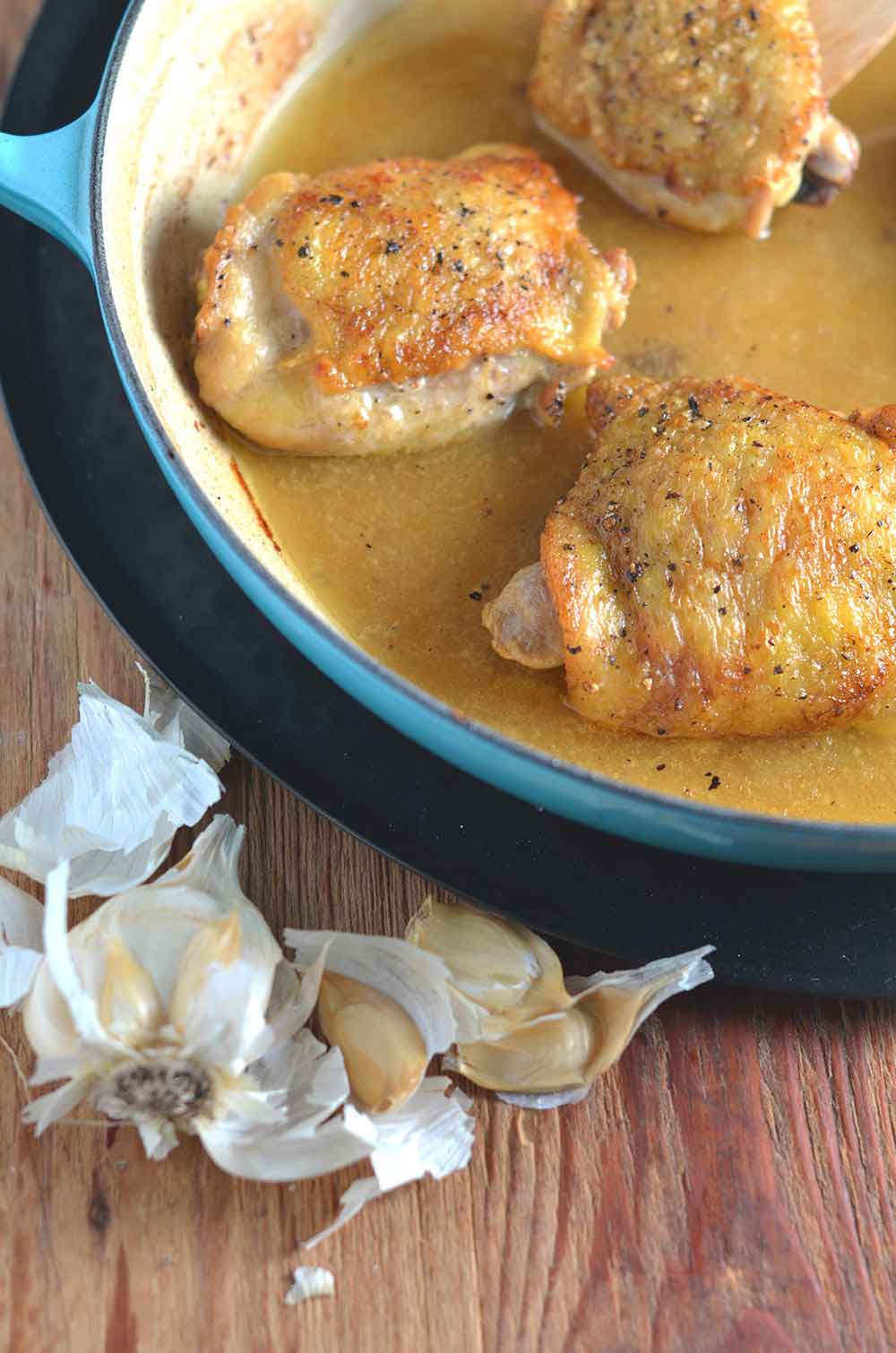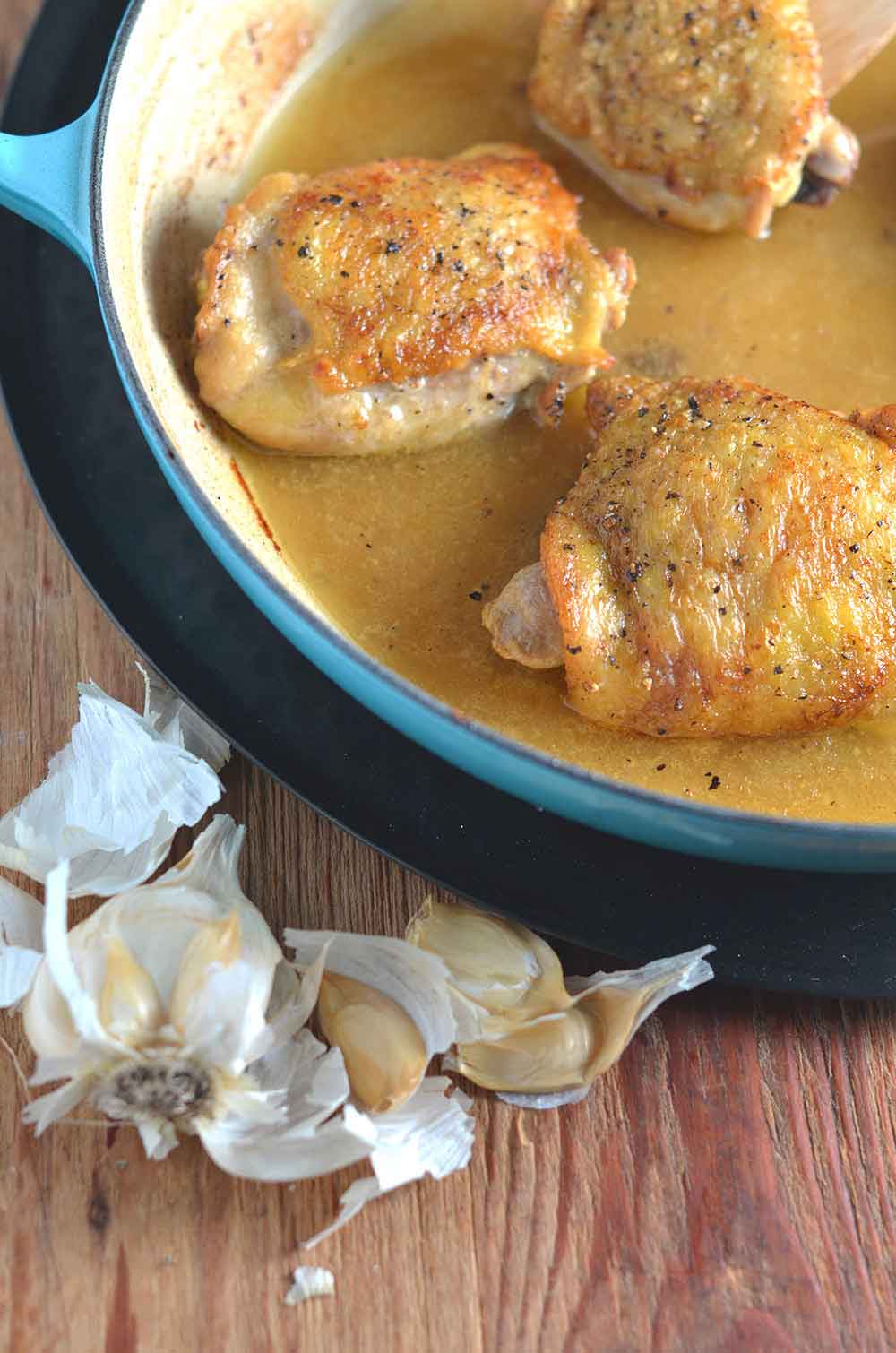 Gotta great and simple recipe today, Garlic Chicken Thighs, from my friend Jessica over at the JessicaNWood blog. As many of you know I grew up in the north, but lived in the south for many years before we moved back to New England. So when Jessica says "y'all", I feel right at home. It's been such a pleasure collaborating with her in the past few months, getting to know her story. 'Cuz I am always up for a story. Have so enjoyed following her beautiful blog. I know you'll love the recipe she's sharing today. Hope you'll take a few minutes to browse Jessica's site for other simple and delicious recipes like Sunday Supper Pot Roast with Savory Grits. (Had to include grits since we're talking south.) Or how 'bout a slice of her Momma's Egg Custard Pie for a classic southern dessert? Now we're really talkin'. And pass me a fork! Ya'll. (Grin.)
So here's Jessica!
Hi y'all! I'm Jessica! On my food blog I share my favorite recipes and kitchen tips to help us simplify supper, enjoy dessert, and spend more time around the table with the people we love. My husband and I live in North Carolina and we are in the process of adopting our son from the Philippines. I'm so glad Allie invited me over to share a recipe with y'all today. I absolutely adore Allie and her blog!
A few weeks ago Allie shared a delicious Chicken Scampi recipe on my blog. I highly recommend adding it to your weeknight dinner rotation – it's simple and delicious, filled with herbs and garlic and chicken and pasta. We had it the other night and I absolutely loved it!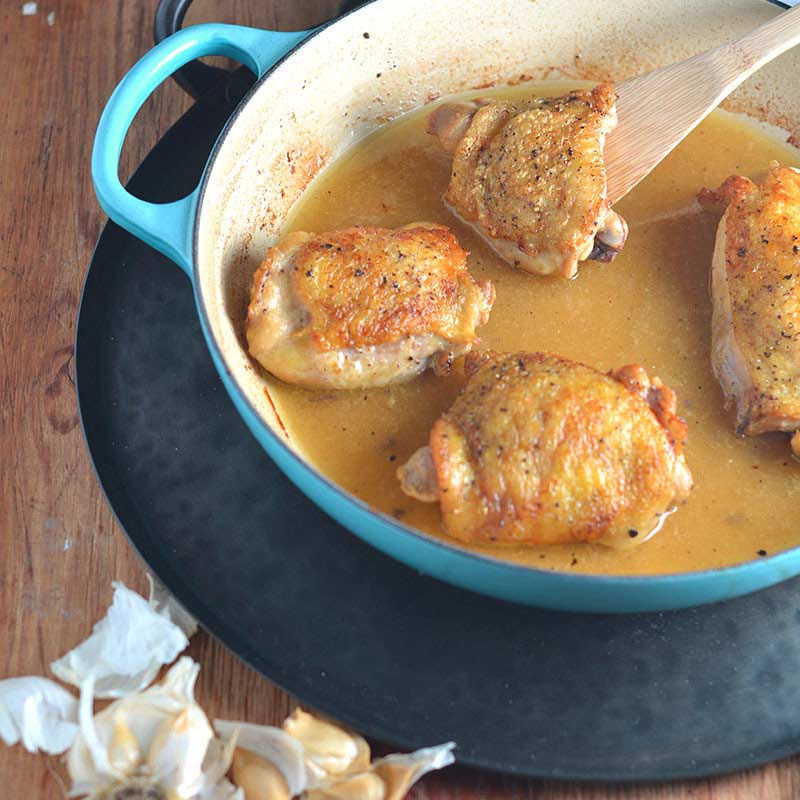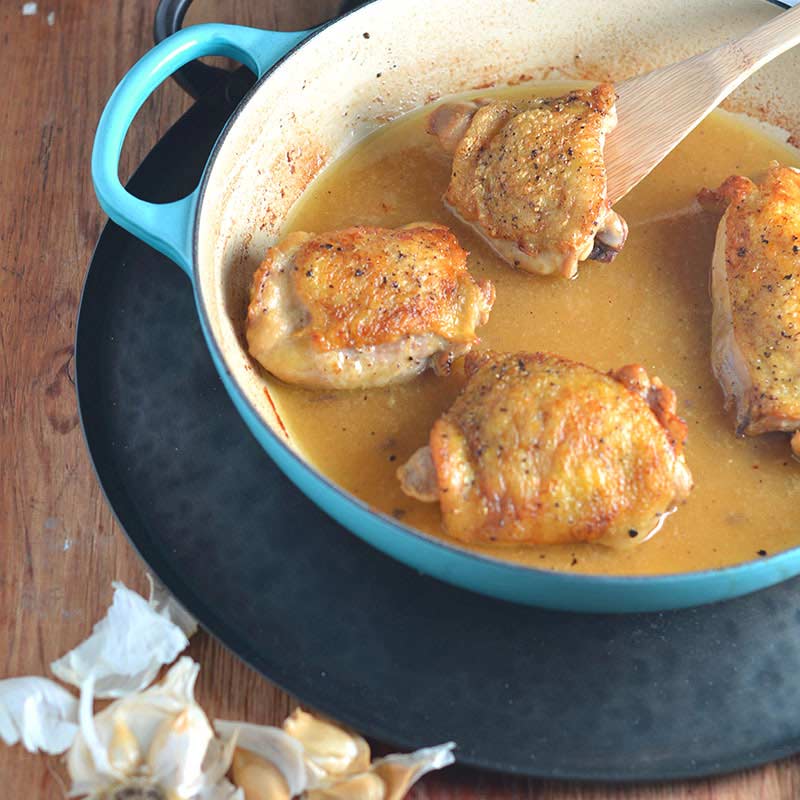 I wanted to share another spin on that beautiful combination of garlic and chicken with you today. My Garlic Chicken Thighs are super simple to make, use ingredients you probably have on hand, and are finished off in the oven so you are freed up to tackle something else.
I've been on a mission in my weeknight dinner recipe writing lately to use as few ingredients as possible while still delivering delicious flavor. These garlic chicken thighs definitely fit that bill! Both chicken stock and garlic bring a lot of extra flavor to the table and they are ingredients I almost always have on hand.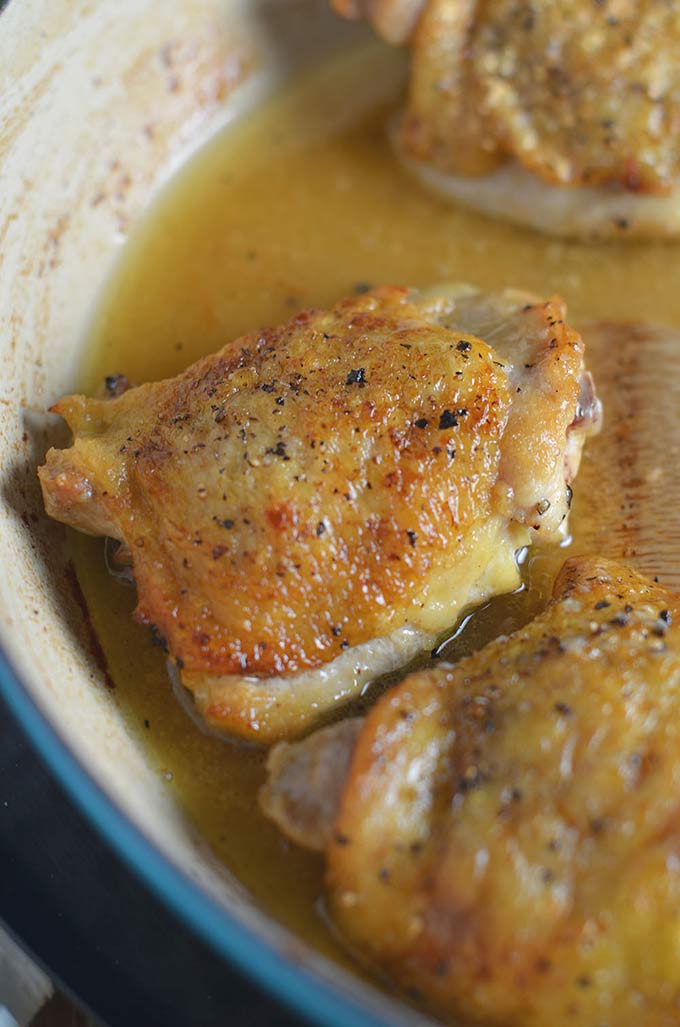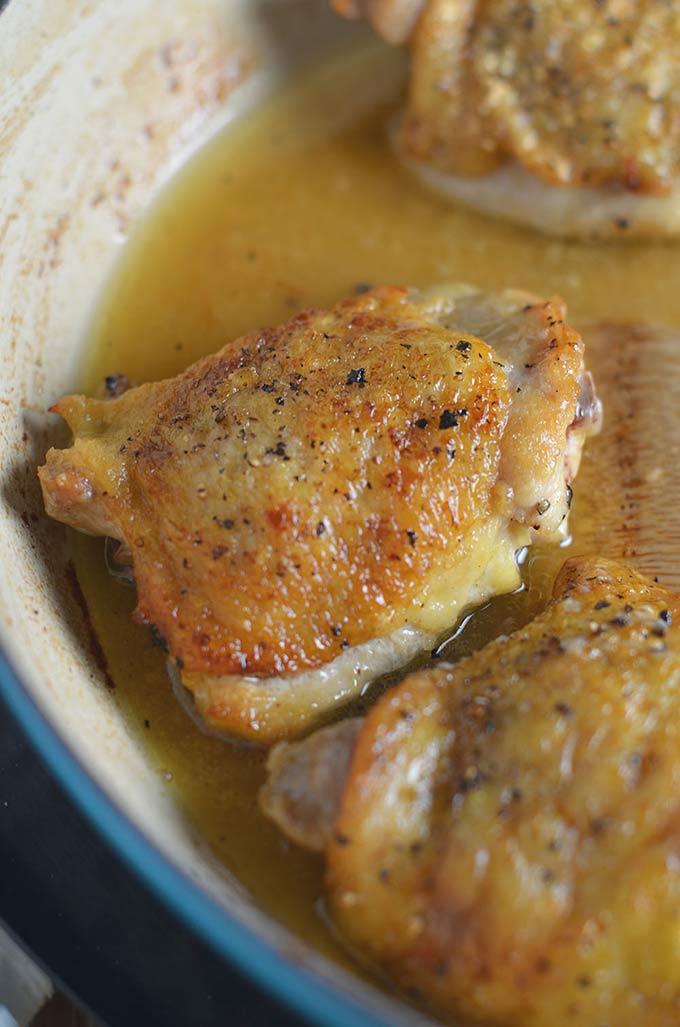 To make Garlic Chicken Thighs, we start by browning the chicken thighs skin side down in a hot skillet. Once the skin has started to brown, remove the chicken thighs and set them aside. After deglazing the pan with chicken stock, we grate four cloves of garlic directly into the skillet to create a flavorful, delicious sauce for the chicken thighs to simmer in as they finish cooking. There's a lot of garlic in this recipe and you can definitely tone that down if you'd like, but the garlic does mellow out as it cooks in the oven so you don't get a sharp garlic bite.
The chicken thighs slowly finish cooking in the oven, soaking up all of that garlic sauce in the process, leaving us with tender, flavorful chicken thighs and crispy, delicious skin. We love this easy dinner at our house and I hope y'all do too.
Thank you for having me over, Allie!

Jessica
Yields 4
Garlic Chicken Thighs
Ingredients
4 chicken thighs (bone-in, skin-on)
2 tablespoons olive oil
salt
pepper
oil
4 cloves garlic, grated
1 1/2 cups chicken stock
Instructions
Preheat oven to 375°.
Heat olive oil in large oven-safe pan over medium-high heat.
Generously salt and pepper chicken thighs
Sear chicken skin side down for 2 minutes or until skin is browned.
Remove chicken from pan and pour off grease in pan (don't clean pan).
Pour in chicken stock and scrape bottom of pan to deglaze.
Add grated garlic and any remaining pieces of garlic clove that aren't grated.
Let garlic and chicken stock simmer for 1 minute.
Remove large garlic pieces from pan.
Return chicken thighs to pan with skin side up and put pan in pre-heated oven.
Bake 30 minutes or until chicken thighs are cooked through(this will depend largely on the size of the chicken thighs).
Serve with pan sauce and enjoy!
7.6.4
103
https://www.throughherlookingglass.com/garlic-chicken-thighs/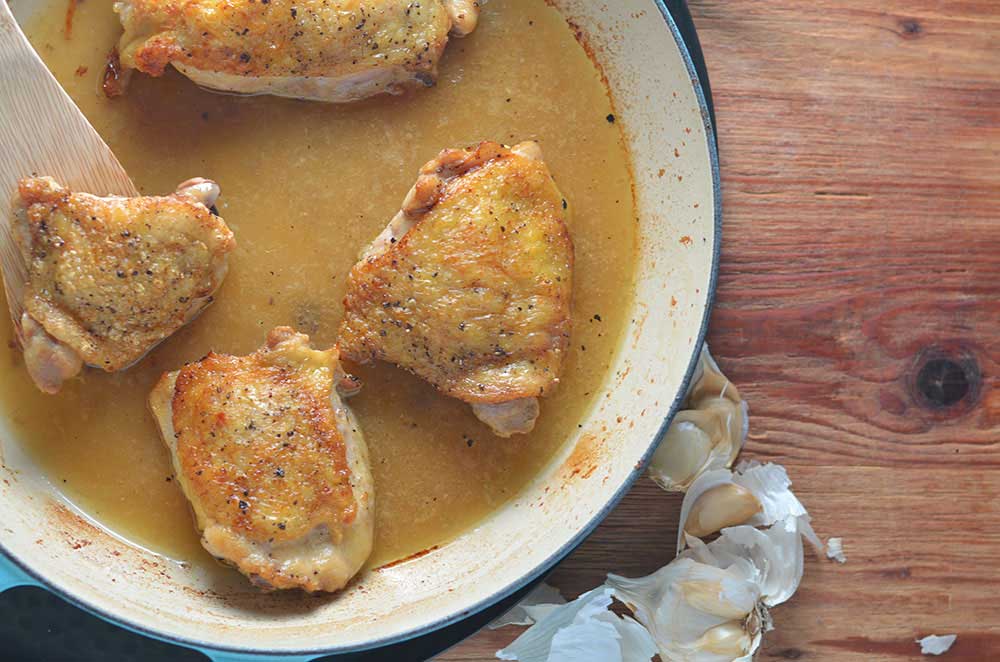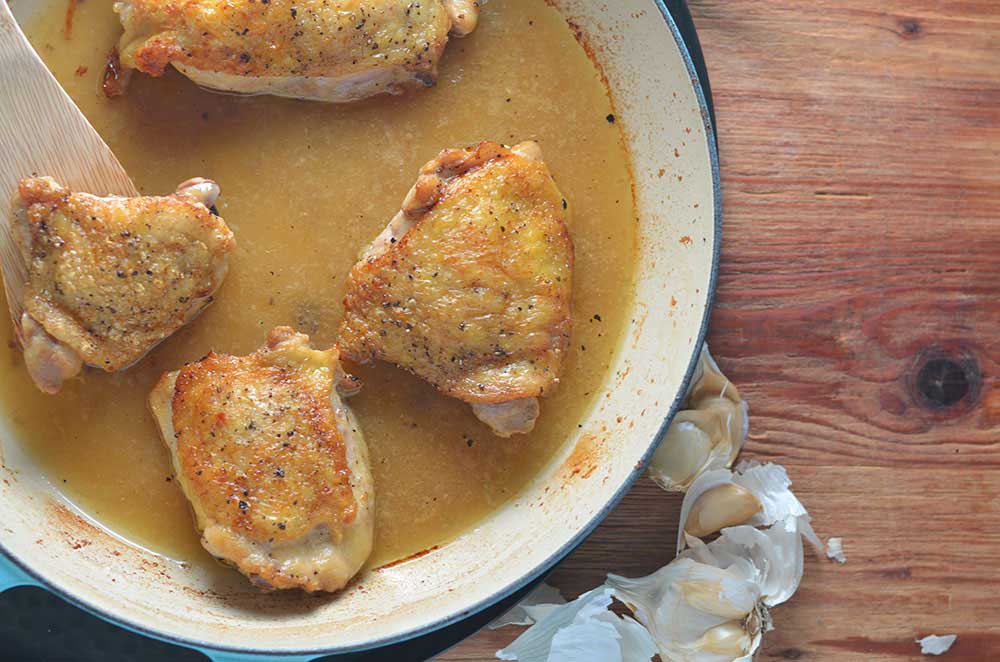 Garlic Chicken Thighs
Many thank, Jessica, for guest posting here today. Can't wait to try this easy chicken dinner I know my whole family will love. Also excited to follow your son's adoption process and look forward along with you to the day when you'll be together. What a glorious day that will be! My thoughts and prayers are with you on this beautiful journey.

Another main dish recipe you may enjoy: Sesame Beef & Red Peppers