Fresh basil is my all-time favorite green herb for snipping into spring and summer dishes. But how to store basil to keep it fresh for longer than a day or two? Learn easy tips to store basil so it lasts for a week or longer!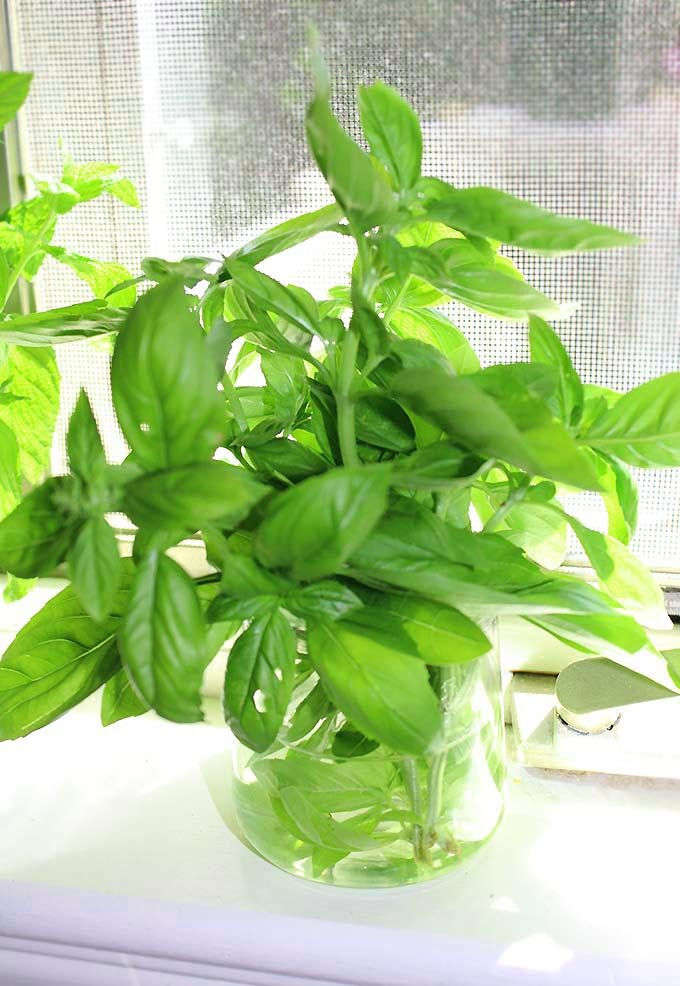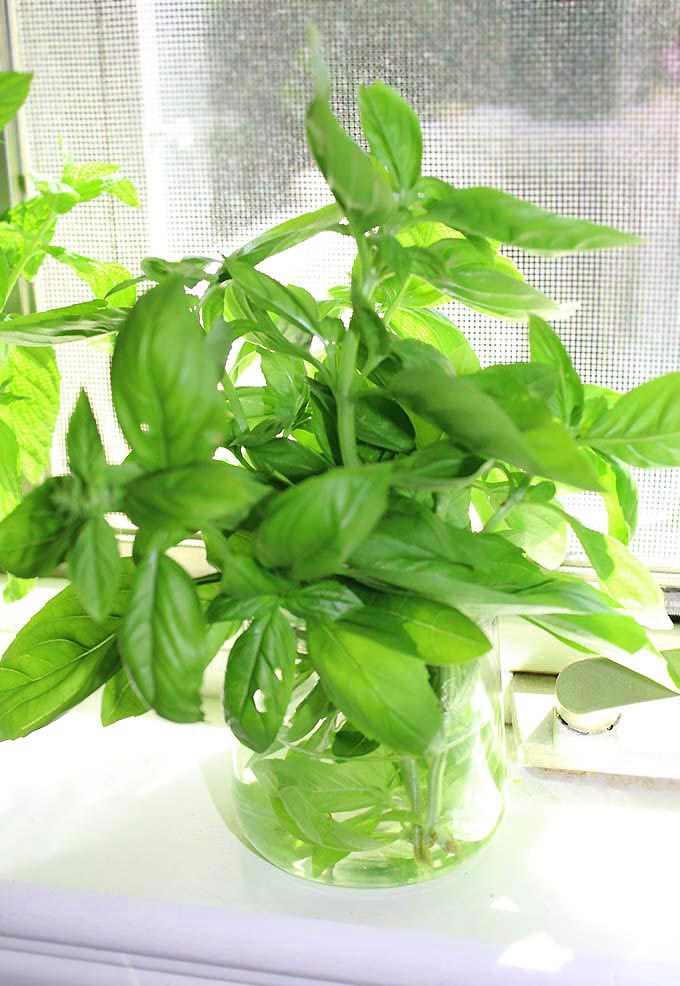 I love the sweet, peppery taste of garden fresh basil! The basil you see in this picture was grown by a friend.
Seems I'm always needing to ripen things quickly or keep it fresh for just a little bit longer. And like most folks, I try not to throw food away, especially fresh produce like basil.
Just a few weeks ago I was heading out to a party and bringing my famous Lime Avocado Black Bean Dip with feta. I serve it with blue chips and it always goes fast. So I raced out at the eleventh hour to get the avocados, which of course wasn't the smartest idea.
Murphy's Law – every avocado in that bin was green and rock hard. So I was stuck. I bought some anyway because I was in a time crunch and figured I could google "how to ripen avocados fast".
So I had just one day 'til the party. No surprise, there were lots of google opinions about how to ripen an avocado fast. One said to microwave it on low for a short time. (I don't recommend it – I torched one in less than a minute.) Another suggested storing avocados overnight in a brown paper lunch bag filled with all purpose flour.
I dutifully buried the avocados in flour in the brown lunch bag and waited for my miracle. (It never came.) The next morning the avocados were still bright green and rock hard. On the way to the party I stopped at a different grocery store and was greatly relieved to find a couple of perfectly ripe ones for my dip! (So if you know how to ripen an avocado fast – do tell. I'm all ears. So far my only proven method is to try a different grocery store, lol!)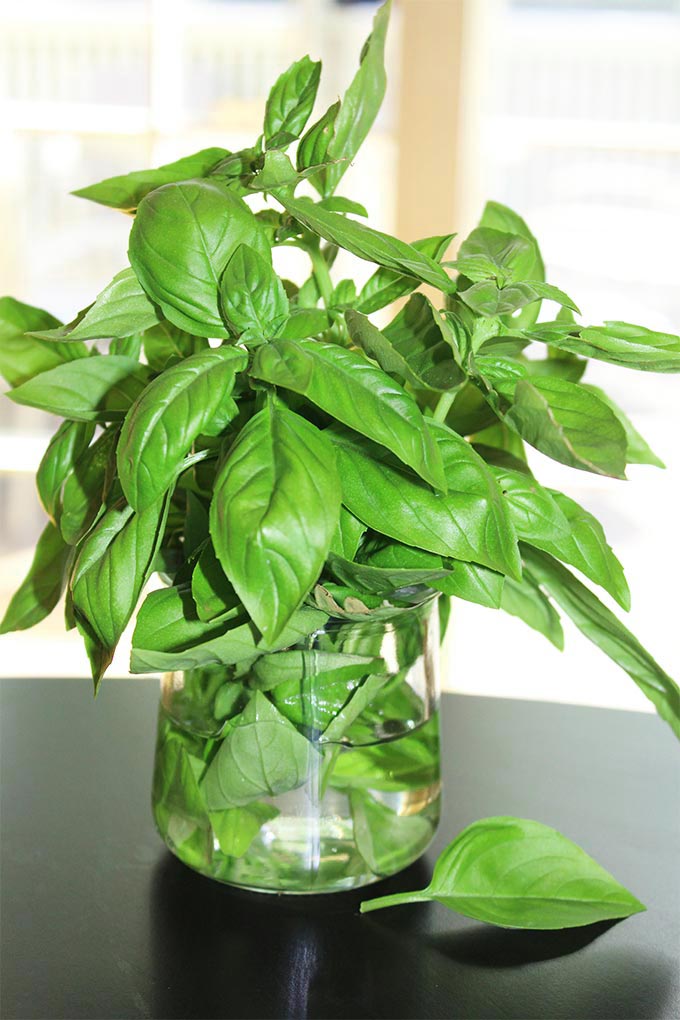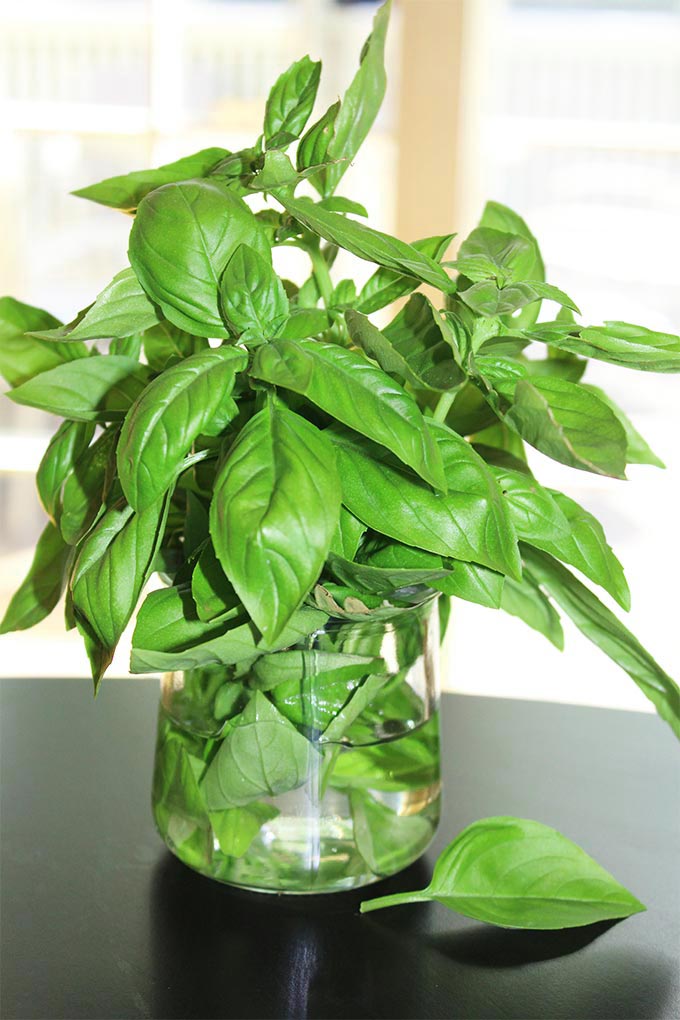 But today I'm talking about the best way to store fresh basil. Basil is great in light, summer dishes and it's relatively easy to grow in your garden or in containers on the patio.
So this is the first summer in ages I haven't had fresh basil growing outside my kitchen door. We just moved and I haven't had time to get any in the ground. I've been unpacking boxes instead. Fun fun. (Trust me, I'd rather be gardening!) So I was very grateful to receive this basil as a gift.

For years I stored basil in the refrigerator. In a short time the leaves would get black spots, wilt and get moldy fast. Then I picked up a few basil storage tips along the way from a gardening friend.
How to Store Basil
Treat the fresh basil stems like a flower bouquet, snipping the ends on an angle.
Place in a glass or mason jar filled with fresh water.
Trim leaves at the base of the stem so they are not submerged.
Keep the jar out on the counter at room temperature.
*Cover loosely with plastic wrap or a sandwich bag if you like. But make sure the leaves can still breathe!
Trim ends and change the water every few days as needed.
Do not refrigerate.
*The loose plastic wrap or sandwich bag over the basil leaves traps some of the ethylene gases the basil naturally produces and helps to keep it fresh. The basil I experimented with was still fresh and unspotted for nearly two weeks. The stems actually rooted!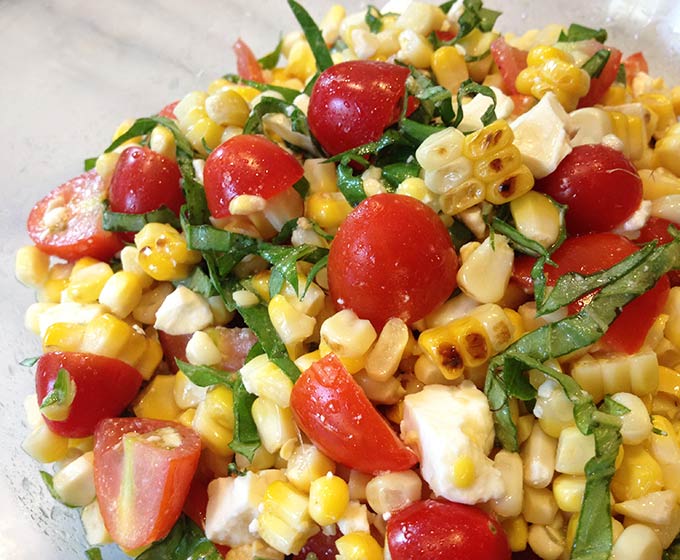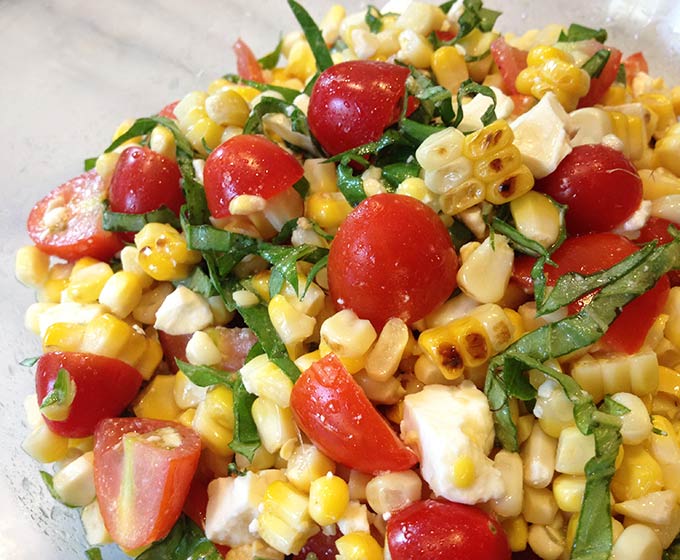 My favorite recipe using fresh basil is this Grilled Corn Basil Tomato Salad w/Feta. Irresistible with fresh farm corn!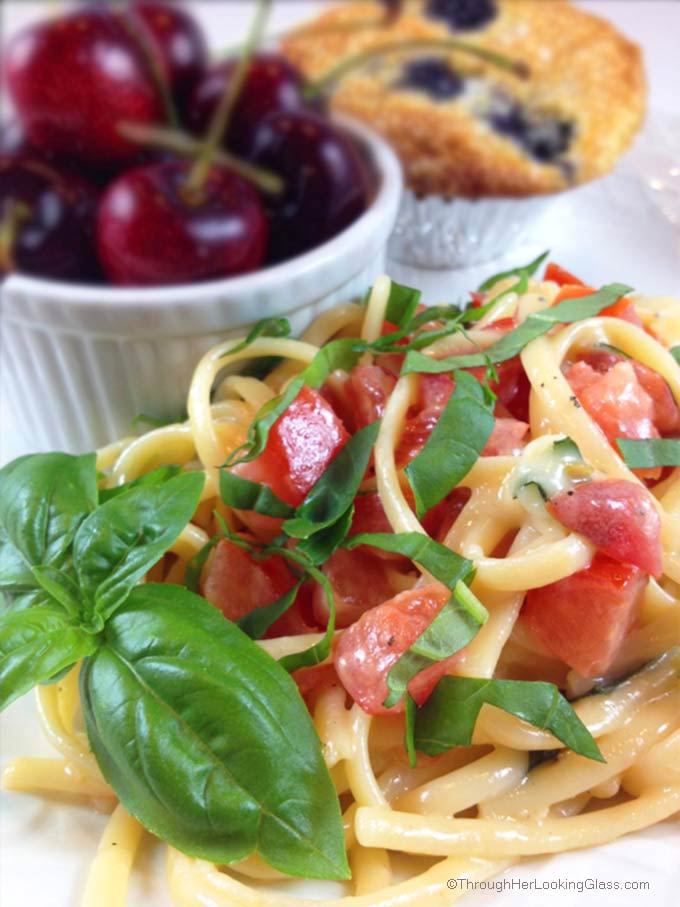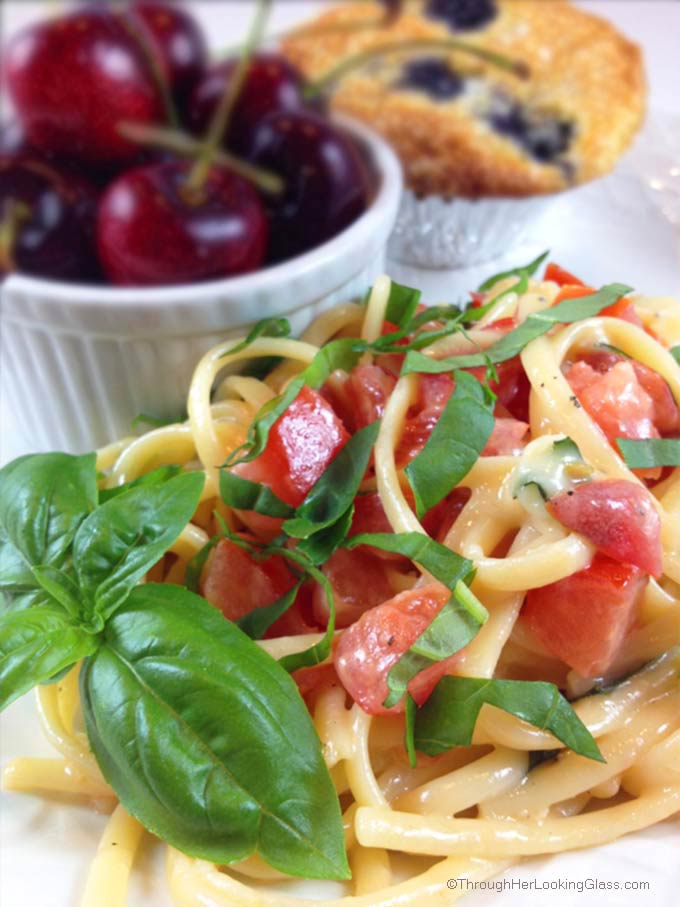 I also love this Marinated Brie, Basil and Tomato Linguine that makes a great main dish in summer time.