Pumpkin Chocolate Chip Bread: moist, tender pumpkin bread, studded throughout with chocolate chips! Perfect sweet nibble with an afternoon cup of tea. This easy quick bread recipe makes two generous loaves, one for you, one for a friend!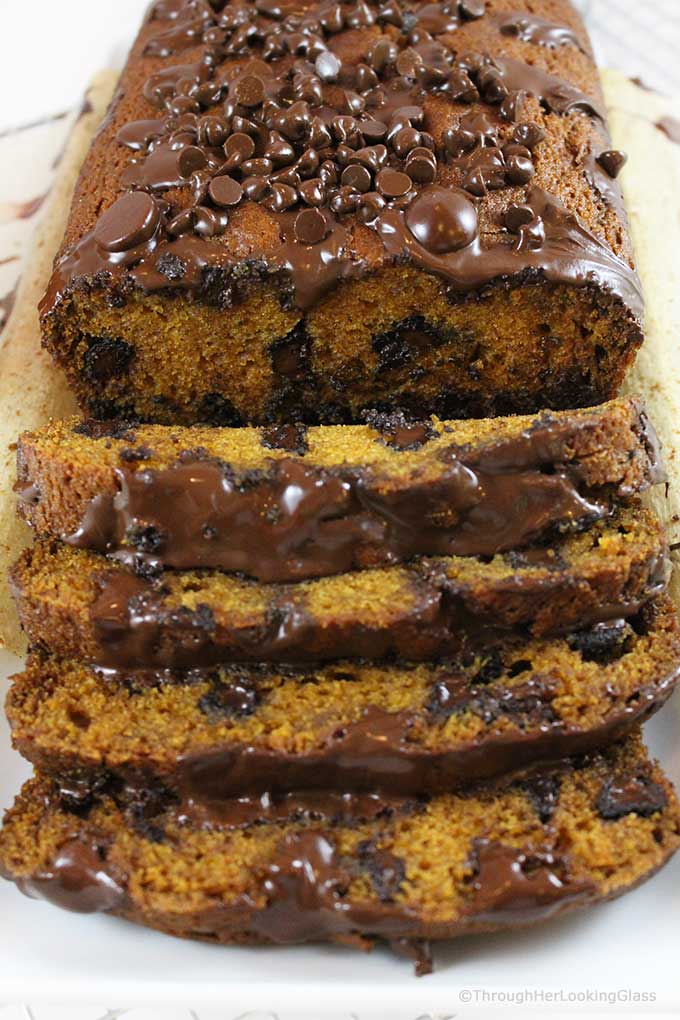 I tend to be an all or nothing kind of girl. Maybe that's why I couldn't resist topping off this Pumpkin Chocolate Chip Bread with a generous sprinkle of extra chocolate chips after baking. The chips got all melty and made a scrumptious chocolate "crust" on top!
Fall is finally arriving here in New Hampshire. The days have been warmer than usual, but the nights have been cool enough to coax out the bright colors. There's nothing more beautiful to me in autumn than the vivid reflections in a still pond or lake. Like a painting.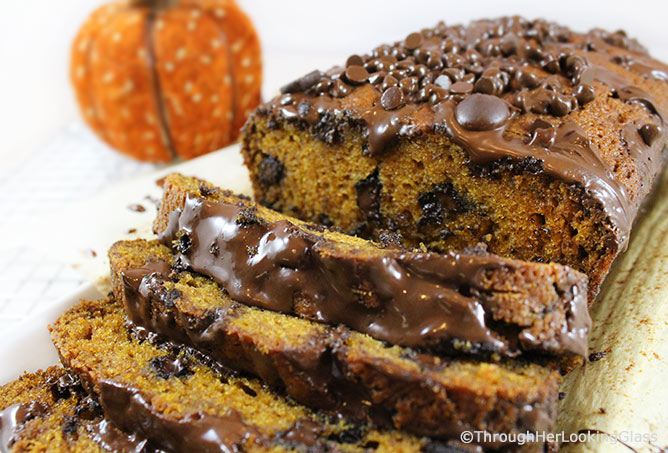 The days have been full around here as I'm sure they have been at your house too! There's always a bit of commotion at the beginning of the school year with a new schedule and various sports, classes and activities starting. Corn husks and mums flank my front door now, and pumpkins sit on the steps.
I mentioned in my last post that we were looking for a very special kind of dog for Hudson. (Hudson is our youngest with special needs.) The excellent news is, that after twenty-four years of being the solo girl in the house, I'm no longer alone! Wahoo. Her name is Chloe and she's got four furry legs, an enormous pink tongue and chocolate brown cow eyes. Need I say more?
She's a beautiful yellow lab we found at a nearby rescue. Finding Chloe was like finding a needle in a haystack. Most of the dog rescues have puppies, but we needed a very special CALM dog for Hudson. I researched the inventory of thirty different rescues before I found her. They say she's five, but I think she's probably older. And that's ok.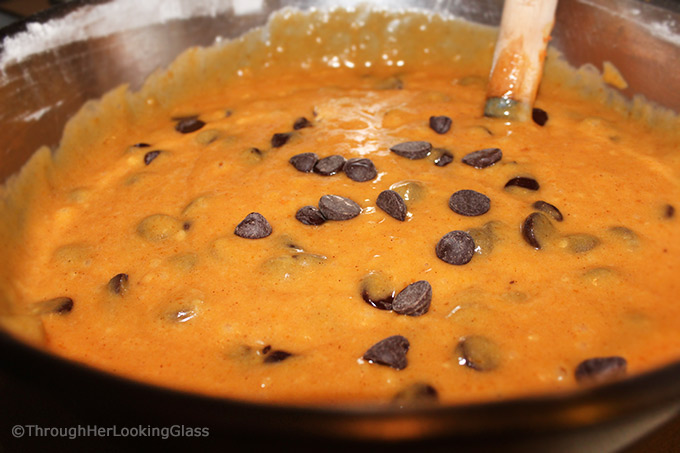 She's the sweetest, gentlest dog you can imagine. You may remember that Hudson is terrified of dogs. So the day he came home from school and discovered Chloe here, he hid in my office for most of the afternoon. But the wonderful thing is, that nearly a week in now, Hudson is acclimating amazingly well. Chloe has been so patient, wagging her tail at him hopefully from a distance.
In fact, I spied Hudson sneaking her a piece of his hamburger under the dinner table a few nights ago, followed by a little pat. So as you can imagine, there's lots of promise for both Chloe and Hudson in this budding new relationship. (!) We are incredibly grateful things are going so well.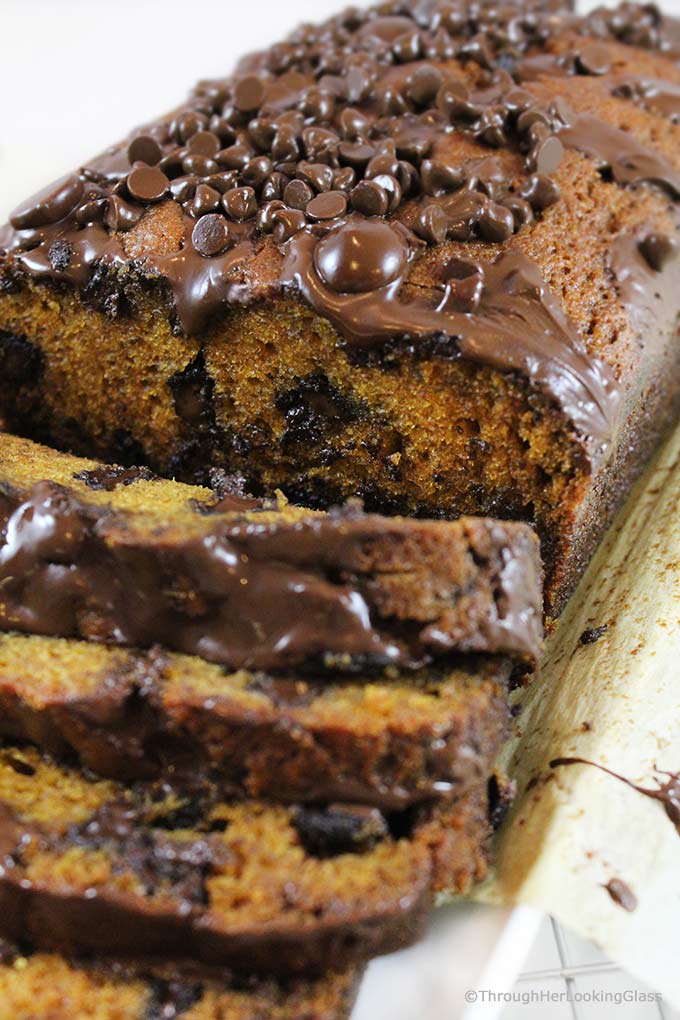 So my aunt and uncle dropped by as they were passing through town this past weekend, and I shared some of this scrumptious Pumpkin Chocolate Chip Bread with them. My aunt's eyes twinkled as she pulled out the harvest loaf with chocolate chips that she had baked for us! So funny, we're definitely on the same page here.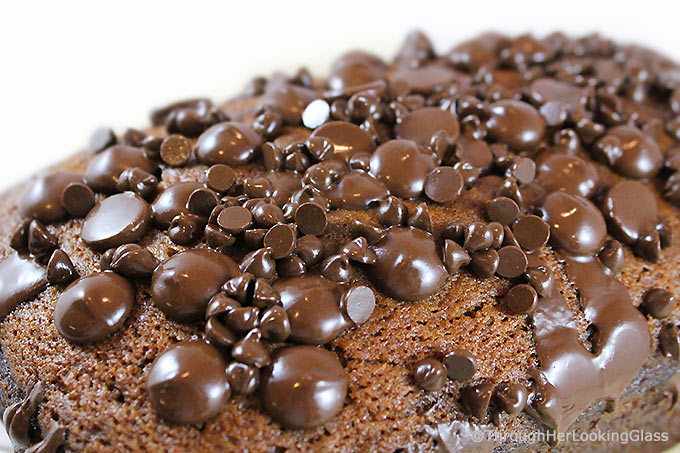 Hers has chocolate chips and nuts, but the one I'm sharing today has just the chocolate chips FYI. I'm anxious to try hers, but since I'd already cut into mine, I popped hers in the freezer. So nice to have something delicious to look forward to, all tucked away. (Thanks Aunt J!)
Tips for Making Pumpkin Chocolate Chip Bread:
Don't over mix! You won't even need your electric mixer for this recipe.
Add in a cup of chopped walnuts or pecans if desired.
Optional: Sprinkle on extra chocolate chips immediately after baking for a special treat.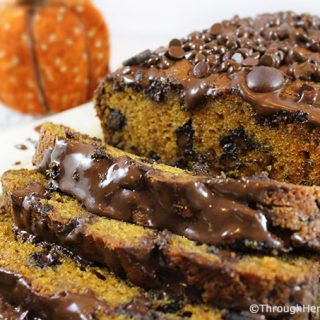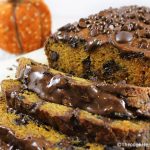 Print Recipe
Pumpkin Chocolate Chip Bread
Ingredients
4

eggs

1 1/4

cups

liquid coconut cooking oil or vegetable oil

1

cup

water

1 - 15

ounce

can pumpkin

3

cups

coconut sugar or white

granulated sugar

3 1/4

cups

all purpose flour

2 1/2

teaspoons

pumpkin spice

1 1/2

teaspoons

salt

2 1/4

teaspoons

baking soda

1 1/2

cups

semi-sweet or dark chocolate chips

Optional: extra 1/2 cup chocolate chips for sprinkling on top after baking.
Instructions
Preheat oven to 350°.

Grease and lightly flour (or line with parchment paper as I did) two, 9" by 5"metal loaf pans. Set aside.

In large mixing bowl, whisk together 4 eggs and oil.

Stir in sugar until well combined.

Stir in canned pumpkin and water until thoroughly combined.

Set aside.

In small mixing bowl, stir together flour, pumpkin spice, baking soda and salt.

Stir flour mixture into wet ingredients until just combined.

Pour into the two 9" by 5" prepared loaf pans.

Bake at 350° for an hour and fifteen minutes or until cake tester comes out clean.

Optional: sprinkle with extra chocolate chips immediately after removing from the oven.

Let loaves cool for about thirty minutes before loosening edges with a sharp knife and removing from the pan.

Enjoy this bread warm or cool completely before slicing.
You  may also enjoy: Lemon Poppy Seed Bread w/Almond Glaze