You'll love this Almond Glazed Lemon Poppy Seed Bread. It's a moist and scrumptious sweet bread with a crackly almond glaze. This is a notch above your typical lemon poppy seed bread. And if you're an almond extract lover like me, you'll love it!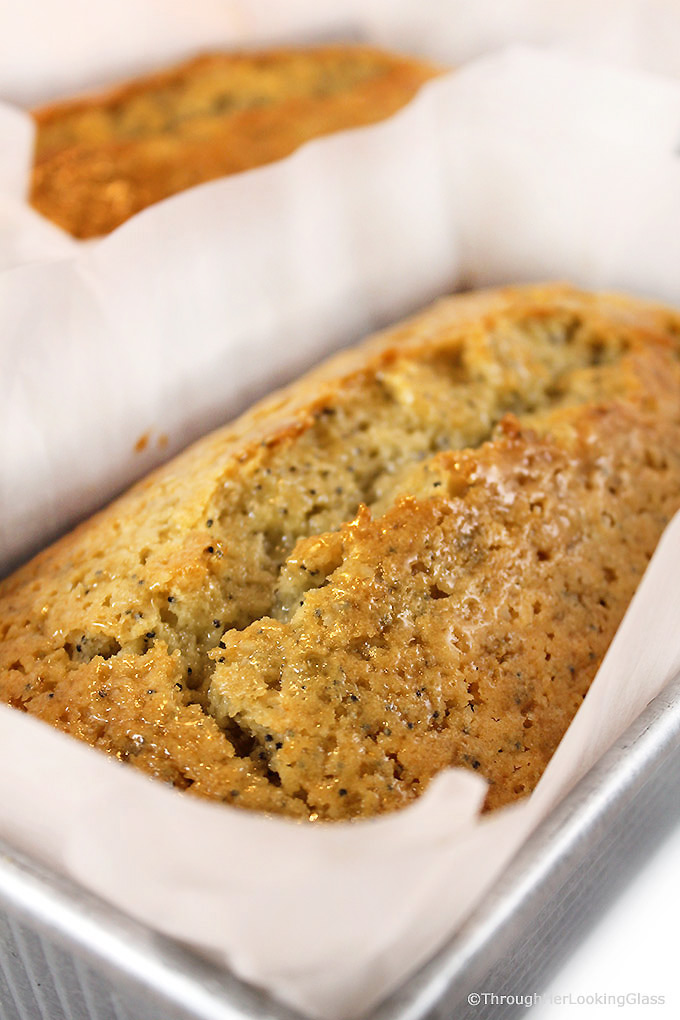 It's still been cold and snowy around here. I do hate to bring up that s-word, 'snow' in the middle of April. Can't wait for the arrival of the warmer spring weather and blooming flowers! Hope springs eternal.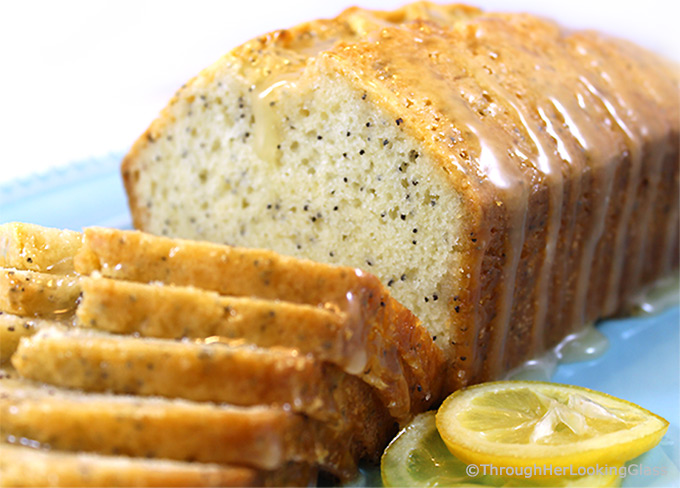 We moved into our new house last July. An interesting thing about moving to a new house in mid to late summer is that you don't know what to expect in the way of spring bulbs or flowers in the yard.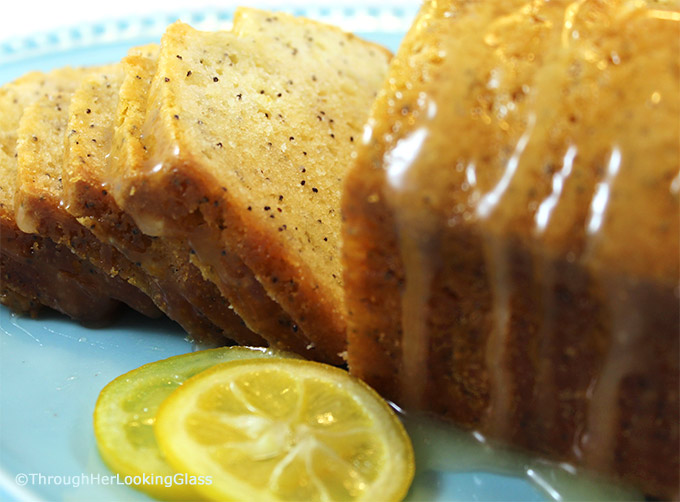 It's actually kind of fun, the mystery of it all. The anticipation and not knowing what to expect. I hope we have daffodils, and pink tulips and peonies and lilacs. And hydrangeas. (Is that too much to ask?) Probably. I especially love lilacs…
I look forward to the mystery shoots wending their way to the surface. And strolling around our new yard and woods, discovering what's been hibernating under a blanket of white all winter.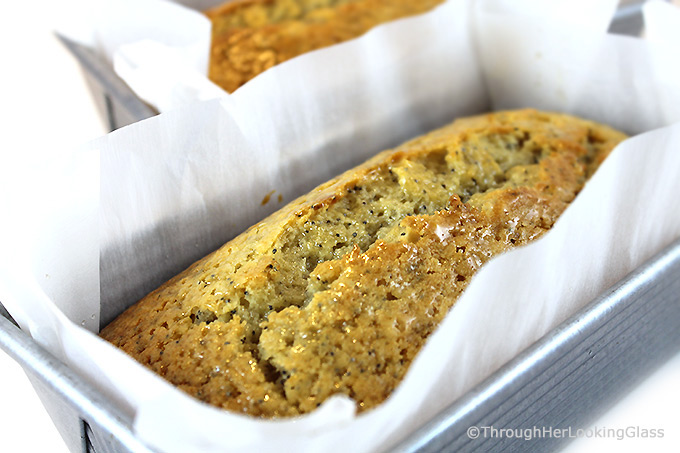 So let's talk quick bread! This Almond Glazed Lemon Poppy Seed Bread is a very simple recipe and lovely in the spring and summer. You won't even need an electric hand mixer. I mix it together with a wooden spoon or my trusty King Arthur bread dough whisk.
When the two loaves comes out of the oven, they should cool on a rack. Heat the glaze on the stovetop while the bread cools for a bit. Then poke holes in the warm bread with a wooden skewer or toothpicks, drizzling the syrupy glaze over the top.
It seeps in deep and dries crackly on the top and sides. Mmmmm… this scrumptious bread disappears so fast at my house and it will at yours too!
I make this recipe often for a few reasons. It makes two loaves, making it ultra convenient. Gift one and use the other, or freeze for later. (And it does freeze beautifully.)
The house smell heavenly, like an almond lemon sugar cookie. It's easy to make, and goes perfectly with a cup of tea or alongside a main dish salad at lunch or dinner.

Almond Glazed Lemon Poppy Seed Bread not only tastes amazing, but makes a pretty presentation. A rectangular serving plate beautifully showcases this yummy quick bread.
Tips for Making Almond Glazed Lemon Poppy Seed Bread:
Use two 9″ by 5″ loaf pans for this recipe.
Line the loaf pans with parchment paper for easy clean up.
Healthier: substitute liquid coconut oil for the vegetable oil.
This recipe makes two 9″ X 5″ loaves. Eat one, freeze the other.
If baking in a convection oven, reduce temperature from 325° to 300°.
Cool the loaves on a rack for 5-10 minutes after removing from the oven.
Stir together the glaze in a saucepan on the stovetop after removing the loaves from the oven.
Poke holes with a toothpick or wooden skewer into the top of the bread.
Spoon warm glaze onto the warm loaves, letting it soak in.
Save a little glaze, it will thicken as it cools. Then spoon over the bread for a pretty presentation.
I use my electric knife to cut thin, even slices that don't fall apart.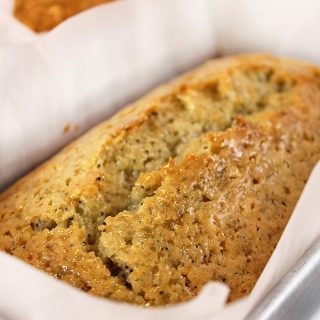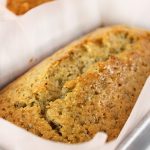 Print Recipe
Almond Glazed Lemon Poppy Seed Bread Recipe
Ingredients
Bread:
3

cups

sifted flour

2 1/4

cups

sugar

1 1/2

teaspoons

salt

1 1/2

teaspoons

baking powder

3

eggs beaten

1 1/2

cups

milk

1 1/3

cups

oil

1 1/2

teaspoons

vanilla extract

1 1/2

teaspoons

almond extract

2

tablespoons

poppy seeds
Glaze:
3/4

cup

sugar

juice of 1 lemon about 2 Tablespoons

1/2

teaspoon

vanilla extract

1/2

teaspoon

almond extract
Instructions
Bread :
Combine flour, sugar, salt, and baking powder in a mixing bowl.

Mix well.

Stir in eggs, milk, oil, vanilla extract, almond extract and poppy seeds.

Stir until just mixed and pour into two greased and floured 9" X 5" loaf pans, or line with parchment paper.

Bake at 325 degrees for an 1 hour and 15 minutes or until done.

It may take as long as an hour and a half.

(Bread should look golden on top and a cake tester/toothpick should come out clean.)

Cool on wire rack for 5-10 minutes, then spoon on glaze.
Glaze:
Heat sugar and lemon juice until sugar dissolves, stirring occasionally.

Remove from heat. Blend in vanilla and almond extract.

Poke holes in bread that has cooled for 5-10 minutes, then spoon glaze on top.

Cool an additional twenty minutes, then remove from the pan.
Notes
Use medium sized 9" X 5" bread pans. Grease and flour pans or use parchment paper. Watch closely at the hour and fifteen minute mark as the bread bakes. After cooling for twenty minutes, slide a sharp knife around the edges of the bread before removing from the pan. If you have one, use an electric knife to slice the bread. This helps keep the pieces intact.
You may also like: Jordan Marsh Blueberry Muffins