Hey friends, happy weekend and welcome to today's Kitchen Reveal party. Wish I'd baked gingersnaps and made party punch for the occasion. We started kitchen remodeling back in February and finally, we're crossing the finish line.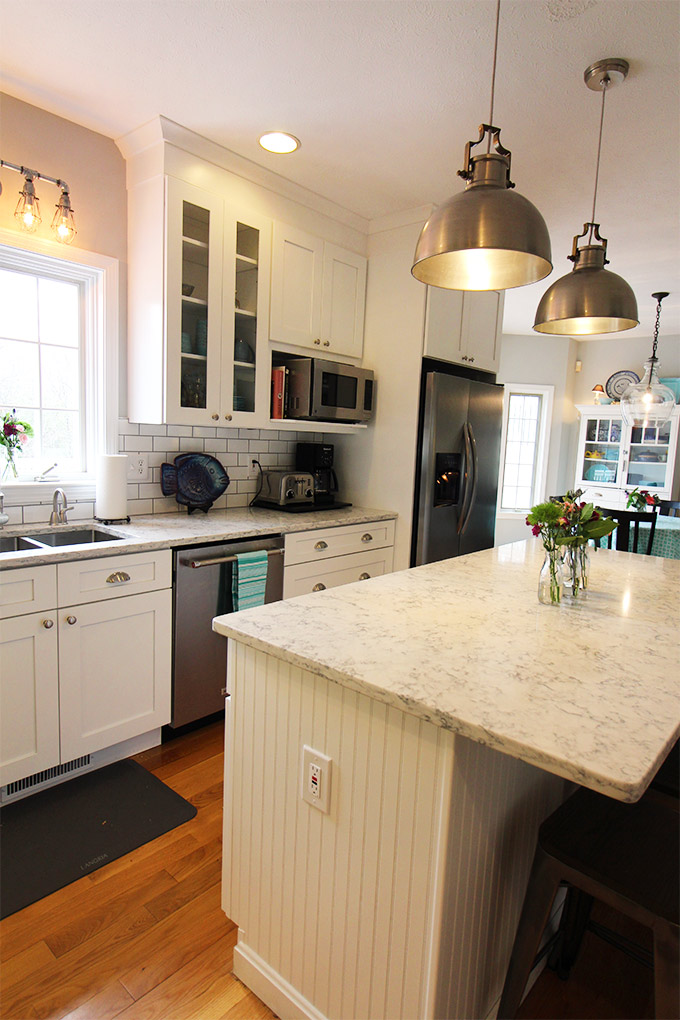 A few little odds and ends remain, like finishing the trim paint, ceiling touch up, cabinet lighting etc. But nothing major. The last cabinet door was hung on Wednesday, so woohoo!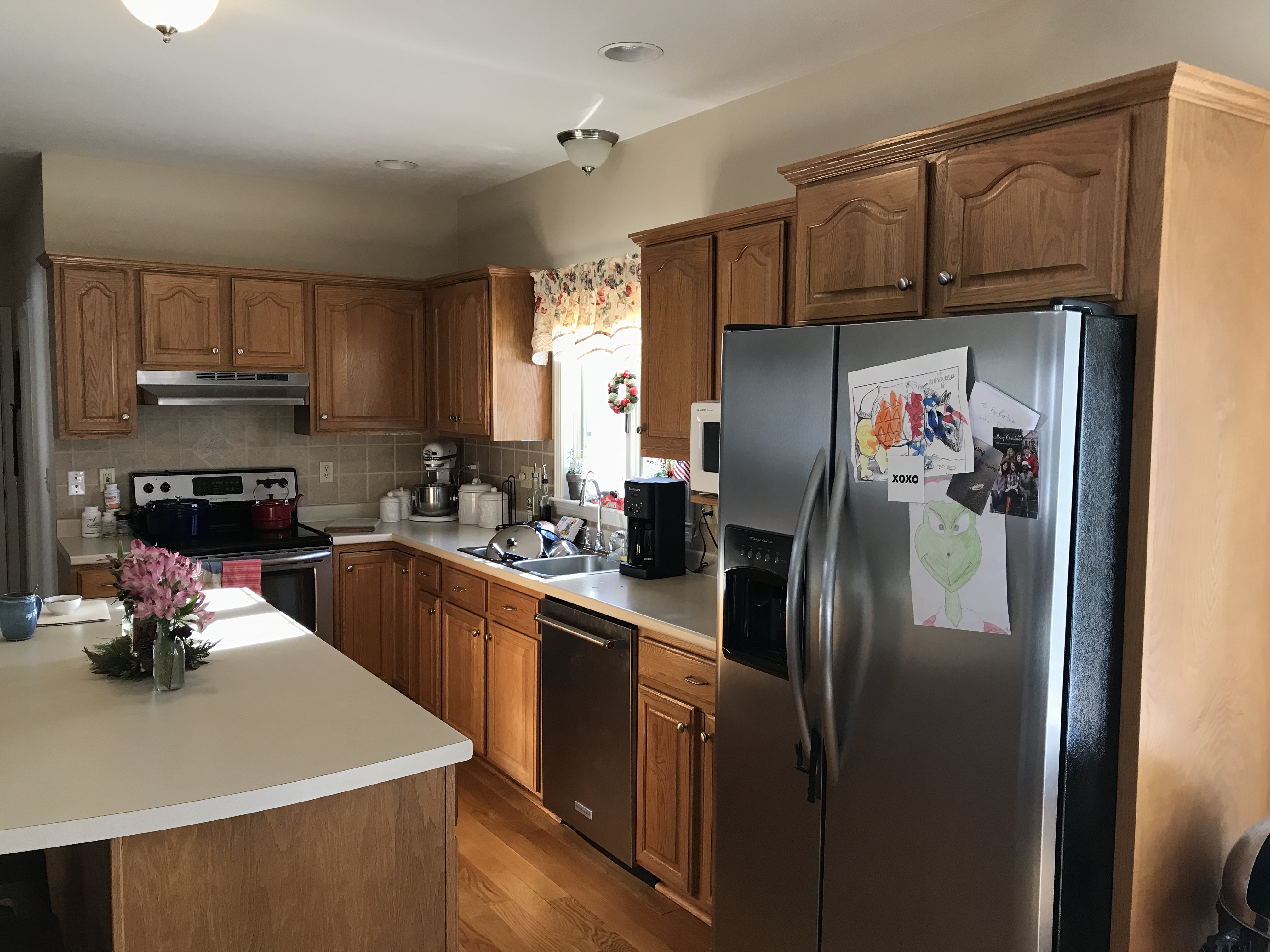 You may remember what our kitchen looked like before. (This picture was taken in January.)
And then we had a family demolition derby day in February and it looked like this. (All the holes in the wall are where the former backsplash was. The sheetrock had to be CUT out, as we couldn't pry the tiles off the wall, no matter how hard we tried.)
We sold the cabinets on Craig's List and almost got scammed in the process. Almost being the operative word. We learned a lot.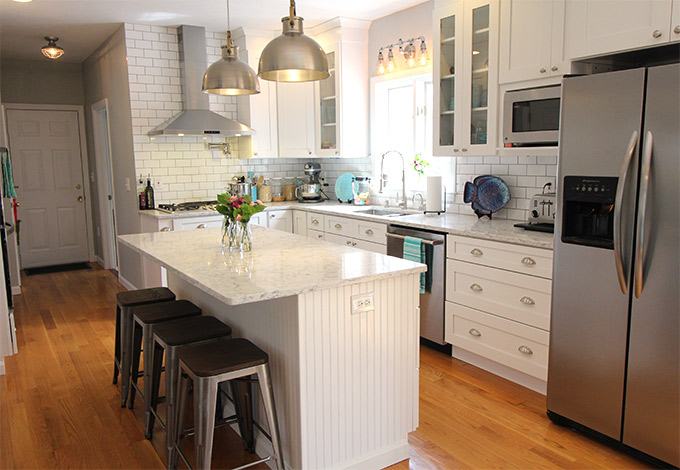 And now… it looks like this! It came out very close to how I imagined it would. (Guessing my Jon is just sighing with relief to see these words, lol.)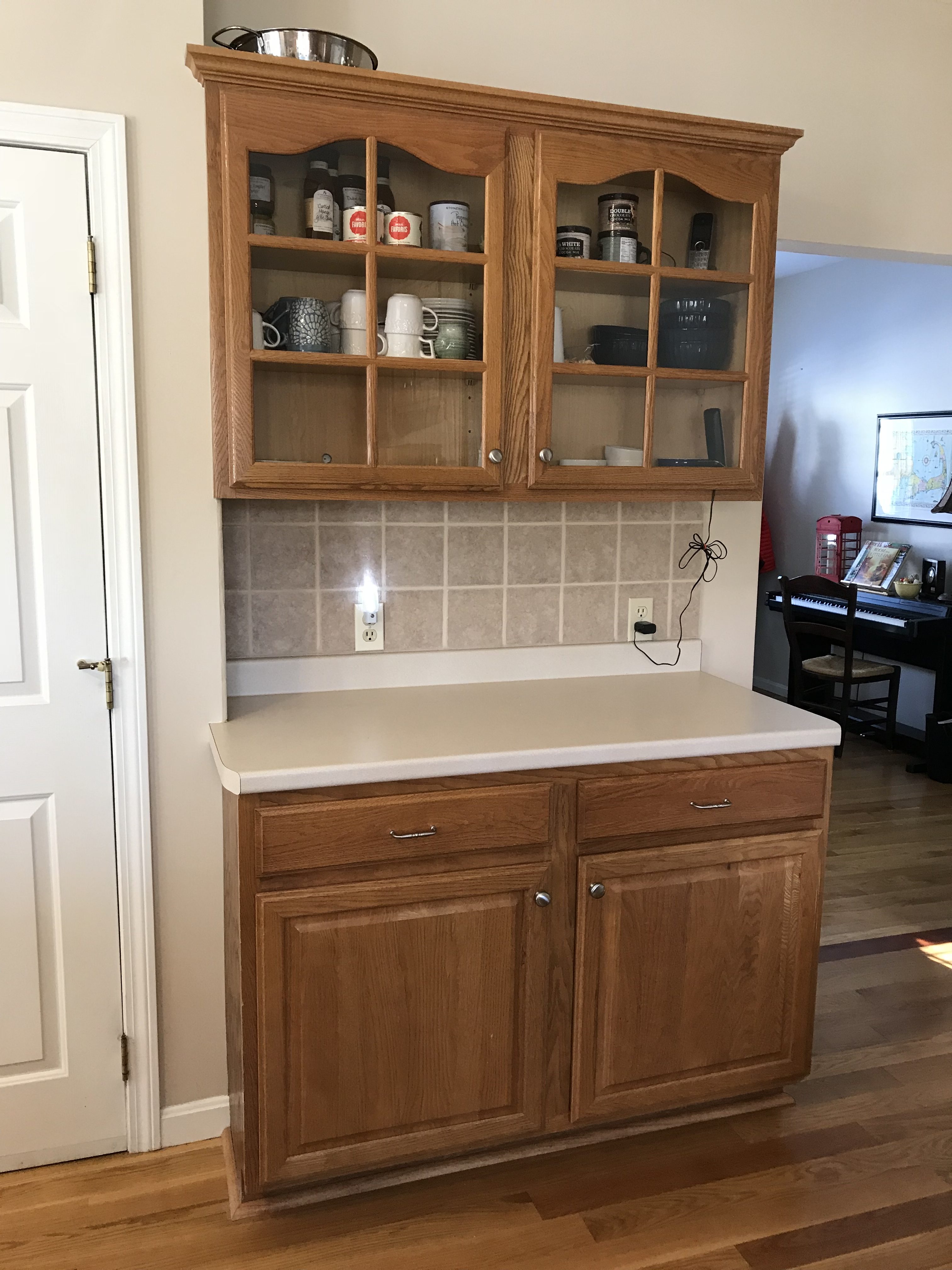 We ripped out this side counter and cabinets. Then extended the doorframe to the right by just a few inches so it would accommodate a pantry six inches wider. That's a lot of extra storage space floor to ceiling, and so glad we went that route.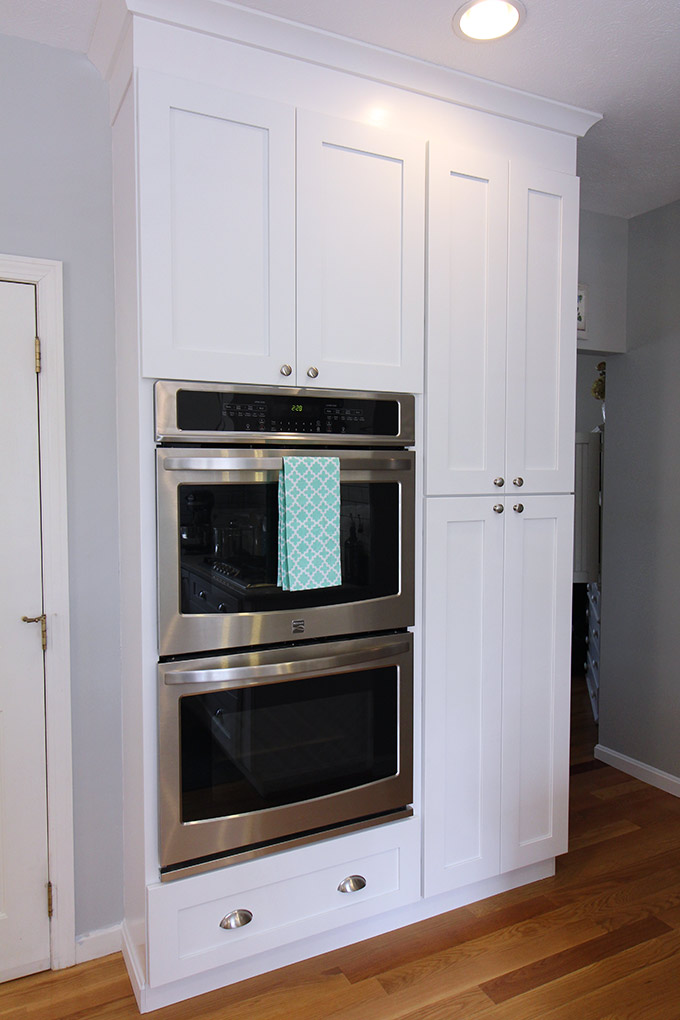 AND HERE'S THE DOUBLE WALL OVEN AND PANTRY!!!! (I'm not excited or anything.)
We went back and forth about getting a single or double wall oven, but I'm so glad we went with the double.
I've already used both wall ovens simultaneously a number of times. We were also able to find a much better deal on a double wall oven and separate 36″ gas cooktop, rather than a single wall oven plus a 36″ slide-in range with gas cooktop, which was the alternative. We managed to save several thousand dollars doing it this way and still got the two ovens and a cooktop, just a different configuration.
An awesome pantry feature is the slide out drawers inside, so it's easy and convenient to find things. Though I do need a step stool to reach the upper cabinet shelves.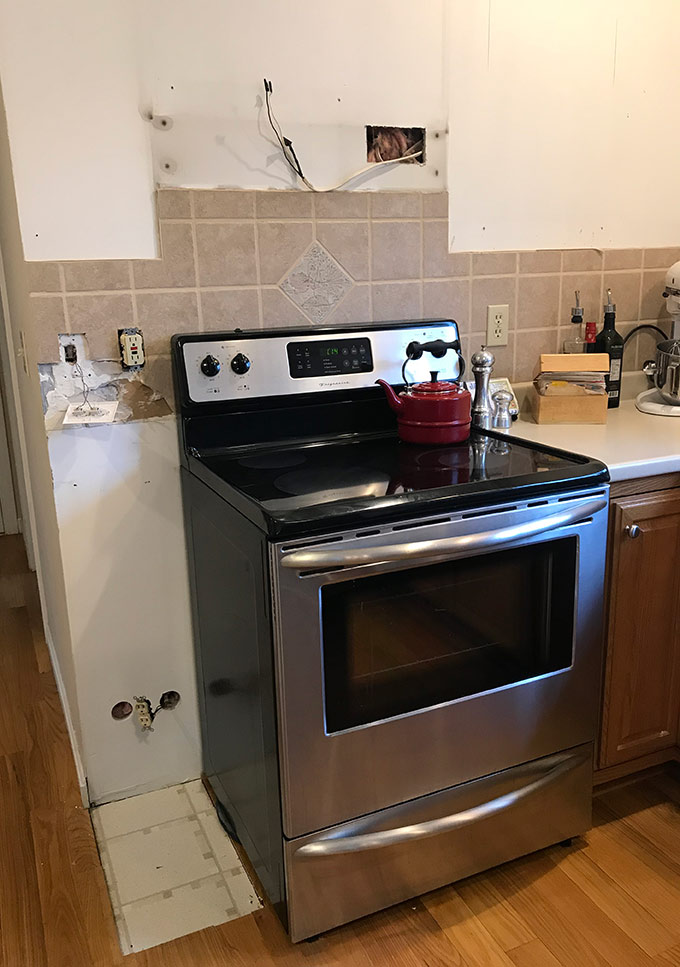 The original stainless slide-in range we sold on Craigslist. It was in great shape, but I was itching for a gas cooktop like we had at our previous home. I really prefer cooking with gas. Thankfully we already have a gas line for the furnace and hot water heater, so it was just a matter of diverting it to the new cooktop.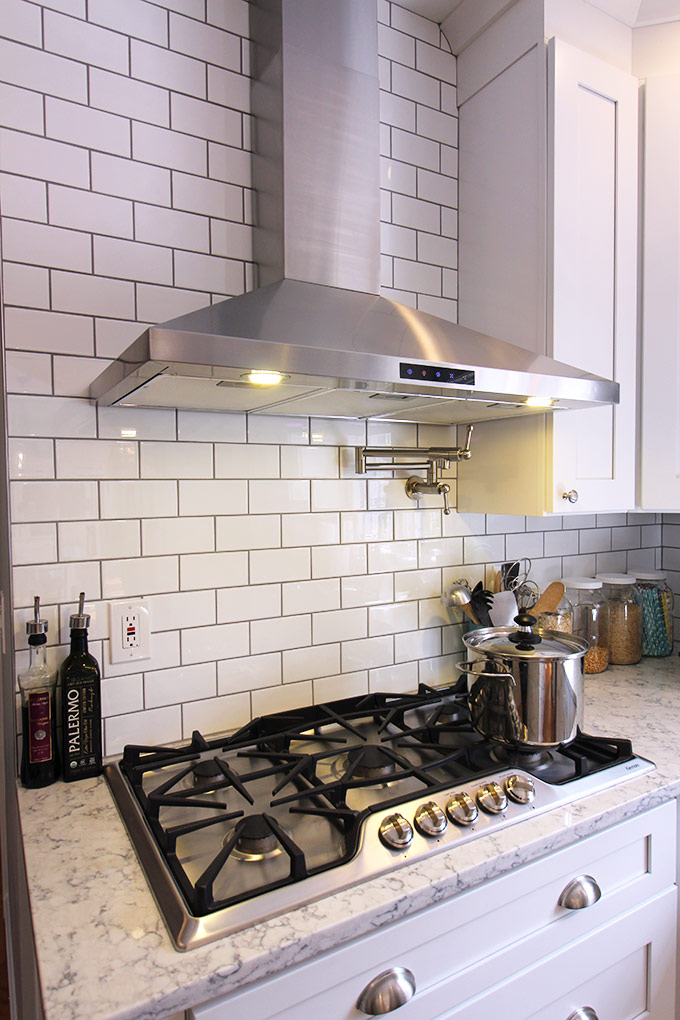 So I'm thrilled with the new gas cooktop. It's 36″ wide, which is 6″ wider than the previous 30″ slide-in range was. It's amazing how spacious that extra 6″ on the cooktop makes it feel. Plus an extra burner in the middle. The double wall oven freed up the space below this cooktop for storage drawers underneath for pots and pans.
Note the pot filler above the cooktop, on the back wall to the right. This was very inexpensive, less than a $100, and a no brainer once the sheetrock was already cut out because of the backsplash. You do have to get behind the sheetrock to plumb a pot filler, so it may not be an option for everyone, unless you can get behind your wall to plumb.
I've already used the pot filler numerous times, most recently when making a big pot of pea soup with our leftover Easter ham bone, which is actually cooking in the pot above. 🙂 It was very delicious with homemade johnny cake FYI.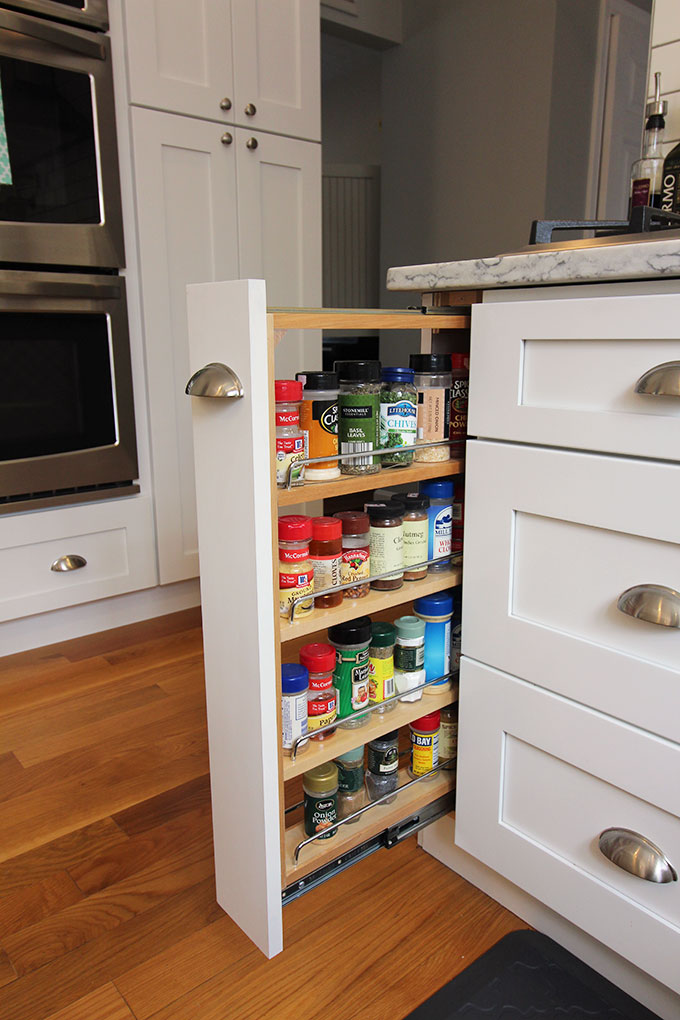 There was an extra three inches of cabinet space underneath the cooktop counter. Our cabinet guy suggested we put in a filler panel, but we'd seen this neat slide-out spice drawer which only takes, drumroll please…. exactly 3″ of space! YES!!!
I'm not necessarily an organized person (I see those smirks) but I'd like to be. And this spice rack is a move in the right direction!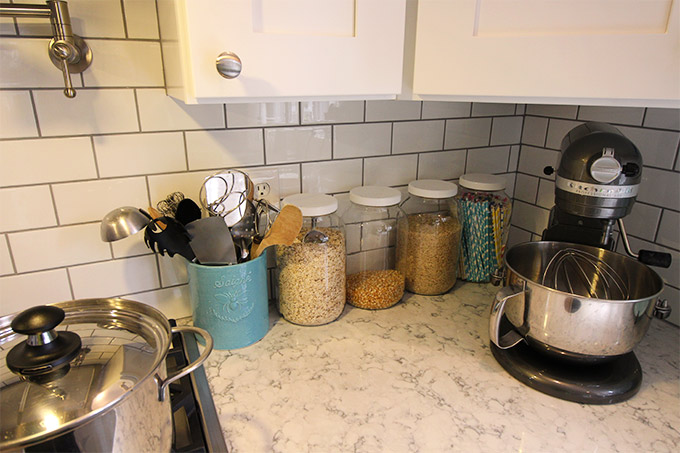 I sold my former KitchenAid stand mixer (from the late 90's) in a local Facebook yard sale group, and got one a little bigger and more powerful. KitchenAids are a great investment for your kitchen and really hold their value, FYI.
(I found this out when I had more than 25 on-line offers for my old KitchenAid, which was already refurbished when I bought it.)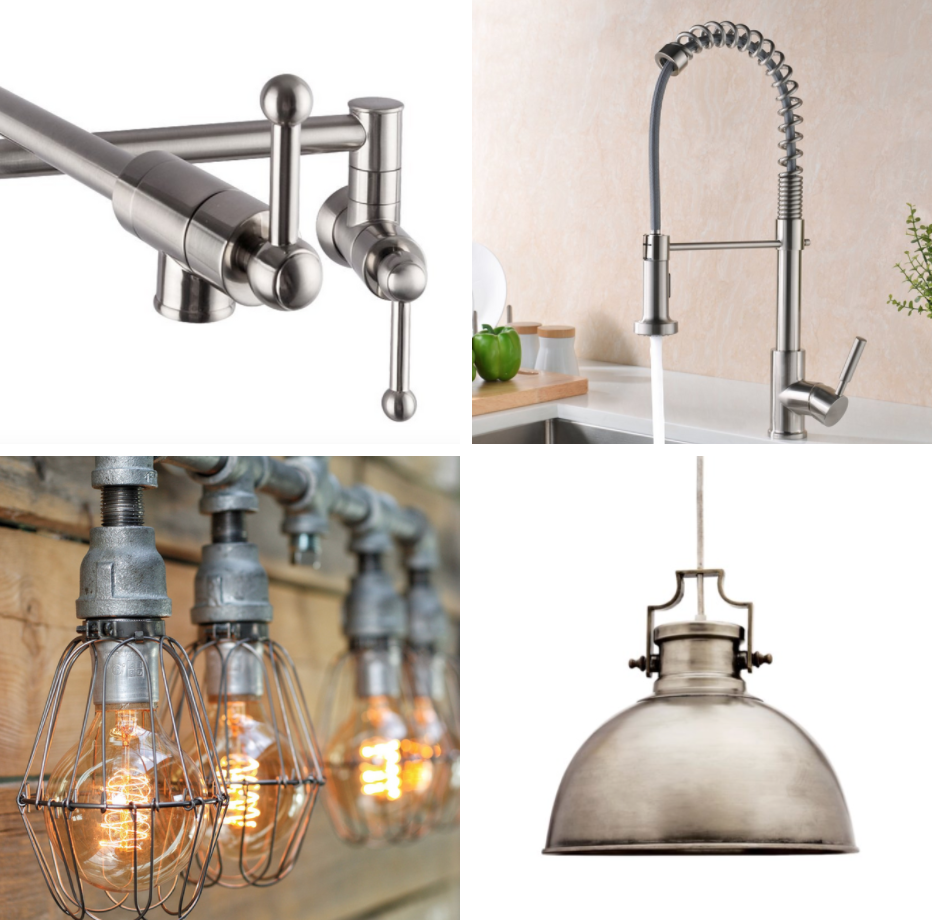 We chose brushed nickel for most of the fixtures and kept an industrial feel. Some of my favorite features are the pot filler, the faucet, the amazing light over the kitchen sink, handmade by MoonStone Fox, and the pedestal lights suspended over the island.
We also installed a hot water dispenser, so now we can have tea, oatmeal and hot chocolate in an instant without putting on the kettle.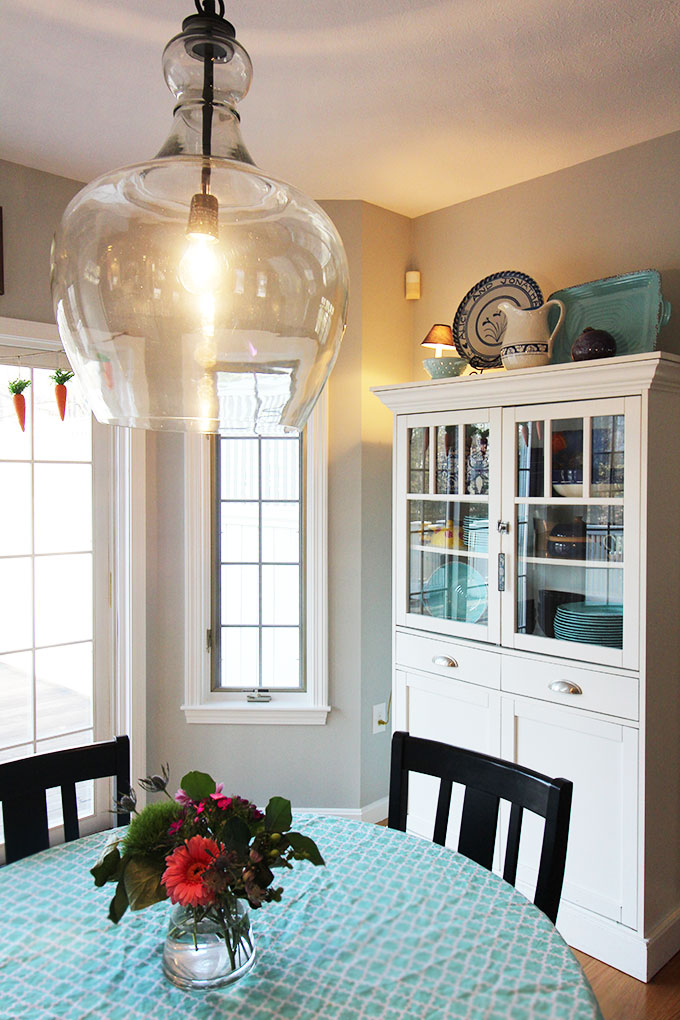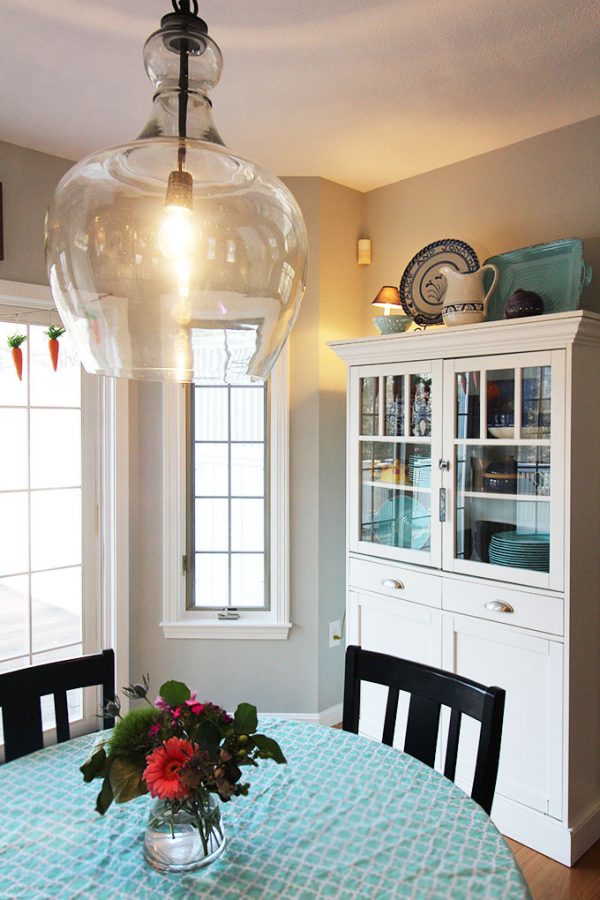 We were able to tie in the breakfast nook on the opposite end of the kitchen, using this scratch and dent kitchen armoire we bought years ago at the Williams Sonoma outlet in SC.
I've  always loved the clean look, and chose the shaker white kitchen cabinets based on the armoire lines. (Auntie M, note your Thistle Hill Pottery plate on upper left. 🙂 )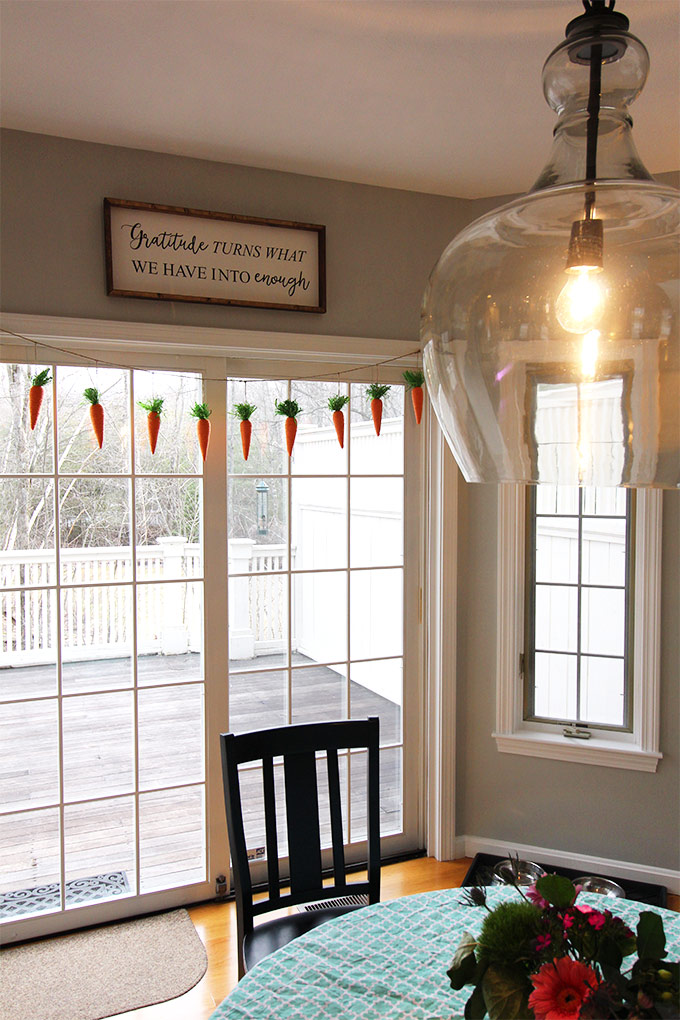 Love this pendant fixture. Found it online at Pottery Barn and scooped it up on a one day clearance sale in January. Score! I spend a lot of time working at this table because the lighting is great and the bird feeder isn't far. I can't resist a free show!
Love having my feathered friends nearby. Re: the light fixture above: be warned. It's a serious dust catcher, but worth it (to me anyway) for the look.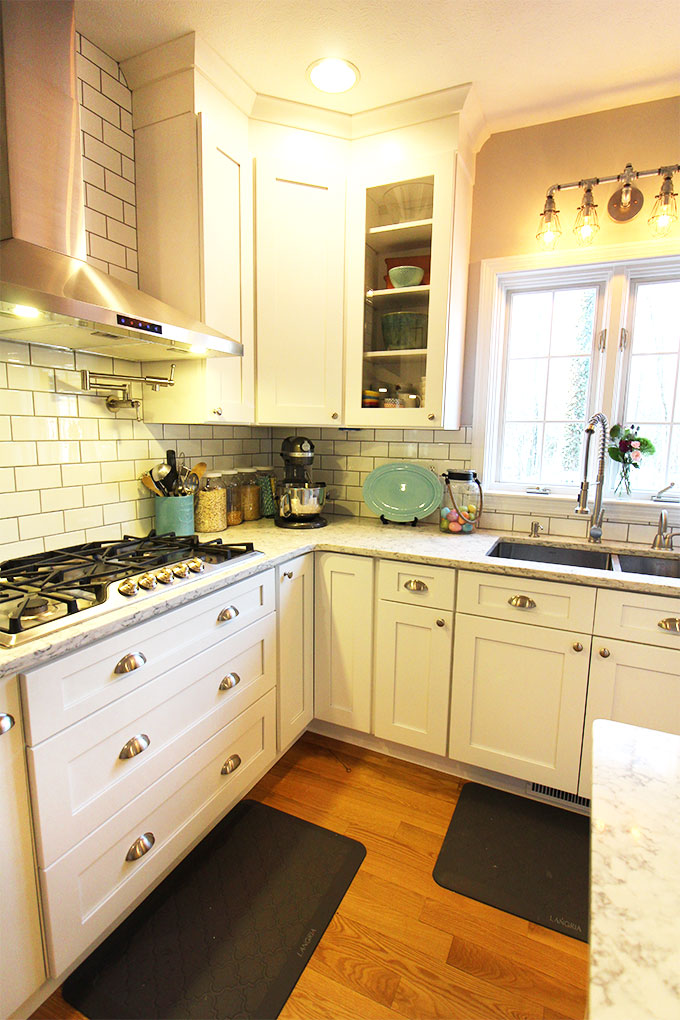 Things we learned:
We tried not to reinvent the wheel. In other words, the overall layout of the kitchen was already a good design and worked well, so we didn't mess with it.
You'll note there are very few cabinets with doors, mostly pull-out drawers. That's what's recommended these days. So much easier to access the prized skillet rolling out a drawer than getting down on your hands and knees, peering into dark cabinet shelves.
Our subscription to Consumer Reports was helpful, but nowhere near as helpful as just looking things up on Amazon and other sites. Consumer Reports was limited to just the models that they had tested.
Do your homework ahead of time and always always always compare prices, especially for the bigger ticket items. We compared prices for cabinets and checked out reviews. And we had the quartz countertops quoted at four different shops. It was the fourth one, Granite Plus in Chelmsford, MA we visited that was $1K cheaper, and we got excellent customer service from start to finish.
There's a big difference between granite, quartz and quartzite in the countertop world. Granite is a natural stone, less expensive but porous and requires occasional sealing. Quartz is more expensive than granite, man-made, but more durable and virtually maintenance free. And quartzite is natural stone but more expensive than quartz. (Soapstone is beautiful too but out of our budget.) We also considered butcher block, but didn't want the maintenance.
We shopped around and shopped around, and Sears was by far the most competitively priced option for the wall ovens and gas cooktop. The customer service however, was a nightmare. Bear that in mind. So frustrating. Sale prices online wouldn't show up in the online cart, and it ended up being weeks before we finally got everything straightened out with multiple phone calls, talking to people halfway around the world. Sears online and in-store seem to be in competition with each other, making it nearly impossible to resolve anything locally if you have an on-line issue.
We were committed to doing this project for cash, so we set a budget and stuck with it. While I love how everything turned out, there were many more expensive options and I had to resist splurging. Like a copper hammered range hood for example. Lol. Maybe someday. I did however splurge on a smaller item, the handmade industrial light fixture above the kitchen sink. It was definitely worth the splurge and makes a statement, but wasn't a huge ticket item.
So glad we sold everything we could from the old kitchen on-line: stove, cabinets, microwave, etc. That hugely helped reduce our overall cost.
We were able to avoid replacing the flooring, refrigerator and dishwasher (which was fairly new anyway.) This was a big savings!
You can pay a lot for Italian subway tile online. It's lovely, but we didn't want to spend the pesos there. We got ours inexpensively at Home Depot and used gray grout (rather than white) because it's easier to keep clean.
I'm glad we had the cabinets built all the way to the ceiling. It cuts down on dust, and is a cleaner classic look, with great storage in the upper cabinets for things we don't often use.

What we would have done differently:
Thankfully, not too much! We did our homework first.
When the dishwasher is open and the trash drawer on the island is open simultaneously, it's tight. It works, but we should've staggered those better.
The pot filler should have been installed a little lower, though it works perfectly. I probably would have mounted it one row of subway tile down. It's tough to figure out where to mount, because you have to plumb it and set the height before you even have countertops or the range top installed. It's a guessing game. I think we were afraid it might land too low, so ended up overcompensating and mounting it a little high. That's ok, it still works great, but might be helpful for you to know.
We would have found a way to make the microwave a built-in, rather than sitting on a shelf. There were many options we looked at, but in retrospect, I think we could have installed it from above, attached underneath a cabinet, as if it were installed over a range. That would have given a cleaner look.
How we saved $:
Didn't hire a designer.
Contracted it ourselves.
Removed the old cabinets and backsplash ourselves.
Jon did all the painting.
Spent time and shopped around for the best prices and value.
Sold everything we could from our old kitchen to help finance the new one.
Didn't get derailed from our budget and splurged on just a few key items: countertops and lighting.
Amazon was the best for shopping, comparison pricing and on-line reviews. We bought most of the kitchen fixtures, including the stainless range hood on Amazon. Prices were excellent and shipping was free with Amazon prime.
Kept several existing appliances and the wood flooring.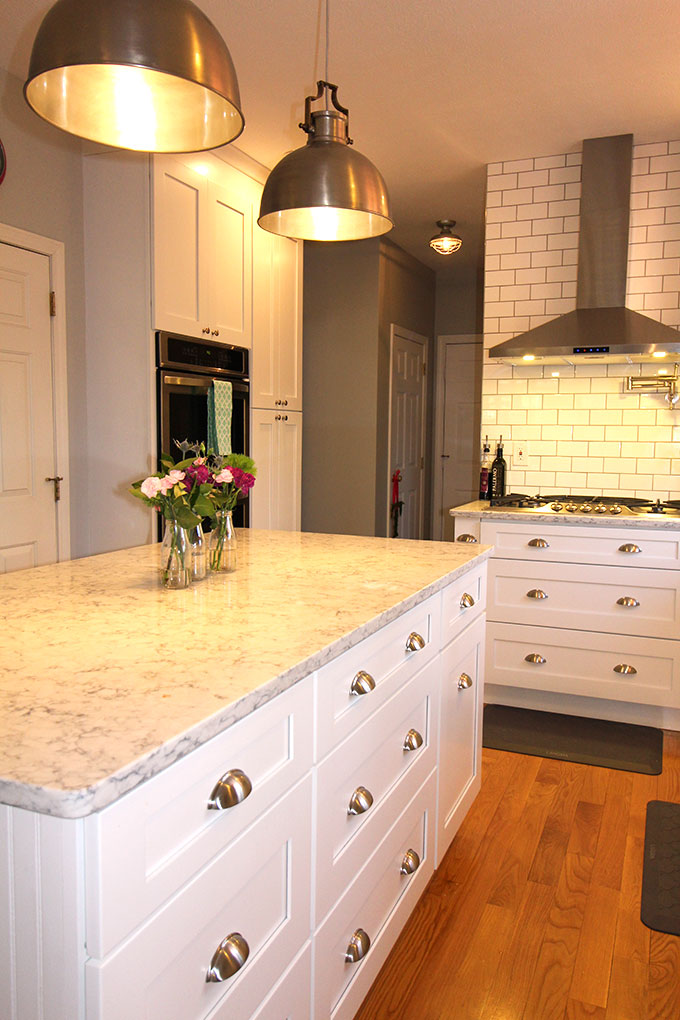 I'm so glad we kept the kitchen island countertop free of sinks, cooktop, etc. A lot of designs featured built-ins like that. But our kitchen island is invaluable for entertaining with extra seating and space for food. It's also perfect for rolling out cookies and pie dough. We installed outlets on either end and that works great for mixers/blenders and plugging in my photography lighting.
Jon and I also recently discovered late one night last week that the island makes an awesome laundry folding station when we're working in tandem on mega laundry.
All along, we kept in mind that a kitchen remodel is one of the best investments you can make in a home. You nearly always get your money back in the long run. And since I'm a food blogger, it was a no brainer for us.
I've had friends ask, after seeing the finished kitchen – 'how in the world did you even know where to start?' Well, we just went step by step, like everything else, in layers.
Looked at design pics. first to figure out what we liked. Then started with pricing the biggest pieces of the puzzle: the cabinets, appliances, countertops and contractor labor.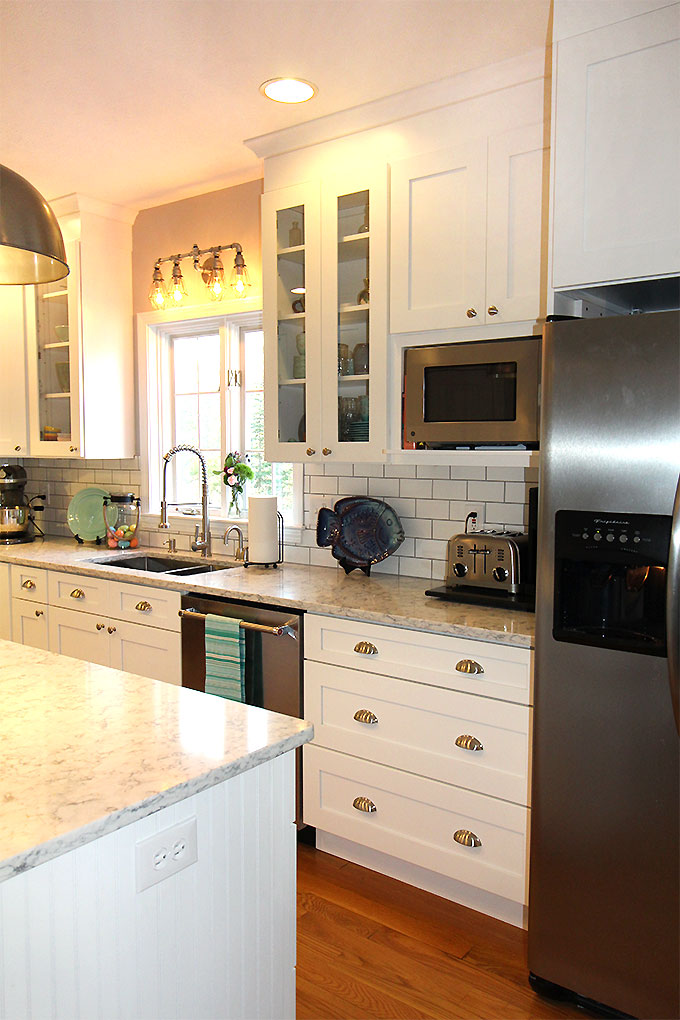 Once we found our contractor, we talked through timing, pricing and availability. Once we had those big pieces in place, I started shopping on-line for lighting fixtures, sink, sink fixtures, cabinet hardware, etc. So we went from broad to narrow, and that worked well for us.
We also ordered everything ahead of time and had it here waiting in the garage before the contractor even arrived, with just a few exceptions. This saved time, money, and kept us from wasting the contractor's time too.
Many thanks to everyone who has been cheering us on during this project, thank you. It's been fun cataloguing the journey here.
It was quite a marathon, but is already making such a huge difference to work/live in a light and airy, bright kitchen with great storage. We're thankful and blessed.
Please don't hesitate to ask questions about the process or share your thoughts. Always love hearing from you.
Wishing you a peaceful, joyful spring weekend doing whatever you love. (I'm potting pansies today.)
XOXO,
allie