Hope you're having a great weekend and welcome to the chaos! (Like you needed more, right?) Chaos with a capital C. I've mentioned we're in kitchen remodeling mode around here. We've been selling off our current kitchen piece by piece on Craig's List and the stove went Friday. Buh bye.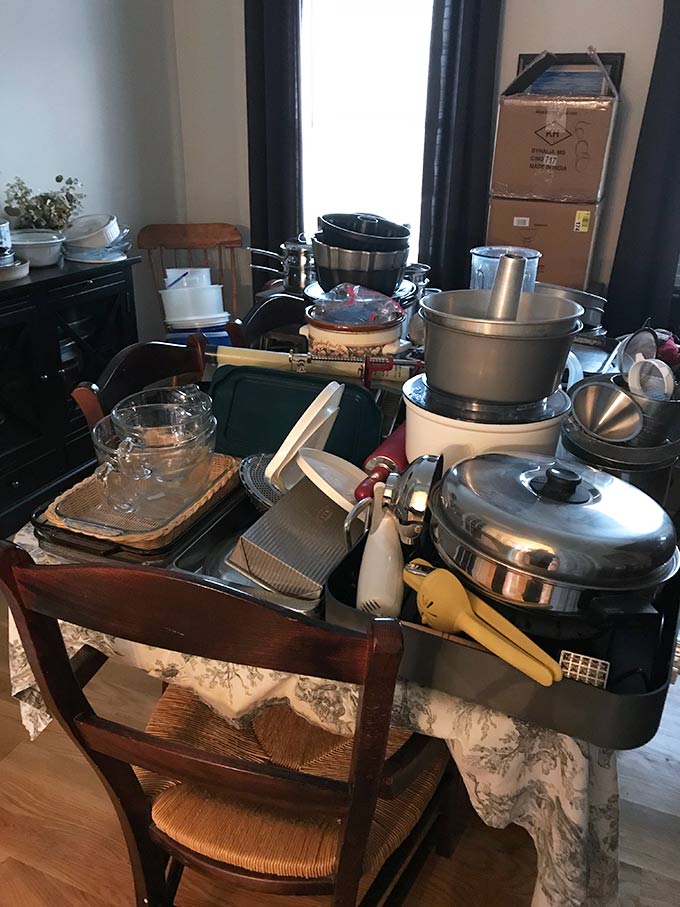 My dining room table…
So how do you feed a mess of boys and write a food blog without a stove and countertops? Great question. And I'm about to find out! LOL. I'm sure it will take creativity. (I'm all ears for ideas – TIA!)
The good news is a local friend knew our plight and offered the propane fueled stove top they used during their recent kitchen remodel. Plus we borrowed a six foot table and put that in the middle where the island was. So it'll be camp style cooking for a while, which is certainly better than a fire pit out back I'm thinking.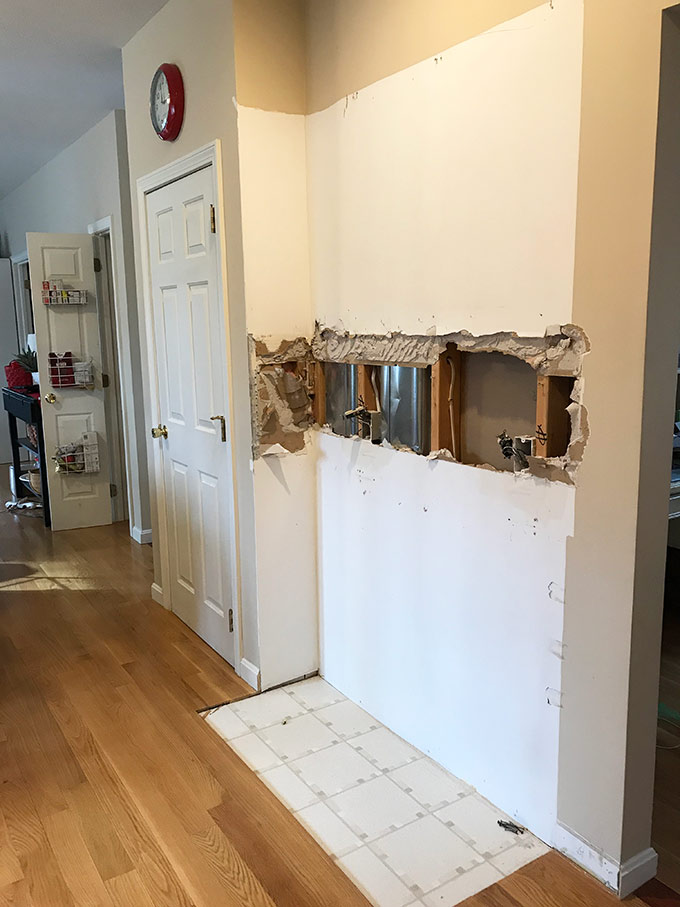 So we're getting ready to install our new kitchen. The contractors arrive tomorrow to start wiring, connecting the gas line and repairing sheet rock. Jon has carefully ripped out all the old kitchen cabinets and tile backsplash and they've been clogging up the garage. Yesterday the cabinets departed (as I cheered!) with a Craig's List buyer. The new ones arrive tomorrow. Timing is everything, yes?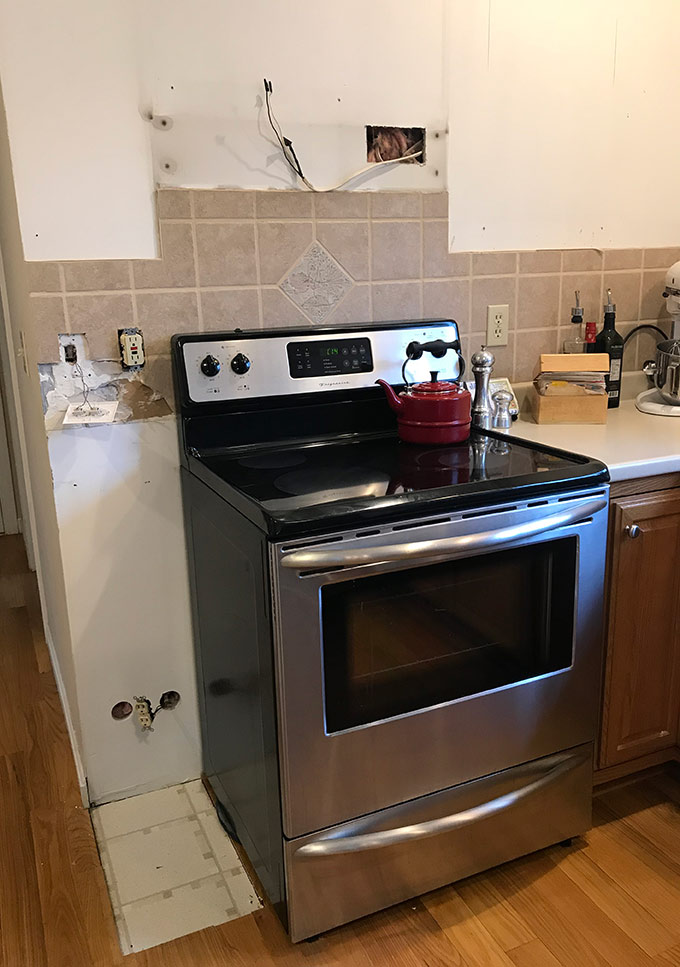 Today I'm sharing some random pics and thoughts, and in a few weeks when we're finished I'll share more. It'll be a fun kitchen reveal and the truth is… I can't wait to see how it turns out myself!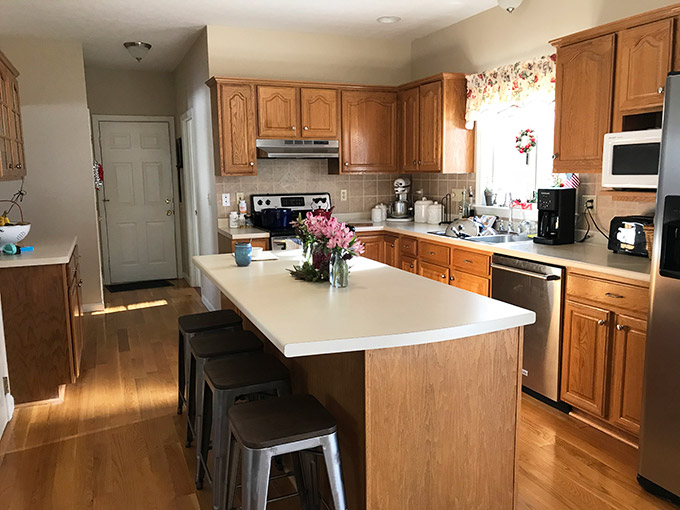 Before….
I've had some ask why we're doing a remodel since the kitchen is functional. Yes, it's functional. I, however, am not a utilitarian girl. Form over function. Big surprise. (And why not form AND function anyway?) I'm a lover of beauty with a B.A. in interior design who enjoys hunting down a good deal and transforming old and outdated to fresh and new. I've dreamed for a long time of designing a kitchen from the top down, and finally after a lot of research – it's time!
My kitchen as of today…. (!) Wish me luck.
When we lived in the south in the 90's, we bought a fixer-upper house by silent auction. The entire house needed attention, but especially the kitchen. As newlyweds, and no kiddos yet, we didn't plan on being in the house longterm. So we installed inexpensive appliances, painted the cabinets white, added new MDF cabinet doors and hardware, and replaced the laminate flooring.
It was a cut and dry, simple kitchen update. And it helped us get top dollar when we put our house on the market in 2003 to move back to New England. With the cost of housing up here, we needed every penny. There's no doubt about it, updating a kitchen adds significant worth and value to a home. Check out which home remodel projects add the most value to your home.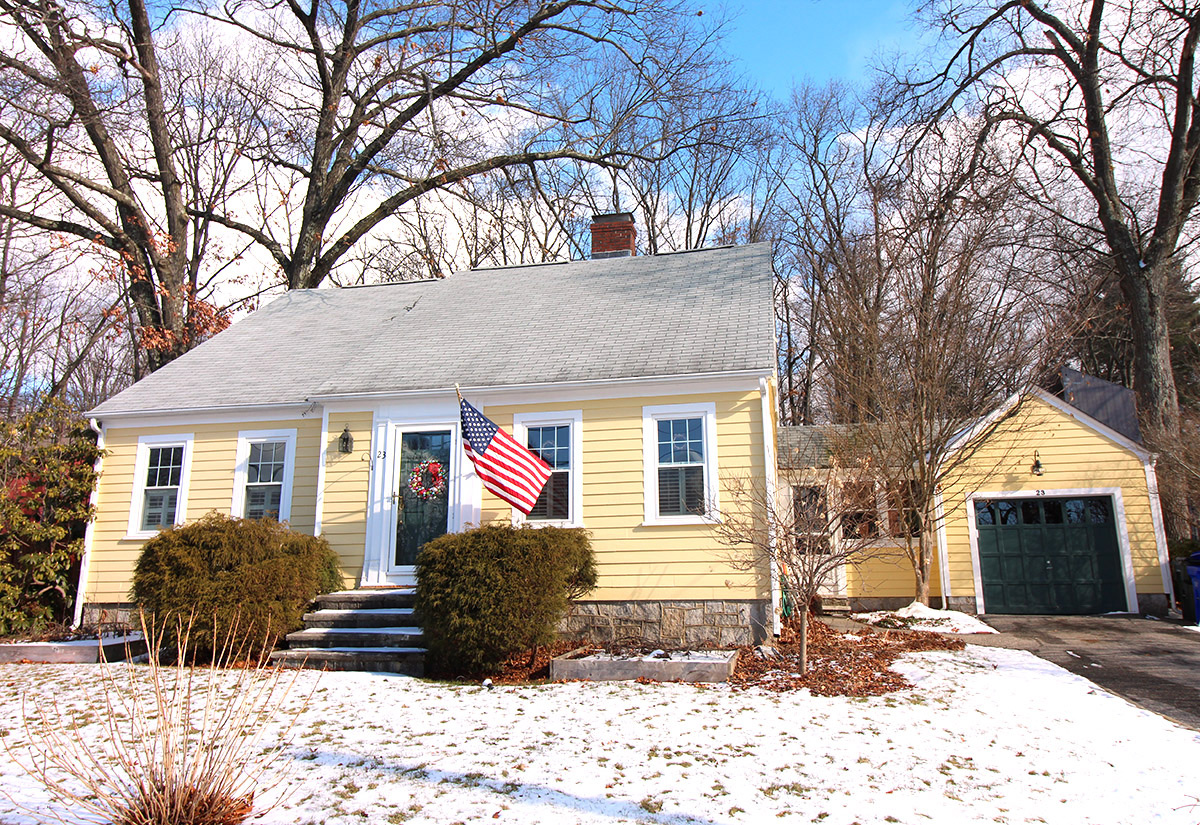 When we moved to New Hampshire in 2004, we rented for a while, then bought a sweet little '40's cape with a somewhat updated kitchen. The cabinets were custom, built by a local NH shop, Crown Point Cabinetry. I loved those cherry cabinets.
There was also a pantry built off the kitchen, an eclectic little jut-out from the back of the house with great storage. (You can see the pantry door to the right in the pic. below.)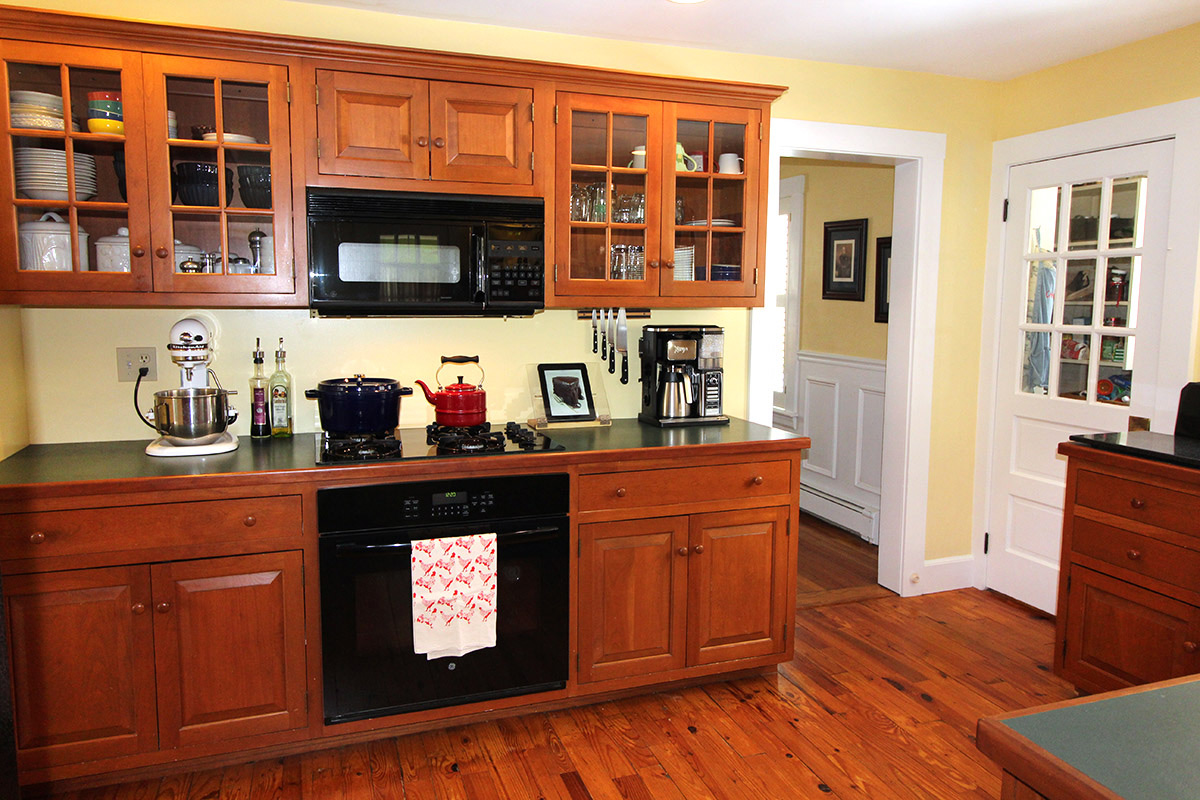 The negative of that kitchen was the green laminate countertops, which also darkened (and dated) the kitchen. But I loved that kitchen. The old, original wooden floors discovered by the previous owners underneath the laminate flooring contributed to the character.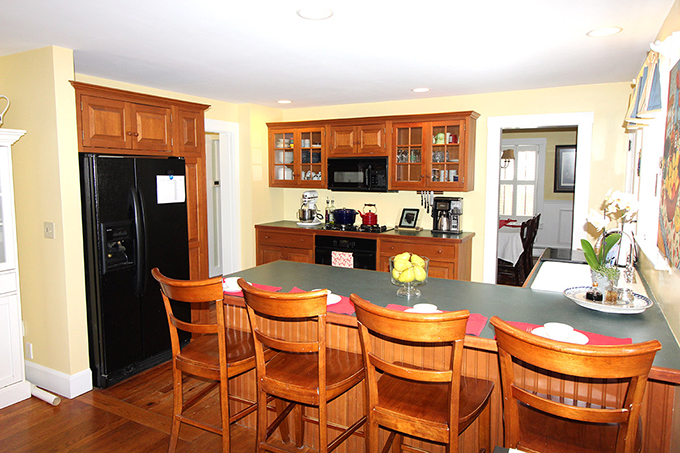 Because we were short on space and bedrooms, we finally made the difficult decision to put our cape on the market FSBO last spring. The housing market was pretty crazy at the time. When flighty buyers pulled out from buying our cape at the last second, we lost a beautiful home we had a contract on. I won't lie, it was pretty heartbreaking.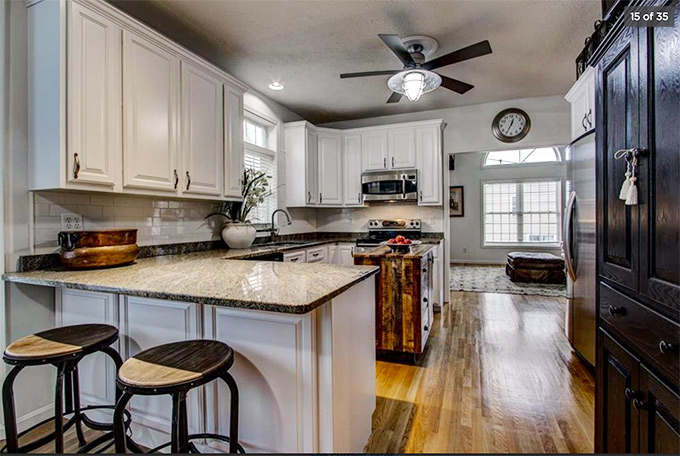 The kitchen in the house we lost was light, airy and beautifully appointed. (Above.) The lighting was perfect for my blog photographs. I lost a few tears when we lost the contract on that house. Read: buckets. My sweet Jon promised we'd find another beautiful house.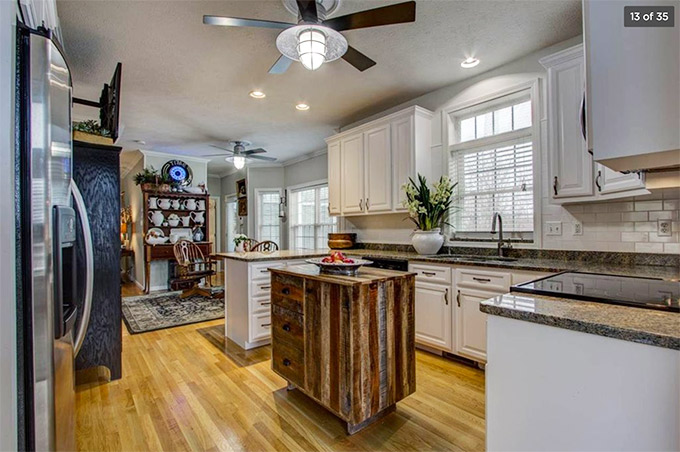 And if it didn't have a pretty kitchen like the one we lost (above), he said we'd remodel it. So that's what brings us to our kitchen remodel. (And hoping he's not regretting that promise now!)
We moved into our new-to-us house in July of last summer and have been living here for eight months now. I highly recommend living in a space for a while before starting any major remodeling project. Living in the space helps you figure out whether or not it works well for you and your family, work (esp. if you work at home like me) and entertaining needs. Helps you know what you like and what you don't. And what needs to change.
The kitchen in our new house is adequate, but needs updating. The oak cabinets are builder grade from '96. Some of the roll-out drawers didn't. roll. out. LOL. There's a small pantry 18″ wide for our family of six. The cabinets weren't in terrible shape, but there just weren't enough of them to store all the dishes, pots and pans. The ceilings are tall, over nine feet, but the cabinets only went up about 2/3 of the way to the ceiling, wasting space. The tile backsplash above the countertops were neutral, but dated, as were the laminate kitchen counters.
The kitchen sink was dented, with shallow bowls. And don't even get me started on the faucet sprayer. The button was permanently stuck on spray, nailing you in the face whenever the faucet turned on. Think (ice cold) wake up call first thing in the morning before coffee. Eek. (I finally got wise and rubber-banded a plastic bag over the sprayer.) I'm not sorry to say goodbye to that unpleasant Gestapo greeting.
So for these reasons and many more, we're excited to begin. I'm looking forward to a lighter, brighter look and feel in our new kitchen. I'll post a kitchen idea board so stay tuned if you like that kind of thing.
Remodeling is a lot like wallpapering. It has to get worse before it gets better. You gotta strip down the old before you can prepare surfaces and get rolling with the new.
Have a great weekend and hope things are more peaceful at your house. (That you're not cooking on a kitchen camp stove like me!)
XOXO,
Allie