Slow-cooked caramelized onions are sweet, flavorful, and oh so addictive. Today, I'm sharing easy directions for how to make caramelized onions. They're easily made in a skillet on the stovetop with just a few ingredients and some patience.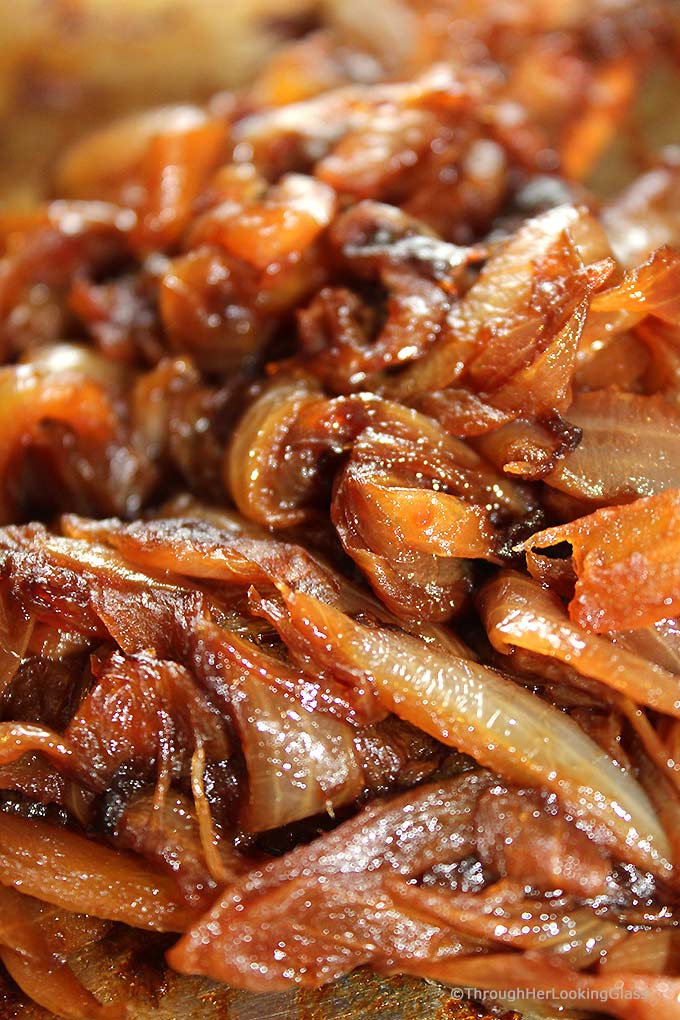 Why You Should Be Caramelizing Your Onions
Sweet caramelized onions jazz up salads, soups, sandwiches and burgers, pizza, pasta, and appetizers. Packed with natural flavor and so delicious! Leftovers refrigerate or freeze beautifully.
They were so easy to make. I mounded the warm caramelized onions on a melty brie round. We dipped crackers and veggies for an easy, impromptu appetizer with a glass of white when Jon got home. (Perfection!)
I've told you this before, and it's somewhat embarrassing to my kids, but I sometimes wear ski goggles in the kitchen. (I know, I know … Pictures or it didn't happen, right?) I've got super-sensitive eyes and cry like a baby whenever I'm cooking onions. So there's my quick, go-to, free solution! (I do try to refrain from the goggles when the kids' friends are over.)
Key Ingredients
Three medium-sized white, yellow, or sweet onions (sliced into thin, even wedges, end to end)
Two teaspoons extra-virgin olive oil
One teaspoon butter
Sea salt (kosher and table salt will also work)
Water (room temperature)
Sugar + balsamic vinegar (optional, but delicious!)
How To Caramelize Onions
Heat olive oil and butter in a pan over medium heat until just sizzling. Slice onions end to end with a sharp knife and add those into the preheated pan.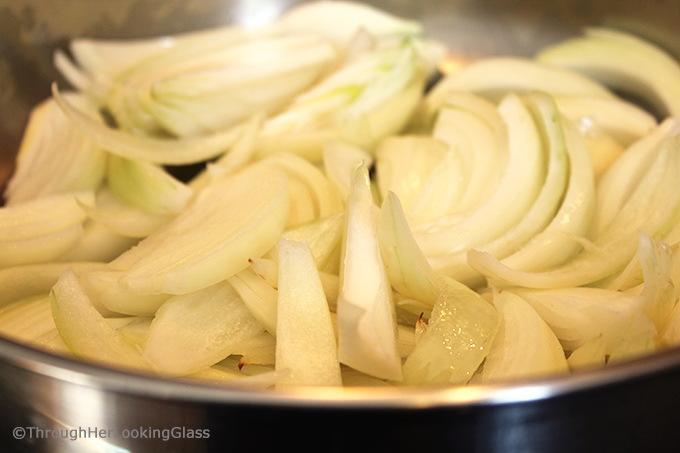 Reduce the heat to medium-low and stir every 2-3 minutes, making sure they are slowly getting golden brown and soft.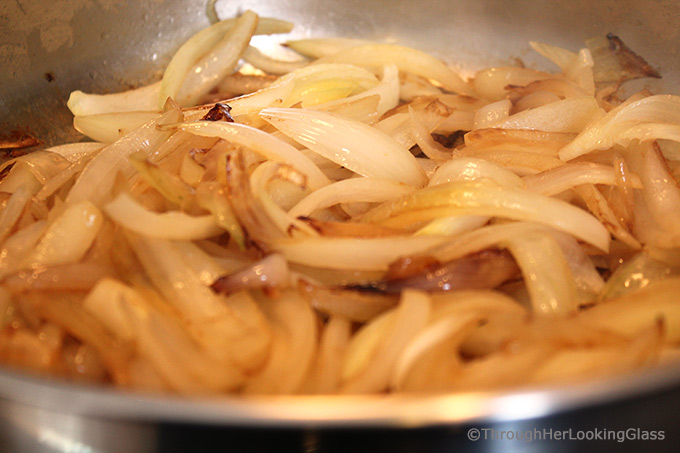 So just go slow and let the onions brown on the bottom for a few minutes in between, stirring. Then scrape up the onions and yummy baked on caramelized bits each time you stir.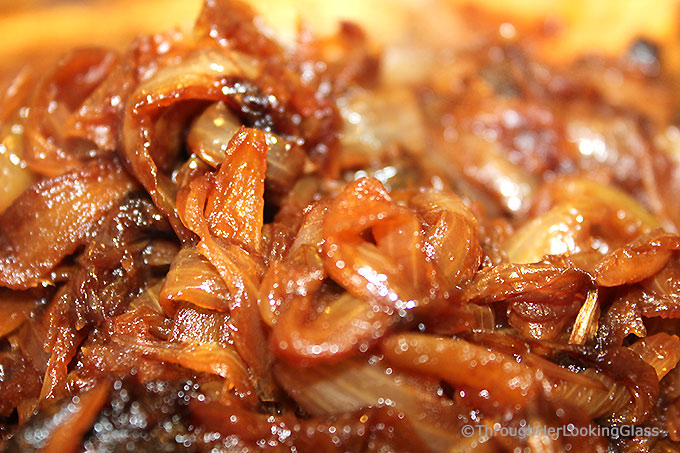 Tips for Success
Always caramelize onion on medium-low heat. they take about 30 -45 minutes to caramelize, so the main thing to keep an eye on is stirring every 3-5 minutes and wait until the onions have reached dark golden brown color.
Don't stir too often. Let the onions brown on the bottom before you stir. (Just don't let them burn!)
Add a splash of balsamic vinegar at the end for extra flavor.
The best onions to use are yellow and sweet onions.
You can add a little pinch of sugar if they're not sweet enough for you. I don't usually do that.
Storage, Freezing, and Reheating Instructions
If you have extra caramelized onions, lucky you! You can refrigerate caramelized onions in a container with a tight-fitting lid or covered with plastic wrap for up to 5 days. You can also freeze them for up to 3 months.
Reheat from chilled or frozen in the microwave until warmed through, or in a skillet over medium-low heat. Just be careful not to overcook. They'll lose a lot of their sturdy texture after being thawed, so don't be alarmed if it turns out more like a paste. It'll still be delicious!
More Recipes To Try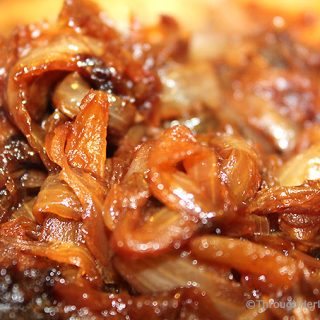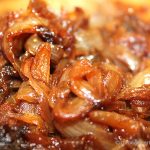 Print Recipe
How to Make Caramelized Onions
Ingredients
3

medium sized onions

sliced into thin wedges, end to end

2

teaspoons

olive oil

1

teaspoon

butter

sea salt

water

Optional: sugar

balsamic vinegar
Instructions
Heat butter and olive oil on medium heat on the stovetop in a large frying pan until sizzling.

Add onions and stir well to coat.

Cook for 2-3 minutes, then stir.

Allow the onions on the bottom of the pan to brown well, but not burn.

Then stir again, scraping up all the dark bits formed on the bottom of the pan each time.

When onions become dry, add a little bit of water - several tablespoons at a time.

Keep doing this, for 30 - 45 minutes, or until you have deep, dark caramelized onions.

Optional: add a pinch of sugar to sweeten if needed, or a splash of balsamic vinegar for extra flavor.
Notes
For best results use yellow and sweet onions. 
Make sure you have your meat to medium-low all the time. 
Don't stir too often,  let the onions caramelize for a few minutes then stir.