Fresh Peach Blueberry Salsa: fruity salsa with a delicious bite! This fresh salsa is so addictive and the peaches and blueberries are a sweet surprise!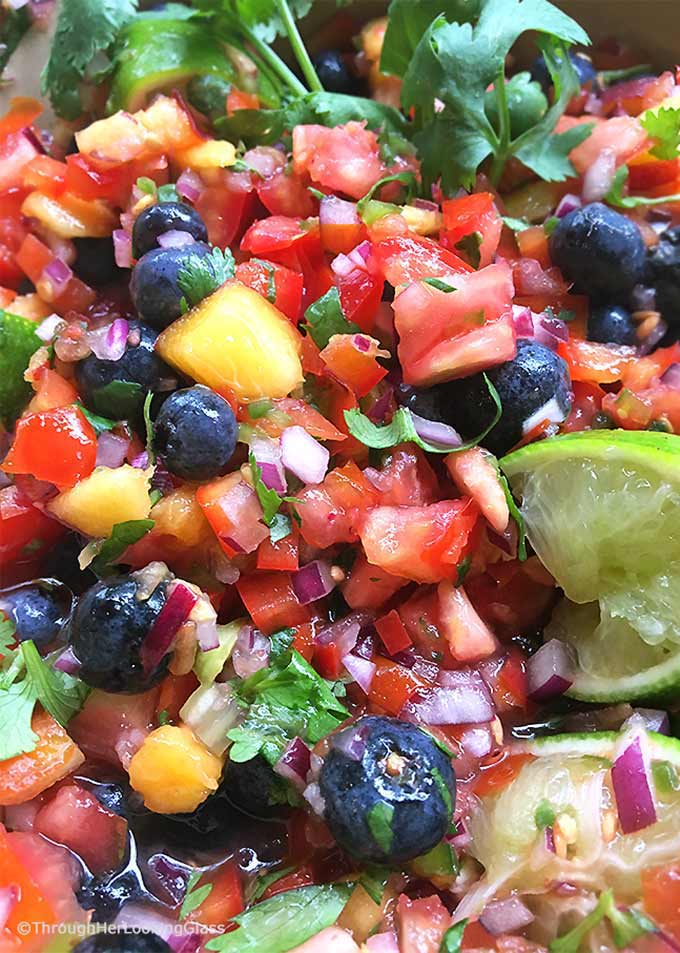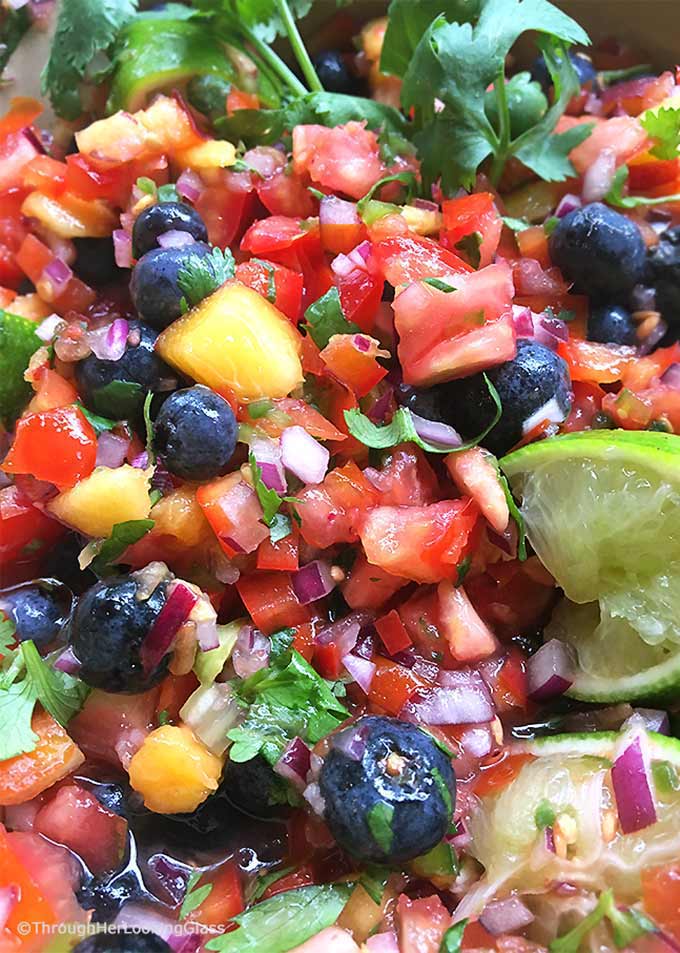 I love a good fresh salsa and one of my fave things to do once the tomatoes finally start ripening around here is experiment with new salsas. Last summer I jumped the gun with Watermelon Salsa in July because the tomatoes weren't even ripe yet. I just couldn't wait.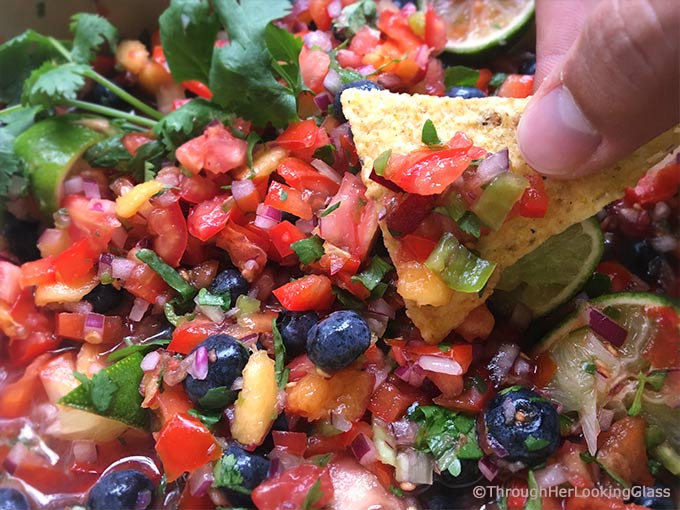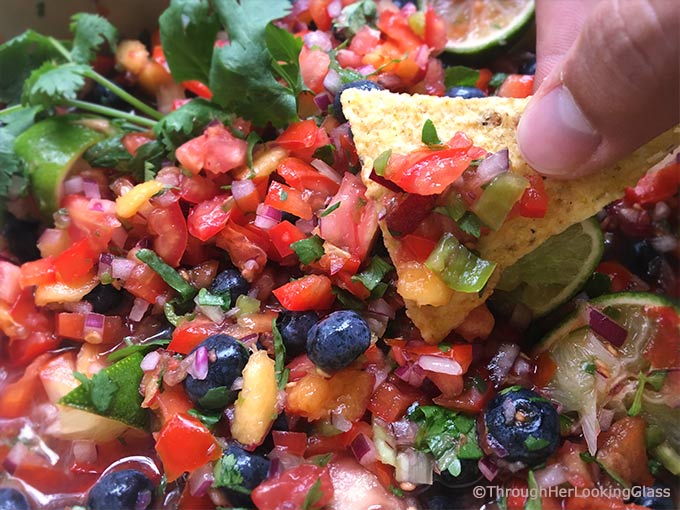 Seriously, I almost never pick my first garden ripe tomato until the end of July or beginning of August. (That's because sometimes it's still snowing at the beginning of May around here. No kidding. That's New England.)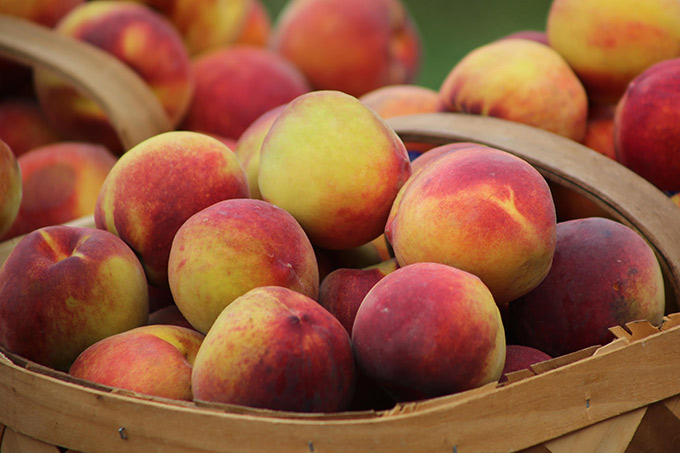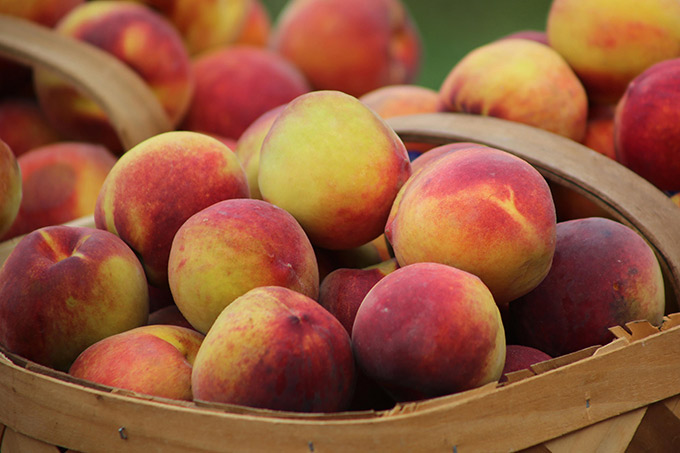 So this past weekend we were racing around trying to get a million and one things done around here. The church picnic at the lake was on Saturday and we were packing to take our oldest to college two days later. I was giving haircuts to the bigger boys and making school shopping lists for the younger ones. So I didn't have time to make anything elaborate for the picnic. (Understatement.) But I had a bunch of garden ripe tomatoes on the countertop to use up before we headed south.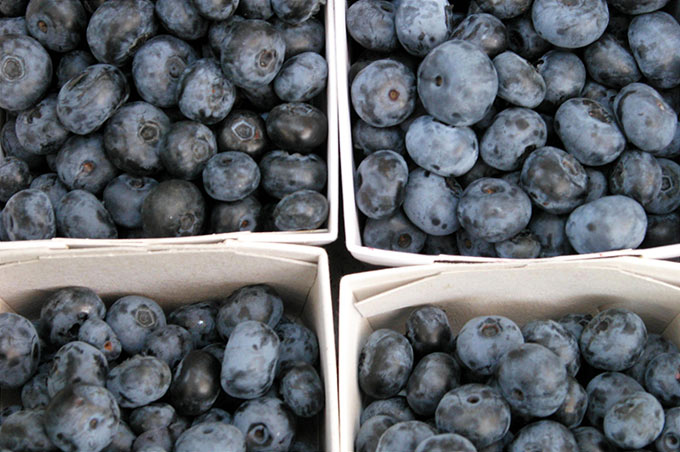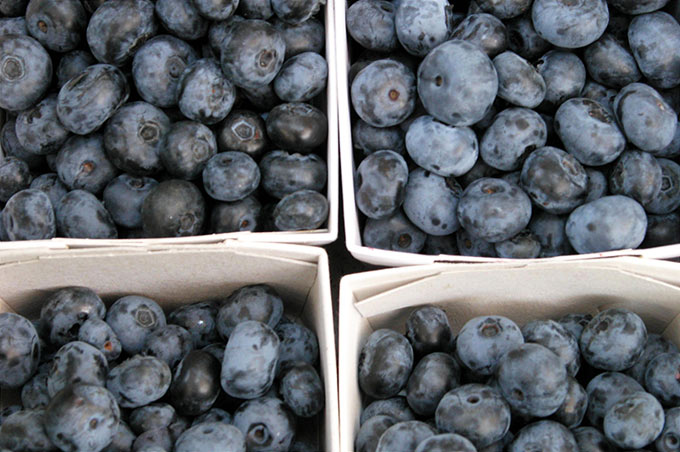 I also had a few ripe peaches in the fruit bowl. The pint of forgotten fresh blueberries in the refrigerator was actually an after thought but took this salsa to the next level. And that's how this salsa was born. 🙂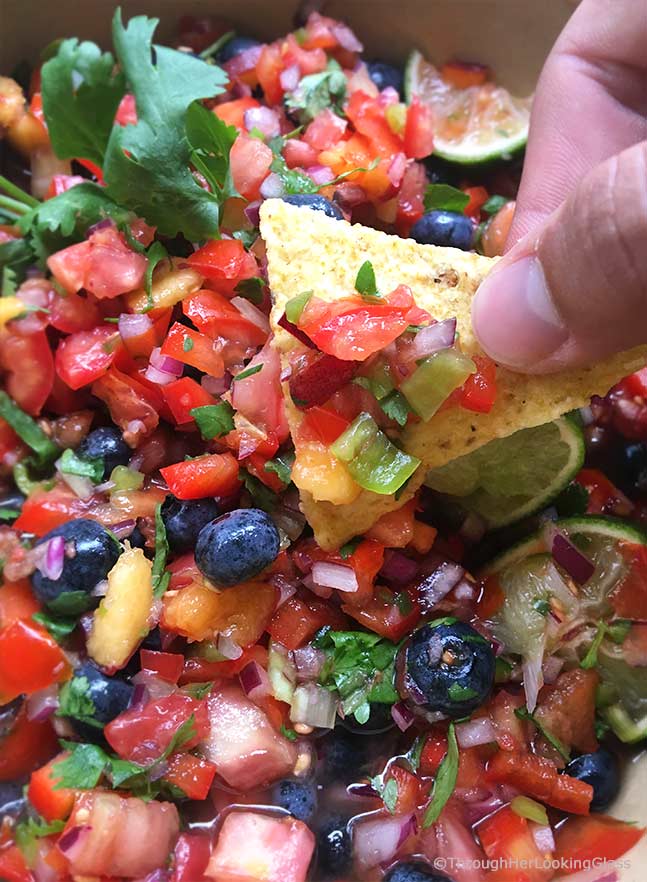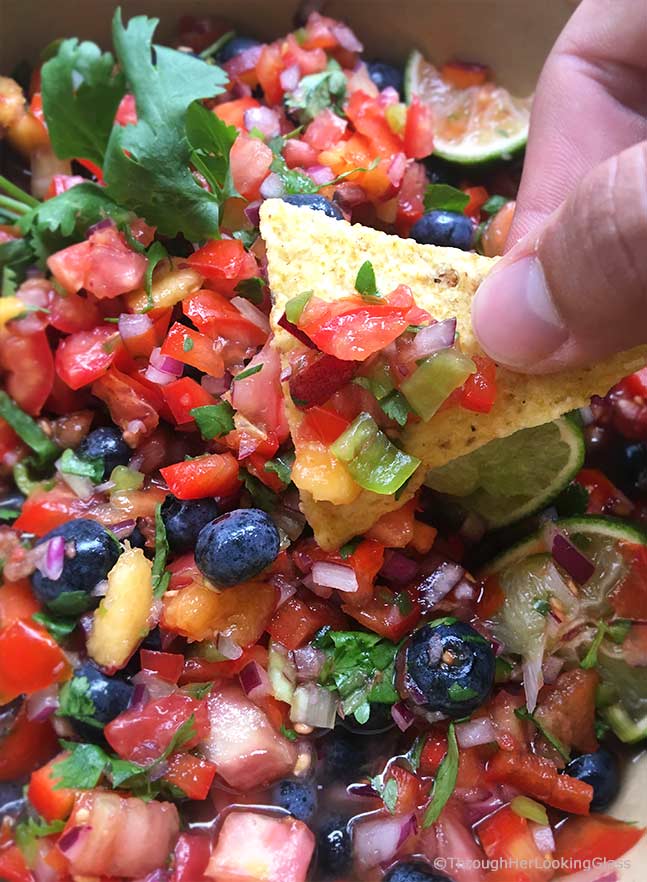 Truth is, I wasn't even planning to put this Blueberry Salsa here on the blog. I was in a hurry getting out the door to the picnic and we were already running late. But it was so pretty and delicious I couldn't resist snapping a few quick pictures.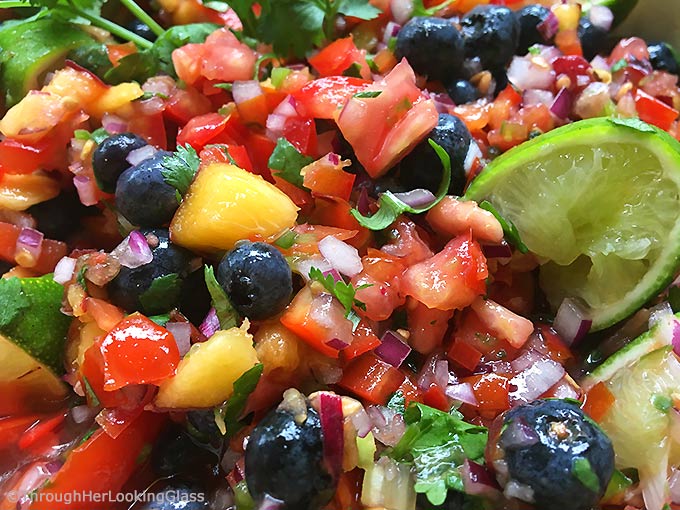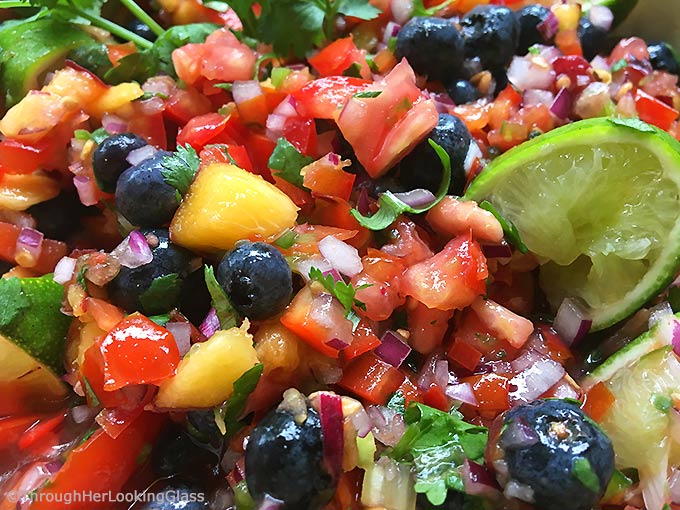 The amounts of the ingredients are not all that important. I'm just sharing what I used — which is what I had on hand. Add more tomatoes, peaches, blueberries, garlic, peppers etc. according to your taste.
I don't care for a watery salsa, so here's a tip for you. I chopped all the fresh tomatoes, then lightly salted them and put them in a colander in the sink. The salt draws water out of the tomatoes. They drained for a bit while I chopped up the rest of the ingredients.
The fun thing about this salsa is it made a large quantity and disappeared fast at the picnic. It's got to be one of the prettier and more colorful salsas I've made. I think that was partly why it went so fast. Plus the blueberries and peaches added an unexpected sweetness. I'll definitely be making this salsa again and hope you'll try it while the fresh garden tomatoes are still in season!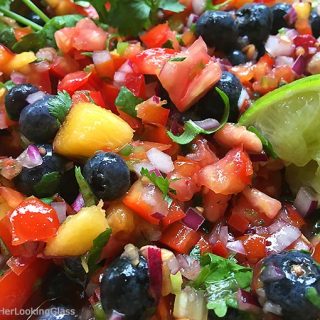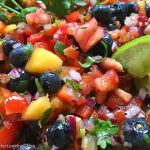 Print Recipe
Fresh Peach Blueberry Salsa
Ingredients
5-6

large

ripe garden tomatoes, chopped

1

small jalapeno

minus seeds and ribs, diced tiny

1/2

large red onion

chopped

2

banana peppers

seeded and diced

1

large red pepper

seeded and diced

1

large clove garlic

crushed

1/2

cup

chopped fresh cilantro

1

ripe peach

diced (no need to peel)

1

pint

fresh blueberries

sea salt to taste

fresh squeezed juice of 1 lime

2-3 tablespoons
Instructions
Place chopped tomatoes in a large colander in the sink or over a bowl.

Lightly salt the tomatoes and gently stir.

Let tomatoes sit in colander and drain while you prepare the other ingredients.

Combine all ingredients, including drained tomatoes in a large serving bowl and gently stir.

Salt to taste.

Serve with tortilla or pita chips!


You may also like: Lime Avocado Black Bean Dip with Feta