Brick Street Chocolate Cupcakes: everything you love about the decadent Famous Brick Street Chocolate Cake, but in cupcake form. Rich, dense chocolate cupcakes with thick, chocolate ganache frosting. If you love the Brick Street Chocolate Cake, you'll adore these incredible cupcakes. This recipe makes two dozen regular size cupcakes. (The cupcakes you see here are not mini cupcakes.)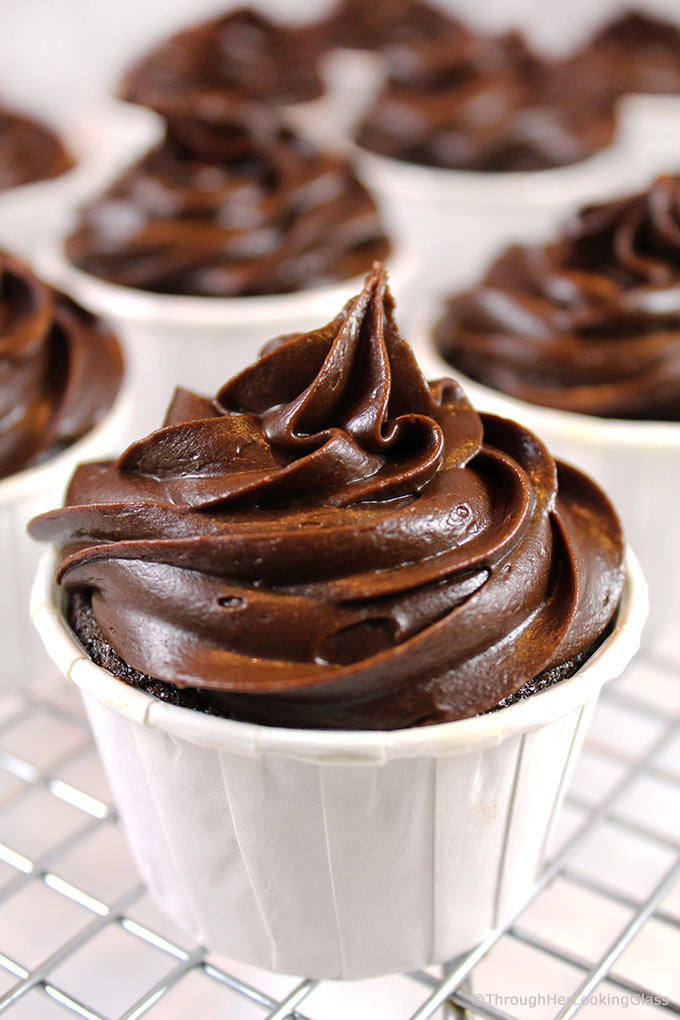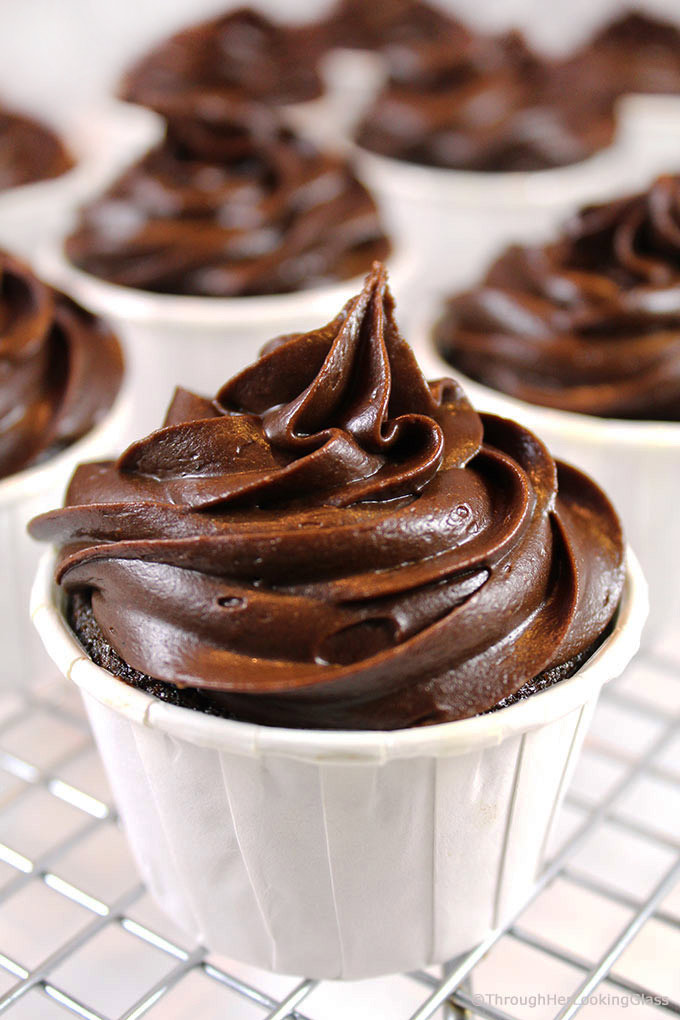 For some time I've been wanting to adapt the original Brick Street Chocolate Cake recipe to make cupcakes. Some of you have requested it too. The truth is, one day months ago I tried it on the fly and it was somewhat of a disaster. I overfilled the cups and the batter spilled over the edges of the muffin tin during baking, resulting in a smoking oven mess. The cupcake edges were overdone and the centers didn't cook through. Disaster with a capital D!
Yesterday I set aside the entire day to test and experiment with the original recipe to create these Brick Street Chocolate Cupcakes. I'm so glad I did, because the result is the gorgeous chocolate cupcakes you see here. Dense, chocolatey and every bit as spectacular as the original cake, these cupcakes are frosted with thick chocolate ganache.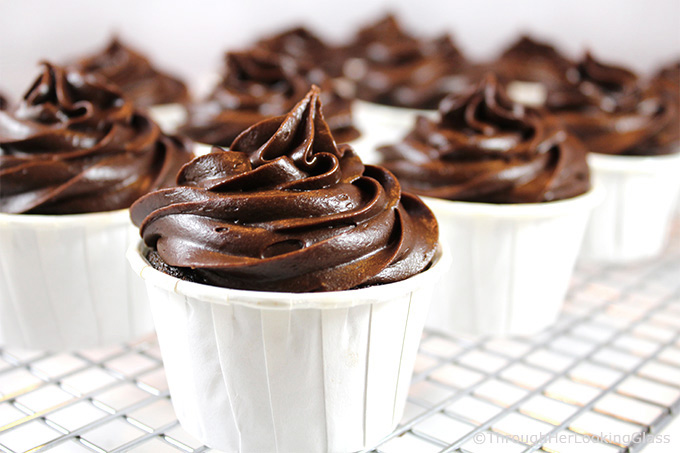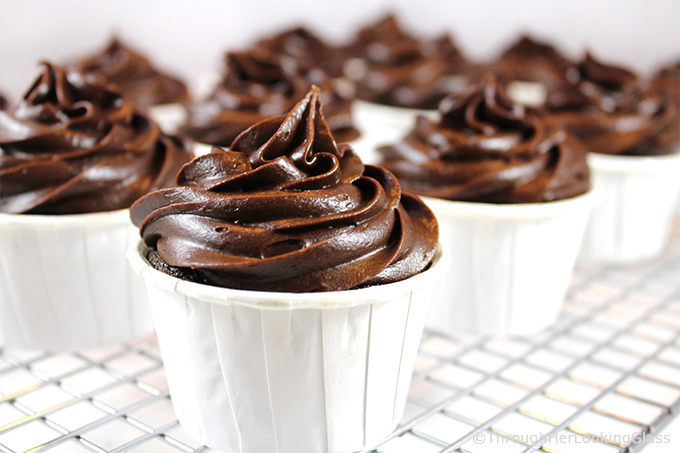 Some of you know about my four boys. My littlest is Hudson. He's six and has Down syndrome. He has lots of love in his little heart but few words to express it. There are many wonderful people who help our family navigate the terms 'special needs' and 'disability'. I've loved writing about Hudson's wonderful experiences on his little yellow school bus through the years.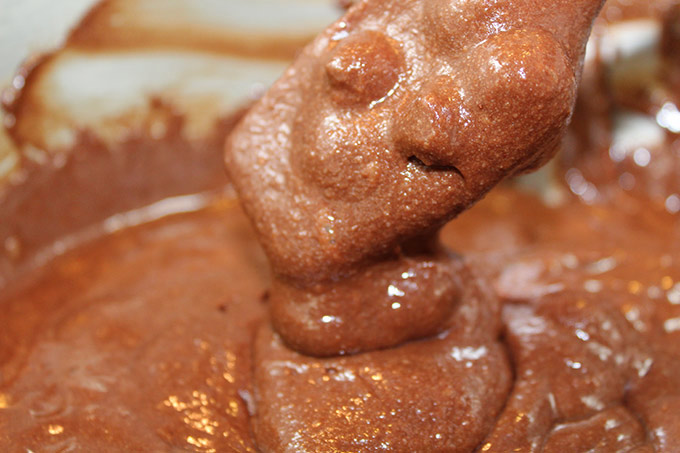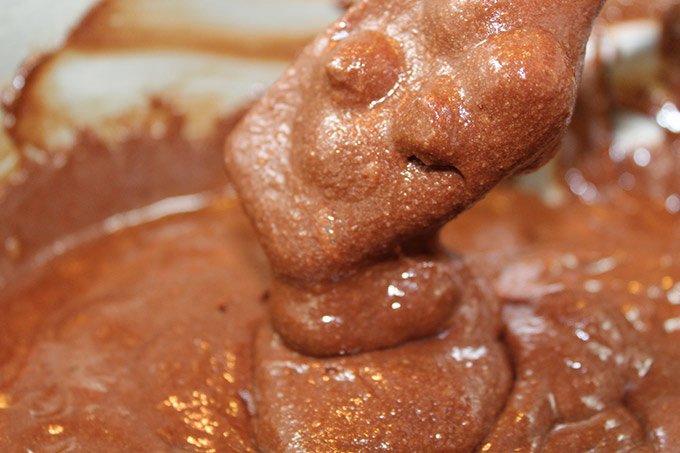 This year he once again has wonderful bus drivers and helpers. A team of two special people bring Hudson home on the little yellow Easter Seals school bus each weekday afternoon. As Hudson gets off the bus, the white-haired man and his helper often say things to me like: "Hudson's so funny, he has such a great sense of humor." "Hudson got us laughing so hard today." "He loves watching out the windows, he doesn't miss a beat." "Hudson's a doll, wish we had ten of him riding on our bus."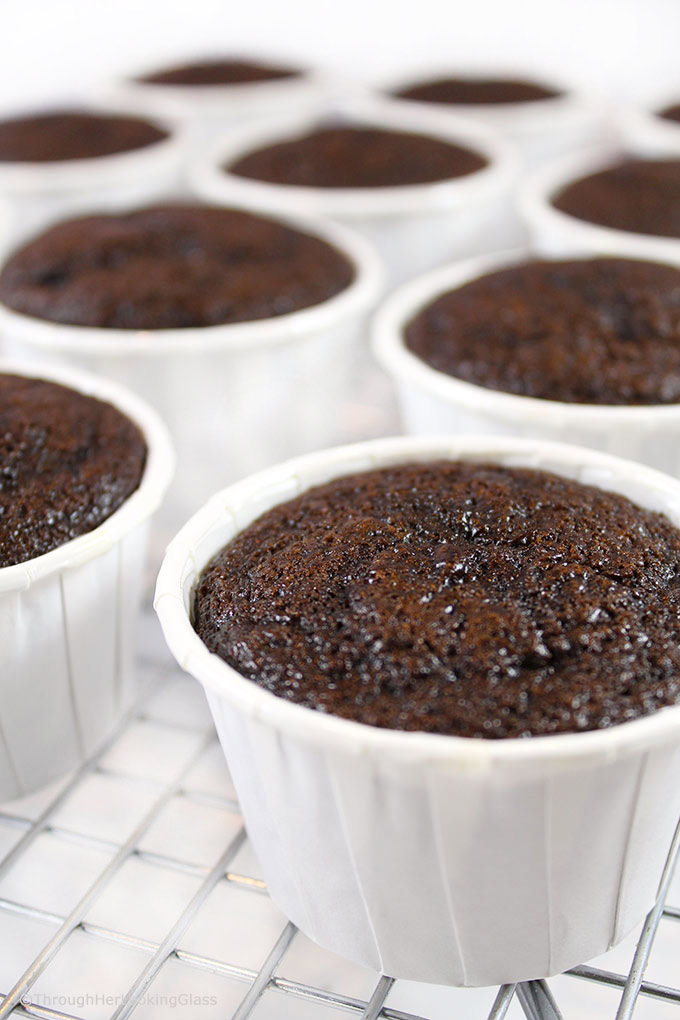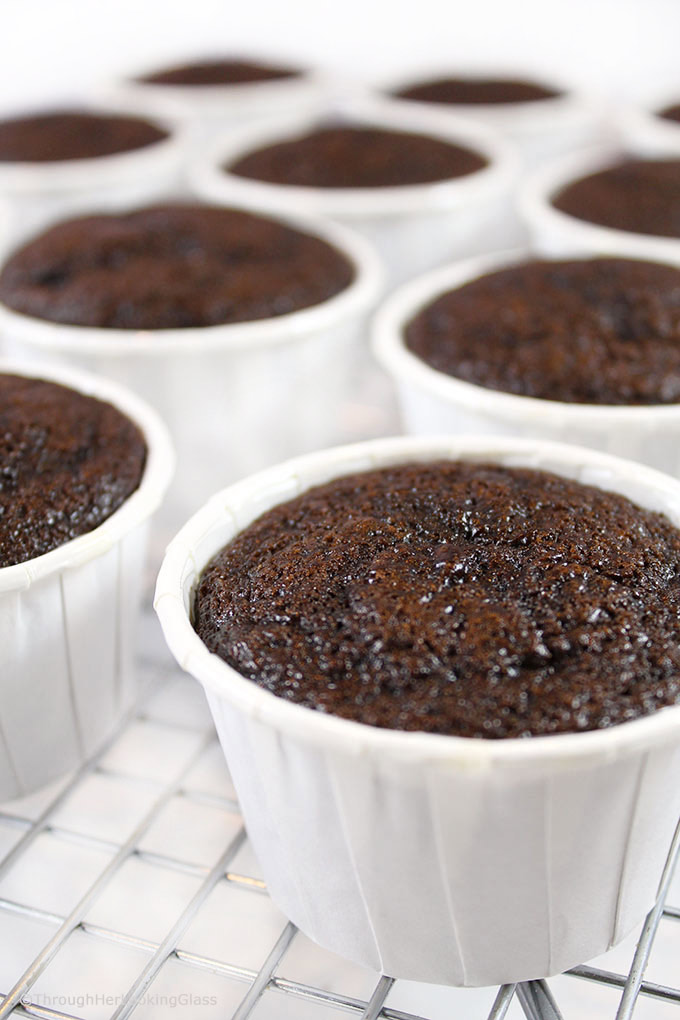 Imagine how precious words like these are to a mom like me with a little boy who can't tell me one detail about his day, let alone about the bus ride home. It's a gift to hear just a smidge about his day, especially since he doesn't have the words to tell me himself. To know he's loved and appreciated for the special little person he is.
So yesterday when I finished photographing these cupcakes, it was nearly time for Hudson to arrive home from school. I scrambled to find the leftover little white cupcake boxes in the back of the pantry and the red and white striped kitchen twine. I boxed up fresh Brick Street Chocolate Cupcakes for both the bus driver and his assistant. I don't even know their names, but it was my tiny way of saying thank you for all the kindness they show my little Hudson each day.
When the little yellow school bus arrived, I was waiting at the end of the driveway with the cupcakes in the twine-wrapped boxes. I exchanged the boxes for Hudson and told the driver I needed some taste testers today. Could they help?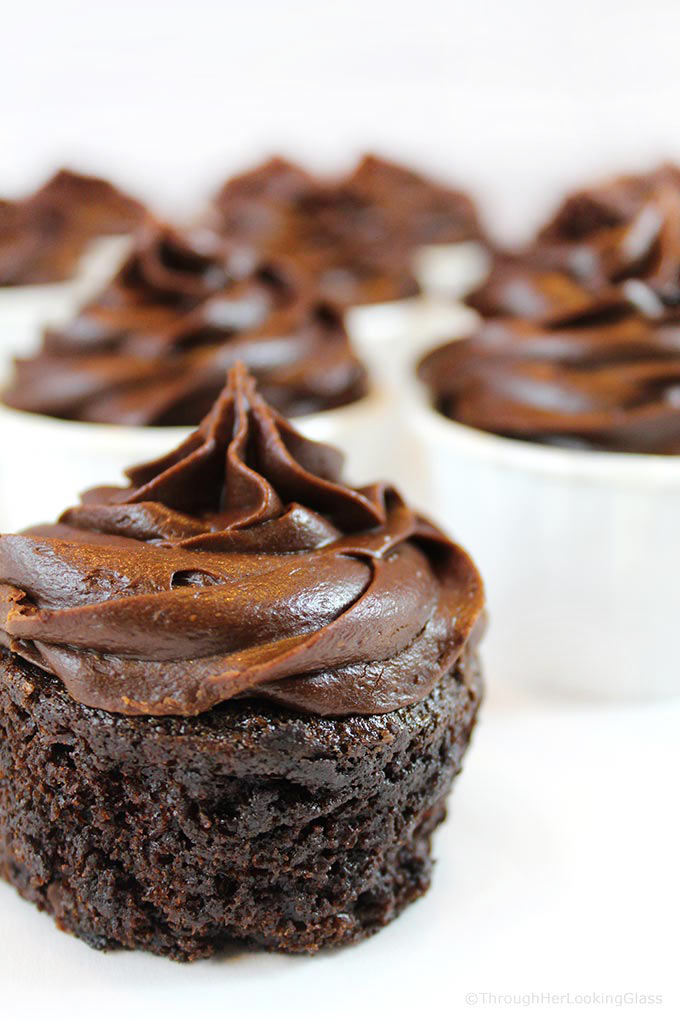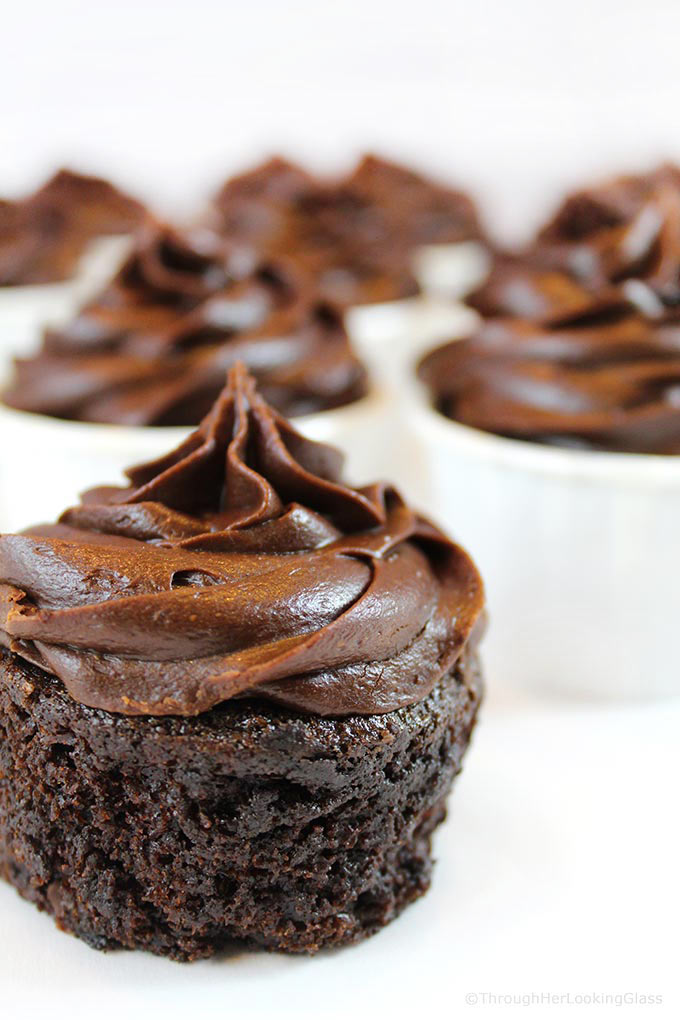 The funny thing is, those two have no idea what I do at home all day every day. For all they know I sit around eating bon-bons and watching soaps. (For the record: I don't.) And they'd just hit the jackpot with these cupcakes, and didn't know it yet. Funny. And it made me smile thinking about it.
So today, the day after I gave them the cupcakes, Hudson got off the bus and there were smiles all around. The bus driver mentioned they'd need another dozen cupcakes or so to round out the taste testing. Just to be sure and all.
"Valentine's Day is just around the corner," I said. "Maybe Cupid will bring you some."
Baking Tips:
This recipe makes two dozen full-size cupcakes. Several have asked if they are mini cupcakes. They are not. I got the full size paper muffin liners at the Dollar Store!)
Directions are included for baking these cupcakes in a convection or regular (conventional) oven.
Bake in a convection oven for 16 minutes at 350° or until a cake tester comes out clean.
Bake in a conventional (regular) oven for 8 minutes at 350°, turn the oven down to 325° and bake an additional 8 minutes or until a cake tester comes out clean.
Use cupcake liners for this recipe.
This recipe makes 2 dozen cupcakes. Please don't overfill the cups to make fewer, larger cupcakes. The batter will spill over the edges during the last half of the baking time, making a mess in your oven and yielding cupcakes with overcooked edges and undercooked centers.
Frosting Tips:
Frost the cupcakes right after making the ganache – while it's still warm. Ganache has a lot of melted butter in it and hardens as it cools. The ganache will be difficult to spread when it's completely cool. Slightly re-warm the ganache in the microwave or on the stovetop to make it spreadable if you need to make it ahead.
Spread the ganache with a knife, or use a pastry bag and tip as I did.
I used a plastic pastry bag and the jumbo No. 2110 (1M) open star decorating tip by Wilton on the cupcakes pictured here.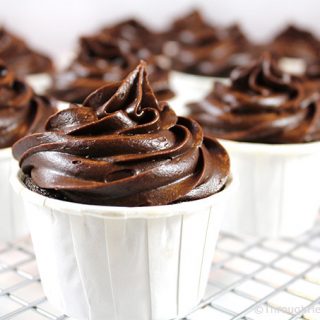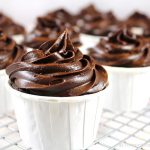 Print Recipe
Brick Street Chocolate Cupcakes
Ingredients
Cupcakes:
1 1/3

cups

sugar

2/3

cup

butter

room temperature

1

teaspoon

vanilla

2

large eggs

1 2/3

cups

cake flour

2/3

cup

baking cocoa

1 1/2

teaspoons

baking soda

1/4

teaspoon

salt

1/3

cup

instant chocolate pudding mix

not made into pudding, just the dry mix

1 1/2

cups

buttermilk

2/3

cup

chocolate chips or mini chocolate chips
Chocolate Ganache Frosting:
4.5

ounces

unsweetened baking chocolate

6

tablespoons

butter

6

tablespoons

milk

3 1/2

cups

powdered sugar

3

teaspoons

pure vanilla extract
Instructions
Cupcakes:
Preheat regular, conventional oven to 350°.

Beat sugar, butter & vanilla in large bowl.

Beat in eggs.

Mix in cake flour, baking cocoa, soda, salt, chocolate pudding and buttermilk.

Stir in semi-sweet chocolate chips.

Place cupcake papers in muffin tins.

Drop batter - a generous tablespoon and a half for each cupcake - into paper lined muffin tins, filling muffin cups about halfway.

(Do not overfill or batter will spill over into your oven.)

This recipe makes 24 cupcakes.

CONVENTIONAL Oven: Bake in a 350° conventional oven for 8 minutes. Turn oven down to 325° and bake an additional 8 minutes (or until cake tester in the middle comes out clean.)

CONVECTION Oven: Bake in a 350° convection oven for 16 minutes or until cake tester in the middle comes out clean.
Chocolate Ganache Frosting
In a microwave safe bowl or a saucepan on the stovetop, melt butter and chocolate together.

Whisk until thoroughly mixed.

Whisk in milk and vanilla extract.

With electric hand mixer, beat in powdered sugar.

Frost cupcakes while ganache is still warm, using a pastry bag and tip (I used a plastic pastry bag and the jumbo No. 2110 (1M) open star decorating tip by Wilton) or spread with a knife.

If you make the frosting ahead, keep it tightly covered. Then warm ganache slightly on the stovetop or in the microwave to make it spreadable again.
You may also like: Brick Street Chocolate Cake