San Francisco Avocado Dip: zippy guacamole layer dip with greek yogurt, taco seasoning, cheese, tomatoes, olives, green onions and hot pepper sauce. Enjoy with chips, pita bread or serve in a taco shell!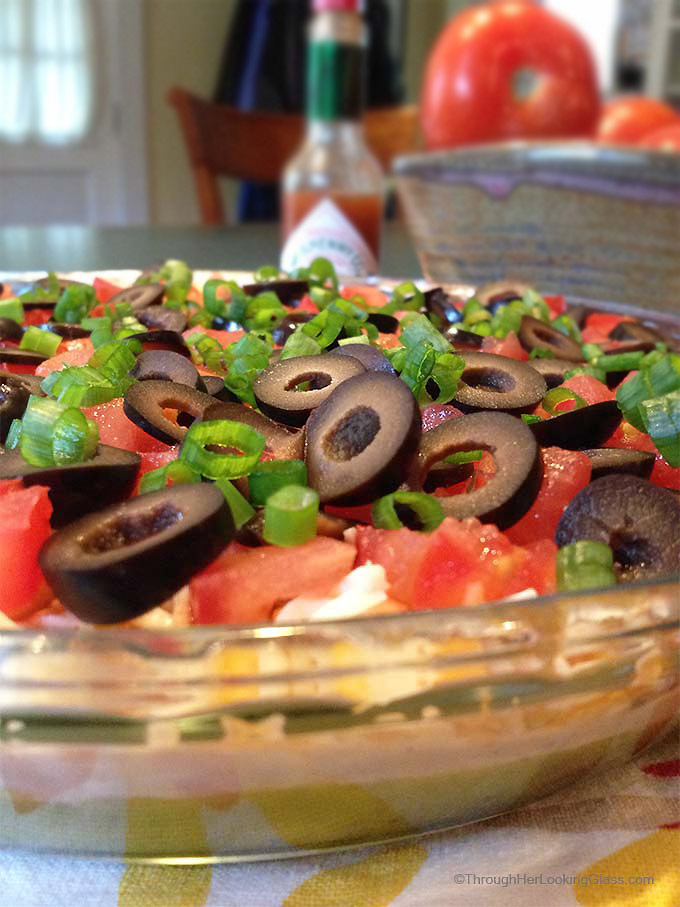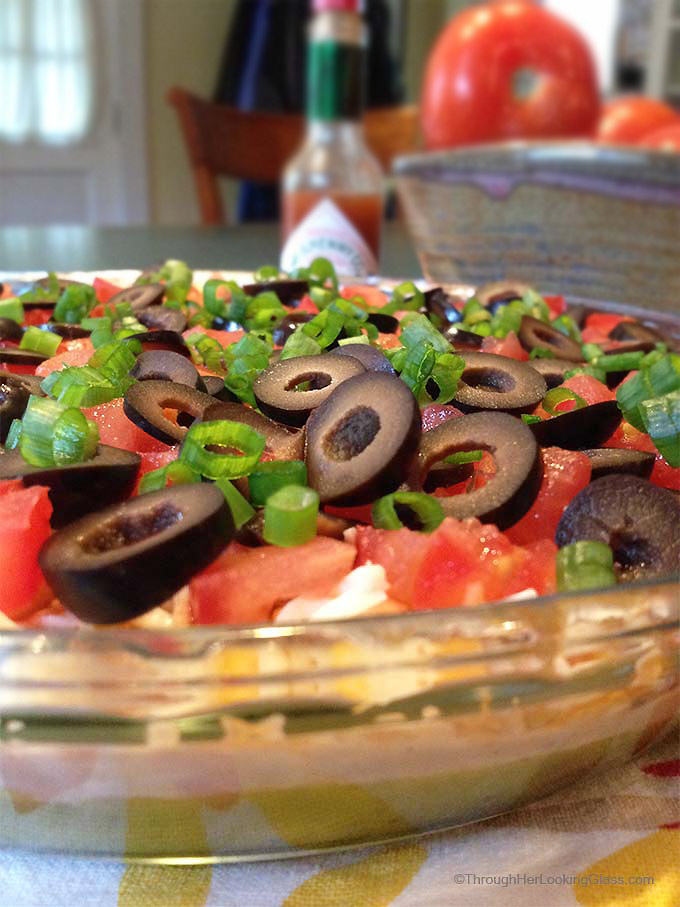 So Jon and I flew the coop a few years ago for a lovely wedding in Atlanta. While there, we sit with friends at their dinner table. Friends we haven't dined with in years. (Too many years.)
And he says:
"I still remember sitting at your dining room table back in 2001, and that amazing dip you made with the olives on top. I never liked olives before, didn't want to be rude, thought I should try it. And I loved that dip and I've been eating olives ever since."
Well I have to think long and hard. Because 2001 seems like an eternity ago. In 2001 we had just two little boys, lived in the south. Had no idea we'd be moving north in just three short years.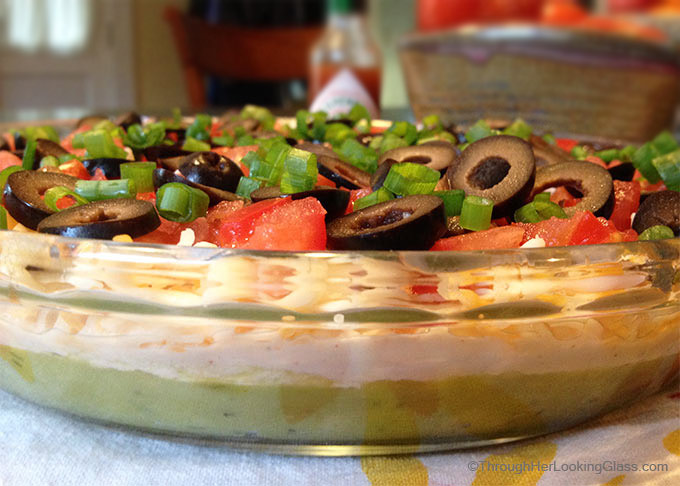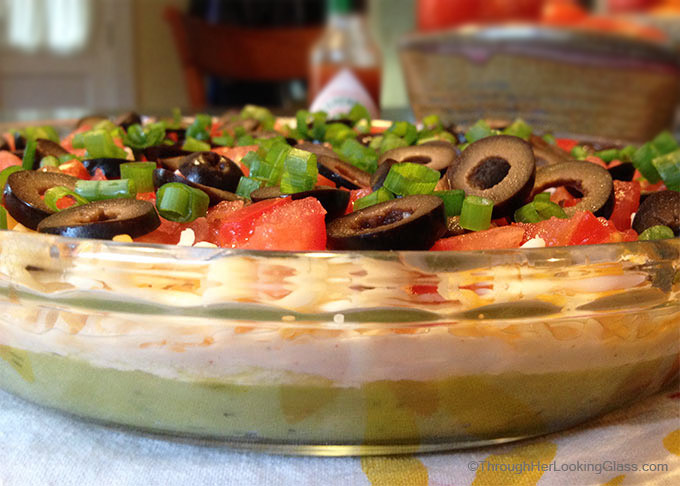 I thought long and hard, realized the dip he remembered was this San Francisco Avocado Dip. And if he remembers it from my dining table in 2001, it must be pretty darn good.
It was Jonathan's birthday today, we had tacos for dinner. So for old times sake, I hunted down the recipe, whipped up this San Francisco Avocado Dip as a quick and colorful side. We dipped it with the carrots and chips, stuffed it in soft and hard tacos. Wow! It was awesome. This is one zippy dip. It's the hot sauce that makes it a stand out. We all loved it.
San Francisco Avocado Dip starts with a layer of guacamole on the bottom, then Greek style yogurt (or sour cream) mixed with taco seasoning. Next add a layer of Monterey Jack and one of cheddar. Top with diced tomatoes. Splash with Tabasco hot sauce. (As much as you dare!) Top with olives and chopped green onion. It's one awesome dip if I do say so myself.
I don't know why this recipe sat dormant in my recipe box for the last ten years. I just forgot about it, and it's a crying shame. We could've been eating it for the last decade. So glad he mentioned it, at least we can enjoy it for the next ten. (You too!)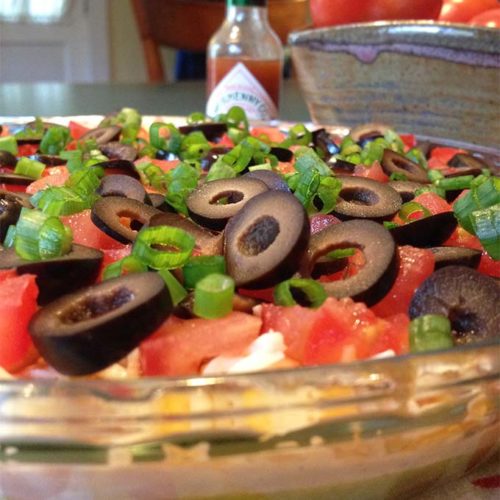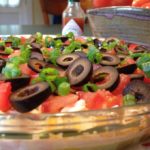 Print Recipe
San Francisco Avocado Layer Dip
Perfect as a zippy dip for chips and veggies. A great addition in tacos or wraps.
Ingredients
2

avocados

peeled and pitted

dash salt

1

tablespoon

fresh lemon juice

1

cup

Greek style yogurt

or sour cream

1/2

package taco seasoning

1

cup

grated Monterey Jack cheese

1

cup

grated cheddar cheese

1

cup

diced tomatoes

splashes of hot pepper sauce

1/4

cup

chopped green onions

1/3

cup

chopped black olives
Instructions
Mash avocados with a dash of salt and a tablespoon of lemon juice.

Spread avocado mixture on bottom of pie plate.

Separately, combine sour cream and taco seasoning.

Spread on top of avocado mixture.

Top with layers of grated cheese.

Sprinkle tomatoes on top.

Splash hot sauce to taste on top of cheeses and tomatoes.

Top with green onions and black olives.

Serve immediately or cover tightly in plastic and refrigerate 'til serving.

Serve with corn chips, tortilla chips, fresh raw veggies or in tacos, fajitas and wraps.
You may also like: Baba Ghanoush Roasted Eggplant Dip