Apple Cider Caramelized Onion Soup Recipe: a sweeter version of your favorite French onion soup. Apple cider, chicken and beef broths simmer together with sweet caramelized onions and fresh thyme. Top with French bread and sharp cheddar cheese for an easy and impressive main dish or appetizer soup.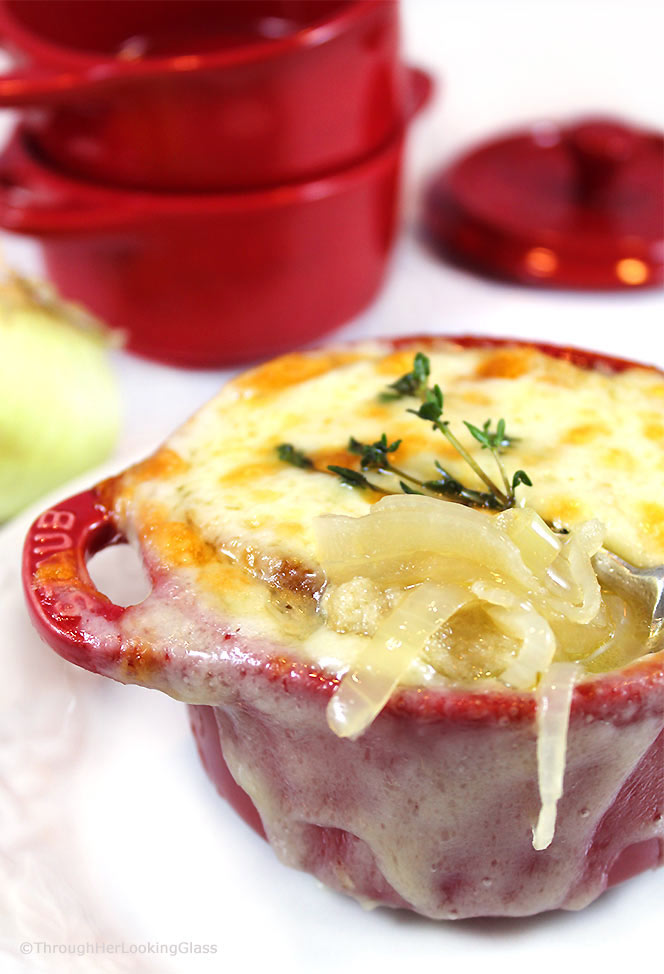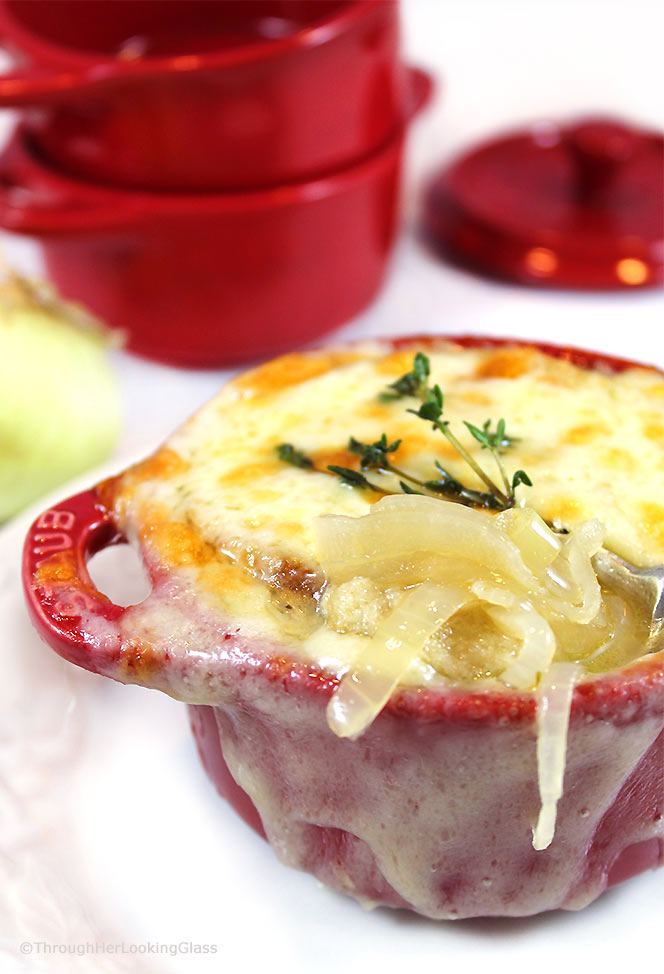 As I sit here here writing, we're under threat of our first big Nor'easter of the season. It's making its way up the coast even now. There's something exciting about even the anticipation of being "snowed in." A few weeks ago we had snow and school was canceled for the boys. It's always a big deal around here!
They love staying home, sleeping in late, reading, playing board games, watching movies and making popcorn. Oh yeah. And heading outside for old-fashioned snowball fights and snow fort building. That's always high on the list.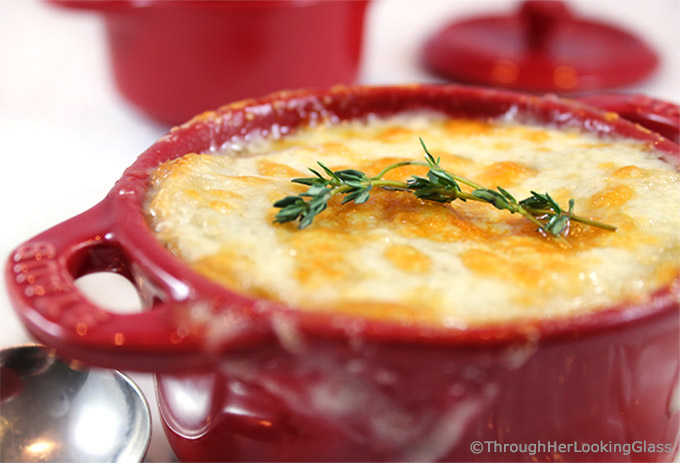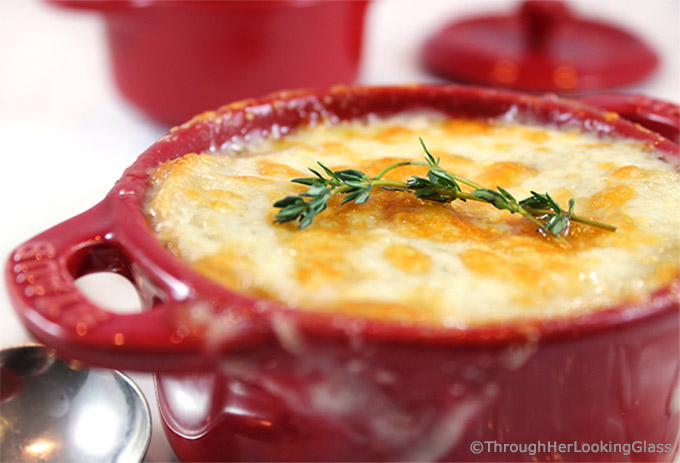 So after that last snow storm, the roads were clear by late afternoon and Jon and I escaped to one of our favorite restaurants Cotton for dinner downtown. I'm always inspired by Cotton's ambiance and eclectic menu, and that evening was no exception. On their 'specials' menu was a French onion-type soup made with apple cider, chicken and beef broth.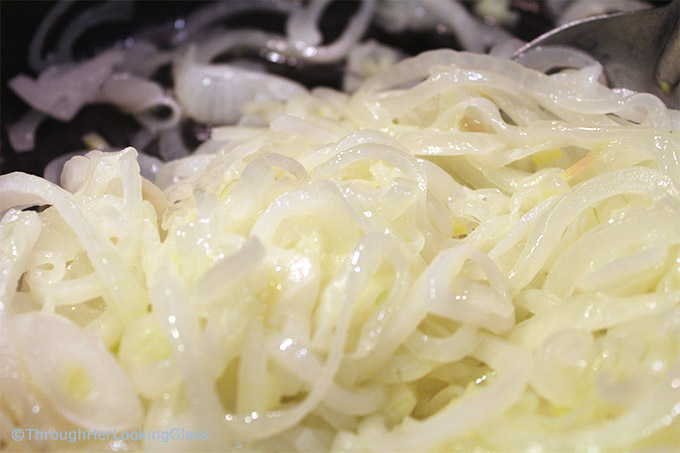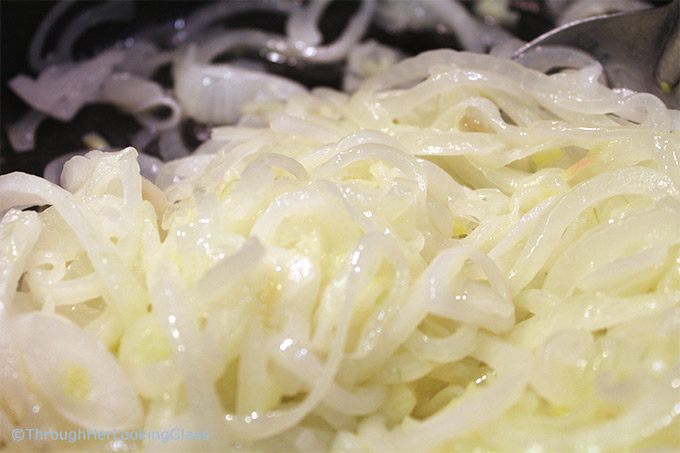 It sounded so tempting on a frigid, snowy day. So I ordered a bowl of the steaming soup along with a big spinach salad and it was excellent! I knew then that I'd try to recreate that soup in my own kitchen.
This sweet and savory Apple Cider Caramelized Onion Soup Recipe is the delicious result of my efforts! It's rich and hearty, sweet from the onions and apple cider. The fresh thyme adds incredible flavor to the broth. Please note that this soup is also delicious minus the French bread and bubbly, melted cheddar. But even better with! 🙂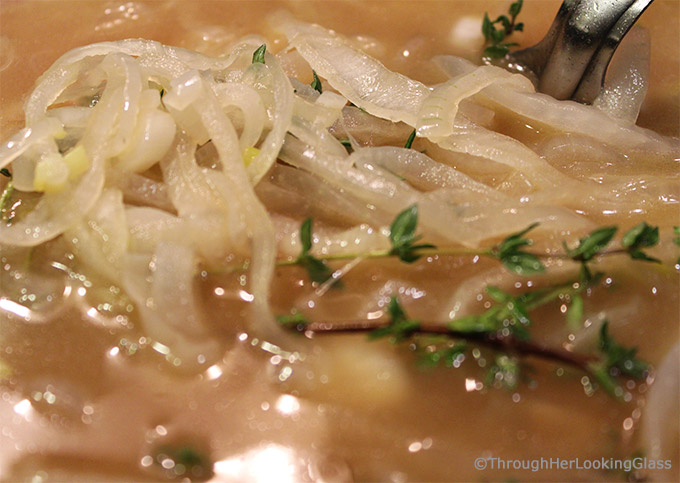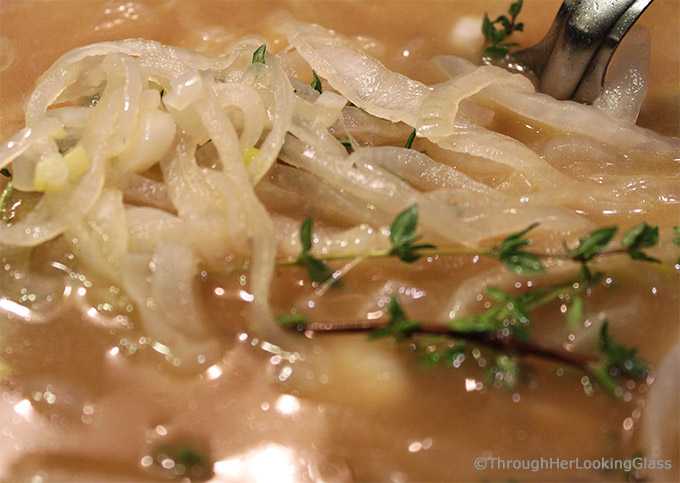 I was pleasantly surprised how easily and quickly this soup comes together. First, slice up the onions into thin rings. And truthfully, it's easier said than done, because all onions are not created equal. Some make me tear up on the first cut.
While I've actually seen onion goggles in the Williams Sonoma catalog for $20, I've got my own little trick. Cheaper too. I wear my ski goggles. Seriously, they work great for cutting onions. Try it. (My kids don't even seem to notice anymore when mom sports ski goggles in the kitchen. LOL.)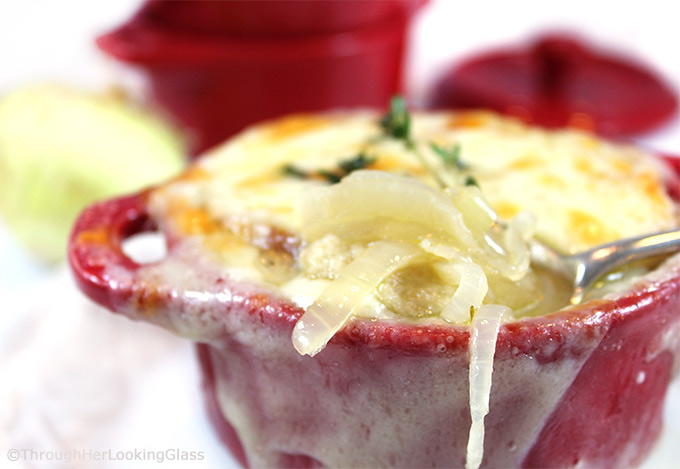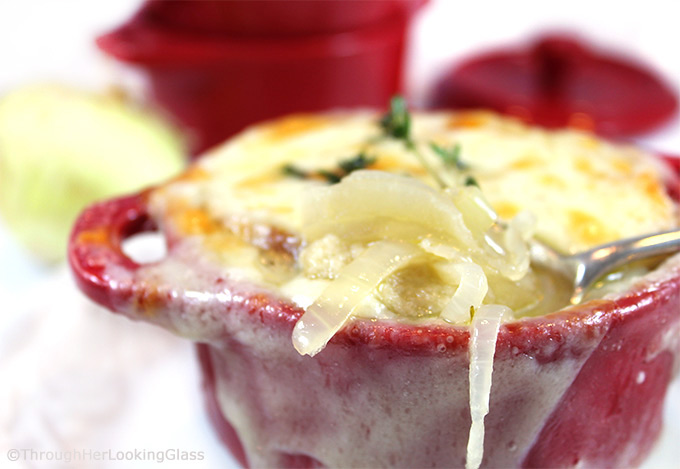 Once the onions are sliced, sauté them on the stovetop in a Dutch oven or large soup pot with the butter and olive oil. Don't brown them, just cook 'til they're translucent, about 5 or 10 minutes. Then add the apple cider, beef broth, chicken broth and fresh thyme sprigs. Simmer uncovered on low for thirty minutes. Remove the thyme sprigs and season with salt and pepper.
Ladle hot soup into oven-safe, individual serving bowls or cocottes. Float a slice of French bread in each bowl, and top with extra sharp cheddar cheese. Place bowls on a baking sheet under the oven broiler for a few minutes, until cheese is just melted and turning golden. Watch closely! Garnish with fresh thyme sprigs if desired.
Serve this soup piping hot with a green salad and a glass of of Pinot on a cold, snowy or rainy day. This Apple Cider Caramelized Onion Soup Recipe is our new favorite soup – hope you love it too!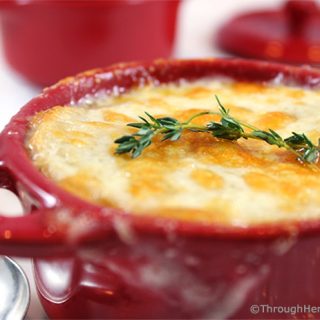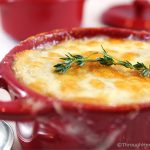 Print Recipe
Apple Cider Caramelized Onion Soup Recipe
Ingredients
4

tablespoons

unsalted butter

3

tablespoons

olive oil

4

large

sweet or vidalia or white onions, sliced thinly into rounds

1 1/2

cups

chicken broth

1 1/2

cups

beef broth

2 1/2

cups

apple cider

10 - 12

sprigs fresh thyme

1/2

teaspoon

salt

1/4

teaspoon

pepper

Optional: additional fresh thyme for garnish

6

slices

sharp cheddar cheese

6

slices

French bread
Instructions
Melt butter with olive oil in a large Dutch oven or soup pot on the stovetop over low to medium heat.

Add in onions and cook over heat 5- 10 minutes until onions are translucent (Do not brown onions.)

Add beef and chicken broths, apple cider and thyme sprigs.

Simmer soup uncovered on low for 30 minutes.

Remove thyme sprigs.

Season with salt and pepper

Ladle soup into individual, oven-safe serving bowls.

Float a slice of French bread on top of the soup in each bowl

Top with a slice of sharp Cheddar cheese.

Place bowls on a baking sheet and place in oven under broiler for a minute or two, or until cheese is bubbly and just turning golden. Watch carefully!

Remove from oven and serve immediately!
You may also like: Arroz Caldo