New England Slow Cooker Beef Stew Recipe: Hearty, tender beef stew simmers all day long in the slow cooker. Rich gravy with tender beef, carrots, onions and potatoes. This easy and delicious stew is on our regular dinner menu rotation all winter long and my boys love it.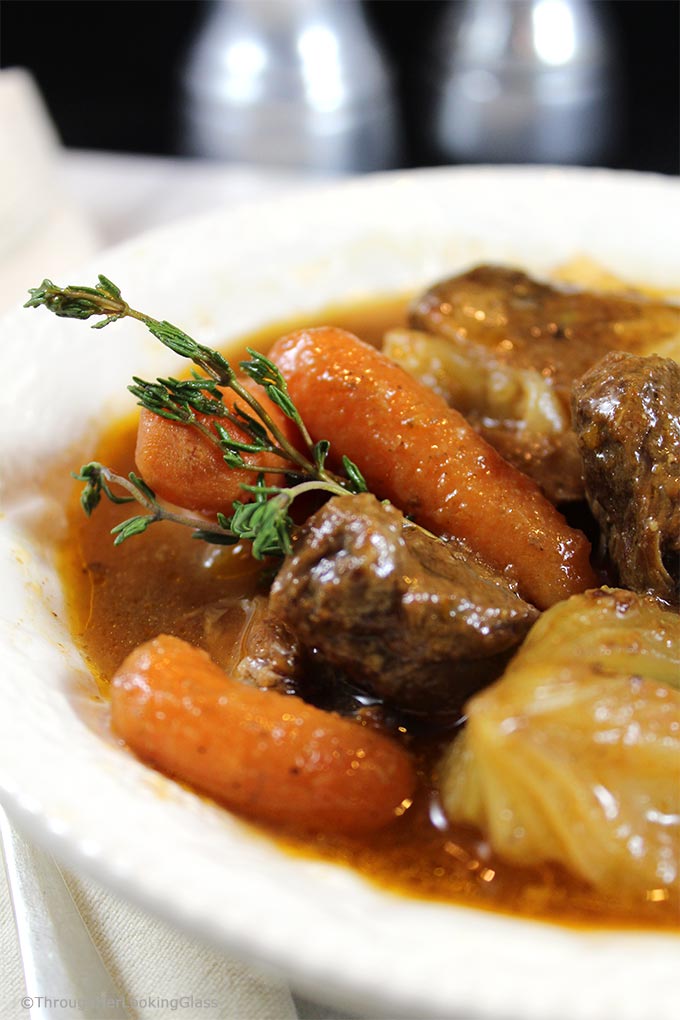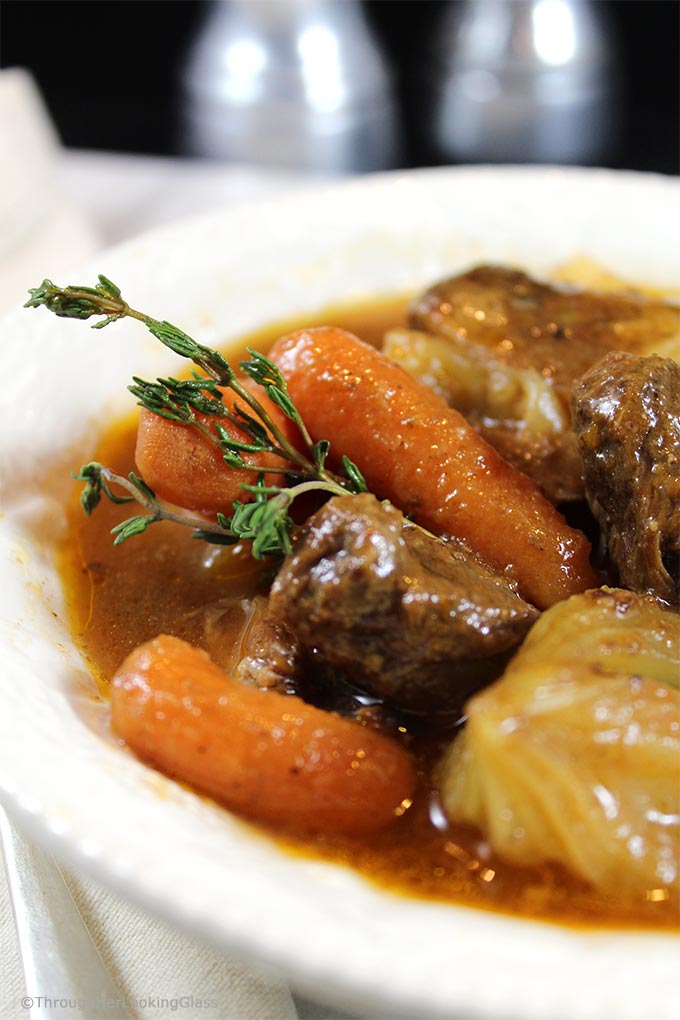 A Nor'easter descended on us here in New England earlier in the week. Snow was expected in large quantities. As you may know, we get kind of excited around here. To us, a snowstorm is the perfect opportunity to stay in, hunker down and enjoy family time. Good books, movies, popcorn, hot chocolate. That's what was on the menu.
Unfortunately those of us in southern New Hampshire didn't get much snow out of the storm this time around. It was more like sleet, rain and ice. And thankfully, we never lost power. But it still made for a great bonus day inside and the boys were thrilled for a day off from school. This New England Slow Cooker Beef Stew was simmering all day.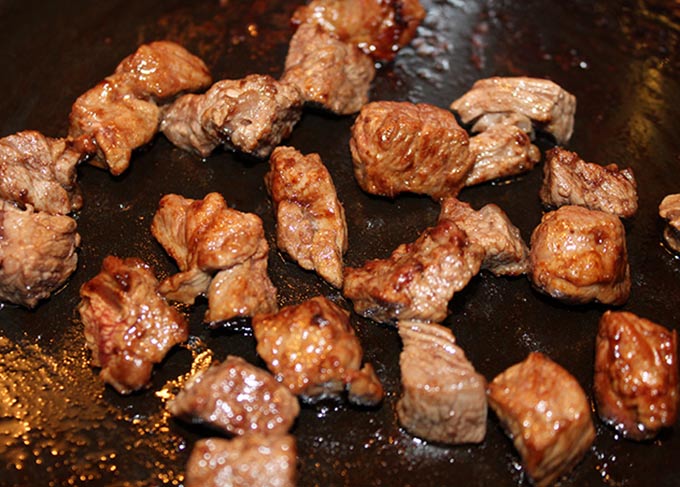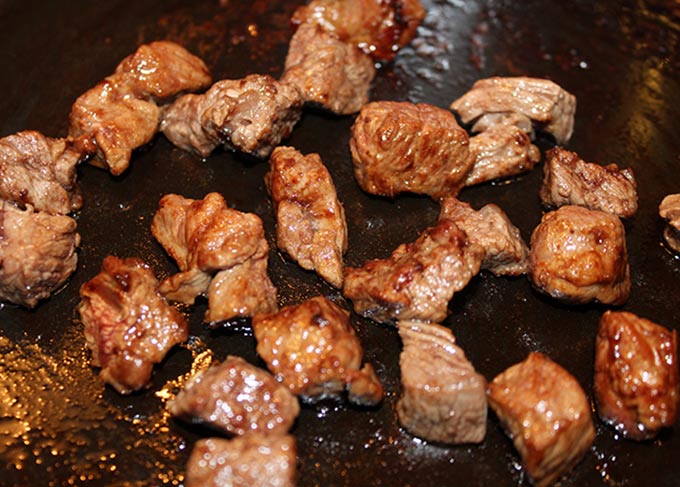 A snow day is the perfect day for beef stew. It smells divine as the aroma wafts through the house. (So tempting!) You want to snatch a little morsel as it simmers…and hope no one comes around the corner to catch you redhanded!
The stew meat is tender, as are the veggies. The rich gravy is perfectly seasoned with Worcestershire, minced garlic, paprika and a surprise ingredient: ketchup! A dash of allspice adds flavor.
This New England Slow Cooker Beef Stew Recipe is a great dish to come together and enjoy around the table as twilight sets in and the shoveling, sledding and snow ball fights are over.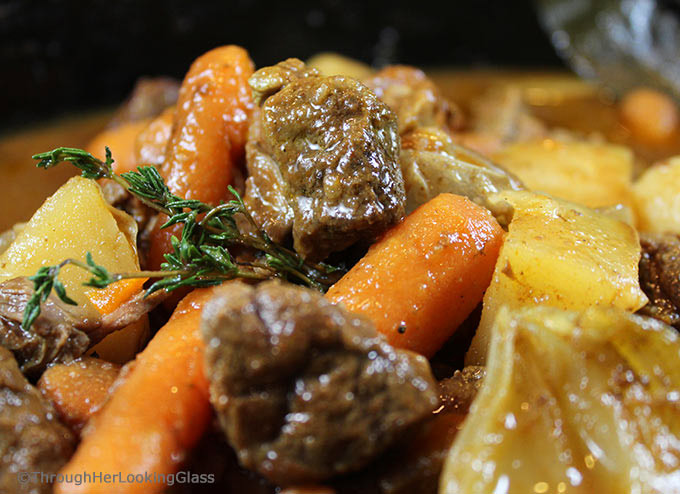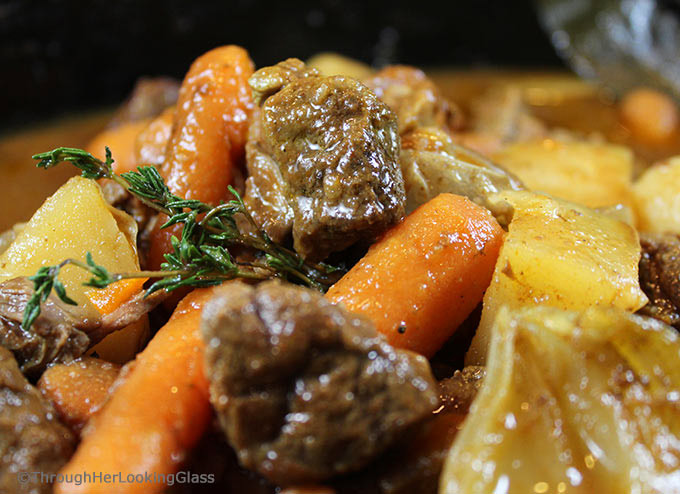 Sear the beef in batches on the stovetop over high heat for several minutes. Turn often, 'til the meat is no longer pink. Add it to the slow cooker. (And don't wash that frying pan! The meat juices, drippings and little brown bits are essential for the gravy you'll be making next.)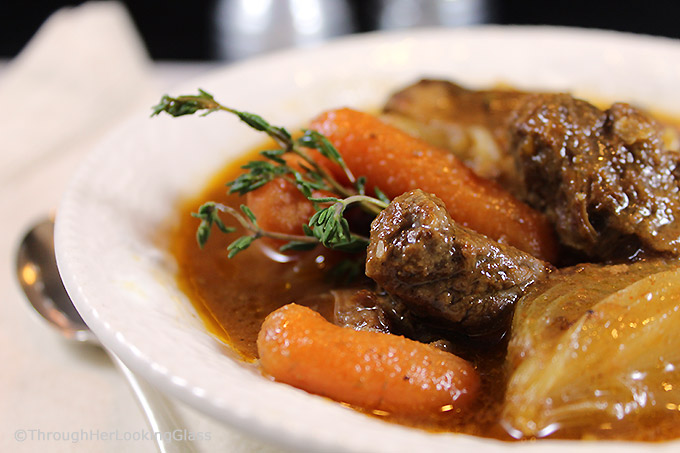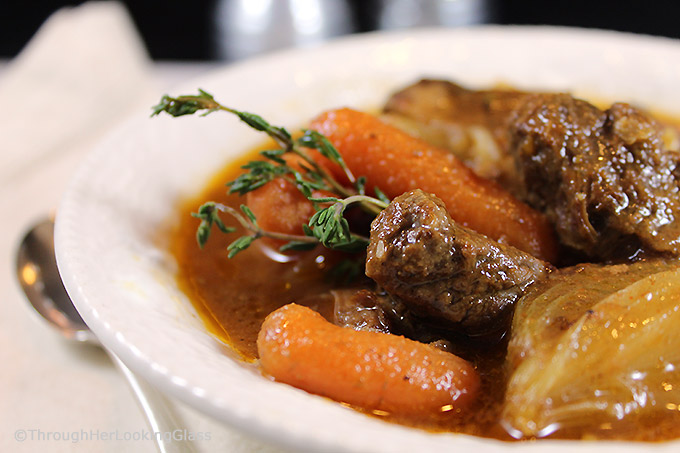 Combine gravy ingredients in the frying pan and bring to a boil until just thickened. Add chopped veggies to the seared beef in the slow cooker, distributing evenly. Pour gravy over all. Cover and cook on low heat for seven to eight hours.
This New England Slow Cooker Beef Stew Recipe smells and tastes absolutely delicious! It's what we love in our bowls at dinnertime on a frigid, snowy day. Hope you try this recipe and let me know how you like it!


(This recipe was adapted from an ancient Better Homes and Gardens beef stew recipe.)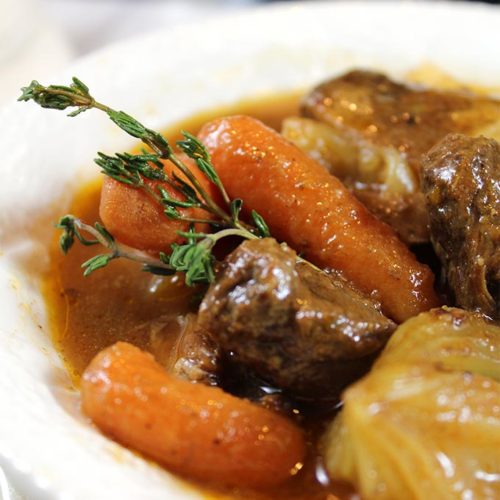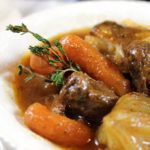 Print Recipe
New England Slow Cooker Beef Stew Recipe
New England Beef Stew cooks all day in the crock pot. A hearty, flavorful stew with rave reviews.
Ingredients
2

lbs.

beef chuck or stew meat

cut in 1/2 inch cubes

2

tablespoons

vegetable oil

1

teaspoon

worcestershire sauce

1

clove

garlic

minced

1

bay leaf

1

teaspoon

salt

1

teaspoon

sugar

1/2

teaspoon

paprika

2

cups

hot water

1/4

teaspoon

pepper

dash of ground allspice

or cloves

1/4

cup

water

mixed with 1 tablespoon flour

1/2

cup

ketchup

1

pound

baby carrots

4

potatoes

peeled and quartered

3

large onions

peeled and quartered lengthwise
Instructions
Heat vegetable oil in large frying pan over medium high heat.

Sear (brown on the outside only) stew meat in batches, turning often.

Place browned meat in 3 quart crockpot.

DON'T WASH THE FRYING PAN!

Separately, in frying pan, combine worcestershire sauce, minced garlic, bay leaf, salt, paprika, hot water, pepper, allspice and ketchup. Whisk well and bring to a boil.

Combine 1/4 cup water with 1 tablespoon flour.

Whisk flour mixture into the boiling gravy. Boil for one minute, stirring all the while.

Remove from heat.

Place all prepared vegetables in the crockpot, mix well with a large spoon.

Pour gravy over all.

Cook on low in covered 3 quart crockpot for seven - eight hours, stirring several times throughout.
Notes
I often double this recipe and cook in a 6 quart crockpot. (We like leftovers.)
For thicker gravy, add an extra tablespoon flour to gravy mixture.
You may also like: Apple Cider Caramelized Onion Soup