A generous slice of this Glazed Lemon Blueberry Pound Cake is especially scrumptious accompanied by a tall glass of fresh squeezed lemonade with a sprig of mint. Tender, buttery, dense lemon pound cake is studded with fresh, juicy blueberries for the perfect summer combo.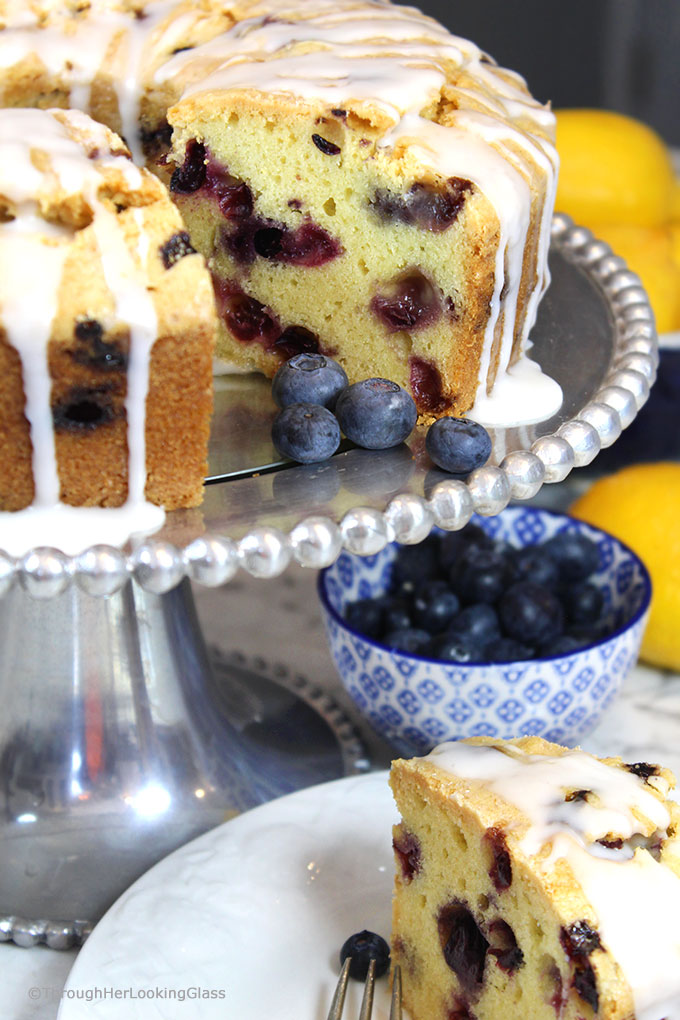 This recipe uses lemon extract in the cake and lemon juice in the glaze, for a great lemon pop. I've posted several lemon recipes back to back this spring because I love lemon in the springtime and summer so much. Lemons on the brain.
For me, baking with fresh lemons signals sunshine and warmth. And the daffodils in my front yard are just about to pop! When spring finally arrives here in New Hampshire and the bright green shoots are poking up, it's time to bake something special to celebrate.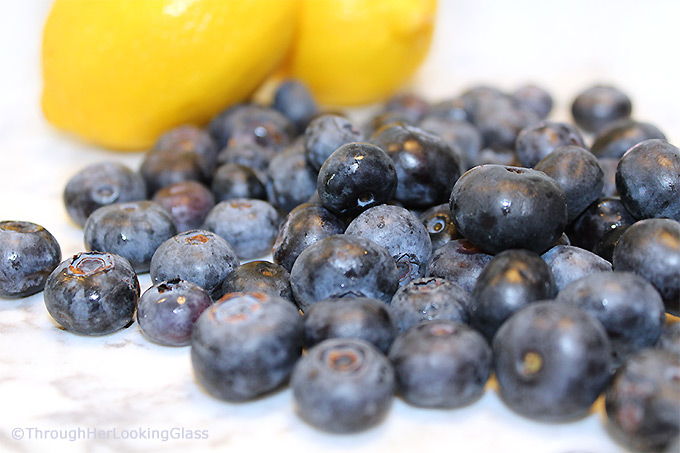 It was a long winter here and I didn't do much baking. It wasn't just the snowy weather (read: blizzards) that hit us hard in March.
There was also a lot of sickness in the house (flu, mono, colds, you name it) and big changes in routine and therapies for Hudson, our littlest guy with DS and autism. (Transitions are tough on him.) And then there was that kitchen reno that kept us busy in February and March! Six weeks without an oven will slow down any cake baking production for sure! LOL.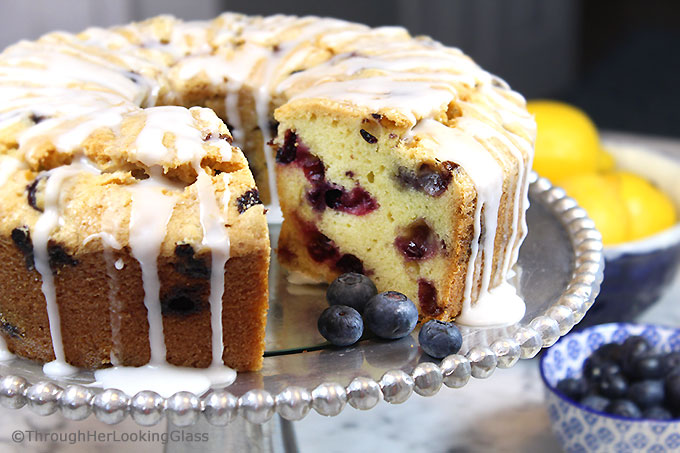 So I'm extra thankful to be through that rough patch of the year with sickness and construction. Today I'm celebrating our new kitchen and spring's arrival by baking this buttery pound cake that pops with delicious lemon flavor and blueberries.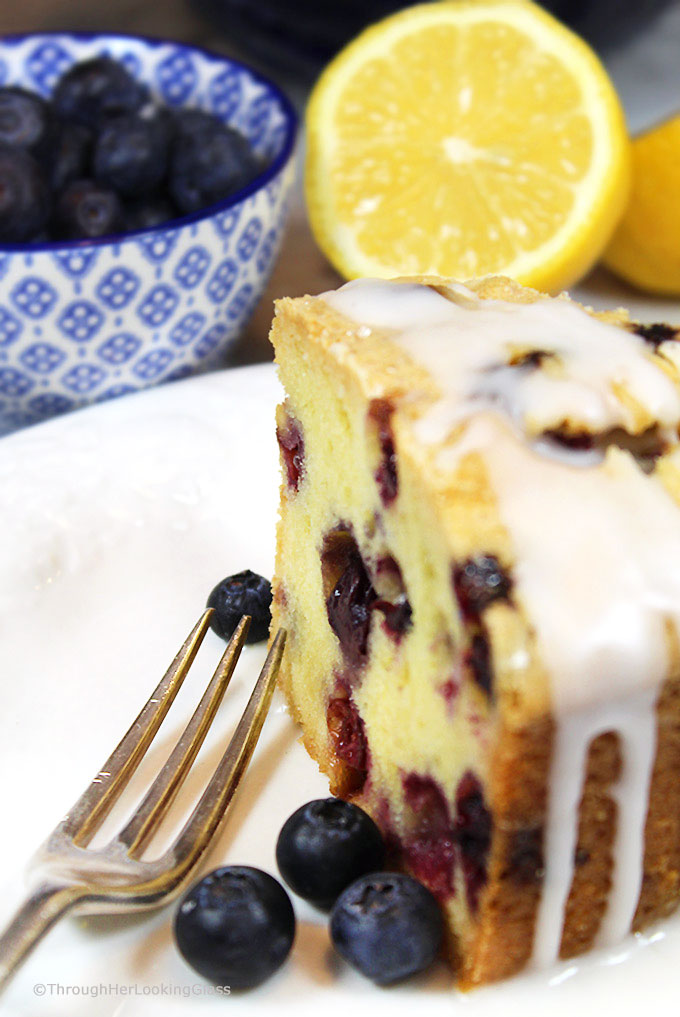 I prefer using fresh blueberries in this cake, but frozen will do in a pinch. Flouring the berries and folding them in very gently keeps the cake batter from turning blue. If you do use frozen, I suggest thawing and draining the berries first before flouring them.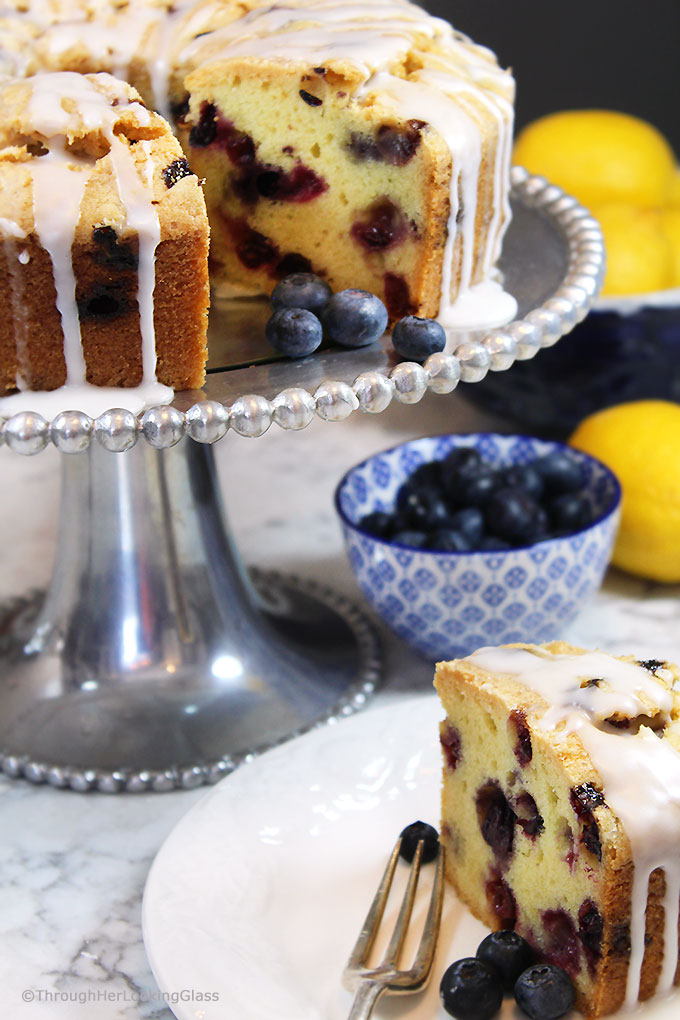 So why flour the blueberries anyway? Well, it's just a little culinary genius I think. (Not mine mind you.) Some baking guru along the way discovered that if you flour berries before adding them to a recipe, it keeps them evenly distributed in the batter during baking and prevents them from sinking to the bottom.
I'm not sure all the science behind it, seeing as I'm not exactly a scientist. (I never even memorized the periodic table in high school. Oops.) But flouring the berries does seem to help. So don't forget! 🙂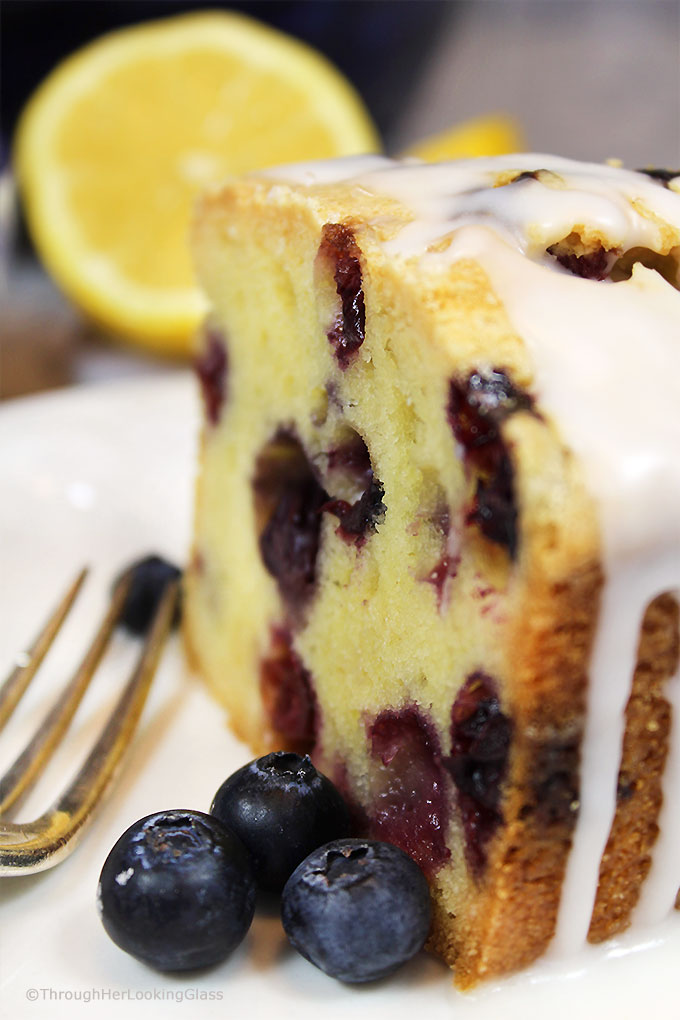 Another interesting fact about this Lemon Blueberry Pound Cake recipe is that it doesn't use lemon juice for that wonderful lemon flavor pop. We're using lemon extract instead. Not lemon oil. Lemon oil has a stronger, intense flavor that would be overwhelming in this pound cake.
And lemon juice is acidic and it would take a ton of lemon juice to flavor this cake adequately. The acidity of the lemon juice could also affect the rise.

So lemon extract it is, and you can find pure lemon extract in the baking aisle with other baking extracts like vanilla. And save the fresh squeezed lemon juice for the simple glaze.
I must tell you, the fabulous aroma of this cake baking in my kitchen right now is over the top incredible. I'm just about to pull it out of the oven now. It's golden brown and smells of buttery lemon cake. I'm already thinking about who to share this cake with, because it's pretty obvious I absolutely should not be left alone with it. Accountability is always good, especially when it comes to pound cake.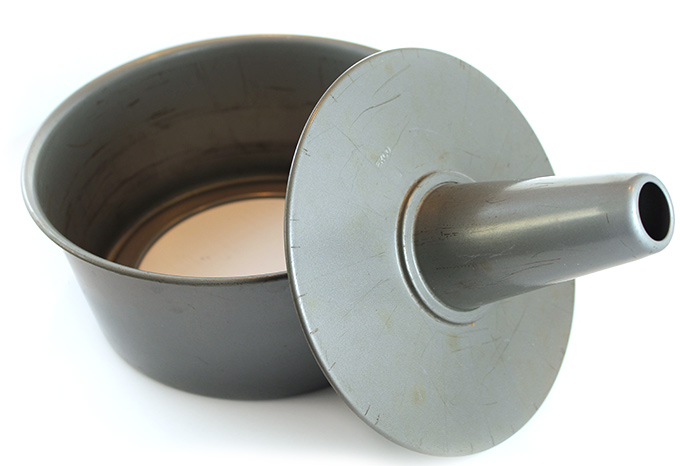 This is the two piece 10″ tube cake pan I used to bake this cake. Happy baking!
Tips on making this Glazed Lemon Blueberry Pound Cake:
Grease and flour your tube cake pan.
A two piece, 10″ tube pan works well for this cake.
Wash and drain the berries first, then flour them with 1/4 cup of the flour.
Be sure to hand mix in the flour mixture to the wet ingredients. This keeps the batter from getting over-mixed, which produces a tough cake.
Also be sure to very gently mix in the floured blueberries at the end. This keeps the berries from breaking open and turning your cake batter blue with blueberry juice. (Maybe you want a blue cake, and if so disregard what I just said.) But I prefer a light lemon colored cake studded with blueberries – for contrast.
If you want to bake this in your convection oven, just drop the temperature down to 300°.  You might have to cook it a little longer though. (I did.)
The glaze is super easy to make – just whisk together the lemon juice and powdered sugar and drizzle over the cooled cake.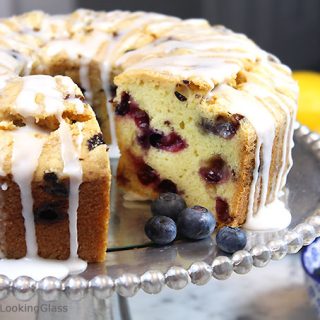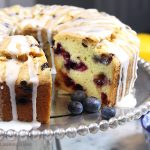 Print Recipe
Lemon Glazed Lemon Blueberry Pound Cake
Ingredients
Cake:
1

pint

fresh blueberries

washed and drained

3

cups

all purpose flour

divided

1

teaspoon

baking powder

1/2

teaspoon

salt

2

sticks unsalted butter

at room temperature

2

cups

white

granulated sugar

4

large eggs

at room temperature

2

tablespoons

lemon extract

optional: 1 tablespoon sparkling white sugar or turbinado sugar
Glaze:
1

cup

powdered sugar

2

tablespoons

fresh squeezed lemon juice
Instructions
Cake:
Preheat oven to 325°.

Toss washed, drained blueberries with 1/4 cup of flour and set aside.

In a small mixing bowl, sift remaining 2 3/4 cups flour with baking powder and salt and set aside.

Separately in large mixing bowl, cream butter and sugar together with an electric hand or stand mixer.

Add eggs, one at a time, beating well after each addition.

Add lemon extract and beat until fluffy.

Fold flour mixture (by hand) into batter until well blended.

Gently stir in blueberries, being careful not to smash berries.

The batter will be very thick.

Spoon batter into greased and floured 10" tube cake pan.

Optional: Sprinkle with 1 tablespoon sparkling white or turbinado sugar.

Bake one hour and 15 minutes at 325° or longer, until cake is golden brown and tests done with a cake tester or toothpick.

Cool cake in tube pan for 10 minutes.

Use a sharp knife to carefully separate cake from the edges of the pan and around the tube in the middle.

(If it's a 2-piece tube pan you're using - also use the knife to separate the cake from the bottom of the pan.)

Carefully remove the cake from pan and cool on a baking rack.
Glaze:
In a small mixing bowl, whisk together powdered sugar and lemon juice. Add more lemon juice if you want a thinner glaze.

Drizzle glaze over cooled cake with a small spoon.
Notes
If using frozen blueberries, thaw and drain first.
You may also like: Lemon Curd Easy Thumbprint Cookies