Happy weekend everyone – hoping it's blue skies and fluffy clouds wherever you are. It's been warm around here…finally! We hit the jackpot with 80's midweek and haven't looked back.
Look what popped in my front yard this week! Made me so happy.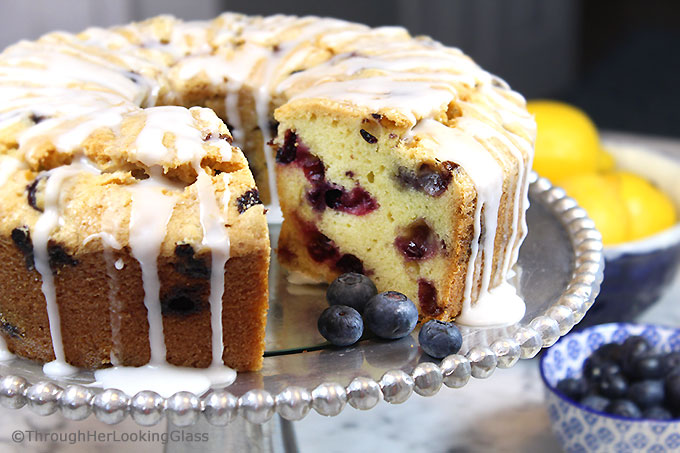 Baked this cheerful pound cake on Tuesday that pops with lemon flavor and fresh blueberries! Yay spring.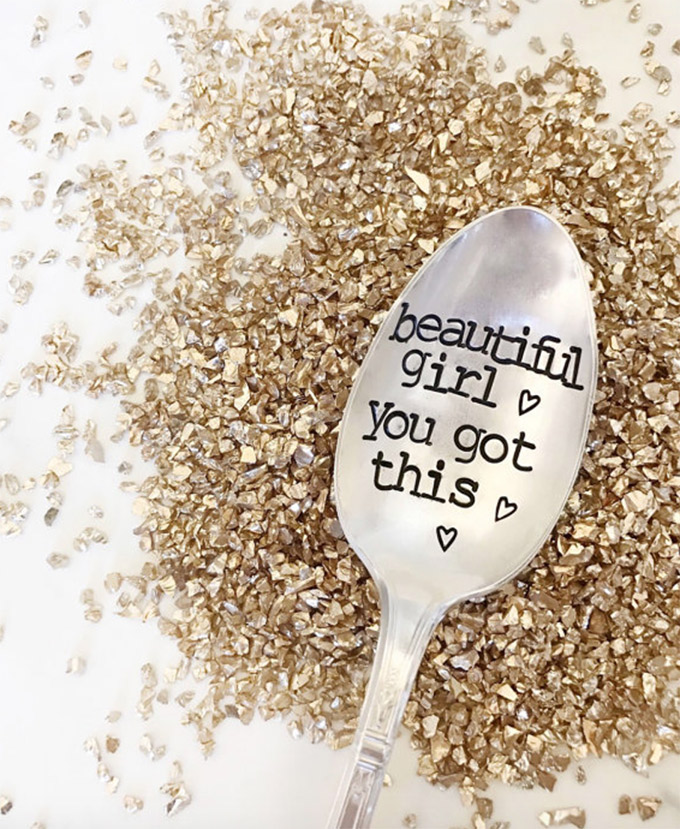 Photo creds: For Such a Time Designs
I received several beautiful imprinted silver spoons as gifts from a sweet friend over the past year, made by For Such a Time Designs. I love them. Perfect with a cup of tea or coffee. I use them often, smile, and think of her.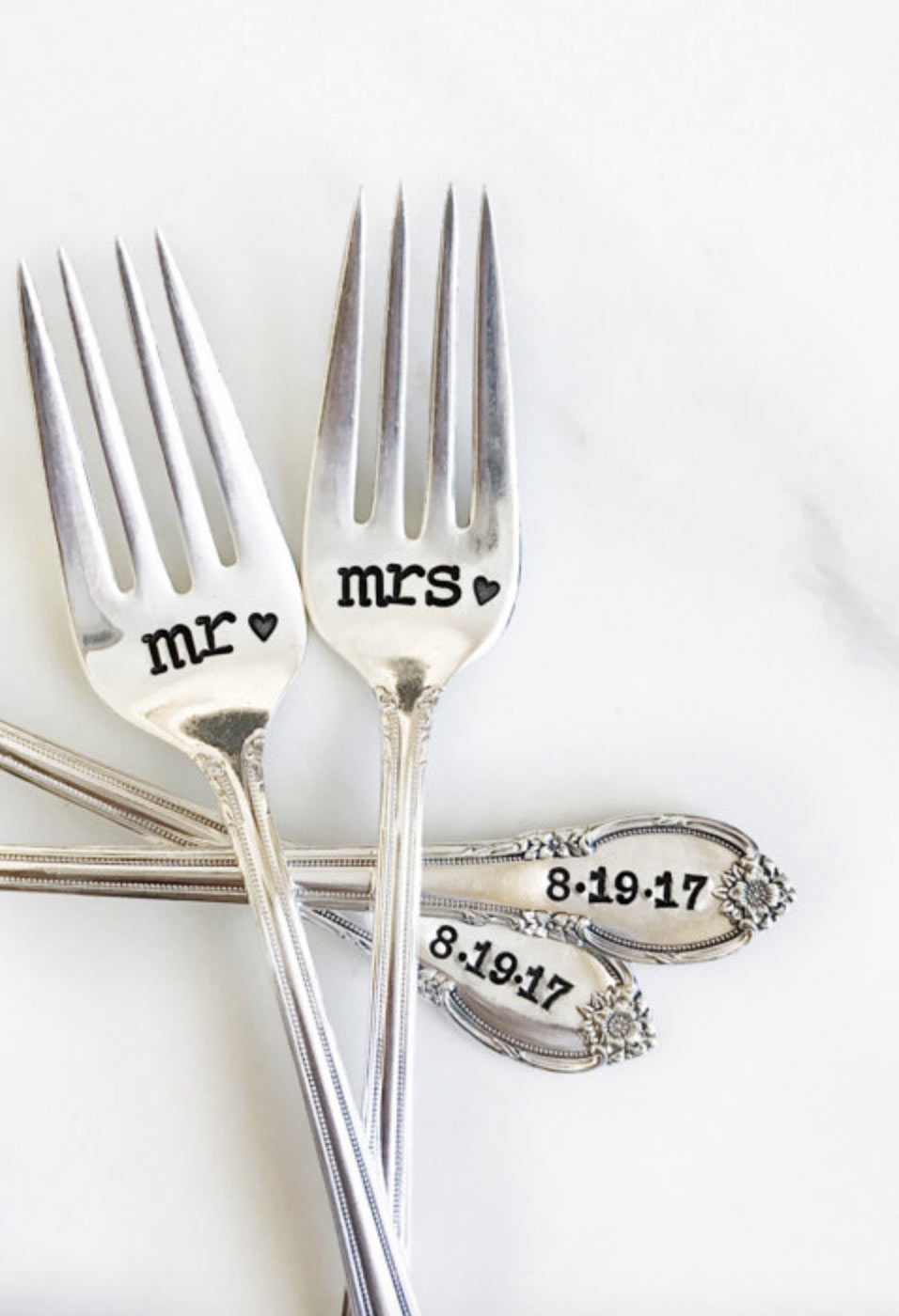 Photo creds: For Such a Time Designs
It's also wedding/bridal shower season. Finding the perfect gift for the lucky couple can be like searching for a needle in a haystack. Gifting a fork set imprinted with their wedding date is a meaningful, whimsical gift. Not to mention super affordable. Perfect for that first bite of wedding cake and celebrating anniversaries every year after.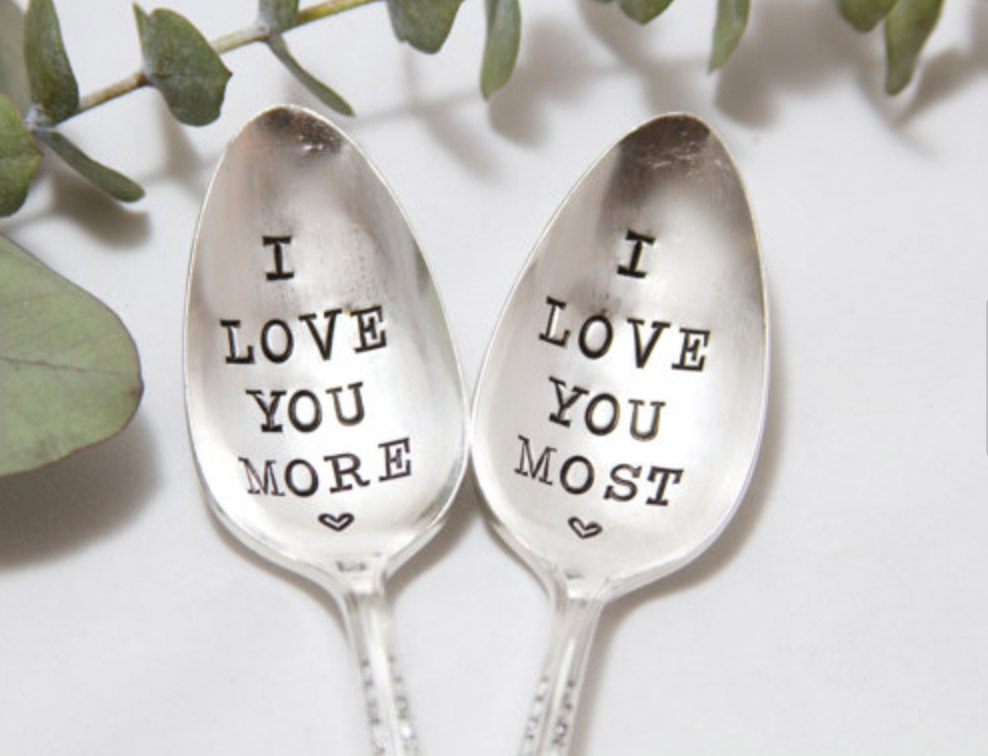 Photo creds: For Such a Time Designs
Shop unique silver spoon designs for many different occasions (or just for fun!) here.
When bad things happen to (very) good dogs
I've not yet shared here about what happened to our very sweet dog Chloe two weeks ago. We got her from a rescue as a therapy dog for Hudson last fall after combing the inventory of every rescue in the state for weeks. (Hudson has Down syndrome, autism and a great fear of dogs. If you can't beat 'em, join 'em.)
So we were needing a very loving, patient, calm dog. The kind that's nearly half dead, if you know what I mean. LOL. Chloe fit the bill! She's far more interested in loving pats than table food, though a crunchy pig's ear brings endless tail thumps. (That and a good bum scratch.) If you scratch behind her ears juuust right, she purrs like a kitten…
Anyway, Jon was taking her out for a quick jaunt before dinner a few weeks ago. They were practically in front of our house when he stopped to chat with some neighbors who were also walking their dog. Just a friendly hello, how are you doing kind of thing. Without warning or provocation, their dog, who is significantly larger than Chloe (also leashed) lunged  and clamped onto her head and ear.
The dog wouldn't unclamp and paid no attention to its owner. Jon managed to pry its jaws open. Of course poor Chloe is crying and screaming meanwhile as the teeth are sinking in. Jon finally gets the jaws pried open, then the dog clamps down AGAIN. On her throat and neck this time, and shakes her.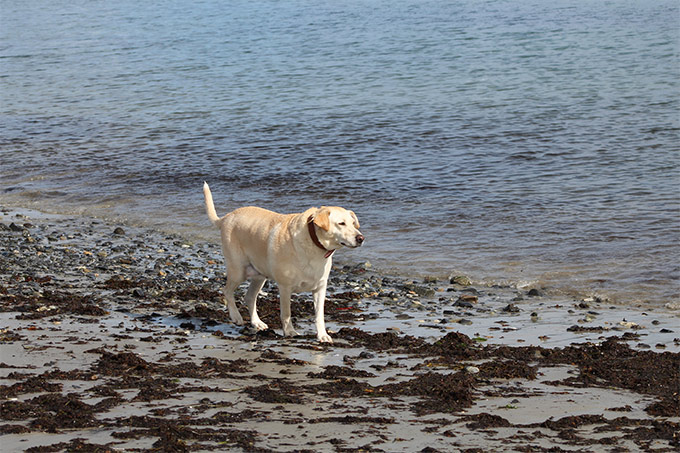 Chloe on her first visit to the beach last fall
All I can say is I am SO THANKFUL I wasn't there and so grateful none of my kids were there to see this either. In the process of prying the dog off the second time, Jon got bitten and bruised. The other dog owner was also bitten. Jon's injuries weren't terrible, but Chloe's were. We rushed her to the vet ER for staples, stitches and glue. The inside of her right ear was bitten badly and there were deep puncture wounds in her neck, throat and head. I'm not posting pictures of her injuries here because they were pretty gruesome – blood and gore.
To the other dog owners' credit, they did pay for Chloe's pricey vet bill and dropped in to check on her the next day. They felt terribly about what had happened and are taking their dog to a dog behavior specialist. Scary stuff. It all happened in a split second and Jon says it was as if time stood still when it all happened. So unexpected.
The excellent news is that Chloe is healing up well. Her wounds have scabbed over and the hair on her head, ear and neck is just starting to grow back in. And the staples behind her ear were removed yesterday. She should be good as new in not too long. Exhale.
Thought: "It's extraordinary how extraordinary the ordinary person is." – George Will
Reflective beach read I loved here!
Wishing you a beautiful, restful weekend!
XOXO,
allie