French-style crepes are easy to make at home! And these Homemade Fresh Strawberry Crepes are the perfect weekend treat. Make crepes ahead, then fill with fresh strawberries and cream just before serving.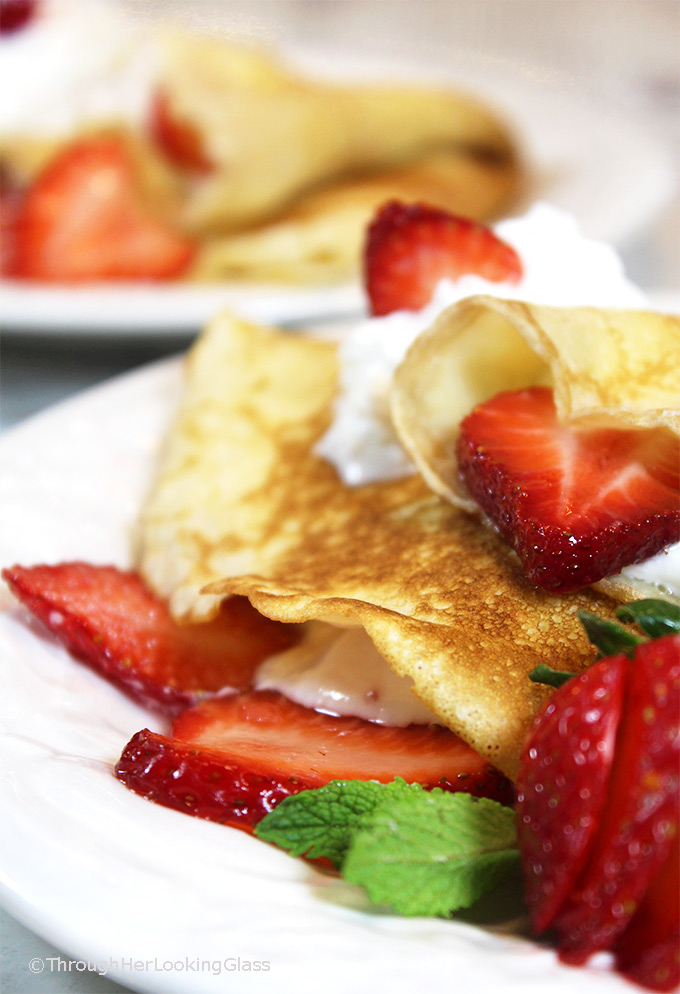 So what is a French-style crepe anyway? By definition it's a very thin pancake often filled with meat, cheeses, fruits and/or fillings. Crepes are even thinner than Swedish pancakes, and they're either sweet or savory. Think breakfast, lunch, dinner, dessert and snacks.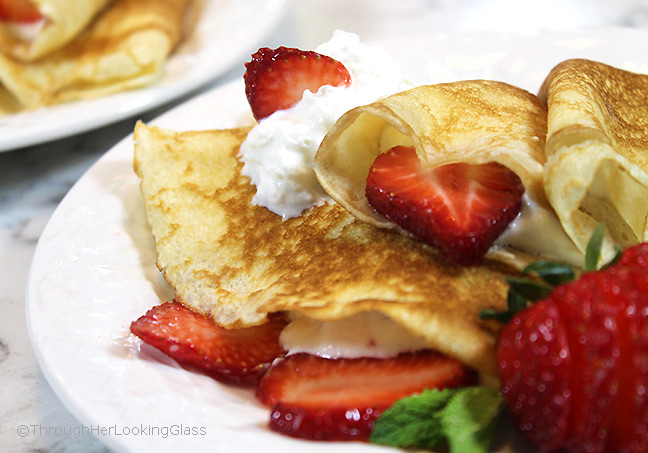 Crepes: the perfect weekend breakfast!
When the weekend comes, it's nice to gather around the breakfast table and connect over delicious fare. We can get in the same rut around here for weekend breakfasts. Omelets or scrambled eggs, bacon or sausage, coffee cake and fresh fruit. It's a nice menu, but I wanted to try to something special and a bit gourmet to surprise the boys.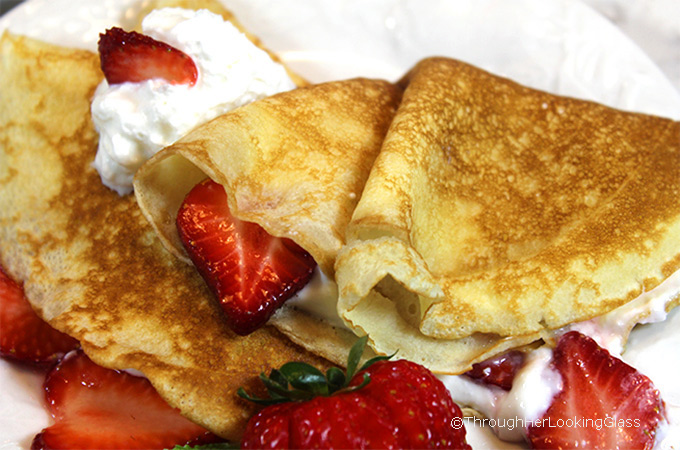 Once in a blue moon we do go out for breakfast, but that gets expensive, especially if you have a family of growing boys like ours. And when they start ordering the large juices, well you can just throw in the towel. The battle has already been lost.😳 We spent a grand total of $80.99 plus a $15 tip on a family breakfast out just last weekend… ouch! (It wasn't even a fancy schmancy breakfast by the sea, either. Basic omelets etc.)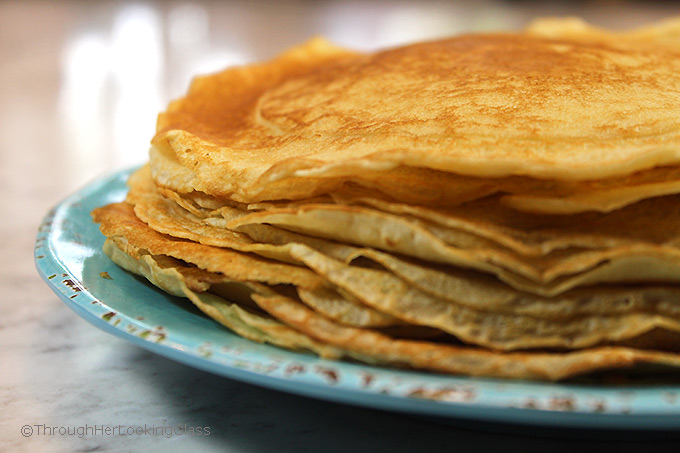 So I've always wanted to make homemade crepes. And then some friends recently downsized and gave me a lovely non-stick Le Creuset 7″ skillet. Very exciting. Once I had the right skillet, I knew I'd try my hand at making crepes. I always thought crepes would be hard to make and that they were always served hot. (Why?)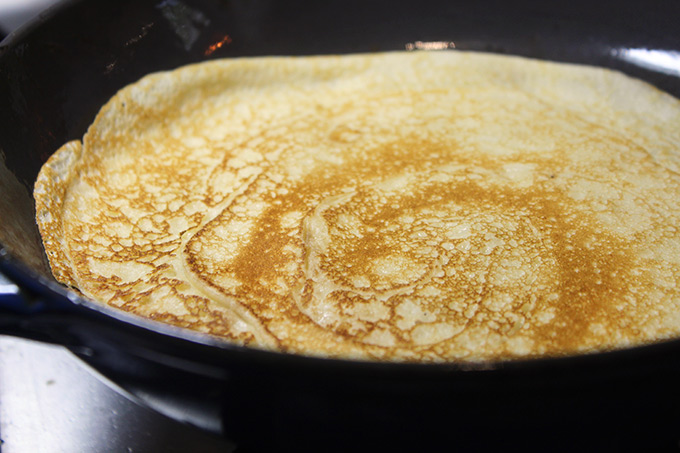 Since we all love fresh seasonal berries, I thought I'd make Homemade Fresh Strawberry Crepes first. The filling combines easily and if you have sweet strawberries in season, it's hard to screw this up.
I was very pleasantly surprised at how easy the process is. The crepes were tender and delicious, and the boys and I enjoyed them for lunch today.
The most important thing I learned is that crepe batter is super simple to make and only uses a few ingredients. I also learned that crepes cook very quickly. You can make them ahead and stack/store them in the refrigerator, then fill them just before serving. So next time I serve crepes for weekend brunch, I'll make the crepes the night before, then stuff them in the morning. Wonderful timesaver!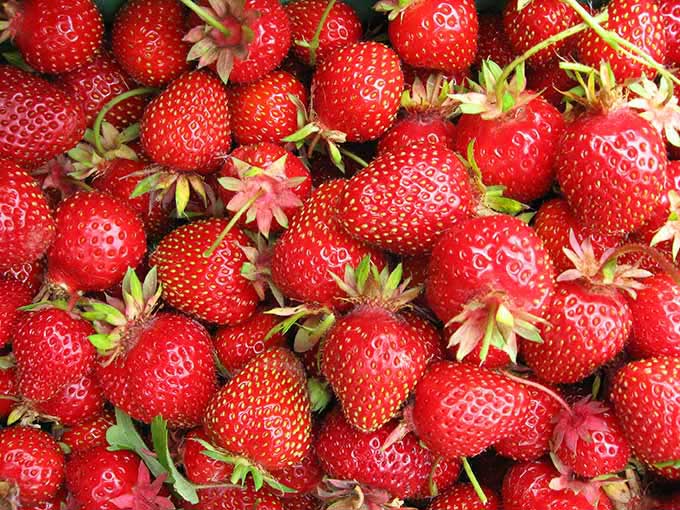 How to make Homemade Fresh Strawberry Crepes: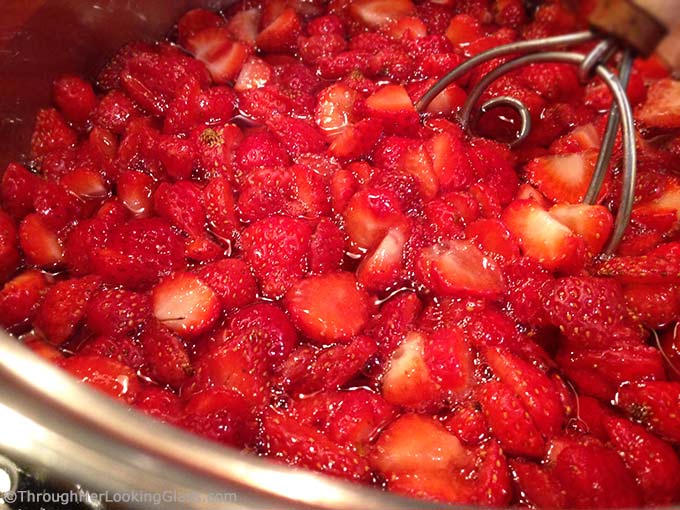 Slice up the strawberries, toss them with sugar and let them macerate. (Macerate = draw out the sweet juice!)
Then whip up the easy crepe batter in the blender. (So far so good.)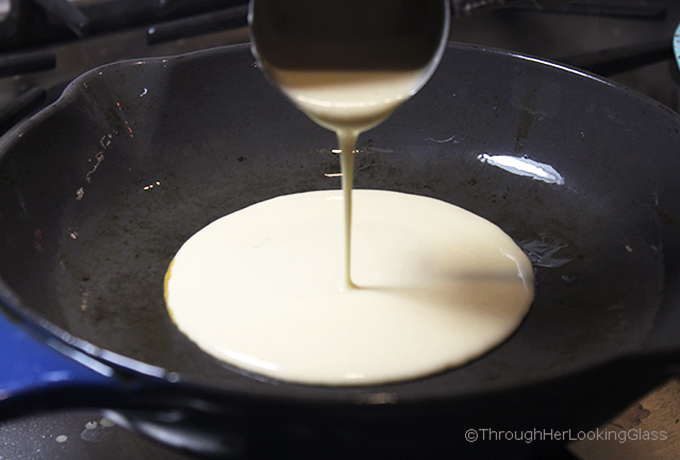 Then heat the skillet over high heat and spray some non-stick cooking spray on it. Pour in a scant 1/4 cup of batter, and tilt the skillet to swirl the batter evenly all around. Return to the heat.
When the top starts to dry out, flip it over.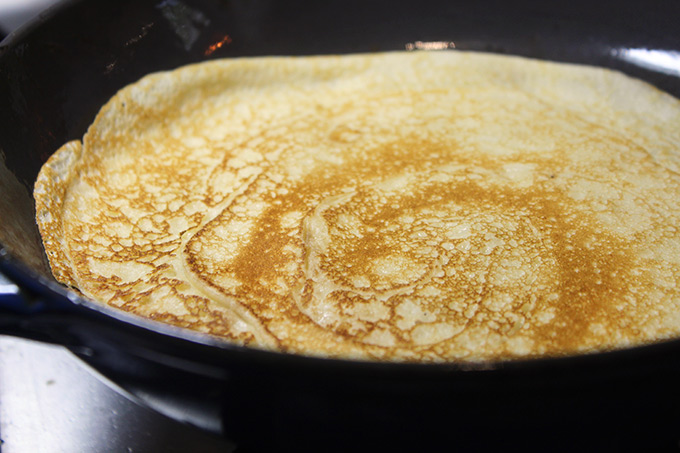 And voila! A beautiful, golden crepe. Not bad, eh?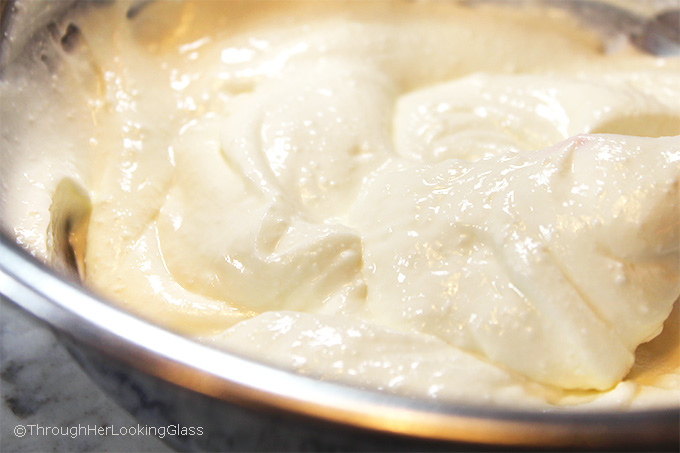 While the crepes cool, whip up the easy filling in the blender or food processor – just a few ingredients!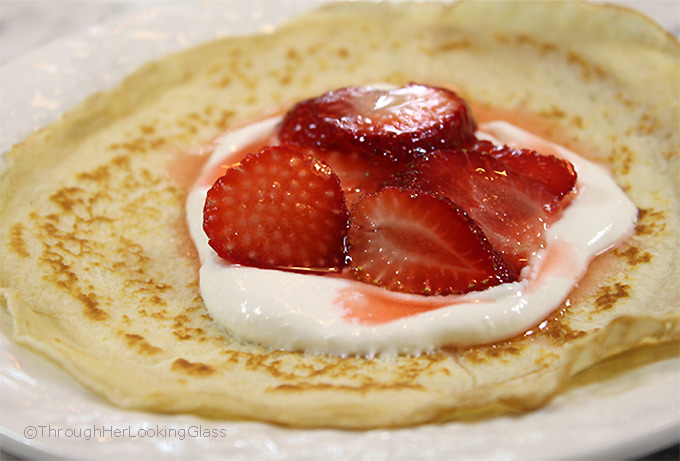 Spoon creamy filling and fresh strawberries in the center of a crepe, then fold in half and in half again. Garnish with more fresh berries, whipped cream and a fresh herb sprig if desired.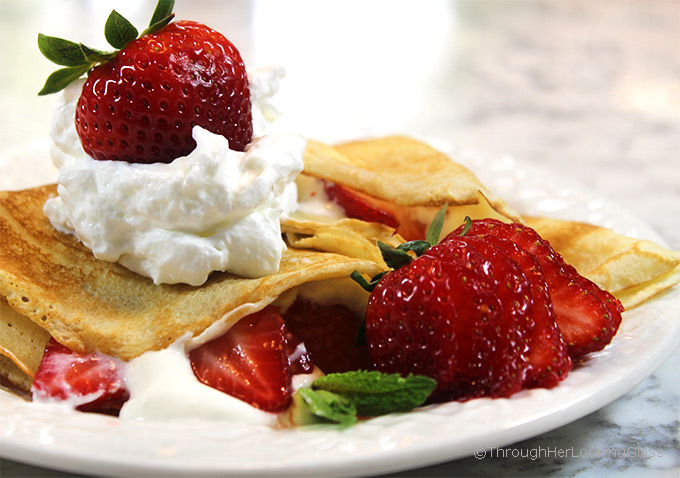 And there you have it folks: scrumptious Homemade Fresh Strawberry Crepes for all to enjoy! Gourmet and delicious.

Tips for making perfect crepes:
Skillet should be nice and hot. Heat over high heat initially, but you'll probably need to turn it down to medium once the skillet is fully heated. (Definitely turn down the heat if the cooking spray starts smoking.)
I used non-stick cooking spray 'Pam' with good success.
A non-stick skillet is nice if you have one. The 7″ size worked well for me.
It should take about 1-3 minutes to cook each crepe, depending on how high the heat is.
Flip your crepe when it starts to look dry on the top.
If you love making (and eating!) crepes, a crepe pan is a good investment. It's non-stick and has lower sides for easier access and flipping.
Use a thin metal spatula to easily loosen edges to remove and/or flip crepes.
Cool crepes before filling.
Place filling(s) on top, then roll or fold crepes.
Other crepe recipes you may enjoy: Blueberry Crepes with Honey Whipped Cream, Lemon Cheese Cake Crepes and Paleo Crepes with Strawberries.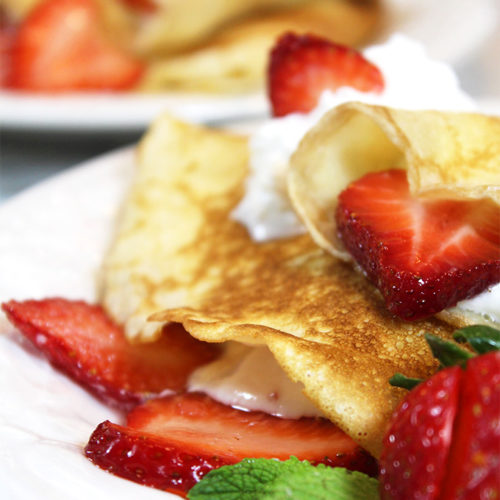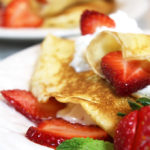 Print Recipe
Homemade Strawberry Crepes
Easy recipe to make Homemade Strawberry Crepes.
Equipment
7" non-stick skillet

thin metal spatula

non-stick cooking spray, like Pam
Ingredients
Crepes:
2

large

fresh eggs

room temperature

1

cup

milk

1

cup

flour

all purpose

1

tablespoon

butter

melted

optional 1-2

tablespoons

white granulated sugar

(if you prefer a sweeter crepe)
Strawberry Filling:
3

cups

strawberries, fresh

sliced

1/3

cup

white sugar

1

cup

cottage cheese

1

cup

sour cream

1/2

cup

powdered sugar

1

teaspoon

vanilla extract

pure

whipped cream for garnish
Instructions
How to make crepes:
Process milk and eggs together in blender for 30 seconds.

Keep speed low, and slowly add flour and butter, processing just until blended.

Heat skillet over high heat until thoroughly heated.

Lightly grease a 7" skillet with non-stick cooking spray.

Pour scant 1/4 cup of batter onto heated skillet, picking up pan by the handle and tilting pan so the batter swirls over entire bottom of pan evenly.

Cook until bottom of crepe is turning golden, 1-2 minutes.

Gently loosen edges from skillet and flip to brown the other side.

Remove from skillet, and repeat process until you have cooked all crepes.
Strawberry Filling:
Hull and slice strawberries. Lightly toss with white sugar. Set aside.

Whip cottage cheese in a blender or food processor on high speed. Process until smooth.

In a small mixing bowl, stir in smooth cottage cheese, sour cream, vanilla extract and powdered sugar.

Fill crepes with a dollop of cheese mixture and strawberries on top.

Fold crepe over in half and then in half again.

Top with more berries and whipped cream.

Garnish with fresh green lemon balm or mint sprig.
You may also like: Strawberry Cheesecake