This Three-Cheese Gruyere Mac and Cheese is the best, most sophisticated, and cheesiest homemade mac and cheese ever! Combine sharp white cheddar, coarsely grated Swiss-style Gruyere, and dry Jack in this recipe to make the ultimate macaroni and cheese.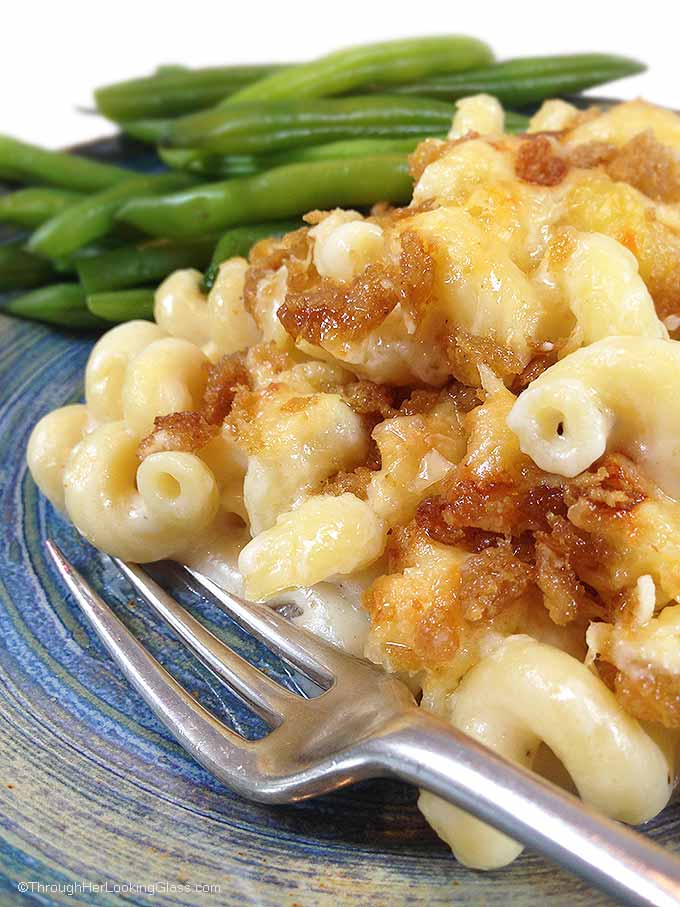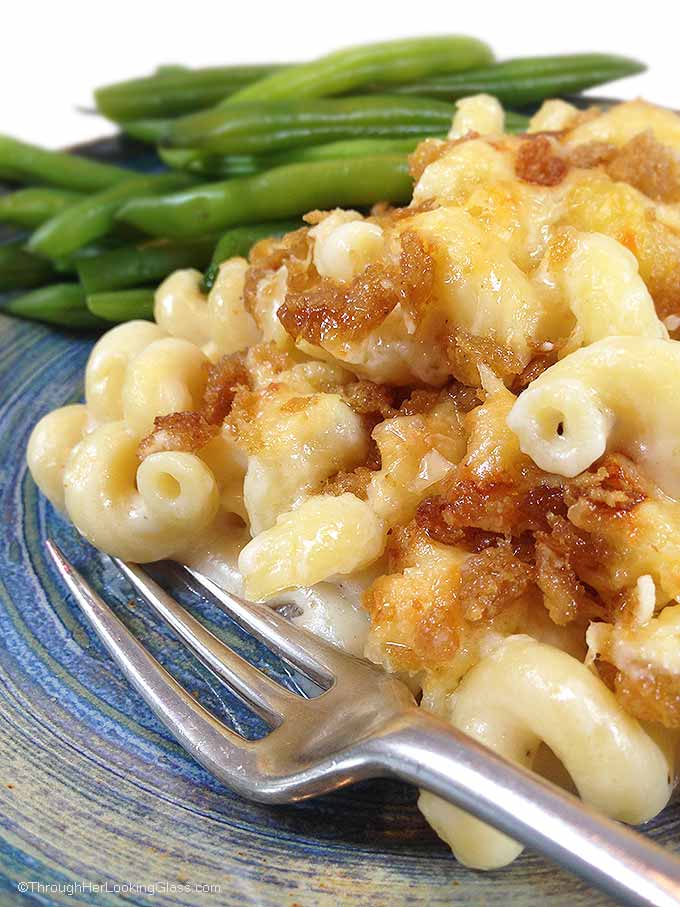 The Best Homemade Macaroni and Cheese
This Ultimate Three-Cheese Gruyere Mac and Cheese recipe comes from a friend who makes it often. She got the recipe from a newspaper clipping years ago. Her friends always request it, and she brings it to dinner parties, pot lucks, and get-togethers. And after making it myself, I know why! Cheddar, gruyere, and dry Jack cheeses meld together in this recipe to yield the cheesiest, creamiest homemade macaroni and cheese. It's the perfect side dish to make all year long, but I especially love making it in the winter. This mac and cheese will warm you up from the inside out and keep you full to enjoy those snow days!
I think the key ingredient in this dish is the gruyere. So, if you're a Gruyere fan, you'll go gaga over this dish. This homemade mac and cheese recipe has plenty of cheesy sauce that will erase any memories of dry, flavorless, store-bought mac and cheese.
And don't forget the bread crumbs! Make the crispy bread crumb topping by sautéing fresh bread crumbs in melted butter and sprinkle on top just before baking. It's the perfect crunch before every creamy, cheesy bite!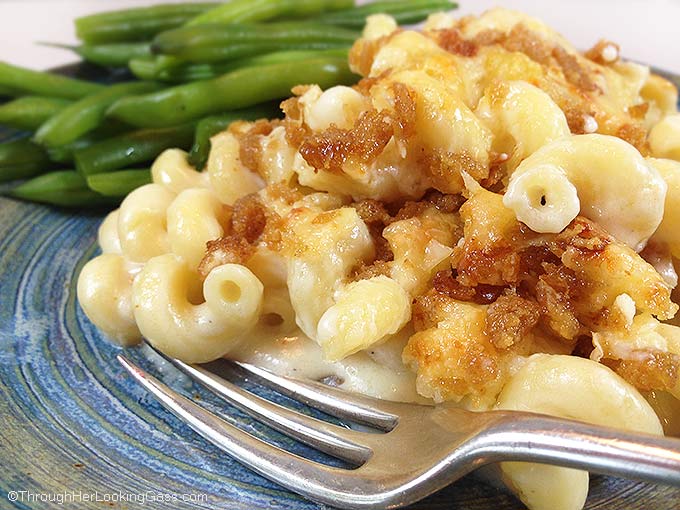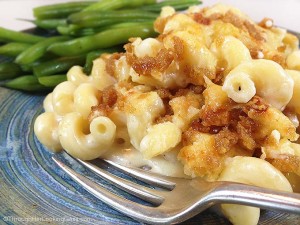 Key Ingredients
While this recipe may sound sophisticated or even complicated, it truly could not be more simple to make! And the best part is that you likely have most of the needed ingredients in your fridge and cabinets right now.
To make the best homemade mac and cheese, you'll need dry macaroni (or whichever short noodle pasta you prefer), unsalted butter, fresh bread crumbs (or store-bought, if easier), all-purpose flour, whole milk (or any milk you have on-hand), salt, black pepper, and cayenne pepper.
Additionally, you'll need the three cheeses for this three-cheese macaroni and cheese — sharp white cheddar, Swiss-style gruyere, and dry Jack. It's crucial that your cheese is freshly grated. This ensures that they all melt evenly and that you get a creamy cheese sauce.
Tip: Feel free to change up the cheeses used in this mac and cheese recipe to best fit your family's palette. Parmesan, Monterrey Jack, mozzarella, or yellow cheddar would also work.
How To Make Gruyere Mac and Cheese
In a large pot, boil the pasta until al dente. Drain, rinse with cold water, and set aside.
Meanwhile, ,. In a saucepan, melt the butter over medium heat and add breadcrumbs and toast those for a minute or two.

Set the breadcrumbs aside and in the same pot, prepare the cheese sauce by melting the rest of the butter. Spoon the flour and stir until cooked for a minute or so. Then slowly stir in hot milk, keep whisking until all the milk is incorporated and the sauce starts to thicken. Take the pot out of the heat, and add the grated cheeses and seasonings. Toss the macaroni and sauce together in a casserole dish and sprinkle some more of the cheese, then finish up with the breadcrumbs on top.
Bake in preheated oven on 375 degrees F for 25-30 minutes or until the breadcrumbs are golden brown on top. Serve warm, and enjoy!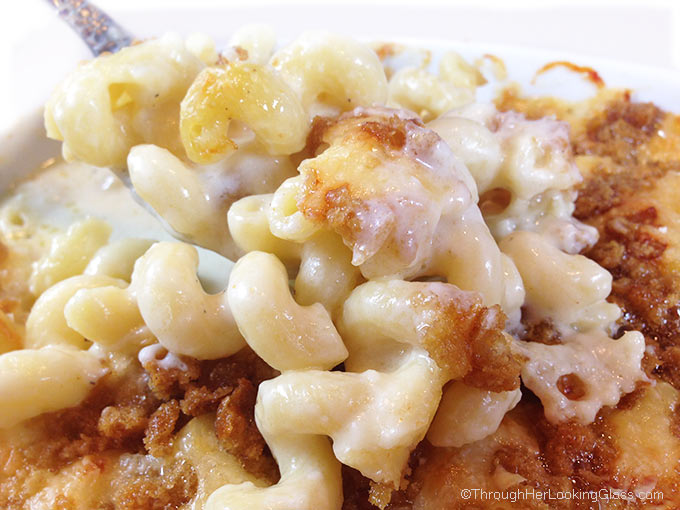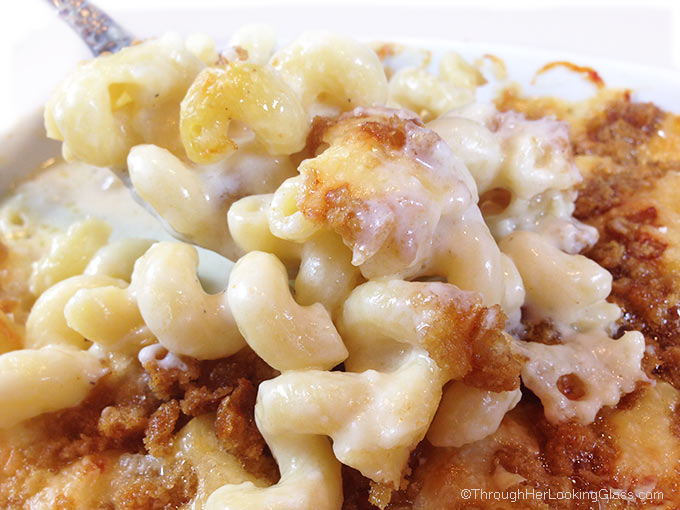 Tips and Tricks
Boil the pasta until al dente or slightly underdone. The pasta would continue to cook with the sauce in the oven and get to the right consistency.
Add the milk into the sauce slowly while constantly whisking to avoid creating any lumps from the flour.
Shred your own cheese, as it has more flavor and would incorporate better and get a more flavorful and creamier sauce.
What To Serve with Three-Cheese Mac and Cheese
While this homemade mac and cheese is typically served as a side dish, it's honestly robust enough on its own to be an entree as it is, You can also grill and slice some chicken to fold in before baking, or mix in some lobster meat or crab meat to make it more filling. Sautéed veggies are a great (and colorful) addition, too! Chopped bell peppers, onions, broccoli florets, and garlic would be delicious.
If serving as a side dish, consider completing your meal with any of these recipes:
This Three-Cheese Mac and Cheese is the ultimate comfort food and the perfect main dish that comes together easily and pleases everybody in the family. I hope you love it too.
Storage, Freezing, and Reheating
Store leftover mac and cheese in an airtight container in your fridge for up to 4 days.
Freeze cooled, cooked mac and cheese in a freezer-safe, airtight container or plastic bag for up to months. Consider freezing this mac and cheese in an oven- and freezer-safe baking pan to simplify making it next time.
Reheat refrigerated mac and cheese in the microwave until warmed through. If reheating from frozen, bake covered at 350 for 60 minutes or more from frozen, or until bubbling at the edges. Remove cover and bake for another 25 minutes or so, or until the bread crumb topping is golden brown and crisp.

Variations
Add some veggies for even more flavor! Colorful bell peppers, onions, garlic, broccoli florets, or spinach would be delicious here.
Or make it an entree with some meat! Grilled chicken, crispy bacon, lump crab meat, chopped ham, or chopped lobster tails and claw meat would be divine.
Make it vegan by using plant-based cheeses and dairy-free milk.
More Easy Weeknight Recipes To Try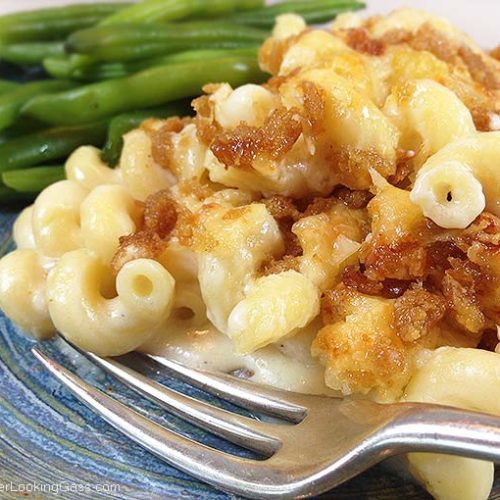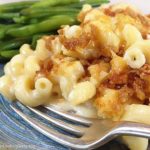 Print Recipe
Ultimate Three Cheese Gruyere Mac & Cheese
This Ultimate Gruyere Mac and Cheese recipe is crunch on the outside and creamy on the inside. And it's easy to make for any occasion!
Ingredients
8

ounces

dried macaroni

cellentani, elbow, spiral, etc. I used Cellentani by Barilla

4

tablespoons

unsalted butter

1/2

cup

fresh bread crumbs

1/4

cup

all-purpose flour

3

cups

milk

1/2

teaspoon

salt

1/4

teaspoon

freshly ground pepper

1/8

teaspoon

cayenne pepper

2 1/2

cups

coarsely grated

sharp white cheddar cheese

1

cup

coarsely grated Swiss-style Gruyere cheese

1/4

cup

finely grated dry Jack cheese

can use Monterey Jack if you can't find the dry Jack
Instructions
Preheat oven to 375°.

Grease a 1 1/2 quart souffle baking dish. Set aside.

Boil large pot of water to cook macaroni according to package directions. But stop cooking about two minutes early. (Pasta should be slightly underdone.)

Drain and rinse pasta with cold water and set aside.

In large saucepan, melt 1 tablespoon of the butter.

Add fresh breadcrumbs and stir until thoroughly coated. Set aside.

In a small sauce pan or microwave, heat milk until very hot but not scalded.

Meanwhile, in the pan you used for the bread crumbs, melt remaining 3 tablespoons butter over medium heat. When butter is bubbling, add flour and stir until cooked, about 1 minute.

Slowly whisk in hot milk, whisking continuously until all milk is incorporated and sauce begins to thicken, about 5 minutes.

Remove pan from heat and stir in salt, black pepper, cayenne, 1 1/2 cups of cheddar, 3/4 cup of Gruyere and all the dry Jack cheese.

Mix well until all the cheese has melted.

Add cooled macaroni to the cheese sauce and pour mixture into the buttered casserole dish.

Sprinkle with remaining cheddar and Gruyere cheeses, then top with buttered bread crumbs.

Bake, uncovered, for 25-30 minutes, or until the breadcrumbs are golden brown and casserole is bubbling.

Let sit for 5 minutes, then serve.
Notes
Recipe easily doubles to cook in a 9 X 13" baking dish.