Hey there, do you need a quick and easy dinner recipe for this weekend? How about Chicken Scampi? Just combine eight ingredients and pop it in the oven. Tender boneless chicken strips are smothered in garlic, olive oil, butter and herbs and rest on a bed of angel hair pasta. So flavorful and easy, and it's what we're having for dinner tonight!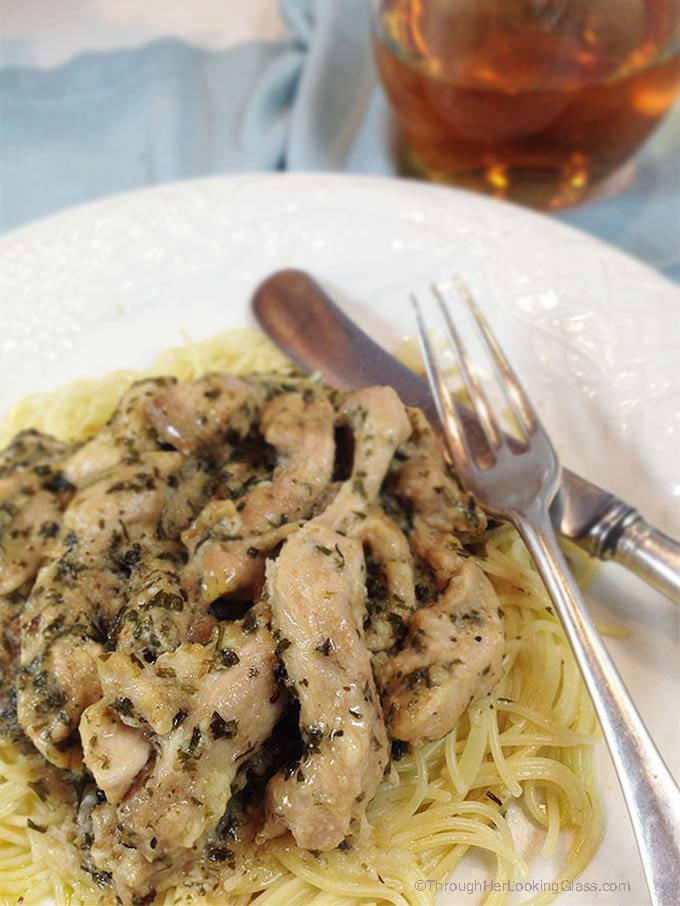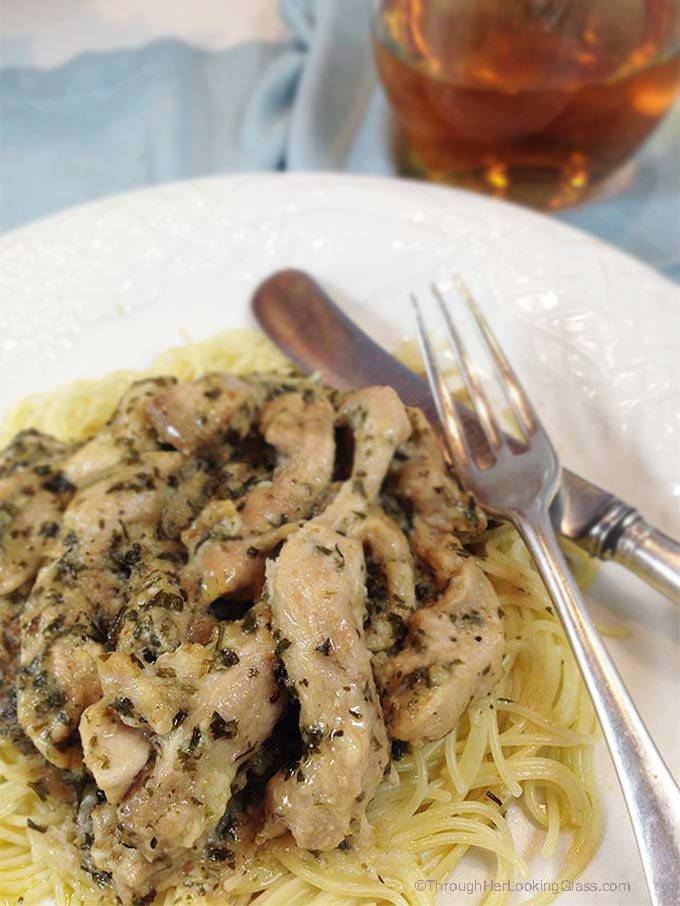 We've been super busy around our house this last week or so and. I know you're busy too! We're getting our house ready to put on the market soon and it's amazing how much has to be done in that process. When you've lived somewhere for thirteen years, there's a lot to do to get ready.
Stuff accumulates. Things break and they don't bother you quite enough to fix them until it's time to sell. Right now our house looks better than it's looked since we've lived here. So I'm not sure I want to move after all. Heard of the HGTV show "Love It or Li$t It"? Well that's where I am right now. Crazy!
It's just the first week in February and seems the kid's calendars are packed too. Basketball tournaments this weekend. (Inhale, exhale!) Not to mention we received 16″ of snow yesterday and we're still digging out.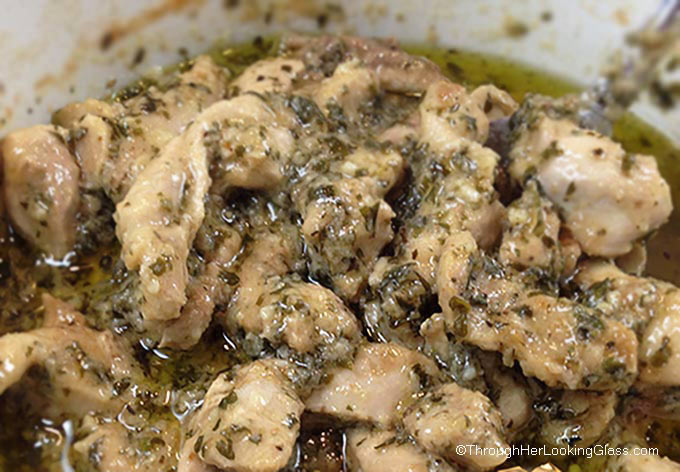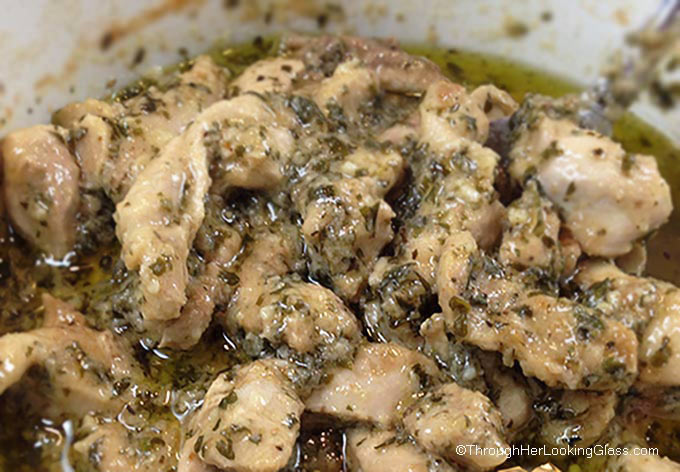 It's not always easy to eat well when things get busy. We race here and there. But of all times and especially with all the busyness, it's important to get plenty of protein for these jam packed days.
I like quick, easy dinners that are simple to make and hands off. Chicken Scampi is one such recipe. It mixes together quickly in five minutes in a casserole dish, then bakes in the oven for thirty. That's one of the reasons why I love this flavorful dinner so much.
It's quick and easy to make, even on a week night. Tastes gourmet, uses fresh ingredients. And always a big hit at our house. If you're a garlic lover, you'll especially love this simple recipe.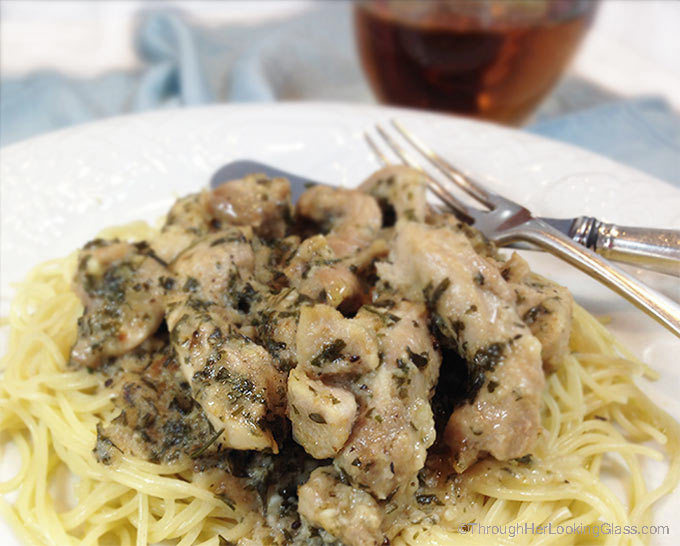 We love relaxed meals with excellent food around the family dinner table at the end of a full day. It doesn't always happen, but with a little planning ahead, it's possible. This Chicken Scampi Recipe is one of our favorite meals.
With only eight ingredients, this meal comes together quickly the day of. Or easily prepares the night before or morning of. Refrigerate and pop in the oven just 30 minutes before dinner. (Add a few extra minutes if it goes in the  oven cold.)
Served over angel hair pasta, Chicken Scampi makes a healthy main dish meal with no added salt. The garlic and herbs beautifully complement this dish. Dinner rolls and roasted asparagus pair beautifully alongside this main dish. Hope you enjoy it as much as we do!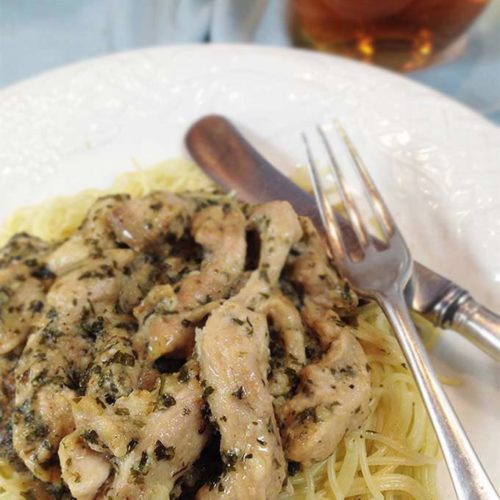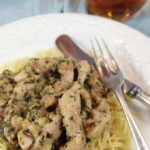 Print Recipe
Chicken Scampi
Chicken Scampi: easy, company-worthy dinner for any night of the week. Garlic, olive oil and herbs smother boneless chicken for a delicious, flavorful meal!
Ingredients
3 - 4

boneless

skinless chicken breasts, cut into 1 1/2 " long strips

1/2

cup

butter

melted

1/2

cup

olive oil

4

large garlic cloves

minced

1

tablespoon

fresh lemon juice

1

teaspoon

dried Italian herbs

3

tablespoons

dried parsley

1/4

cup

dried breadcrumbs

1

pound

angel hair pasta

cooked according to package directions
Instructions
Preheat oven to 350°.

Place boneless chicken strips in 2 quart casserole dish

Separately, in small bowl, mix together melted butter, olive oil, minced garlic, lemon juice, herbs and breadcrumbs.

Pour olive oil mixture over chicken strips.

Bake at 350° uncovered for 30 minutes, stirring once after 15 minutes.

Serve over angel hair pasta.
You may also like: Garlic Chicken Thighs