Homemade Salted Caramel Sauce is so easy to make and turns everything it touches golden. Literally. Think ice cream, cakes, pies, cookies, bars, pretzels, cupcakes, cafe drinks – you name it. Just a drizzle of this velvety smooth and rich salted caramel sauce elevates any dessert to instant stardom. You'll need only four ingredients and about ten minutes.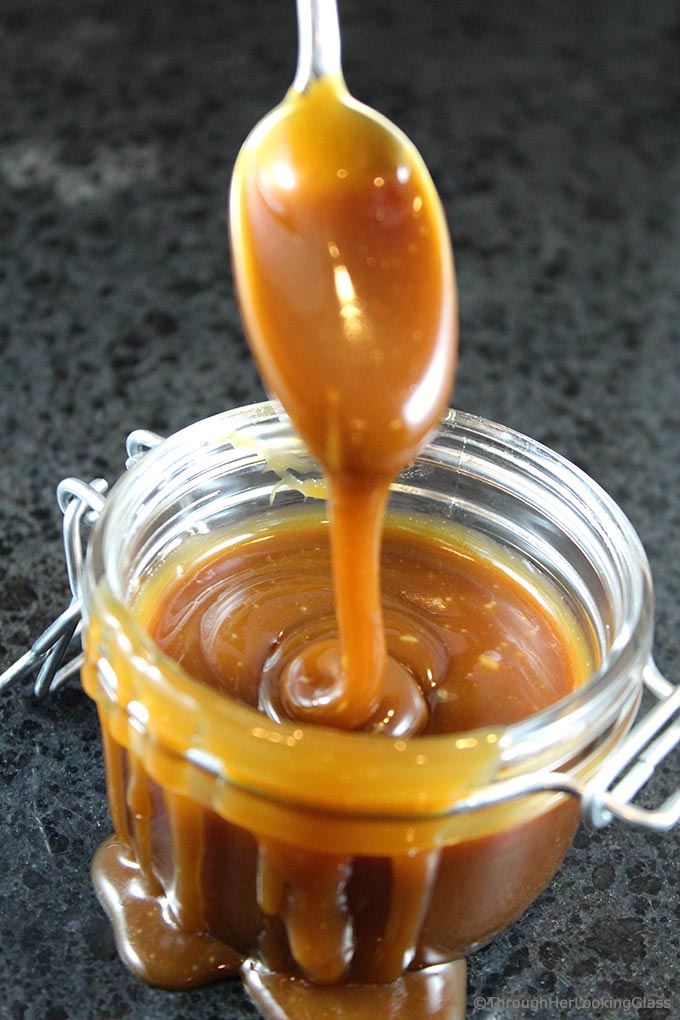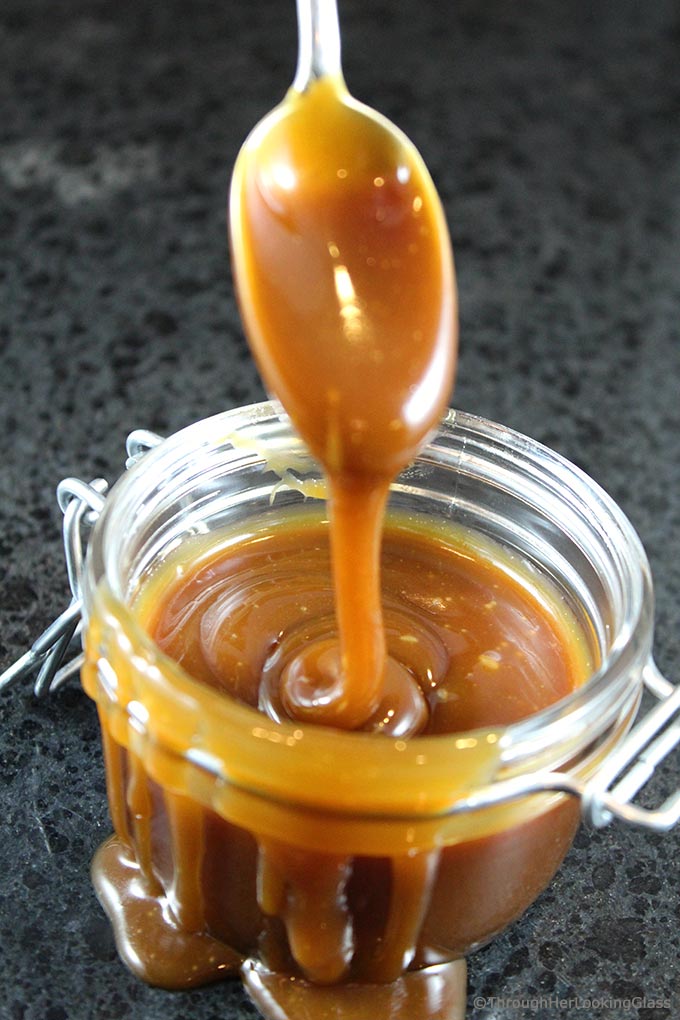 So when we woke up this morning, the white was gently falling from the gray sky. We knew the storm was coming, it just arrived a little earlier than predicted. School was canceled for everyone today but my little Hudson. I thought about just keeping him home, but the roads still looked good and since we have four wheel drive on one of the cars, we sent him in and picked him up at lunchtime.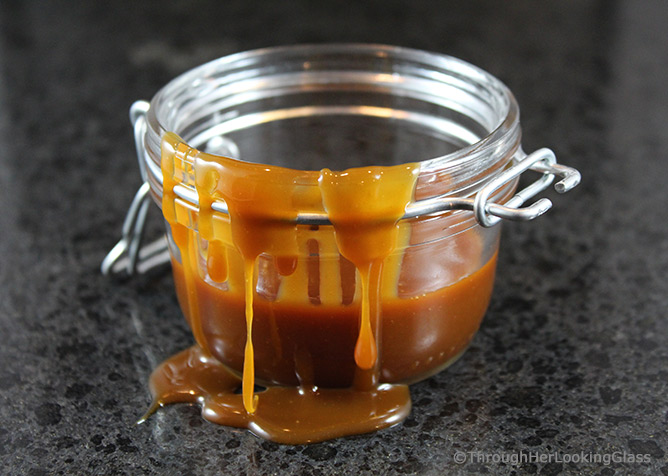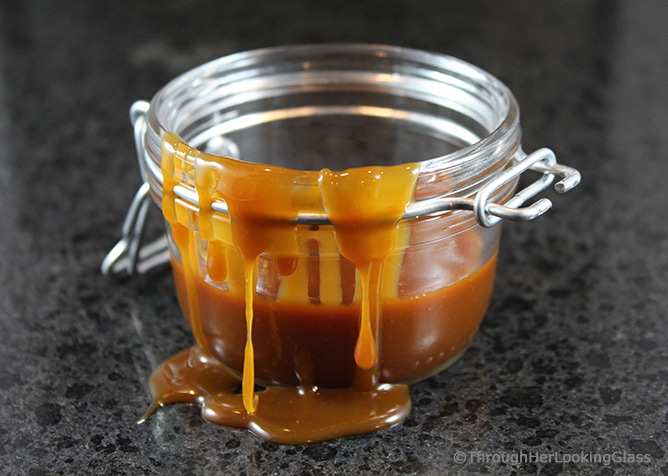 Snowy mornings are always an extra challenge around here, especially with Hudson. Hudson is six and has Down syndrome. He has no interest in wearing hats, scarves or mittens, and pulls them off (and chucks them!) as quickly as you can wrestle them on.
To make matters worse, the bus arrived eight minutes early this morning and I was already running behind. EIGHT WHOLE MINUTES! I don't know about you, but I can accomplish a heck of a lot in eight minutes when pressed.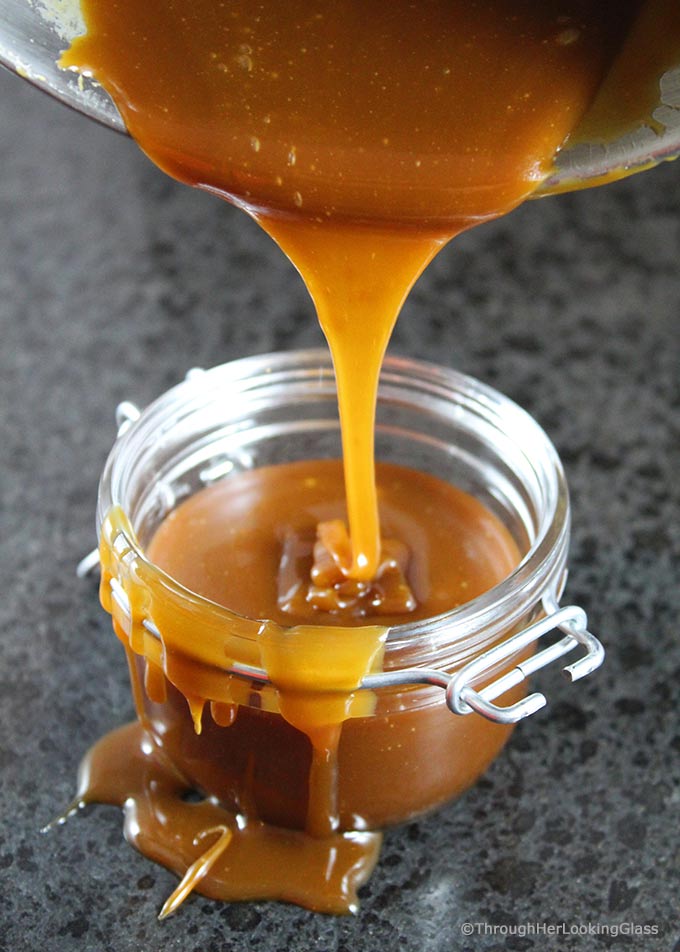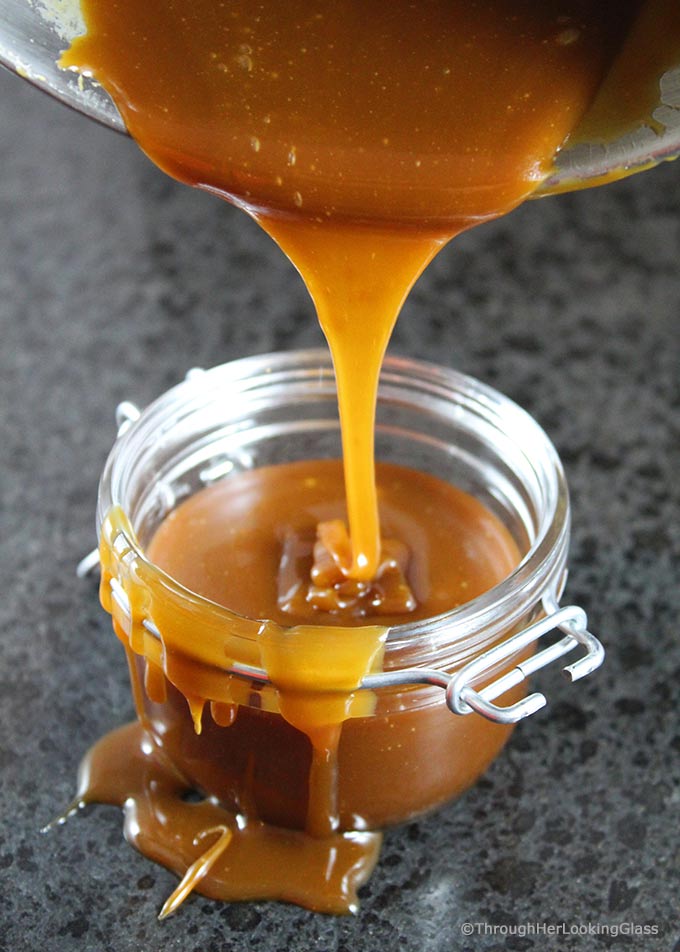 So when the bus arrived early and the horn tooted, I still had Hudson's lunch to finish, sippy cups to fill, his speech device and charging cord to pack, pull-ups to find, along with the snow boots in his room upstairs and another winter coat in the basement closet. (His little red one got left at church on Sunday.) I pulled my down jacket on over my flannel pajamas and raced out to the bus to ask about the road conditions and if they had time to wait.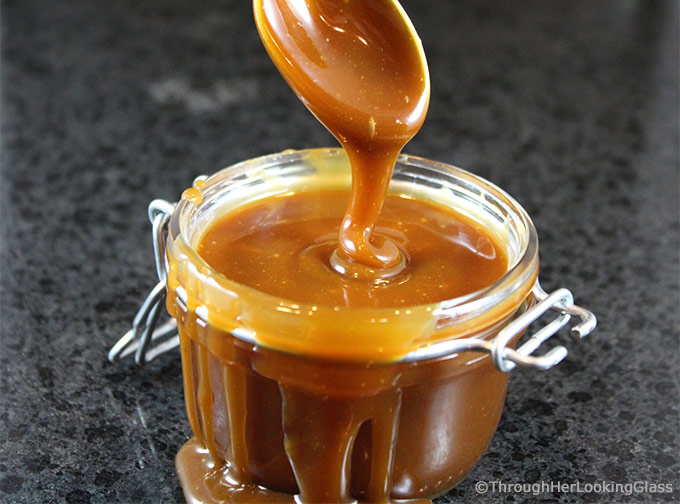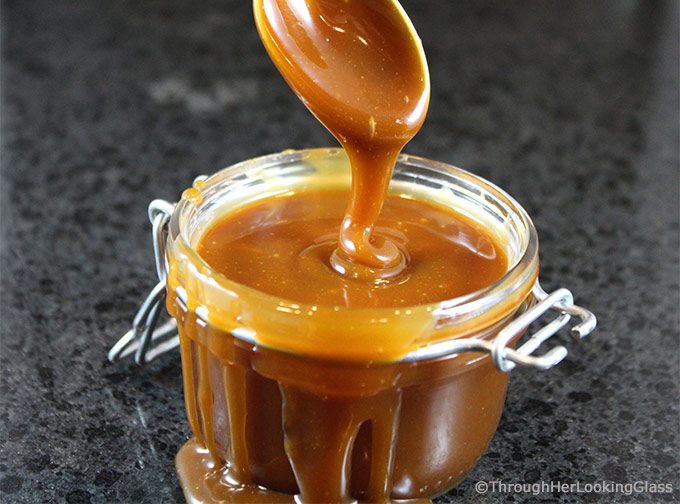 They very kindly said they'd wait, and so I scurried around  like a crazy banshee woman getting him out the door. Somehow I was able to accomplish all those things I mentioned, plus dress Hudson for winter in eight minutes flat. (EIGHT is apparently the magic number of the day!)
Once the the little yellow bus left with my small charge on board, I collapsed on the living sofa for a minute, then quietly asked Charlie (10), a very important question.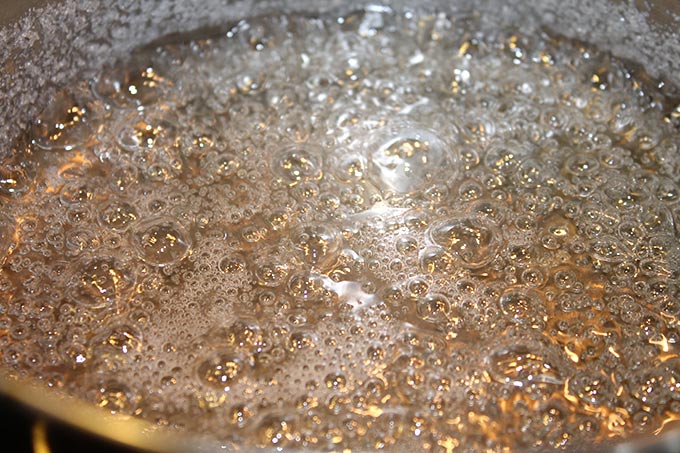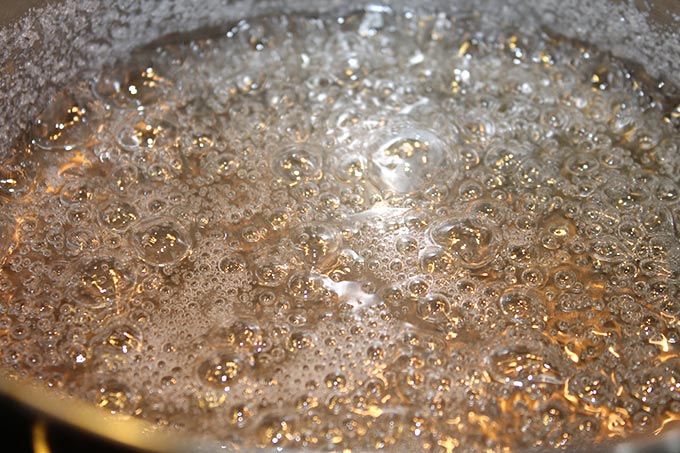 "If I were to make Salted Caramel Sauce for the blog today, would you be willing to hold the spoon so I can get drizzly caramel pictures?" Charlie slowly looked up from his book and surveyed the situation.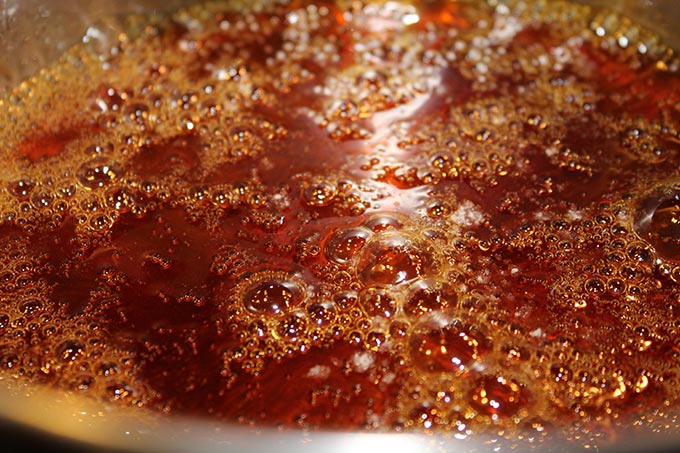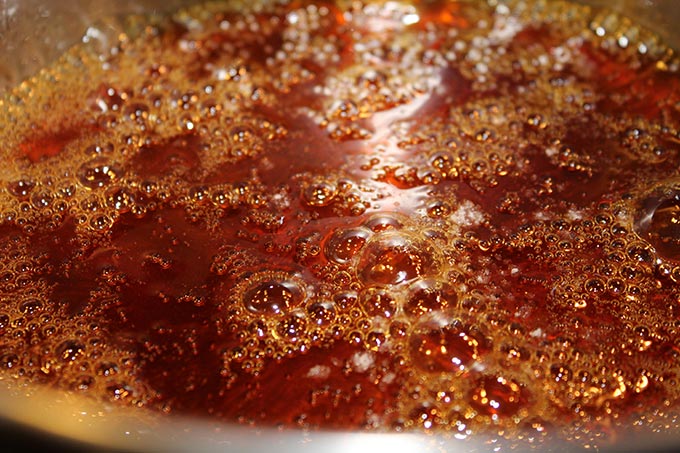 "Mom, I really think you should just re-publish something today," he said gravely. "You don't look well. Your eyes are all dark. Maybe you should just rest." He spoke truth.
There I was, still in pj's, having rolled out of bed late, still lagging from our late night super bowl party on Sunday and doing the Hudson Hustle to the bus this morning. Yesterday's mascara racooned my eyes. And the hair. MY hair. Let's not discuss that further. From the mouths of children. Just imagine what school bus drivers see in the mornings. Seriously, they should get a raise. (At least ours should.)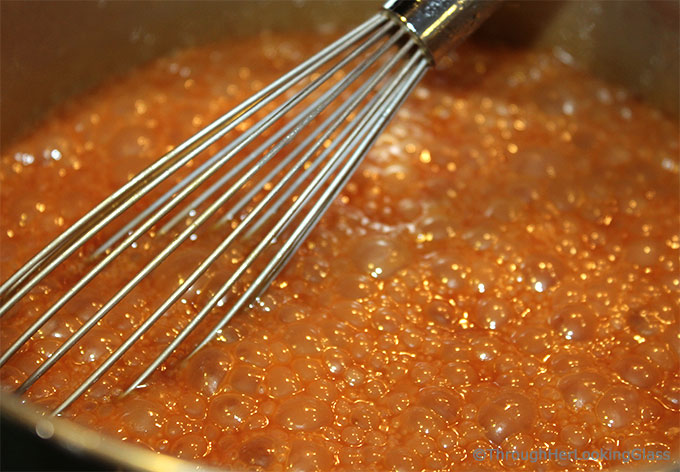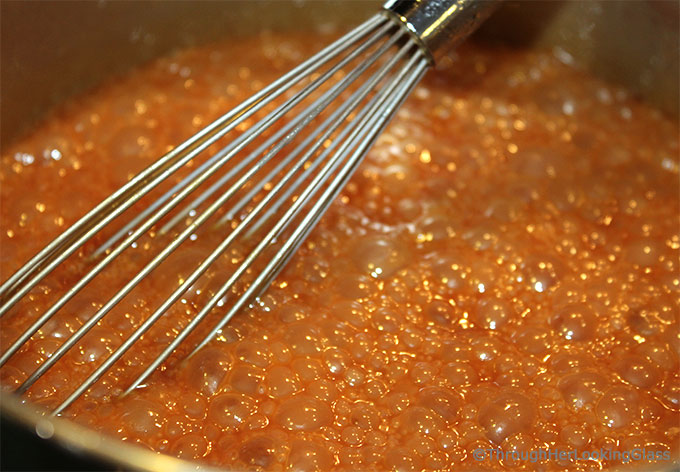 So on Charlie's excellent recommendation, I crawled back into my cozy bed and took a nice winter nap. And now I'm up, bright-eyed and ready to share this wonderfully easy and addictive Salted Caramel Recipe with you. It only takes ten minutes to make and is the most delicious salted caramel sauce on this planet. (I can't speak for others.)
(And Charlie says he'll hold the spoon.)
This recipe is adapted from New York Times Chef Bobby Flay's salted caramel sauce recipe.
Tips for making Salted Caramel Sauce:
Make sure you have a big enough sauce pan. While the recipe makes only a cup of salted caramel sauce, when the butter, cream and salt mixture combine with the boiling syrup, it bubbles up a lot. Be careful, it's very hot! The bubbling up is normal, but you'll need plenty of extra space in your saucepan so it doesn't spill over. (The voice of experience speaking…ha.)
Pay close attention to the boiling sugar and water mixture at about the seven minute mark – you are watching for a deep amber color.
VERY IMPORTANT: When the boiling syrup turns a deep golden amber, immediately turn the heat down to low (so it doesn't burn!) before stirring in the warm cream and butter mixture. (Be careful – this is when it will bubble up a lot.)
This caramel sauce thickens beautifully as it cools, so if you want that thick sauce, wait until it's nearly cooled to pour over desserts, ice cream etc.
Store salted caramel sauce in an airtight container in the refrigerator and heat on low on the stovetop (or in the microwave) to thin for pouring.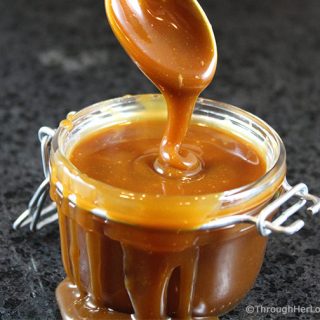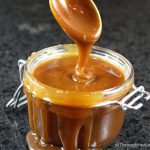 Print Recipe
Salted Caramel Sauce
Ingredients
1

cup

granulated sugar

1/4

cup

cold water

1/2

cup

heavy cream

3/4

teaspoon

finely ground sea salt

2

tablespoons

unsalted butter
Instructions
In a medium-sized sauce pan stir together 1/4 cup cold water and granulated sugar until combined.

Set over medium-high heat on the stove top and cook 9 -11 minutes without stirring, or until mixture is a deep amber color.

Start checking closely at the 7 minute mark.

Meanwhile, separately warm heavy cream and butter together with sea salt in a small sauce pan over medium heat. (Absolutely do not boil.)

When sugar and water syrup mixture is a deep amber color, turn the heat down to low and slowly whisk in the warm cream and butter mixture. (Bee careful - this is where it will boil up a lot!)

Whisk over the heat until it's smooth a minute or two, then remove from the heat.

Salted caramel sauce will thicken up as it cools.

When sauce is still warm, spoon over ice cream, cake, pie, cupcakes or cookies.

(The salted caramel will become thick when cooled, but it easily re-heats it in the microwave or on the stove top.)

Store extra sauce in an airtight container in the refrigerator, just reheat on low to thin.
You may also like: Salted Caramel Apple Cake