This dreamy peach custard pie is made with fresh peaches and 5 ingredient custard combined for an easy, delicious, and summery fruit pie.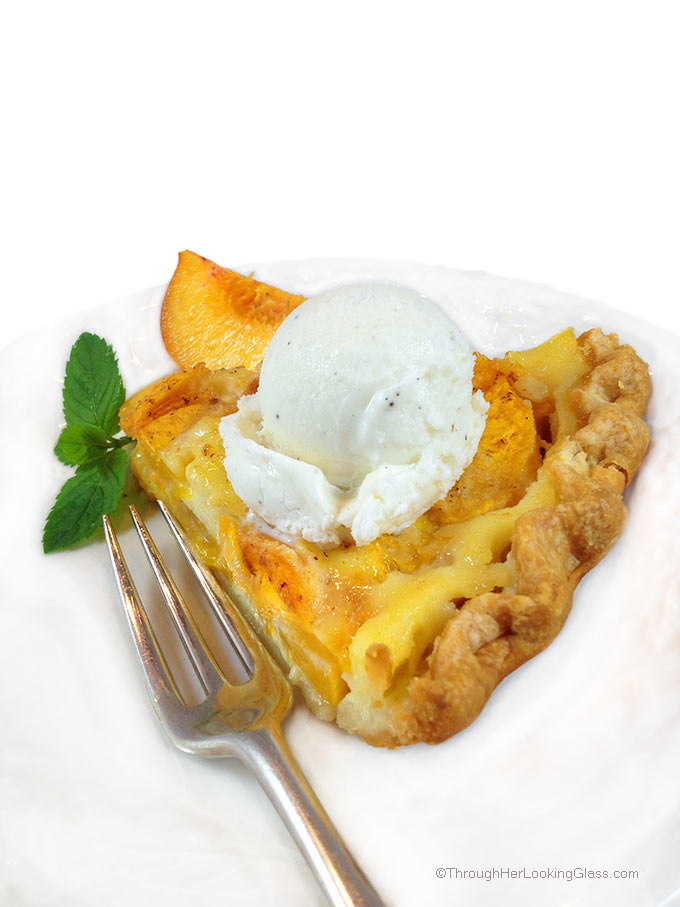 I love pie. But I don't necessarily love making pie. Let's just say I haven't had a ton of experience in the pie baking department. Can probably count the number of pies I've made on one hand. But last week, I made a Fresh Peach Custard Pie. If you follow this blog at all, you know I've highlighted peach recipes several times in the past few weeks. If you think I'm kicking and screaming, desperately clutching at the last vestiges of summer, you'd be absolutely correct.
I love peaches, and the peach season disappears all too quickly around here. I'm purposely featuring peaches so when the frigid comes along in not too long (and it will), I can revisit this peach custard pie post and experience summer vicariously. (I mean, is it possible to experience vicariously from yourself?) Ha.
Summer peach custard pie
I'll be honest here. What has intimidated me in the past about making pie is the crust. Both my Grammy and Grampy were expert New England pie bakers, even worked in a bakery for a time. Yet somehow, they didn't pass that pie-making gene on to me. Nature or nurture? I don't know. The thing is, I haven't exactly practiced making crust all too often either, so perhaps that's part of it.
I'm all about easy these days. With a busy household of four boys and my little Hudson with special needs, I'm not into fancy or gourmet. While I adore fancy and gourmet, this just isn't the season of life for that. (For me anyway.) Which is why I'm sharing this very easy Fresh Peach Custard Pie. Because maybe you're not in the fancy and gourmet season either, but you'd still like a lovely seasonal fruit pie. Like me.

True confession: I didn't mix this crust myself. No apologies. I bought fresh pre-packaged pie dough, Immaculate Naturally Delicious Ready-to-Bake Pie Crust. Pressed it in the pie plate. Trimmed it. Made pretty fluting around the edges with my knuckles. (I think that should count for something, don't you?) Yeah.
And you know what? It tasted wonderful. Flaky and light. Saved me a ton of work and clean-up. And I don't regret it. And know what else? None of my boys said, "Whaaaaat? You didn't make the crust from scratch?" Nope, it didn't even come up. They didn't care. Had more important things on their minds like soccer practice, getting ready for school starting next week, reading good books. Eating pie.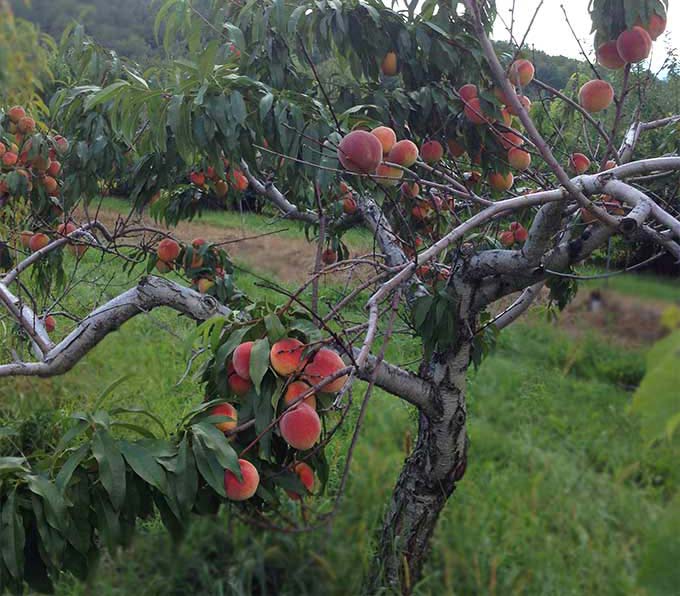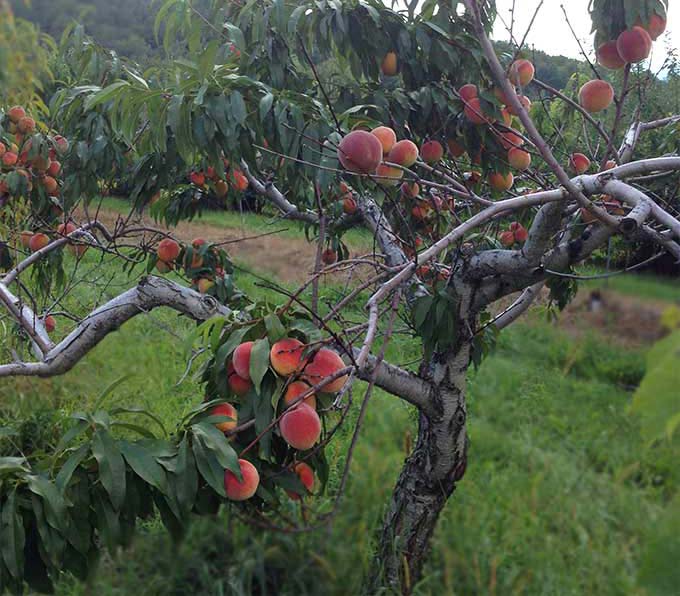 How to make peach custard pie
This Fresh Peach Custard Pie used up the last of the summer peaches I'd been hoarding saving since our last peach picking adventure up north in Vermont a few weeks ago. I've always loved the combination of peaches and cream, which is why I was drawn to make this pie in the first place. That's exactly what this peach custard pie tastes like peaches and cream. It was very simple to make. Fit the crust in a pie plate and partially bake it for 5 minutes.
Start by peeling the peaches and slice them on wedges. Then place those in the previously baked and cooled crust.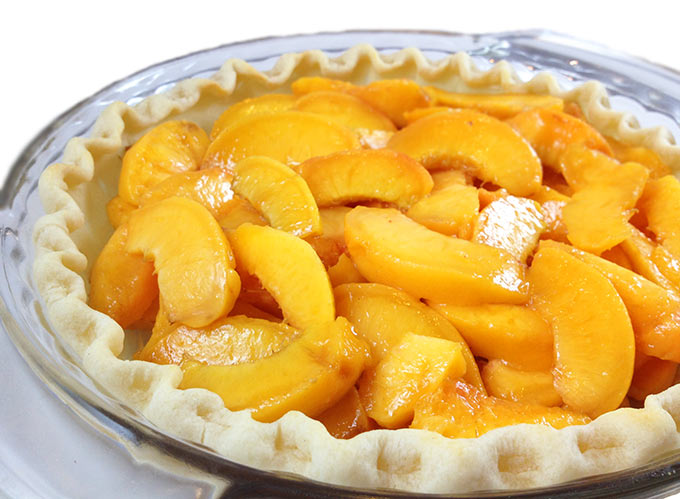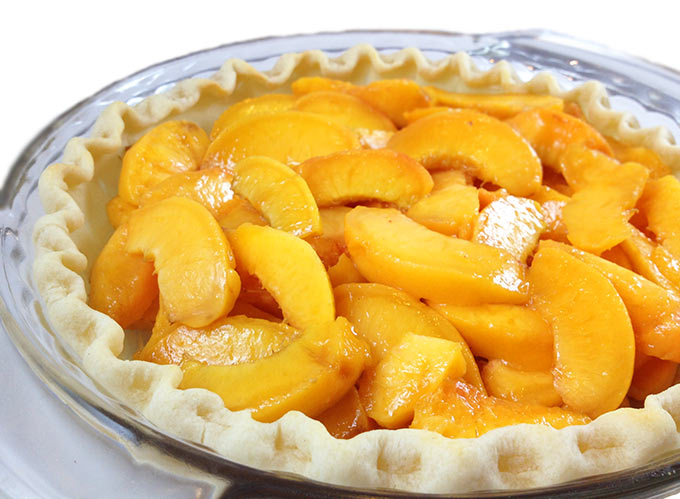 3. Whisk together the simple five-ingredient custard and pour over the peaches. Sprinkle with grated nutmeg. Optional: sprinkle with turbinado sugar.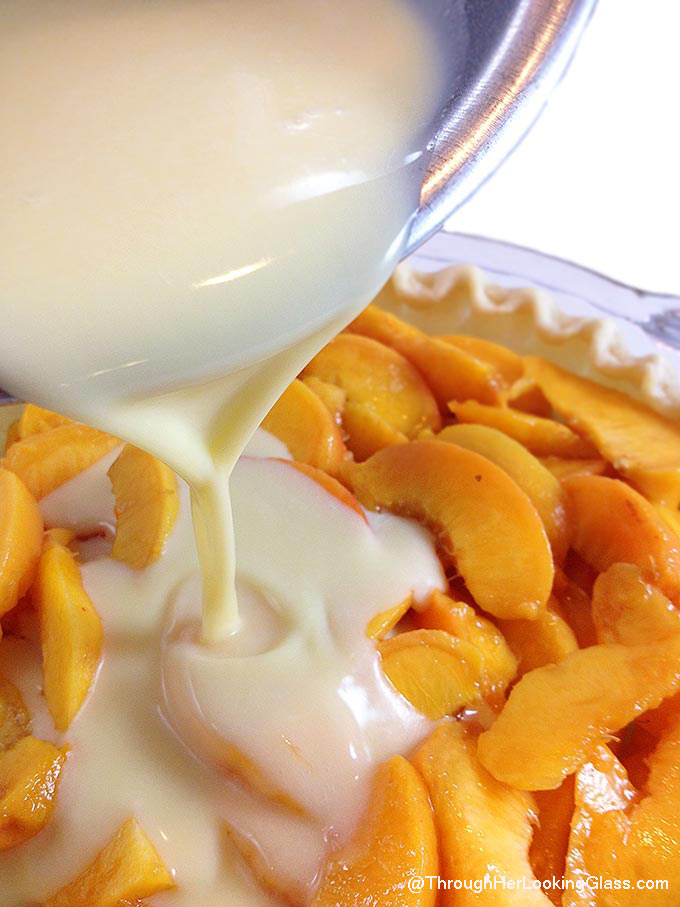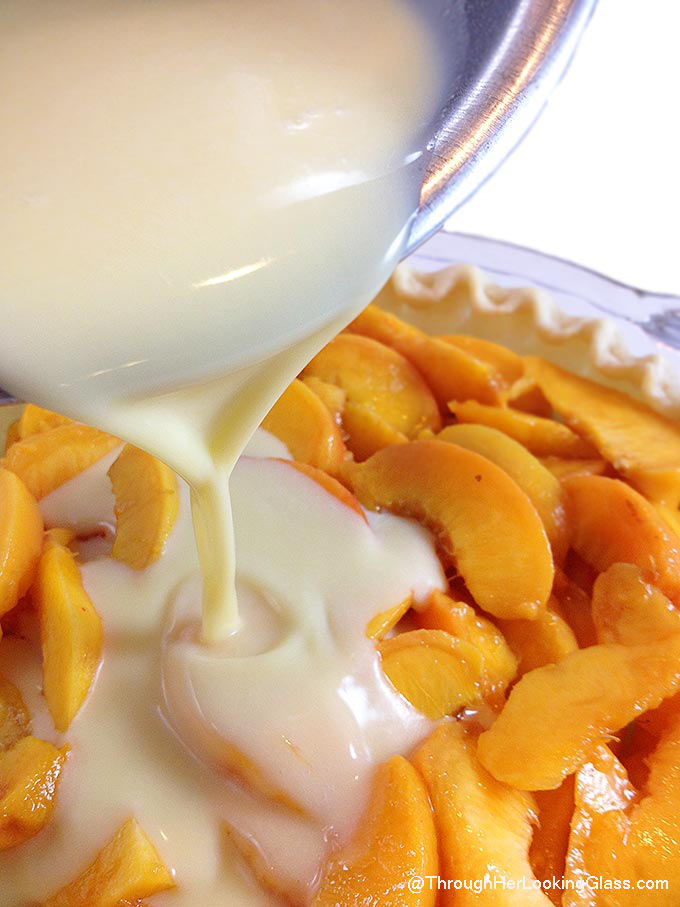 4. Bake for 350 degrees for 45 to 50 minutes. Check the pie 10 minutes before taking it out of the oven and put strips of foil around the edges to prevent browning.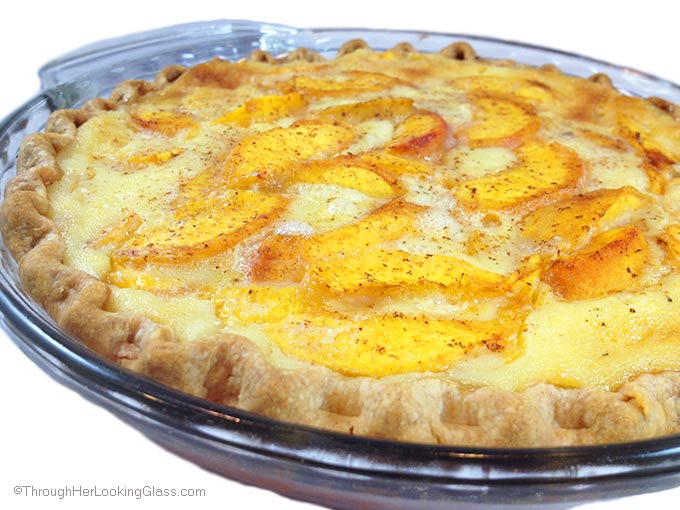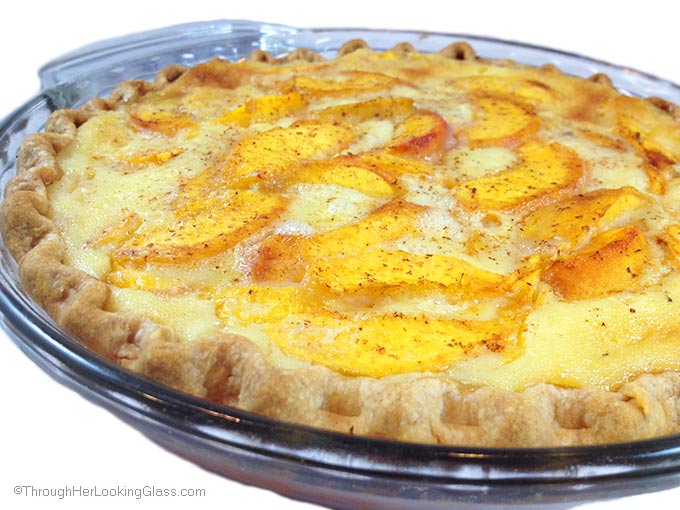 That's all there is to it, folks. This Fresh Peach Custard Pie is one delicious way to extend your summer…
More summer recipes you'll love:
Triple Berry Crumble Recipe
Savory Summer Pie
Ice Cream Sandwich Cake
Cherry Garcia Ice Cream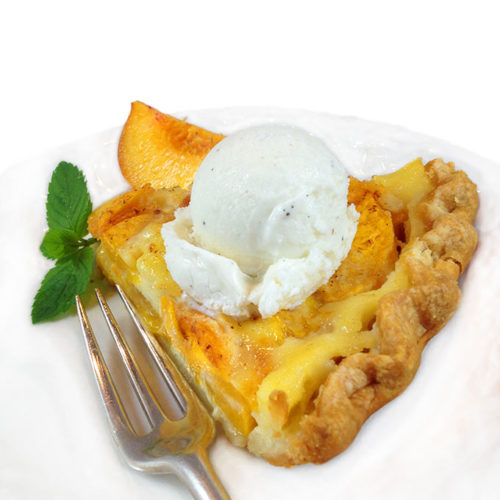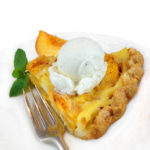 Print Recipe
Fresh Peach Custard Pie
Dreamy Peach Custard Pie. Fresh peaches and cream combine for an easy, delicious and summery fruit pie.
Ingredients
3

cups

fresh or frozen peaches

drained, thawed

2/3

cup

sugar

2

tablespoons

flour

1/4

teaspoon

salt

2

eggs

1/2

cup

milk

1/2

cup

heavy cream

prepared

unbaked 9" pie shell

Grated nutmeg

Optional: sugar or turbinado sugar
Instructions
Line 9 inch pie pan with crust.

(Do not prick.)

Bake at 450 degrees for 5 minutes. Cool.

Peel peaches by cutting a shallow X onto one end of peach.

Drop peaches into scalding water for two minutes.

Quickly transfer to ice water bath.

Slip skins off, then slice peaches thin.

Place peaches in bottom of partially baked crust.

Separately, combine dry ingredients.

Whisk eggs, milk and cream into the dry ingredients, mixing well.

Carefully pour custard mixture over peaches.

Sprinkle with nutmeg.

Optional: Sprinkle with sugar or turbinado sugar.

Bake at 350 degrees for 45 to 50 minutes.

Start checking at about 35 minutes and put strips of foil around the edges to prevent over browning.

Pie should be set in the middle and lightly golden brown when it is finished baking.

Serve warm or cold with a scoop of vanilla bean ice cream.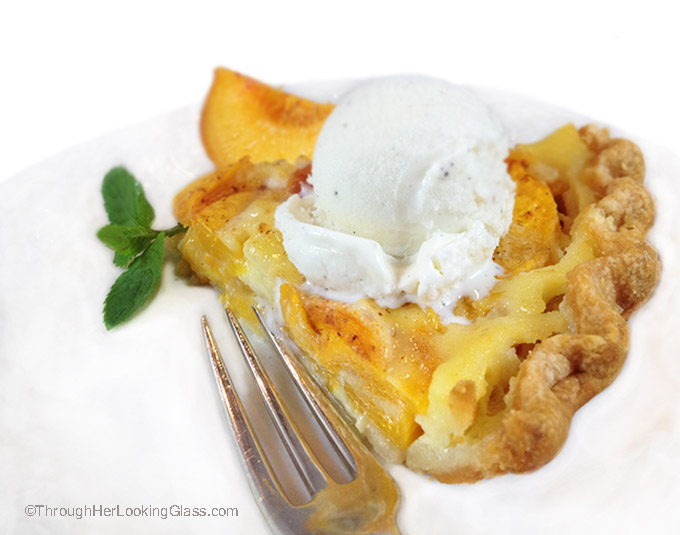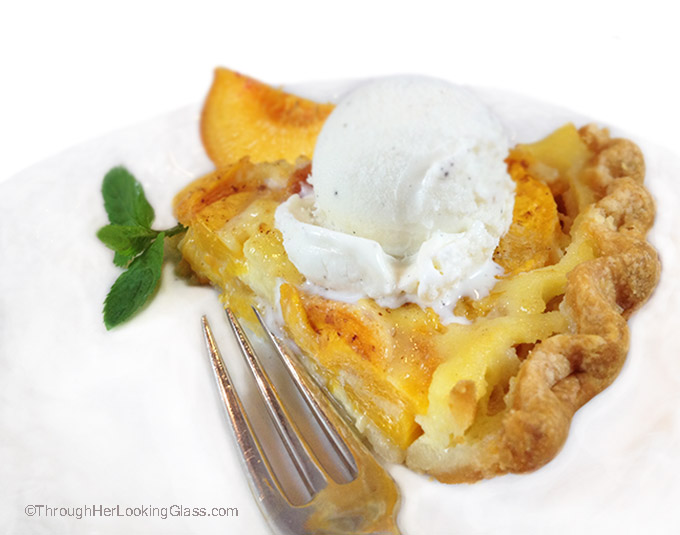 A delicious slice of Fresh Peach Custard Pie topped with vanilla bean ice cream.
You may also enjoy: Raspberry Peach Almond Shortbread