This Easy Neapolitan Ice Cream Sandwich Cake Recipe is fast fast fast to make. And it disappears just as quickly too. Layer ice cream and drizzled fudge sauce between ice cream sandwich layers and you're good to go! Say goodbye to expensive store bought ice cream cakes this summer.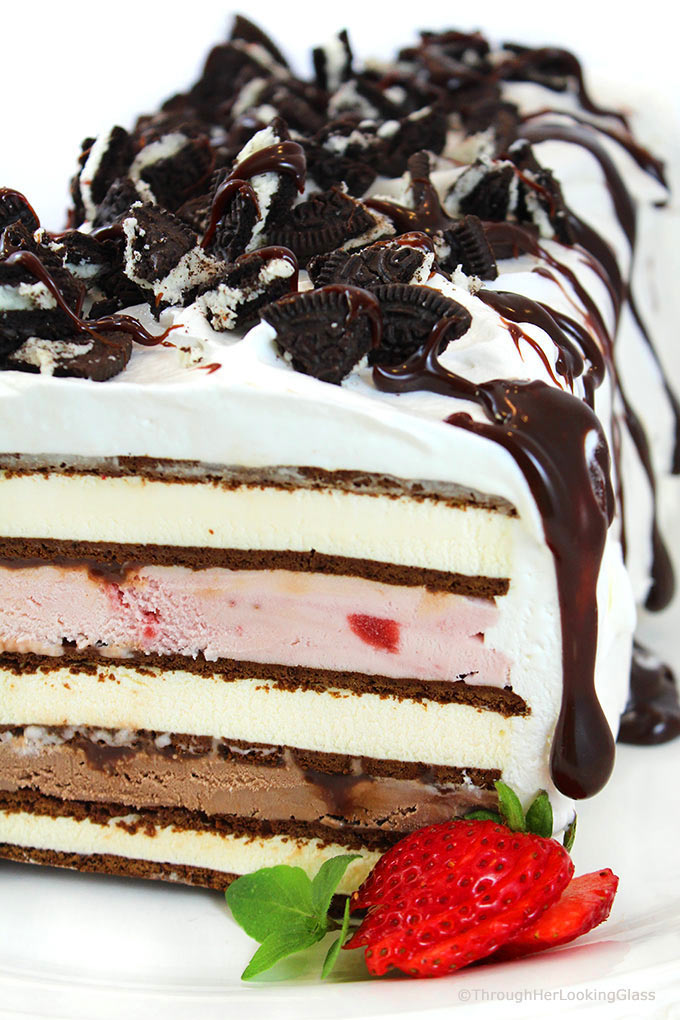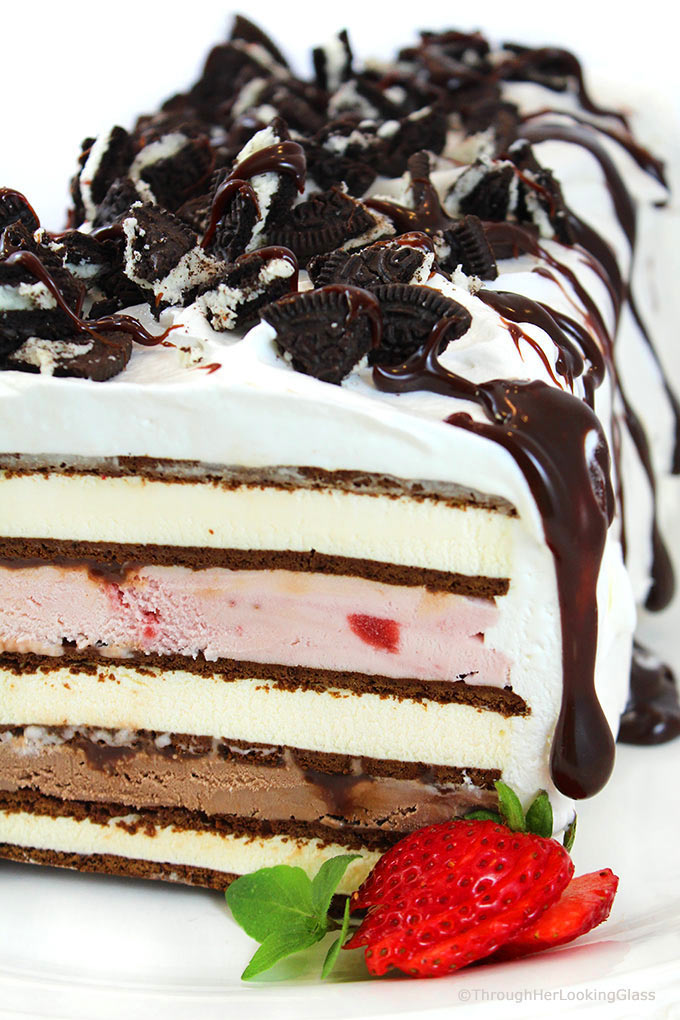 When the heat wave of summertime finally hits hard, you'll be glad to have this simple and refreshing Easy Neapolitan Ice Cream Sandwich Cake Recipe in your back pocket! We've had a cold, wet and rainy spring so far, but the temps this week are forecasted in the nineties. Time to break out the ice cream cake!!! You won't even need to turn on your oven.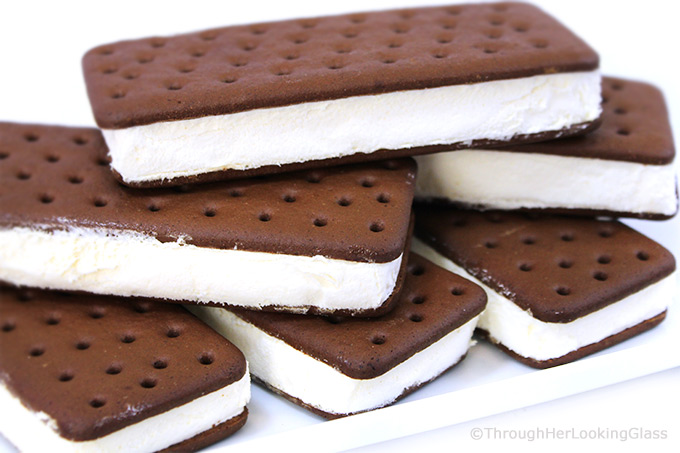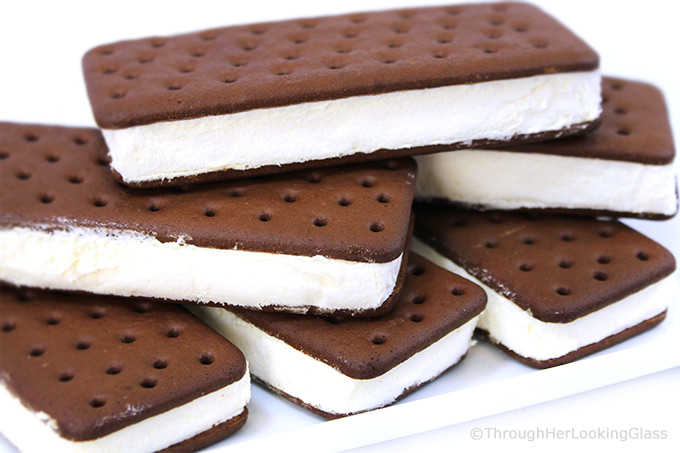 My kids have always loved ice cream cakes as far back as I can remember. Me too! I remember having an ice cream cake for my birthday a few times through the years. But have you checked the price of an ice cream cake from Friendly's, Carvel or the grocery store freezer lately?
They aren't cheap. In fact, you'll pay top dollar for an ice cream cake. If you think about it, the ingredients are basically cake and ice cream and shouldn't be any more expensive than a traditional cake with a scoop of ice cream on the side.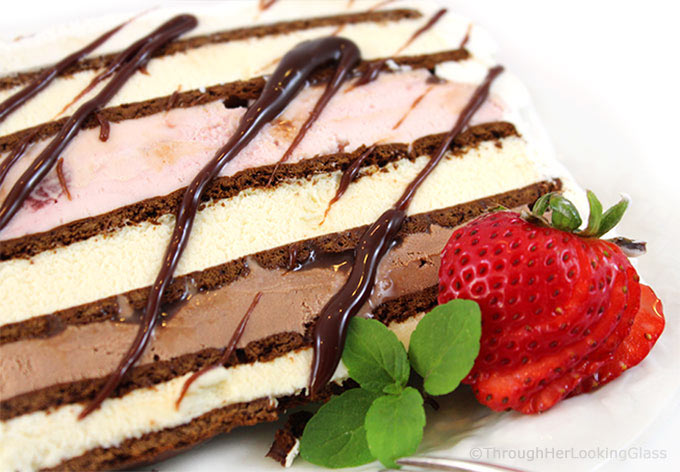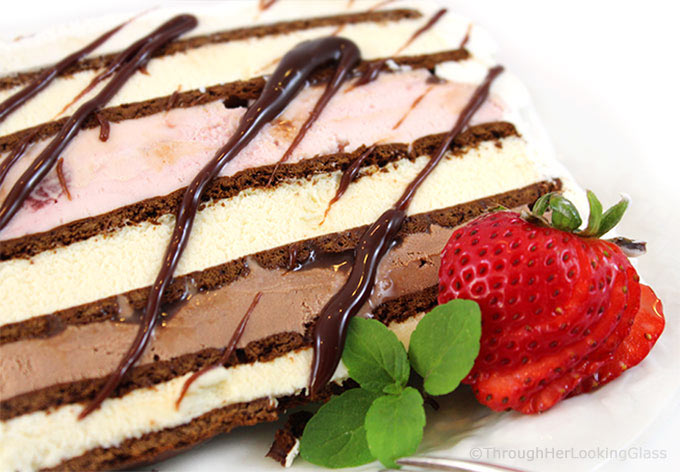 A few summers ago I put together an ice cream cake by layering ice cream sandwiches and then "frosting" with Cool Whip. (I found the simple recipe on the Kraft web site.)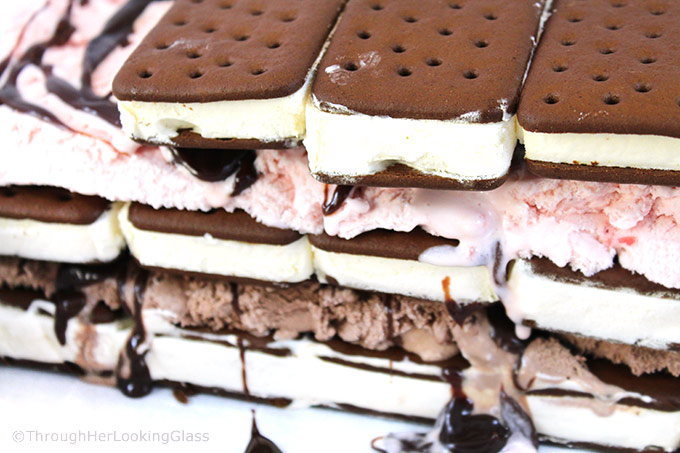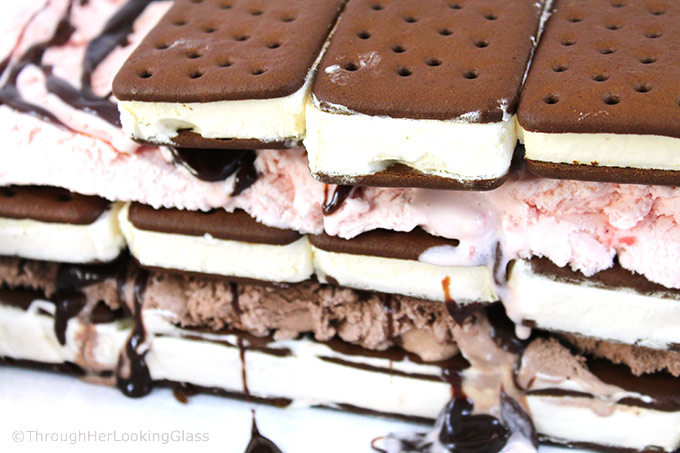 The cool thing is (pun intended), the ice cream sandwiches make easy ice cream "cake" layers all on their own.
So last weekend when it was Charlie's eleventh birthday, he requested an ice cream sandwich cake. In fact, he requested TWO! (Now there's an opportunist for you.) He wanted one to bring to school for his friends and one for his at-home birthday party celebration. I didn't mind making two because they are seriously so simple to make.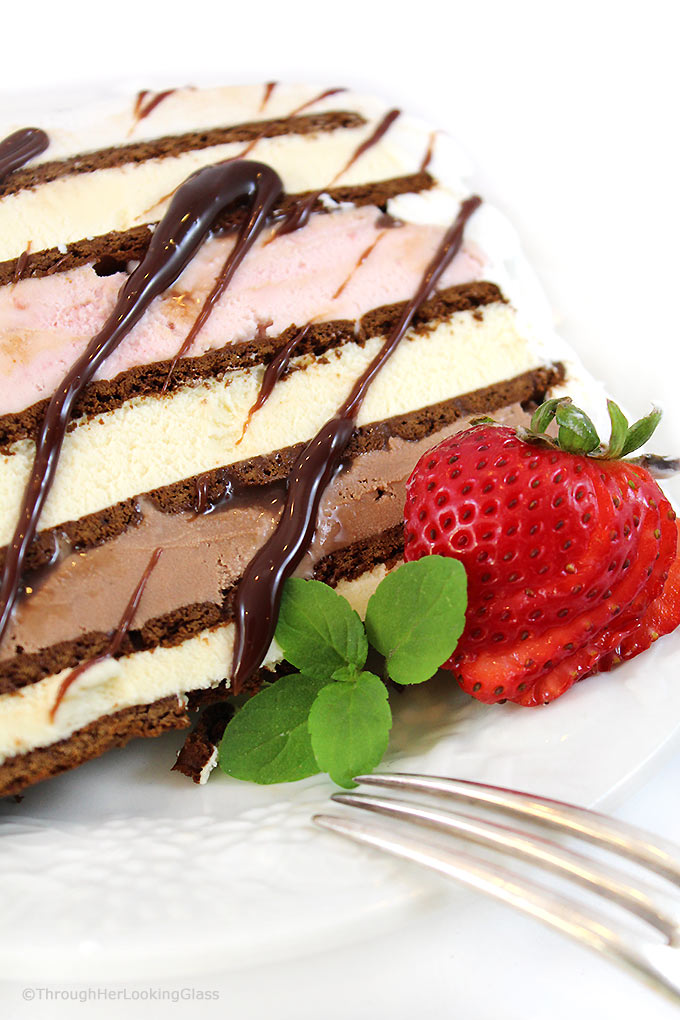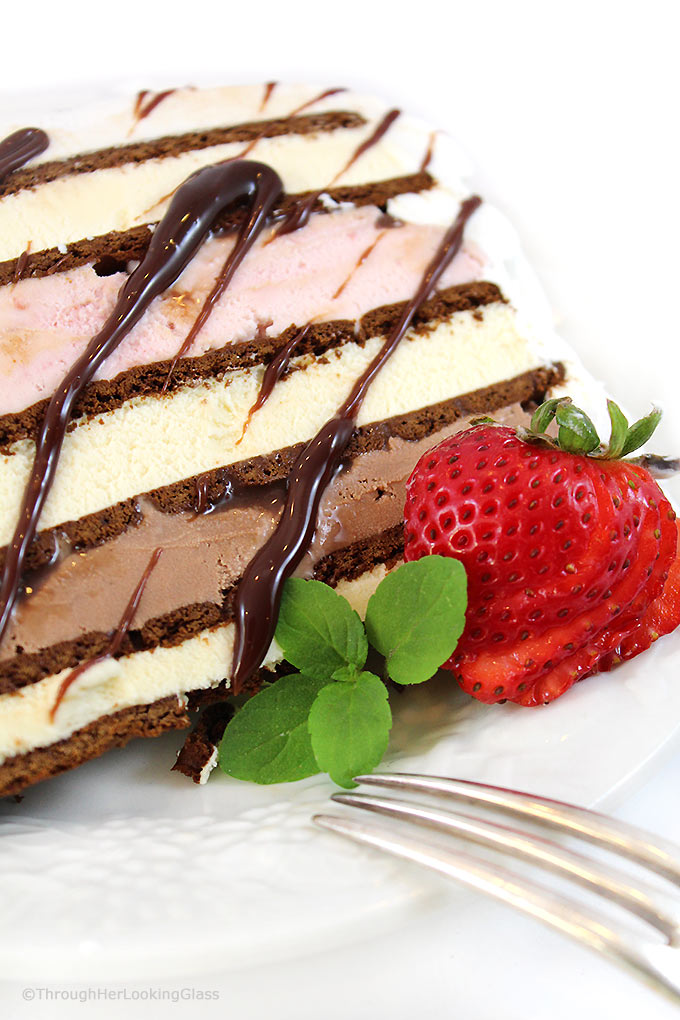 And since I know he loves chocolate and strawberry ice cream,  I added layers of those too to make this Easy Neapolitan Ice Cream Sandwich Cake Recipe. I could have sprinkled crushed Oreos or even added fresh sliced strawberries in between the layers. I didn't do that this time around, but if you're feeling adventurous, go for it.


Tips to make an Easy Neapolitan Ice Cream Sandwich Cake Recipe:
Use parchment paper and a 9 X 13 metal baking pan with sides, and form your cake against one corner/side of the pan.
Thaw Cool Whip in refrigerator for six hours ahead of time. (Carefully follow the directions on the package: absolutely do not thaw on countertop and do not stir.)
Once you've assembled your ice cream sanwich cake, allow plenty of time to freeze firm before serving.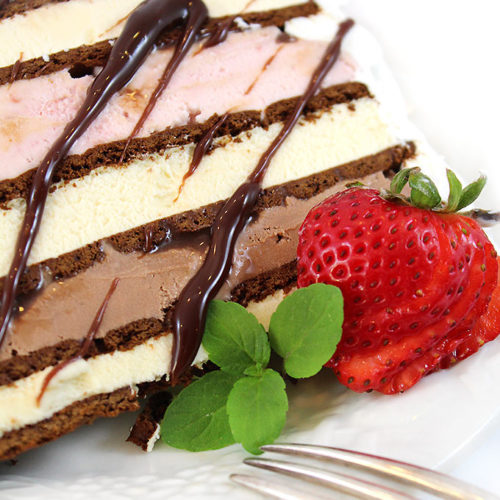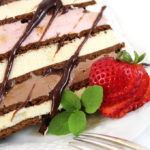 Print Recipe
Easy Neapolitan Ice Cream Sandwich Cake Recipe
Ingredients
18

vanilla and chocolate ice cream sandwiches

1

pint

chocolate ice cream

slightly softened

1

pint

strawberry ice cream

slightly softened

10

chocolate sandwich cookies

like Oreos, coarsely broken

1

small jar hot fudge sauce

slightly warmed

1-16

oz.

container non-dairy whipped topping

like Cool Whip
Instructions
Line a 9 X 13" metal baking pan with parchment paper.

Place 6 ice cream sandwiches in a row, against a corner.

Layer with softened chocolate ice cream.

Drizzle with slightly warmed hot fudge sauce.

Add another six ice cream sandwiches on top.

Layer with softened strawberry ice cream.

Drizzle with more hot fudge sauce.

Top with a final layer of remaining ice cream sandwiches.

"Frost" with thawed Cool Whip.

Freeze until firm.

Use spatulas to transfer ice cream cake to freezer safe serving platter.

Drizzle with hot fudge if desired.

Sprinkle with crushed oreos pieces.

Freeze until firm, then cover lightly with foil until serving.

Remove from freezer and let sit out a few minutes before cutting into slices.
Notes
This cake makes about 16 servings. But you can easily make this ice cream cake much smaller. (or bigger!) I had three layers of ice cream sandwiches, six in each row for a total of 18 ice cream sandwiches. But you could use 15 ice cream sandwiches (5 in a row). Or 12 ice cream sandwiches (4 in a row). It's one of the most flexible recipes ever.
You may also like: Fudgy Grasshopper Ice Cream Pie