This Summer Triple Berry Crumble Recipe has all the berry-licious fresh summer flavors you crave: blueberries, blackberries and raspberries. All topped with a sweet and crunchy oatmeal crumble. Serve warm with a scoop of real vanilla bean ice cream. It's summer… and the living is easy. (And so is dessert!)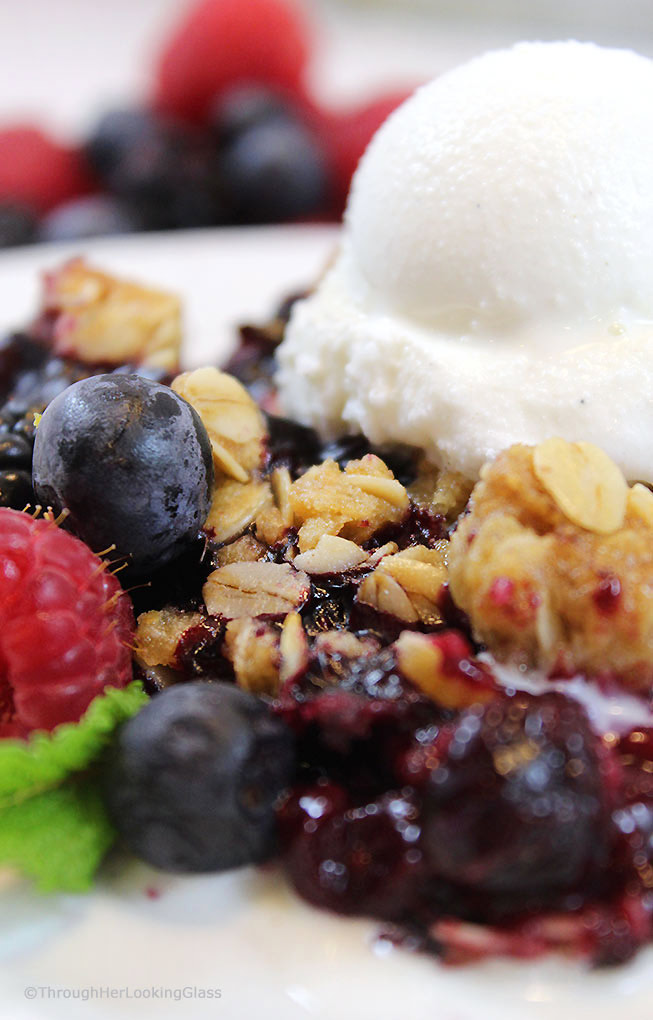 I love picking berries in the summertime. Blueberries are my favorites, because you can pick standing and don't have to get down on your knees like with strawberries. (Read: lazy.)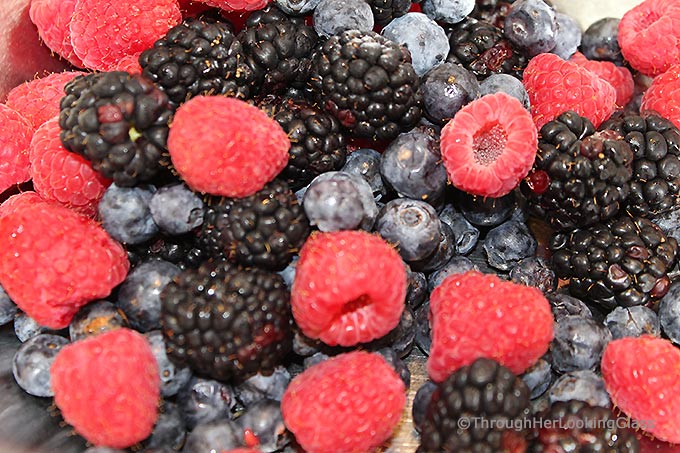 In June and July we often frequent a picking farm south of us that has all the berries – strawberries, blackberries, blueberries and raspberries too. Soooo sweet and juicy, bursting with summer flavor.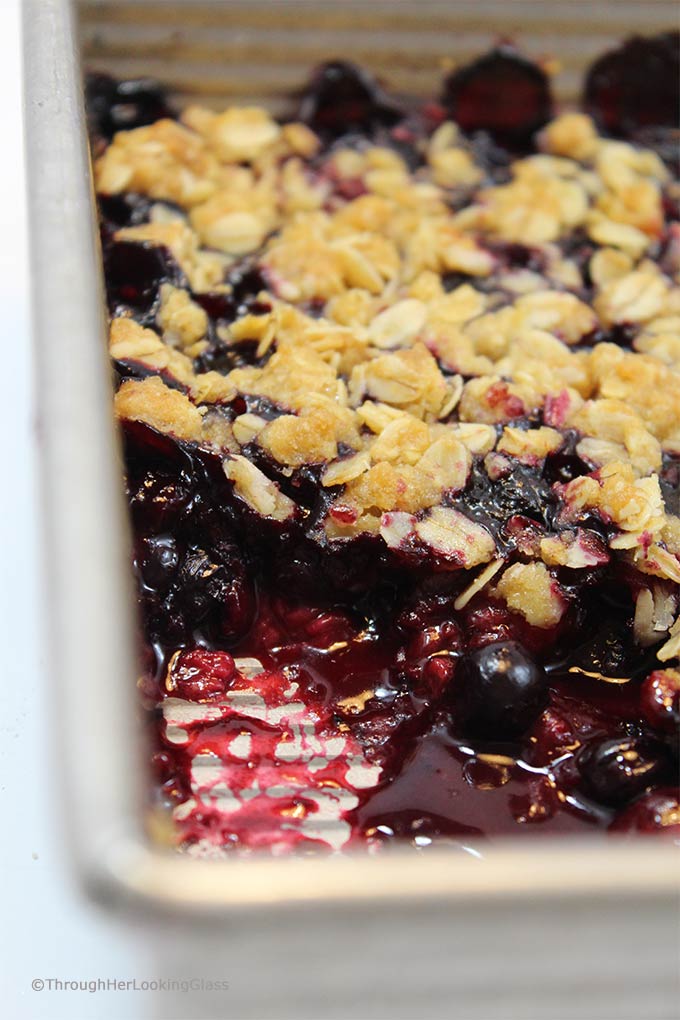 We pick and use what we can fresh, then freeze the rest for smoothies, crumbles, cobblers and pies the rest of the year.
Growing up we had wild raspberries growing out by the pool. The bushes were right in the sun and my brother and I used to scavenge for the dark ripe ones. (And fight over 'em, lol!)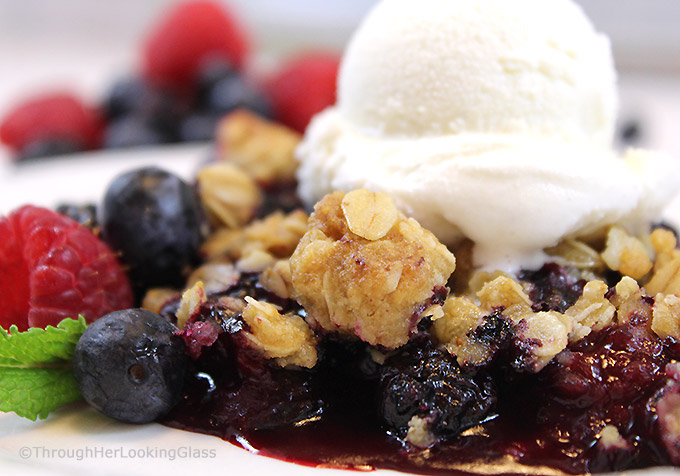 Sun ripened and warm, fresh berries are so juicy and flavorful! We never had enough to make pie or crumble, just enough for random snacking after a pool dip…
You may remember we moved late last summer. So I've been exploring our new yard this spring, looking for evidence of berry bushes or fruit trees. So far zilch. I've found daffodils, azaleas, lilacs, lily of the valley and peonies. (And Charlie convinced us to plant an icebox watermelon seedling in the garden.)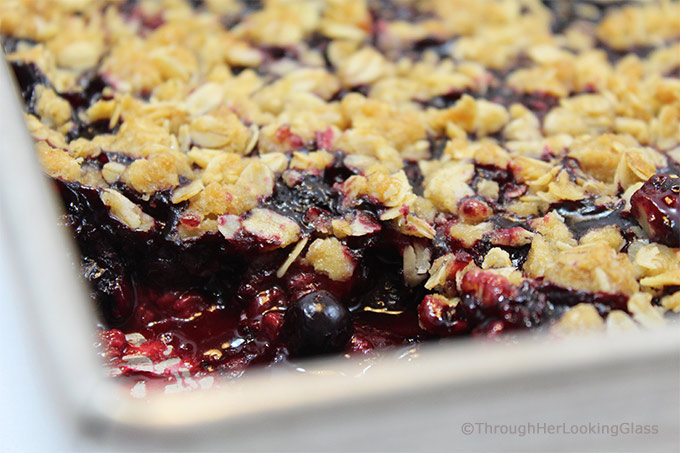 But no berry bushes. So we're thinking about planting some. It will be a good investment for sure – more cobblers and crumbles on the horizon!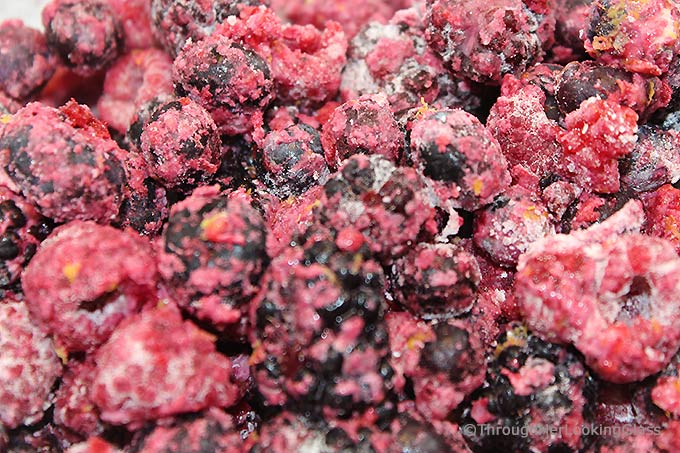 This Summer Triple Berry Crumble Recipe is so easy to make. Mix the berries (fresh or frozen) with flour, sugar, lemon juice and lemon zest.
(I used a combination of fresh and frozen berries. In fact, when I was in the frozen section at the store, I came across a new frozen fruit product I hadn't seen before: Welch's Antioxidant Fruit Blend. The blend includes blueberries, sweet and sour cherries and strawberries. It would make a great berry mix in this crumble too!)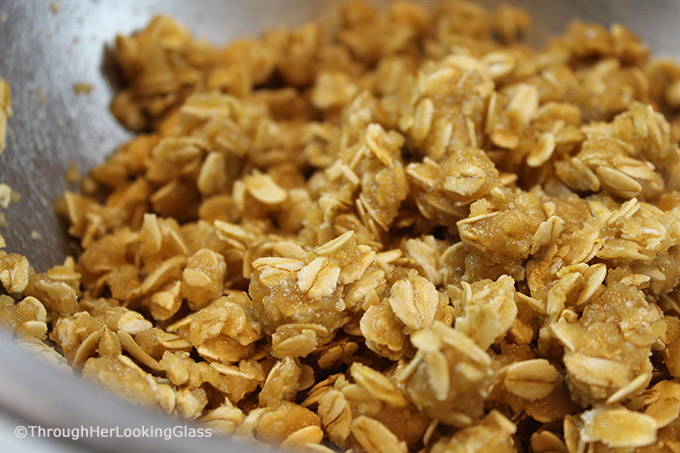 Then mix up the crumble topping with a fork. Spoon that crumbly mixture on top of the berries and bake. It's that simple! Even a novice baker can make a fabulous sweet berry crumble to rave reviews. Serve warm with a splash of cream or a scoop of vanilla bean ice cream.

Tips for making Summer Triple Berry Crumble Recipe:
Use fresh or frozen berries or a combination.
Use a total of 5-6 cups berries and try different combinations. (How can you go wrong?)
Serve warm with a splash of fresh cream or a scoop of vanilla bean ice cream.
Leftovers make for a delicious breakfast!

Other crumbles you may enjoy: Simply the Best Apple Crumble, Strawberry Crumble or Gluten-Free Rhubarb Crumble Recipe.
Triple Berry Crumble Recipe
Ingredients
Fruit Filling:

2 cups blueberries (fresh or frozen)
2 cups raspberries (fresh or frozen)
2 cups blackberries (fresh or frozen)
1/8 cup granulated sugar (more or less, depending on how sweet the berries are)
1/4 cup flour
1/4 teaspoon cinnamon
1 tablespoon fresh lemon juice
1 tablespoon grated lemon zest

Crumble Topping

1 cup old-fashioned rolled oats
1/2 cup flour
1/2 cup brown sugar
1/2 cup unsalted butter, melted
Instructions
Preheat oven to 375°.
Grease an 8" X 8" X 2" baking pan. Set aside.
In large mixing bowl, gently combine sugar, flour, and cinnamon together.
Add mixed berries and gently combine.
Stir in lemon juice and lemon zest.
Spoon fruit mixture into prepared 8" X 8" X 2" pan.
Separately in small mixing bowl, stir together rolled oats, flour and brown sugar.
Stir in melted butter with a fork until crumbly.
Sprinkle oatmeal topping lightly over filling in baking pan.
Bake uncovered for 45 minutes or until golden brown.
Serve warm with a splash of fresh cream or scoop of vanilla bean ice cream.
7.8.1.2
214
https://www.throughherlookingglass.com/berry-crumble-recipe/
You may also like: Roasted Peach Cobbler