Hey friends – wishing you a very happy June weekend! Hope you're having a fantastic summer so far and enjoying all the good things: family, friends, homemade ice cream, veggie/flower gardens, ocean walks, outdoor concerts, picnics, watermelon, spell-binding beach reads, etc.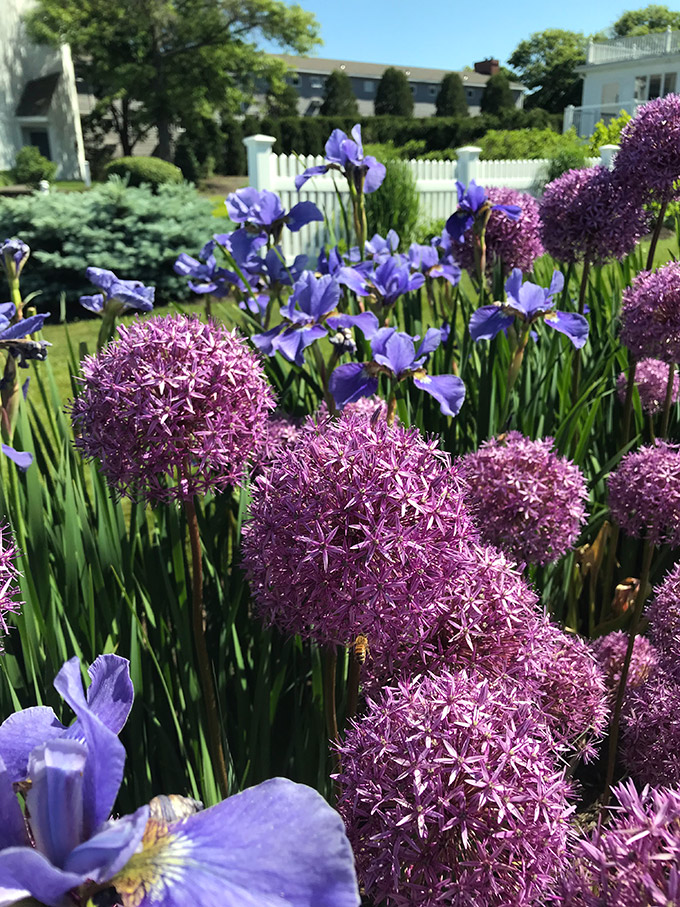 June irises and purple allium in Ogunquit, Maine
And all in that order LOL. You've been on my mind – I know!!!! It's a crazy time of year. It's been busy at our house too, with the school year winding down and summer schedule winding UP! And we've already hosted a few big extended family parties here in the last few weeks, celebrating my mom's birthday and also Jon's mom's #80. Wahoo! Good times.
We're especially looking forward to doing some things this summer that we haven't been able to in a while. Some of you know our Hudson (8) has Down syndrome and autism. It's been a beautiful journey in many ways but has also kept us closer to home with multiple medical, sensory and behavioral issues.
We've been working hard all winter long, applying for grants and getting extra helps in place for Hudson in the form of ABA therapy (autism therapy) and in-home respite care to free up our family for occasional breaks from care giving.
The excellent news is that many pieces that have been in limbo for nearly a year are finally coming together and Hudson is making great strides in his therapy programs.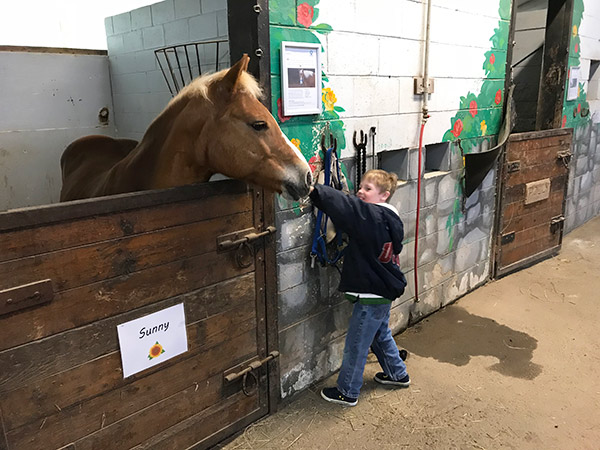 Hudson meeting Sunny for the first time. While he was petrified of the lobby cat, he had NO FEAR approaching Sunny. Go figure.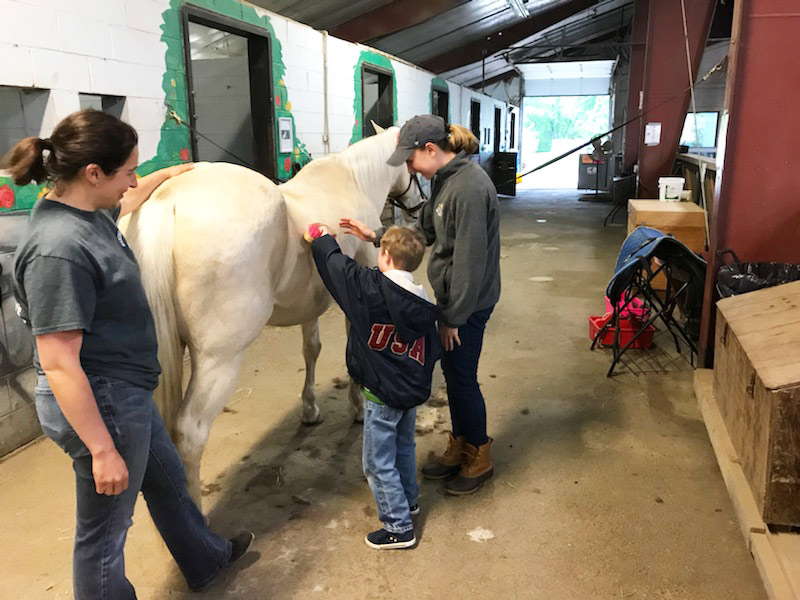 Yass!!! The brush is upside down.
He's looking forward to a wonderful summer filled with music classes, equine therapy and even attending a special needs local day camp for a week for children w/disabilities. It's going to be a great summer!
Don't know if I mentioned previously that Hudson has regressed significantly with his speech in the last couple years. We used to sing many songs like the scene above, with Hudson filling in partial words like this sweet little guy Bo with Downs.
We're not sure if Hudson's speech device has caused the regression or something else, but we're just now starting to see Hudson picking up where he left off and attempting to communicate verbally more. If you haven't yet seen the clip above, it's one of the sweetest you'll ever see. The talented strummer is Bo's big sister Lydia and together they sing You Are My Sunshine. (Grab your tissues.)
Some interesting things to share with summer in mind. A few beach read recommendations, all WW II novels. I've read each one and highly recommend:
And here's one I haven't read yet, but taking it on vacation in a couple weeks: We Were the Lucky Ones  by Georgia Hunter.
New topic. If your feet are rough and calloused like mine were – consider an at home foot peel. I'd never heard of it before, but was pretty desperate and now I'm sold. I researched and took the plunge (literally!) a few weeks ago. I wore plastic "medicated" booties on my feet for an hour at home, then soaked my feet in warm water for 15 minutes a day for two weeks.
For the first few days, nothing happened at all and I thought maybe I'd been scammed. (It wouldn't be the first time!) But on the fourth day, my feet started peeling. And then the soles peeled off entirely, revealing baby soft skin underneath! I'm thrilled – and it was a small investment – under twenty dollars for two complete treatments. Be careful to time this well and don't do it before a special event. The dead skin comes off in shards, and it's U-G-L-Y. (Trust me on that.) So give it the full two weeks to peel off.
And who doesn't like candy? I recently became acquainted with a great company Lovely that sells many organic and gluten-free candy options. They sent a few samples to our house – good stuff. Hard candies, chewy candies, salted caramels, gummy bears and various kinds of caramel and chocolate dipped pretzel balls. The pretzel balls went first. Delish! Find retailers near you here.
.
And last but not least – we recently watched this beautiful movie, Breathe. (On Amazon Prime.) While controversial at times, it's a captivating true love story – Jon and I were mesmerized. No spoiler alert here, but an interesting thing to know is that the movie was directed by the real life son of the two main characters portrayed.
Would love to hear what you're up to and if you've got a book or movie recommendation, do tell ! I'm always scrounging for ideas.
Have a super summer weekend enjoying the little things, and Happy Father's day to all the great, sacrificial dads out there. We love you!
XOXO,
allie