Crunchy Broccoli Salad with Bacon is the perfect side dish for all your picnics and barbecues this summer! This scrumptious salad absolutely won't wilt and disappears fast! It combines surprising ingredients both salty and sweet – dried cranberries, peanuts, peas and BACON! Oh, and the star of the show: broccoli.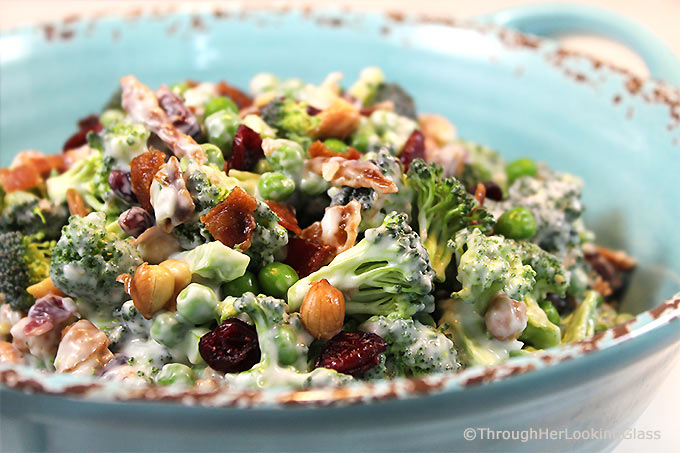 I'm getting excited! Summer is just around the corner and that means all the picnics, potlucks and parties!!! We've got several summer birthdays in our family, which means I'm experimenting creating some great new recipes for a crowd!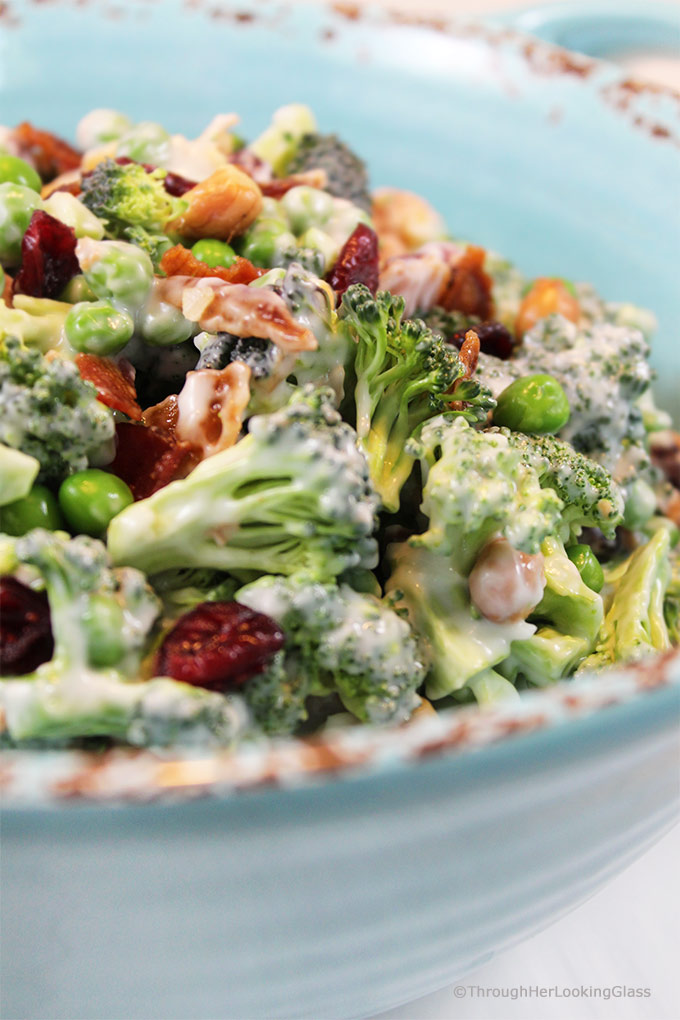 The magic of this salad is that you can fully combine it a day early and it still tastes just-made fresh! This crunchy salad travels well and will be the hit of your next party or potluck.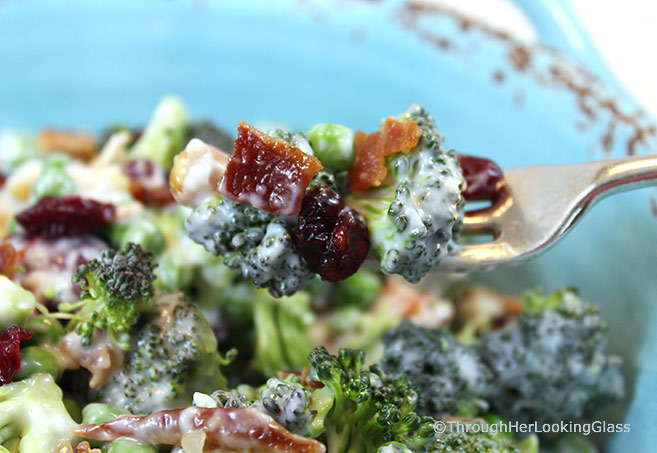 There are some amazing salad recipes here on the blog if I do say so myself – and I'm a big salad lover! If you are too and haven't tried my Crunchy Asian Salad or Grilled Corn Tomato Basil and Feta Salad, you're in for a real flavor pop. Both use summer fresh ingredients and have distinctive flavors that are a colorful addition to any summer menu or potluck.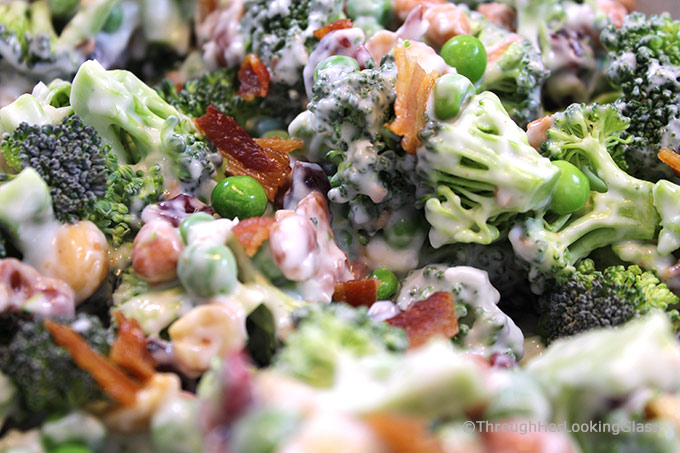 This new Crunchy Broccoli Salad with Bacon rates right up there with both those summer classics. A few months ago a friend brought a similar broccoli bacon salad to a church potluck and it went fast. I tried some and headed back for seconds!
(My excuse: trying to figure out all the delicious ingredients. And since I'm still thinking about it a few months later, thought I should try replicating it here.)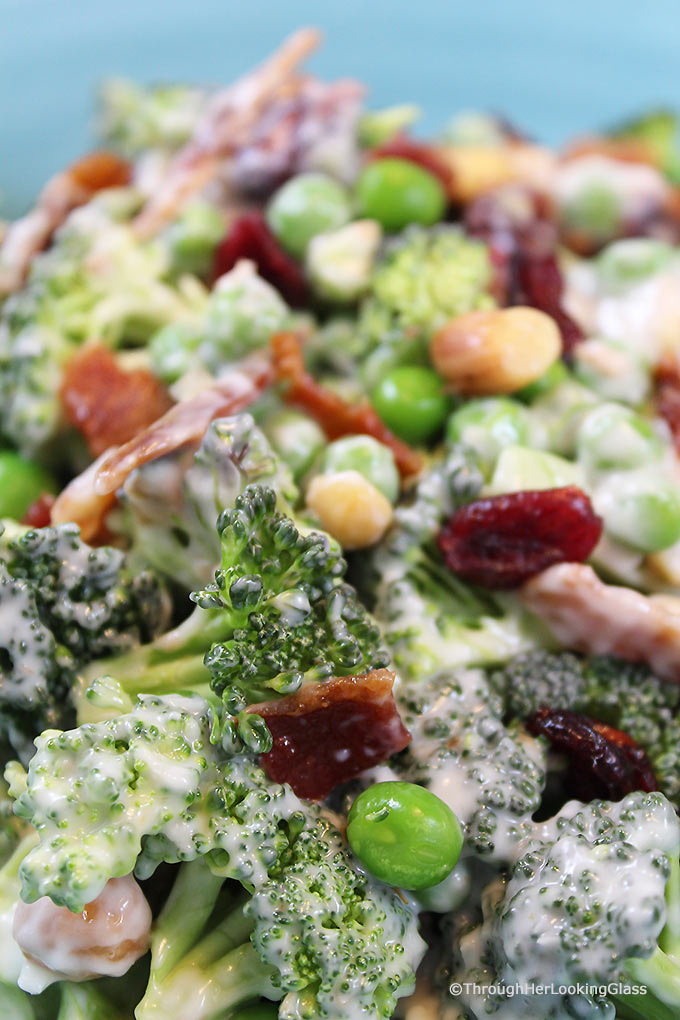 I wish I'd made this broccoli salad a few months back when we were doing our kitchen renovation and were stuck without a stovetop or oven for weeks. Because I could have easily cooked the bacon in the microwave and made this salad, since the broccoli is raw.
Yeah so I'll remember that for my next kitchen renovation. Which I hope is… never. Once in a lifetime is more than enough.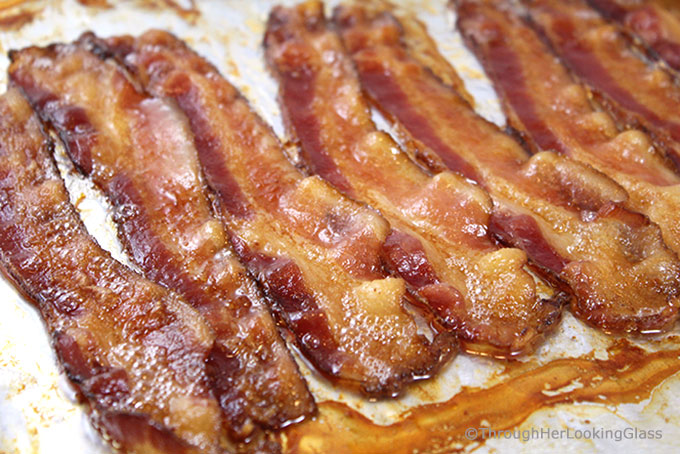 Bake bacon in the oven while you prep the veggies and whisk up the dressing.
Why I love this salad:
Crunchy and sweet.
Flavorful, creamy dressing with fresh grated parmesan.
Bacon. Need I say more? (Easy way to bake bacon in the oven here.)
Bright, pretty salad with tons of crunch and flavor.
Simple to make.
Nutritious – the veggies are raw.
Packs in lots of veggies and protein.
Doesn't take much prep time.
Stays fresh-tasting for days.
Makes a great side dish or lighter lunch.
Feeds a crowd!
(Did I mention BACON?)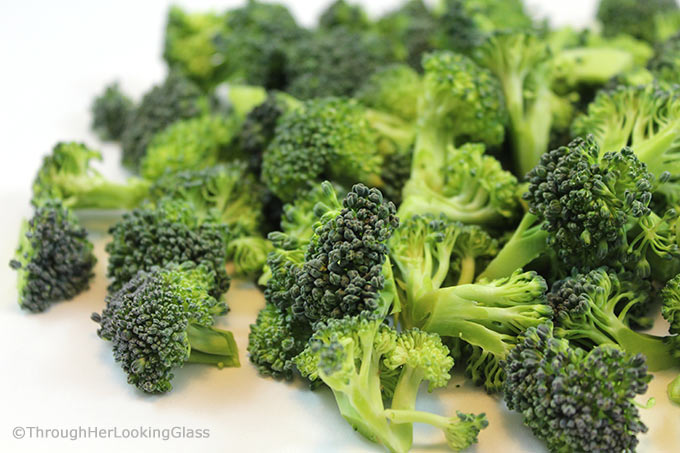 So prep couldn't be easier for this salad. You're NOT going to cook the broccoli. I know, that may sound a little odd. But trust me on this, that's the magic of this salad.
That's what keeps it fresh and crunchy for so long – the broccoli is actually raw. And you aren't even going to mind – you're going to LOVE it! 🙂 Scout's honor. Typically raw broccoli has a chalky taste – but the creaminess of the homemade dressing somehow wipes that out. You gotta try it!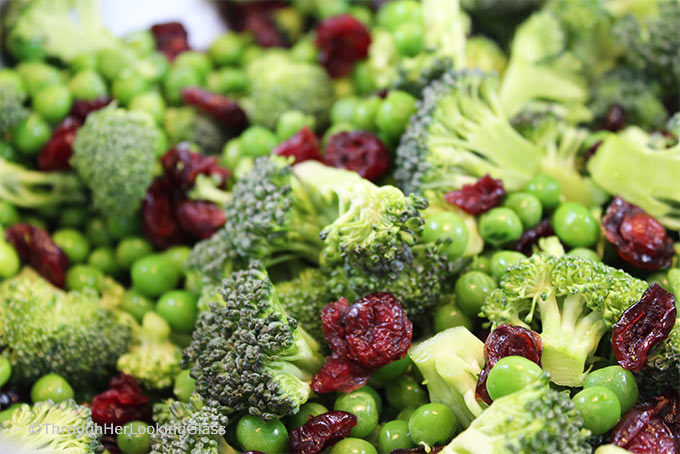 For prep, just chop your broccoli crowns into smaller florets and combine with the rinsed frozen green peas and dried sweet cranberries in a large serving bowl. Set aside.
Separately, whisk together the dressing ingredients which include freshly grated parmesan. Pour the creamy dressing over the broccoli, peas and cranberries in the serving bowl. Combine well. Gently stir in peanuts and bacon and grab yo' fork!

Tips to make Crunchy Broccoli Salad with Bacon:
Bake bacon in the oven while you chop the veggies and whisk up the dressing.
Don't use the big, tough broccoli stem for this salad. Use just the broccoli crowns.
Easily make this salad a day or two ahead – still tastes great!
The peas do turn darker when you make this a day or two ahead. So add peas just before serving for a vibrant green color.
Use minced Vidalia or sweet onion in the dressing.
Refrigerate leftovers promptly.
Other delicious broccoli salads you may enjoy: Broccoli Salad and Broccoli Salad with Pineapple and Bacon Recipe.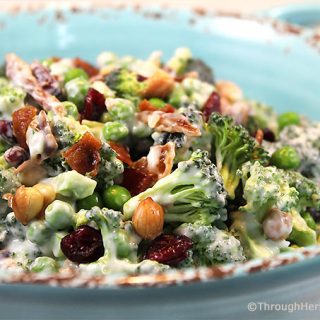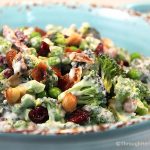 Print Recipe
Broccoli Salad with Bacon Recipe
Ingredients
Salad
8

slices

bacon

cooked and crumbled

6

cups

chopped broccoli crowns

don't include the large stem

1

10 ounce package frozen green peas, thawed

1

cup

dried cranberries

1

cup

raw Spanish peanuts
Dressing
1/4

cup

sugar or honey

1

teaspoon

salt

1

tablespoon

white vinegar

2

tablespoons

minced Vidalia

sweet onion

1/3

cup

freshly grated Parmesan cheese

1 1/2

cups

mayonnaise or light mayonnaise

like Hellmann's Light
Instructions
Place frozen peas in a colander in the sink and run cold water over them for several minutes.

Set aside.

In a small mixing bowl, whisk together sugar or honey, salt, white vinegar, minced Vidalia (sweet) onion, grated parmesan cheese and mayonnaise until thoroughly combined.

Set aside.

In large serving bowl, combine chopped broccoli, frozen peas and cranberries.

Pour dressing and mix with large spoon until coated.

Add in Spanish peanuts and bacon.

Serve immediately.

Refrigerate leftovers.
Notes
For best results, don't use the tough, large broccoli stems in this recipe. Just use the broccoli crowns.
You may also like: Crunchy Asian Salad