So excited about this Crunchy Asian Salad recipe on the menu today. I think it's going to be one of your favorites this summer.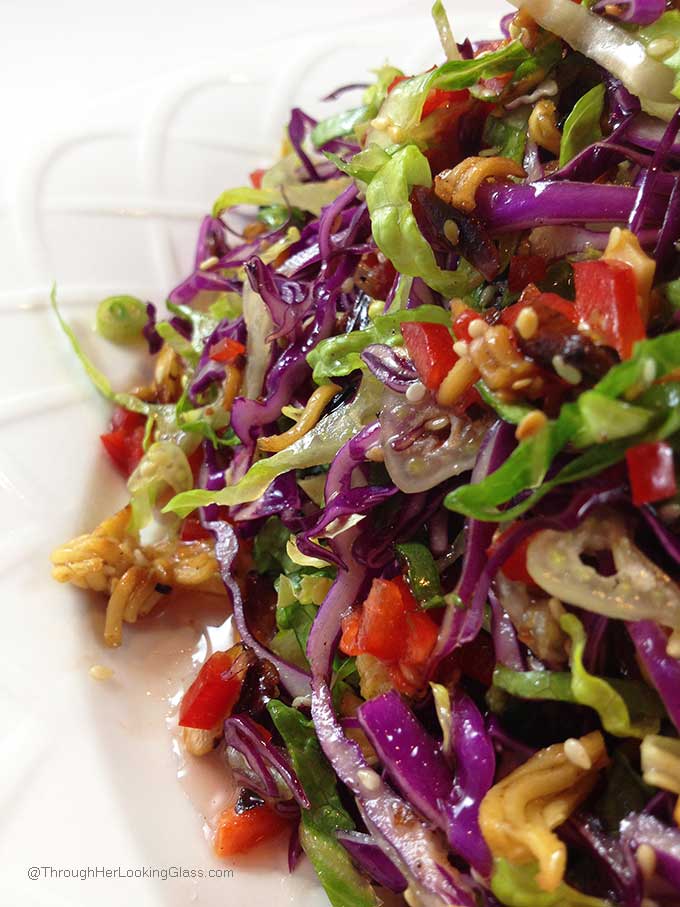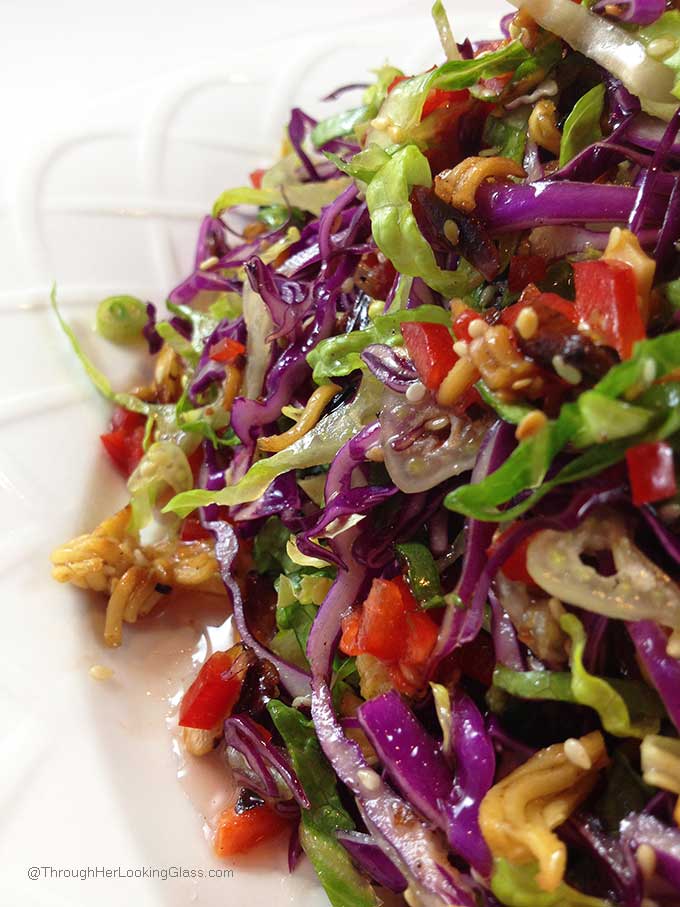 It uses garden fresh ingredients and the dressing is excellent: light and sweet, made with rice wine vinegar and a few other ingredients. This salad packs a lot of crunch with the toasted sesame seeds, almonds and ramen noodles. Use Napa or red cabbage, though why they call it red cabbage is beyond me.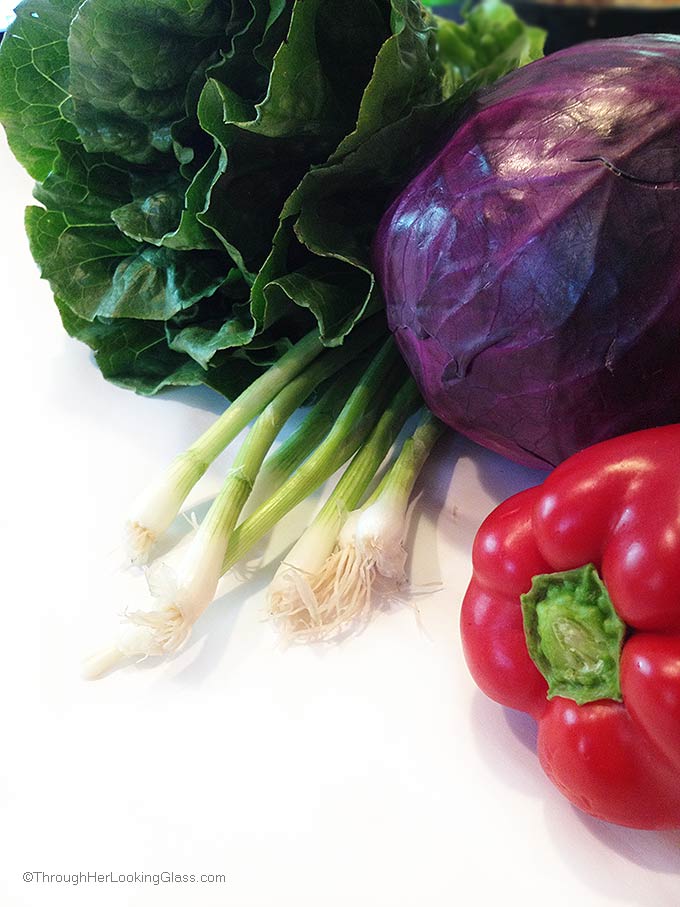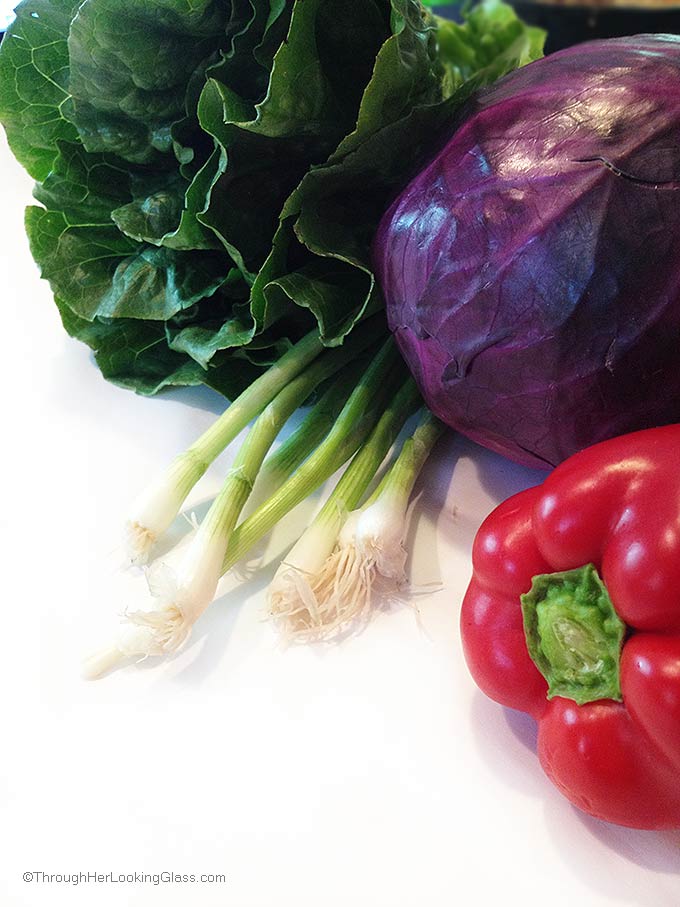 Looks mighty purple to me.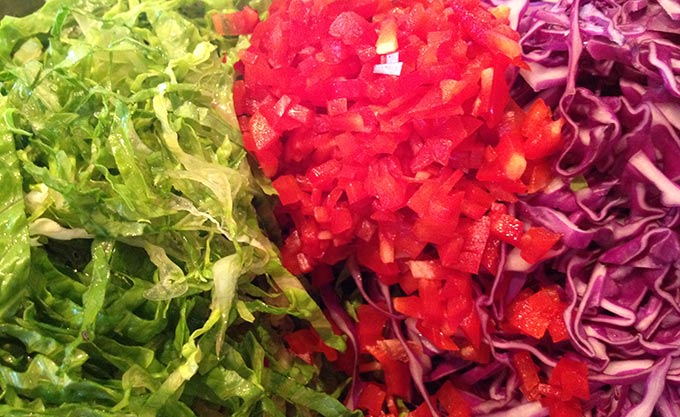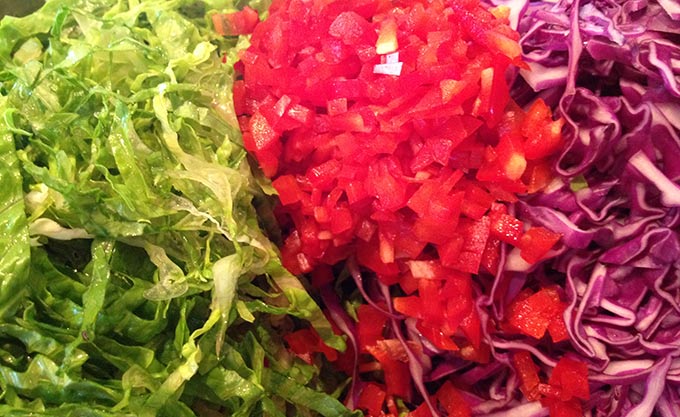 Anyway, this Crunchy Asian Salad recipe is so pretty and uses such colorful veggies. This recipe makes a ton, serves twelve to sixteen generously, so it's perfect for potlucks, picnics and barbecues. Really feeds a crowd. Also a great recipe to share extra with friends or neighbors.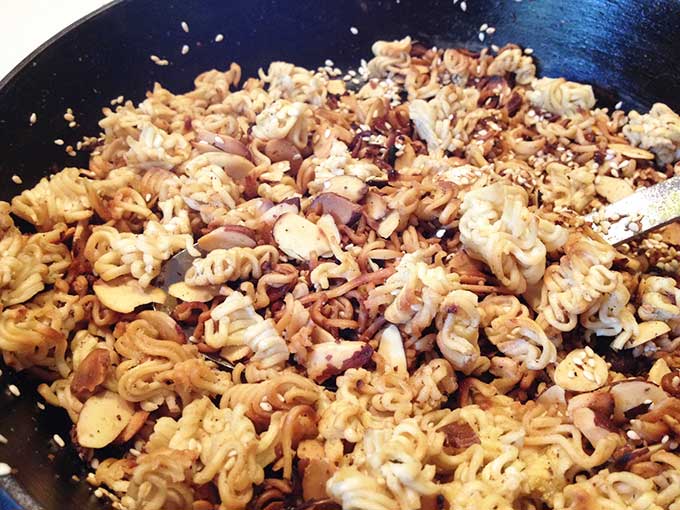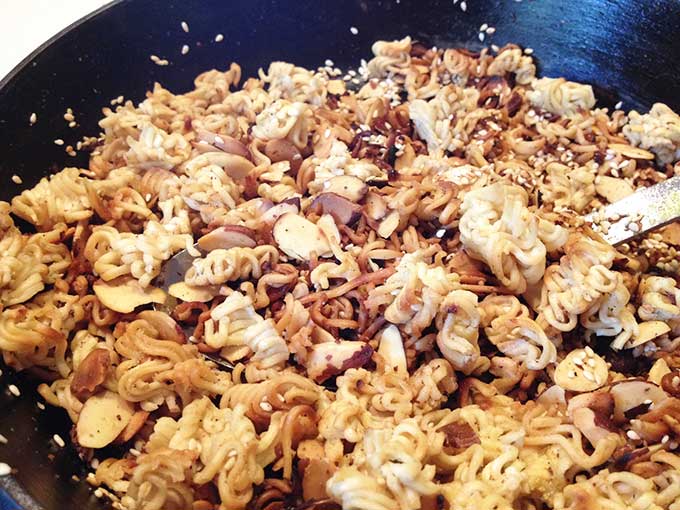 Lots of yummy crunchies: toasted Ramen noodles, almonds and sesame seeds.
I first had this salad four or five years ago. The dressing is sweet and the salad has great crunch from the cabbage and toasted ramen noodles, almonds and sesame seeds. Great combination of flavors.
And the bright colors are so vibrant and cheerful, really makes a great presentation on a dinner plate. (You see this one coming!) Love having a bowl of Crunchy Asian Salad for lunch! Also makes wonderful leftovers. Wherever I take this side dish, I get asked for the recipe.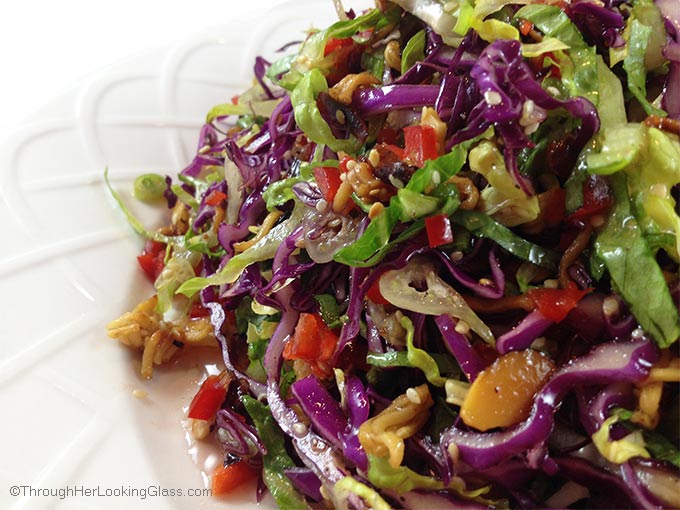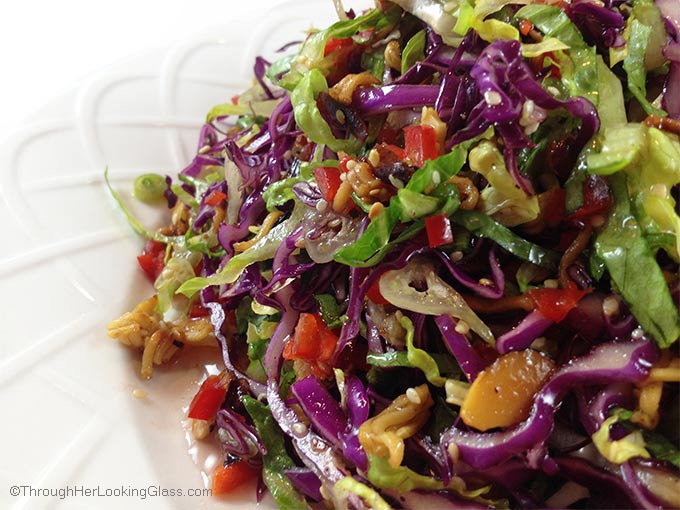 The key to preparing this salad is to have a good sharp knife or mandoline on hand for slicing the cabbage and Romaine lettuce very thin. Be sure to dice the red peppers small. It makes a world of difference using a sharp knife for this task, so sharpen yours first. You can buy pre-shredded cabbage to save time, but I've not found it shredded fine enough for my liking.
I often make this recipe in stages. Ahead of time, I toast up the crunchies in a skillet, then store in an airtight container. I make the dressing next and store in the refrigerator. Then I dice/chop all the veggies just before serving and toss it together with the dressing and crunchies.
Hope you make this Crunchy Asian Salad recipe and do let me know how you like it.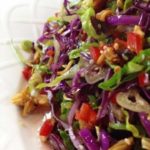 Print Recipe
Crunchy Asian Salad
Sweet dressing on a crunchy cabbage salad with toasted almonds, sesame seeds and ramen noodles. Gorgeous salad!
Servings:
12
-16 servings
Ingredients
Salad:

1

large head Napa or red cabbage

sliced thin

1

small head Romaine lettuce

sliced thin

2-3

large red peppers

diced

4

green onions

diced (use the entire onion)

Crunchies:

2

packages chicken flavored Ramen noodles

crumbled

1

chicken flavored seasoning packet from the Ramen noodles

1/2

cup

slivered almonds

1/3

cup

sesame seeds

3

tablespoons

butter

Dressing:

1

cup

vegetable oil

1/3

cup

rice wine vinegar

2/3

cup

sugar

1

teaspoon

salt

1

teaspoon

ground black pepper

1

clove

minced garlic

or more if you love garlic
Instructions
Place all prepared vegetables in a large serving bowl.

Crunchies:

Melt butter in a large skillet over medium heat.

Add crumbled Ramen noodles and stir.

In two minutes, add almonds.

Watch the almonds closely as they are very easy to burn.

Salute 'til golden brown.

Add 1 packet chicken seasoning from Ramen noodles.

Mix well.

Add sesame seeds at the very end and stir 'til just golden.

Quickly remove from heat and cool mixture.

Dressing:

Separately, whisk together all dressing ingredients.

Just before serving, toss salad, crunchies and dressing.

Serve immediately.

 You may also enjoy: Grilled Corn, Basil & Tomato Salad