Hello my friends, wishing you a very happy July weekend wherever you may be. Hope you're soaking in some rays and enjoying some rest and relax with your friends and family this summer. Filling you in today on a quick get-away Jon and I squeezed in a few weekends ago in June, celebrating our twenty-third anniversary in Portsmouth, NH.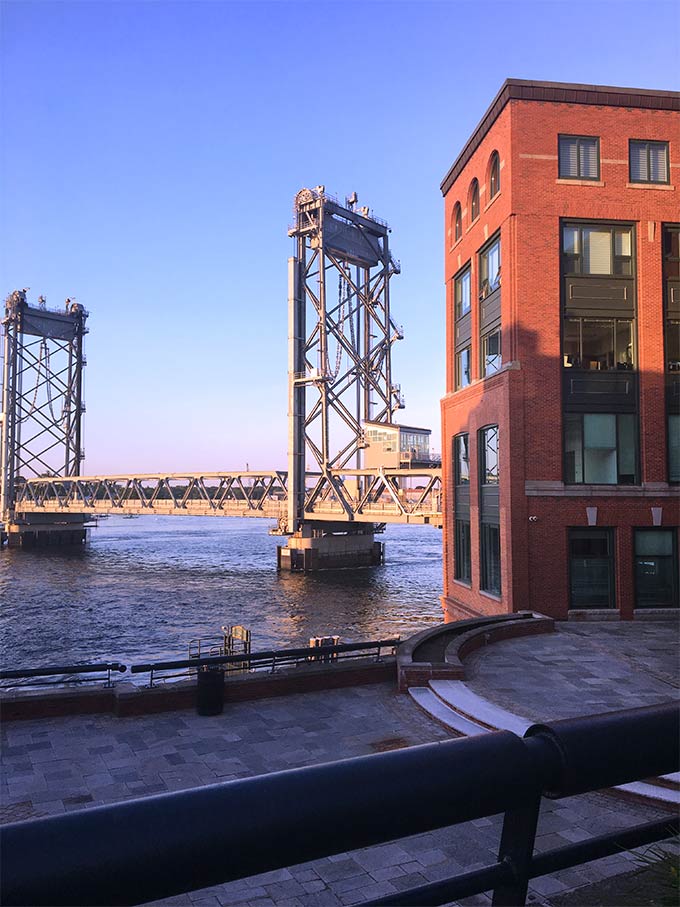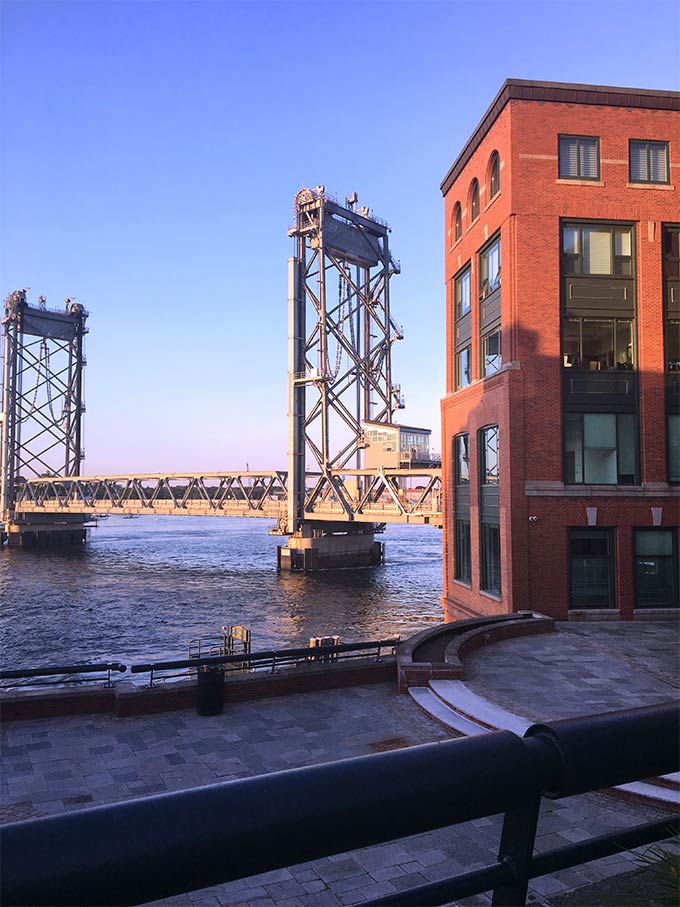 First. Can I just say: love this city.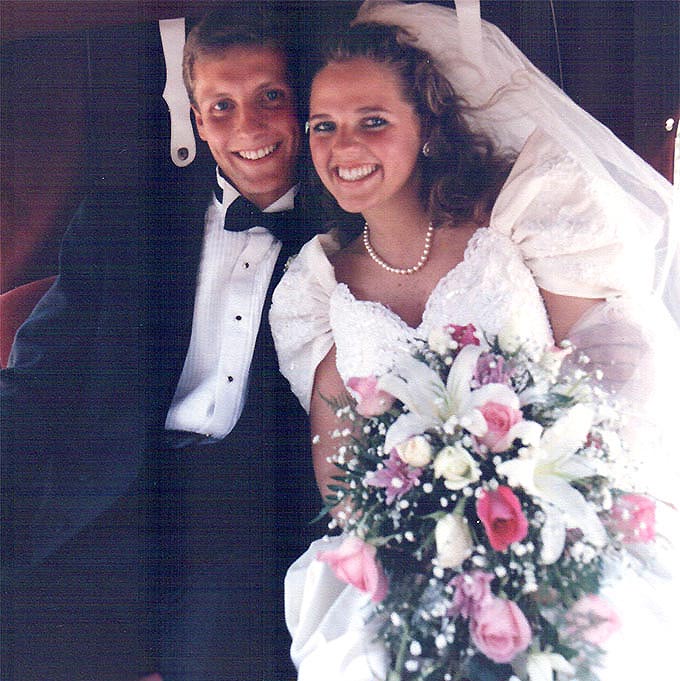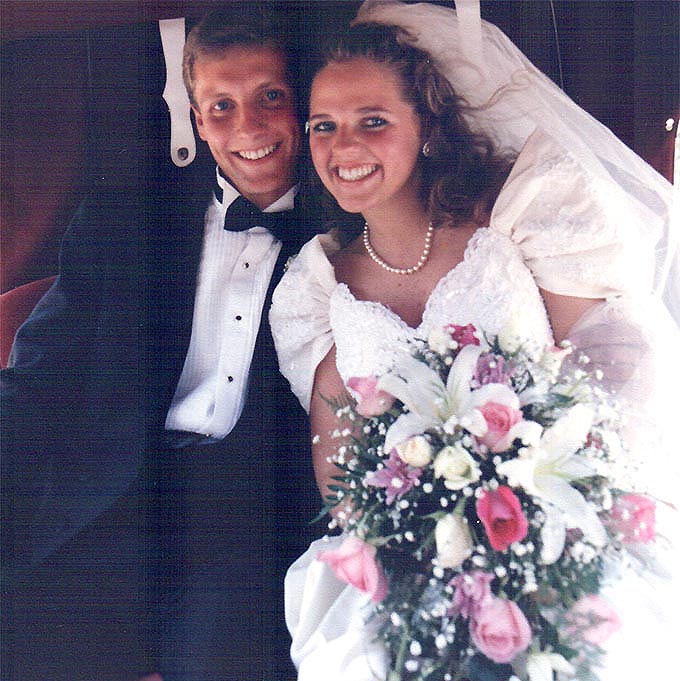 And second. Time: it really flies. And how can it be twenty-three years since we solemnly exchanged vows in that little white church on the village green?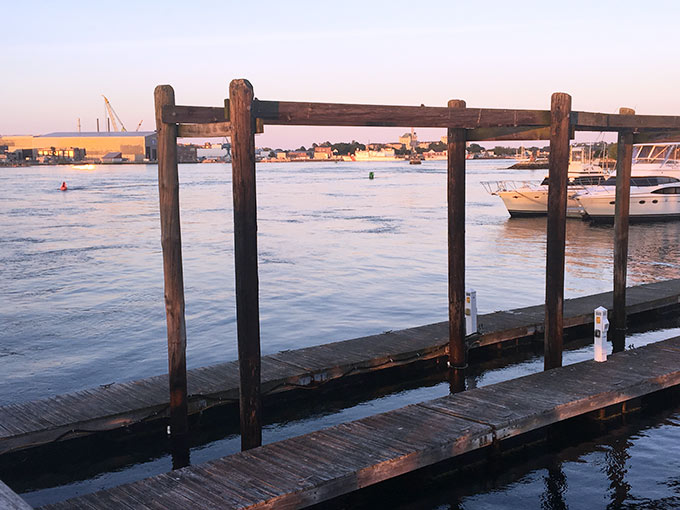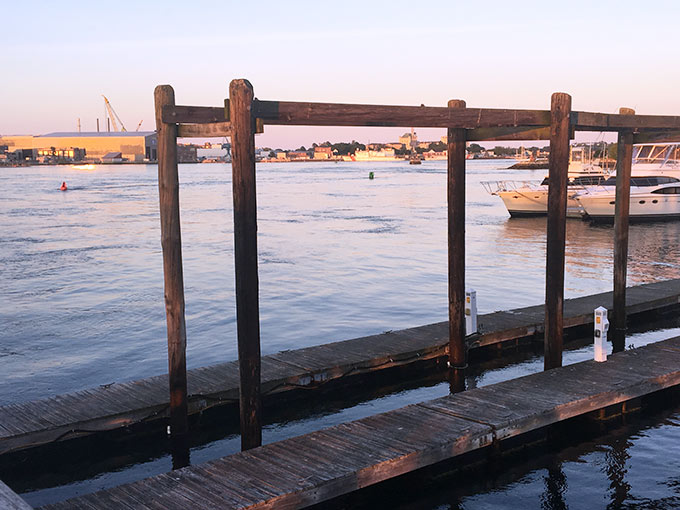 And it seems to me, the older I get — the faster time flies by. And those beyond me, they say he rumbles even faster further down the rails. Yikes!
So I tentatively whisper: "Slow down Father Time." (He pays no mind.)
That's why it's important to take a little breather if you can from the regular routine. Celebrate the important milestones. Because time — it just keep ticking. Whether we stop to celebrate the special moments or not.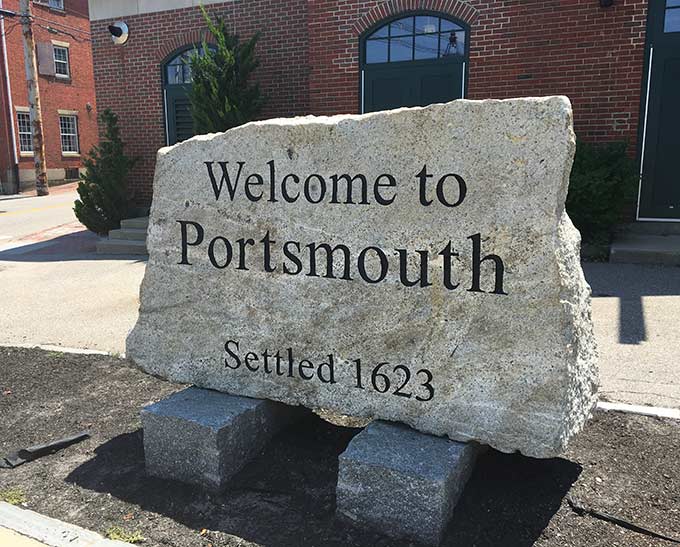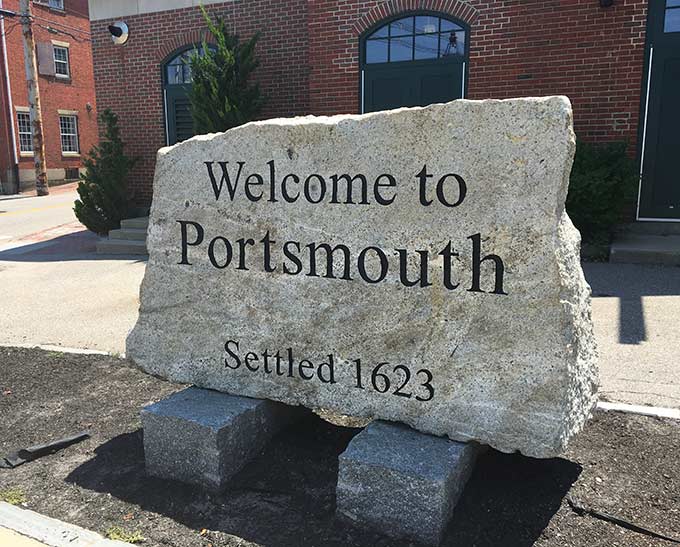 So we escaped for a night to Portsmouth, NH just an hour away on the coast. What a quaint and beautiful old New England coastal city with character and history. I love the architecture. Can't wait to show you the sights. So let's go!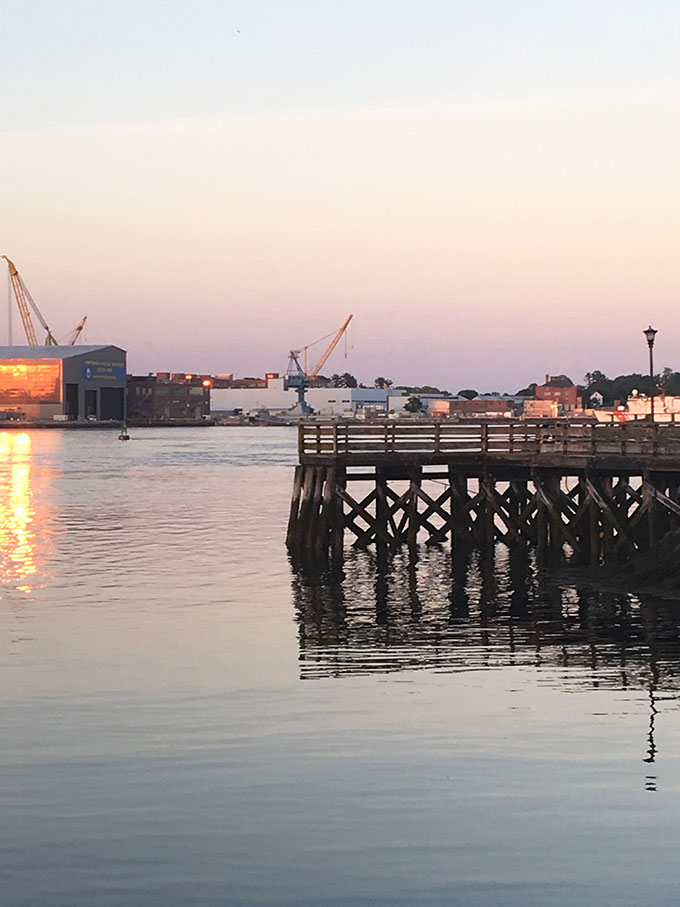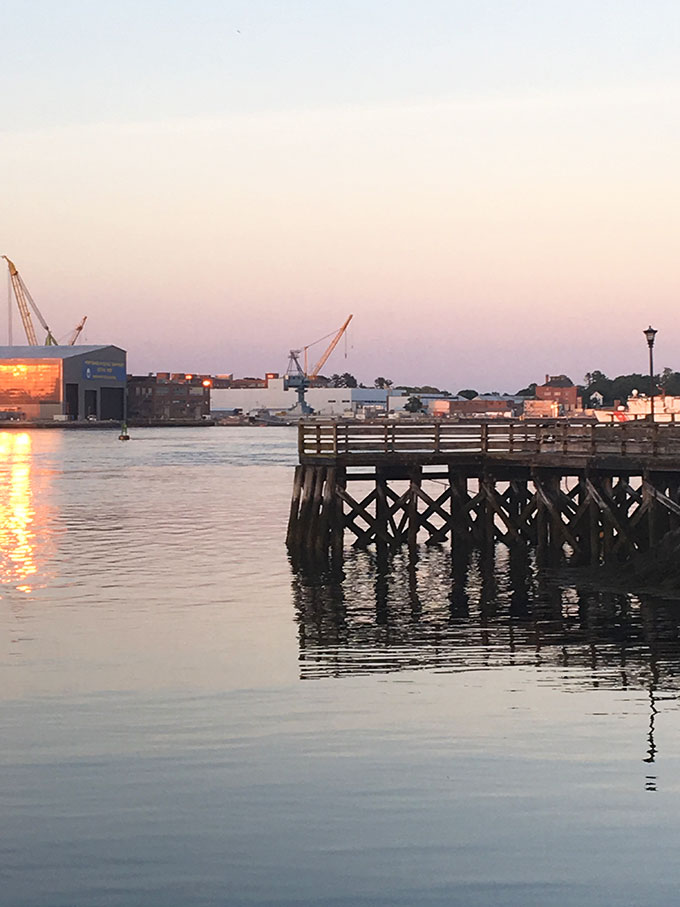 We stayed at the Sheraton Harborside Hotel, got a fantastic deal on-line through Hotwire, in case you're thinking of a visit. So we arrive to check in, and the desk attendant, she asks if we're celebrating anything special. (!)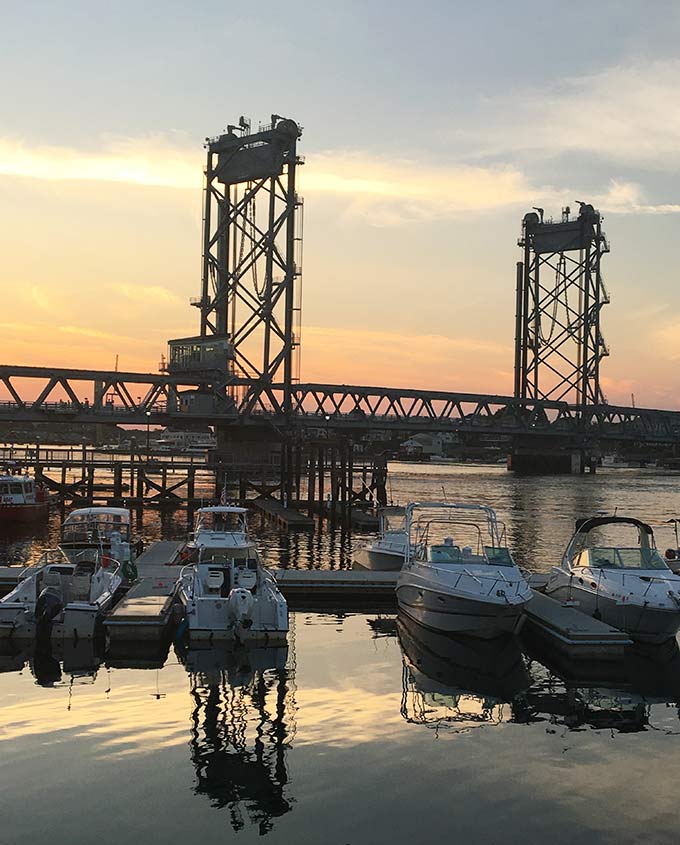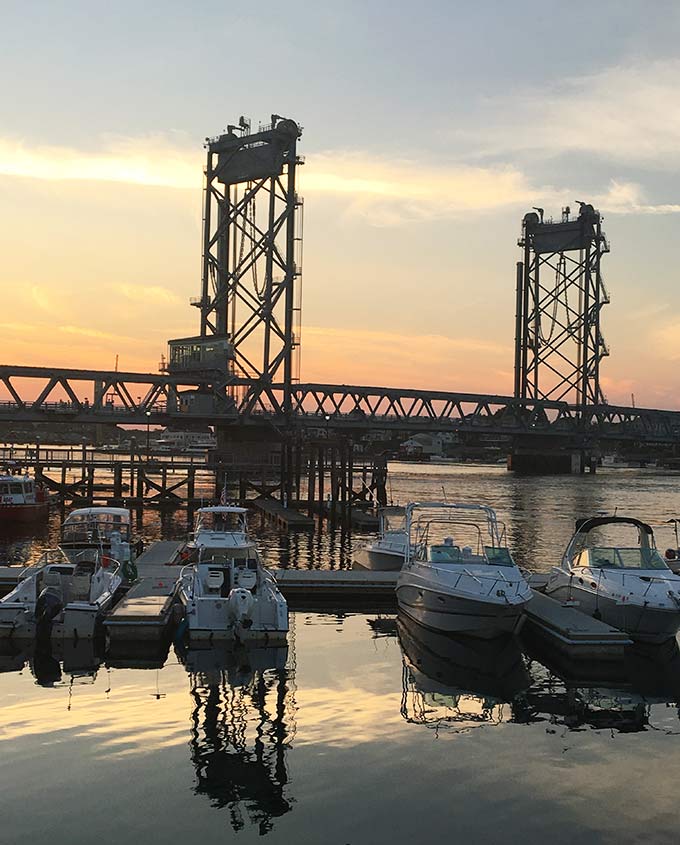 And of course we are, so we tell her our news. And she says, "Congrats, and let me upgrade you to our Club Access Level." Gulp. And thank you!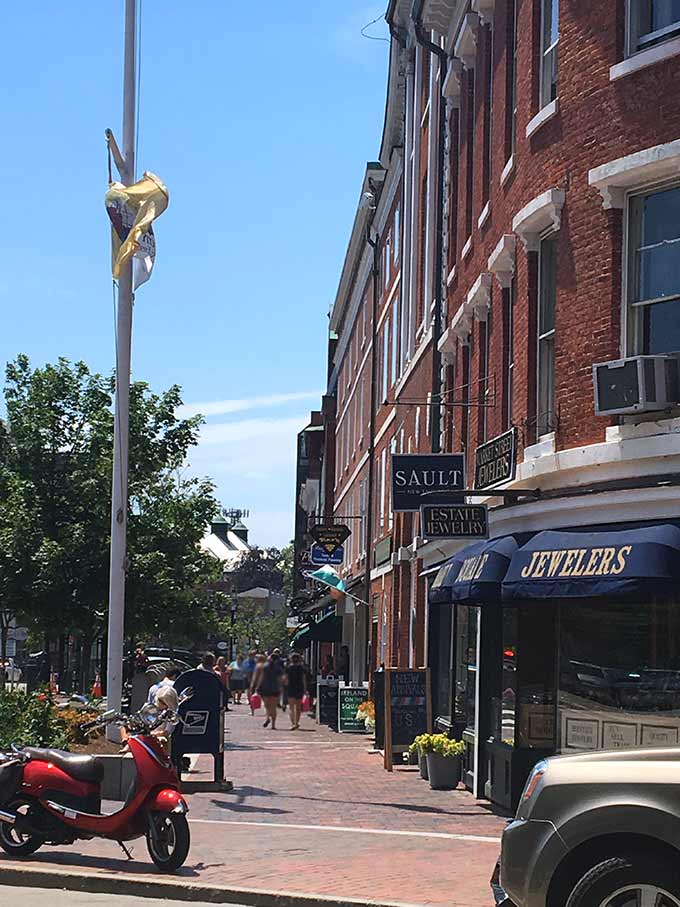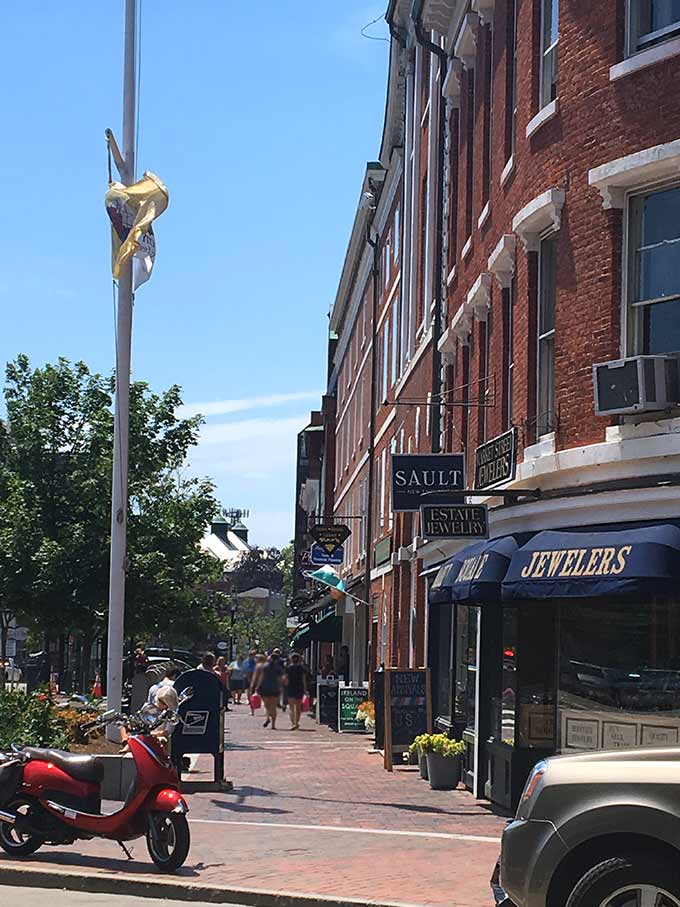 And just like that, suddenly we're VIP's, on the elevator, whisked up to the restricted access top floor with complimentary drinks and hors d'oeuvres in the evening, complimentary breakfast in the morning and a gorgeous harbor view to boot!
Woo hoo. I tell you: Someone is watching out for us. That I believe.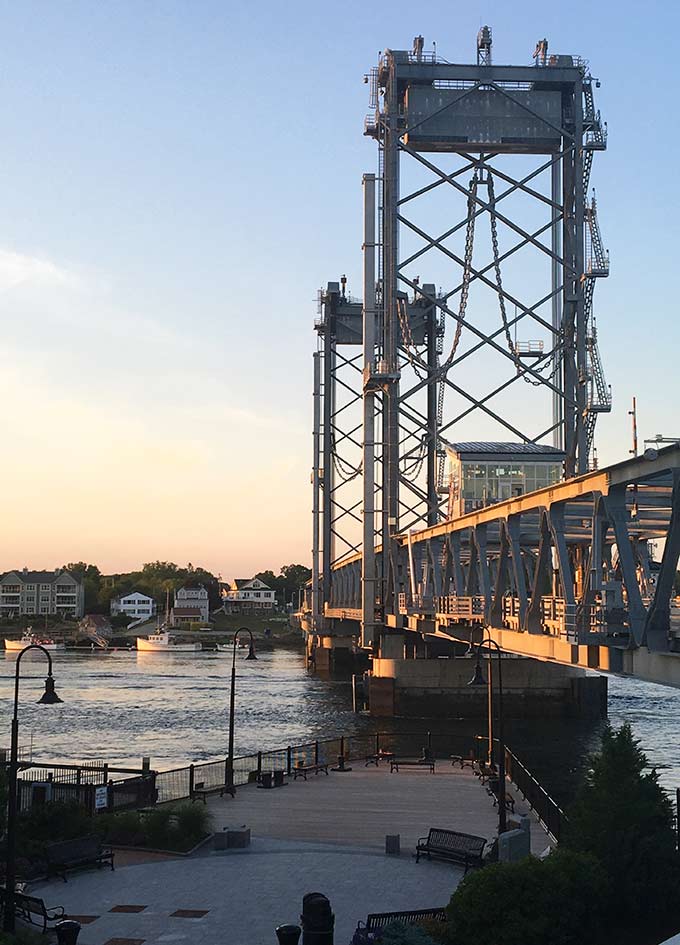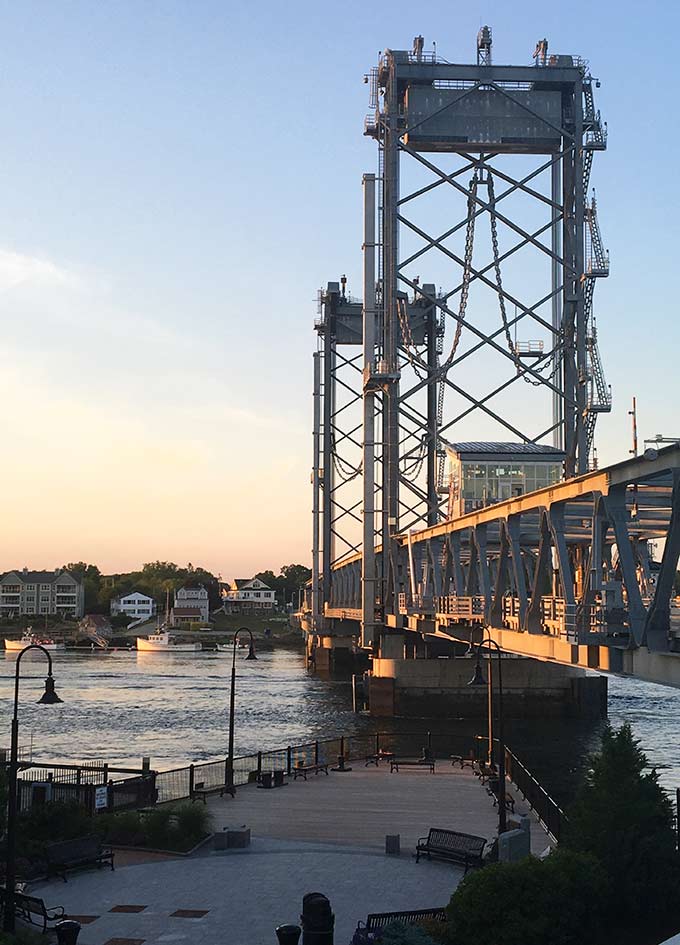 If you can't tell, I'm fascinated by this bridge. It really was a sight to see as the sun was setting just before twilight. On other days I've seen it draw up to accommodate big ships, also a sight to behold.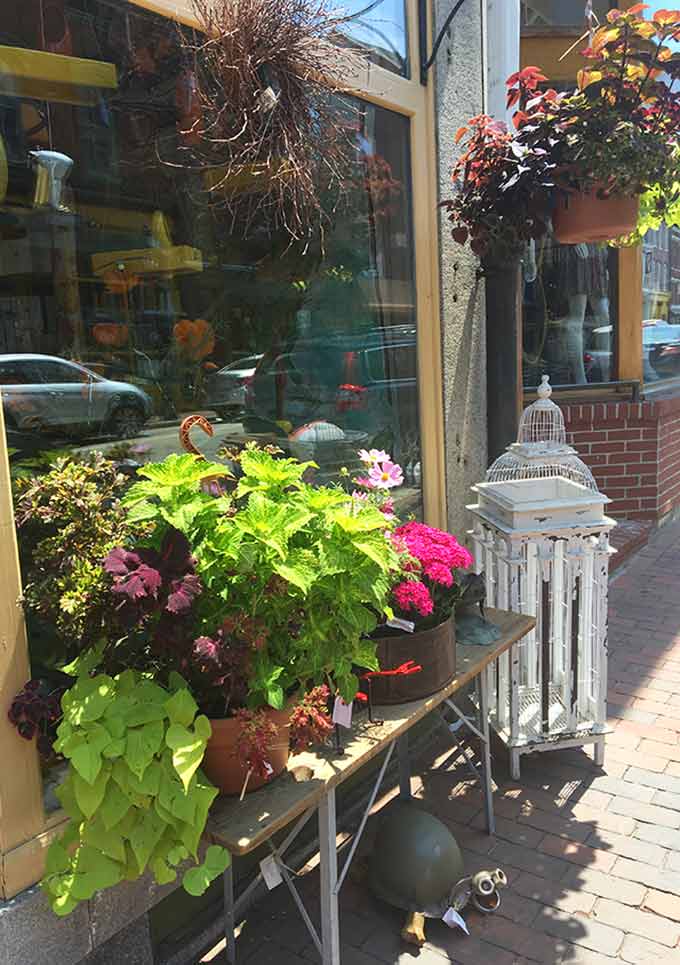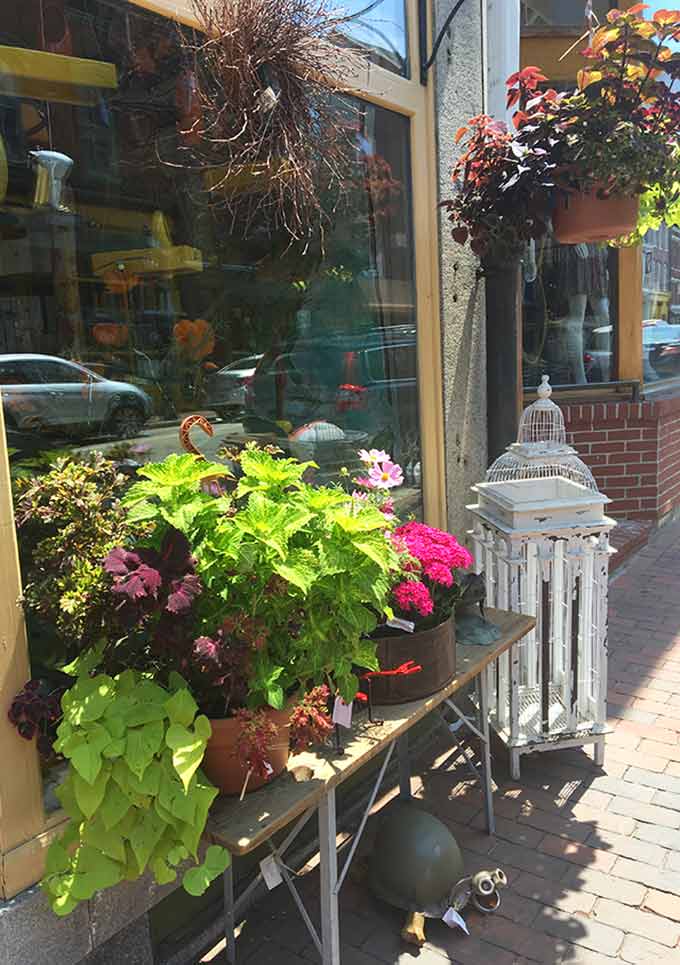 Spent time roaming the streets. Shopping. Drinking in all the beautiful sights.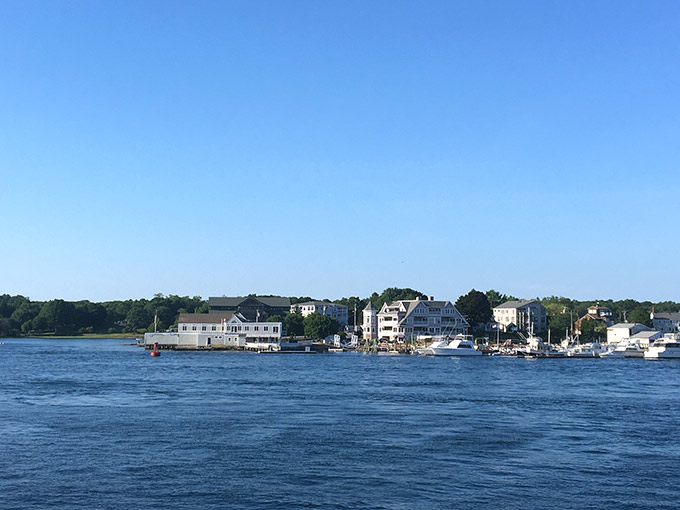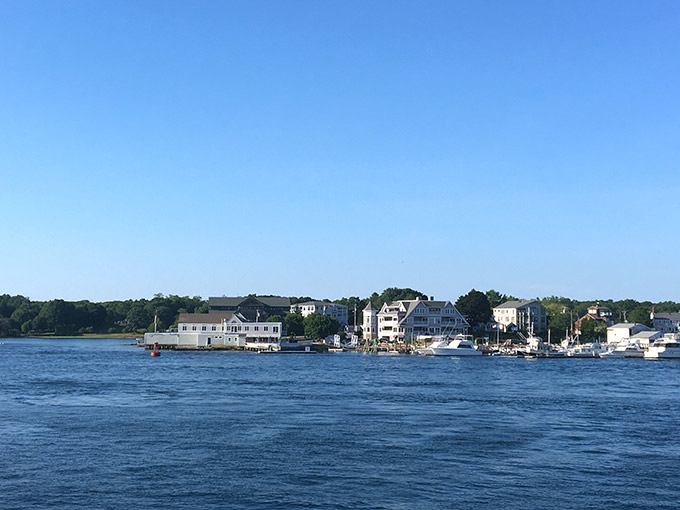 Had a lovely salmon dinner on the upper deck of River House with this stunning view of the harbor!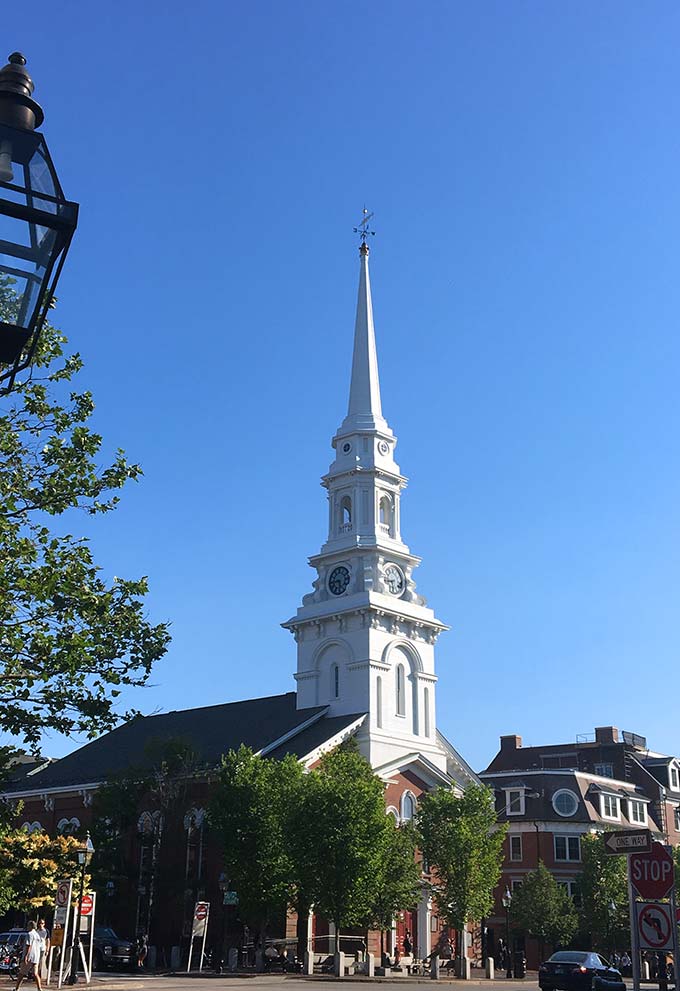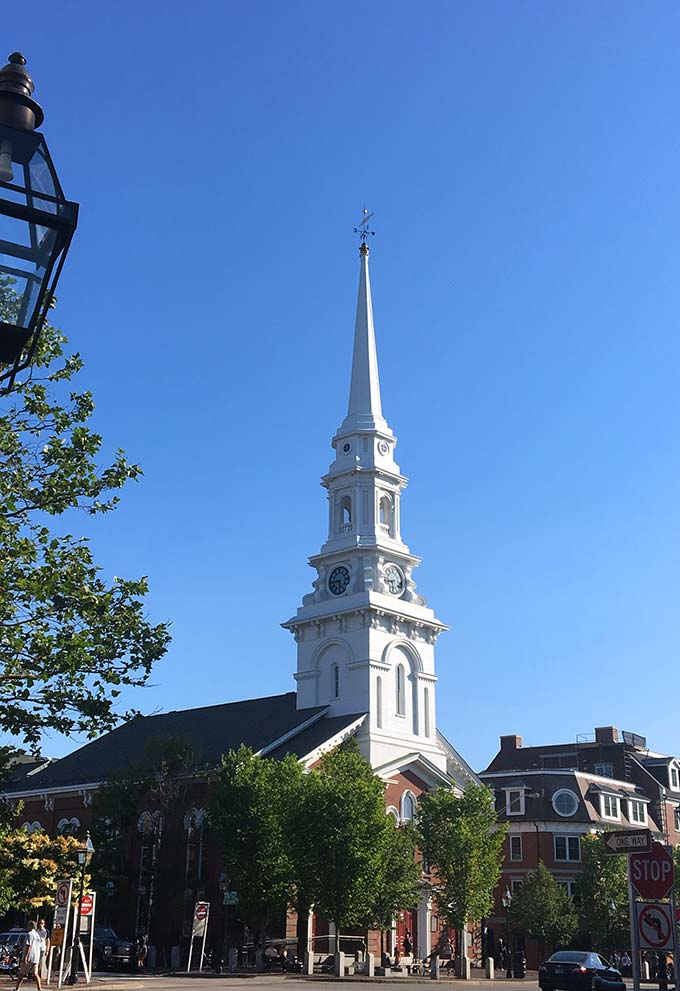 Love a church spire against the brilliant blue!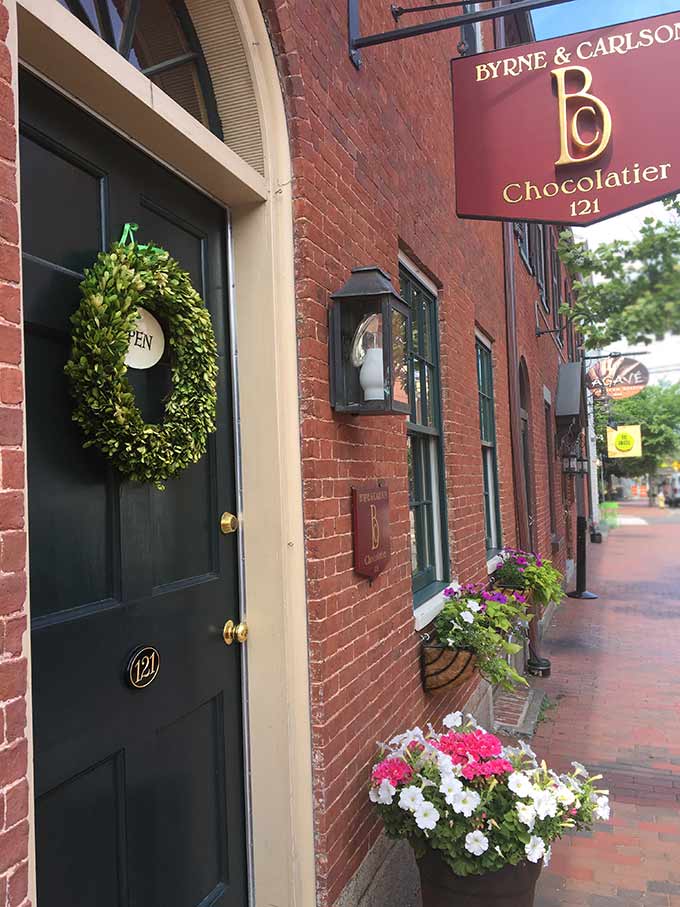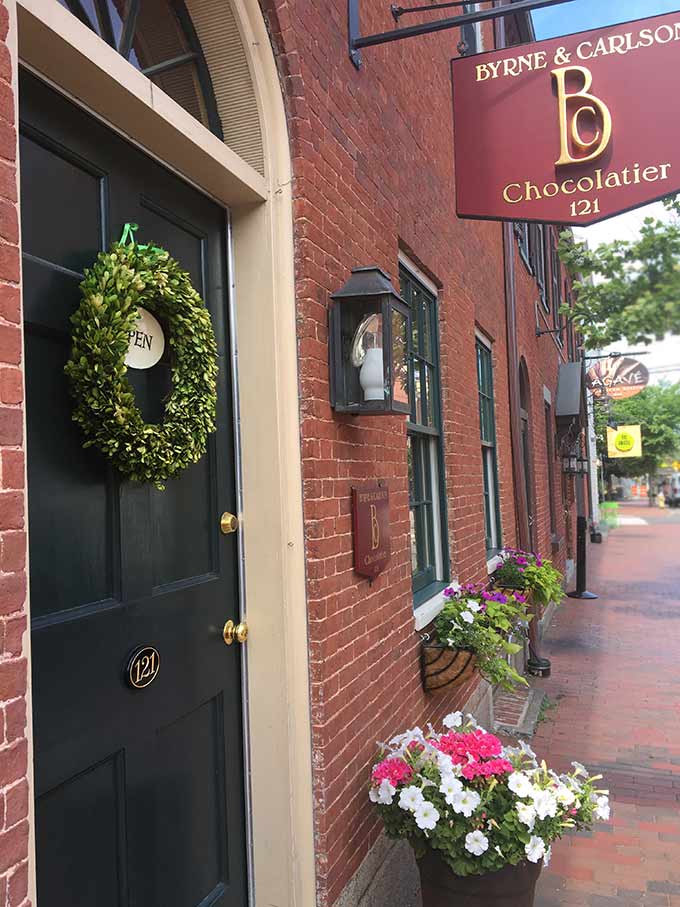 The trip wouldn't have been complete without a stop at the lovely Byrnes & Carlson Chocolatier. And yes, we "sampled". (And yes, they provide generous samples, FYI!)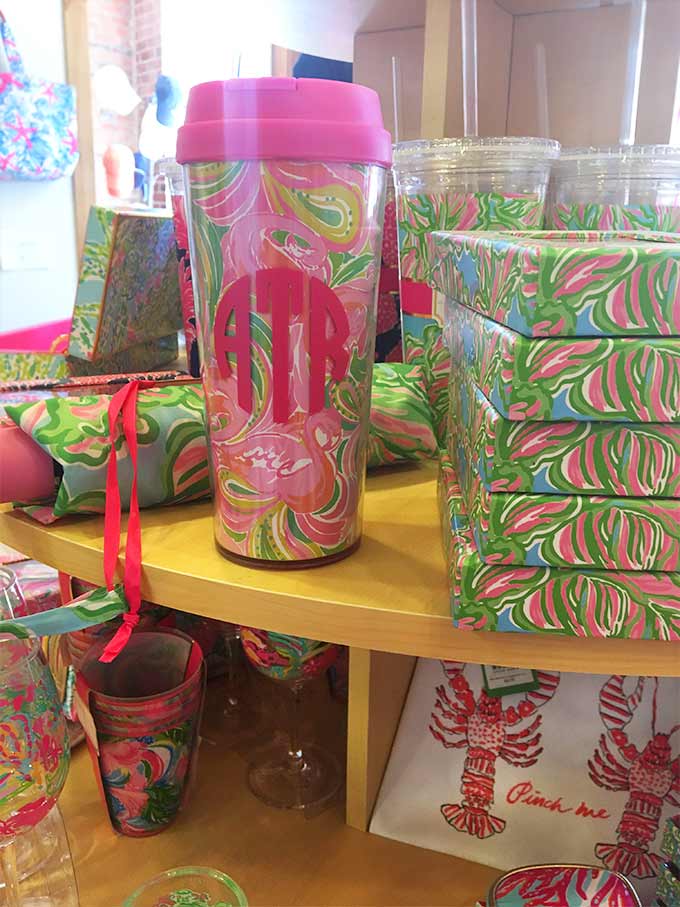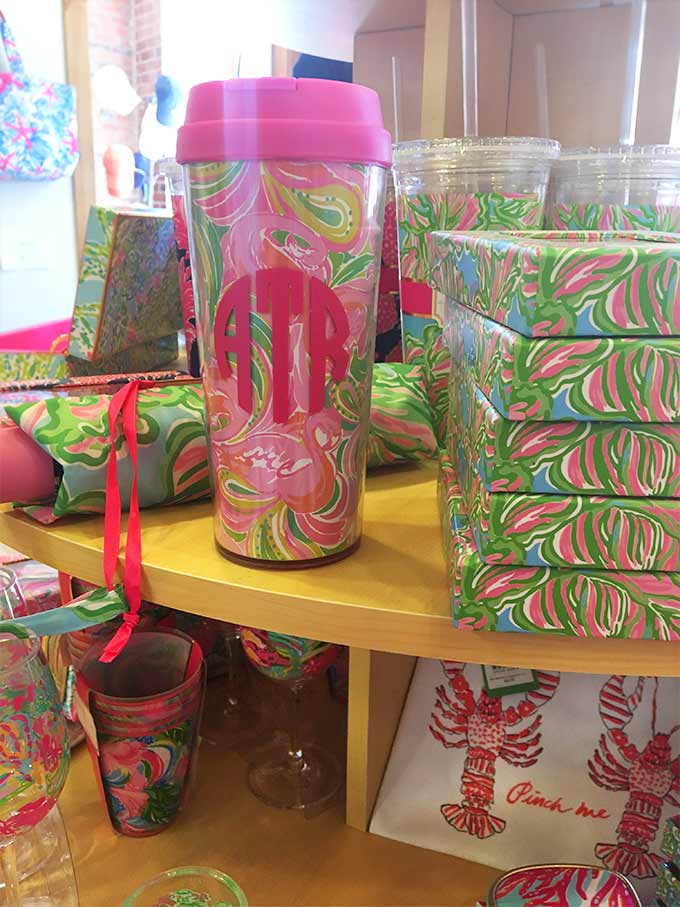 Picked up a souvenir and a few birthday gifts for some very special birthday girls at Seaside Allure, a new boutique downtown. If you like Vineyard Vines and Lilly Pulitzer, this is your new dream store. 🙂 (Mine too!)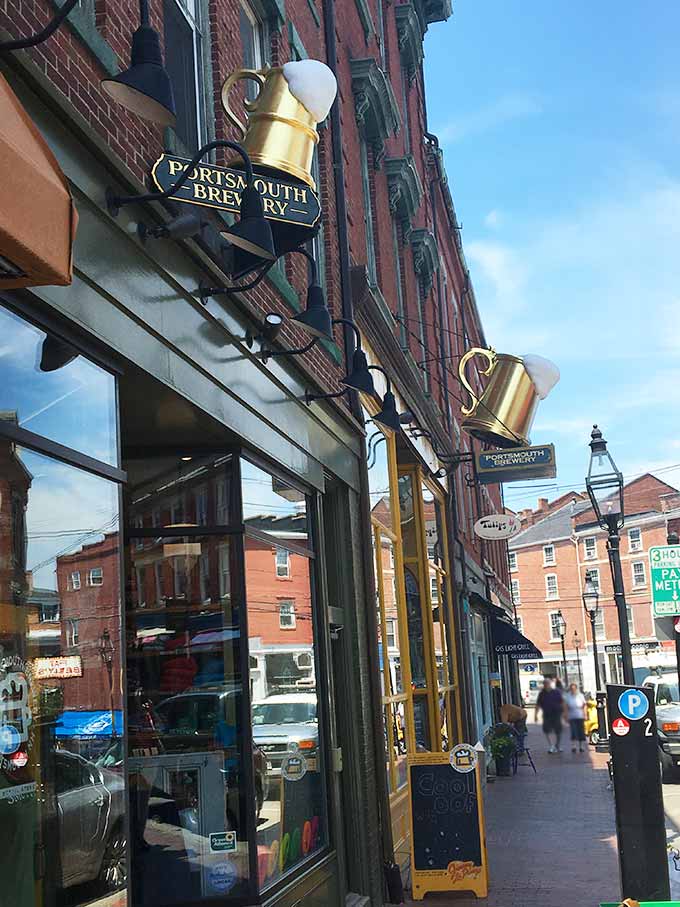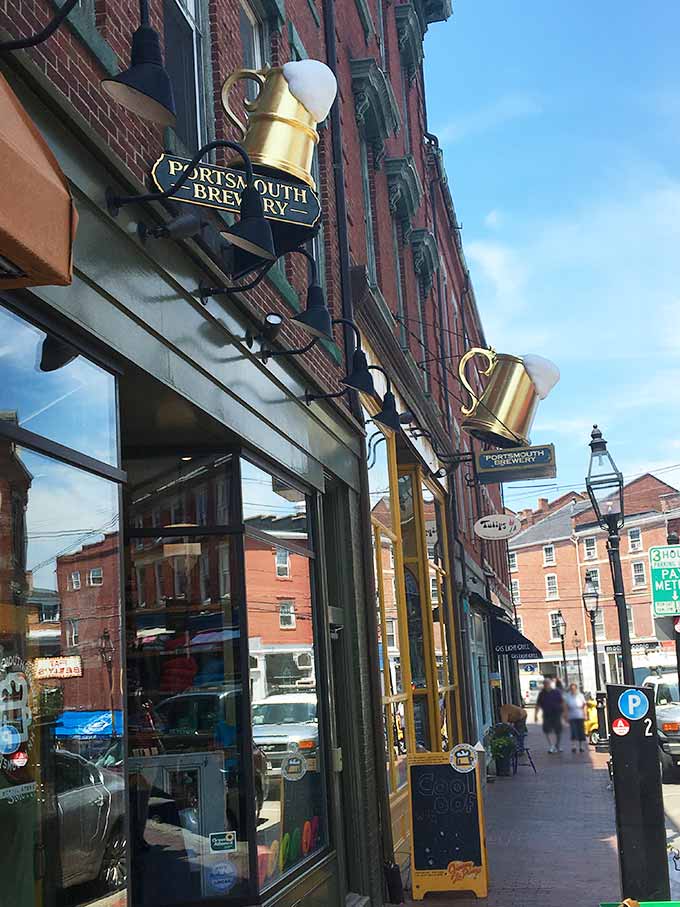 Had a delightful lunch at the famous Portsmouth Brewery downtown. Great atmosphere and food!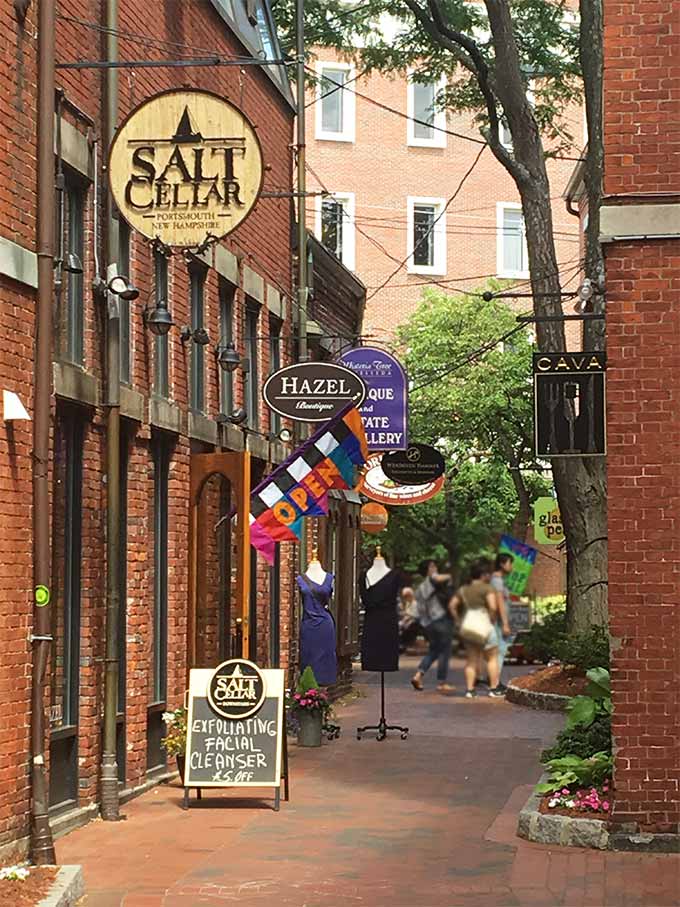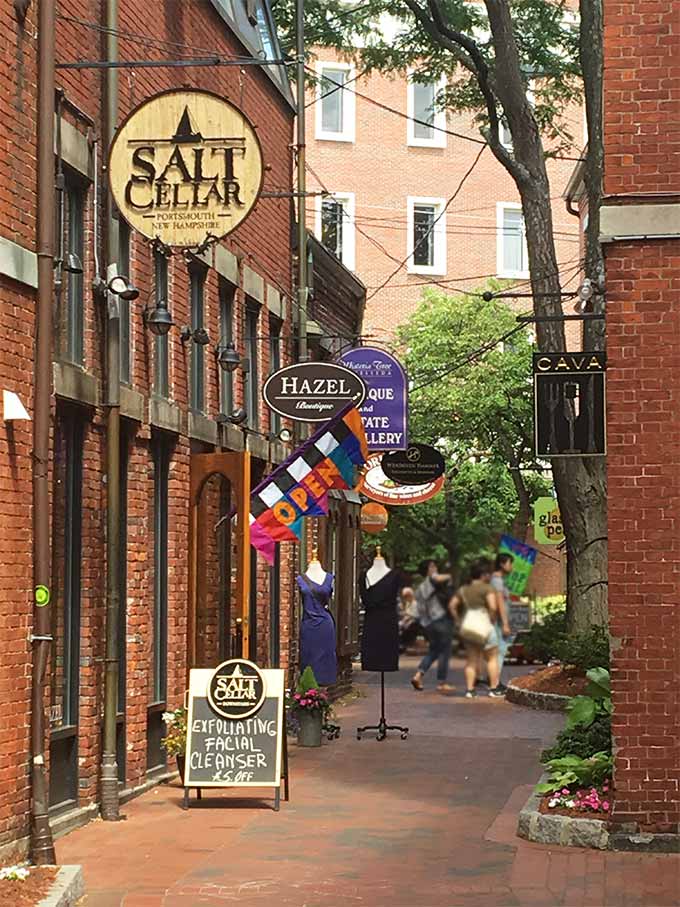 Just a little more meandering, and all too soon, it's time to head for home.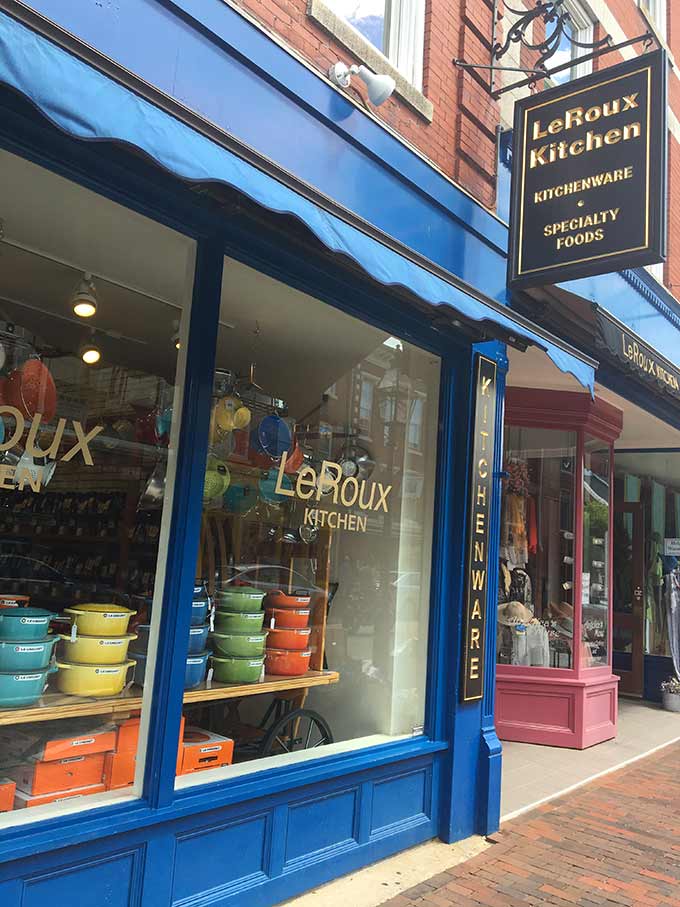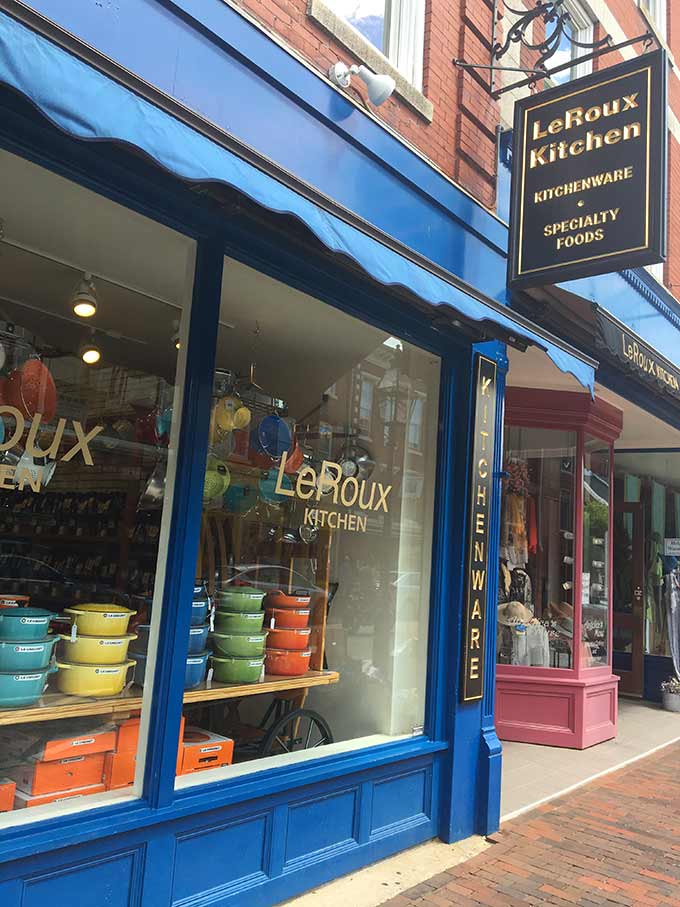 Hoped to browse inside Le Roux Kitchen but ran out of time. Check out the rainbow stacks of Le Creuset!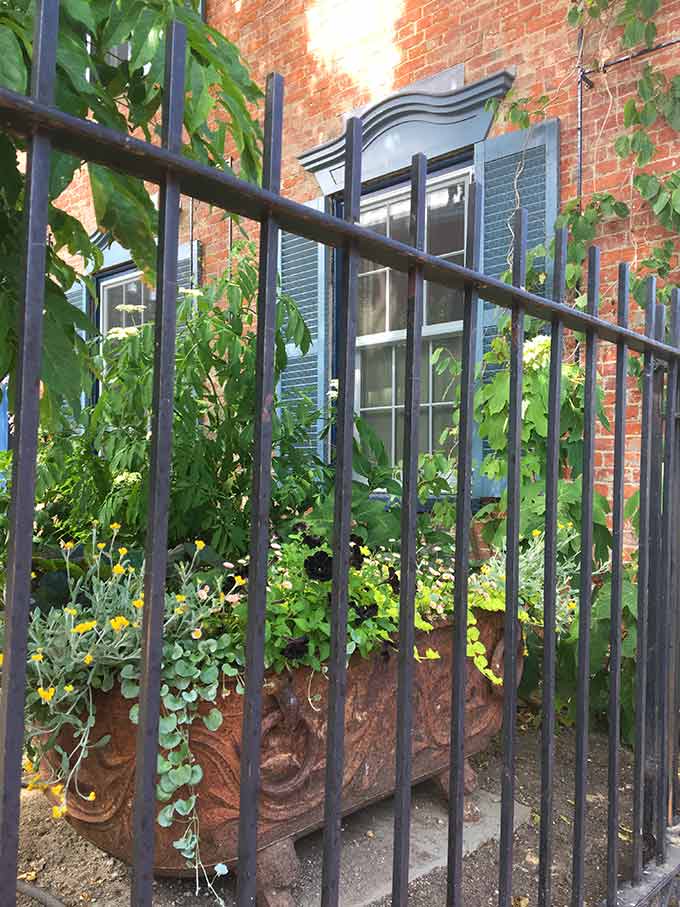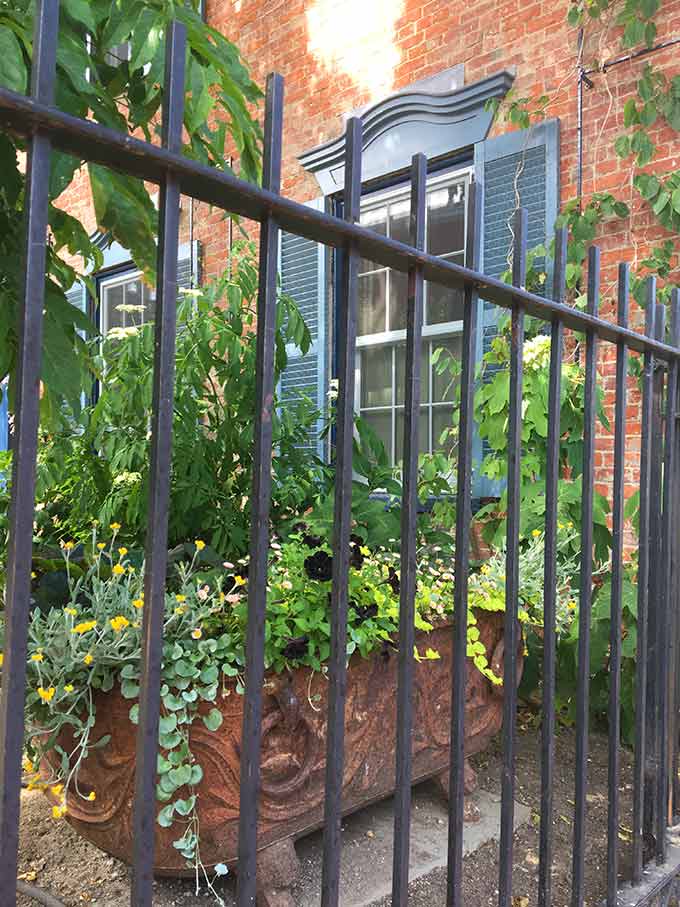 Loved this garden tub vignette we spied through the wrought iron gate heading out of town…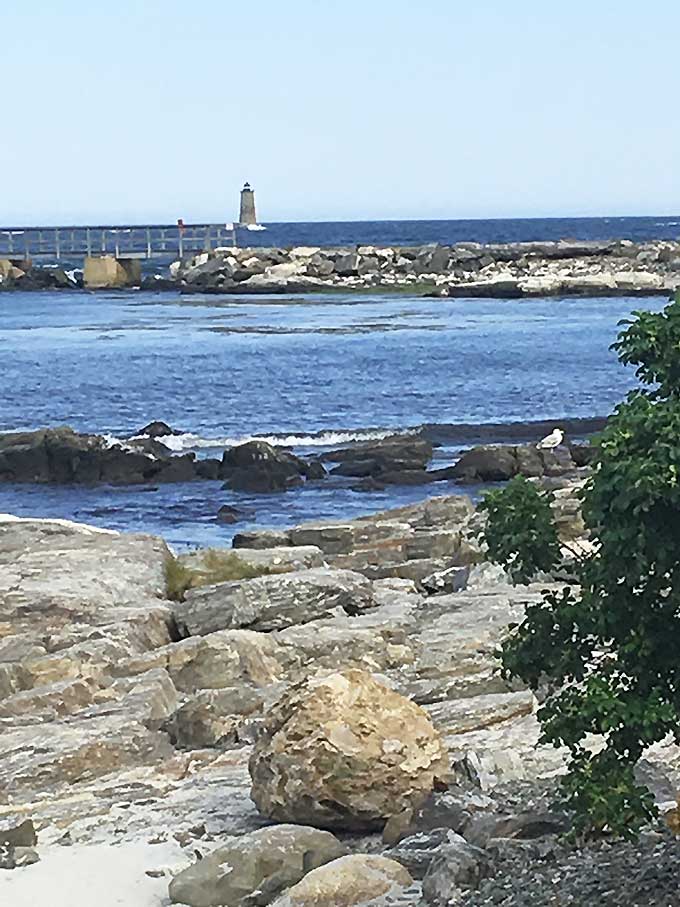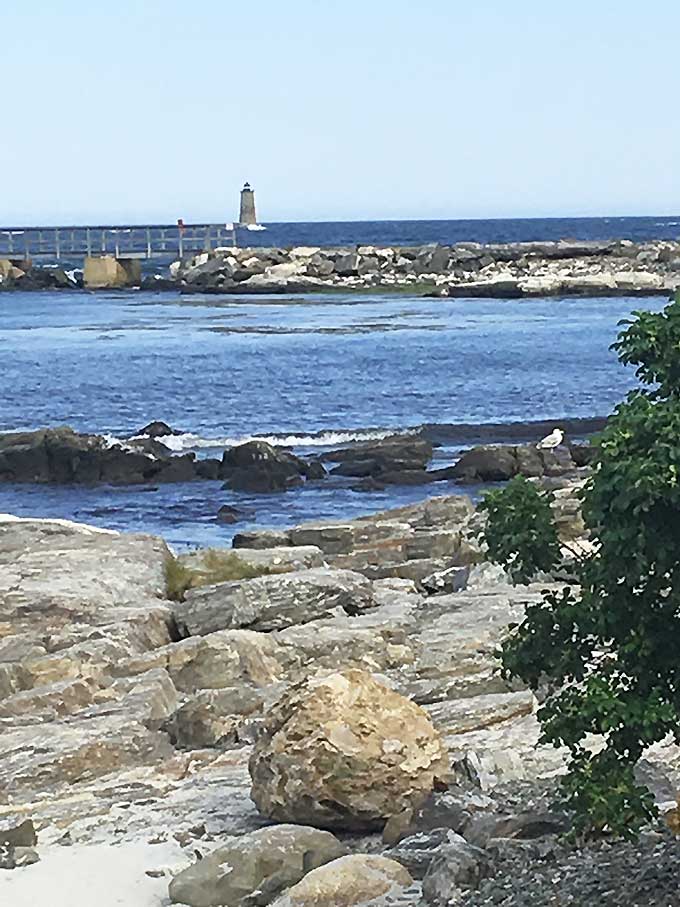 One last stop on the way home at our favorite New Hampshire beach, New Castle. Just off the beaten path, minutes from Portsmouth. Deserted. Perfect.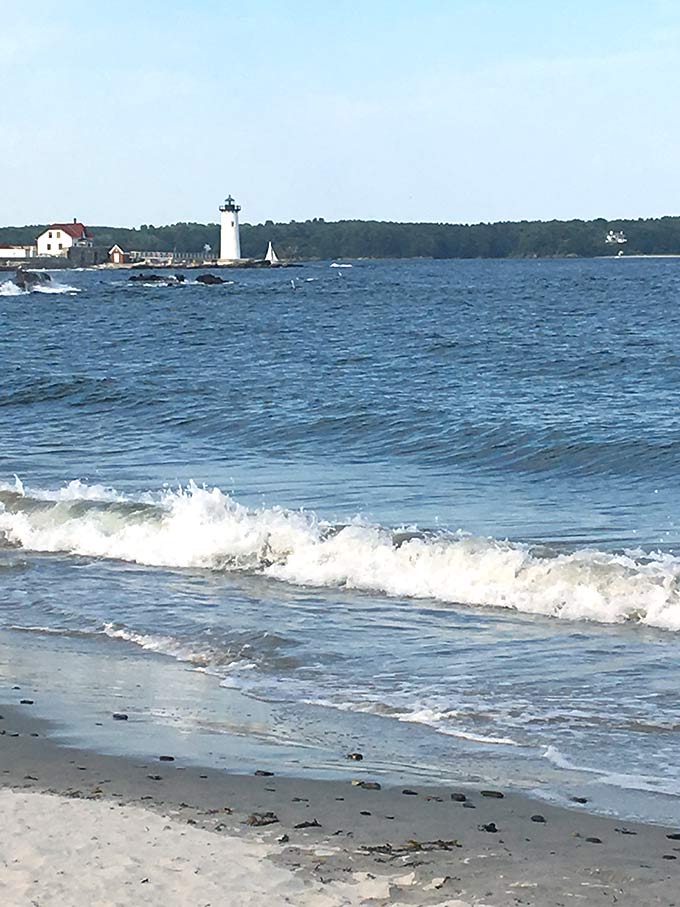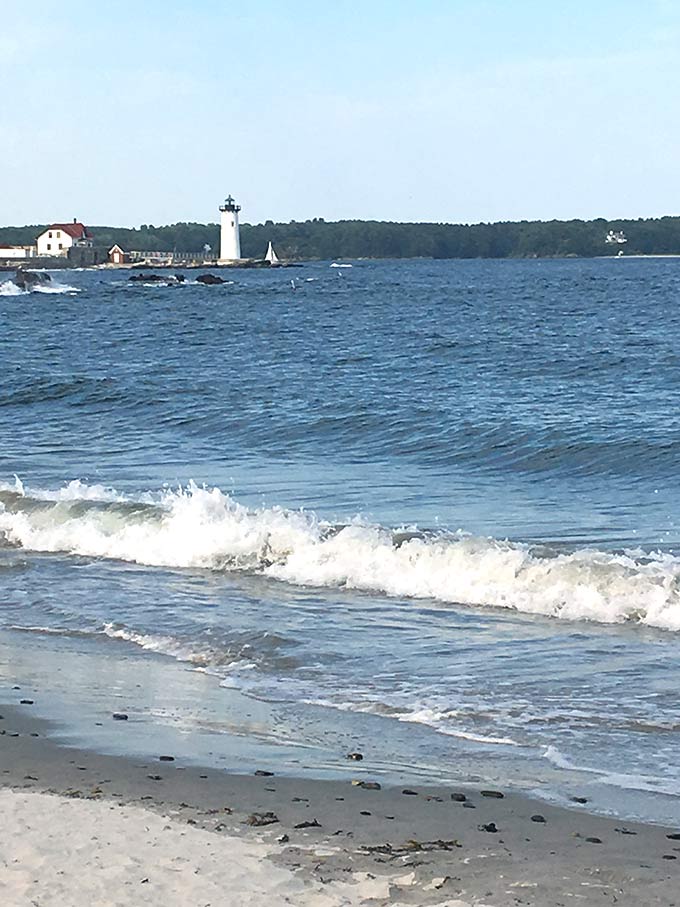 It's usually calm in the cove, but today the wind was up and there were actually waves and whitecaps.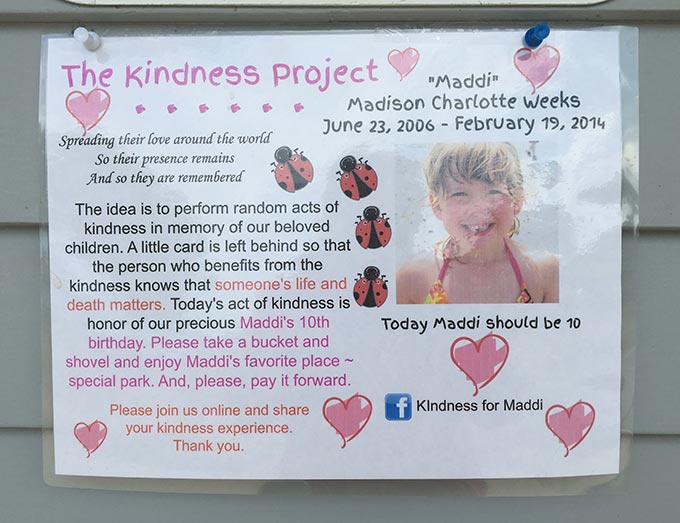 Things got blurry when I stumbled on this sign posted above the drinking fountain at the bath house. I'd heard of The Kindness Project before, didn't know what it was all about. A pile of children's pails and shovels were underneath the fountain. Sniff. And God bless Maddi's gracious family.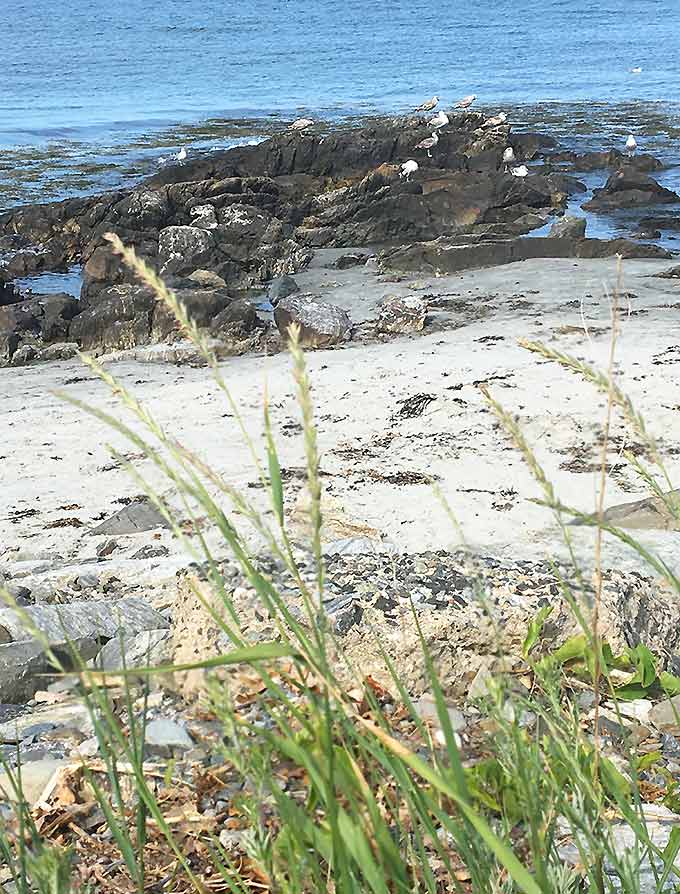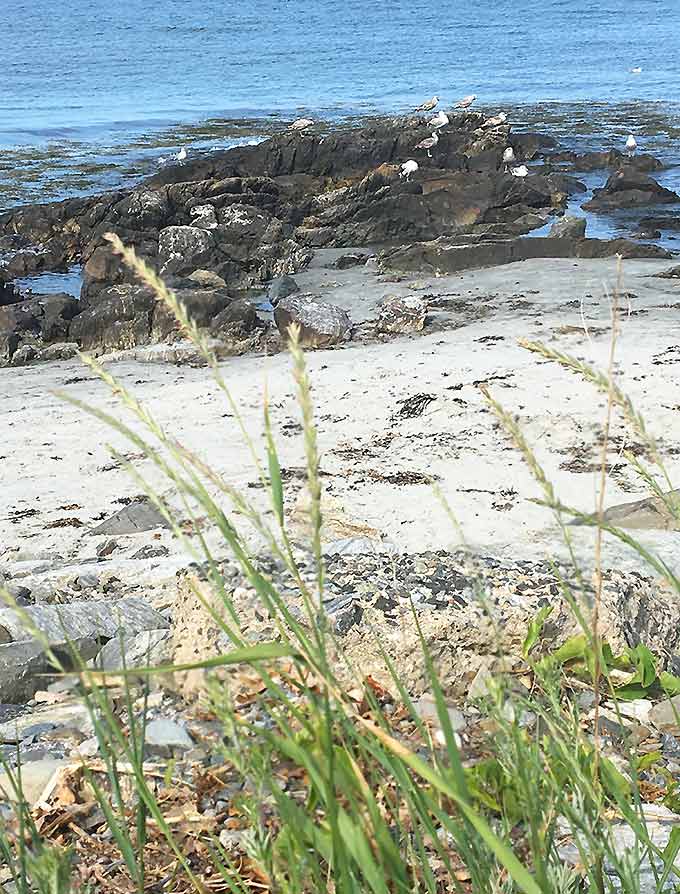 New Castle Beach was the perfect peaceful conclusion to a magical whirlwind day and night away.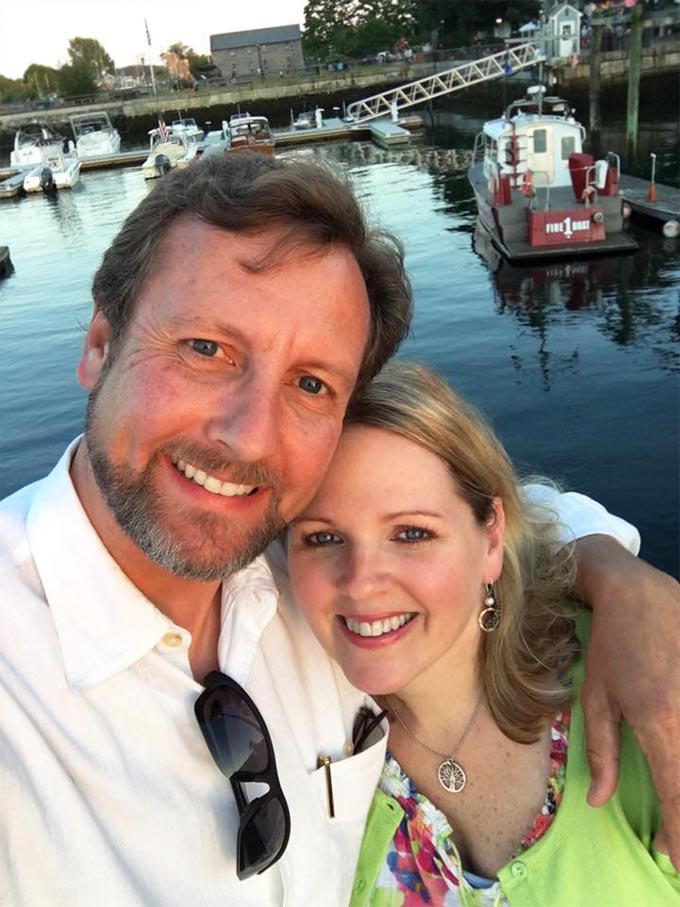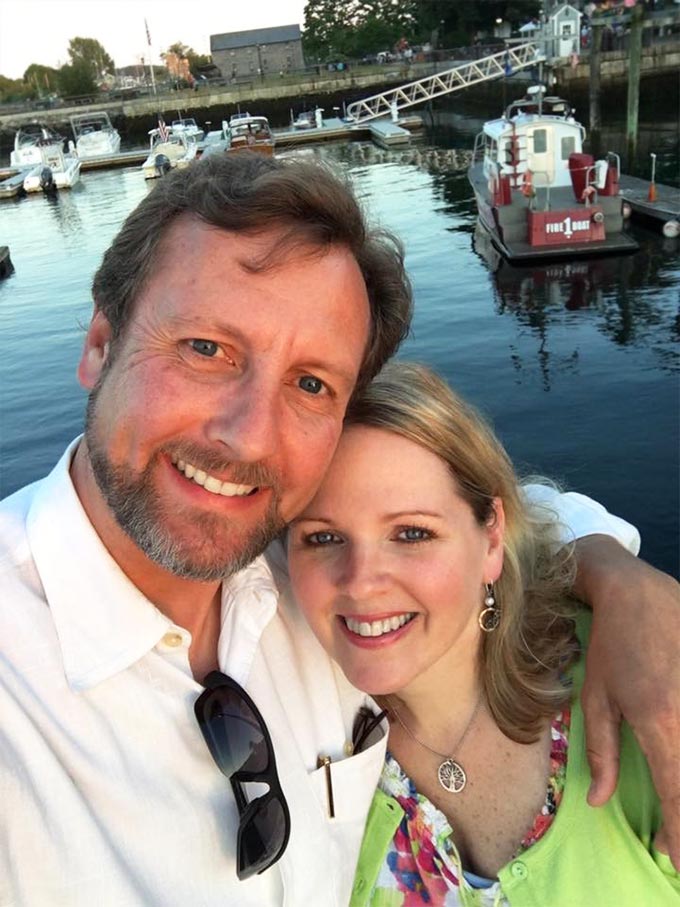 And looking forward with anticipation to the next twenty-three…
You may also enjoy: Arctic Expedition to Old Quebec City