Wild blueberries are so delicious when you can get your hands on them. Sweet and juicy. You can make this Wild Maine Blueberry Ice Cream with regular blueberries too.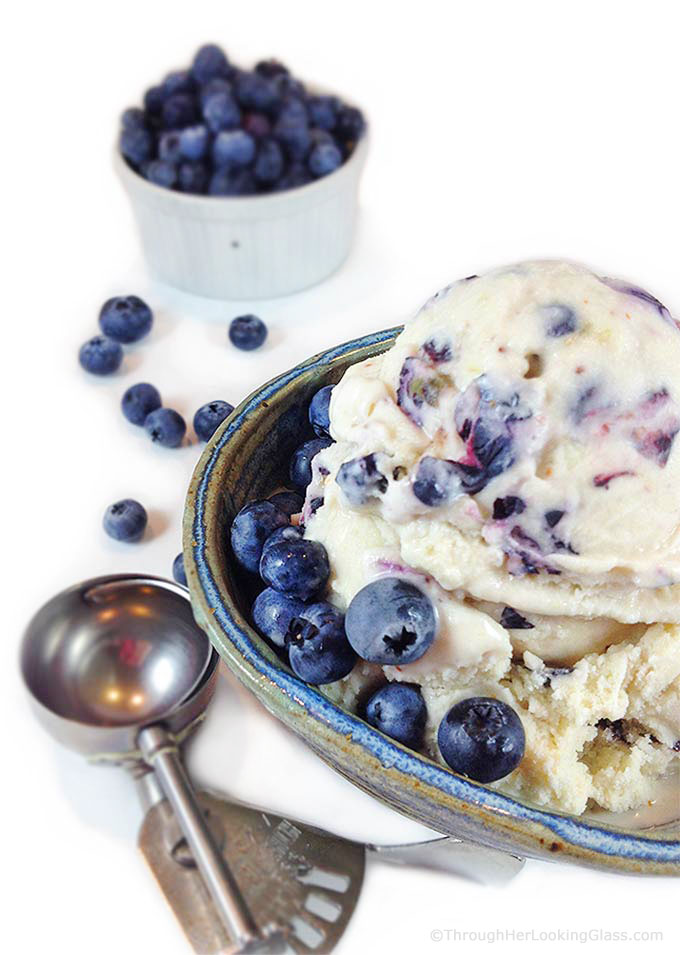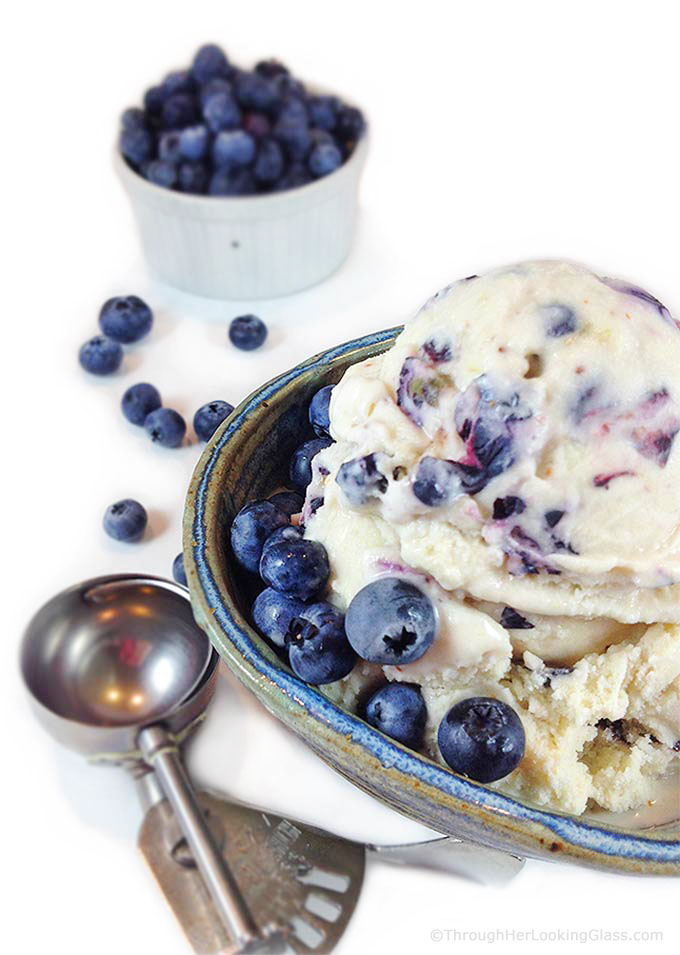 But those little wild ones are the sweetest in muffins, pancakes and this sweet and creamy blueberry ice cream.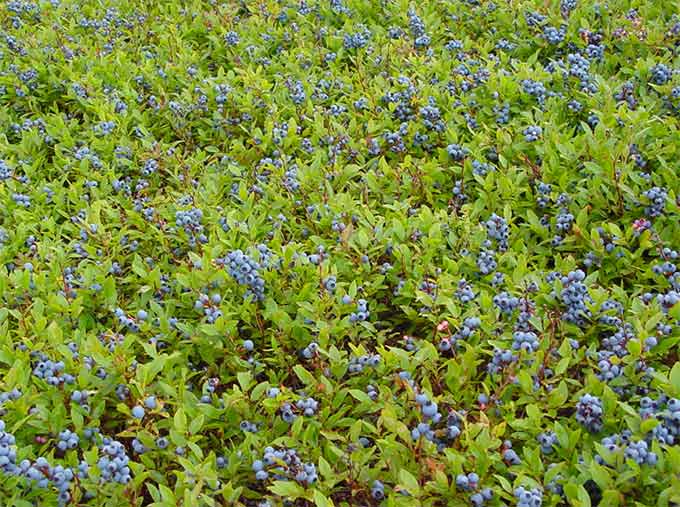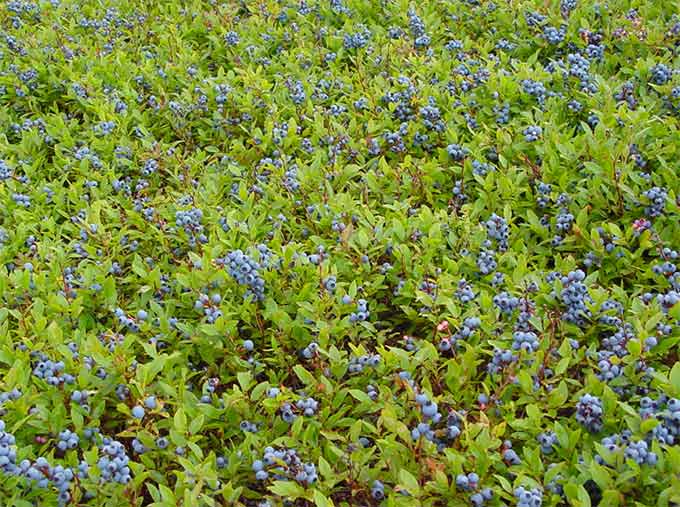 We can't get enough blueberries around here when summer arrives. My boys love going to the lake with their auntie. She takes them out on the boat and invariably to the little islands on the lake. They tote along those big plastic red party drinking cups and it's like a treasure hunt.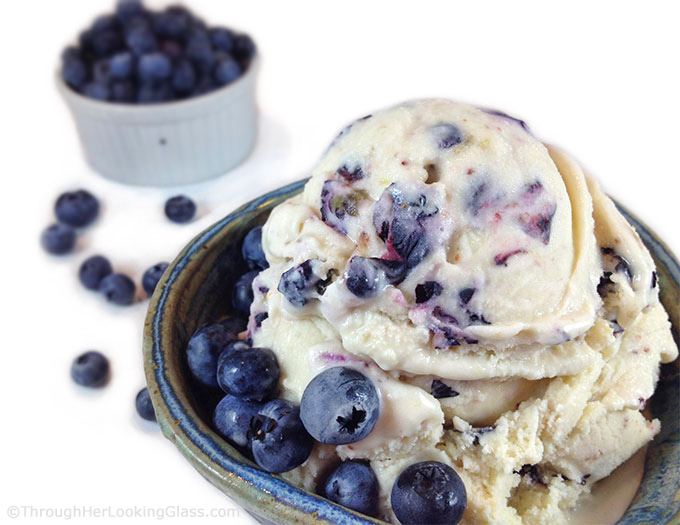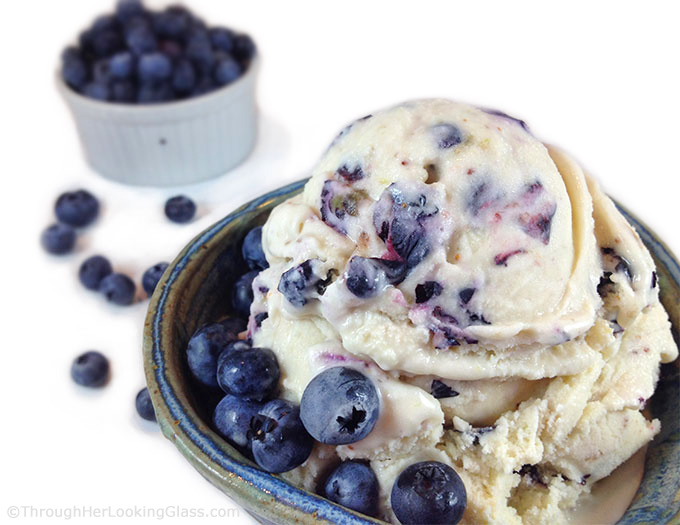 Everyone tries to find as many as they can, usually for pancakes or blueberry crisp. And the last time we climbed Mt. Major  we found lots of wild blueberries on the way up. So nice to have something sweet and juicy to anticipate on the climb. There were so many wild blueberries near the top.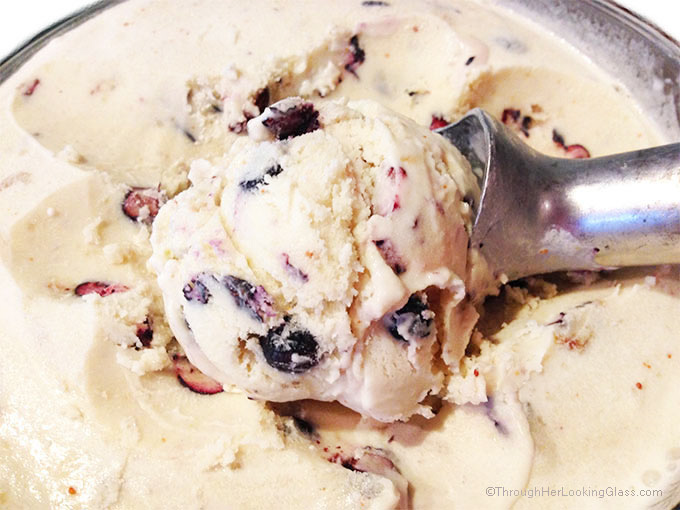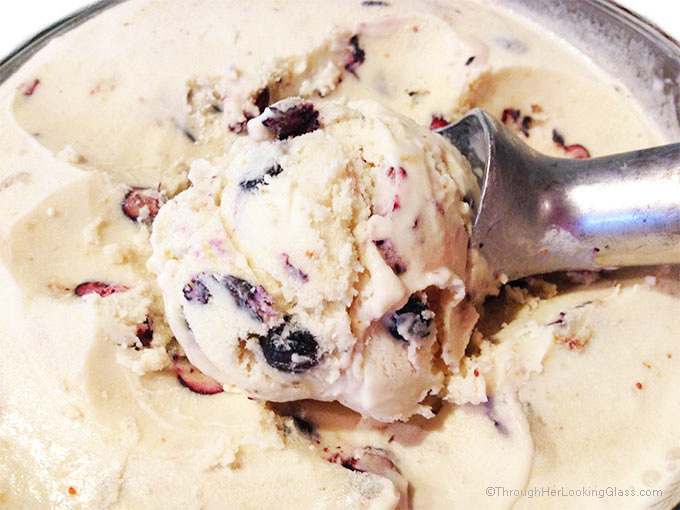 This ice cream is so easy to make. Be sure to allow enough time for the ice cream to harden in the freezer after processing in the ice cream maker. (I usually allow six to eight hours freezing time.)
Mash the berries and let them macerate with the sugar and lemon juice for a few hours. This draws out the juice.
Meanwhile, make your ice cream base and chill. Then add in the blueberries and juice. Process in your ice-cream maker. Eat soft with a spoon or freeze in the freezer six to eight hours or 'til hard and scoopable.
(You can easily make this ice-cream using raw pasteurized eggs and skip cooking the custard-base on the stovetop. But I give the directions here with the stove-top method in case you can't get pasteurized eggs where you are. Cooking the custard or using pasteurized eggs protects you from the possibility of coming in contact with salmonella bacteria.)
Nothing more refreshing on a sweltering August day than Wild Maine Blueberry Ice Cream. This recipe is adapted from the Ben & Jerry's Homemade Ice Cream & Dessert Book.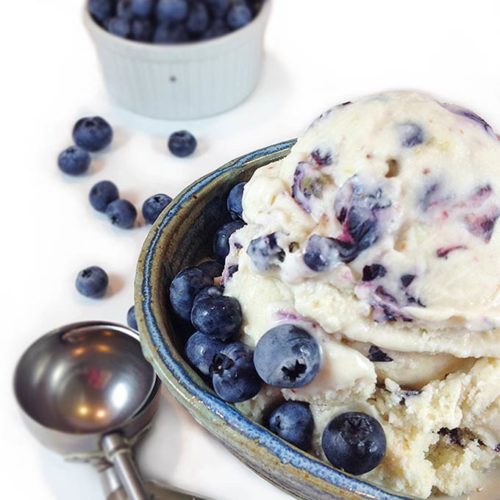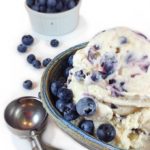 Print Recipe
Wild Maine Blueberry Ice Cream
Refreshing and creamy ice cream with New England wild blueberries
Ingredients
Sweet Cream Base:
4

large eggs

1 1/2

cups

sugar

4

cups

heavy or whipping cream

2

cups

milk
Blueberry Mixture:
4

cups

small wild blueberries

Wyman's Wild blueberries are perfect

1

cup

sugar

Juice of 1 lemon

approx. 2 tablespoons
Instructions
Whisk eggs in a mixing bowl several minutes 'til light and fluffy.

Whisk in the sugar a little at a time.

Continue whisking until completely blended, about another minute. Set aside.

Add milk and cream to saucepan and whisk to blend.

Heat milk and cream over medium heat, stirring occasionally.

When the cream/milk mixture reaches 140°, remove from heat.

Very slowly add in about 1/3 of the hot cream/milk mixture into the egg/sugar mixture, whisking quickly the whole time 'til blended.

(This "tempers" the eggs so they don't scramble when added.)

Once thoroughly blended, add in the remaining cream/milk mixture.

Return custard to sauce pan and heat on medium low heat until the mixture reaches 175°, stirring often. (This kills off any harmful bacteria.)

Remove from heat.

Chill thoroughly in the refrigerator until mixture is a minimum of 40°. (You want it very cold so it freezes well in the ice cream maker.)

Separately, mash blueberries in a mixing bowl.

Toss with lemon juice and 1 cup sugar.

Let sit covered for two hours, stirring every 30 minutes or so.

Add mashed blueberries and juice to the sweet cream base.

Transfer to an ice cream maker and freeze following manufacturer's instructions.

Freeze in freezer six hours or until hard and scoopable.
Notes
You can easily make this recipe without cooking the custard on the stove. Just be sure to use pasteurized eggs instead. Cooking the custard or using pasteurized eggs protects you from the salmonella bacteria, sometimes present in raw eggs.


Related post: Blueberry Pound Cake