Homemade Italian Meatballs are chock full of fresh and wholesome ingredients, always a big hit at our house. Spoon over spaghetti and pasta, or stuff into a toasted sub roll with melted provolone. Homemade meatballs are a great main dish everyone craves.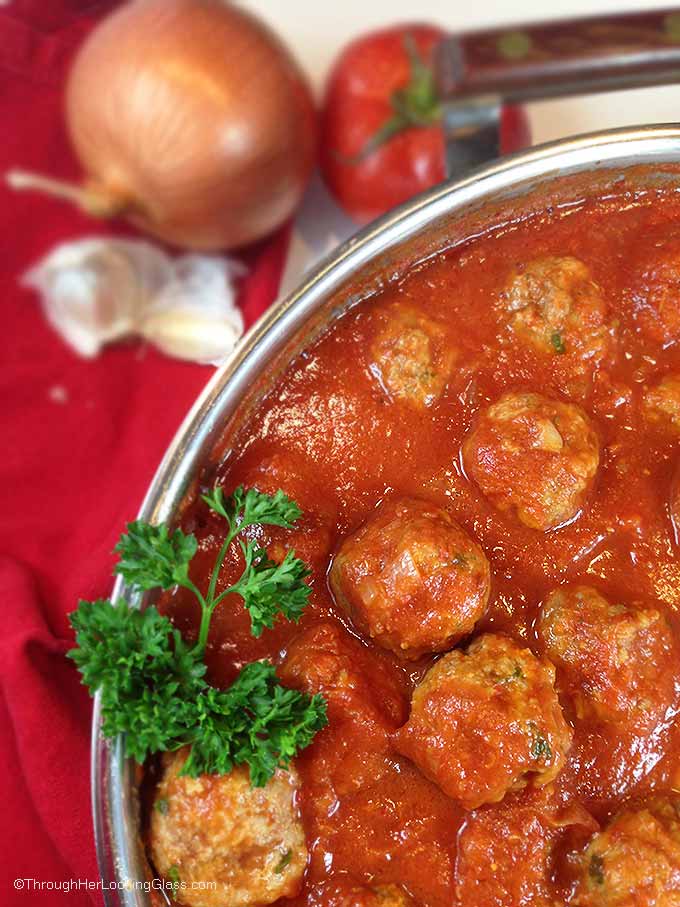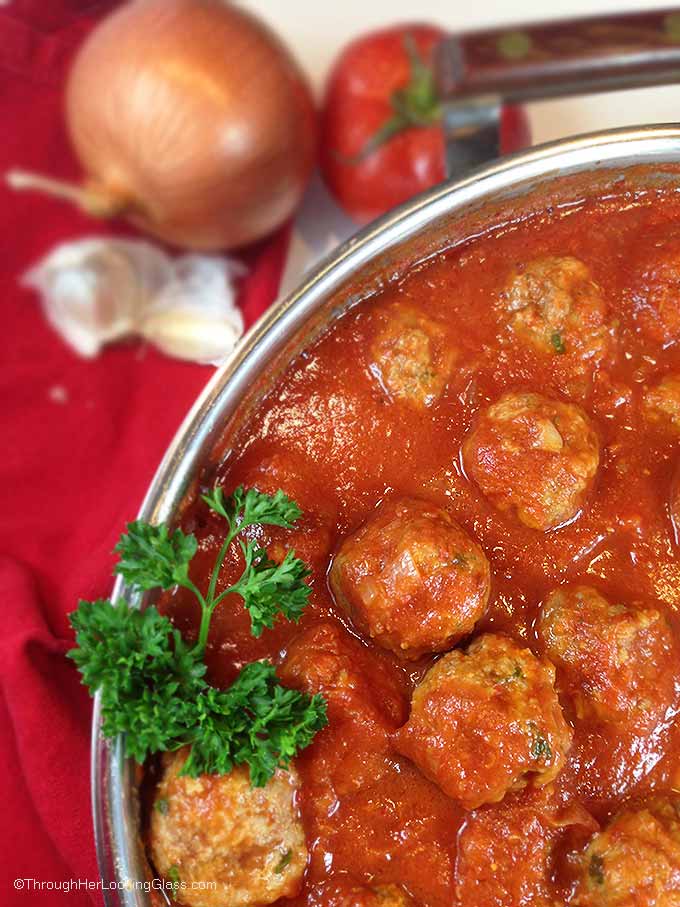 Homemade Italian Meatballs & Sauce:
While I may not have a drop of Italian blood in my veins, that doesn't mean I don't love me some good Italian cooking! And my earliest memories of authentic Italian meatballs come from my growing up days in Rhode Island.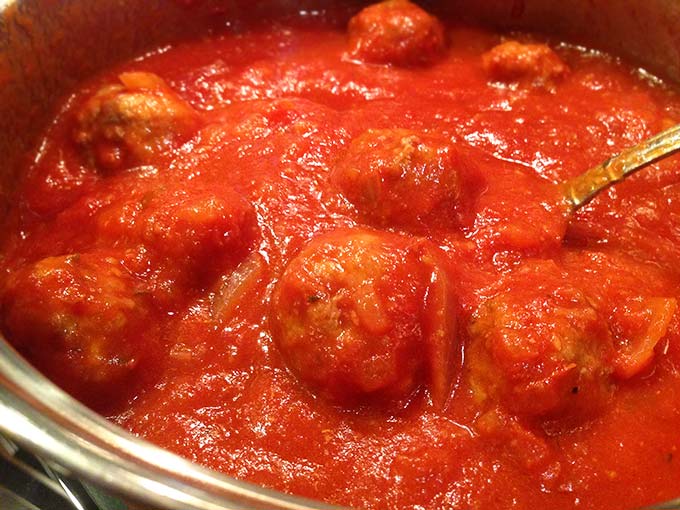 My dad owned a yacht manufacturing business on 47 Gooding Avenue in Bristol. Every once in a while I got to spend the day with him at work. The office staff kindly found odd "jobs" I could do to earn money. (Read: someone, keep that kid busy.)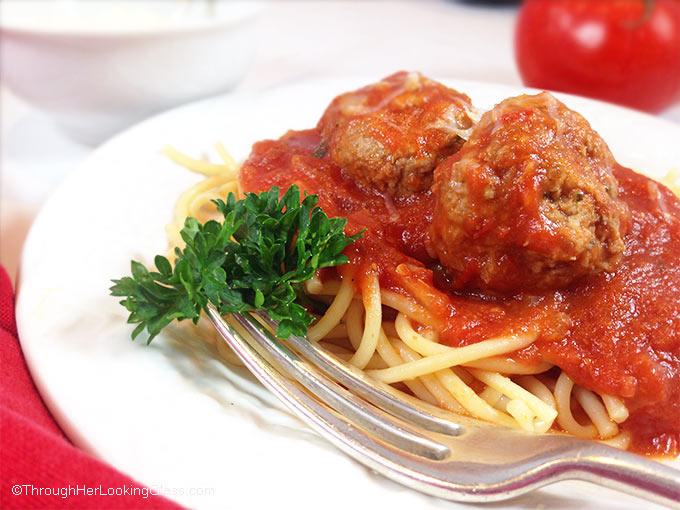 One job I loved was unlocking the soda vending machines on the property. I collected the coins inside, then counted and rolled them into paper sleeves to take to the bank. The best part? My dad always let me pick a soda while I was collecting from the machines. Fanta root beer. That's the one I always picked.
We rarely had soda at home so it was a big treat. The irony is, I was usually going in with my dad because our dentist was nearby and my dad was bringing me in for my six month appointment. (Ahem.) Too funny. I don't remember mentioning the Fanta to Dr. Ramos.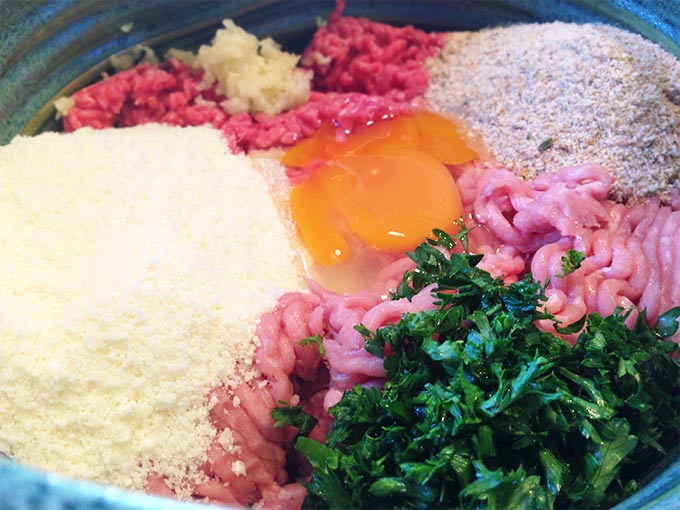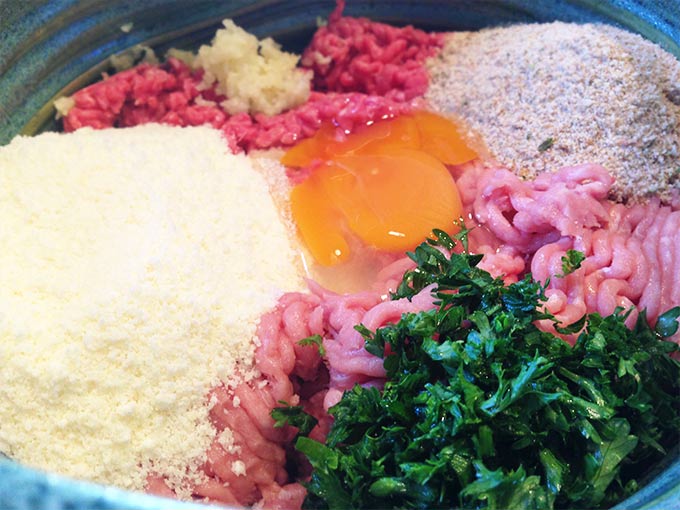 Yep, I got a little sidetracked going down memory lane. I do that. Meatballs. At lunchtime we frequented one of two places: Friendly's or Ricotti's Sandwich Shop. Ricotti's was just down the street at 11 Gooding Avenue. That's where we ordered the fresh Italian meatball subs I remember so well.
Only we called them grinders. Oh they were good. SO good. Soft, fresh baked grinder rolls stuffed with savory Italian meatballs, smothered in the best sauce with melted provolone. Best. Lunch. With dad. Ever.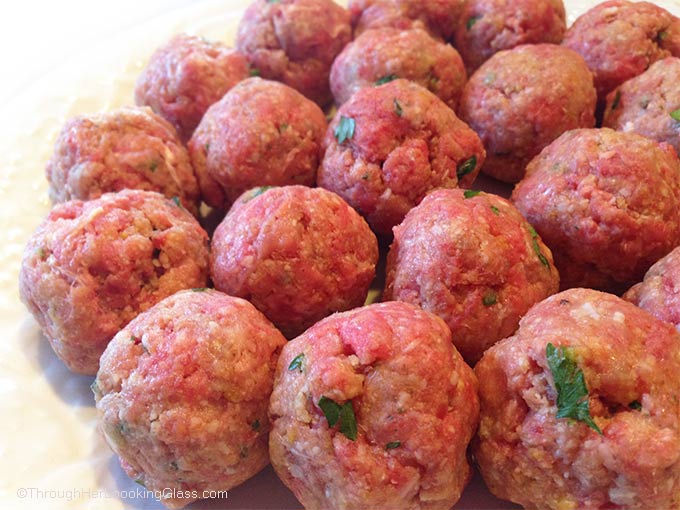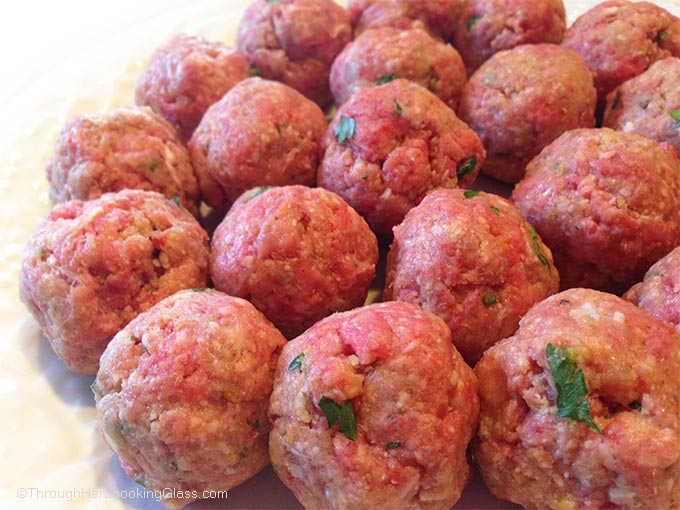 This mouthwatering Homemade Italian Meatballs recipe reminds me of those Ricotti's Italian meatballs made with fresh ingredients: garlic, parsley, Italian bread crumbs and freshly grated parmesan to name a few.
Use all beef or a mixture of ground meats. (I used ground beef and ground turkey in these meatballs.)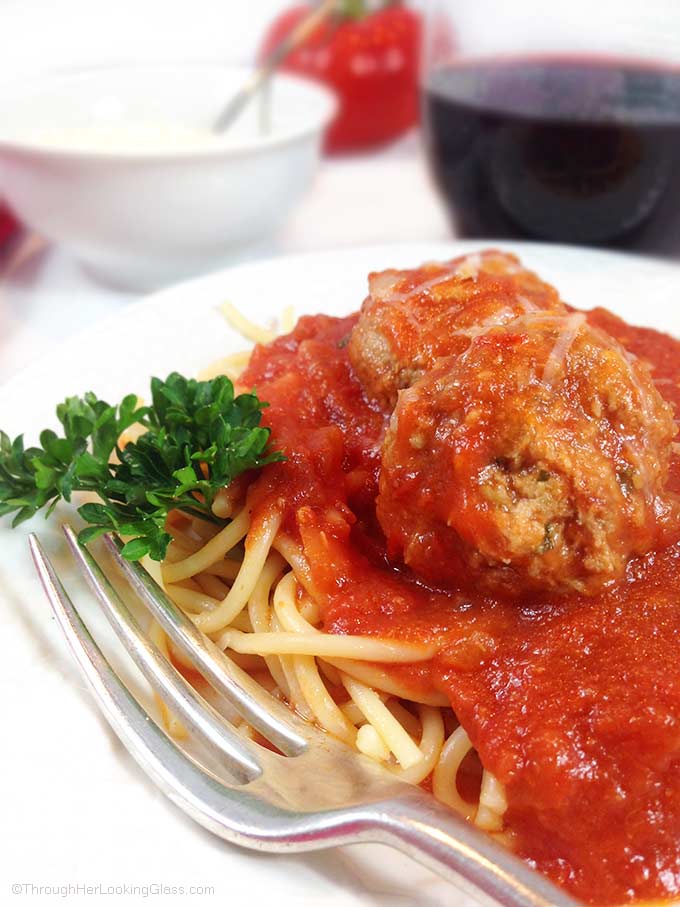 These Homemade Italian Meatballs are quick and easy to make and your family will love them too. Grab your fork and let's mangia!
Tips for Making Homemade Italian Meatballs & Sauce:
Use ground beef or a mixture of ground meats like ground turkey, ground beef, ground veal or Italian sausage.
Grate fresh parmesan and romano cheese over meatballs before serving.
Use fresh garlic, freshly grated cheese and fresh parsley for great flavor.
Serve over spaghetti or pasta, or stuff into toasted grinders for meatball subs.
You can the brown meatballs over medium heat in a frying pan with a little oil before adding them to the homemade sauce if you like. Or gently add them (uncooked) to simmering sauce. Let the meatballs simmer in the sauce for a good while before stirring. (Otherwise they could fall apart.)
Make these ahead and freeze the meatballs, then drop into the simmering sauce as needed.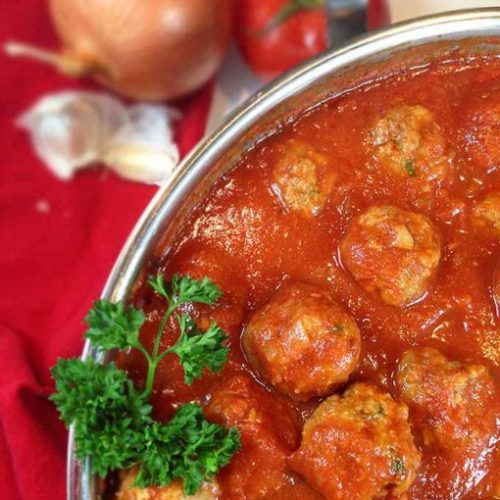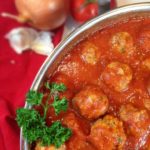 Print Recipe
Homemade Italian Meatballs
Savory, tender Italian meatballs with fresh garlic, parmesan, flat leaf parsley in a delicious simmered tomato sauce.
Ingredients
2-3

tablespoons

olive oil

4

cloves

crushed garlic

divided

1

onion

diced

1, 28

ounce

can crushed tomatoes

1, 15

ounce

can tomato sauce

1

teaspoon

salt

1/2

teaspoon

pepper

1

pound

85% lean ground beef

or a mixture of 8 ounces 85% lean ground beef and 8 ounces ground turkey

1

large egg

1/2

cup

chopped flat leaf parsley

1/2

cup

Italian bread crumbs

1/2

cup

freshly grated parmesan cheese
Instructions
Heat olive oil in a medium sauce pan over medium heat.

Add chopped onions and 2 cloves of crushed garlic.

Sautee 'til translucent.

Stir in tomato sauce, crushed tomatoes, salt and pepper.

Cover and let simmer on low for 15 minutes.

Put ground beef in a mixing bowl along with 2 cloves crushed garlic, bread crumbs, egg, chopped parsley and parmesan cheese.

Combine with your hands or a fork.

Form into tablespoon size meatballs with hands or a 1 tablespoon cookie scoop.

Carefully add meatballs into the simmering sauce.

Cover and continue simmering for 15 - 20 minutes until thoroughly cooked and meat is no longer pink inside.

Season to taste with additional salt and pepper as needed.

Serve hot over spaghetti, pasta or on sub rolls as a meatball sub.
You may also like: Chicken Scampi