Hearty Split Pea and Ham Soup is the perfect steaming bowlful on a chilly winter day. Sautéed carrots, onions, cabbage and celery simmer with split peas, ham and flavorful spices for a hearty and nutritious soup that hits the spot.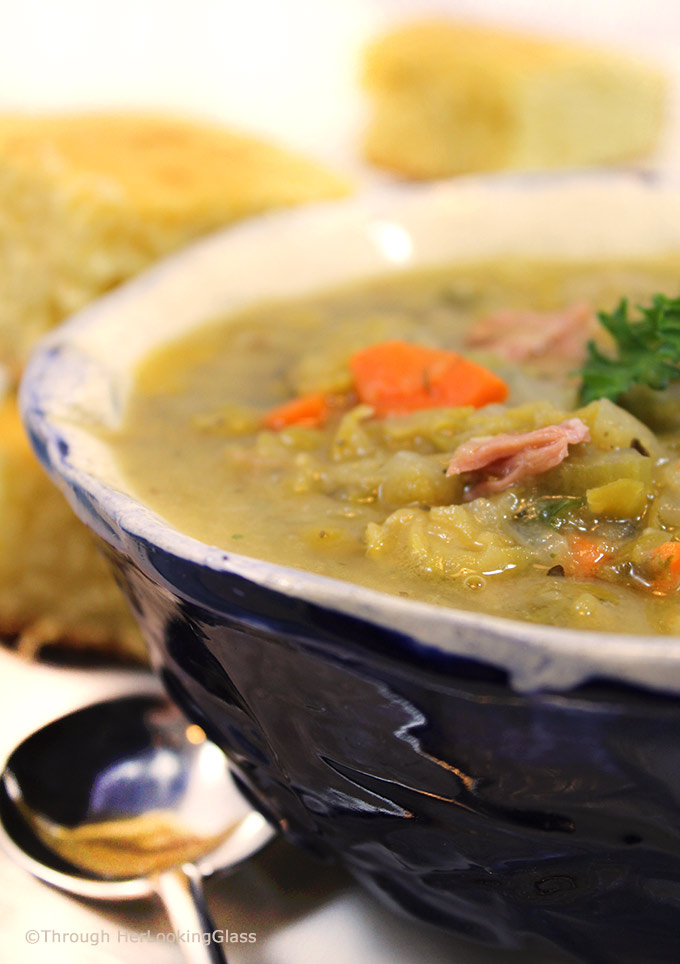 Soup, soup, soup!!! I love savoring hot soup on a cold, snowy New England day. And why not? Soup is delicious and flavorful, economical to make and stretches beautifully to feed a crowd. It also freezes well for future meals.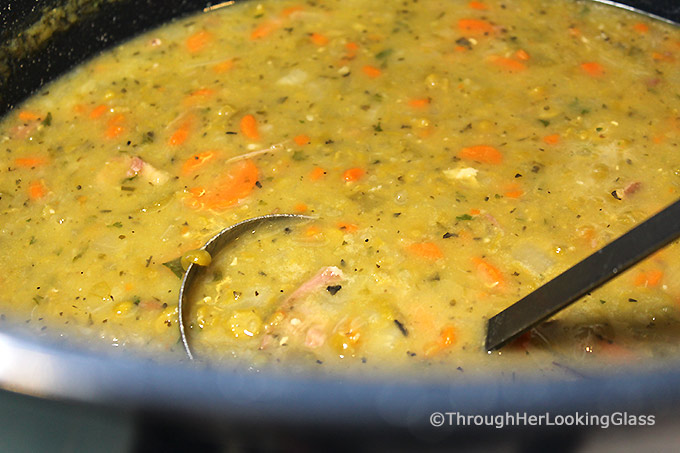 This year I've been doubling and sometimes even tripling my soup recipes so I can freeze some for us and for bringing meals to others. If you have some great soups stashed in the freezer, it's simple to pull together a meal when the need arises.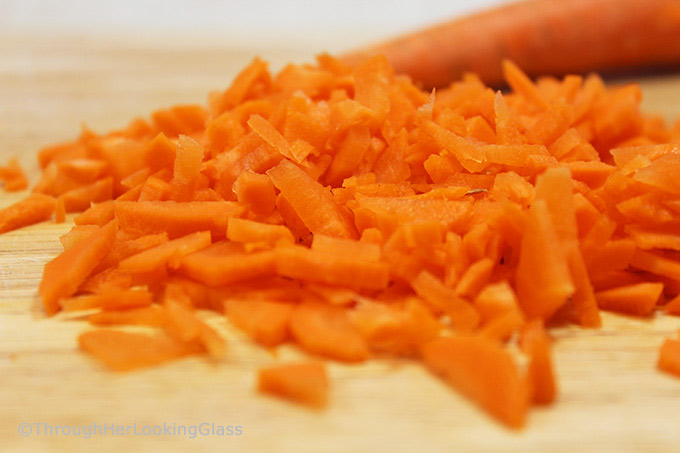 When bringing homemade soup as a meal, I typically add a fresh baguette and green salad. Occasionally I whip up a batch of brownies to add to the mix. Life is full, so I find that the simpler a meal is to prepare, the more likely I am to follow through with taking it.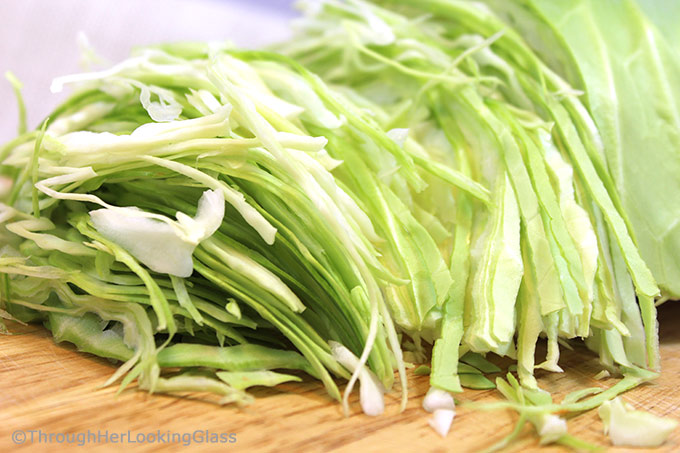 My mom made pea soup for us often growing up, and that's where I learned to like it so much. Thankfully my boys learned to love pea soup early on too. (Even if it is green, which seems to be an issue with some other of my culinary offerings….)
I recommend making this Hearty Split Pea and Ham Soup with a leftover ham bone that still has some ham on the bone. You can also make it without the ham bone and use bits of leftover ham or even a purchased ham steak.
(Or keep it vegetarian and skip the ham altogether, adding some vegetable bouillon for flavor.) I've made it all three ways and it's always delicious.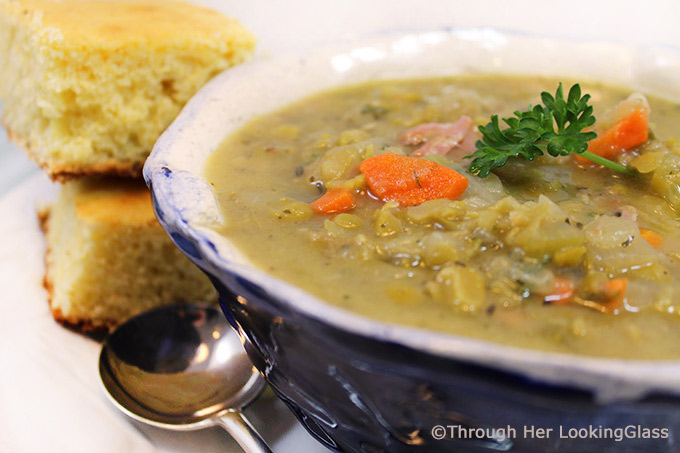 Tips for making Hearty Split Pea and Ham Soup:
Use a leftover ham bone with some ham still attached. (When we have bone-in ham for a holiday meal, I freeze the bone to have on hand to make this soup.)
If you don't have a leftover ham bone, use a small ham steak chopped or add bits of leftover chopped ham.
You can still make this without ham or a ham bone and it will be delicious! Just add a vegetable bouillon cube for flavor.
It's ok if you don't have every single spice listed. I've made this many times and missed a spice or two here or there and it still tastes great. (In fact, I've never made it with the summer savory listed because I can't find it at my grocery store.)
This recipe doubles well, just make sure you have a really big stock pot. If you double the recipe you'll be adding a whopping twenty cups of water. (I used my canning pot to make a double batch of this last week.)
This soup tastes best the day after you make it. It thickens up a bit overnight and the flavor develops more too.
Pea soup freezes well and will safely keep in the freezer for several months. (It also keeps on a cold back deck for a few days if you're short on refrigerator space. The voice of experience….)
Pay close attention when sautéeing the root vegetables. Keep the heat on medium and stir often. (It's easy to burn onions.)
I originally discovered this recipe years ago in the Fit for Life cookbook by Harvey and Marilyn Diamond. They adapted it from the original Blue Ribbon Cookbook by Jennie Benedict (from Kentucky). I adapted it again, as the Fit For Life recipe is vegetarian and doesn't include ham. Also the original recipe suggests cooking for 1 1/2 hours over medium heat. To me, the split peas taste nearly raw after cooking for only 1 1/2 hours. I prefer simmering this soup for 6-8 hours, covered, over medium or medium low heat.
Soak split peas overnight in water first to reduce the cooking time by half.
If you prefer a silkier soup, blend with your immersion blender before adding in the ham bits.

Other great soup recipes using split peas: Split Pea Minestrone Soup, Slow Cooker Apple and Split Pea Soup and Split Pea and Potato Soup without Ham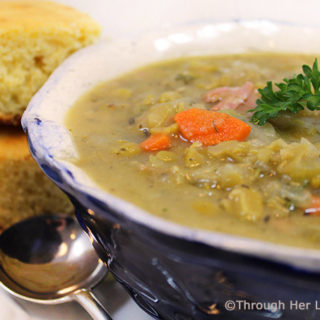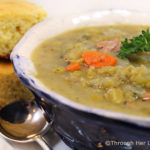 Print Recipe
Hearty Split Pea and Ham Soup
Ingredients
2

tablespoons

butter

1

tablespoon

vegetable oil

safflower, canola etc.

1

cup

carrots coarsely chopped

1

cup

celery coarsely chopped

1 1/2

cups

coarsely chopped onions

1

clove

garlic

minced

2

cups

finely shredded cabbage

10

cups

water

Large ham bone with some ham still attached

or 1 vegetable bouillon cube or a small ham steak, chopped

2

cups

dried green split peas

1

teaspoon

dried basil

1

teaspoon

dried thyme

1

teaspoon

dried marjoram

1/2

teaspoon

dried oregano

1/2

teaspoon

dried summer savory

1/8

teaspoon

dried sage

1/8

teaspoon

dried tarragon

1/4

teaspoon

celery seed

1/4

teaspoon

ground coriander

1/2

teaspoon

sea salt

1/4

teaspoon

seasoned salt

salt and pepper to taste

4

tablespoons

fresh minced parsley

or 4 teaspoons dried parsley
Instructions
Finely shred the cabbage with a sharp knife, mandoline or food processor.

Dice the carrots, onions and celery.

Heat butter and vegetable oil in a large soup or stock pot over medium heat.

When butter is melted, add carrots, celery, onion, garlic and cabbage.

Saute for about five minutes, stirring often.

Add water, split peas, spices and ham bone ( or chopped ham or vegetable bouillon).

Turn up the heat and bring to a rolling boil.

Reduce heat to medium or medium low.

Cover and simmer soup for 6-8 hours, stirring every few hours.

Remove ham bone and cut remaining ham off the bone into bite size pieces (or shreds) and return ham to the soup.

Stir in parsley.

Season with salt and pepper to taste.

Serve soup hot with fresh bread or cornbread.
Notes
Use a ham bone for great flavor.
If you don't have a ham bone, add a cube of vegetable boullion.
Can also use a ham steak and add chopped ham.
You may also like: Arroz Caldo (Filipino Chicken and Rice Soup)