This Moravian Yeast Roll Recipe is easy, even if you've never worked with yeast before. The dough requires no kneading and just one rise. The resulting rolls are soft and pillowy! This is the delicious yeast roll I make for all our special holidays.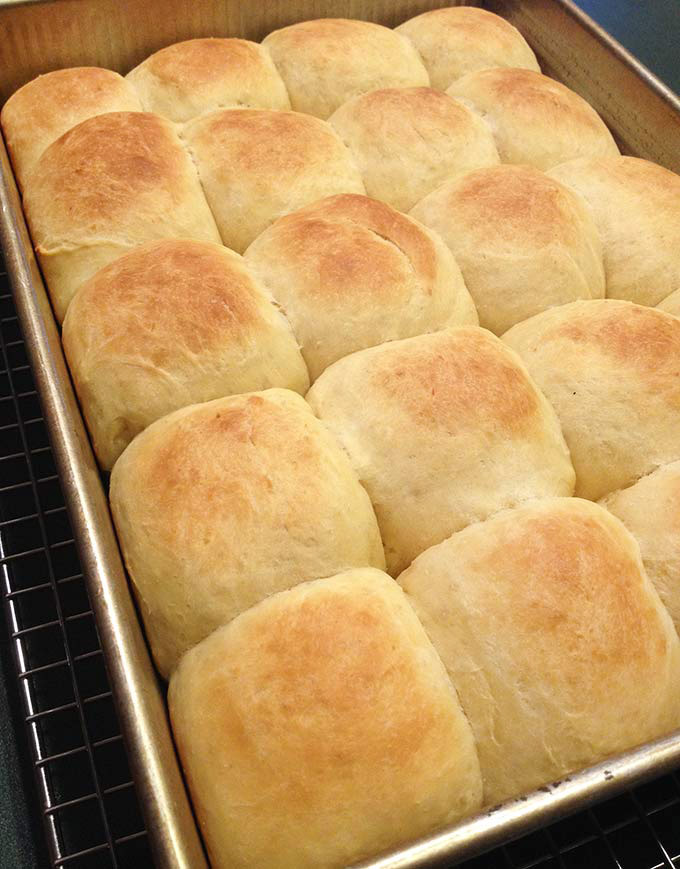 I love this Moravian Yeast Roll Recipe. Hot and fresh from the oven. Split 'em in half. Let the butter melt in between. Mmm… these yeast rolls are divine.
Often requested for Easter and other family holiday meals, this great recipe was passed on to me years ago by a friend originally from the Winston-Salem, NC area. I'm so thankful and I've been baking them ever since. (Thanks Tina!)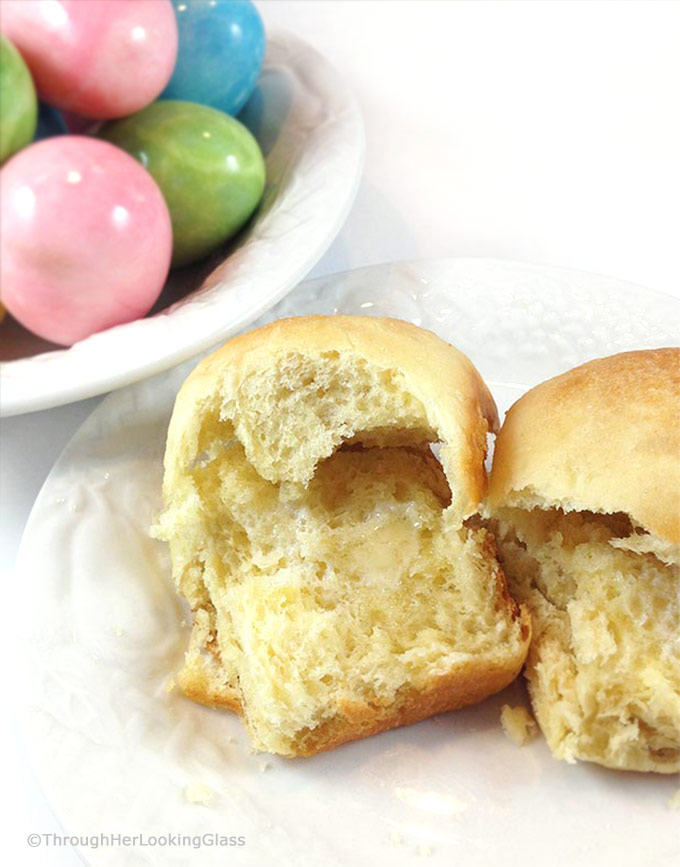 There's no kneading involved in this simple recipe, great for those who haven't worked with yeast before. Use a Kitchen Aid stand mixer to easily combine the ingredients.
(Or some elbow grease and a big wooden spoon.) Cover dough tightly and refrigerate several hours or overnight. Then remove from the refrigerator and punch down the dough. (That's the fun part!)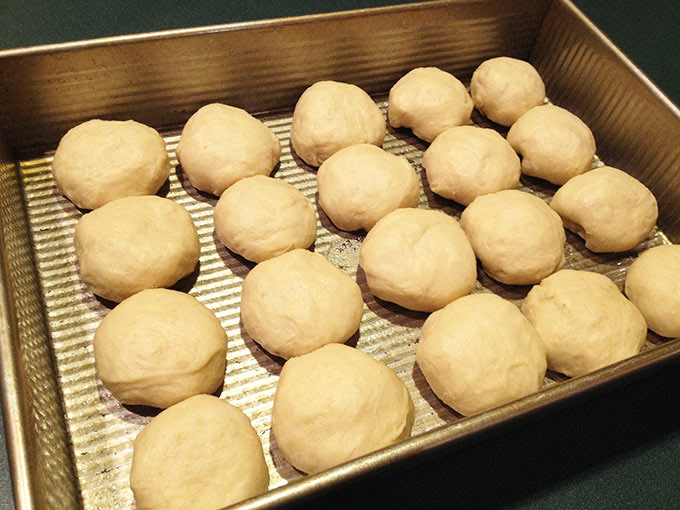 Use kitchen shears or a sharp knife to cut the dough into 16 equal portions. Loosely shape into rolls and place in a greased 9 X 13″ baking pan.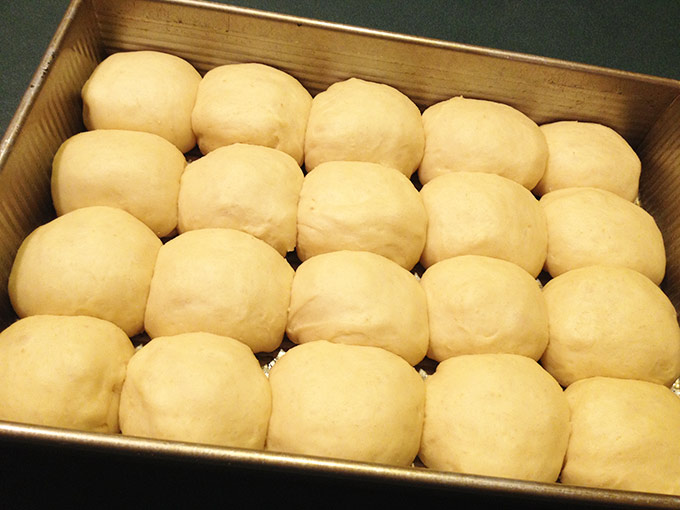 Let rise in a warm place for 1-2 hours until nearly doubled in size. I place them in a barely warm (not hot) oven to cut the rising time in half. Lightly brush with melted butter just before baking.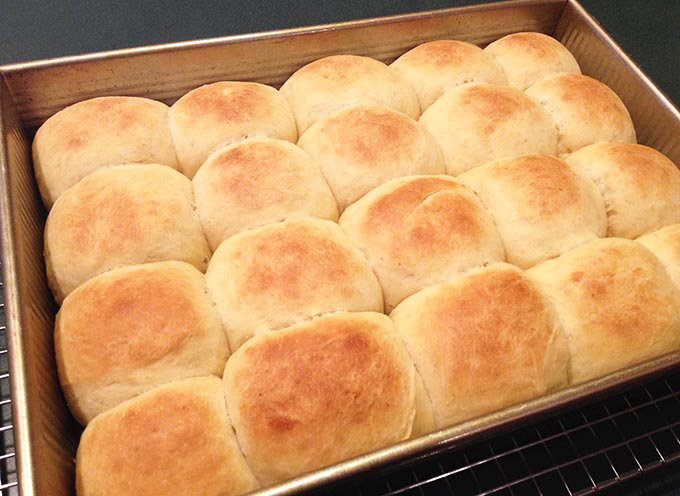 Bake for ten minutes in a 400° oven or 'til golden brown. Mmmm….I can almost smell them now!
A little history on the Moravians. They were followers of a mainstream protestant religion that eventually settled in Winston-Salem, North Carolina nearly 250 years ago. The Moravians originated in the Czech Republic around 1415 from the followers of Jan Hus.

They made their way as missionaries from Germany to Pennsylvania, then settled in Winston-Salem on 10,000 acres of land known as the Wachovia Tract. They contributed significantly to the area's rich culture, including excellent food like these Moravian Yeast Rolls!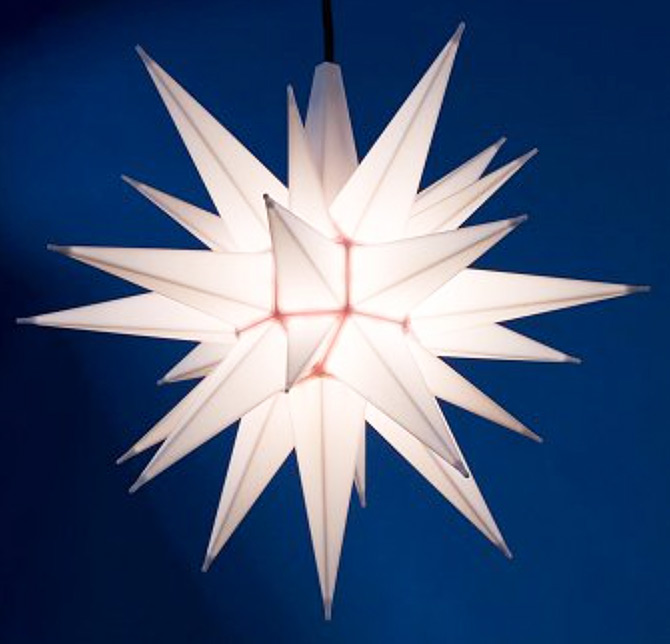 Moravians are known for the Moravian star, which originally started out as a geometry lesson in the 1800's, and morphed into an Advent lesson later.
Allie Taylor
Yields 16
Moravian Yeast Roll Recipe
Love these soft pillowy Moravian Yeast Rolls, hot and fresh from the oven. Split 'em in half, melt butter in between. These easy yeast rolls are divine.
4 hrPrep Time
10 minCook Time
4 hr, 10 Total Time
Ingredients
1 cup hot water (120-130 degrees)
1 teaspoon salt
6 tablespoons shortening or butter flavor Crisco
1/4 cup sugar
1 pack dry granular yeast (or 1 tablespoon)
2 tablespoons luke warm water
1 egg, beaten
3-4 cups flour, (bread flour or regular flour)
2 tablespoons melted butter
Instructions
Combine hot water, salt, shortening and sugar.
Separately, dissolve yeast in 2 tablespoons warm water.
Allow shortening mixture to cool to lukewarm.
Add in dissolved yeast mixture.
Using a stand mixer, combine the above with beaten egg and enough flour to make a soft dough.
Start by adding 3 cups flour, continue adding more flour if still sticky, up to 4 cups.
(I usually use about 3 1/2 cups)
Cover and refrigerate dough several hours or overnight.
Briefly knead dough by turning it over onto itself several times to smooth it out.
Divide into sixteen equal portions using kitchen shears or a sharp knife.
Shape into 16 round dough balls and place evenly spaced in greased 9 X 13" baking pan.
Let rise 1-2 hours or until almost doubled in bulk.
(Rising in a warm oven cuts the rising time in half.)
Gently brush with 2 tablespoons melted butter just before baking.
Bake in a 400 degree oven ten minutes or 'til lightly browned.
7.8.1.2
38
https://www.throughherlookingglass.com/moravian-yeast-rolls/
And here's a perfect Easter dessert: Italian Ricotta Pie