Wishing a great weekend to everyone out there today! It's been a crazy week for us East coasters, what with another two foot snow dump this past Tuesday.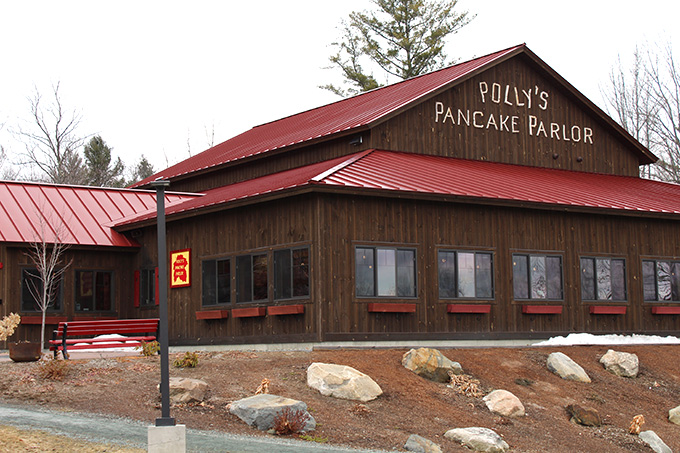 That's ok. New Englanders are a resilient bunch, still smiling. (Some of us.) Grabbing our shovels. (Pick axes?) Pulling on our snow bibs like everyone else, one leg at a time. (I hear another storm's on the way. Just sayin' and don't shoot the messenger.)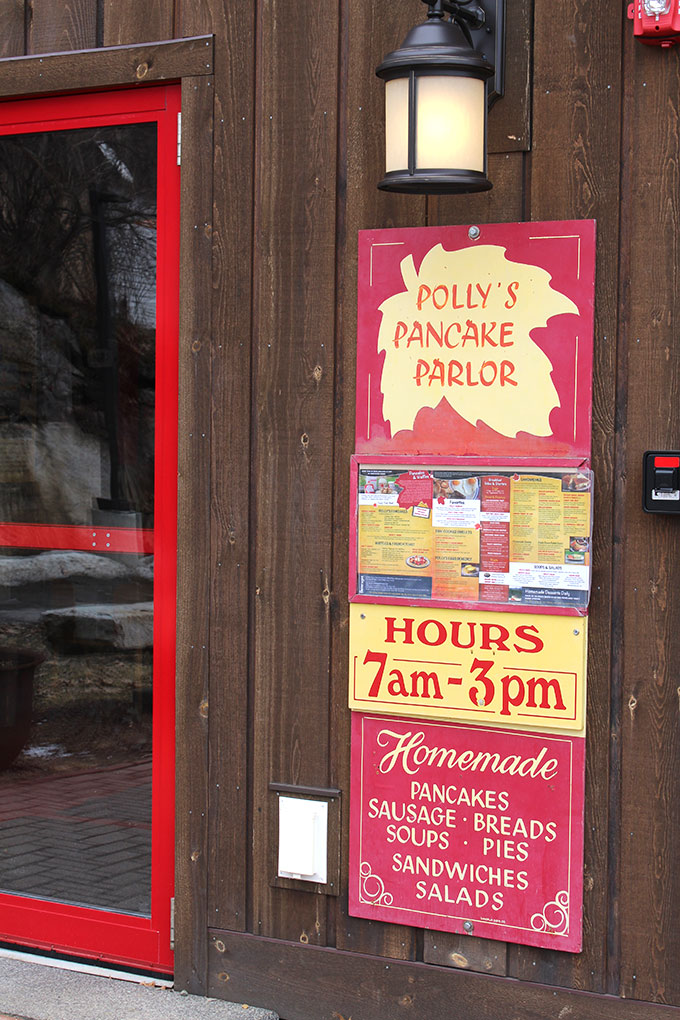 Two feet of white stuff is a bit much, and thankfully it wasn't heavy like last week's batch. (So say the shovelers at my house.) We already had snow on the ground, so our mailbox is now completely encased in white. I think every mail delivery worker up here should get a big fat bonus check during arctic stretches like this. It can't be easy.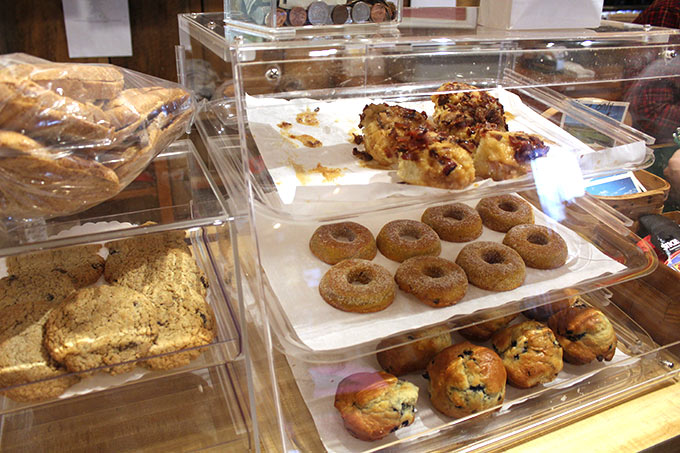 I spy candied maple bacon biscuits. And fresh cider donuts. Eek!!!
A few weekends ago, in the midst of our kitchen renovations (think no stovetop, oven and kitchen sink for weeks) we escaped the indoor kitchen camping scene for a delicious homemade breakfast up in Sugar Hill, NH at Polly's Pancake Parlor.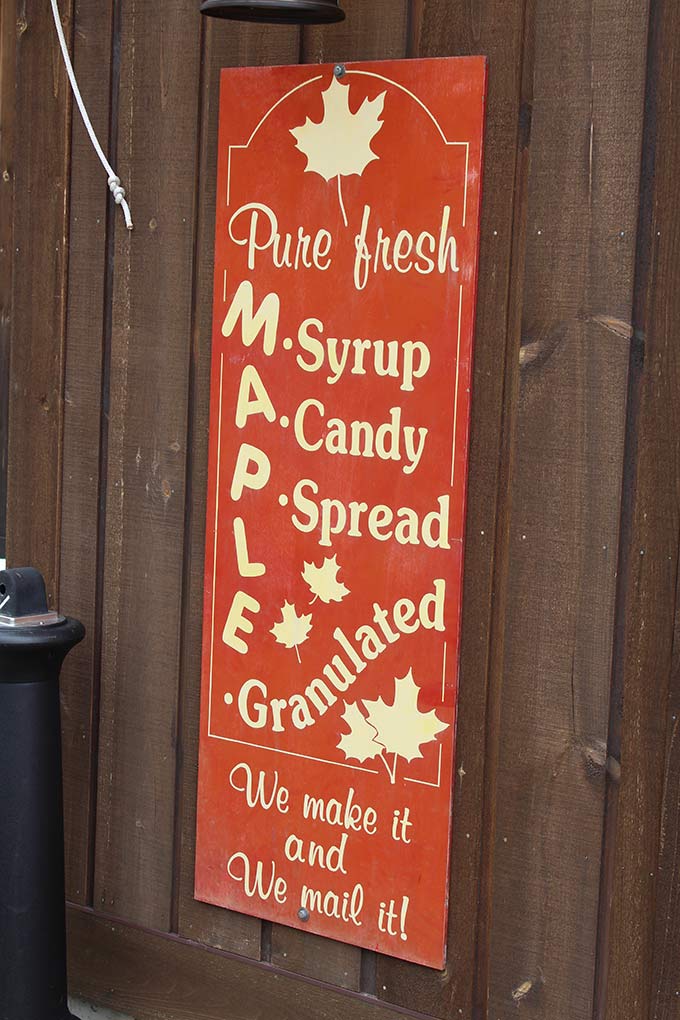 You'll find all things maple at Polly's Pancakes.
Jon and I first discovered Polly's by accident last fall when we sneaked off on a quick weekend getaway to Sugar Hill and Jackson, NH. We visited the Garnet Hill outlet in Franconia then googled for a bite to eat and Polly's Pancake Parlor came up first. Lucky us, what a great find!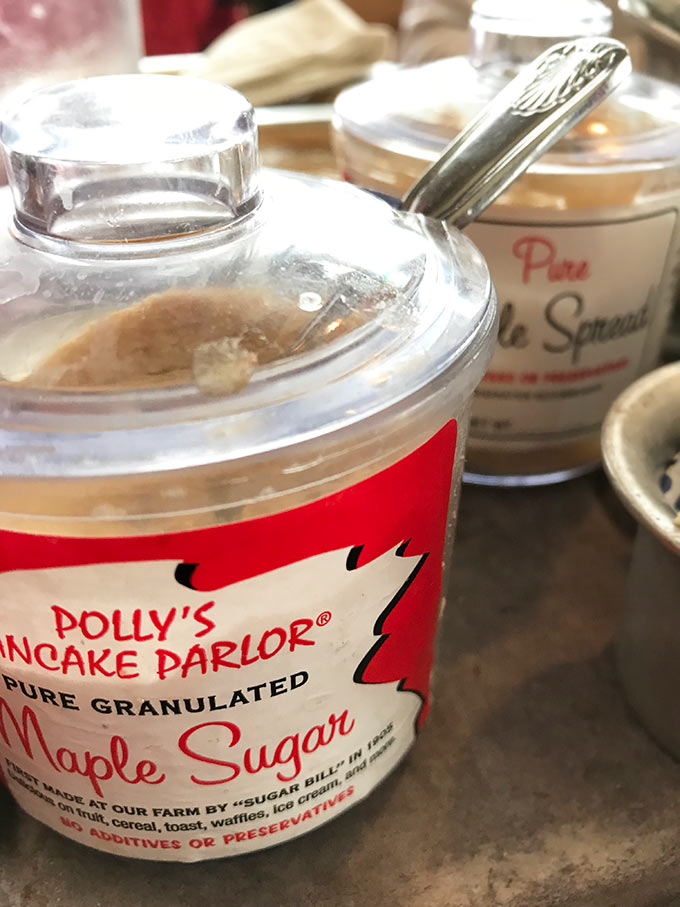 Real maple syrup. Real maple sugar. Real maple spread. My kind of heaven on earth.
Polly's Pancake Parlor has been around for over seventy-five years now and I know why. Great food, real maple syrup/maple syrup products, and excellent customer service are top priority.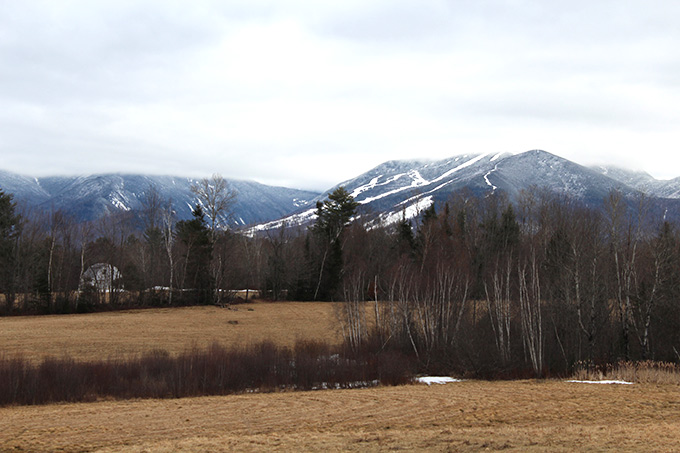 Not to mention the view out the dining room windows!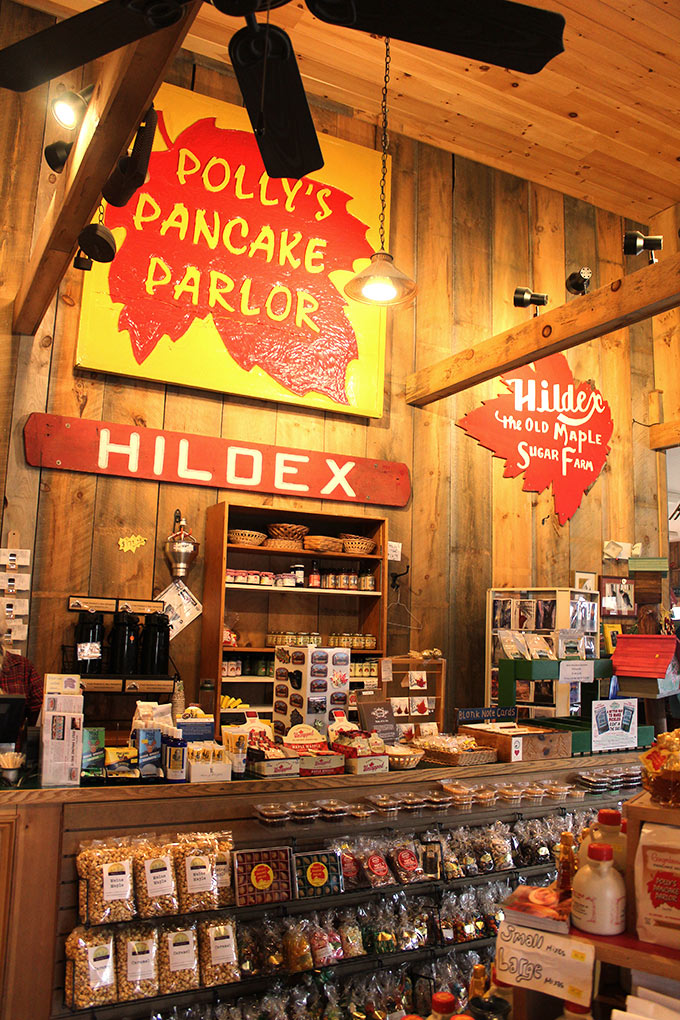 We've since visited twice more with the boys and had a great experience each time.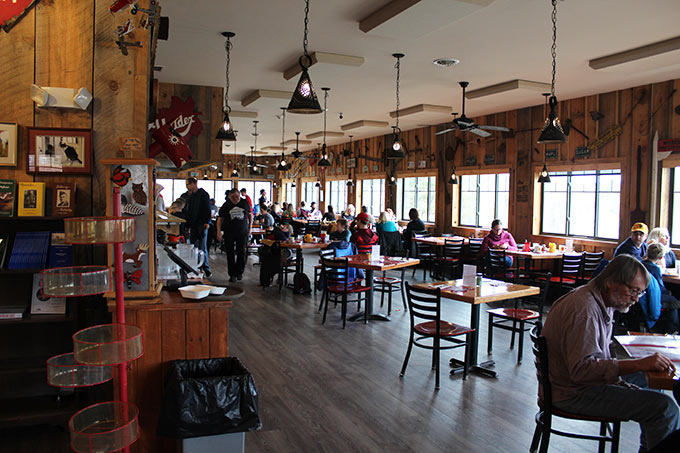 If you remember nothing else, please note that you can call ahead to Polly's and get your name on the waiting list. That's a very good idea if you're planning a visit. We went during the Christmas holidays and took the boys on our way up to Quebec City.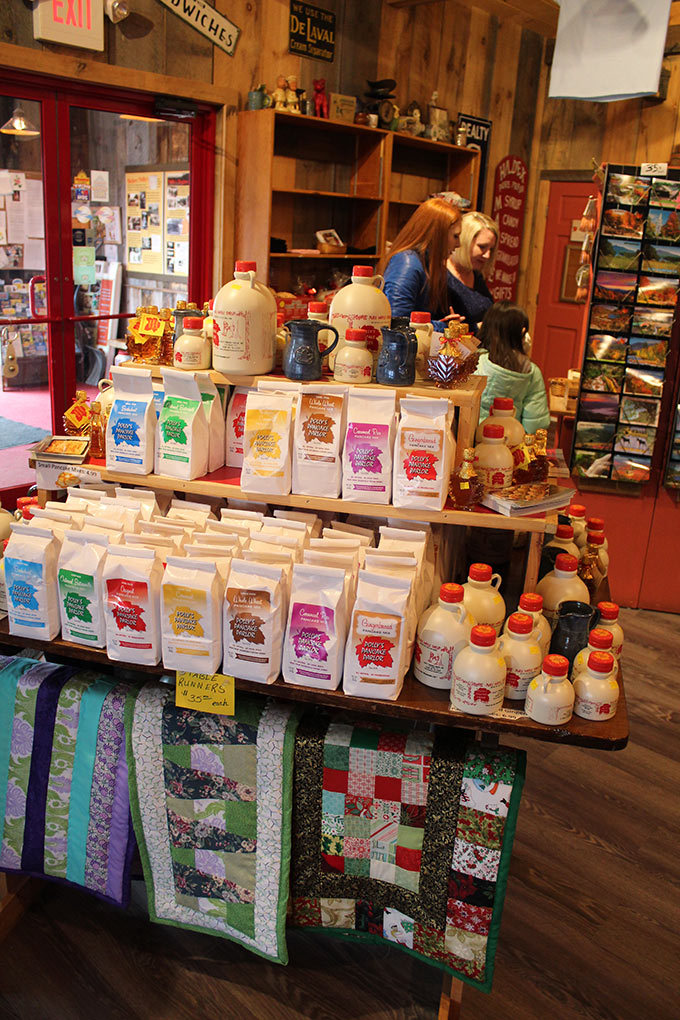 Shop all kinds of homemade mixes and maple products while you wait.
We called Polly's when we left the house and still waited twenty minutes after arriving. And we're an hour and a half away! So do call ahead, especially during busy holiday times.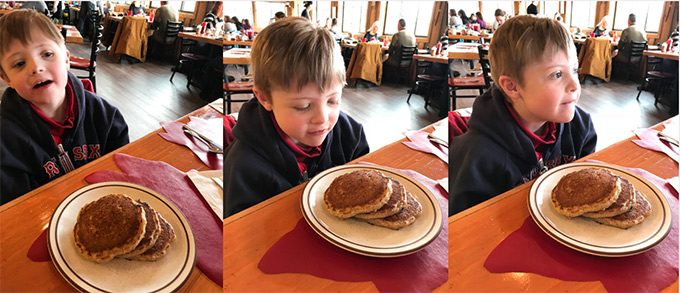 Some of you know our special little guy Hudson. He's got Downs and autism, but that didn't dampen his enthusiasm for delicious homemade pancakes a bit.
In fact, he's a carb lover. And while he's got sensory issues and typically covers his face if a camera appears, he forgot all about that when his stack arrived! 🙂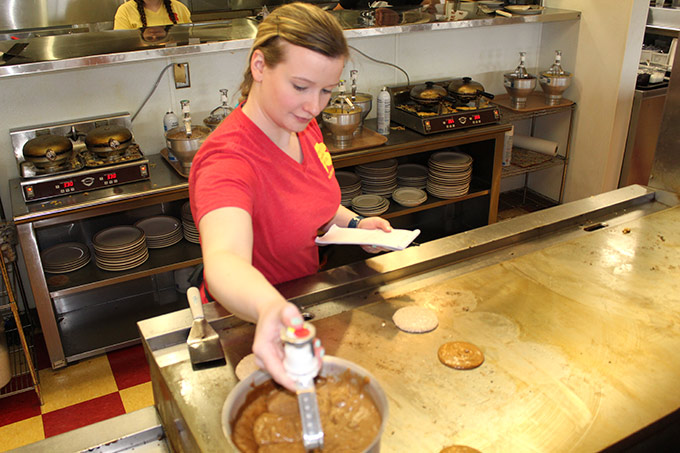 So here's the squeeze on Polly's. There are different kinds of homemade pancake batter to choose from. Oatmeal buttermilk. Plain. Buckwheat. Corn meal. Gingerbread.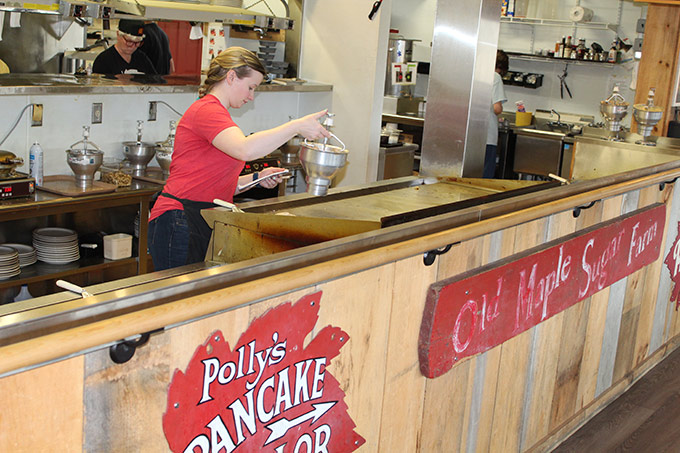 And then there are the add-ins: walnuts and coconut. And your server works behind the long griddles, flipping your flapjacks! And when you finish your first custom stack of three, your server magically reappears with the second. That's how they do it at Polly's. And I didn't hear anyone complaining. Check out their extensive menu here.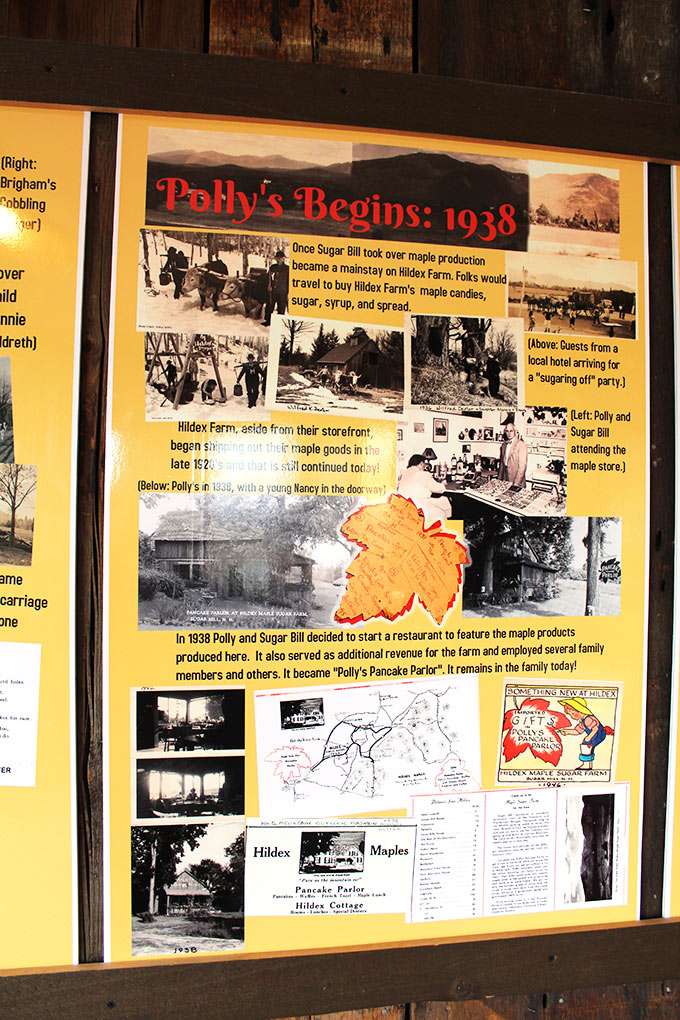 Originally Hildex Farm in Sugar Hill, Polly's Pancake Parlor started in 1938.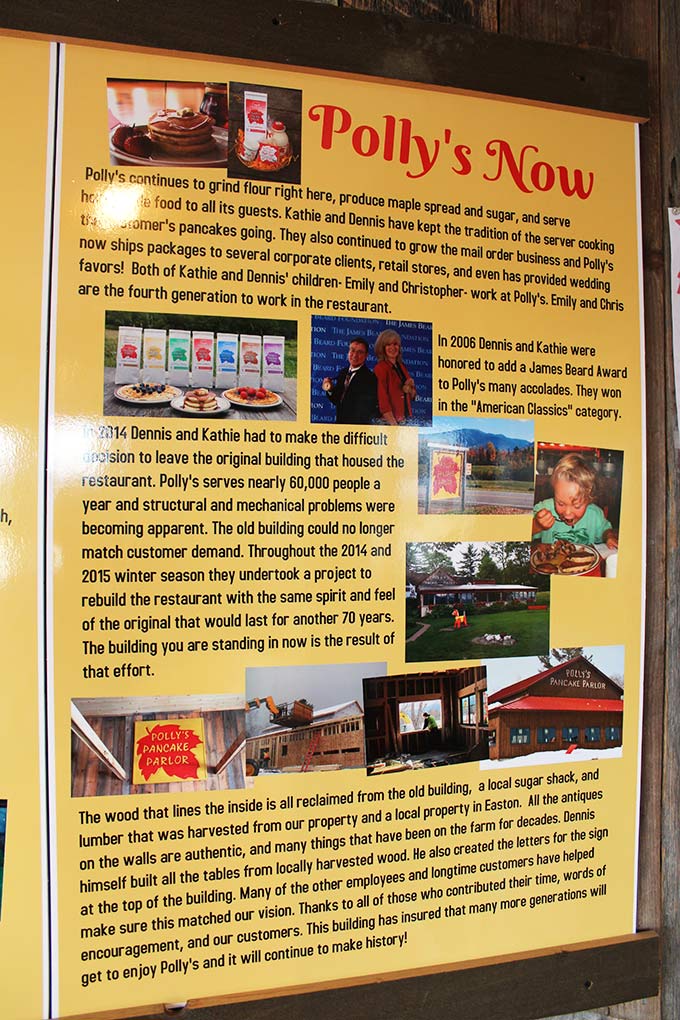 Polly's mills their own flours. And in 2006, they received a James Beard Award in the "American Classics" category.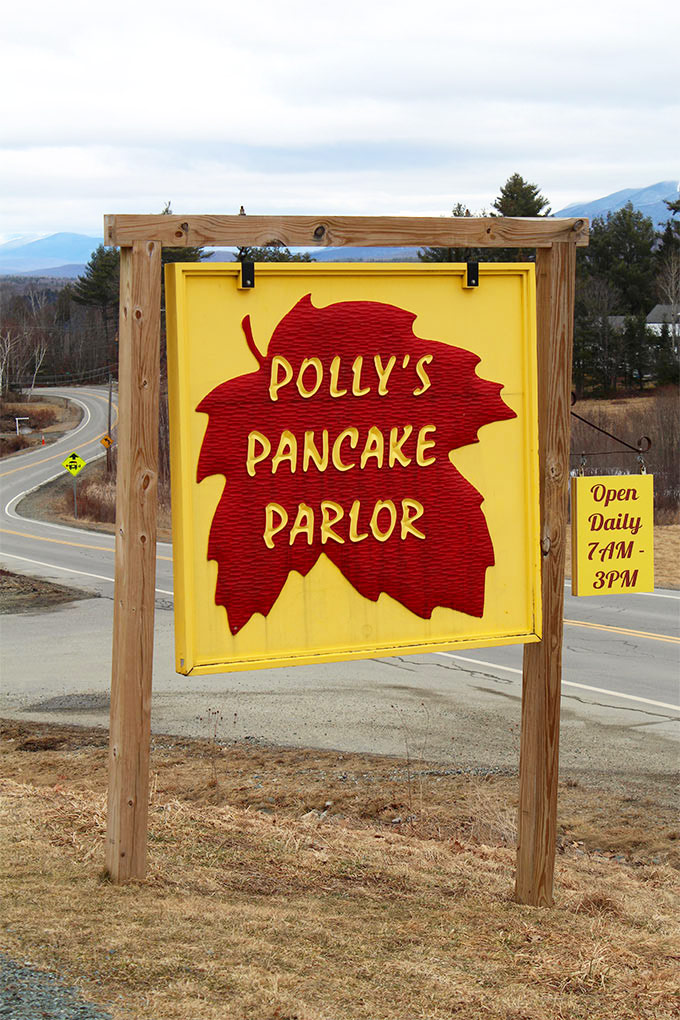 So if you've never been to Polly's Pancake Parlor, add it to your New England bucket list. You won't be disappointed.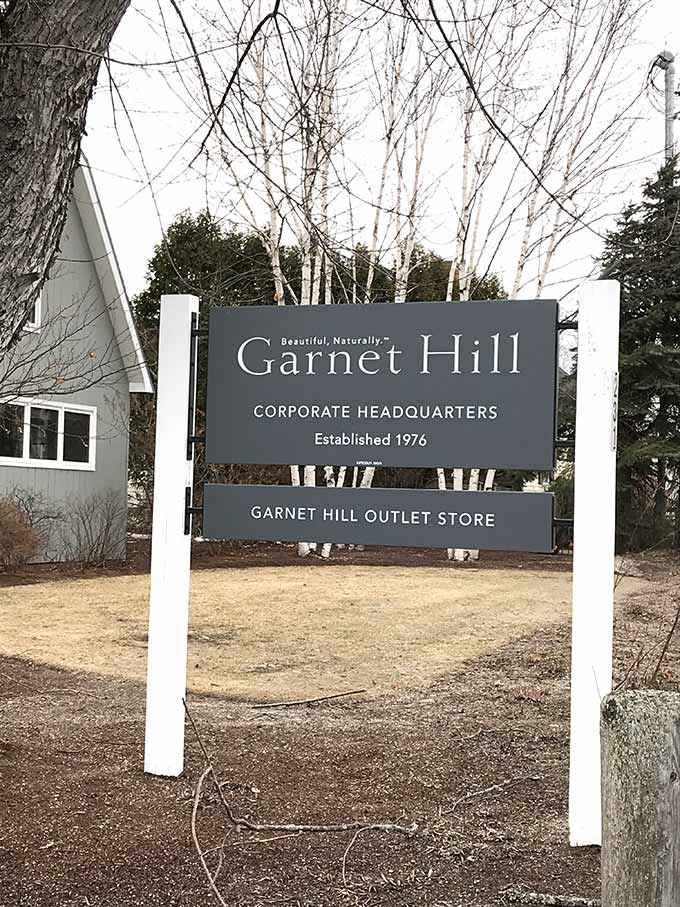 We left Polly's and headed to the Garnet Hill Outlet, just a hop, skip and a jump away. If you're not familiar with Garnet Hill, it's primarily a women's clothing company known for natural fibers, linen, fabulous wools and cashmere. They also carry the exclusive Eileen Fisher brand. I didn't buy anything there, but that's not the end of the story.
We headed on to Chutter's in Littleton, NH, not far away. While Jon and the kids shopped at the longest continuous candy counter in the world, I slipped in to the shop next door – Emma & Co. Consignment.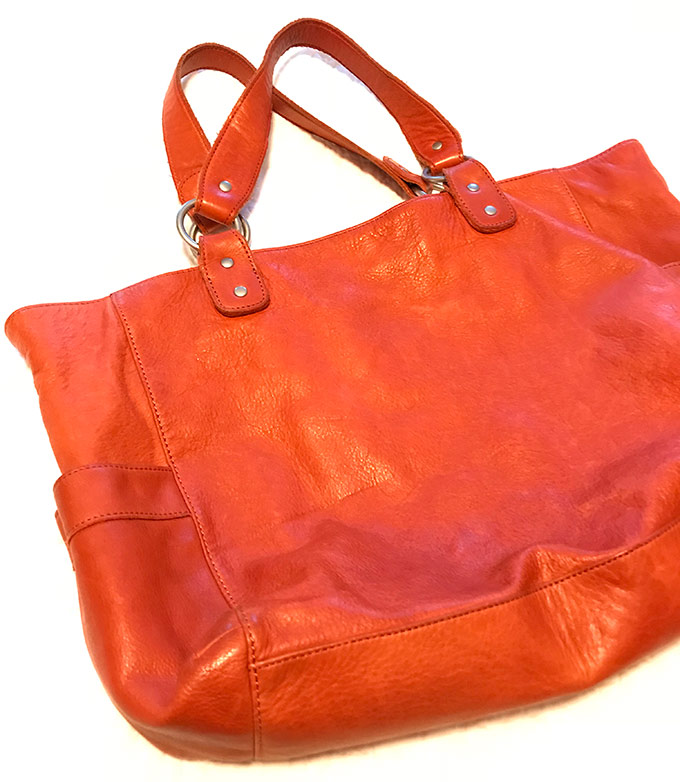 And scored this beautiful Garnet Hill leather bag for a song. Patience is a virtue! 🙂 The girl who checked me out said they carry lots of Garnet Hill because the outlet is so close.
And quick kitchen update – it's functional! Kitchen sink, stovetop and oven happened this week. Now it's just the details. I'll keep you posted.
Have a beautiful, relaxing weekend and hope it includes a short stack with real maple syrup!
XOXO,
Allie