Strawberry Spinach Salad Recipe: contrasting greens, brilliant berries, walnuts and blue cheese burst with flavor in this beautiful salad. Make the sweet, tangy, homemade poppy seed dressing in your blender.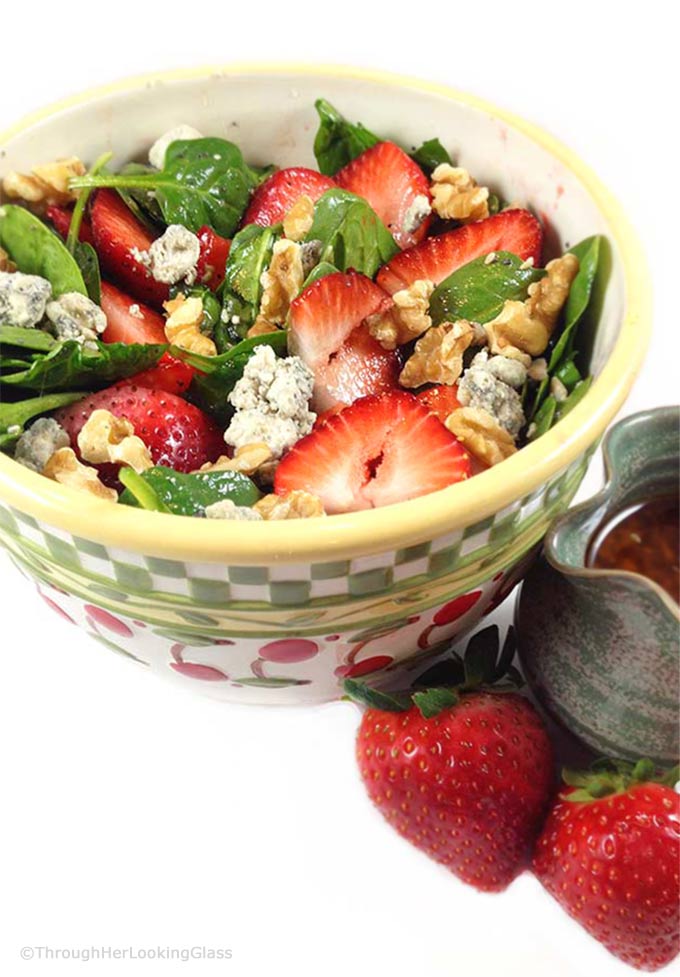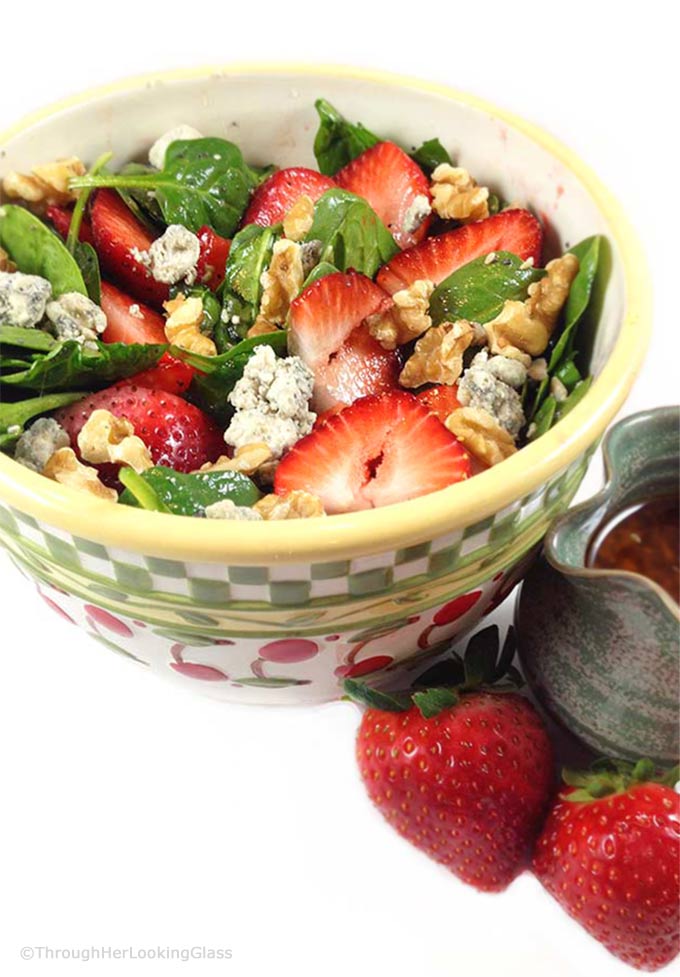 Hope everyone is well at your house! We've got a few heavy colds going on around here and that's no fun at all. Recently a friend told us about a homeopathic cold remedy called Coldcalm. Have you heard of it? It's manufactured by the same folks who make that homeopathic flu remedy I swear by: oscillococcinum. Not that I can spell it (without Google!), let alone pronounce it.
So this Coldcalm stuff did the trick for some of us. You take it right when you feel that first tickle of a cold coming on. So we did a "blind" study in our family, and two of us avoided getting the cold by taking it every two hours. And two of us succumbed. Have you ever tried Coldcalm and what did you think?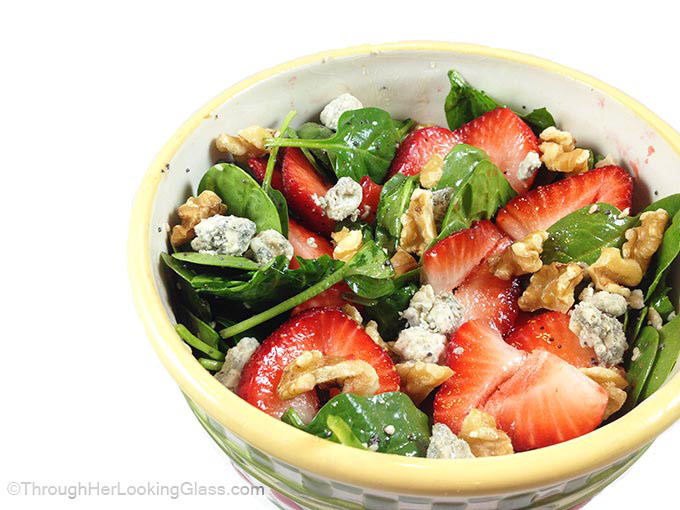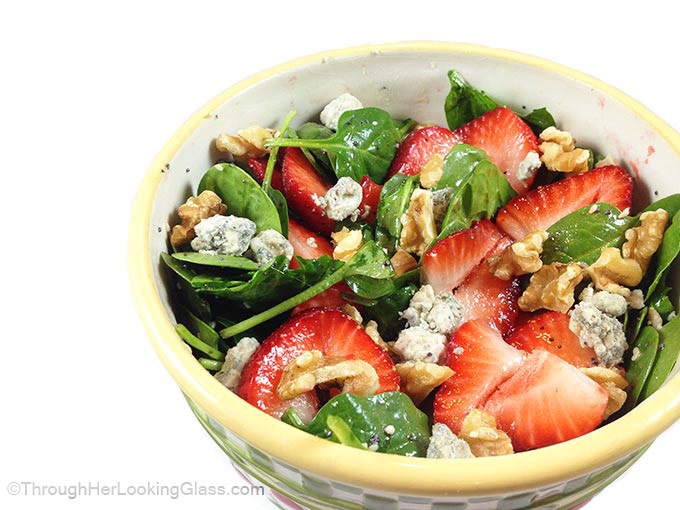 It's wonderful to have fresh fruits and produce available all year long. And we need them to keep our immune system strong. One salad we love is this fabulous Strawberry Spinach Salad! It's so pretty with the contrasting greens and berries.
The dressing is easily made in the blender. Vinegar and sugar (or honey) combine with onion, sesame and poppy seeds, creating a tangy and sweet homemade dressing that we use on other salads too.
Process the dressing in the blender several hours ahead and let the flavors mingle in the refrigerator. Just before serving, toss the greens with the poppy seed dressing. Then arrange the strawberries, blue cheese and walnuts on top of the bed of greens.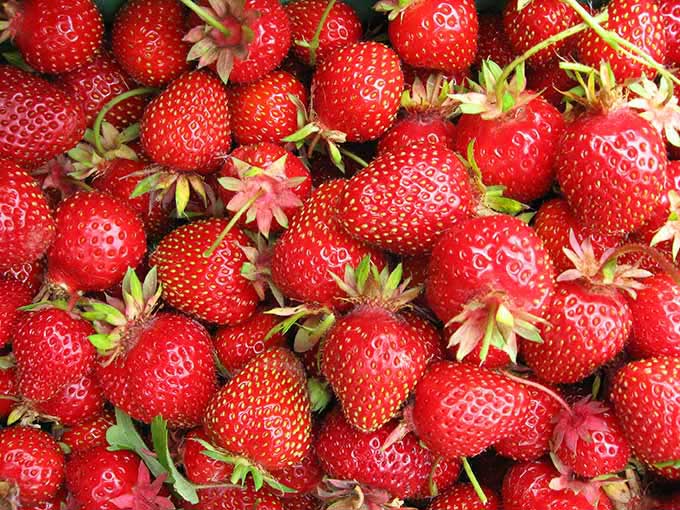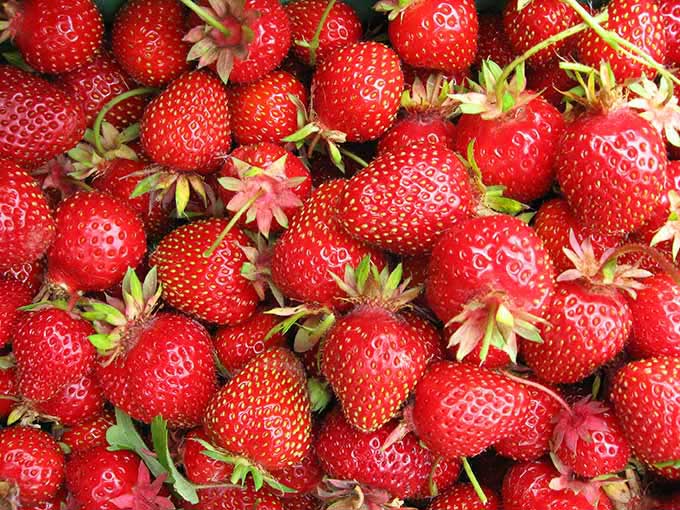 So pretty, great flavor and healthy too. Use this salad as a colorful side dish, or toss some shredded chicken onto your Strawberry Spinach Salad Recipe for extra protein and a main dish meal.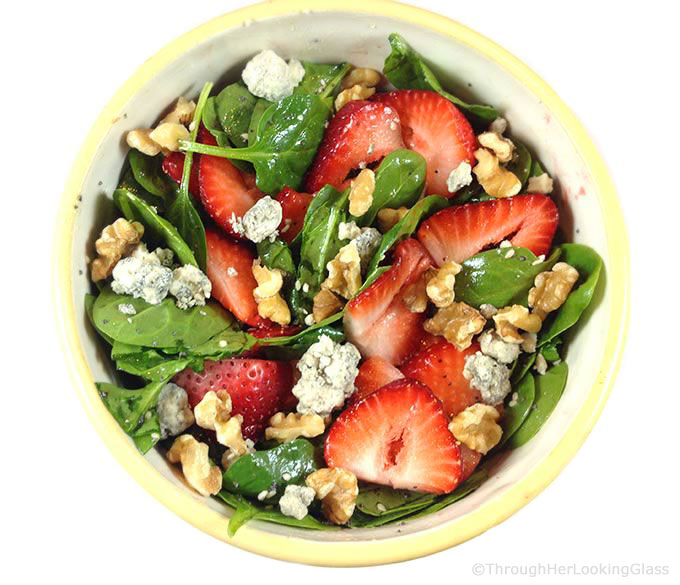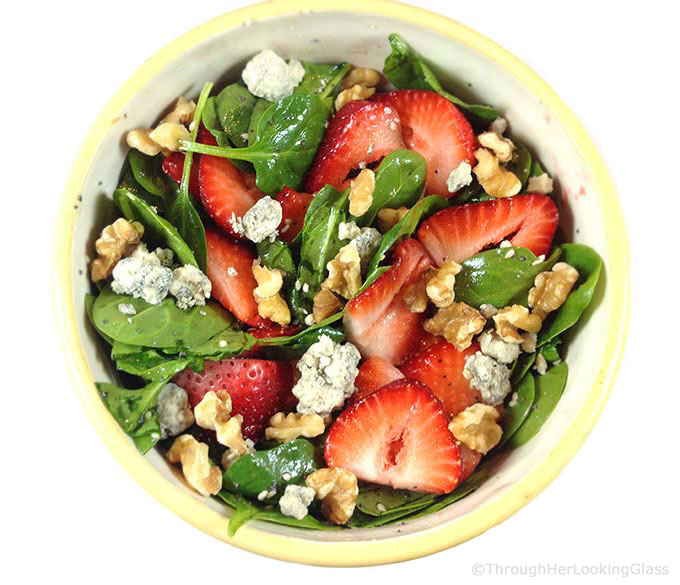 This salad might become a new favorite at your house. Gorgonzola or feta cheese is easily interchanged for the blue cheese. Pecans can be substituted for walnuts.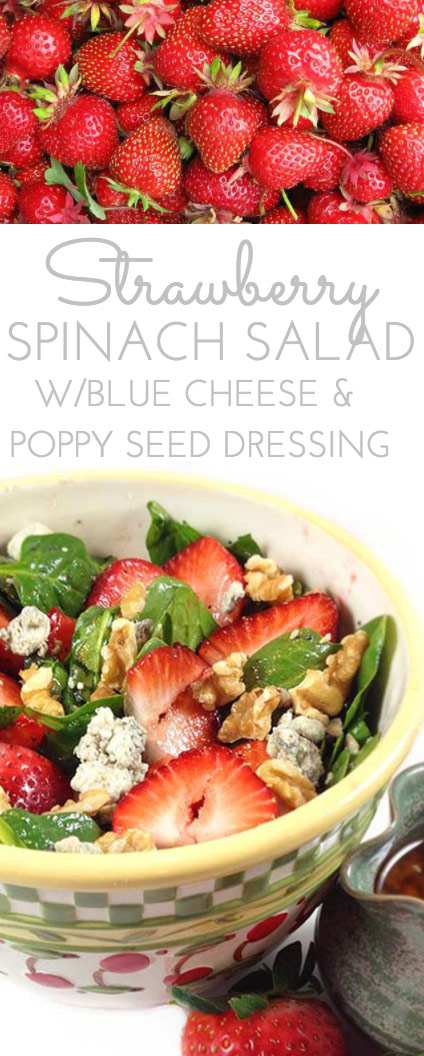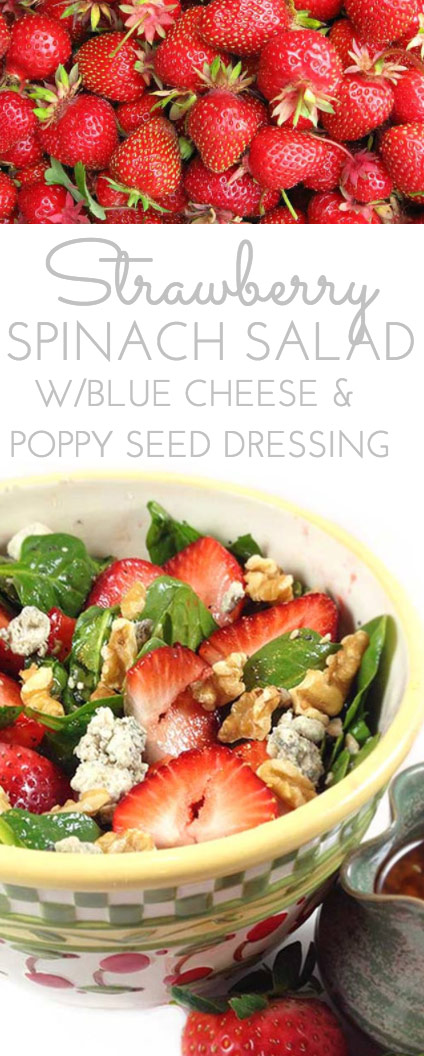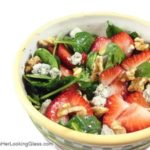 Print Recipe
Strawberry Spinach Salad
Strawberry Spinach Salad
Ingredients
Dressing ingredients:

1/2

cup

honey or sugar

2

tablespoons

sesame seeds

1

tablespoon

poppy seeds

1 1/2

tablespoons

fresh chopped onion

or 1/2 teaspoon dried minced onion

1/4

teaspoon

worcestershire sauce

1/4

teaspoon

paprika

1/2

cup

vegetable oil

1/4

cup

cider vinegar

Salad ingredients:

1

pint

strawberries

stems removed, sliced

1/2

cup

"broken walnuts"

10

ounce

bag washed spinach

1/3

cup

crumbled blue cheese

or gorgonzola
Instructions
Blend all dressing ingredients in the blender for about a minute.

Refrigerate several hours.

Pour dressing over spinach and toss.

Arrange strawberries on top.

Scatter blue cheese (or gorgonzola) and broken walnuts on top.
Serve this salad with: Jordan Marsh Blueberry Muffins