This Willy Wonka Christmas Ball Wreath is a fun and sparkly way to welcome the Christmas holidays. Easy to make too. Just hot glue Christmas ornaments of various colors, shapes and sizes onto a styrofoam wreath form. Add a bow and hang to dispense instant Christmas cheer.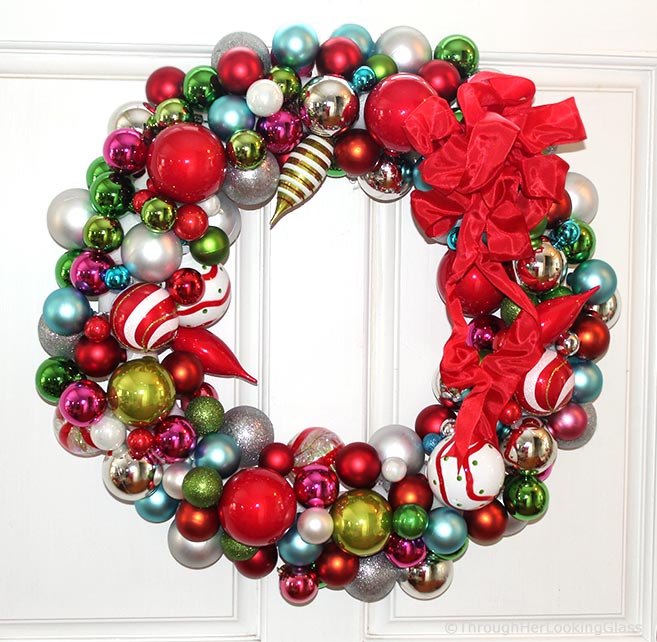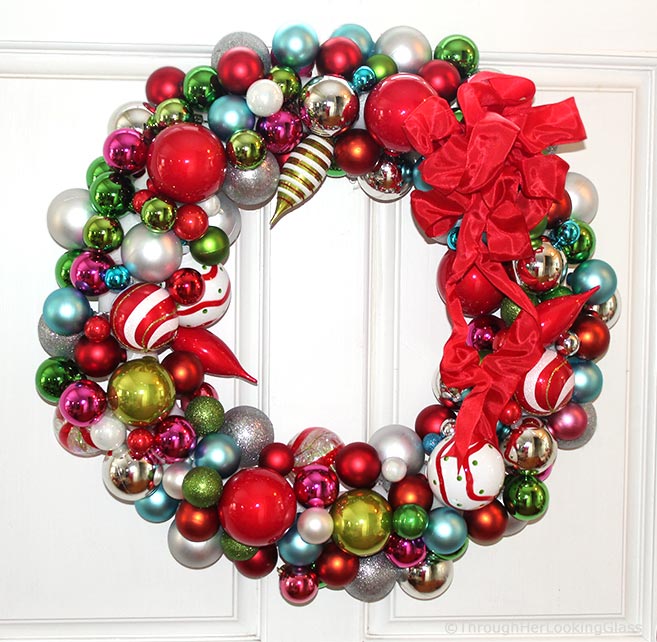 I know, I know. Why am I posting a Christmas Ball Wreath tutorial in January? "I must be off my marbles." (Name that movie. Gotta squeeze in George Bailey when I can. Yep, we watched It's a Wonderful Life over the holidays.)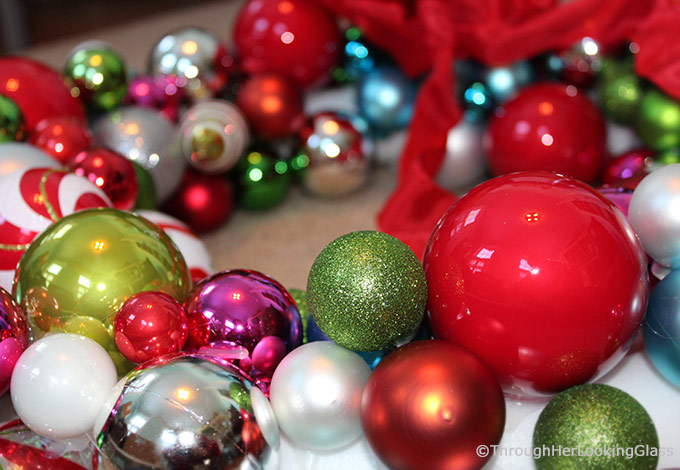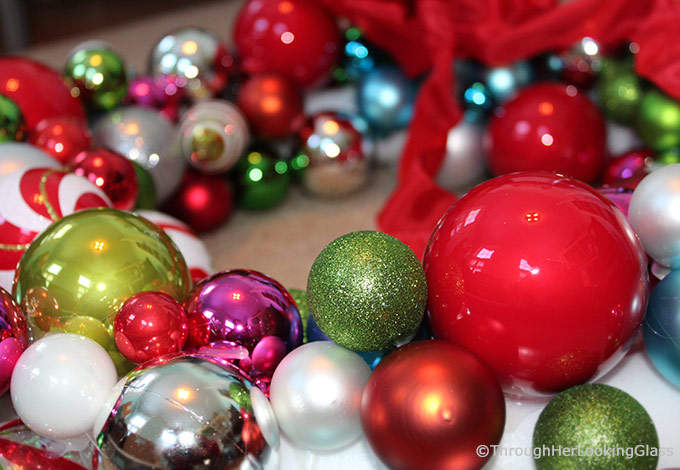 Anyway, the holidays are over and here I am posting a Christmas wreath. I haven't posted a craft here in over a year. But I made this fun Christmas ball wreath back in December and wanted to tell you all about it and make sure it gets posted for next Christmas.
I ran out of time to write it up last month. All that baking. And knowing me, I'll forget about posting it later. So instead of being late, humor me and imagine I'm three hundred plus days early. 🙂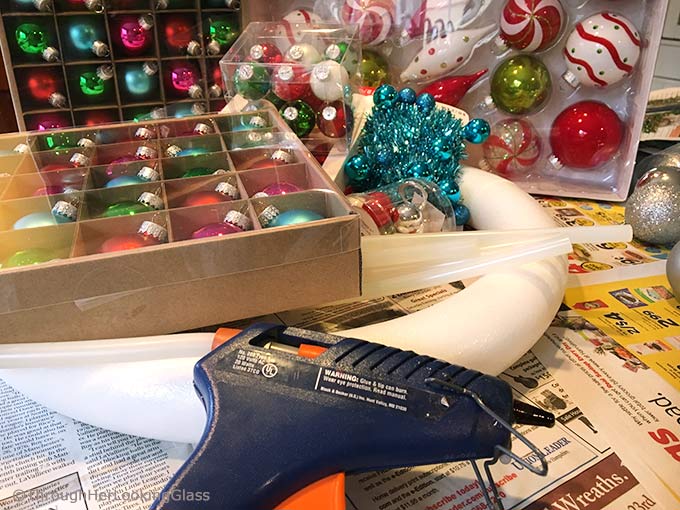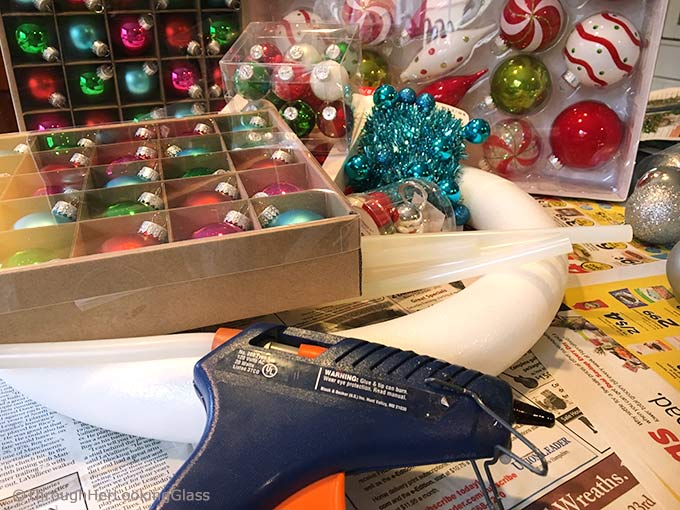 So why Willy Wonka? It just so happened that my wreath making this past December coincided with my Charlie (10) reading Charlie and the Chocolate Factory at school. I've always loved the vivid imagery and colors in that book. Not to mention the fantastic character Willy Wonka that Roald Dahl dreamed up. So when I saw some candy stripe ornaments at my local craft store, I knew this time around I'd make a whimsical Willy Wonka Christmas Ball Wreath.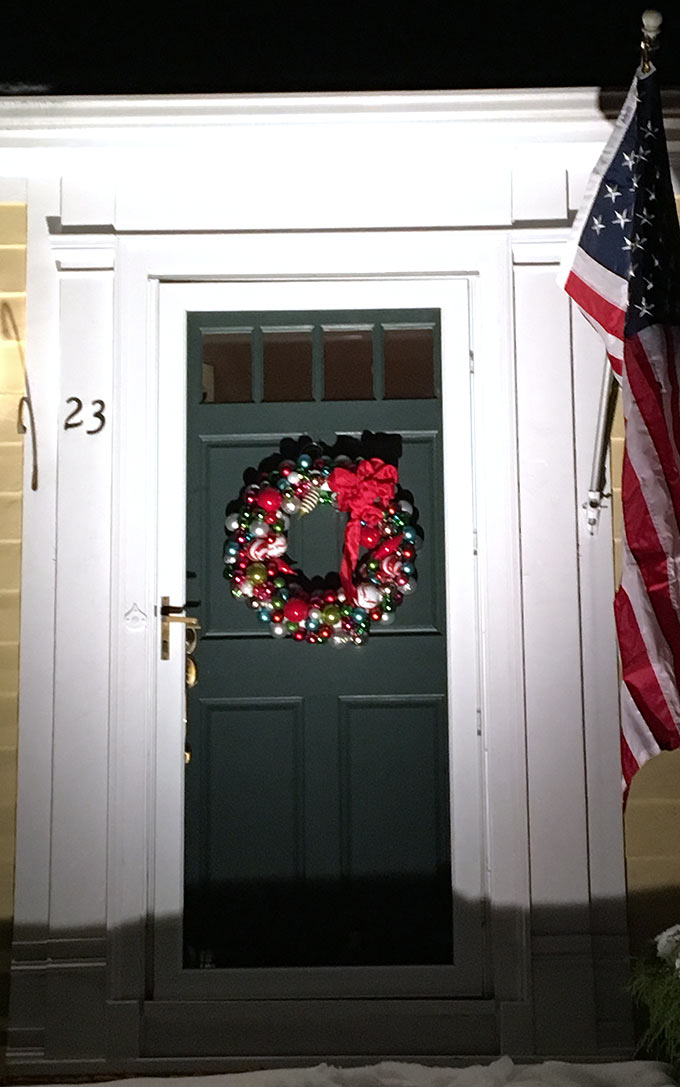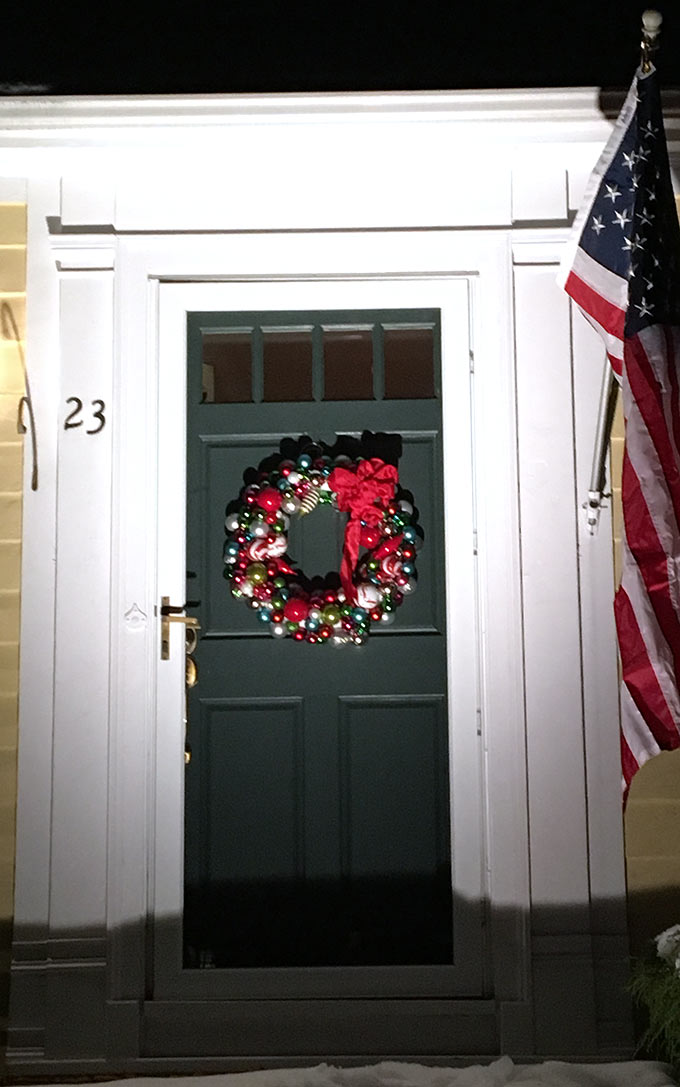 Years ago when we still lived in the south, I made a Martha Stewart Christmas Ball Wreath. She called it a Gaudy Wreath. And I can see why. These wreaths made from shiny Christmas ball ornaments might be considered gaudy by some.
But hang it on a front door in the spotlight at night, and it's gorgeous. Cute and festive in the daytime too. Shiny, sparkly, and very fun. If you're someone who likes a little sparkle and whimsy, this is an easy and fun wreath to make.
Keep in mind if you use glass ornaments you'll need to hang it inside or in a protected area outside. (Mine is hanging on my front door, behind the glass storm door.)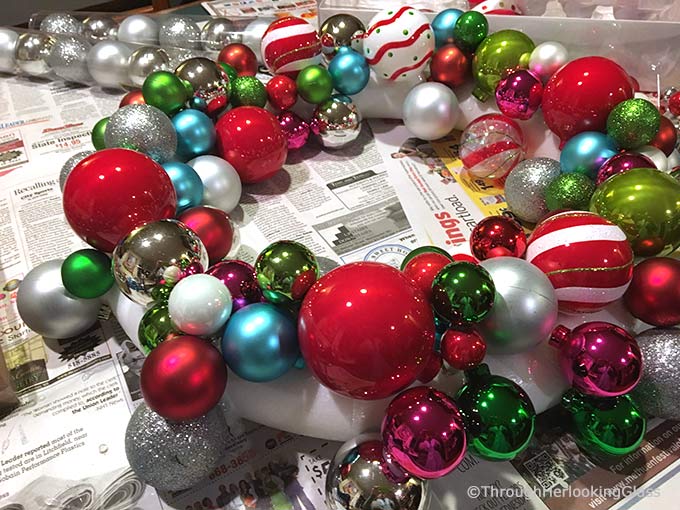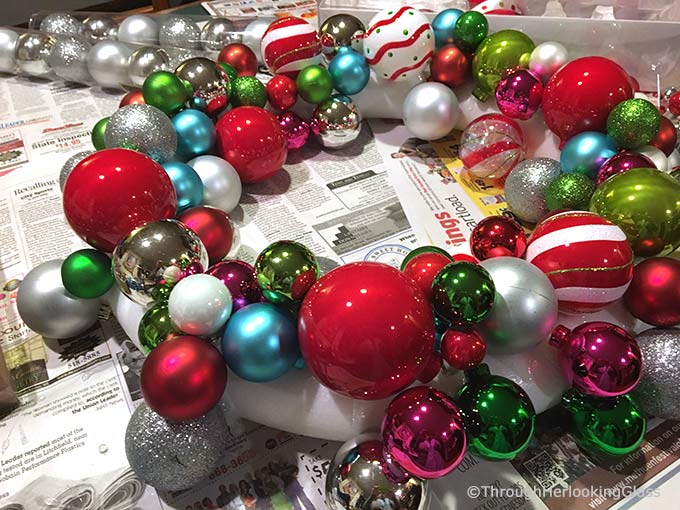 Over the years my first gaudy wreath didn't age so well. A few of the balls broke during our move to NH. I replaced those, and then some of the ornaments faded through the years and it was just time to replace the whole thing.
Come to think of it, now might be a good time to get some of these ornaments on clearance. (If there are any left!)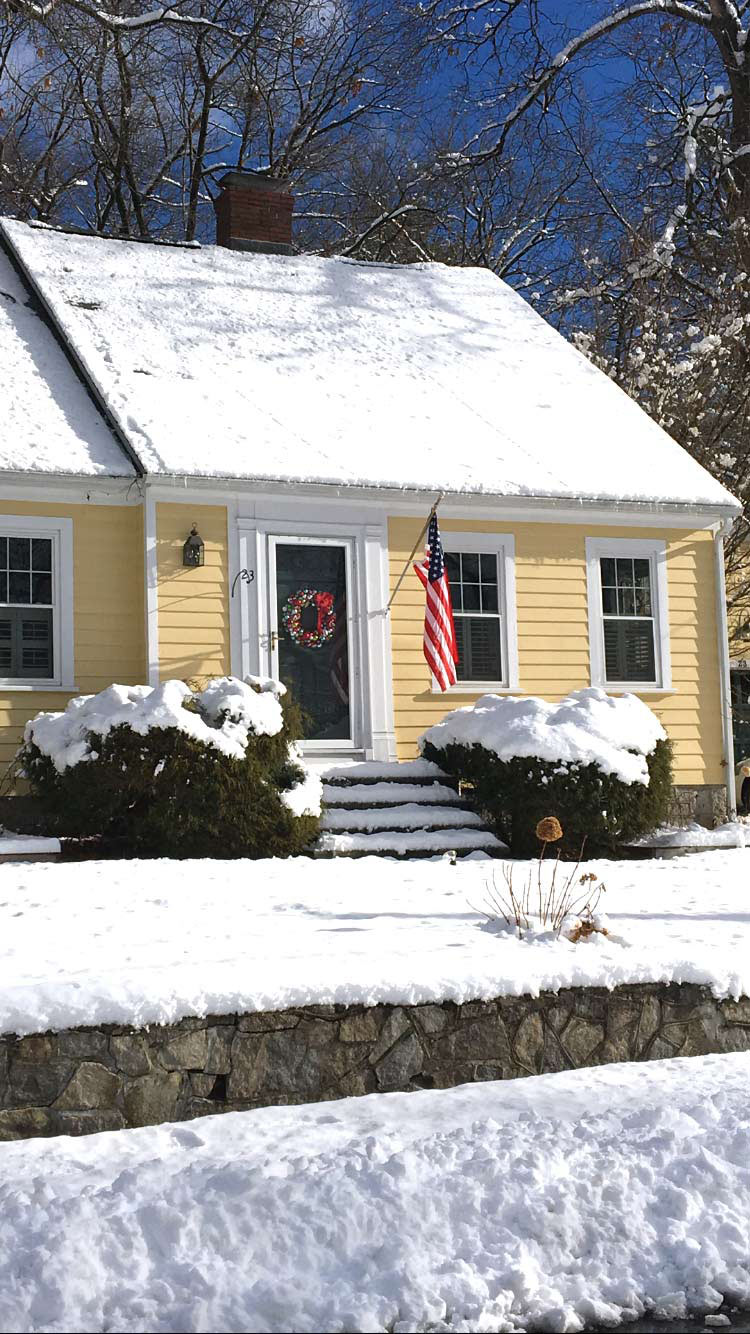 Materials:
Styrofoam wreath form – whatever size you choose (I made a very large wreath using an 18″ wreath form. The wreath turned out about 24″ in diameter once the ornament balls were glued on.)
Glue gun and glue sticks
Various sizes of plastic or glass Christmas ball ornaments ( I used about 100 various sized glass ball ornaments for my large 24″ wreath.)
Optional: ribbon (and wire for attaching the ribbon)
rope or twine for hanging
Instructions:
Place your wreath form flat on top of a thickly newspaper-lined table or counter.
Using your hot glue gun, glue Christmas ball ornaments to the form.
Please be very careful. It's very easy to burn your fingers with this particular project.
Start by glueing ornament balls around the inside of the wreath form, and then along the outer edge of the form. Use bigger balls first.
Fill in between with ornaments until all the foam wreath form is covered. Glue bigger balls behind and save the smaller ones to fill in out front. (You may need to glue some ornaments onto other ornaments, filling in as you run out of space on the form.)
Keep in mind how many inches you need from front to back if you're sandwiching it in between a front door with a storm door over it like mine.
Optional: Make a bow with your ribbon and attach it with wire.
Tie a loose loop of rope or twine around the wreath and hang your wreath on a nail or suction cup. I recommend a sturdy nail in case the suction cup comes loose. It would be a very sad day if your glass ornament wreath came crashing down.
This is a fragile wreath, so be sure to package and store very carefully off-season. Use lots of bubble wrap and keep in a sturdy box. Each season check carefully before hanging for loose ornaments and repair as needed.
I hope you enjoy making this Willy Wonka Christmas Ball Wreath. It's a great piece to add to your Christmas decorating tradition. FYI, I estimate mine cost about $50 to make total because I got all the ornaments 50% off at my local craft store (Michael's) and used a 40% off coupon on the styrofoam wreath form.


You may also like: DIY Clementine Gift Boxes