This White Wheat Buttermilk Waffle Recipe makes crisp, golden waffles for your next brunch or breakfast. The buttermilk combines with white wheat flour, yielding a tender, golden waffle. These waffles beat the specialty kitchen store waffle mix hands down.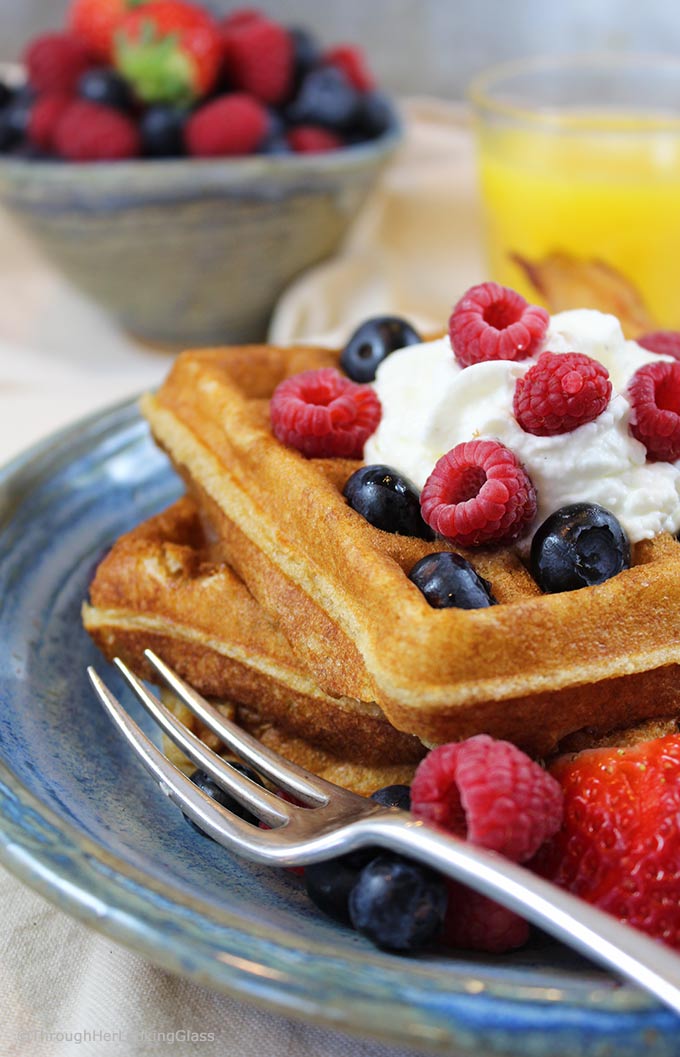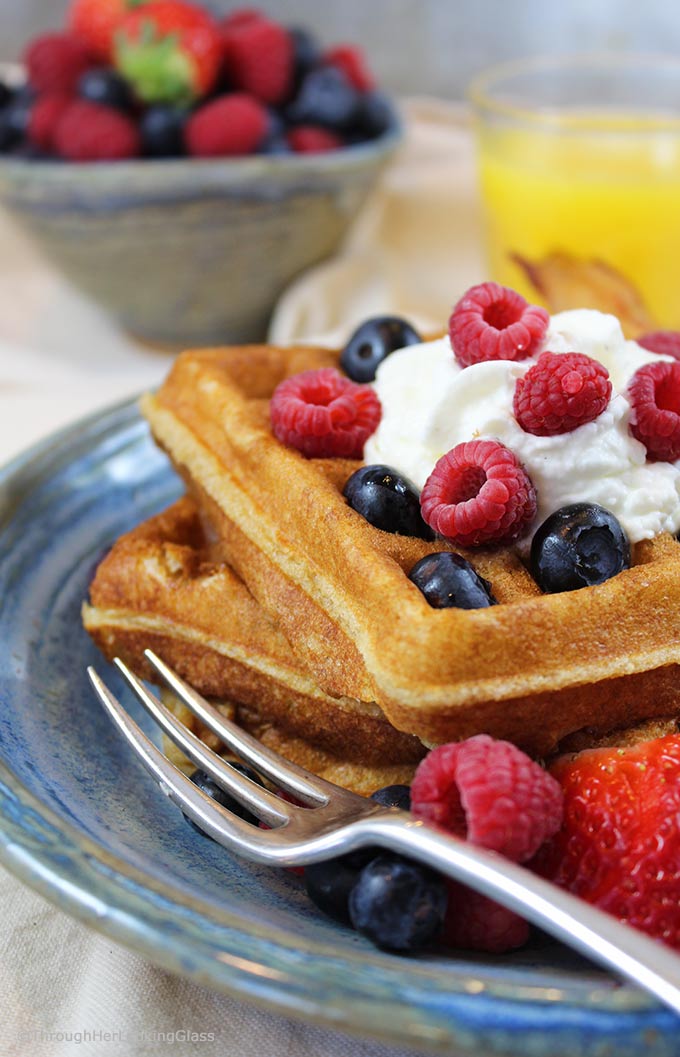 My family loves eating a big breakfast together. They don't even care what time of day it is, they like breakfast. We don't have big breakfasts on weekdays – there isn't time with everyone getting out the door by 7:15 a.m. for school.
And since I'm not exactly a morning person (ahem), a big breakfast just ain't gonna happen. But. Things are different on school vacation or weekends. We take the time to connect over a hot breakfast together whenever we can.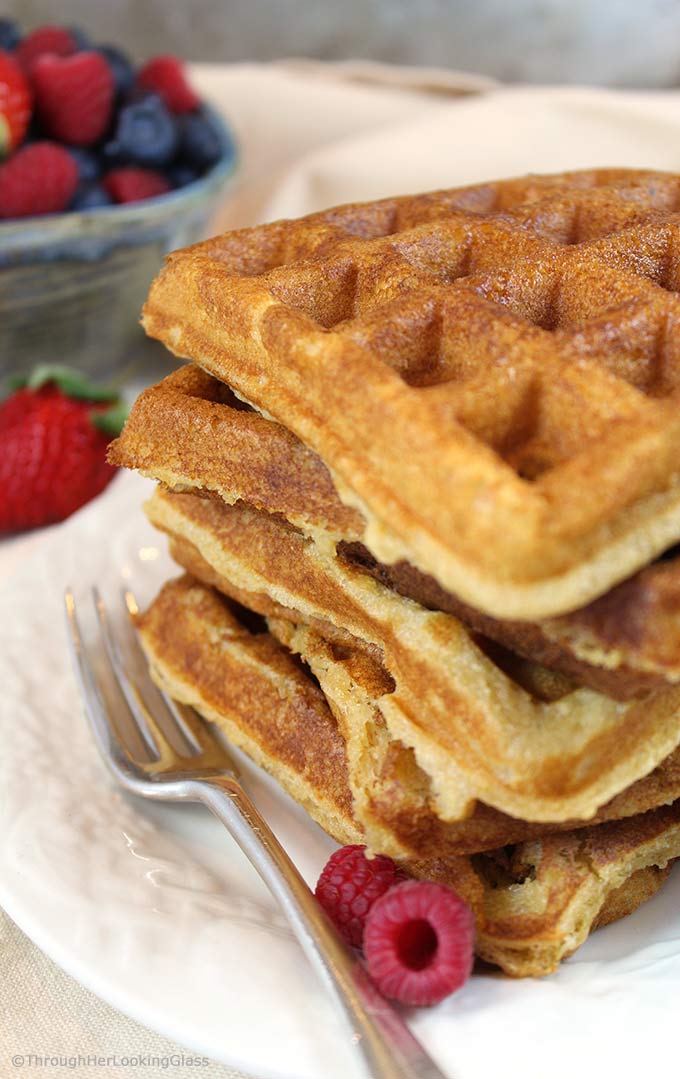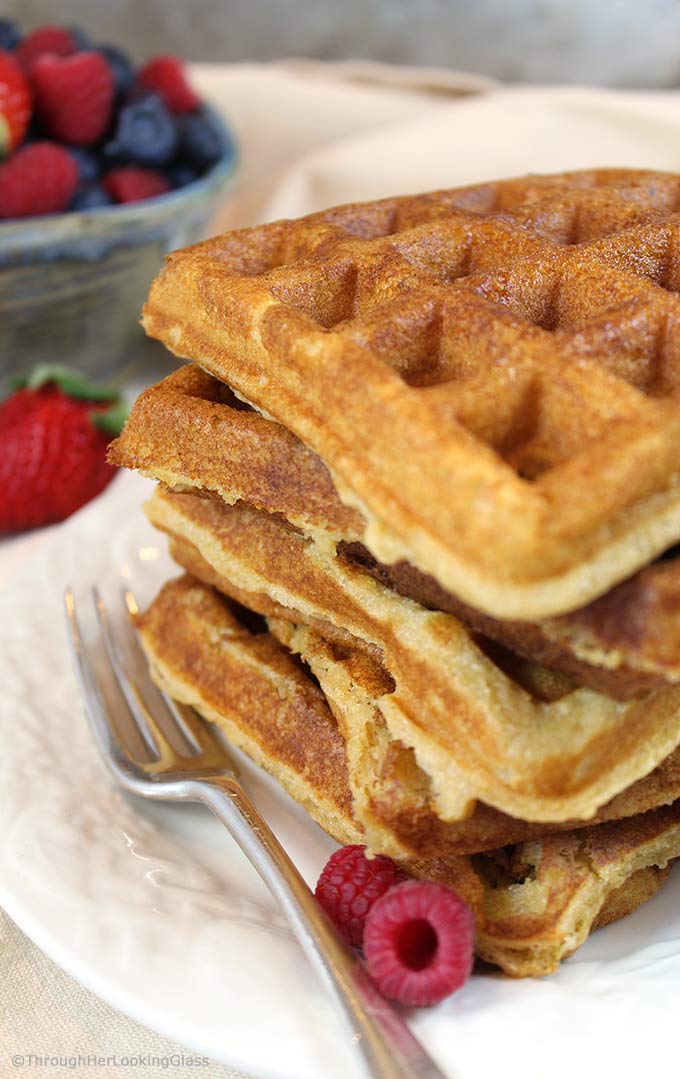 A few years ago the boys and I bought their dad a waffle maker for Father's Day. It was (perhaps) a little self-serving, since we all love waffles and the kids had been bugging me to get a waffle maker for some time. (Thankfully Jon's a generous guy and shares.) We got one of those Belgian waffle makers you see at continental breakfasts in hotel lobbies, the kind that flip over and beep when the waffle's ready.
It's great in a hotel lobby because they usually have more than one. And there are other items on the breakfast bar while you wait. But we only had one waffle maker. And six hungry waffle lovers made for a lot of waiting. So after a few years of waiting for that beep (patiently of course….every single time, LOL) that waffle maker bit the dust. Sad day. So we've been without waffles at all for a while now. (No waffle is even worse than waiting for a waffle.)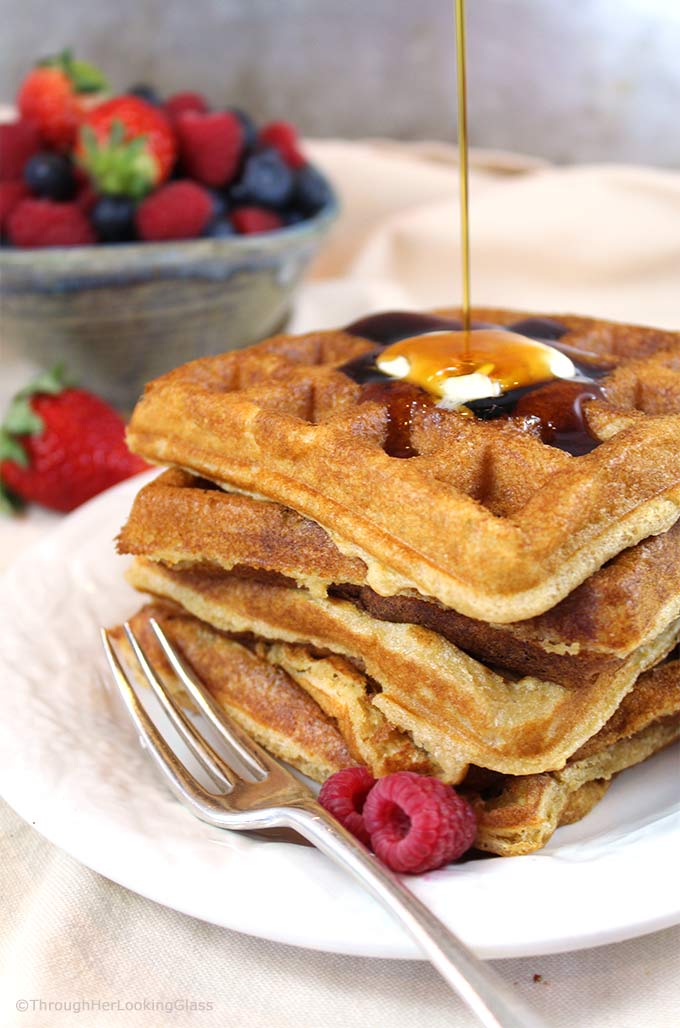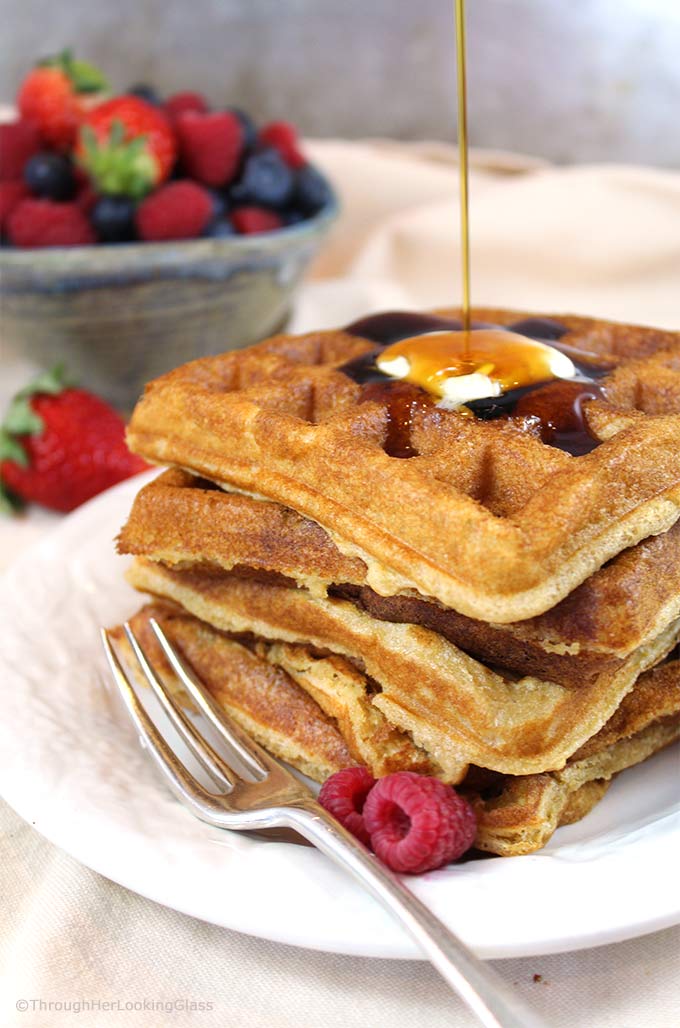 But on Christmas, the guy in the big red suit put a brand new waffle maker under the Christmas tree. Yay! And he was so thoughtful. It makes four, 4″ waffles in each batch. Perfect for our family and less waiting! It also has non-stick plates that remove, making clean-up a breeze. So we've been experimenting with waffle mixes and also our own recipes over vacation.
So far, our favorite has been this White Wheat Buttermilk Waffle Recipe. The waffles are crisp and golden on the outside and tender and fluffy on the inside. The deep golden pockets hold berries, butter and pure maple syrup.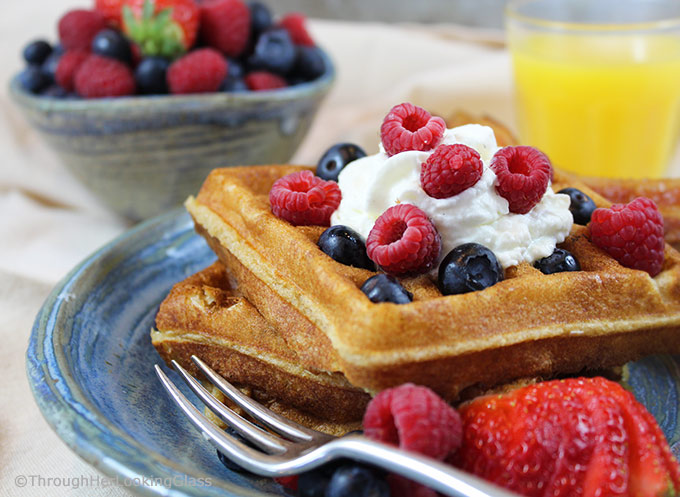 Have you baked with white whole wheat flour before? If not, give it a whirl. I use white whole wheat flour from King Arthur Flour in a lot of my baking. Sometimes I substitute it for just a portion of the white flour in a recipe. Other times I exchange it for all the white flour.
King Arthur Flour says:  "Our unbleached white whole wheat flour is milled from hard white winter wheat – a lighter-colored grain than traditional red wheat – which yields milder-tasting baked goods."
The thick batter for these scrumptious waffles comes together easily. If you don't have buttermilk on hand (I often don't), just add a tablespoon of vinegar or lemon juice to a cup of milk for each cup of buttermilk called for. Let it sit for 5 minutes or so and voila: you've got buttermilk without running to the store!
Pair these White Wheat Buttermilk Waffles with fresh berries and powdered sugar or butter and maple syrup for a delicious treat. Bacon or sausage and juice complete your breakfast!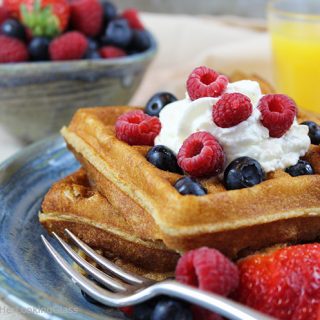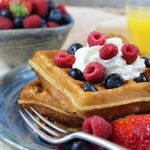 Print Recipe
White Wheat Buttermilk Waffle Recipe w/Fresh Berries
Servings:
12
, 4" waffles
Ingredients
2

cups

white whole wheat flour

I use King Arthur White Wheat Flour from my grocery store

1/4

cup

sugar or honey

1

teaspoon

salt

1/2

teaspoon

baking soda

heaping

2

teaspoons

baking powder

2 1/2

cups

buttermilk

1/2

cup

liquid coconut oil or vegetable oil

2

eggs

Optional: fresh berries for garnish
Instructions
In a small mixing bowl, stir together dry ingredients: white whole wheat flour, sugar, salt baking soda and baking powder. Set aside.

In a medium mixing bowl, whisk together buttermilk, oil and egg.

Slowly stir dry ingredient mixture into wet ingredients until thoroughly combined.

Use this waffle batter in your waffle maker, following manufacturer's instructions.

My waffle maker yields four, 4" waffles in each batch and uses 1 1/2 cups batter for each batch.

Add a little more milk or buttermilk if batter needs to be thinned.

Garnish with fresh berries if desired.

Serve hot with butter, maple syrup or powdered sugar.

Makes 12, 4" waffles.
You may also like: Cinnamon Streusel Apple Coffee Cake