This Grilled Steak & Asparagus Salad is simple and fresh, uses just five ingredients: red leaf lettuce, grilled marinated steak, shaved parmesan, tender-crisp asparagus and purchased raspberry vinaigrette dressing.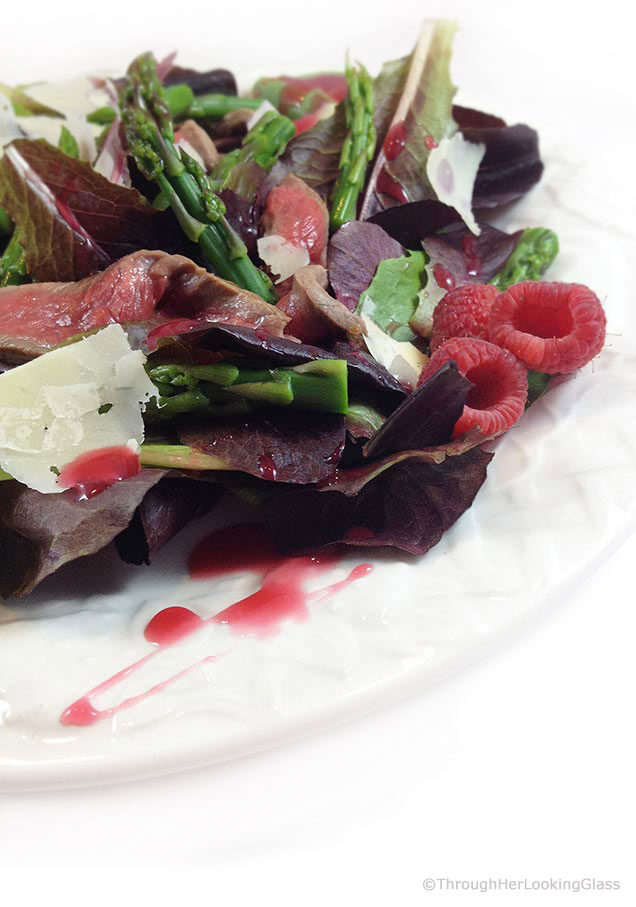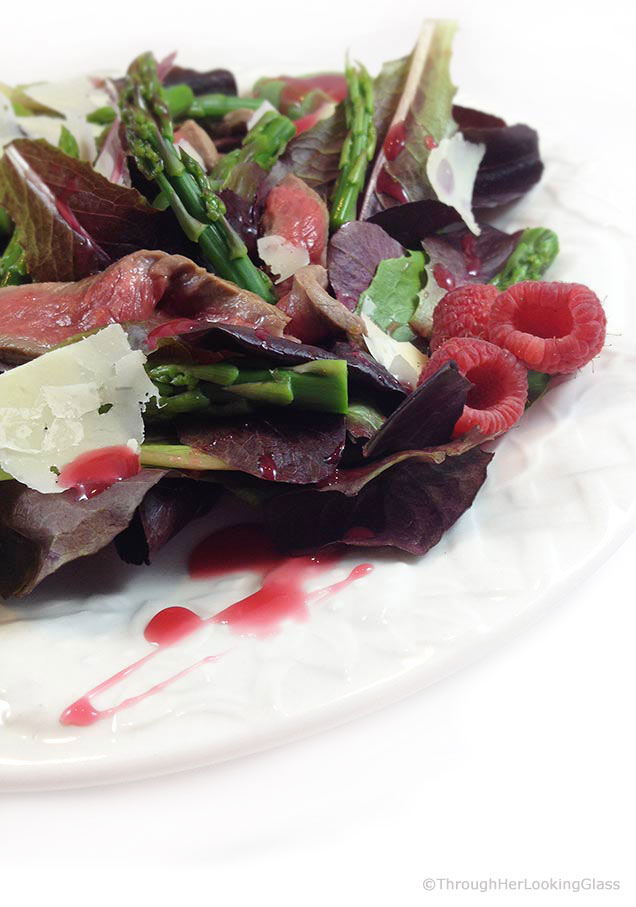 So Happy New Year my friends! How are you easing into the New Year at your house? I must confess my "easement" isn't going so well. Meaning I'm in denial that vacation is over. My kids went back to school today and I was sad to see them go. The Christmas tree and decorations are still up, the thank you notes unwritten. Ouch. So I have some work ahead, but the vacation memories are sweet and will keep me going as I start packing up Christmas.
We had a few snowstorms over the vacation, so that was a treat. (Even attended "A Christmas Carol" at the historic downtown theater during one of the storms.) We watched lots of holiday movies (including my all-time fave "It's a Wonderful Life") and saw the new SING! movie at the theater. (So cute!) I started "The Nightingale" that I've been dying to read for a while. And one morning we enjoyed a late brunch at our favorite local diner. We also got a waffle maker for Christmas and experimented with different waffle recipes. (Alert: waffle recipe coming soon to a blog near you!) Hope you made sweet memories too – I'd love to hear about your Christmas!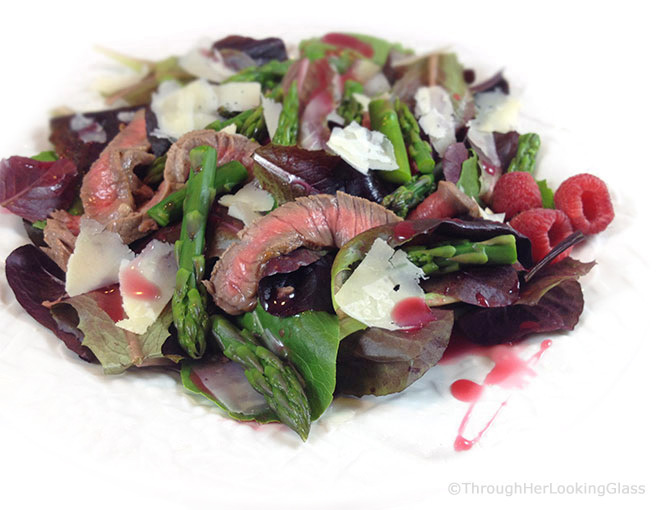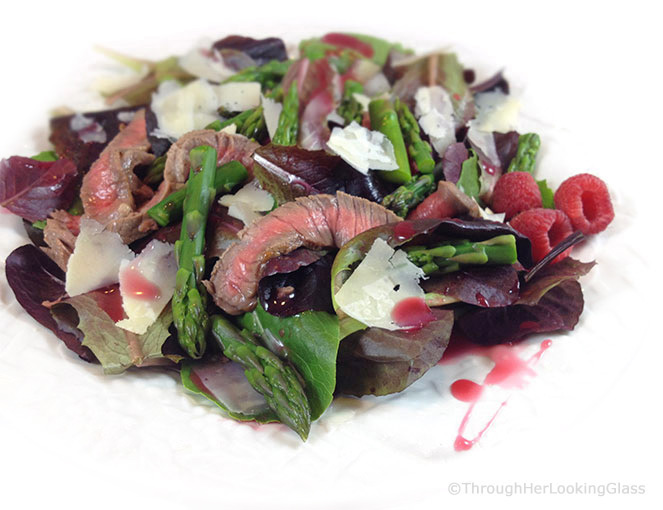 We also baked a lots of Christmas cookies over vacation! It was fun, but now I'm glad to have the holiday sweets out of the house and ease back into my exercise routine. I find it's super tough to keep a schedule going with the kids out of school. (Anyone feel my pain?) I've also been craving greens.
We love a good green salad at our house especially in the winter. It's hard to get in enough greens over the holidays. This salad is a perfect start for the new year with thinly sliced grilled steak atop a bed of leafy greens. It's got to be hearty because I've got all these boys to feed, but it's nutritious too. This Grilled Steak & Asparagus Salad fits the bill for our family.
I make this salad often because it's healthy, delicious and affordable. Also quick to make. It's so convenient to be able to buy fresh greens, berries and asparagus in the grocery store all winter long. Everyone loves it and it easily incorporates fresh produce into our diet.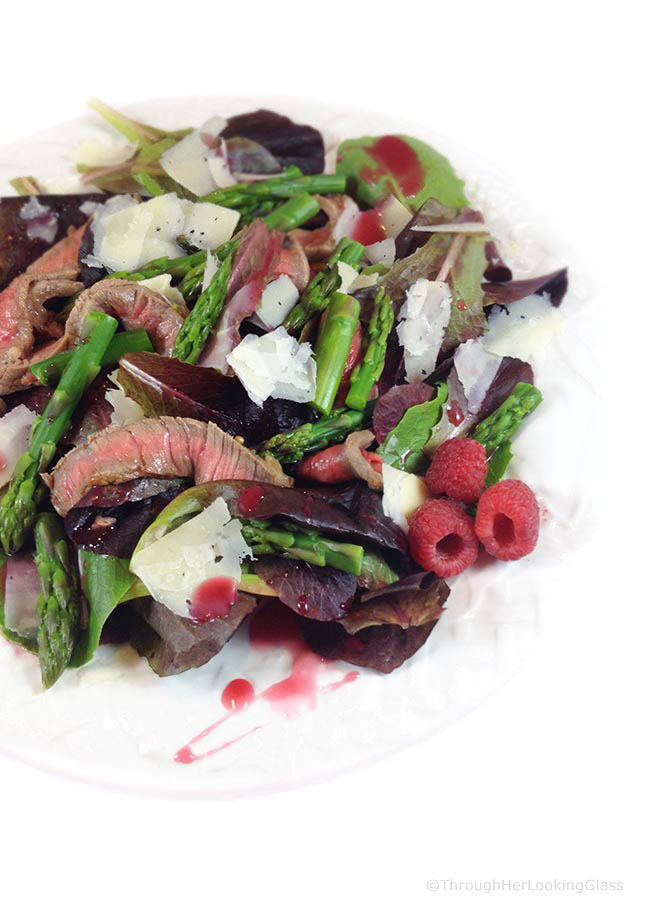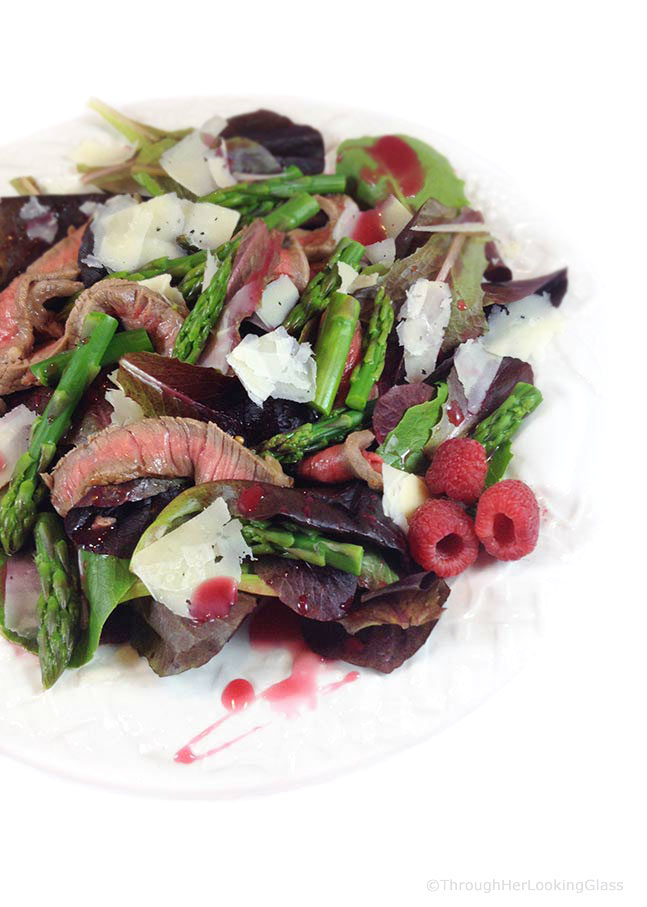 The salty parmesan contrasts with the sweet berries and the asparagus snap. Everything is easily prepared ahead of time, even the night before if needed. It comes together quickly at the last minute, nice for company. It's also pretty and appetizing. Important to some at my house. (Ok. Me.)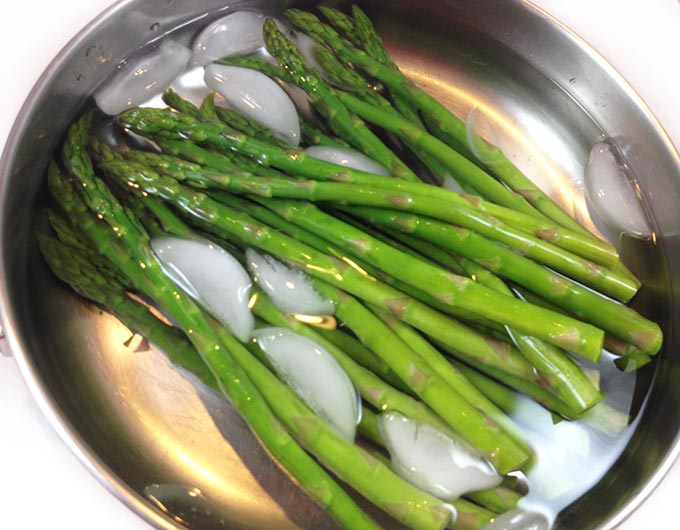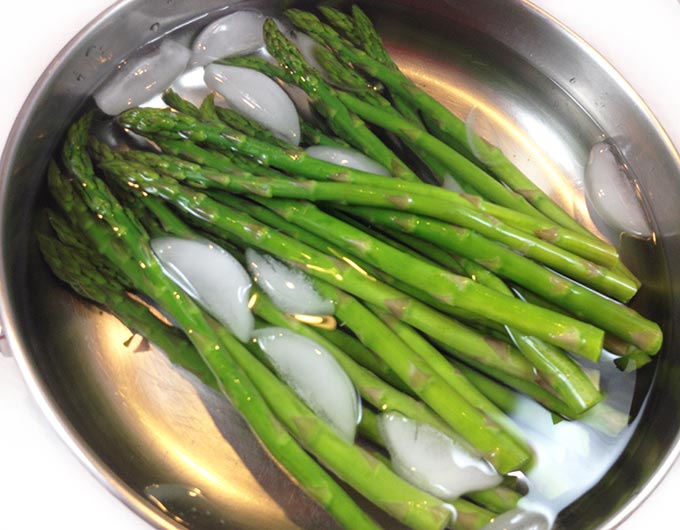 Cook the asparagus on the stovetop 'til tender crisp then blanche it, shocking it with ice cold water. Place trimmed and washed asparagus in a saucepan, just covering with water. Cook asparagus covered over high heat for 3-5 minutes 'til asparagus is bright green, and a sharp knife easily pierces the center. Then shock by draining the hot water and immediately replacing with cold water and ice. (This stops the asparagus from cooking further and keeps it tender-crisp.)
Pile a bed of red leaf lettuce on individual plates, then load her up with shaved parmesan, asparagus, and thinly sliced, grilled steak. Top with a generous drizzle of raspberry vinaigrette and garnish with fresh raspberries. This is a spectacular salad for all seasons and a healthy way to start off the new year!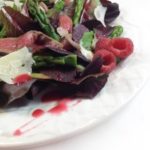 Print Recipe
Grilled Steak & Asparagus Salad
A hearty spring and summer salad with grilled steak, tender crisp asparagus and shaved parmesan.
Ingredients
1 1/2

pounds

marinated top round or steak tips

1

large bunch red leaf lettuce

washed, dried and torn

1

pound

asparagus

washed, trimmed and blanched

shaved parmesan

raspberry vinaigrette dressing

optional: fresh raspberries for garnish
Instructions
Grill marinated steak just how you like it.

Remove from the grill, cover with foil and let sit for 10-15 minutes, then thinly slice.

Separately, place washed and trimmed asparagus flat in a frying or sauce pan. Cover with water and put the lid on.

Bring water to a quick boil at high heat, cooking for 3-5 minutes total, just until asparagus is bright green and a sharp knife easily pierces the center.

Immediately drain and quickly shock in an ice water bath to stop from cooking further.

(Asparagus should be tender crisp, not mushy.)

When cool, chop asparagus into bite size pieces.

Arrange salads on individual serving plates.

First lay a bed of red leaf lettuce on each plate.

Top with asparagus, shaved parmesan and steak slices.

Drizzle raspberry vinaigrette dressing over all.

Garnish with fresh raspberries if desired.
Notes
This recipe makes six generous main dish servings, allowing for 1/4 pound steak per person. You can easily use less and we often do.
You may also like: Jordan Marsh Blueberry Muffins