Fall is the perfect season to cozy up and enjoy a slice of this scrumptious Salted Caramel Apple Cake. This moist made-from-scratch cake is packed with fresh apples and all real ingredients. You'll be surprised how easy it is to make. The salted caramel sauce comes together in just minutes on the stove top!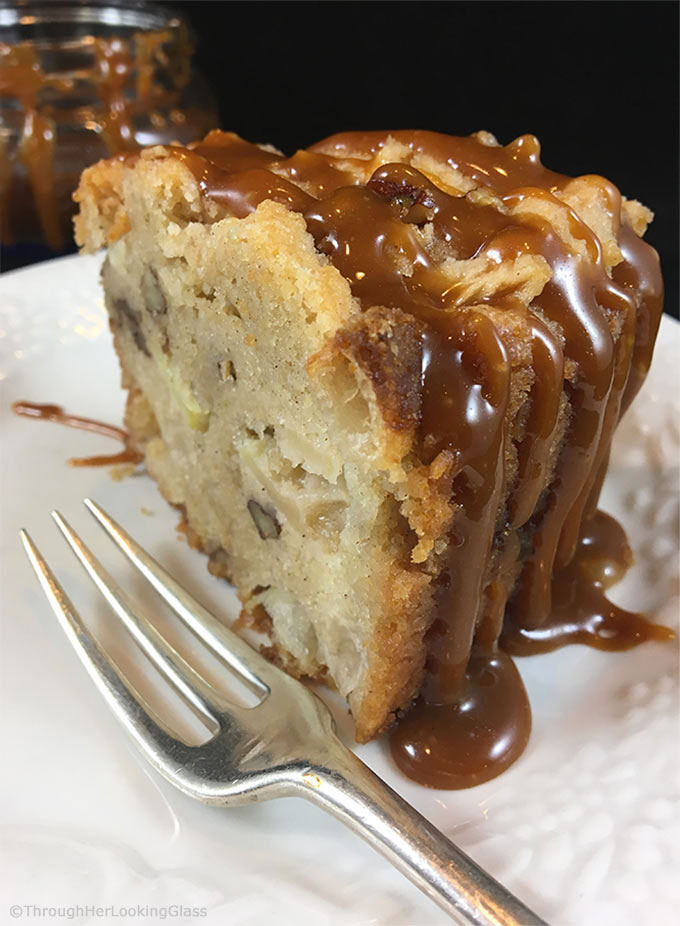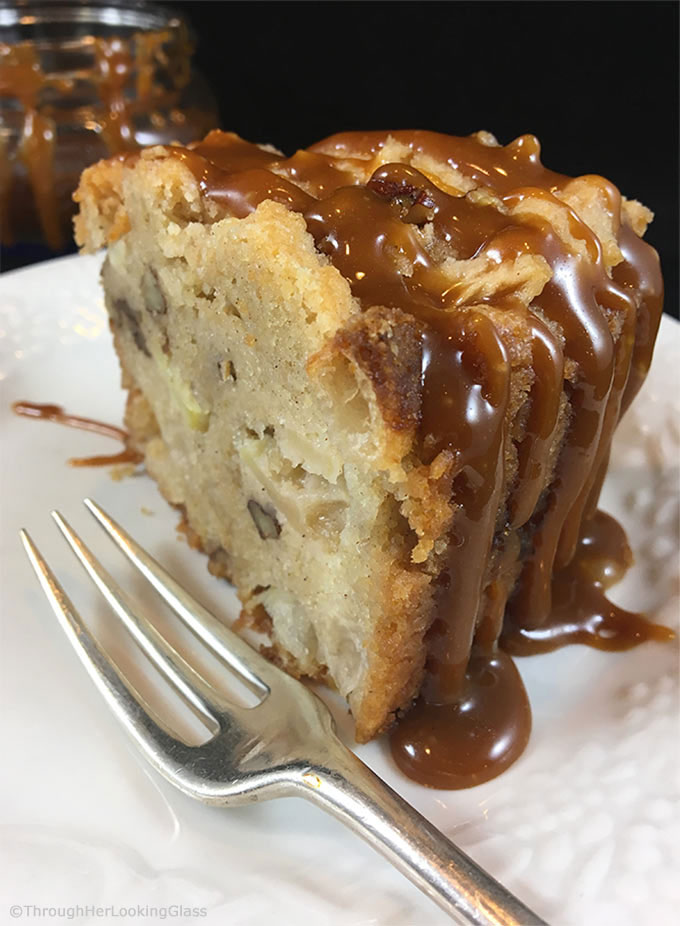 Fall has finally arrived in New England in all its regal splendor. Dazzling colors spill in every direction and if you're lucky enough to be near a pond or lake, the reflections are Monet-like and magnificent. While I loved my years living in the south, I always longed for the vivid colors and crisp nights of a New England autumn.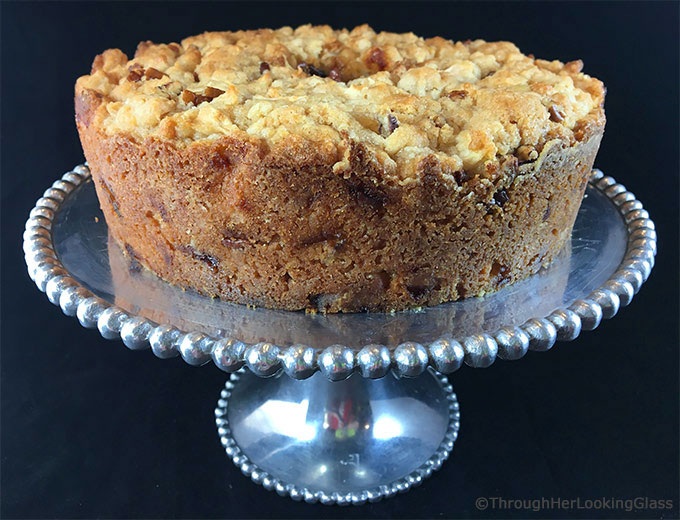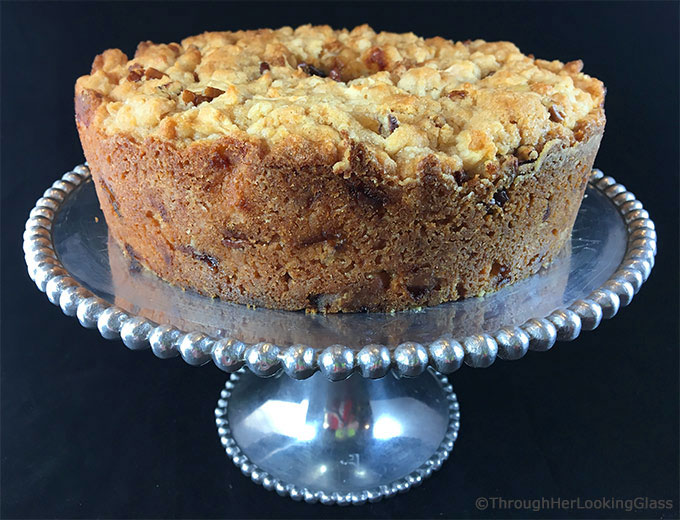 Last night I slept with my bedroom windows cracked and it was cool when I woke up this morning.
Or should I say when I was woken up…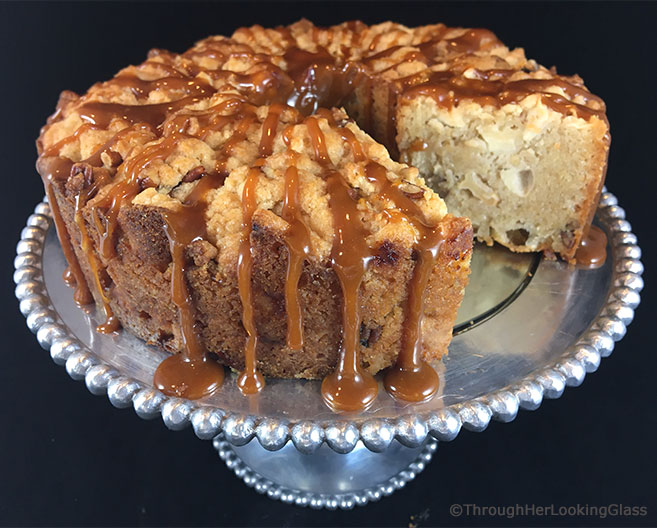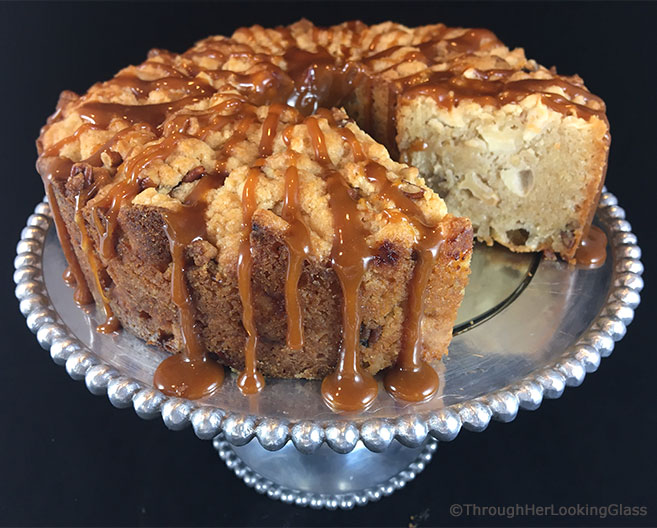 A blue-eyed little figure about three feet tall stole into my bedroom early early, climbs up on my bed and pulls the covers up under his chin. He faces me, locks eyes then exhales and giggles. His little ice cube feet press on my warm ones as he snuggles in for a cuddle.
His name is Hudson, he's six years old and he's a little love. He also has Down syndrome. And while he doesn't have many words in his vocabulary, this little boy's communication skills rival mine. So much love so freely given.  I've told you before how he quietly tiptoes in in the morning, noiselessly shuts the door behind him. So happy to have me all to himself for just a few minutes.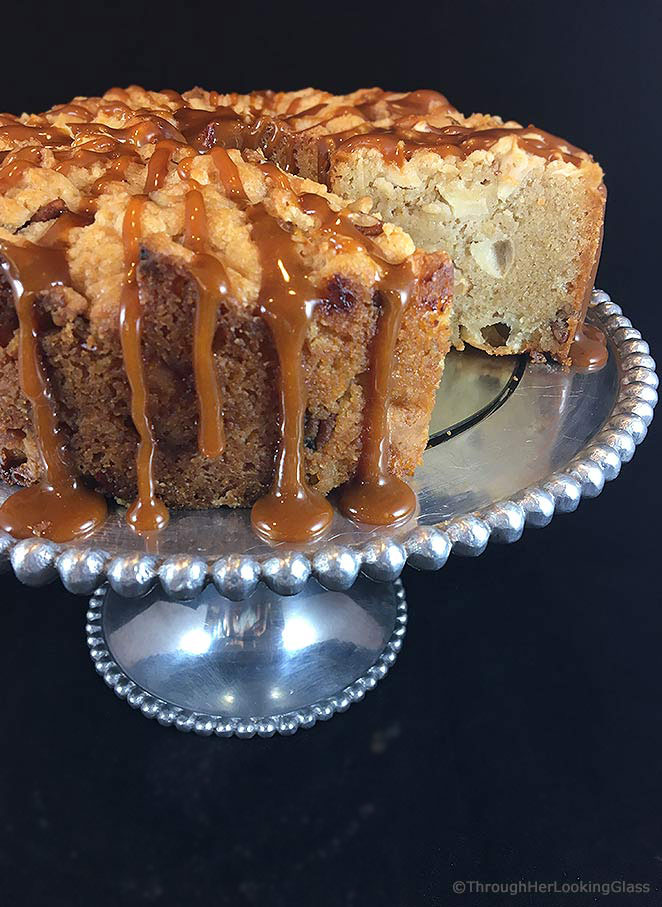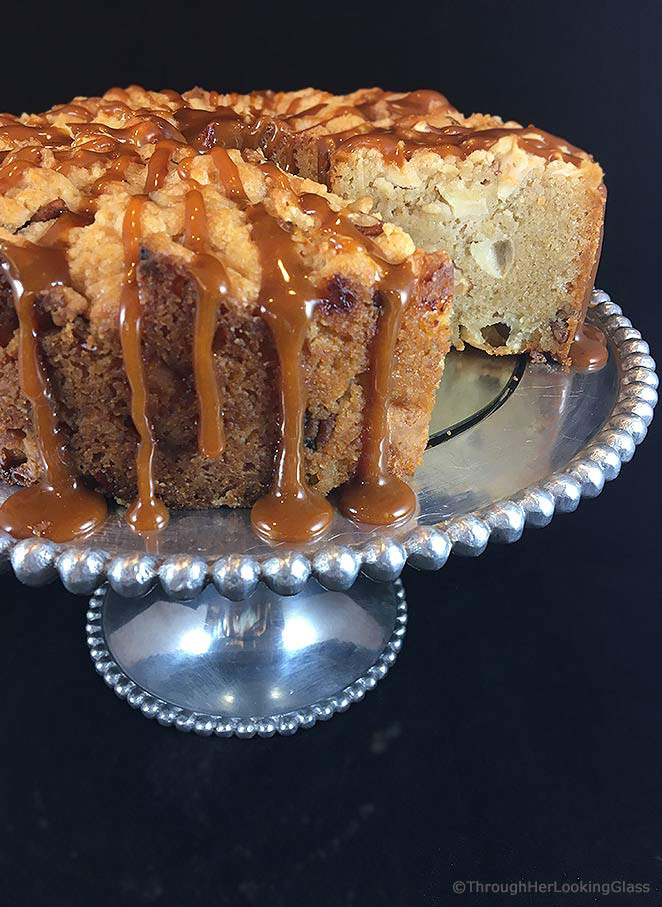 So that's how my day started out so beautifully. Hudson had breakfast and left for school on his little yellow school bus and then I baked this scrumptious Salted Caramel Apple Cake. The sweet aroma filling my kitchen was fall and fabulous.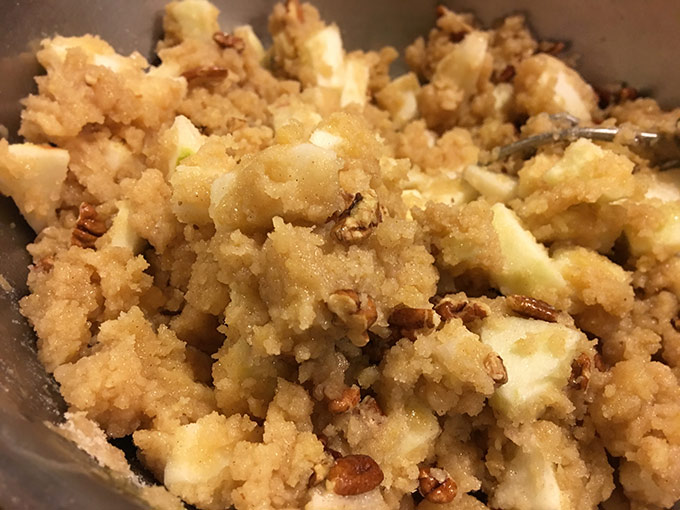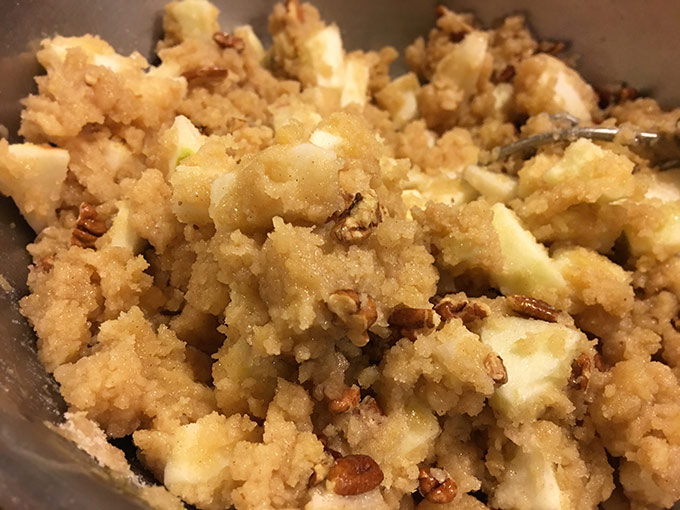 This is one of the easiest cakes I've ever made. All the ingredients are mixed in one mixing bowl until just combined. The batter is very thick, even crumbly. (Don't panic, that's normal.) Bake for 50 – 60 minutes 'til cake is golden and a cake tester comes out clean.
FYI I experimented with a new kind of cooking oil in this recipe I recently discovered: coconut cooking oil. It's different from regular coconut oil in that it stays liquid at room temperature. I found it on the shelf at my local health food store. There are many health benefits to coconut oil so I was thrilled that it worked well in this recipe. (Vegetable oil also works fine too.)
I had a lovely quiet morning baking until my failed attempt at making salted caramel sauce. And then another fail. Ouch. I just couldn't get the consistency right. But then I tried this easy  Caramel Sauce recipe from Chef Bobby Flay and I think it's perfect with this cake. Rich and smooth and salted. Ooooeeee!!!! Perfection.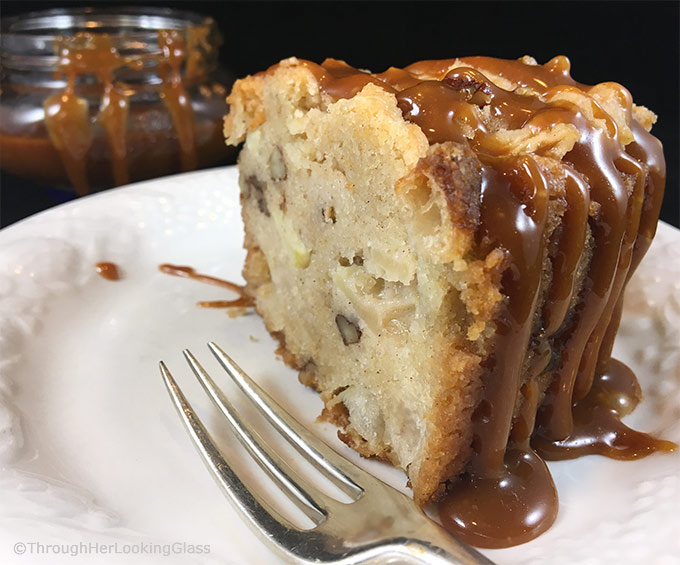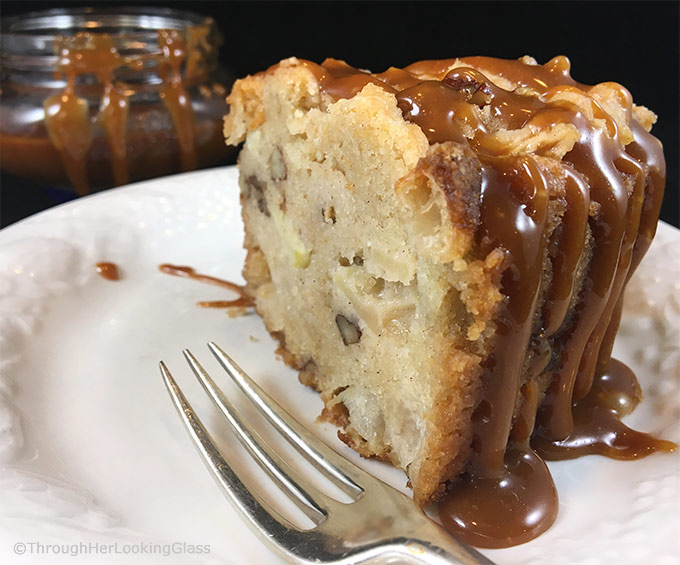 So Hudson got home from school today and first thing he spied the Salted Caramel Apple Cake on the cake platter just waiting. He went right over and started pointing. And I said "Do you want cake?" And very clearly he said "Cake!" So I cut him a big 'ole slice.
And he was one. Very. Happy. Little. Boy.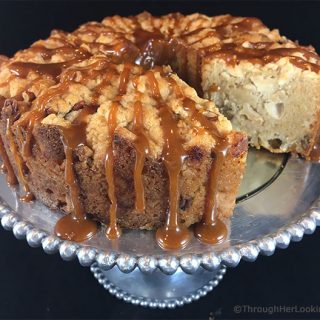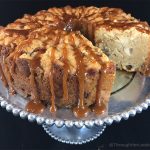 Print Recipe
Salted Caramel Apple Cake
Ingredients
Apple Cake
2

cups

sugar

1

cup

coconut cooking oil

or vegetable oil

3 1/2

cups

diced apples

peeled first

1

teaspoon

vanilla

3

cups

self-rising flour

1

teaspoon

cinnamon

3

beaten eggs

optional: 3/4 cup chopped walnuts or pecans

I used pecans
Salted Caramel Sauce
1

cup

granulated sugar

1/4

cup

cold water

1/2

cup

heavy cream

3/4

teaspoon

finely ground sea salt

2

tablespoons

unsalted butter
Instructions
Apple Cake
Grease and flour a tube pan.

Preheat oven to 350°.

In a large mixing bowl, stir together sugar, self-rising flour and cinnamon until combined.

Stir in beaten eggs, cooking oil and vanilla.

Stir in diced apples (and optional nuts) until just combined.

(Batter will be very thick, maybe even crumbly.)

Spoon batter into prepared pan.

Bake for 50 - 60 minutes. (Check with cake tester at the 50 minute mark.)

Remove from oven and let cool on a rack 20-30 minutes until warm.

Loosen all edges including around the center tube with a sharp knife before turning out onto a cake platter.
Salted Caramel Sauce
In a medium-sized sauce pan stir together 1/4 cup cold water and granulated sugar until combined.

Set over medium-high heat on the stove top and cook 9 -11 minutes without stirring until mixture is a deep amber color.

Start checking closely at the 8 minute mark.

Meanwhile, warm heavy cream and butter together with sea salt in a small sauce pan over medium heat. (Absolutely do not boil.)

When sugar and water mixture is a deep amber color, slowly whisk in the warm cream and butter mixture.

Whisk over the heat until it's smooth a minute or two, then remove from the heat.

Salted caramel sauce will thicken up as it cools.

When sauce is still warm, spoon over apple cake and cascade down the sides.

(Re-heating the caramel sauce will thin it.)
Notes
I used coconut cooking oil in this recipe. Coconut cooking oil is a type of coconut oil that remains liquid at room temperature. I found it at my local health food store. It worked perfectly in this recipe. You can also use vegetable oil with good results.


You may also like: Brick Street Chocolate Cake